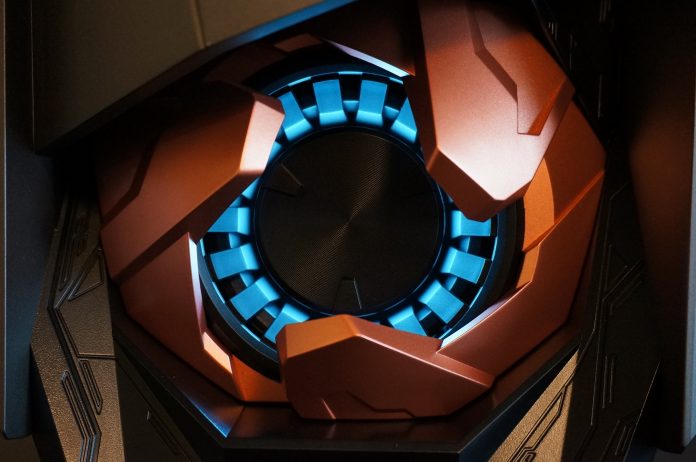 If you want the biggest, baddest, no holds barred desktop PC in the ASUS lineup, the Republic of Gamers GT51 is the answer. All new for 2016, it makes a striking first impression with an overclocked Intel Core i7 processor, dual NVIDIA GeForce GTX 1080 GPUs in SLI, 64GB of DDR4 memory, and blazing-fast PCIe RAID storage, all within an aggressively styled case that looks like it's built for jet propulsion.
The front intake defines much of that look, resembling a jet engine or even a particle accelerator. When the machine is on, it pulsates with a glow that reminds me of Iron Man's Arc Reactor. The intake isn't just for looks, either; it also pulls cool air into the bottom of the case.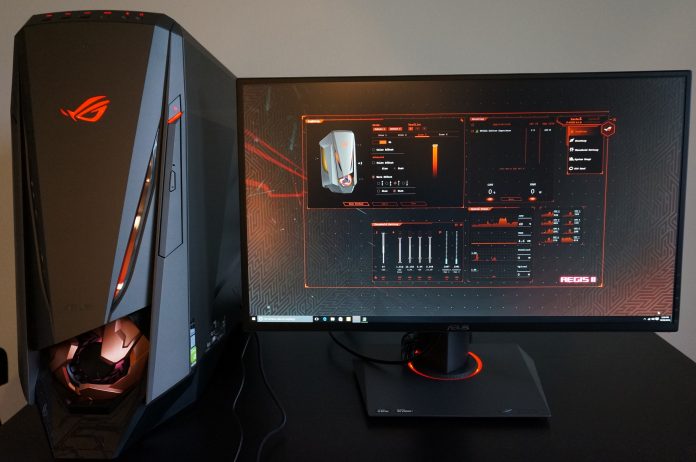 The glowing effect extends to the two symmetrical light bars and solitary ROG logo on the front of the case. The left side features a window reinforced with a honeycomb grill. Inside, you can clearly see a red ROG logo atop the CPU cooler, two rows of RGB LEDs, and two identical "GeForce GTX" logos glowing green behind reinforcement brackets. Those brackets keep the graphics cards secure during transport and prevent gravity-induced sagging that could warp the PCBs.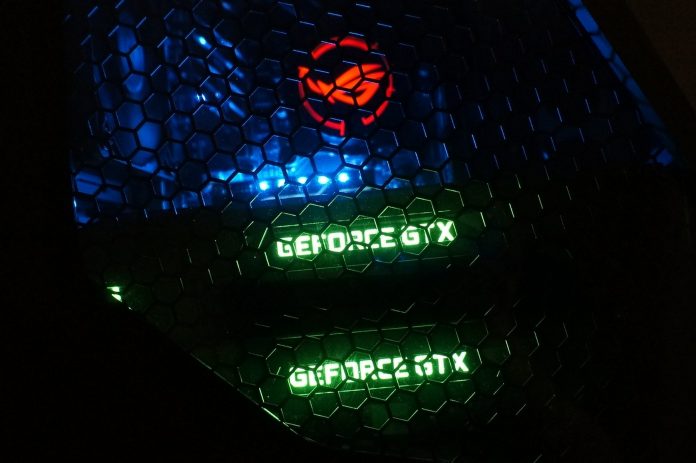 With the included AEGIS application, you can customize the lighting for four zones: the front intake, light bars, and logo in addition to the interior case lighting. You can also change the lighting effects to pulse, glow steadily, or make waves up the front light bars. The interior and front intake are lit by RGB LEDs whose colors can be customized independently, while the other zones shine ROG red.
High-performance hardware for 4K gaming and more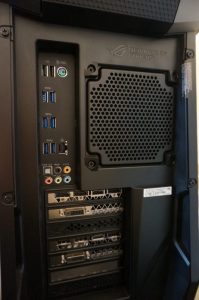 The GT51's sixth-generation Intel Core i7-6700K is a top-of-the-line Skylake processor with an unlocked multiplier designed specifically for enthusiasts. The unlocked multiplier lets you overclock the chip freely, without affecting other system components in ways that can upset stability. In its stock configuration, the 6700K has a base clock speed of 4GHz when running all four cores, and it can Turbo up to 4.2GHz on a single core. With the GT51's overclocked profile, the CPU maintains 4.6GHz even when all four cores are active. Thanks to Hyper-Threading, those four cores are capable of executing eight threads in parallel.
Keeping the CPU dialed up to 4.6GHz is perfectly safe thanks to the GT51's closed-loop liquid cooler. You can expect quiet and efficient cooling for peace of mind and environment.
While the overclocked CPU has monstrous horsepower, the pair of GeForce GTX 1080 graphics cards in SLI arguably packs a bigger punch. If you've seen what a single GTX 1080 can do in the ASUS G11CD, you'll know that 4K gaming at playable frame rates is a reality with just one of these Pascal-based GPUs. The GT51 includes a second GTX 1080 that makes gameplay smoother and removes the need compromise graphics quality settings—even at 4K.
To give you a sense of the GT51's performance, we tested a stack of games with full details at 4K resolution. We logged individual frame times with Fraps and then converted the data to FPS for easy interpretation. Click the buttons below the graph to switch between games.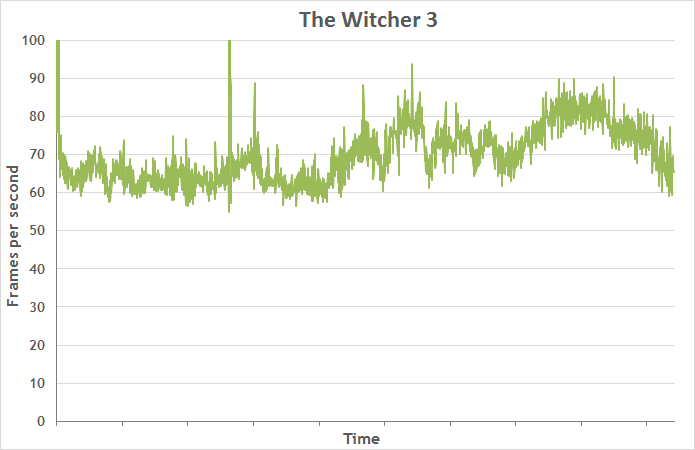 br>
The results show that the GT51 generates smooth frame rates in even the most demanding games. The Witcher 3 looks gorgeous with every setting maxed out and frame rates comfortably above 60 FPS. The performance in Overwatch is admittedly overkill, at up to 300 FPS, while the just-released Call of Duty Modern Warfare Remastered is child's play thanks to that title's console roots. Even the graphically demanding Project Cars runs at well over 100 FPS.
With this much performance on tap, the GT51 is suitable for more than just 4K gaming. You can also get into high-refresh territory and wrap-around configs with multiple monitors. There's enough power for a fantastic VR experience, too.
Storage is an often overlooked aspect of total system performance, but not with the GT51. The engineers behind the system developed what they like to call the SSD Hyperdrive, which pairs two Samsung SM951 512GB M.2 SSDs with custom ROG firmware. Rather than acting as separate volumes, the drives are bonded together in RAID 0, making them appear as a single drive with a full terabyte of extremely fast flash storage. The SSDs use the latest NVMe protocol, and they run across four dedicated PCIe Gen3 lanes, a necessity for reaching the maximum sequential read speed of 3.2GB/s. Check out the stats from CrystalDiskMark: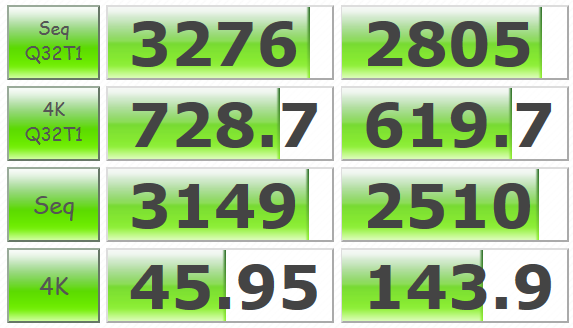 A single SM951 SSD would be considered incredibly quick on its own. Running two of them in the Hyperdrive's RAID 0 config really takes performance to extremes.
Not every file needs such quick access speeds, so the GT51 carries a 1TB 7200-RPM hard drive for storing things like photos, movies, and documents. Having an entirely separate drive is also handy for backups.
The complete package
Serious online gamers will want to connect to the Internet with an Ethernet cable, but for ultimate flexibility, the GT51 also has built-in 802.11ac Wi-Fi and Bluetooth. The included ROG GameFirst IV software can prioritize gaming packets over other network traffic, because you need to to know what's happening in your game more urgently than you need data from downloads, email syncing, and other background activities.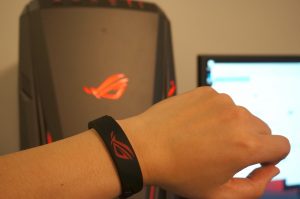 While the extreme nature of the hardware is no doubt the GT51's main selling point, the machine also has a unique trick up its sleeve. It comes with a special NFC wristband that impacts both security and performance. Waving the ROG Band near the sensor at the top of the front panel lets you unlock a secret shadow drive on the SSD or activate an overclocking profile that pushes the system to maximum performance.
The shadow drive is extremely useful for anyone who has to share the GT51 with other members of their household. While it's nice to share access to such a capable machine, the main user should have special, private area reserved only for themselves. It's also nice to be able to switch between stock and overclocked configs with just a wave. After all, the hardware is plenty fast even at stock speeds; why not keep things cool until it's time for action?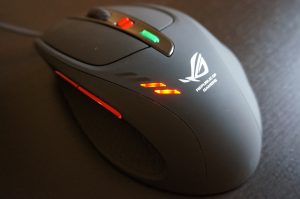 A mechanical gaming keyboard and mouse round out the complete package. The keyboard features Cherry MX switches that have a linear feel without the noisy click accompanying each keystroke. It can plug in via the system's PS/2 port to enable native n-key rollover. The ROG GX900 gaming mouse has a configurable DPI switch whose 100-4000 DPI range covers most precision preferences. Those looking for more customization will appreciate the programmable buttons and removable weights, as well.
Premium gaming at a price
With a $4999 asking price, the GT51 represents a considerable investment reserved for the most performance-oriented gamers and PC enthusiasts. It may appear to be designed for gamers, but considering the GT51 as only a gaming rig would be selling it short. With an overclocked Core i7 CPU, dual GTX 1080 GPUs, and two NVMe SSDs in RAID 0, the GT51 can handle pretty much everything.