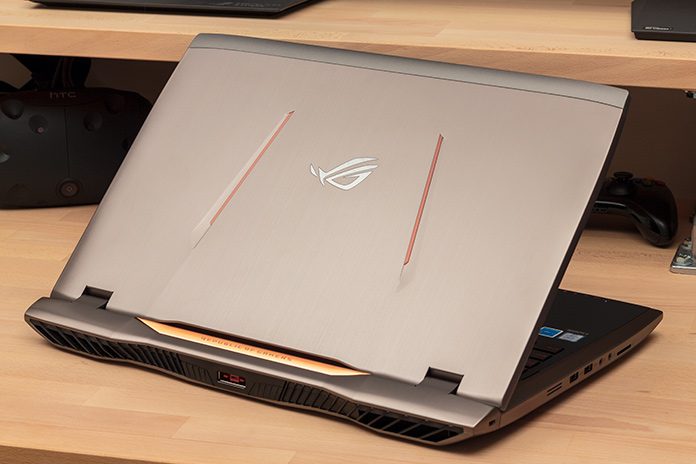 On paper alone, our new ROG G701VI gaming laptop is a formidable machine. The desktop replacement's spec sheet reads like a who's who of hardcore PC hardware overclocked for good measure. I could brag about all the speeds and feeds, and in a moment I will. First, it's important to highlight the critical duo that make this such a special gaming rig.
Gaming is all about putting you inside another world, whether it's slashing enemies, sniping headshots, or sampling the multitude of other alternate realities on offer. Maintaining immersion requires captivating visuals that move and respond with the fluidity of real life. The best way to achieve that is with a tightly integrated GPU and display, and more specifically, the fastest notebook combination around: NVIDIA's GeForce GTX 1080 hooked up to a 120Hz IPS-type screen.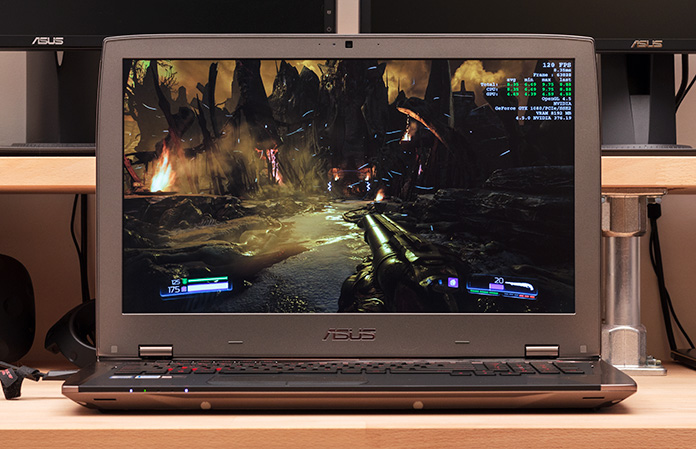 Perfecting the visual pipeline
The GTX 1080 is the undisputed king of mobile GPUs, in part because it's virtually identical to the equivalent desktop part. You get the same number of internal cores and the same 8GB of cutting-edge GDDR5X memory. You also get the same GPU boost and memory frequencies—or at least you would, if our engineers hadn't overclocked the GPU by 40MHz and the memory by 150MHz. They just can't help themselves.
The GPU is largely responsible for defining gaming performance, at least in terms of raw frame rates. But there's more to the experience FPS alone, because frames have to make it to your eyes to impact how the game looks. Most screens are capped at 60Hz, which means anything beyond 60 FPS can't be fully shown. The G701VI's 120Hz display doubles the typical refresh rate to deliver a true 120-FPS experience.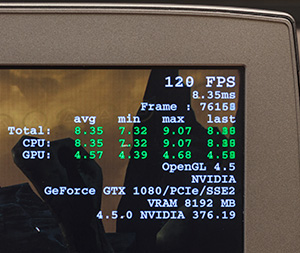 Doubling the number of frames and refresh cycles translates to noticeably smoother movement and animation, especially with fast-paced action. The corresponding reduction in the delay between frames also lowers input lag, so the improved fluidity you can see is accompanied by a visceral sensation you can feel.
Thanks to G-Sync, the display can intelligently vary its refresh rate to match the current frame rate. This tight integration of graphics and display compensates for natural performance variations and minimizes stuttering in especially epic scenes. It also banishes ugly tearing artifacts that detract from in-game graphics and ultimately compromise the sense of immersion.
You have to play games on a system like this to truly appreciate the experience, but I can convey some of the smoothness using high-speed video shot with a camera running at 240FPS. The clips below compare Counter-Strike and Rocket League replays at 120Hz and 60Hz. Excuse the low resolution required for recording at this speed—and the fact that playback is slower than real time. It's the best we can do without requiring that you have your own 120Hz display.
It's no surprise that 120Hz looks much smoother than 60Hz; the camera is being exposed to twice as many frames. However, the videos don't really capture how the difference feels. The heightened responsiveness at 120Hz is a little like being in the zone all the time. Reality melts away more readily, making it easier to become completely engrossed by what's on the screen. While I don't have conclusive evidence that the higher refresh rate makes me a better player, I certainly feel like one in-game. There's a definite competitive advantage if your focus and reflexes can keep up.
The 17.3" display's manageable 1080p resolution ensures the GPU can maintain high frame rates even with all the eye candy turned up. Check out the following benchmarks, which were captured with maximum details in each game. To best represent the player's experience, we tested with G-Sync enabled and used Fraps to capture individual frame times that were converted to FPS. Click the buttons below the graph to change games.
br>
Most of the games hover around 120 FPS even with ultra graphics settings. The impeccable performance manifests as intoxicating silkiness that really come across in first-person shooters like Battlefront, Counter-Strike, Overwatch, and Doom. It's perfectly suited to the frenetic pace of popular eSports titles.
With especially demanding games like Project Cars, you'll need to dial back the details to fully saturate the display with frames. That's optional rather than required, since G-Sync makes lower frame rates feel much smoother than on the fixed-refresh displays found on most notebooks.
Regardless of the game, graphics look gorgeous on the G701VI's IPS-type panel. The display's rich colors inject vibrancy into every environment, from Project Cars' stunning coastal sunsets to Doom's brooding hellish landscapes. Wide viewing angles prevent the picture from washing out when you're sharing the laptop with a small audience for a Street Fighter showdown or Netflix marathon. The picture is sharp, too, thanks to a 127-PPI pixel density that's higher than most of our desktop gaming monitors.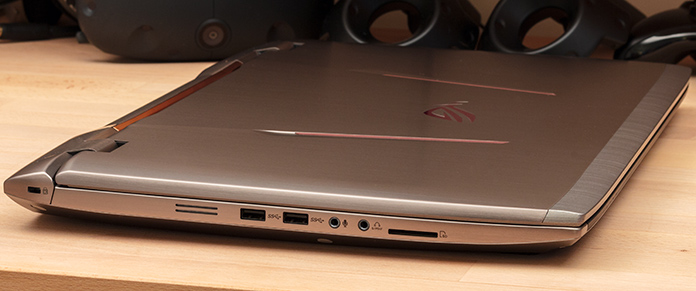 Not content with a better look and feel alone, we upgraded the audio with an ESS Sabre DAC and headphone amp. The G701VI is a sensory feast on all fronts, especially when paired with a good set of cans.
A bit braggadocio
I promised more chest-thumping about hardware, so here it is. Intel supplies the Core i7-6820K CPU, whose quad cores are factory-overclocked to a blistering 3.8GHz. The unlocked CPU multiplier lets you shoot as high as 4.1GHz with the included ROG Gaming Center software, which also supports GPU overclocking. There's enough horsepower for heavy multitasking, 3D rendering, video editing, and other strenuous tasks if you want to mix work and play.
Overclocking extends to the DDR4 memory, which runs at 2400MHz instead of the usual 2133MHz. We didn't touch the frequencies for the NVMe storage, but the top configuration hits 1TB with a pair of 512GB M.2 drives in RAID 0. Each of these drives is insanely fast on its own, and together they push transfer rates over 3100MB/s!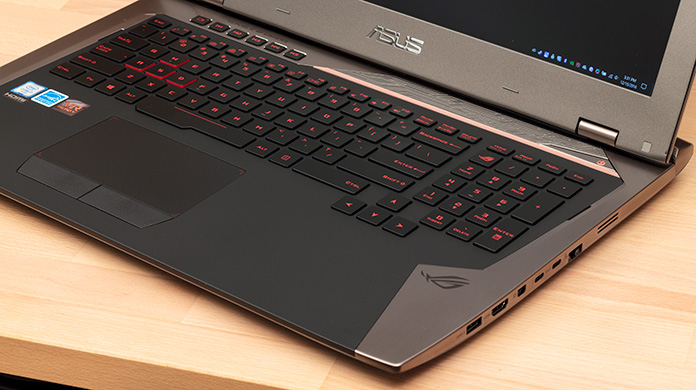 Naturally, you get all the ports: Mini DP for a G-Sync monitor, HDMI 2.0 for a VR headset or 4K TV, Thunderbolt for external graphics docks like the ROG XG Station 2, and Type-C USB 3.1 for the next generation of devices. Gigabit Ethernet provides the lowest possible latency for multiplayer gaming, while dual-band 802.11ac Wi-Fi offers fast-and-convenient access to wireless networks. Throw in a backlit keyboard with 30-key rollover and programmable macros, and you're set for any gaming scenario.
CPU
Intel Core i7-6820HK OC
GPU
NVIDIA GeForce GTX 1080 8GB GDDR5X OC
Display
17.3" 1080p 120Hz G-Sync IPS-type
Memory
Up to 64GB DDR4-2400
Storage
1TB NVMe RAID (2 x 512GB PCIe M.2 SSD)
Audio
ESS Sabre DAC and headphone amp
3.5-mm headphone and microphone ports
Networking
Gigabit Ethernet
Dual-band 802.11ac Wi-Fi
Connectivity
Bluetooth 4.0, Mini DisplayPort, HDMI 2.0, Thunderbolt 3.0, Type-C USB 3.1, 3 x USB 3.0, MicroSDXC
Battery
6-cell 93Wh
Dimensions
16.9" x 12.2" x 1.37"
Weight
8.37 lbs
Operating system
Windows 10 Pro
The ultimate hardcore gaming laptop
The ROG G701VI gaming notebook is a prime example of how premium PC hardware can dramatically improve how games look and feel. We optimized every aspect of the graphics chain—from the top-of-the-line GeForce GTX 1080 GPU rendering frames to the 120Hz IPS-type display on which they're drawn to the G-Sync tech managing the flow—to make your alternate reality of choice as silky as possible. Then we added the best components to create a well-rounded beast equally ready for VR, content creation, and other demanding workloads.
There's nothing else on the market quite like the ROG G701VI, and only serious gamers and power users need apply. The top G701VI-XB78K configuration comes with a staggering 64GB of RAM and 1TB of RAID 0 PCIe RAID storage for $3699 in the USA and $4999 in Canada. In the USA, you can also opt for the G701VI-XB72K, which scales back to 32GB of RAM and a single 512GB SSD for $3099. Look for them at the following retailers: