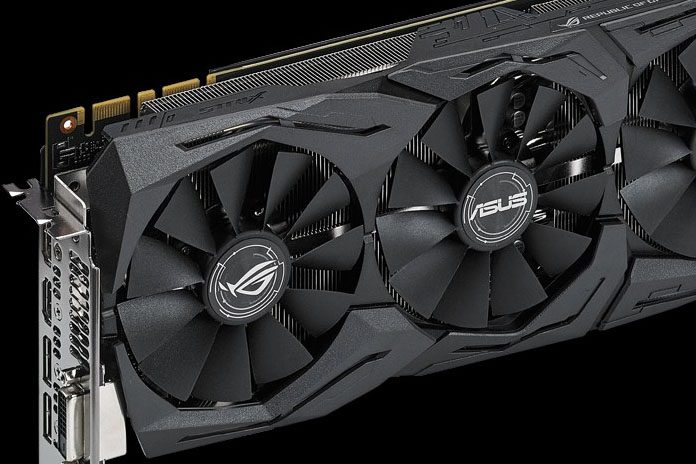 Look around the Internet, and you'll see that all the reviews agree; the GeForce GTX 1070 GPU is the new benchmark for affordable, high-performance PC graphics. It beats the $1100 Titan X for less than half the price, and that's just the initial Founders Edition based on NVIDIA's reference design. Our ROG Strix GTX 1070 raises the stakes with faster clocks, smarter cooling, and sexier lighting.
Part of the ASUS Republic of Gamers family, the Strix is a custom design built with premium Super Alloy II components. The upgraded parts improve power delivery and reduce buzzing, and they're laid out with perfect mechanical precision by Auto Extreme Technology, our fully-automated manufacturing process.
GeForce GTX 1070 GPUs are screened in-house, and only those capable of running comfortably at higher speeds make the grade for the Strix. The card's 1860MHz Boost frequency in OC mode is 10.5% higher than the Founders Edition, a sizable increase that makes games run smoother. In Doom, for example, frame rates are 8.5% higher than the reference card. You don't have to stop there, either. Our GPU Tweak II software lets you tweak power settings and shoot for even higher speeds.
The graphics chip itself is a mildly scaled-back version of the Pascal-based silicon in the Strix GTX 1080. It has 1920 CUDA cores, down from 2560 in its big brother, and it uses GDDR5 memory at 8Gbps instead of more exotic GDDR5X at 10Gbps. But the memory interface is still 256 bits wide, just like the GTX 1080, and the card still comes with a hefty 8GB of VRAM. You're basically getting slightly lower performance for a lot less money.
Mid-range cards like this are ripe for overclocking, so we didn't dial back the cooling. The Strix GTX 1070 has the same DirectCU III cooler as its pricier sibling. As the name implies, the cooler snakes heatpipes directly across the surface of the GPU and then up into the heatsink. It's attached to three Wing-Blade fans that are carefully shaped to maximize static pressure, which improves airflow through the tightly spaced heatsink fins.
Our internal testing shows that the Strix runs much cooler and quieter than the Founders Edition. We measured it at 31dB and 72°C under a 3DMark11 load, compared to 45dB and 83°C for the reference design. The Strix can also run in total silence thanks to our 0dB fans. When your PC is idling or engaged in lighter activities, like web surfing and casual gaming, the card's fans will turn off completely for stealthy operation.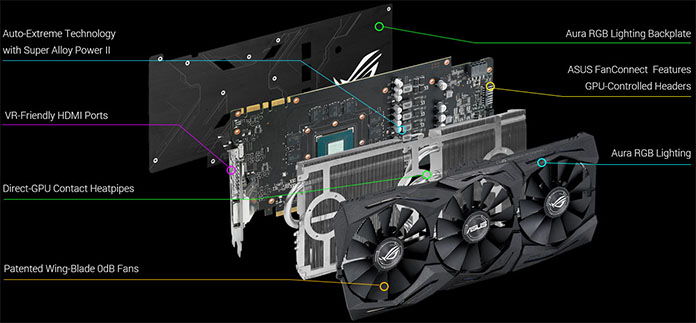 Intelligent cooling doesn't just apply to what's on the card. FanConnect extends it to system fans via two onboard headers. System fans are usually controlled by CPU or motherboard temperature, which is fine for productivity and CPU-intensive heavy lifting. Trouble is, that approach isn't ideal for gaming, which tends to heat up the GPU a lot more than other components. We fixed the problem by letting the Strix GTX 1070 control two system fans with a separate profile based on the GPU temperature.
FanConnect can be used to optimize system cooling with existing case fans or to power additional ones for more aggressive overclocking. The headers work with both three-pin DC and four-pin PWM fans, so they're compatible with pretty much any configuration, and they auto-detect the type and adjust accordingly, so you don't have to worry about fiddling with setup. If you do want to tweak the fan profile, it's accessible in GPU Tweak II.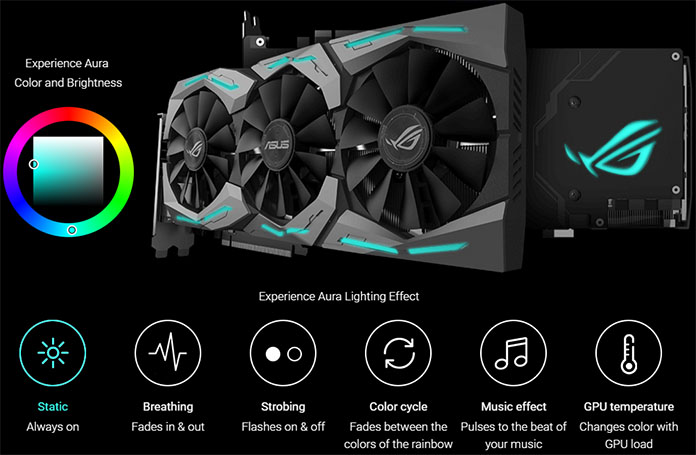 The prevailing sentiment seems to be that all new PC gaming hardware must come with RGB LEDs, and I have to agree. Customizable lighting takes personalization to new heights, whether you want to subtly match the colors of other system components or overpower observers with a full-spectrum visual assault. The Strix's cooling shroud and backplate are both embedded with RGB LEDs to illuminate your rig from multiple angles.
Our intuitive Aura software offers a full rainbow of colors and six different effects. In addition to the usual static, strobing, breathing, and color cycling, there's a music mode that pulses to the beat the audio output, plus a temperature mode that changes colors based on GPU thermals. The Strix GTX 1070 is part of a growing portfolio of Aura-compatible components that we're working to bring closer together. A future software update will allow the card to synchronize lighting effects with our motherboards, like the latest X99 family, and we intend to extend that capability to keyboards, mice, and other Aura-equipped gear.

Virtual reality is finally here, and NVIDIA incorporated specific enhancements in the GeForce GTX 1070 to improve performance with contemporary headsets. On our side, we've given the card dual HDMI ports that let you easily run a VR headset alongside an existing monitor. Both ports support version 2.0 of the HDMI standard, and they're situated alongside dual DisplayPort 1.4 connectors and a DVI output.
The Strix GTX 1070 is also part of our Beyond VR Ready program. We've been testing our motherboards and graphics cards with the Oculus Rift and HTC Vive to ensure they deliver the best possible experience. The GTX 1070 easily blows away the minimum performance requirements for VR, and it works seamlessly.
One more thing. We touched on GPU Tweak II briefly, but the utility deserves a little extra attention, because it comes with a one-year premium license for XSplit Gamecaster. A $99 value, this popular software lets you stream and record easily using an in-game overlay. It not only exposes control over your broadcasts, but also lets you monitor the graphics card's performance and switch between configuration profiles. Pretty sweet.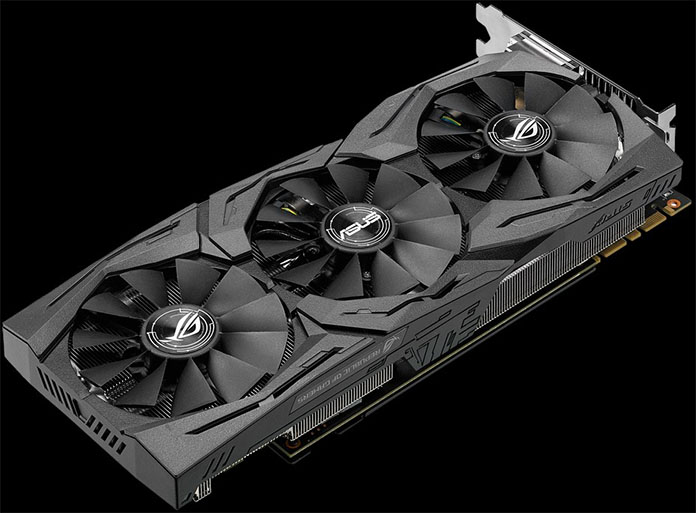 If the GeForce GTX 1070 is the new sweet spot for PC graphics, then the Strix brings spicy and sour and savory notes that add more depth to the flavor. The hot-clocked version is slated to sell for $449.99, while an otherwise identical derivative running at the stock frequency will be available for $429.99. You'll be able to order yours starting next week.