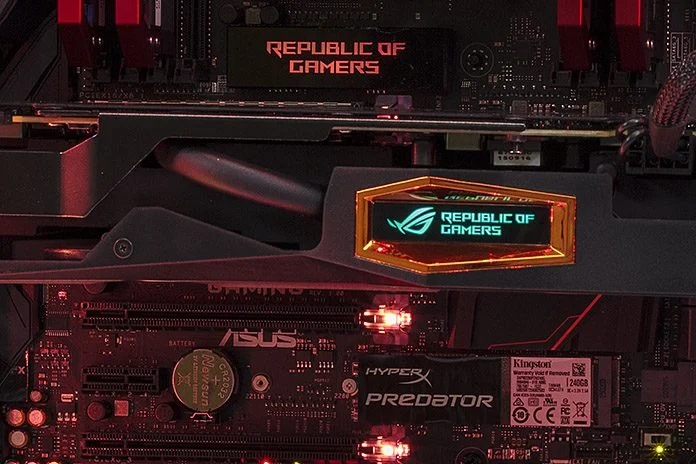 Today's PC gamers are much more than just players. They're streamers, competitors, audiences, and spectators. Some of them even create original skins, items, and mods for their favorite titles.
Increasingly, PC gamers are also builders. In part thanks to the fervent evangelism of the PC Master Race, the DIY scene is in the midst of a renaissance. Assembling a complete system and overclocking it to the limit has never been easier, and there are more options than ever for creating a custom aesthetic that reflects your personality. We've fully embraced these advancements with the ROG Strix X99 Gaming motherboard.
Priced at $339, the Strix represents a new entry point into the ROG family for X99—and a new twist on our gaming DNA. To see what the board is like in its natural environment, we used it as the foundation for a high-end gaming machine equipped with one of Intel's latest Broadwell-E processors. Needless to say, the results look fantastic.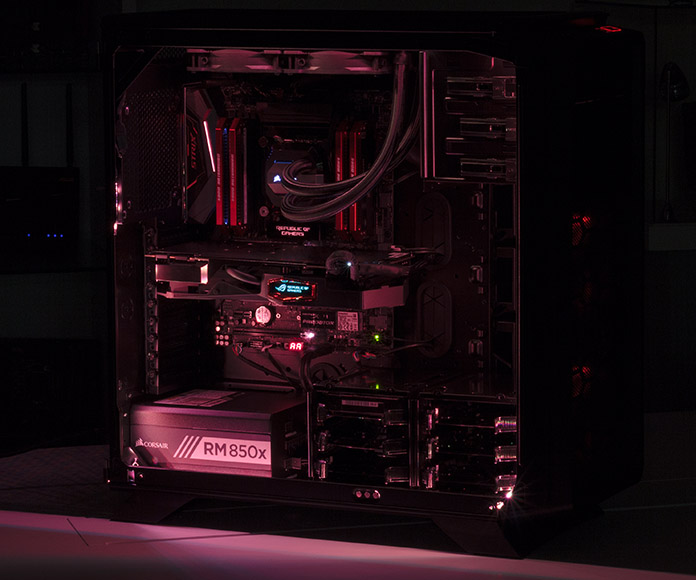 Let's be honest; aesthetics matter. If they didn't, we'd still be building PCs inside boring beige boxes. The advent of RGB LEDs has opened up a whole new world of cosmetic customization, and the Strix X99 Gaming is at the forefront. The board's Aura lighting illuminates the PCIe slots, I/O shroud, and central ROG logo along with standard "5050" RGB LED strips plugged into an onboard header. With our intuitive Aura software, you can choose from a range of colors and effects for each zone or synchronize everything to maximize the impact of a specific look. The onboard LEDs work in standby, as well, complete with different colors and effects.
With access to the full rainbow, it's easy to match colors with other system components. Future software updates will also extend lighting synchronization to other Aura-compatible hardware for a more harmonious full-system glow. The 10 effects on tap offer something for everyone, from subtle breathing to streaking comets. You can rock out to your favorite music with the glow pulsing in time or watch the colors change based on the CPU temperature.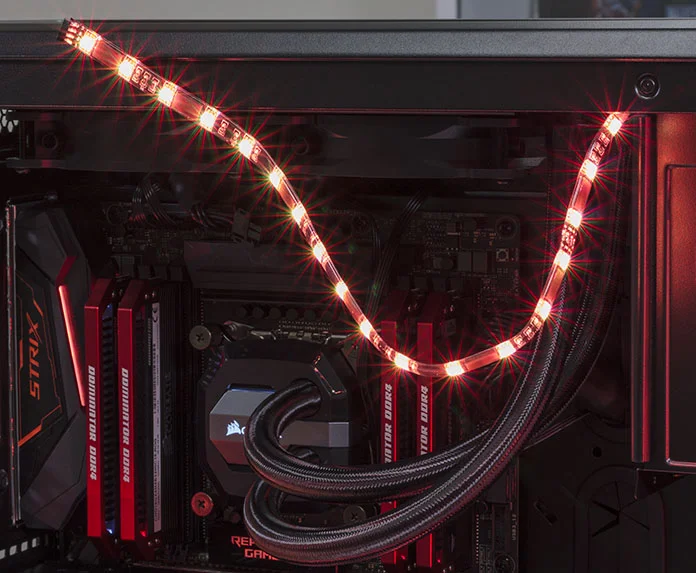 Thanks to CableMod WideBeam Magnetic RGB strips, it only took a few minutes to light up the build's internals with more lens flares than a J.J. Abrams movie. The strips give off plenty of light even when they're tucked out of sight, and their magnetic backs make it easy to tweak the positioning to make things look just right. Chaining strips together is simple, and the motherboard comes with an extension cable that lets you start anywhere in the chassis. We used three 60-cm strips, well within the header's support for up to two meters of lighting at full brightness. At $23 a pop, the strips represent money well spent if you're serious about showing off your rig.
The Strix X99 Gaming extends color customization to the decals on the chipset heatsink and I/O shroud. Orange decals come pre-installed, but you can swap them for pink, green, and silver replacements included in the box. The decals can also be removed for a stealthier grayscale look.
Corsair's new ROG Certified Dominator Platinum memory adds a splash of red that blends in nicely with the rest of the build. The 16GB kit is rated for speeds up to DDR4-3200, and configuration is simple: just select the XMP profile in the UEFI or flip the associated switch on the board. The Strix does the rest.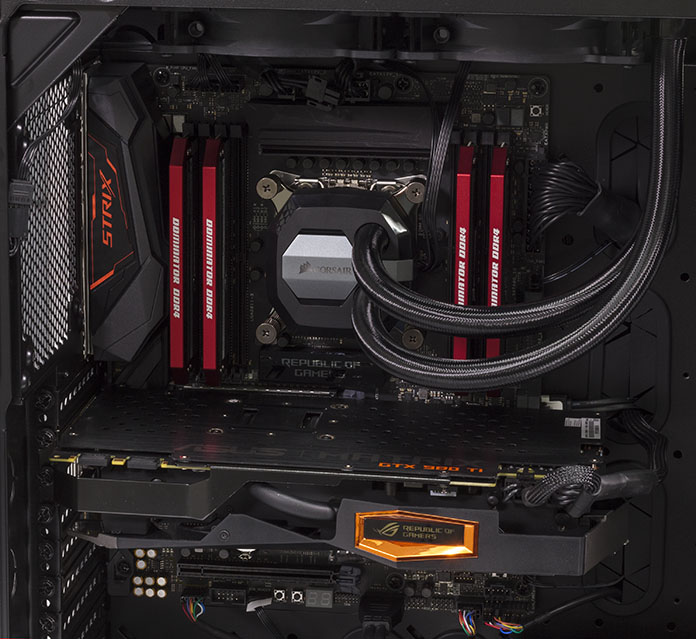 The 4 x 4GB kit takes full advantage of Broadwell-E's quad-channel memory controller, delivering more than double the bandwidth of more mainstream Intel processors for LGA 1151. LGA 2011-v3 is bigger, with room for not only more memory channels, but also additional PCI Express lanes and CPU cores. Broadwell-E tops out at 10 cores—and 20 thread via Hyper-Threading—in the Core i7-6950X. Modern games aren't multithreaded to that degree, so we scaled back a smidgen to the i7-6900K, whose eight cores effectively double what's available in Core i7s based on Skylake. We'd expect nothing less from a chip that costs more than a grand aon.
Despite the $1100 price tag, the Core i7-6900K doesn't come with a cooler. You wouldn't want a typical stock heatsink, though. Broadwell-E squeezes an incredible amount of horsepower and bandwidth into a tiny area, and serious cooling is required to keep temperatures in check when overclocking. We're using Corsair's H100i v2 liquid cooler, which dissipates heat across a 240-mm radiator connected to dual 120-mm fans. Available for $105, the all-in-one design is sealed at the factory to prevent leaks from clumsy plumbing. It kept our CPU stable all the way up to 4.4GHz, with temperatures low enough to avoid throttling even under demanding video encoding loads.
Liquid cooling pumps have particular power requirements, so they can respond poorly when powered by headers that treat them like fans. To ensure optimal cooling with minimal fuss, one of the Strix X99 Gaming's fan headers is configured specifically for pumps. Plug liquid coolers into it and their associated radiator fans into the usual CPU headers, and you're set. The board also has an amped-up header capable of supplying up to 3A to the industrial-grade fans favored by some hardcore overclockers.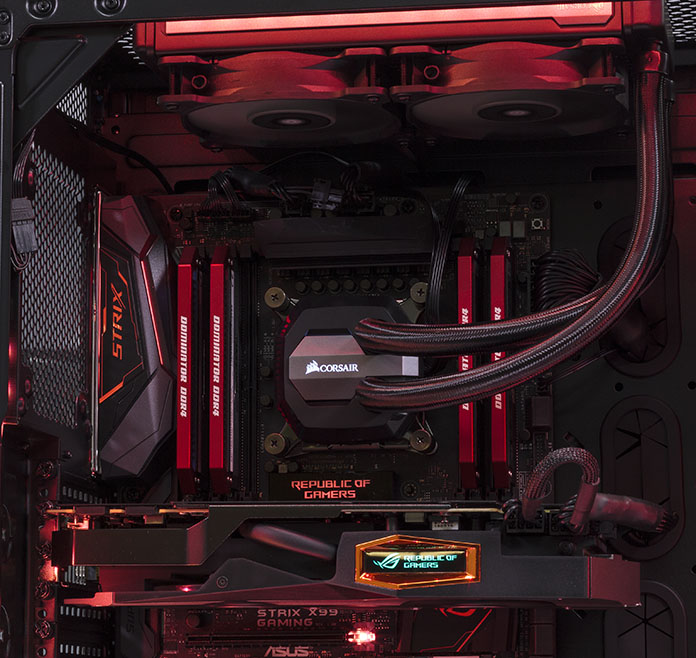 There are five fan headers in total, and the pump header can be switched to air-cooling mode to make six, which easily covers the cooling needs of most gaming PCs. The headers automatically detect whether fans are three-pin DC or four-pin PWM designs and then adjust their behavior to match. While the defaults are fine, it's best to run the integrated calibration routine, which maps the exact range of rotational speeds for each connected fan. You can then precisely adjust how the fans respond to temperature changes by shaping their response curves with a graphical UI, tweaking their spin-up and spin-down times to minimize jarring acoustic transitions, and linking fans to different temperature sensors to optimize cooling for different regions inside the case. These options are available in not only our Fan Xpert 4 software, but also the UEFI.
Fan controls admittedly aren't as sexy as overclocking options, but they're arguably more important for everyday use. System noise affects your experience at all times, regardless of whether the machine is idling, gaming, or pinned with a punishing workload that hammers all the CPU cores.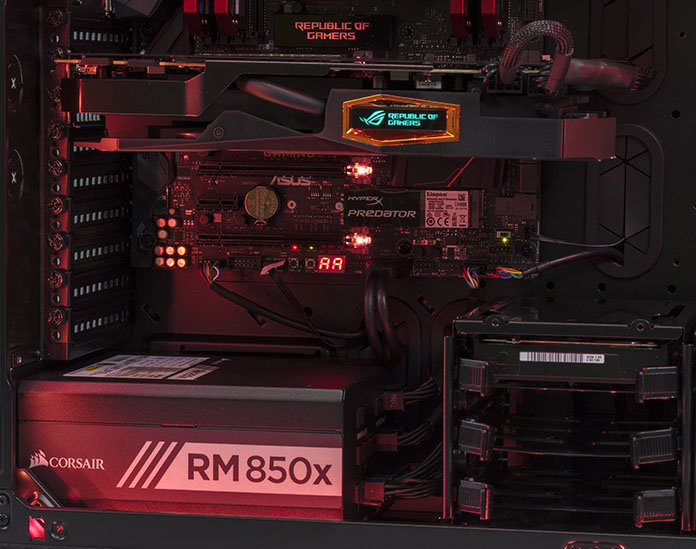 The graphics card is by far the most important component for gaming performance, which puts us in a bit of a quandary. This build was specced before Nvidia introduced the GeForce GTX 1080, and the new hotness has cast a shadow over everything that came before it. Despite costing less than the $710 ROG Matrix GTX 980 Ti we used in the system, the GTX 1080 delivers better performance and additional enhancements for both VR and multi-monitor gaming. If you're building a new gaming rig, we wholeheartedly recommend holding out for the new card.
The GeForce GTX 1080 comes in multiple flavors, including Founders Edition cards based on Nvidia's reference design. We recommend our custom ROG Strix version. It has higher clock speeds than Founders cards, a beefier triple-fan cooler with support for GPU-regulated system fans, and customizable Aura RGB LEDs that nicely complement the motherboard and system lighting. Although the Aura software update that will synchronize lighting across the graphics card and motherboard isn't ready yet, you can at least match the colors and effects manually—and avoid the clashing ROG badge that stands out in the sea of red in our build. You can learn more about the Strix GeForce GTX 1080 in this article.
It may not be the latest and greatest, but the ROG Matrix GTX 980 Ti is still a beast. It maintained the maximum "Very High" quality throughout Valve's SteamVR Performance Test, with no frames dipping below the 90-FPS target established by the Oculus Rift and HTV Vive headsets. Like the Strix X99 Gaming motherboard, the Matrix GTX 980 Ti and Strix GTX 1080 graphics cards are both certified by our Beyond VR Ready program, which tests compatibility with popular VR headsets to ensure the best possible experience.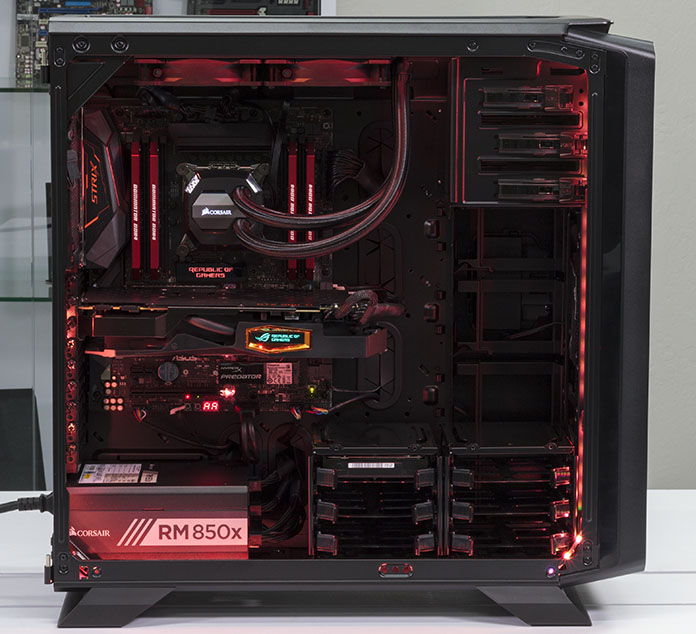 Modern graphics coolers are heavy, which causes the telltale sagging seen in many gaming rigs, including this one. The impact is more than just cosmetic, too. Heavy coolers can damage graphics cards and motherboards if complete systems suffer rough handling during shipping or when traveling to LAN parties. We strengthen our graphics cards with metal backplates to prevent sagging from damaging the circuit board, and we've now developed a reinforced PCIe slot that protects the motherboard. Dubbed SafeSlot, this new design integrates metal strips into the walls of the slot via an insert-molding process. The slot is then secured to the motherboard with additional solder points to prevent it from pulling away under physical stress.
Our internal testing shows that SafeSlot is stronger in every direction than similar solutions from our competitors. The Strix X99 Gaming's primary graphics slot features full protection, while the remaining slots have additional solder anchoring.
While we've opted for a single graphics card here, a second can easily be added to further improve performance. The benefits may be particularly apparent in future VR titles, with both NVIDIA and AMD offering the ability to target each of the dual displays in current VR headsets with a dedicated GPU. Broadwell-E is particularly well-equipped for multi-GPU configurations, as well. The Core i7-6900K has 40 PCI Express 3.0 lanes, which is enough to supply a pair of graphics cards with a full 16 lanes each and still have 8 lanes leftover for another card or multiple PCIe SSDs. Skylake processors for LGA 1151 are capped at 16 PCIe lanes, which introduces bandwidth limitations for multi-card configs.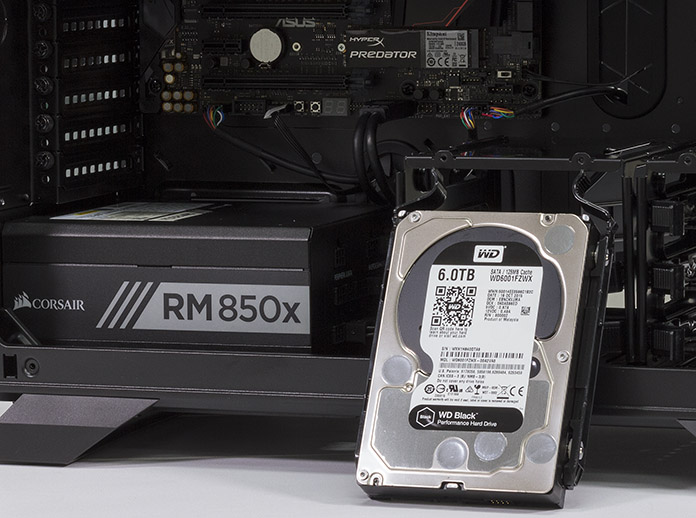 Having capacity for PCIe SSDs is particularly valuable now that there are some really good options on the market. The Strix X99 Gaming is compatible with all of them thanks to its native M.2 slot and U.2 port. The two interfaces have four lanes of Gen3 connectivity between them.
For a system drive, we opted for Kingston's HyperX Predator 240GB, which is only $130 online. This "gumstick" M.2 SSD pushes transfer rates up to 1400MB/s, nearly three times the speed of SATA SSDs, and it plugs right into the motherboard, which makes the installation particularly clean. Although the drive is only 80 mm long, the motherboard supports M.2 SSDs up to 110 mm. The slot is located in the lower-right corner of the board, away from hot spots around the graphics card and CPU. Numerous tech sites have shown M.2 SSDs throttling performance as they heat up, so we want the drive to have as much airflow as possible.
While solid-state storage is a must for modern PCs, it's hard to get by on flash alone. The fact is that mechanical storage is still way cheaper per gigabyte, and that's a big deal when your Steam library is pushing into terabyte territory. To provide ample storage for games, media archives, and everything else in your digital life, we equipped the machine with a WD Black hard drive that weighs in at a whopping 6TB. The drive has a 7,200-RPM spindle speed, so it's still pretty quick for a mechanical unit. More importantly, it delivers a boatload of storage for only $292—or about five cents per gig.
The Strix X99 Gaming has 10 SATA ports in total, two of which reside in a SATA Express connector. There's loads of USB connectivity on top of that, including Type-A and Type-C flavors of USB 3.1, plus front- and back-panel access to USB 3.0. Networking is handled by an Intel Gigabit Ethernet controller and a dual-band 802.11ac Wi-Fi module with MU-MIMO support. The wireless module is part of the board, so it doesn't occupy a valuable expansion slot. It also offers Bluetooth support for wireless gamepads, smartphones, and other devices.
Audio is also integrated into the board, complete with several enhancements designed specifically for gamers. Clarity is critically important in the heat of battle, so the audio circuitry and codec are shielded to reduce interference from other system components and onboard devices. The board has premium Nichicon capacitors to ensure the best possible sound, plus dual op-amps to drive headphones with impedance up to 300Ω. On top of that, our Sonic Radar II software gives gamers an unfair advantage by mapping the origin and direction of in-game sounds on a visual overlay with a revealing view of the battlefield.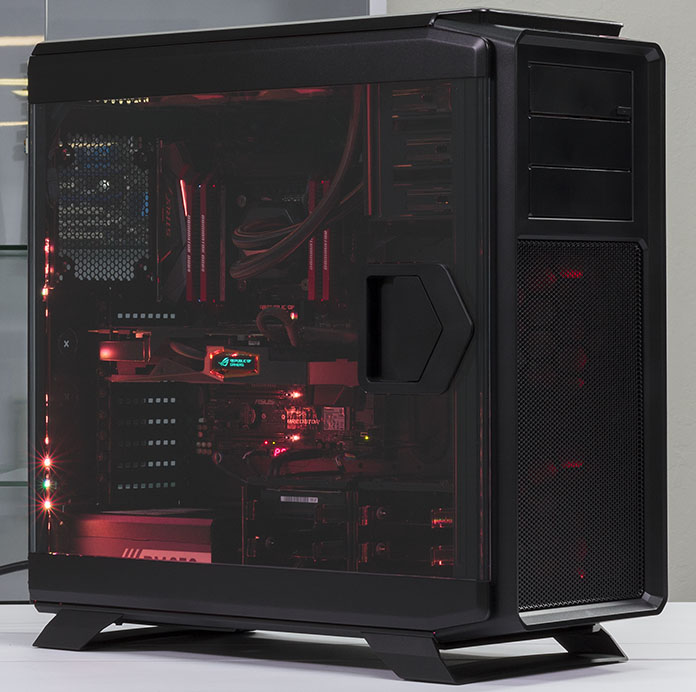 We built our Strix X99 Gaming rig in Corsair's Graphite Series 760T mid-tower for several reasons: the edge-to-edge window provides an unrestricted view of the components and lighting, the spacious internals make building a breeze and can easily accommodate future upgrades, and the smart cable routing options let anyone put together a clean-looking rig without too much effort. Oh, and it looks like the mutant offspring of a Cylon and Scout Trooper, which is pretty sweet. Just don't tell anyone we removed the 140-mm exhaust fan to better expose the motherboard's I/O shroud—that'll be our little secret. The airflow from the liquid cooler was sufficient to keep the memory and VRMs cool even with the CPU overclocked, so the fan wasn't strictly necessary. You can grab the 760T for $180 online.
While the chassis gets a lot of the credit for the clean build, the Corsair RM850x PSU also contributed. The fully modular unit has separate leads for just about everything, which cuts down on excess spaghetti. With 850W on tap and six PCIe power connectors, it has enough juice for another graphics card, if not a third. And the intelligent fan turns itself off under lighter loads. Add the 80 Plus Gold efficiency rating and affordable $110 price tag, and this was an easy choice.
There's more to putting together a system that merely assembling the components, but the Strix X99 Gaming streamlines the rest of the setup process. You can download and update to the latest firmware from right in the UEFI, before you even install the operating system. Once you're in Windows, our 5-Way Optimization software takes care of complete system tuning. With a single click, it automatically adjusts fan profiles, tweaks power settings, and overclocks the CPU. The auto-overclocking intelligence is much smarter than most competing solutions, which rely on pre-baked profiles that don't take into account the natural variance between individual chips—or the differences in cooling between various systems. 5-Way Optimization overclocks like a seasoned enthusiast, by gradually increasing the clock speed and testing stability at each step along the way. The parameters are highly configurable, so you can adjust the algorithm's behavior for different conditions.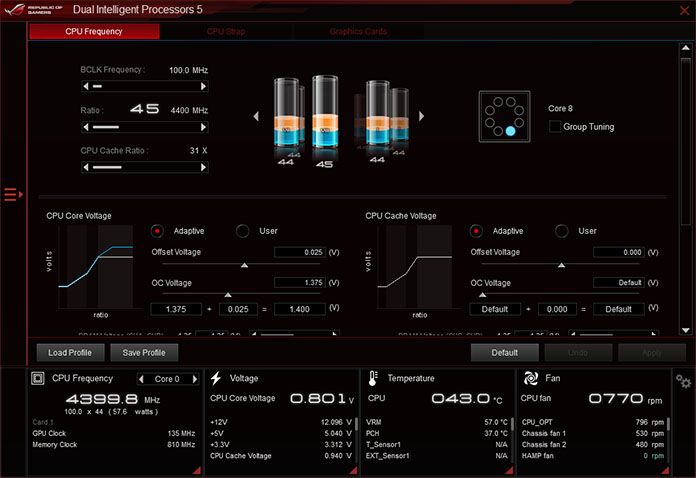 With our Core i7-6900K and H100i v2 liquid cooler, 5-Way Optimization reached a stable all-core speed of 4.4GHz with a single-core peak of 4.5GHz. The chip normally maxes out at 3.2GHz with all cores active and 3.7GHz with the favorite core at full speed, so we far exceeded the stock configuration. More impressively, we did so with a process simple enough for even newbies to pull off.
Experts can use 5-Way Optimization to reach a stable starting point from which to proceed with more hardcore tweaking. If that's your style, be sure to check out our upcoming Broadwell-E overclocking guide. Instead of seeking higher frequencies, we decided to see what an eight-core chip like this can do in a gaming context. And we weren't disappointed.
Arma 3 is one of the more CPU-intensive games around. It supports dedicated servers, so we started one on the machine and then joined it with the game client. After that, we kicked off a Twitch stream with XSplit Broadcaster, added a webcam feed of the system's internals, and started a local video recording on top of that. We then loaded up our own stream in a browser for an appropriately meta final touch.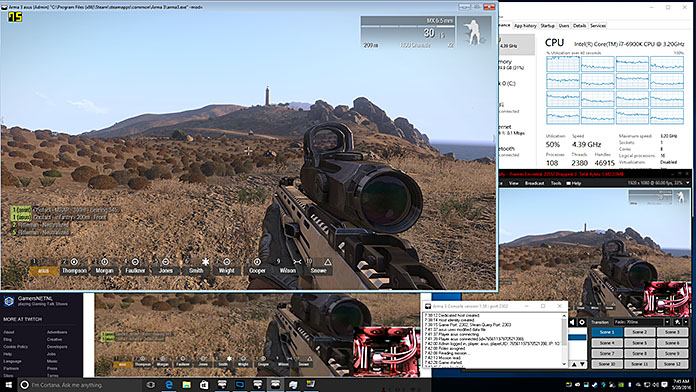 As it turns out, our over-the-top modern gaming workload barely made the system break a sweat. Even when we were running and gunning with 10 AI teammates in front of an audience of one, CPU utilization hovered around 50%. The system remained surprisingly responsive as we switched between windows, and the gameplay was silky smooth throughout. The results of this little experiment underscore the colossal computing power available in Broadwell-E—and the Strix X99 Gaming's ability to harness it effortlessly.
This is just one of three systems we put together to celebrate the arrival of Intel's new Core i7 processors for LGA 2011-v3. Don't miss our prosumer workstation based on the X99-Deluxe II and value-conscious VR contender built on the X99-A II. The trio nicely illustrates the range of options with our latest X99 motherboards. The possibilities for the Strix X99 Gaming are easily the most varied, with the board's extensive customization enabling the next generation of personalized gaming PCs. Making a PC your own is perhaps the most satisfying thing about building a system from scratch, and the Strix lets you do that in ways that no other board can.