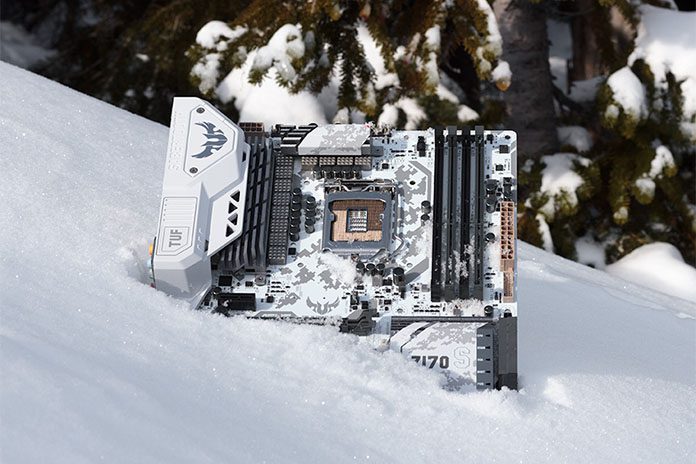 HBO won't return to Westeros for months, but winter is already here for the rest of us. So is ASUS' new Sabertooth Z170 S, which is dressed in matching digital arctic camouflage. The monochrome design provides a stylish foundation for modders and all-white builds while staying true to the principles that set the TUF family apart.
With the snowy season in full swing, we have a rare opportunity to observe the Sabertooth Z170 S in its natural habitat. Don't try this at home. Motherboards should be kept dry at all times—and never caked with snow.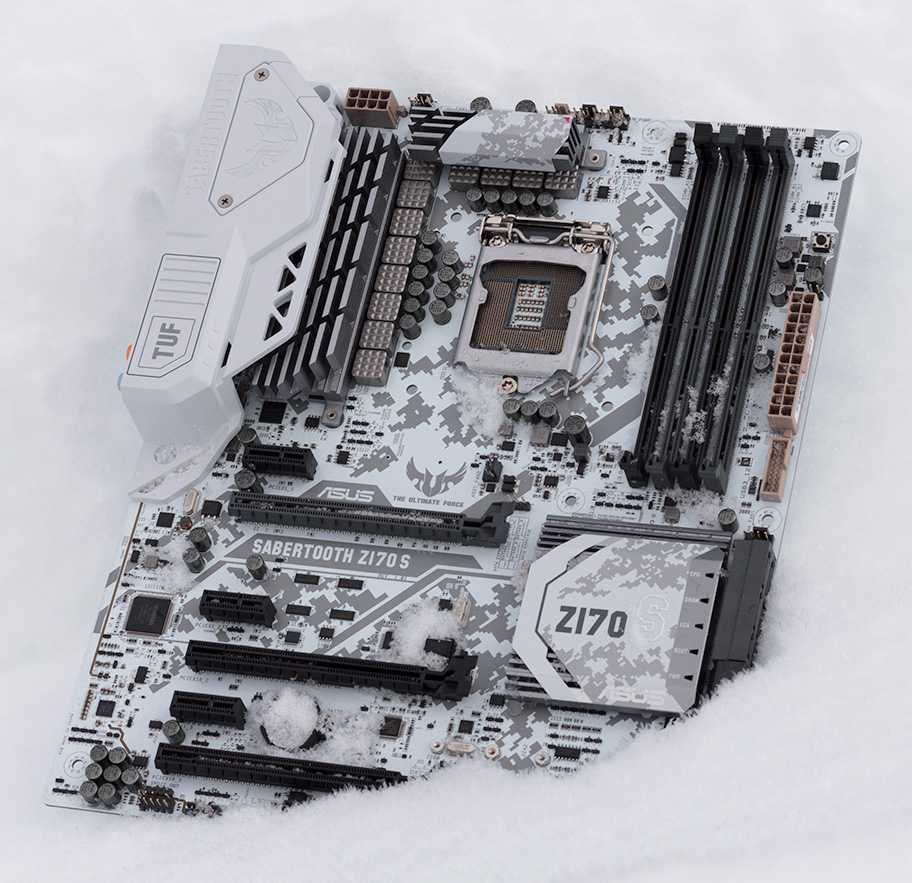 If the Sabertooth Z170 Mark 1 were Snake Eyes, the Z170 S would be Storm Shadow. The white ninja sheds the Mark 1's Thermal Armor face and TUF Fortifier backplate for a leaner look that exposes the PCB in all its glory.
To create the unique design, we silk-screen a digital camo print over a white circuit board. That sounds simple enough, but making a white PCB that meets our exacting standards is extremely difficult. The biggest challenge is maintaining the pristine finish during manufacturing, where temperatures soar to a searing 250°C. This extreme heat can cause subtle discoloration that's especially noticeable on a stark white board.
After multiple production trials, we selected a combination of ink and solder mask that can hit temperatures over 300°C without discoloration. We also carefully control how quickly the PCB heats up and cools down to ensure an immaculate finish. The end result is a board that maintains its looks throughout not only our manufacturing process, but also its life inside your PC.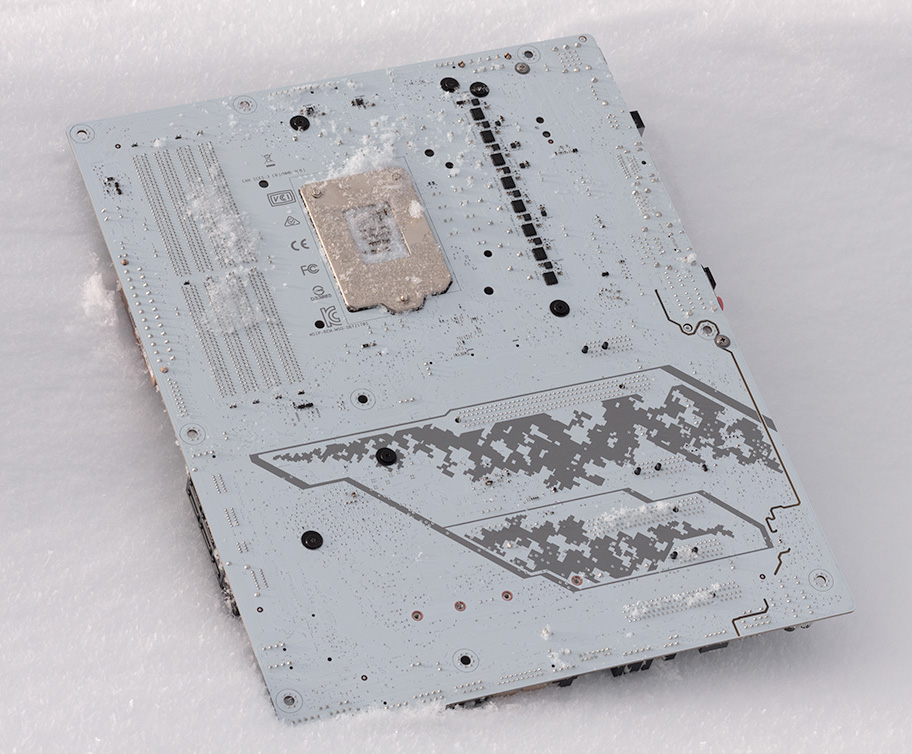 The arctic camo extends to the back, by far the stealthiest side of the Sabertooth Z170 S. Too bad the motherboard trays in modern cases don't have more cut-outs to show this side of the board.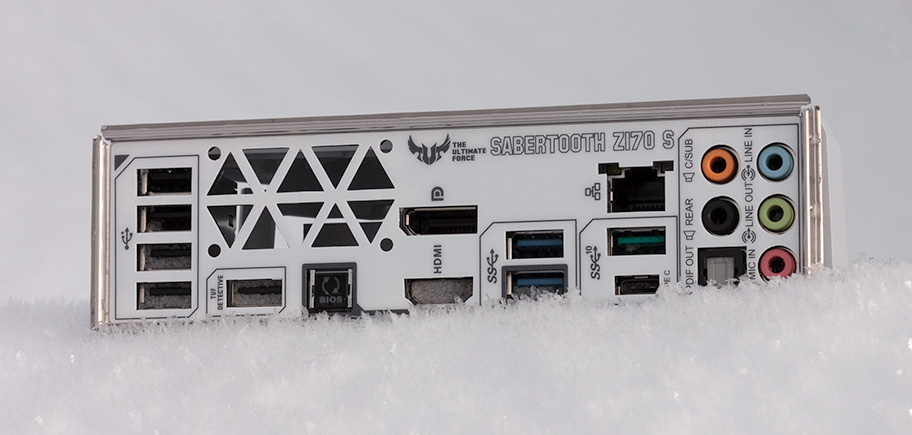 A matching I/O shield is critical for white cases, and the Z170 S has you covered. The back of the shield is also cushioned, without any sharp edges to slice your fingers, because blood is the last thing you want on a clean white build.
Even the surface-mounted components match the monochrome theme. The subtly contrasting capacitors, chokes, and MOSFETs offset their surroundings with pockets of black, pewter, and gray. No other motherboard pulls off the arctic aesthetic better than the Sabertooth Z170 S.
The premium electrical components deliver impeccably steady power and are built to last. Every aspect of the board is engineered to survive the rigors of heavy use, right down the peripheral ports, whose electrostatic discharge protection is tested to twice the industry standard. TUF durability is more than just a marketing buzzword. As with our other Sabertooth boards, we stand behind the Z170 S with a five-year warranty.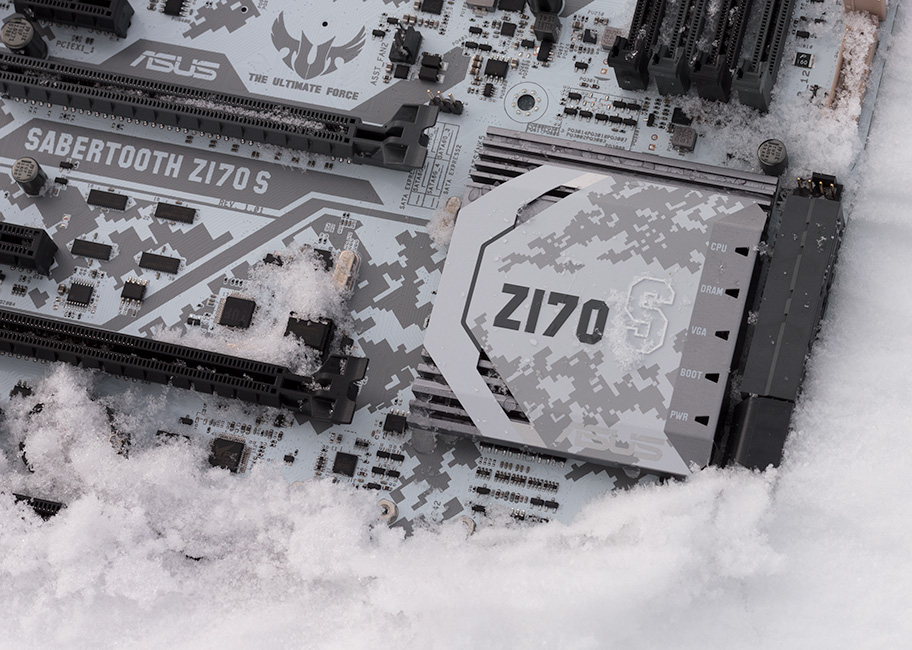 Of course the arctic theme carries over to the chipset heatsink. Its embedded LEDs emit a matching white glow that's more than just for show; the lighting provides feedback on five vital boot stages.
More advanced diagnostics are available via our TUF Detective 2 Android app, which monitors your system's status in real time over Wi-Fi or USB. You can check temperatures and adjust fan speeds conveniently with a smartphone or tablet, without having to switch your PC away from full-screen applications or games. If you need to troubleshoot boot problems, TUF Detective 2 displays POST codes when connected via USB.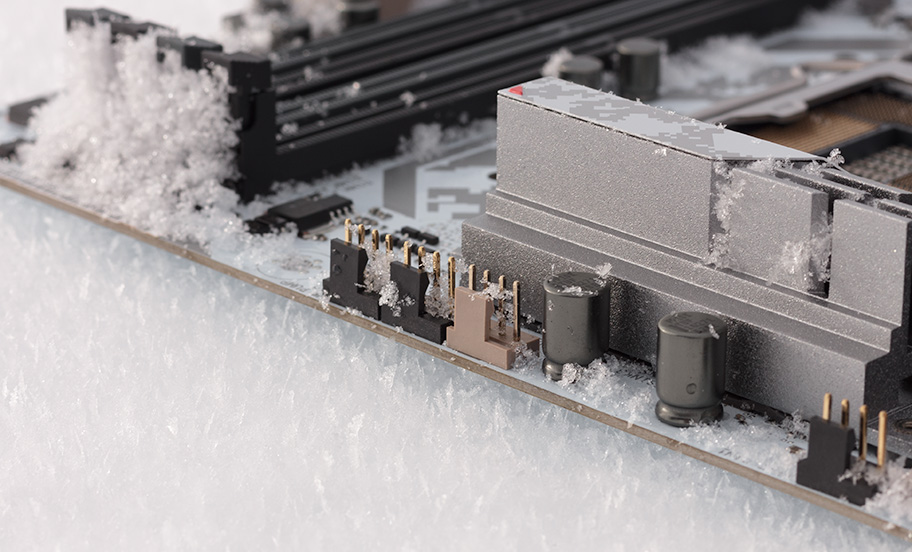 Extensive system monitoring and cooling controls are hallmarks of the TUF tribe. You can plug 11 fans directly into the Sabertooth Z170 S, plus more with our optional Fan Extension card. Controls for all of them are available in the UEFI and TUF's exclusive Thermal Radar 2 software. One of the onboard headers is configured for water pumps by default, providing optimal performance for liquid coolers without any additional setup.
Fan connectivity is only one part of the overall cooling equation. The Sabertooth Z170 S also keeps tabs on temperatures with multiple integrated sensors along with headers for three external probes. You can link individual fans to specific thermal zones to generate the most efficient airflow within your system.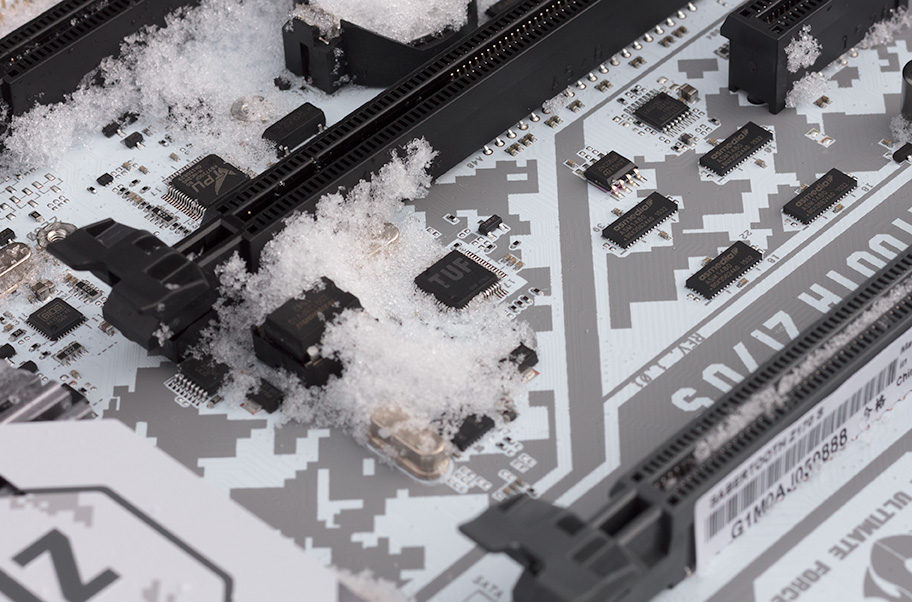 To maximize precision with so many inputs, temperatures and fan speeds are monitored by a dedicated TUF ICe processor. This tiny chip interfaces with the UEFI and our Windows and Android software to bring granular cooling control to multiple platforms. You can adjust individual fan profiles based on your preferred balance of cooling and noise, or you can let the software tune all the fans with a single click. The Sabertooth Z170 S makes it easy to optimize cooling and acoustics regardless of your experience level.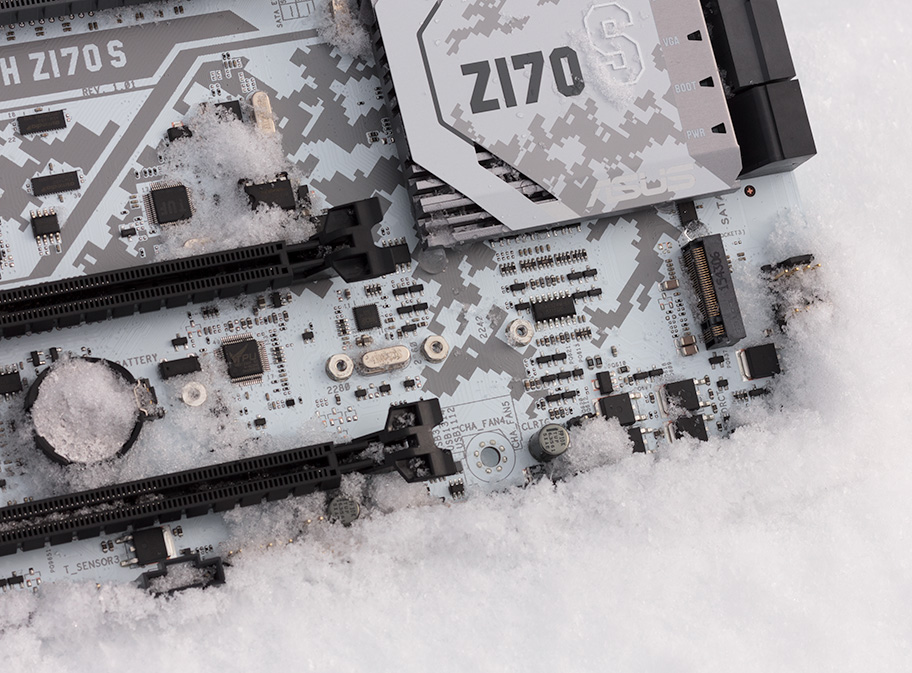 Based on Intel's Z170 chipset, the latest Sabertooth can overclock K-series processors and combine multiple graphics cards in SLI or CrossFireX. PCI Express 3.0 permeates the platform, including the quad-lane M.2 slot, which gives SSDs a staggering 32Gb/s of bandwidth. Thermal constraints can lower the performance of M.2 drives in some scenarios, so we position the slot away from potential hot spots around the CPU and graphics cards. This provides clearance for not only extra cooling, but also longer 110-mm drives.
Ultra-fast connectivity extends to external storage, as well. Each of the Sabertooth's dual USB 3.1 ports double the bandwidth available in USB 3.0. One port retains Type-A compatibility with current hardware, while the other sports a reversible Type-C port for future devices. The Z170 S is a next-gen board through and through.
The audio receives special attention, too. Traces for the left and right channels are split between different PCB layers to reduce crosstalk, while extra shielding guards against interference that can affect output quality. There's also dedicated circuitry to eliminate popping, plus a separate amplifier to deliver superior sound for headphones.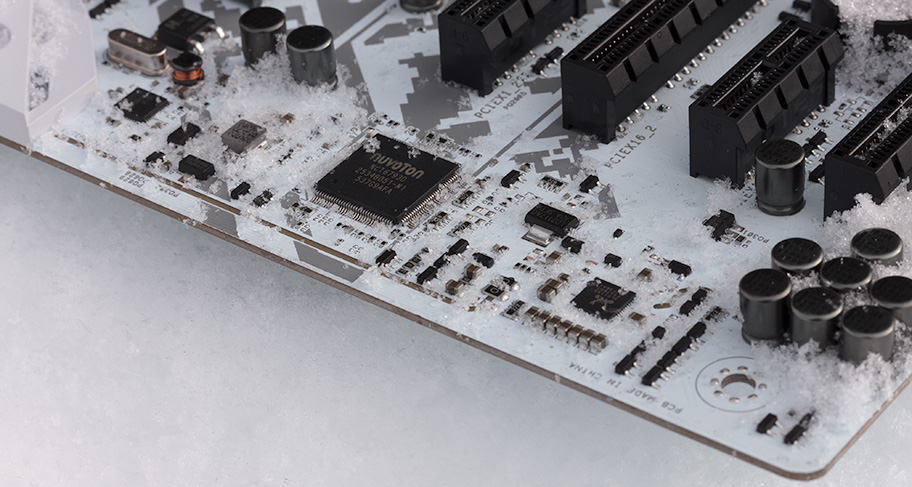 Last year's Sabertooth Z97 Mark S was the first white board with a camo motif, and others are already aping its style. But don't be distracted by the imitators: TUF's Sabertooth Z170 S is the one true king of arctic-themed builds. It's available now for $219, so there's plenty of time to grab one before the snow melts. You can find the full specifications and more on the official product page.