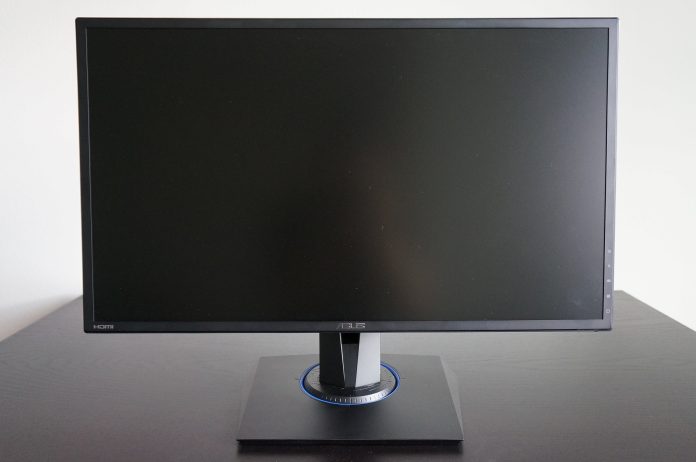 Not everyone has the luxury of space. I'm not talking storage, but rather physical space. Given the choice, any gamer would love to have a giant TV for console gaming on the couch, and a fast monitor for PC titles that call for the precision of a mouse and keyboard. But sometimes you need something that can pull double duty, and that's where the ASUS VG245H gaming monitor comes in.
At 24 inches and under $200, the VG245H packs value into the features that matter to gamers on both PCs and consoles. Where other displays may have inputs for DVI and DisplayPort, the VG245H slims down to two HDMI inputs and a single VGA in. Before lamenting the lack of DisplayPort, realize that the VG245H is a 1080p monitor; HDMI is perfectly up to the task, and the cables are more readily available if you're on a budget. With dual HDMI inputs, you can have one running to your favorite console and the other to your PC. The VGA port provides a legacy option if you have an older laptop that you want to hook up to a bigger display.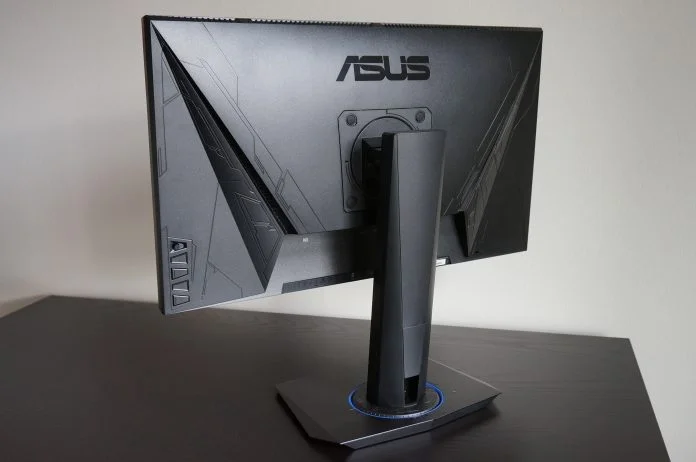 Adaptive-Sync for PC gaming
Given its computer pedigree, let's talk about what makes the VG245H a good solution for PC gamers—particularly if you have a modern AMD Radeon GPU. The monitor supports FreeSync, otherwise known as Adaptive-Sync, which is AMD's take on variable refresh technology. If you're familiar with NVIDIA G-Sync, the benefits are essentially the same. Both are relatively new techniques that allow the graphics card to dictate when new frames are drawn on the screen. They keep the GPU and monitor "in sync" so that you don't experience any of the tearing or stuttering that occurs on fixed-refresh monitors when gaming frame rates inevitably fluctuate. The result is a smoother and more accurate picture.
G-Sync and Adaptive-Sync are similar but not identical. NVIDIA's technology requires more specialized hardware in the monitor, which drives up the cost. You can thank FreeSync's origin in the open Adaptive-Sync standard for making the VG245H an economical choice, but that also comes with a compromise. Where G-Sync works from 30Hz up to the monitor's maximum refresh rate, FreeSync operates within a more limited range. In the case of the VG245H, that range is 40Hz to 75Hz—or FPS—a sweet spot easily attainable with modern graphics cards.
The 75Hz peak may sound underwhelming next to more expensive monitors with triple-digit refresh rates, but keep in mind that most standard LCDs, especially older ones, refresh at only 60Hz. The VG245H can draw 25% more frames per second than typical displays, which makes for a smoother gaming experience.
To illustrate that experience, we ran a handful of games with the monitor connected to our Strix Radeon R9 390 graphics card. We logged individual frame times with Fraps and then converted the data to FPS for easy interpretation. Click the buttons below to switch between games.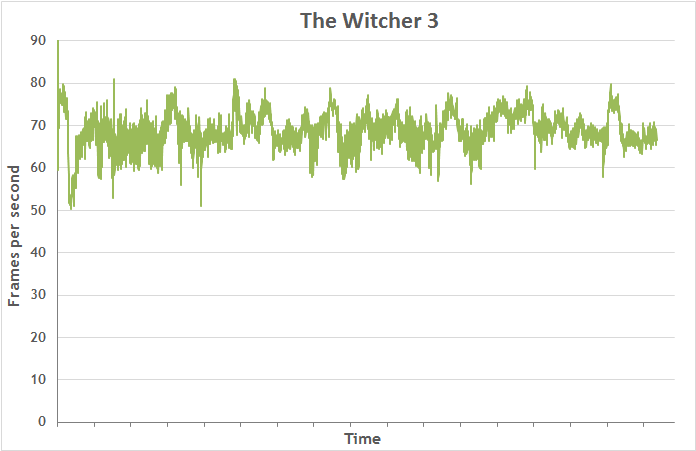 br>
All the games we tested stuck close to the FreeSync range even with the graphics settings cranked up. The situation may change with more demanding releases, but you can always be conservative with the details or upgrade to a newer Radeon. The Full HD 1920×1080 resolution doesn't require too much horsepower to maintain good performance, and the adaptive refresh rate compensates for hiccups and normal FPS fluctuations.
Fast response and low lag for PCs and consoles alike
For gamers who want to play the best titles regardless of platform, the second HDMI input enables easy switching between PC and console. You can play the latest chapter in the Uncharted or Halo franchises (among others) without getting up from your desk.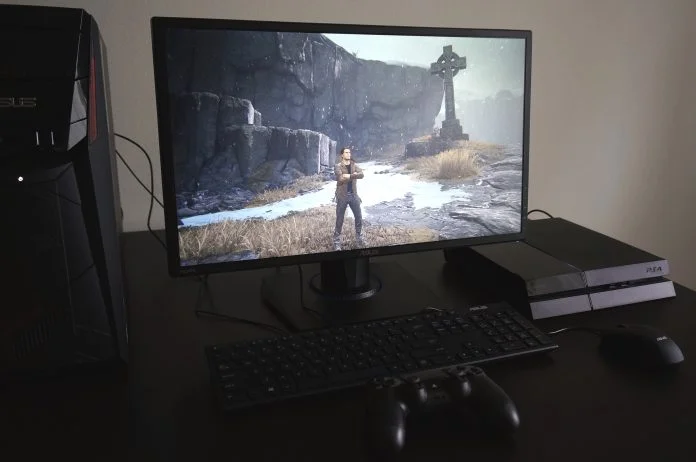 Another feature that benefits both PC and console gamers is the fast 1-ms response time. That GTG rating is the time it takes for an individual pixel to switch from gray to white and then back again. The shorter the transition, the less blurring occurs with rapid motion.
Input lag for displays refers to the time between the monitor receiving an input from the graphics card and when it's drawn on screen. Some monitors, and especially televisions, perform post-processing that delays the picture's arrival on the screen. While this isn't a big issue when watching videos, gaming feels more responsive with lower input lag, and seeing frames earlier than your competition provides an advantage. DisplayLag's independent testing measured the VG245H's average input lag at just 10 milliseconds, putting the monitor among the top in the class.
Extra features you can actually use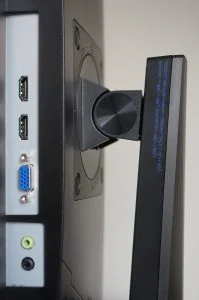 The VG245H's built-in stereo speakers are surprisingly loud. In fact, they're among the loudest integrated speakers I've heard. That might be unimportant to some, as gamers often wear headphones or have decent external speakers. While plugging headphones into your PC is easy enough, consoles don't have the same options. Thankfully, the VG245H packs a stereo output sourced from its HDMI inputs. You're limited you to stereo sound, but that's enough for immersion with a good pair of headphones.
Of course, the two HDMI inputs don't have to be dedicated to just the PC-and-console duo we've laid out. The VG245H can just as easily accommodate a Nexus Player, Chromecast, Fire TV, or any other media streamer for those seeking entertainment from a silent, low-power device.
GamePlus and GameVisual features are accessible via the on-screen display. GamePlus superimposes overlays on the screen with crosshairs, timers, a frame rate counter, or reference markers for lining up multiple displays. GameVisual offers six display presets that optimize the picture for different kinds of content. Options include FPS, RTS/RPG, racing, scenery, cinema, and sRGB modes.
If you have to adapt your gaming space around a single monitor, work and productivity likely occurs in the same area—we're thinking about bedrooms, dorm rooms, and small studio apartments. Despite the focus on gaming, the VG245H has a couple of other features that will be much appreciated when you have to get work done.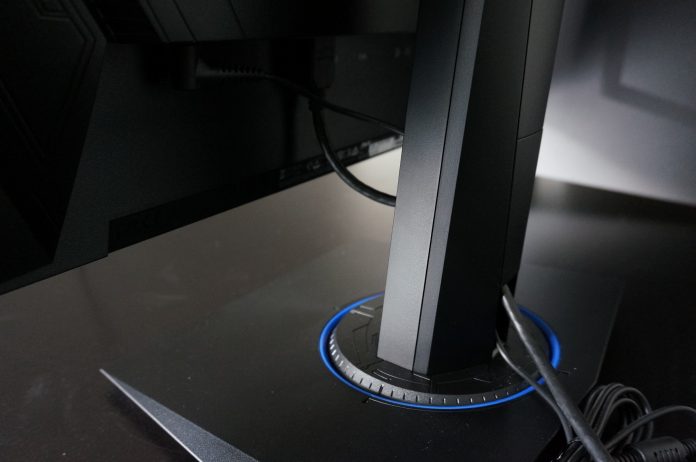 The first is the extremely flexible stand, which allows the monitor to swivel, tilt, pivot, and change height. Your body may be in a completely different position while gaming compared to when you're writing a paper (or as I am writing this), and the stand's range of motion allows you to tailor the display for ideal ergonomics. While totally useless for gaming, pivoting the monitor 90 degrees is excellent for reviewing long documents. The VG245H makes it easy to go back and forth between landscape and portrait modes. If you don't need the stand, you can disconnect it and hang the monitor from a VESA-compatible mount.
TÜV Rheinland certification for flicker-free backlighting and low blue light output is also appealing outside the gaming scene. Flicker-free hardware maintains a stable backlight state regardless of the brightness setting, which helps reduce eye strain. Staring at any LCD can do weird things to our bodies that affect sleep patterns, but the VG245H's four levels of blue light filtering help to mitigate that. This Edge Up article has more details on how ASUS monitors use flicker-free backlights and blue light filters to reduce eye strain and fatigue.
All wrapped up
The VG245H checks a ton of boxes for gamers looking to get the most out of limited budgets. There are plenty of other gaming monitors with more inputs and extras like USB hubs, but this one is purpose-built to be an economical option that doesn't give up the features that matter most. Between FreeSync, dual HDMIs, low input lag, and everything else, you get a heck of a lot for under $200 in the USA and $264 in Canada. The VG245H is available now from the following retailers: