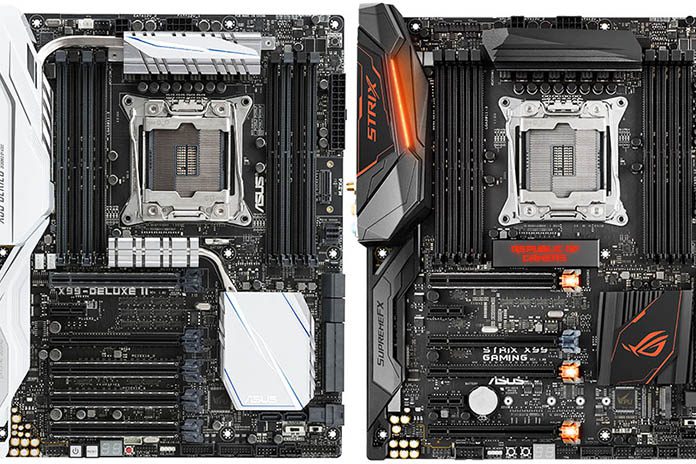 The next wave of Intel Core i7 processors for socket LGA 2011-v3 is coming. These new high-end desktop CPUs will plug into the same socket as their predecessors, and with a firmware update, they'll even work in existing X99 motherboards. In fact, the requisite UEFI updates are already available for our current X99 products.
Thing is, our first X99 boards debuted in August 2014, nearly two years ago. That's a long time in the fast-paced world of PC hardware, and motherboards have improved quite a bit since—most notably in ways that can't be covered by a simple UEFI update. To give the next generation of LGA2011-v3 processors an appropriately cutting-edge sidekick, we've developed an all-new lineup of X99 boards loaded with the latest innovations.
Our X99 revival spans four models for now. The Signature series adds two sequels, the X99-Deluxe II and X99-A II, plus a new entry-level contender dubbed the X99-E. Meanwhile, the Republic of Gamers has expanded to include the Strix X99 Gaming, a fresh take on the motherboard formula that lets your personality shine through. Each member of our X99 redux has a unique mix of features suited to different users and applications. Let's break the boards down to see which one is right for you.

Before delving into what sets these boards apart from each other, it's worth taking a moment to highlight some of the new shared features that separate them from our previous X99 offerings. These upgrades span multiple categories, including RGB lighting, expansion slot reinforcement, and cooling management.
RGB lighting has become increasingly important for gamers, modders, and enthusiasts who want to add visual flair to their builds. That's why all of our new X99 motherboards have customizable lighting that's easily configured with our Aura software. This utility serves up the full rainbow of colors, so you can match the motherboard lighting with other system components to achieve just the right look. There are also numerous lighting effects, including a functional option that reflects the CPU temperature, plus several cosmetic ones that flash, fade, and cycle through different patterns—or pulse to the beat of your favorite music. Aura effects now work when the system is in standby, and you can assign a different light show for that mode.
While all our new X99 boards have integrated Aura lighting, the X99 Deluxe II, X99-A II, and ROG Strix X99 Gaming also feature a four-pin header for external strips. This header is compatible with off-the-shelf "5050" RGB LED strips and capable of powering up to two meters of lighting, enough to cast a multicolored glow over your system's internals. RGB strips are managed by the same Aura software as the onboard LEDs; you can assign colors and effects independently or synchronize them for a cohesive aesthetic. A future software update will extend synchronization to other Aura-compatible products, making it easy to match the lighting for a complete system.
Anyone who has purchased a recent high-end graphics card knows that they're getting heavy. That's not necessarily a bad thing. More weight generally means more metal on the cooler, which usually translates to greater surface area and improved heat dissipation, enabling higher clock speeds and better performance. But the added weight puts additional stress on the PCI Express slot, which can sustain damage from accumulated pressure, clumsy installation and removal, or the jostling that inevitably occurs when shipping systems or transporting them to LAN parties. That's why we developed SafeSlot, a beefed-up expansion slot that's stronger than anything else on the market.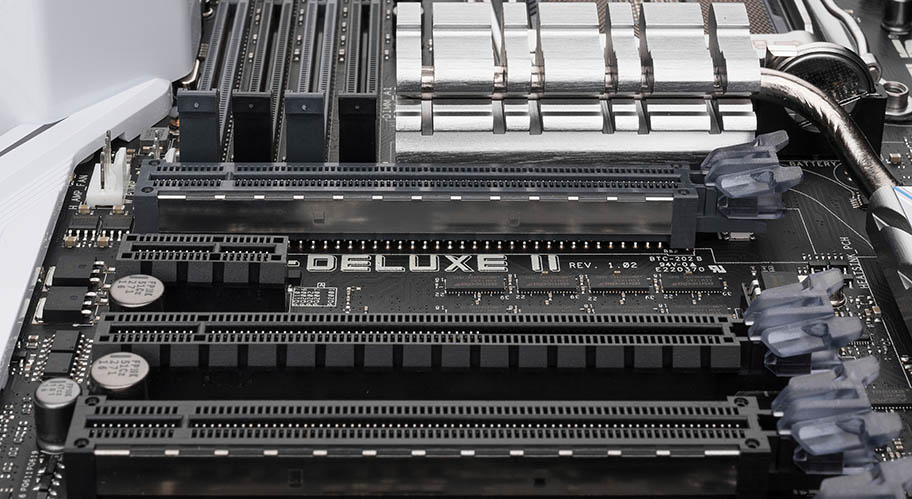 SafeSlot uses an insert-molding process that integrates metal reinforcements into the plastic walls of the PCI Express x16 slot. The slot is then anchored to the motherboard with extra solder points to ensure a secure connection that protects your investment. Our internal testing shows that SafeSlot can survive greater forces than the reinforced slots on competing motherboards. The magnitude of its advantage varies depending on the direction of the force, but SafeSlot tops the competition across the board. All of our new X99 motherboards have at least one SafeSlot for the primary graphics card, if not more.
Comprehensive cooling control has long been a hallmark ASUS motherboards, and we've continued to expand with this generation. Our new X99 boards detect the presence of three-pin DC and four-pin PWM fans automatically to ensure easy setup and optimal cooling regardless of your system payload. They also include a dedicated header for high-amperage fans. Designed for the industrial-grade fans popular in extreme overclocking circles, this header is capable of pushing up to 3A for maximum airflow.
For liquid cooling, our new X99 motherboards reprise the dedicated pump header from our Z170 family. This header runs at maximum speed by default, which is the preferred configuration for both all-in-one coolers and discrete pumps. If you don't have a liquid cooler, the pump connector can be switched to fan mode, where it enjoys the same fine-tuning options as the rest of the onboard headers. On top of that, the UEFI lets you assign fans to respond to different temperature sensors that best reflect their position in the system. You can also control how quickly the fans spin up and spin down in response to temperature changes, which prevents transient loads from inducing jarring changes in fan noise.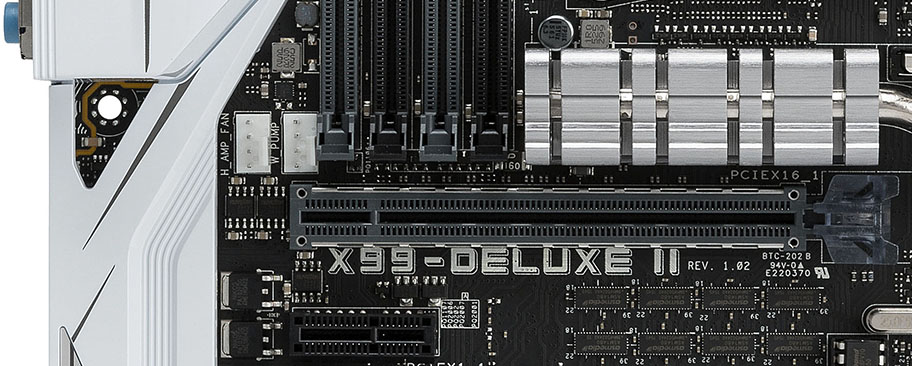 Those last couple of fan-control enhancements are inherited from the firmware on our Z170 motherboards, and they're not the only features we've ported over. Our UEFI-based secure erase tool has also made the transition, providing an easy way to restore solid-state drives to full performance. And the UEFI itself has become easier to update thanks to an integrated downloader that automatically grabs the latest release from our servers. You can download and apply the latest update within the UEFI—and without having to dig up a thumb drive.
Our new X99 motherboards have a UEFI-based auto-tuner, of course, plus 5-Way Optimization software that automatically overclocks the system and tweaks the cooling with a single click. Unlike some competitors' solutions, our overclocking intelligence increases clock speeds and voltages gradually while testing stability, which is the best way to reach the true potential of individual chips. Overclocking is further aided by special sauce at the hardware level. Our OC Socket uses extra pins on the CPU to improve power delivery, while our T-Topology trace layout optimizes signaling for maximum performance with all memory slots populated. The X99-Deluxe II, X99-A II, and ROG Strix X99 Gaming all have eight DIMM slots with support for DDR4-3333 speeds.
We improve motherboard audio with each generation, and this one is no different. The Signature series' new Crystal Sound 3 implementation adds a separate regulation stage that smooths out input voltage ripple. You also get all the usual accoutrements, including special circuitry to reduce popping, a dedicated amplifier to boost output, and protective shielding to reduce interference. The ROG Strix X99 Gaming goes even further, which we'll get to in a moment.
Now that we've covered the basics, let's meet the individual boards.
X99-E
X99-A II
X99-Deluxe II
ROG Strix X99 Gaming
CPU support
Intel Core i7 for LGA 2011-v3
Intel Core i7 for LGA 2011-v3
Intel Core i7 for LGA 2011-v3
Intel Core i7 for LGA 2011-v3
Chipset
Intel X99
Intel X99
Intel X99
Intel X99
Memory
8 x DDR4 up to 3200MHz
8 x DDR4 up to 3333MHz
8 x DDR4 up to 3333MHz
8 x DDR4 up to 3333MHz
PCIe 3.0 x16 slots
3
3
4
3
SafeSlot
1
1
4
1
Multi-GPU
3-way SLI/CrossFireX
3-way SLI/CrossFireX
3-way SLI/CrossFireX
3-way SLI/CrossFireX
Gigabit Ethernet
1 x Intel
1 x Intel
2 x Intel
1 x Intel
Wireless
NA
NA
3x3 802.11ac Wi-Fi
Bluetooth 4.0
2x2 802.11ac Wi-Fi
Bluetooth 4.0
Storage
1 x M.2
1 x SATA Express
10 x SATA
1 x M.2
1 x U.2
1 x SATA Express
10 x SATA
1 x M.2
2 x U.2
1 x SATA Express
10 x SATA
1 x M.2
1 x U.2
1 x SATA Express
10 x SATA
USB 3.1
1 x Type-C
1 x Type-A
1 x Type-C
3 x Type-A
1 x Type-C
1 x Type-A
1 x Type-C
Audio
Crystal Sound 3
Crystal Sound 3
Crystal Sound 3
SupremeFX
Aura lighting
Onboard
Onboard + strip header
Onboard + strip header
Onboard + strip header
Price
$219
$250
$420
$339
X99-E: Elite without the expense
This new entry point to the X99 Signature series brings most of the bells and whistles of its siblings down to a more affordable price. At $219, it's a great option for anyone looking to adopt Intel's high-end desktop platform on a budget—and without sacrificing the essentials. The X99-E takes full advantage of the platform's copious PCI Express bandwidth, using it to fuel a trio of x16 slots with support for three-way CrossFireX and SLI configs. Only one of those is embedded with SafeSlot metal reinforcements, but they're all anchored with additional solder points to prevent separation due to rough handling.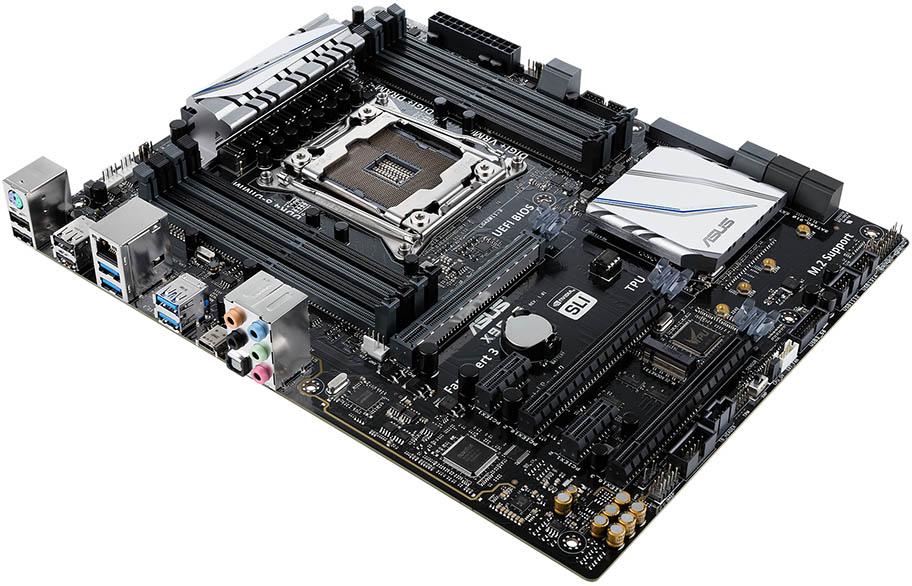 The X99-E supports up to 128GB of memory, but speeds top out at DDR4-3200 instead of DDR4-3333, which will hardly be an impediment for most. The lack of a native U.2 connector is another small concession; the workstation- and server-grade SSDs that use the standard aren't as popular with the budget-conscious users targeted by the X99-E. M.2 SSDs are much more popular with that crowd, so the board has an ultra-fast M.2 slot linked directly to the CPU with a PCIe 3.0 x4 link.
With Aura lighting limited to the onboard RGB LEDs, the X99-E isn't ideal for modders to want to light up entire systems with separate strips. But you still get the important stuff, like a reliable Intel Gigabit Ethernet controller and a reversible Type-C USB 3.1 port. The board even has the same number of power phases feeding the CPU and memory as its higher-priced Signature siblings.
X99-A II: All the things
The X99-A II makes fewer compromises than the X99-E, and it predictably costs more as a result. But its $249 price tag isn't too much of a stretch considering what you get. The extra scratch buys a header for RGB LED strips that can add a lot of visual impact for modders or anyone with a case window. You also get a native U.2 port that's perfect for pairing with Intel's awesome 750 Series SSDs. U.2 connectivity comes with a side order of M.2, but two interfaces share a PCIe 3.0 x4 link, so they can't be used concurrently.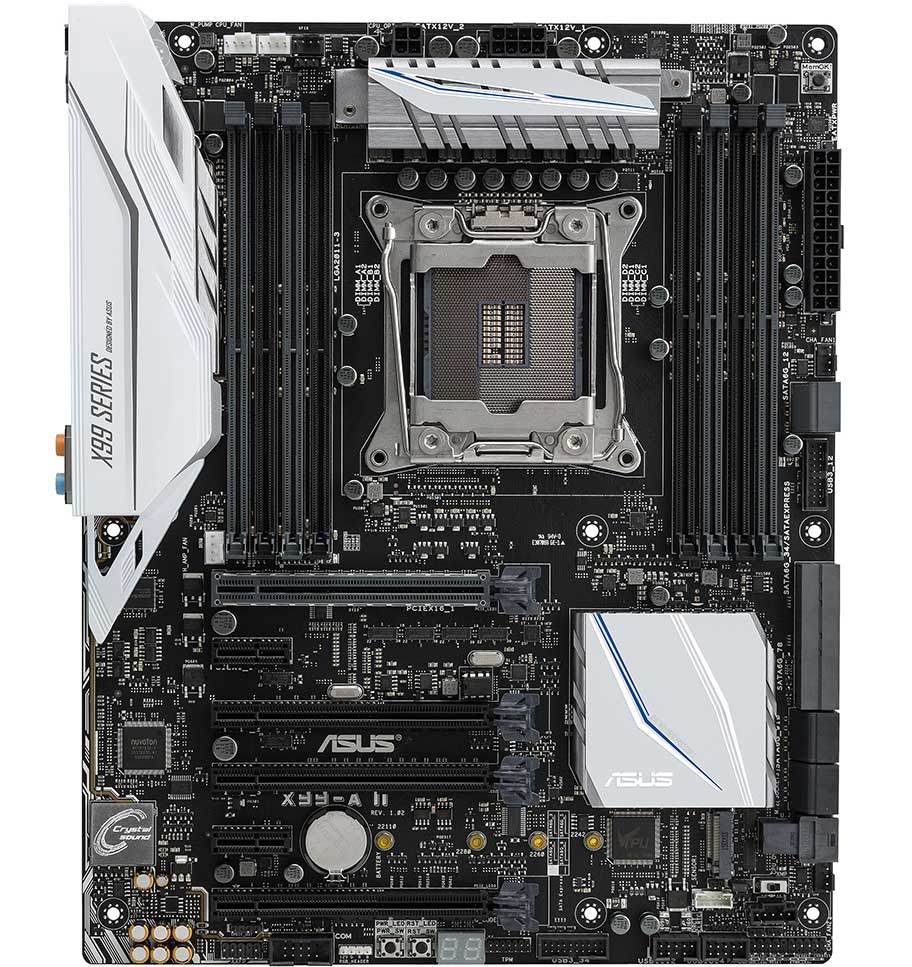 While the X99-E is limited to a single Type-C USB 3.1 port, the X99-A II delivers the 10Gbps standard in both reversible Type-C and backward-compatible Type-A flavors. Having both ports is particularly handy given the relative scarcity of USB peripherals that use the new Type-C connector.
To simplify system building, the X99-A II comes with a special installation tool that helps newbies insert the CPU into the socket without bending pins or causing other damage. And the board supports USB BIOS Flashback, which lets you flash the firmware with only a USB drive and power supply connected. These extras may not be exotic, but they make system assembly easier, especially at scale.
X99-Deluxe II: When only the best will do
The $419 X99 Deluxe II is quite a bit pricier than the other Signature boards, but it ups the ante accordingly. Networking gets the biggest upgrade, with the addition a second Intel Gigabit Ethernet controller for wired connections and a dual-band Wi-Fi module for wireless ones. The Wi-Fi module pushes 802.11ac over a 3×3 antenna for transfer rates up to 1300Mbps, which exceeds the speed of wired Gigabit connections. MU-MIMO support provides a boost with compatible routers, while Bluetooth support brings compatibility with wireless peripherals. All that is built right into the board, without sacrificing expansion slots.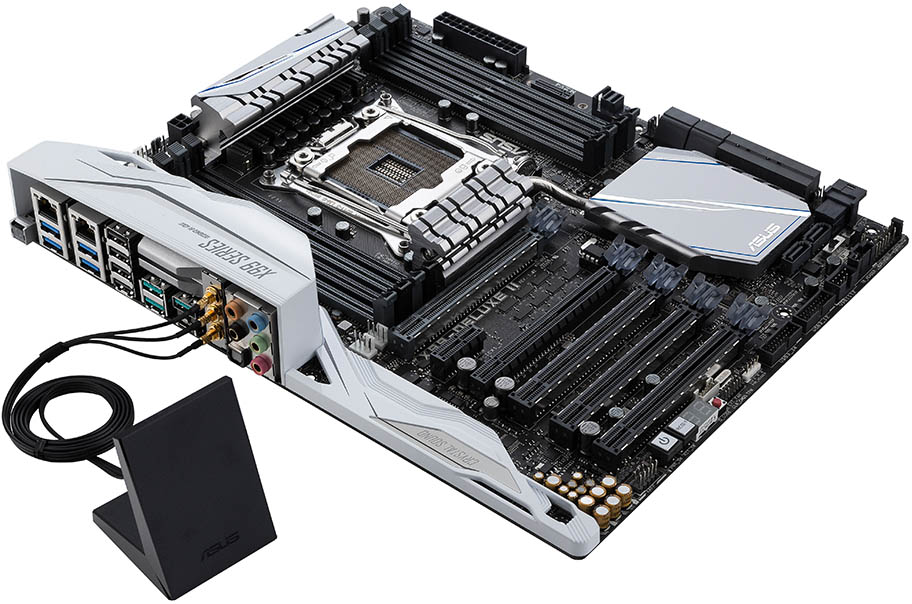 Speaking of expansion, the X99-Deluxe II is the only board in the bunch with four PCIe x16 slots tied to the CPU. These slots can be configured with an x8/x8/x8/x8 spread that distributes bandwidth evenly across four cards. They all have full SafeSlot reinforcement, too.
With dual U.2 ports and one M.2 slot, the X99-Deluxe II is ripe for cutting-edge PCI Express SSDs. We doubled up on U.2 instead of M.2 because its cabled interface takes drives off the motherboard. This moves them away from the heat surrounding the CPU and GPU, and it gives drives enough room to incorporate heatsinks that further reduce temperatures. Multiple tech sites have demonstrated thermal throttling that reduces performance on popular M.2 drives, making U.2 the best solution for sustaining peak speeds.
In addition to the onboard features, the X99-Deluxe II comes with a bunch of extras that plug in, including a ThunderboltEX 3 card based on Intel's Alpine Ridge controller. The card adds Type-A and Type-C USB 3.1 ports, and the latter doubles as a Thunderbolt 3 connector. This latest edition of the Thunderbolt spec pushes a 40Gbps over a single cable—four times the bandwidth of USB 3.1—and it's capable of sharing that pipe between up to six daisy-chained devices. As an added bonus, the ThunderboltEX 3 supplies up to 36W to fast-charging USB devices. Combined that with the extra USB 3.1 ports on the board itself, and the X99-Deluxe II has the capacity to connect loads of high-speed external devices.
The included Fan Extension Card provides headers for three more fans and three thermal probes, bringing the total number of temperature-controlled fan headers to nine. You can manage all the cooling for even fully-loaded systems with a single Fan Xpert interface. A thermal sensor is included in the box, too, along with a low-profile HyperX M.2 x4 card that lets M.2 SSDs connect via PCI Express expansion slots. All these extra cards are sold separately and compatible with the other boards, but they help solidify the X99-Deluxe II's premium status right out of the box. This is the board you want for a serious workhorse capable of having its share of fun on the side.
ROG Strix X99 Gaming: The art of expression
While the Signature series sticks to a reserved monochrome colorway, the ROG Strix X99 Gaming dares to be different. Its blacked-out board is punctuated by neon orange decals that echo the copper accents of some of our new ROG products. We include three sets of decals in different colors, so you can change the look to match the rest of your system. Additional RGB lighting around the I/O shroud and central ROG badge adds to the customizable appearance, making the Strix perfect for modders and gamers who want to define their own style.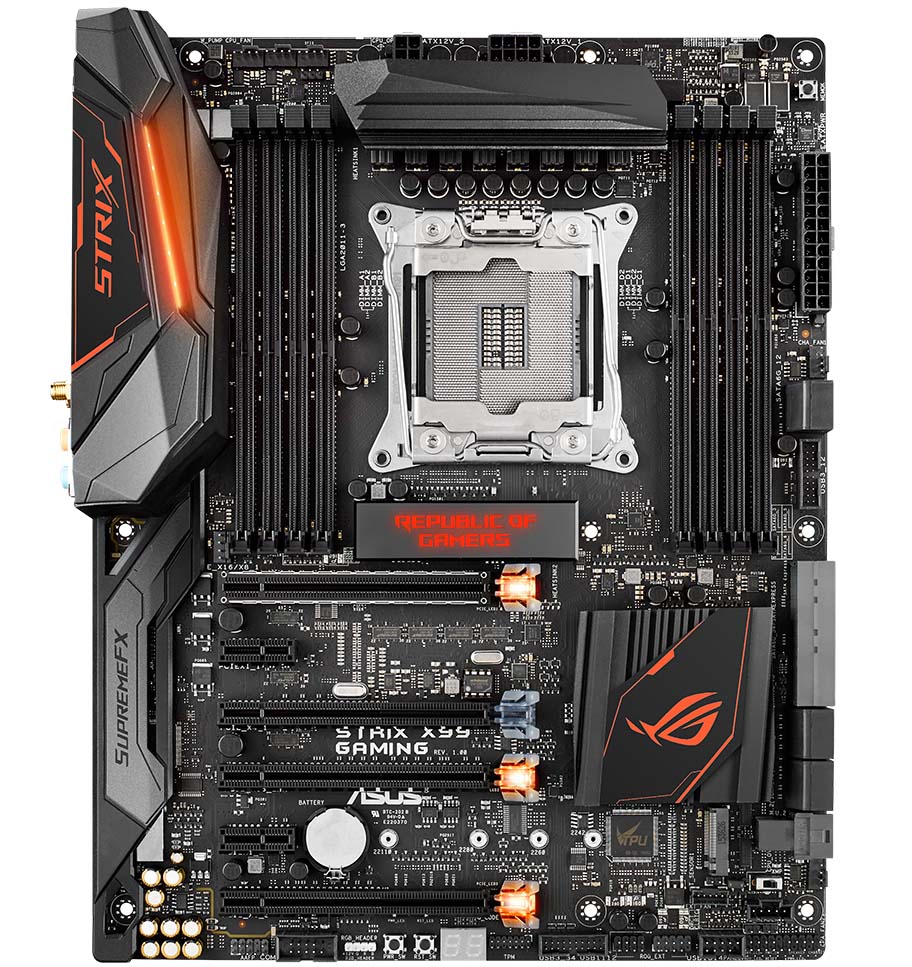 There's more to the ROG Strix X99 Gaming than just its appearance. The number of slots and ports is similar to the X99-A II, but the networking is bolstered on two fronts. A dual-band 802.11ac Wi-Fi module adds wireless to the equation along with the requisite Bluetooth connectivity. The 2×2 antenna tops out at 867Mbps, which is slower than the 3×3 solution on the X99-Deluxe II, but there's still more than enough bandwidth for fast file transfers and smooth online gaming. Our GameFirst IV software further enhances networking performance by learning your habits and automatically prioritizing traffic to prevent things like P2P transfers from lagging critical gaming packets.
Rather than using the same Crystal Sound 3 audio as the Signature boards, the ROG Strix X99 Gaming employs dual amplifier chips to improve output for speakers and headphones. Sonic Radar II software adds another wrinkle by mapping the direction and origin of game audio on a configurable overlay that gives players an edge on the battlefield.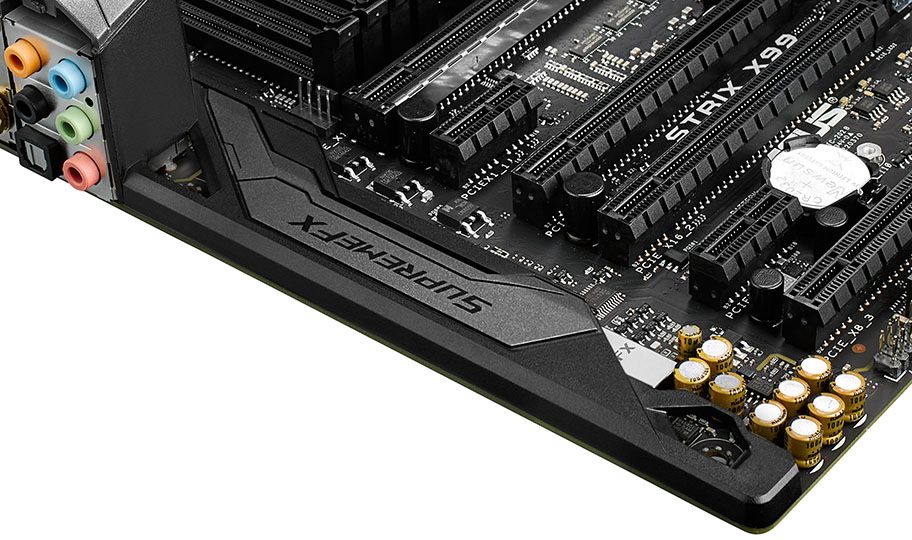 Also on the software front, the ROG Strix X99 Gaming comes with an ROG RAMCache utility that takes storage performance to another level. RAMCache allocates an adjustable portion of system memory to caching the data you access the most, enabling much faster storage performance than even the best SSDs. It's perfect for the X99 platform, where support for up to 128GB of memory allows the creation of truly massive caches, and the CPU's quad memory channels offer higher speeds.
A new recruit in Republic of Gamers, the $339 Strix X99 Gaming fills the gap between the X99-Deluxe II and X99-A II. It's easily the rebel of the bunch—but not without a cause. The collection of gaming-centric features and customizable cosmetic flourishes put the Strix right in the hottest portion of the PC landscape.
ROG Rampage V Edition 10: The customizable king
You didn't thing we forgot about the Rampage, did you? This one is so special, we wrote a separate article. Get the scoop on our top-of-the-line Rampage V Edition 10 right here.