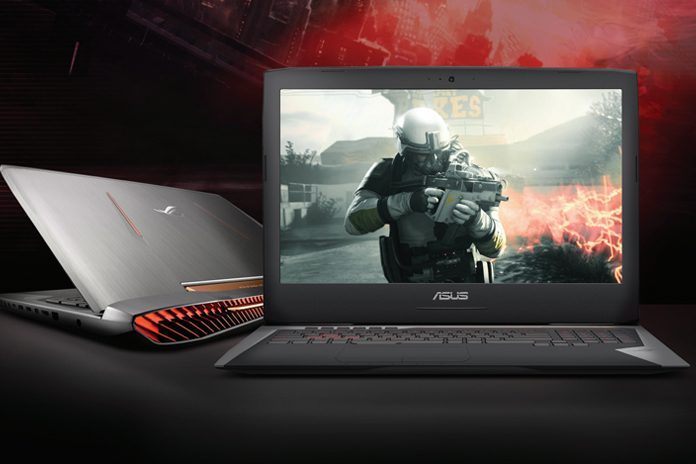 After dominating high-end desktops, NVIDIA's next-generation Pascal graphics architecture is ready for laptops. Mobile versions of the GeForce GTX 1080, 1070, and 1060 have arrived based on the very same GPU silicon as their desktop counterparts, ushering in a new era for portable performance for PC gamers.
To celebrate the occasion, we've rolled out a new collection of ROG gaming laptops with Pascal under the hood. The first salvo comprised desktop replacements that blur the line between gaming rigs and portable workhorses. The G752VS strikes just the right balance to deliver the best hardcore gaming and VR experience for your money. Our second wave employs thinner and lighter designs that make Pascal much more portable. The Strix GL502 brings next-generation graphics to a 15.6″ gaming notebook that weighs under five pounds, while the Strix GL702 takes a similar approach with a larger 17.3″ display. And then there's the latest addition, the G701VI, a premium powerhouse whose 120Hz IPS-type display and GeForce GTX 1080 graphics deliver a truly next-level laptop gaming experience.
Our lineup of gaming notebooks with GeForce 10-series graphics has something for everyone. Most of the new models come in multiple configurations to suit different budgets, and some are overclocked at the factory, with the ability to pursue higher speeds on your own. Here's what you need to know about how they compare.
Why Pascal is important
The GeForce 10 Series is NVIDIA's first built on 16-nm technology. This advanced fabrication process squeezes an astounding 7.2 billion "3D" transistors into the GPU powering the GeForce GTX 1080 and 1070, and 4.4 billion into the chip behind the GTX 1060. For reference, Intel's quad-core Skylake CPU has a mere 1.75 billion transistors.
Compared to the last Maxwell generation, Pascal has more cylinders at higher revs. The GeForce GTX 10 Series boasts more CUDA cores for massively parallel processing, plus higher base and boost frequencies. And it has more memory—a whopping 8GB on the GTX 1080 and 1070—plus more bandwidth to it. Translation: games run smoother with the details turned higher. Pascal is also more power-efficient than its predecessor, making it a natural fit for notebooks.
In addition to providing more raw power, Pascal is smarter about using it. The architecture can run graphics and compute loads simultaneously, dynamically balancing resources as needed. That's important for games that use the GPU for physics processing and other non-graphics work. With more granular preemption, Pascal is capable of interrupting workloads at the instruction level, allowing the GPU to quickly save its progress and reallocate resources to high-priority tasks. This ability is particularly helpful for a VR technique called time warping, which adjusts and reprojects an old frame if a new one won't be ready for the headset's next refresh cycle.
VR gets another boost from simultaneous multi-projection, a new capability that lets Pascal efficiently replicate scene geometry across up to 16 viewports. The GPU can process the dual projections needed by modern VR headsets in a single pass, improving performance. Viewports can also be adjusted to correct distortion in headset lenses, and performance can be optimized further by lowering the detail around the edges, where the visual impact isn't noticeable.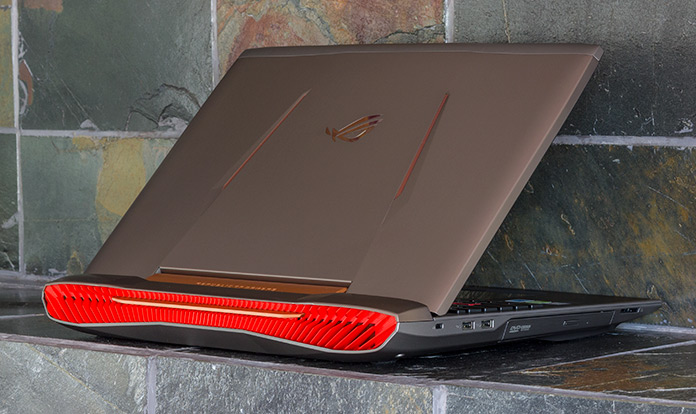 Standard equipment for hardcore gamers
Our new gaming laptops differ in some areas, which we'll get to in a moment, but they also share a lot of core attributes. They all have 6th Generation Intel Core i7 processors otherwise known as Skylake. The quad-core chips use Hyper-Threading to execute up to eight threads in parallel, allowing them to effortlessly everything from gaming to content creation to heavy multitasking workloads. In the G752VS OC Edition and G701VI, the CPU is factory overclocked and unlocked for further tweaking.
As one of the most popular producers of gaming monitors, we're keenly aware of how much gamers value their displays. That's why all our Pascal gaming laptops feature NVIDIA's G-Sync technology, which synchronizes the refresh rate of the display with the frame rate of the GPU. This tight integration makes gameplay smoother by reducing perceptible stuttering, makes graphics more immersive by eliminating visual tears, and makes the whole experience feel more responsive by reducing input lag.
Backlighting illuminates the keyboard during late-night raids, and anti-ghosting technology prevents the system from missing vital input during frantic key mashing. All our Pascal gaming laptops can capture more simultaneous key presses than you have fingers. The G752VS and G701VI support 30-key rollover, which is more than sufficient, while the others go gloriously overboard with n-key rollover that lets you press every single key at once.
Naturally, our new notebooks are loaded with next-gen connectivity. Reversible Type-C USB 3.1 ports are standard equipment, there's enough USB 3.0 for VR setups, and Bluetooth brings support for wireless peripherals. Networking is split between Gigabit Ethernet and 802.11ac Wi-Fi with a 2×2 antenna, so you can connect to the fastest networks with or without wires. And you get Mini DisplayPort and HDMI outputs for auxiliary displays like gaming monitors and big-screen TVs.
Desktop replacements worthy of the name
The most fearsome of our Pascal gaming laptops are naturally the desktop replacements, which are thicker and heavier than their GL siblings. These machines pack a bigger punch for gamers and power users unwilling to settle for anything less than a true desktop experience, yet they still fit into a backpack you can easily carry between home, school, work, and the next LAN party. Some desktop replacements are easier to transport than others. At just under 1.4″ thick and 8.4 lbs, the G701VI is noticeably thinner and lighter than the 1.9″, 9.5-lb G752VS.
Both have 17.3″ displays powered by IPS-type panels with vivid colors and wide viewing angles. The screens are large enough to share, whether you're battling one-on-one in Street Fighter, teaming up in a split-screen Rocket League match, or dazzling a crowd of spectators with your solo skills. Wide viewing angles ensure that everyone can see the action clearly, without dull or washed-out colors.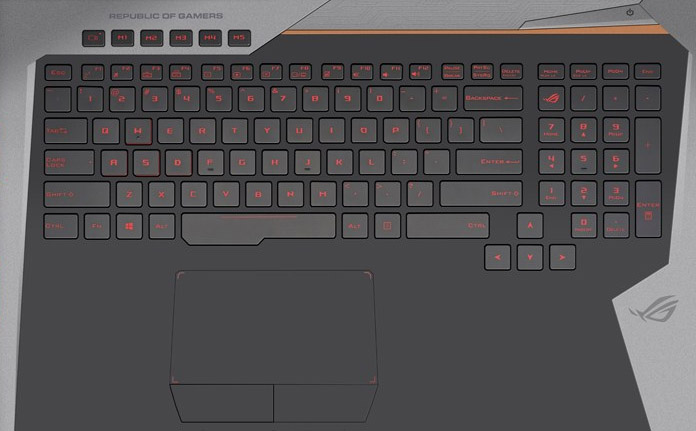 The G752VS and G701VI both employ hybrid keyboard switches that mate a scissor switches with rubber domes. The result delivers a punchy, satisfying feel with plenty of travel. Programmable macros are common in gaming circles and critical in the heat of battle, so we brought them onboard as well. Five dedicated macro keys let you flawlessly execute complex combos with a single press. There's a dedicated streaming button, too, allowing you to quickly broadcast your skills to legions of fans. (Skills and legions of fans not included.)
Want more upgrades? In addition to offering 10Gbps of bandwidth via USB 3.1, the Type-C ports can push 40Gbps to Thunderbolt 3 devices. On top of that, HDMI 2.0 certification paves the way for driving 4K displays at up to 60Hz. These desktop replacements can even supplant home-theater PCs.
Turbocharged 120Hz gaming on the ROG G701VI
Gameplay smoothness has a huge impact on your sense of immersion. Games should ideally run at the highest possible frame rate, and the refresh rate of the accompanying display should be high enough to keep up. The ROG G701VI elevates both to deliver a better experience for hardcore gamers along with a valuable edge for competitive players.
An ultra-fast 120Hz panel makes up one half of the dynamic duo that defines this beast. The display updates twice as frequently as typical 60Hz screens, bringing silky fluidity to movement and animation. The higher update frequency also reduces input lag, making games feel more responsive and connected.
NVIDIA's top-of-the-line GeForce GTX 1080 GPU quenches the display's thirst for fresh frames. The big daddy of the mobile Pascal lineup easily pushes over 120 FPS at the machine's 1080p native resolution, and G-Sync is there to smooth out any dips below the peak refresh rate. As if equipping the fastest mobile GPU on the planet weren't enough, we also turned up the clocks. The GPU runs 40Hz faster than stock, and its 8GB of GDDR5X memory gets a 150MHz boost.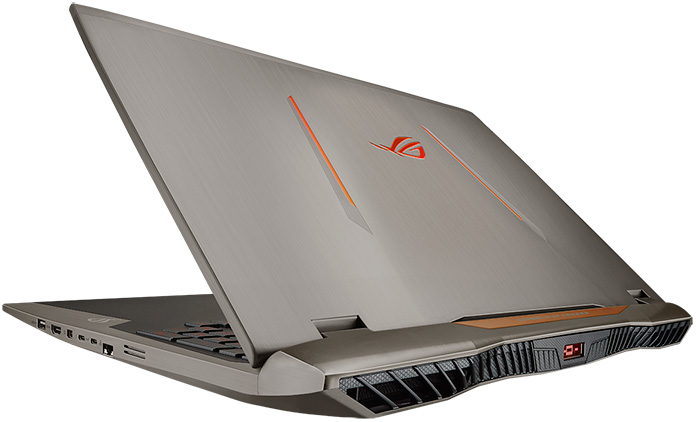 Factory overclocking isn't limited to the discrete graphics. The Intel Core i7-6820K CPU normally hits 3.2GHz with all its cores lit up, but the G701VI's one-click Extreme Mode cranks the quad-core frequency to 3.8GHz. Tweakers can push the chip even further with the system's manual overclocking mode, which supports speeds up to 4.1GHz. Even in Extreme Mode, there's more than enough horsepower for game streaming, virtual reality, and other punishing workloads.
The last overclocked component is the DDR4-2400 memory, a healthy boost over the DDR4-2133 default. Heavy multitaskers can equip the machine with up to 64GB of RAM. Storage tops out at 1TB via dual 512GB M.2 solid-state drives in RAID 0. The SSDs have loads of bandwidth thanks to their PCIe 3.0 x4 interfaces, and they use the low-overhead NVMe protocol to further improve performance. This laptop's storage leaves most high-end desktops in the dust.
Gamers prefer headsets, so we added an ESS Sabre DAC and amplifier designed to make the most of your favorite cans. The upgraded hardware increases dynamic range and reduces undesirable noise to deliver superior overall sound. It also boosts the output for headphones, so the battlefield resonates with appropriate oomph.
G701VI-XB78K
G701VI-XB72K
CPU
Core i7-6820HK
OC 3.8GHz
Core i7-6820HK
OC 3.8GHz
GPU
GeForce GTX 1080 8GB GDDR5X
OC 1596/1796MHz
GeForce GTX 1080 8GB GDDR5X
OC 1596/1796MHz
Display
17.3" G-Sync 120Hz
1920x1080
IPS-type panel
17.3" G-Sync 120Hz
1920x1080
IPS-type panel
Memory
64GB (4 x 16GB)
OC DDR4-2400
32GB (2 x 16GB)
OC DDR4-2400
Storage
2 x 512GB SSD RAID 0
(NVMe PCIe3x4)
512GB SSD
(NVMe PCIe3x4)
Keyboard
Scissor hybrid
Scissor hybrid
Battery
93Wh
93Wh
OS
Windows 10 Pro
Windows 10 Pro
Price
$3699
$3099
The G701VI-XB72K starts at $3,099 with 32GB of RAM and a single 512GB NVMe SSD. To max out the machine, you want the G701VI-XB78K, which doubles the memory and storage for $3,699.
The ROG G752VS is balanced gaming bliss
Notebook makers like to brag about having the "best" this and the "fastest" that, but gamers know that you get the best experience from a balanced blend of components that work well together. The G752VS embodies this approach with a display and GPU that perfectly complement each other.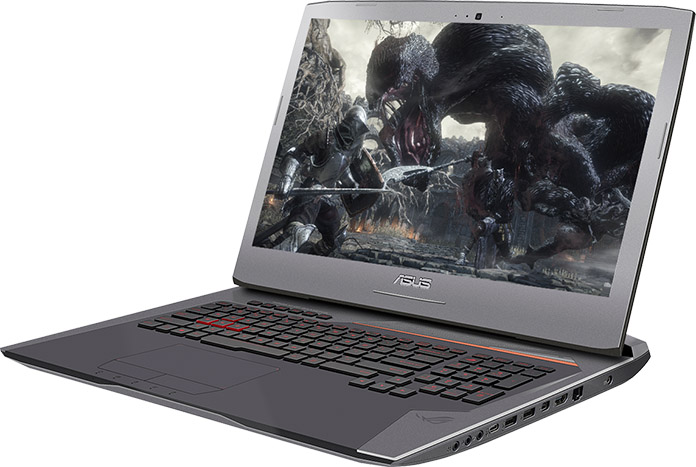 The 17.3" screen has a 1920×1080 resolution and 75Hz maximum refresh rate. It updates 25% faster than typical 60Hz displays, allowing smoother animation and lower input lag. We went with the 1080p resolution to ensure consistently high frame rates with the GeForce GTX 1070 GPU. PC gaming is all about better graphics at higher frame rates, and this combination easily pushes over 60 FPS with the eye candy maxed out in games like Doom, Overwatch, The Witcher 3, Grand Theft Auto V, and Project Cars. Gaming in VR is phenomenally smooth, as well. See our hands-on look at the G752VS OC Edition for more on the gaming and VR experience.
The G752VS comes configured in Extreme Mode, which increases the stock GPU frequency by 50MHz and the GDDR5 graphics memory by 150MHz. We can deliver this factory overclock because our exclusive 3D Vapor Chamber cooling is extremely effective at channeling thermal energy away from the silicon. Compared to conventional solutions, it lowers GPU temperatures by up to 7°C.
The GPU and CPU have dedicated coolers with separate blowers. Each blower catches dust in a special channel, preventing it from accumulating on the heatsink fins over time. This little bit of housekeeping helps maintain cooling performance over the long haul, prolonging the life of the chips.
As you might expect, we didn't stick to the stock memory frequency of the Intel CPU. Most G752VS models come with DDR4-2400 RAM that's 12.5% faster than typical DDR4-2133. There are four SO-DIMM slots in total: two tucked under the keyboard tray and two more easily accessible through a removable panel in the bottom of the chassis. The panel also provides full access to the integrated storage, which is split between a 2.5" SATA bay and dual M.2 slots with PCIe 3.0 x4 connectivity.
G752VS-XB78K OC Edition
G752VS-XB72K OC Edition
G752VS-BHI7N05
G752VS-RB71
CPU
Core
i7-6820HK
OC 3.8GHz
Core
i7-6820HK
OC 3.8GHz
Core
i7-6700HQ
3.5GHz
Core
i7-6700HQ
3.5GHz
GPU
GeForce
GTX 1070 8GB
GDDR5 OC 1492/1695MHz
GeForce
GTX 1070 8GB
GDDR5 OC 1492/1695MHz
GeForce
GTX 1070 8GB
GDDR5 OC 1492/1695MHz
GeForce
GTX 1070 8GB
GDDR5 OC 1492/1695MHz
Display
17.3" G-Sync
1920x1080
AHVA panel
17.3" G-Sync
1920x1080
AHVA panel
17.3" G-Sync
1920x1080
AHVA panel
17.3" G-Sync
1920x1080
AHVA panel
Memory
64GB (4 x 16GB)
OC DDR4-2400
32GB (2 x 16GB)
OC DDR4-2400
16GB (1 x 16GB)
DDR4-2133
16GB (1 x 16GB)
OC DDR4-2400
Storage
512GB SSD
(NVMe PCIe3x4)
1TB HDD
(7200-RPM)
256GB SSD
(NVMe PCIe3x4)
1TB HDD
(7200-RPM)
512GB SSD
(NVMe PCIe3x4)
1TB HDD
(7200-RPM)
1TB HDD
(7200-RPM)
Keyboard
Scissor hybrid
Scissor hybrid
Scissor hybrid
Scissor hybrid
Battery
88Wh
88Wh
88Wh
88Wh
OS
Windows 10 Pro
Windows 10 Pro
Windows 10
Windows 10
Price
$2999
$2499
$2099
$1999
From the ground floor to the OC Edition
The G752VS family begins with the RB71, a slightly restrained configuration that rings in at $1999. Its Core i7-6700HQ processor peaks at an impressive 3.5GHz, but the chip can't be overclocked, so it's a little bit slower than the other models. It's also tied to a single 16GB DRAM module that leaves one of the CPU's dual memory channels untapped, halving the available bandwidth. Fortunately, there's room to add three more DIMMs—and fill out the CPU's second memory channel. The single 1TB hard drive also leaves both of the system's M.2 slots available for SSDs.
One step up from RB71 sits the G752VS-BHI7N05, which has the same Core i7 processor but slower DDR4-2133 memory. This variant puts a 512GB SSD into one of the M.2 slots, beefing up the storage configuration considerably. That's a nice upgrade considering the $2099 asking price.
In truth, the RB71 and BHI7N05 are just appetizers for the G752VS OC Edition. This version has a Core i7-6820HK factory overclocked to 3.8GHz, plus an unlocked multiplier that lets you push the chip as high as 4GHz using our ROG Gaming Center software. The GTX 1070 can be overclocked beyond its factory overclock, too, by 100MHz for the GPU and 300MHz for the graphics memory. Your mileage may vary, as is always the case with manual overclocking, but the tools are at your fingertips.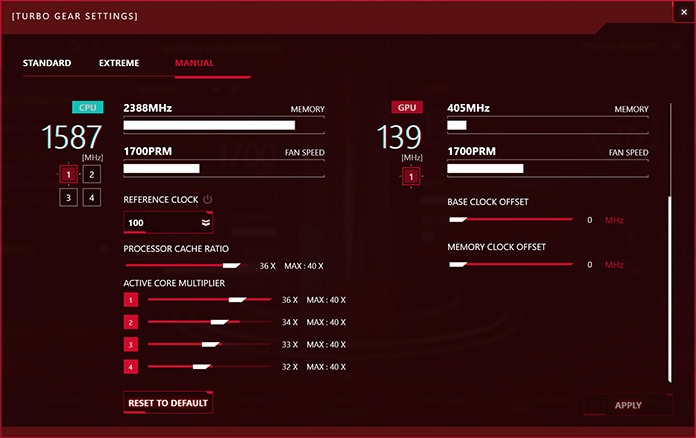 Overclocking is good for more than just bragging rights and benchmark records. Taking the i7-6820K up to 4GHz reduces video encoding times by 18%, which translates to real time savings for content creators. That's why we're equipping the OC Edition with Windows 10 Pro. Although the machine is designed for gamers, the high-end hardware is perfect for power users who need all the performance they can get.
Speaking of all the performance you can get, the G752VS OC Edition pairs its 1TB hard drive with an ultra-fast NVMe SSD. The NVM Express protocol has lower overhead than its AHCI predecessor, enabling higher throughput and lower latencies. The SSD improves overall system responsiveness in addition to speeding load times for application and games, while the HDD catches the spillover from your bursting Steam library.
There are two OC Editions: the G752VS-XB72K combines 32GB (2 x 16GB) of RAM with a 256GB SSD for $2499, while the G752VS-XB78K upgrades to 64GB of RAM and a 512GB SSD for $2999. The extra memory provides additional headroom for heavy multitasking and large datasets, and the larger SSD reduces load times for more applications and games.
Thinner and lighter to take your game anywhere
You don't need a bulky desktop replacement to take 10-series GeForce graphics on the road. Our latest ROG Strix designs squeeze Pascal GPUs into chassis roughly half the weight and thickness while maintaining excellent gaming performance and certified VR readiness. They're much more affordable, too, with prices starting at just $1399—perfect for students on a ramen diet.
The Strix GL-series makes a few concessions to fit into smaller sizes and tighter budgets, but it doesn't sell out. The Core i7-6700HQ processor remains, with all its cores, threads, and clocks intact; DDR4 memory rides shotgun at Skylake's stock 2133MHz; and the CPU and GPU get independent cooling with multiple heatpipes and fans.
Graphics options reach down to the GeForce GTX 1060, which is more than enough GPU for the 1080p display resolution. Although the TN panel can't match the viewing angles of IPS-type screens, it still looks great front and center. That's where most of us spend the vast majority of our time, anyway.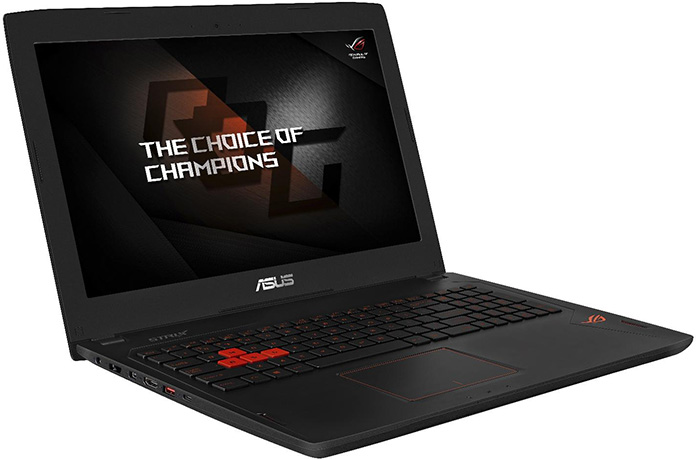 The slimmer chassis doesn't have room for an optical drive, but who doesn't stream or download everything these days? There's plenty of internal storage split between an M.2 SSD and 1TB 7,200-RPM hard drive. You get little conveniences, too, like a full-sized SD slot for quickly grabbing pictures and footage from proper cameras, plus a complete numpad for gaming and ninja numerical entry.
Two shades of the ROG Strix GL502
The smallest of the ROG Strix laptops is the GL502. It weighs 4.9 lbs, sports a 15.6″ screen, and has the reasonably compact dimensions you'd expect from this class of machine. The thickness depends on what's under the hood, though.
At 1.2″ thick, the GL502VS has extra girth to accommodate the same GeForce GTX 1070 GPU and 8GB of GDDR5 memory as the much larger G752VS desktop replacement. The only concession is that the chips aren't overclocked beyond stock speeds, a necessary compromise given the form factor.
We're bringing one version of this laptop into North America: the $1699 GL502VS-DB71. It's loaded with a single 16GB memory module, leaving the second SO-DIMM slot open for an easy upgrade to 32GB. The M.2 slot is already filled with a wicked-fast 256GB NVMe SSD that has access to four lanes of PCI Express 3.0 bandwidth.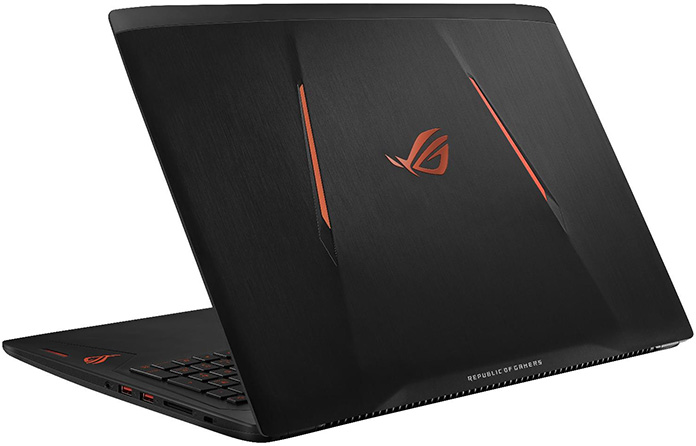 If you want something thinner, the GL502VM diets down to 0.9″ by using the GeForce GTX 1060. This GPU is smaller than the one behind the GTX 1070 and 1080, with fewer internal cores, a narrower path to 6GB of GDDR5 memory, and more modest cooling and power requirements. But it has the same cutting-edge features as the rest of the Pascal family, and it still plays the hottest games with the details turned up. The GTX 1060 also meets the requirements for the Oculus Rift and HTC Vive VR headsets.
Slimming down the chassis leaves less room for memory, so 8GB of DDR4 is soldered to the motherboard. The machine's single SO-DIMM slot is filled with an 8GB module, bringing the total to an ample 16GB. Hardcore multitaskers craving more can swap in a 16GB module for a maximum memory capacity of 24GB.
The entry-level GL502VM-DB74 starts at $1399 with 1TB of mechanical storage. You can add your own solid-state drive or opt for the $1599 GL502VM-DB71, which integrates a 256GB M.2 SSD based on the SATA interface. SATA SSDs have lower throughput than their PCIe counterparts, but they feel just as responsive in day-to-day use, and they load games and applications just as quickly.
GL702VM-DB74
GL702VM-DB71
GL502VS-DB71
GL502VM-DB74
GL502VM-DB71
CPU
Core i7-6700HQ 3.5GHz
Core i7-6700HQ 3.5GHz
Core i7-6700HQ 3.5GHz
Core i7-6700HQ 3.5GHz
Core i7-6700HQ 3.5GHz
GPU
GeForce GTX 1060 6GB GDDR5
GeForce GTX 1060 6GB GDDR5
GeForce GTX 1070 8GB GDDR5
GeForce GTX 1060 6GB GDDR5
GeForce GTX 1060 6GB GDDR5
Display
17.3" G-Sync
1920x1080
TN panel
17.3" G-Sync
1920x1080
TN panel
15.6" G-Sync
1920x1080
TN panel
15.6" G-Sync
1920x1080
TN panel
15.6" G-Sync
1920x1080
TN panel
Memory
16GB
(1 x 16GB)
DDR4-2133
16GB
(1 x 16GB)
DDR4-2133
16GB
(1 x 16GB)
DDR4-2133
16GB
(8 + 8GB)
DDR4-2133
16GB
(8 + 8GB)
DDR4-2133
Storage
256GB SSD
(M.2 SATA)
1TB HDD
(7200-RPM)
1TB HDD
(7200-RPM)
256GB SSD
(NVMe PCIe3x4)
1TB HDD
(7200-RPM)
256GB SSD
(M.2 SATA)
1TB HDD
(7200-RPM)
1TB HDD
(7200-RPM)
Battery
76Wh
76Wh
62Wh
62Wh
62Wh
OS
Windows 10
Windows 10
Windows 10
Windows 10
Windows 10
Price
$1599
$1399
$1699
$1599
$1399
Grow into the ROG Strix GL702VM
Whether it's for gaming or video, laptops are increasingly becoming the primary source of entertainment for many people. No wonder there's so much demand for larger screens. The GL702VM obliges by stretching its display to 17.3″, just like the G752VS. But unlike the desktop replacement, it's only an inch thick and six pounds.
There's more to the GL702VM than just squeezing a larger display into a smaller chassis. We shrank the screen bezels to keep the footprint in check, and the display feels even larger as a result. We integrated a third fan to provide additional GPU cooling, which helps the GTX 1060 graphics maintain higher boost frequencies during continuous gaming marathons. And we added Thunderbolt 3 to the Type-C USB port, providing versatile connectivity for a diverse range of high-bandwidth devices.
Like its 15.6″ sibling, there are two versions of the 17.3-incher. Both come with 16GB of RAM in a single slot, with one slot free for up to 16GB more. The GL702VM-DB71 has a terabyte of mechanical storage for $1399, while the GL702VM-DB74 adds a 256GB M.2 SATA SSD for $1599. The pricing matches the GL502VM, so you're technically getting more laptop for your money on both counts.
When can I get one?
The G752VS is available in North America from multiple vendors; check out our hands-on look at the OC Edition for the full rundown. The GL502VS and GL502VM are also selling from multiple sources. I haven't gotten my hands on those yet, but don't miss the field trip we took with a similar Maxwell-based version.
The GL702VM is coming soon, and we're working on an in-depth article exploring what it can do. Stay tuned.