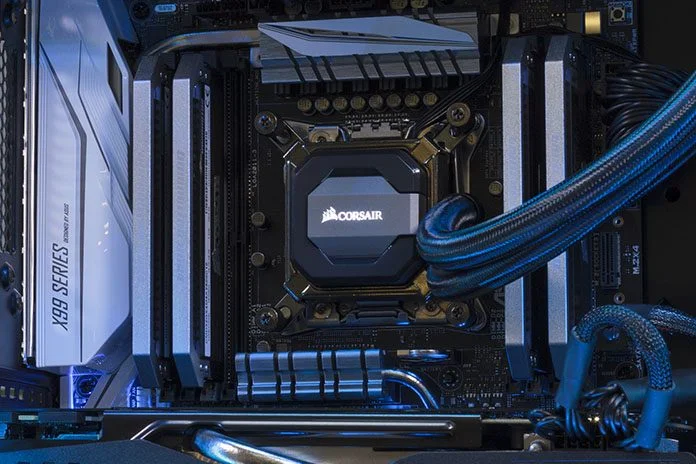 Intel's new Core i7 processors for LGA 2011-v3 are finally ready for prime time. Also known as Broadwell-E, they squeeze up to 10 cores into a single socket, delivering unprecedented compute density for desktops. And they feed those cores with copious bandwidth from quad-channel DDR4 memory and up to 40 PCI Express lanes. These ingredients enable a new class of prosumer PCs capable of living double lives as powerful workstations by day and fearsome battlestations by night.
If you want to build a premium rig that mixes serious work with hardcore play, there's no better motherboard than the ASUS X99-Deluxe II. The $420 flagship of the new X99 Signature series is loaded with cutting-edge features and powerful accessories that set a new standard for performance and luxury. Refinements elevate every aspect of the experience, from customizable RGB lighting to structurally reinforced PCIe slots.
To test the mettle of this Deluxe redux in the real world, we put together our own prosumer workhorse with the 10-core Core i7-6950X and a heaping helping of ultra-fast PCI Express storage. Then we overclocked it to the brink with a single click. But I'm getting ahead of myself. Let's take a closer look at the build.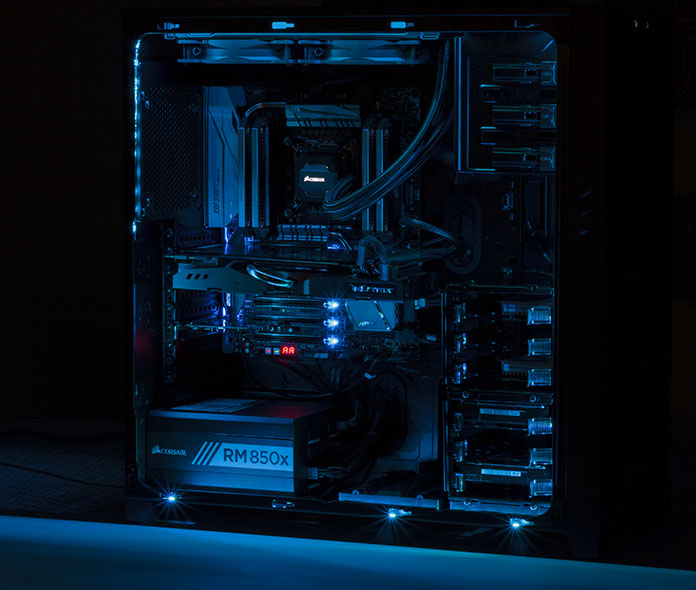 This dramatic entrance was brought to you by the glow of RGB LEDs. Fueled entirely by the X99-Deluxe II, the lighting is split between three onboard zones and a separate header for off-the-shelf "5050" RGB strips. The included Aura software can synchronize colors and effects across all zones or address each one separately to suit different tastes.
System lighting might seem a little ostentatious for a workstation, but it doesn't have to draw attention. Aura makes it easy to subtlety match colors with other components and turn down the brightness for a more conservative look. It can also depict CPU temperature visually, providing valuable information at a glance, and switch to a different appearance when the system is in standby. Future software updates will spread synchronization across an expanding family of Aura-compatible components to enable cohesive system lighting.
Although the motherboard is well-lit on its own, most of the glow comes from CableMod WideBeam RGB strips plugged into the onboard header. The X99-Deluxe II can power up to two meters of lighting at optimal brightness, so we chained together three 60-cm strips. That produces more than enough light for a build this size, and the magnetic backs make the strips incredibly easy to install and reposition. The strips sell for $23 each, and as an added bonus, the motherboard comes with an extension cable that lets you start the chain pretty much anywhere inside a chassis.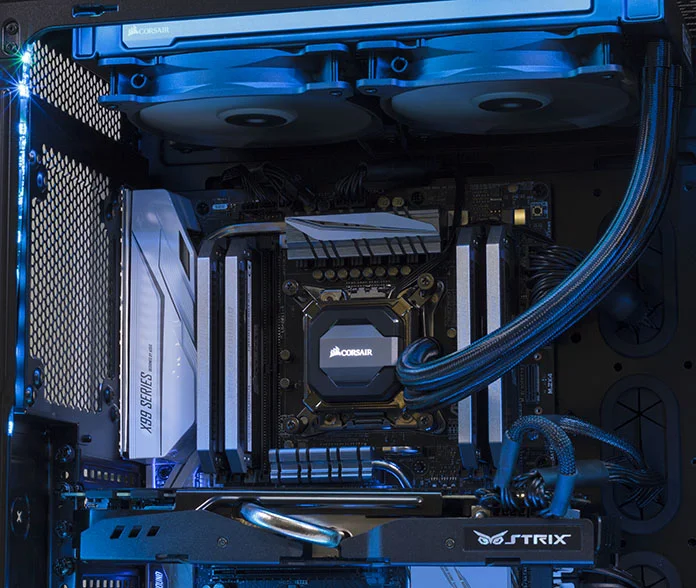 Since the X99-Deluxe II is the crown jewel of our X99 Signature series, we're pairing it with the top-of-the-line Core i7-6950X. Descended from server-class Xeon silicon, this monster is a perfect fit for our premium prosumer build. It has two more cores than Intel's last high-end desktop chip—and six more than comparatively pedestrian CPUs based on Skylake. The awesomeness of the Task Manager's 20 Hyper-Threaded CPU utilization graphs is almost worth the $1750 asking price all on its own.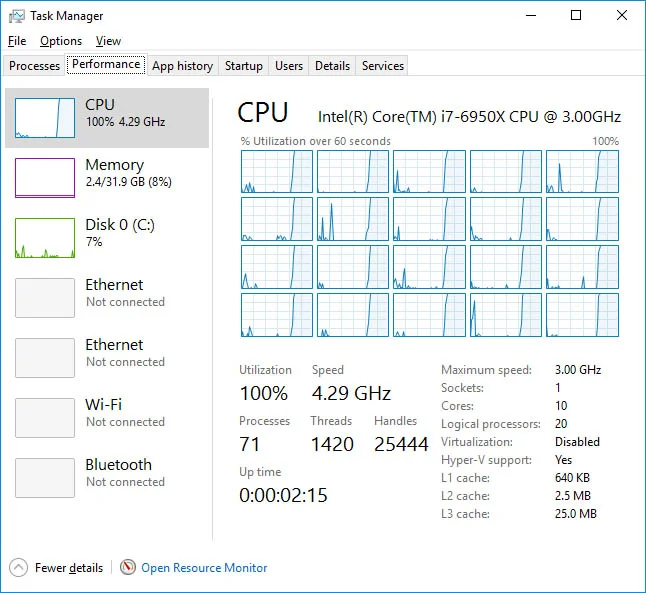 The extra horsepower crushes multithreaded workloads like video encoding and 3D rendering, and it breezes through content creation and heavy multitasking. There's more than enough computing power to run multiple demanding applications simultaneously, so you can be as productive as possible—or indulge in a little gaming while work-related processing proceeds in the background.
Broadwell-E's additional cores and smaller 14-nm lithography make thermals especially challenging, so liquid cooling is highly recommended. Our build's Corsair Hydro Series H110i pumps liquid between a CPU block and a 280-mm radiator chilled by dual 140-mm fans. The block's retention bracket screws right into the socket, and the radiator fits neatly into the roof of the case, making installation only marginally more complicated than affixing an aftermarket heatsink. The H110i kept the CPU cool enough to avoid throttling at overclocked speeds, an impressive feat all things considered. You can find it online for $110.
Coolers come in all shapes and sizes, and the X99-Deluxe II is equipped to help you get the most out of all of them. The board has a dedicated pump header that takes the guesswork out of setting up liquid coolers, plus a high-amperage header that can supply up to 3A to the industrial-grade fans used in extreme cooling setups. For more typical configurations, all of the onboard headers automatically detect the presence of three-pin DC and four-pin PWM fans and adjust accordingly.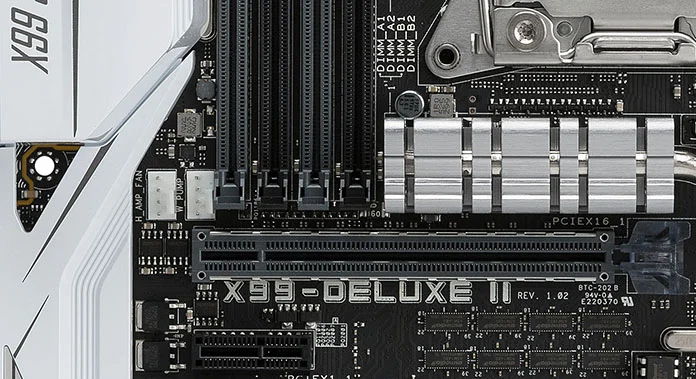 Our industry-leading cooling controls let you strike the right balance between adequate cooling and minimal noise. The integrated calibration routine maps the behavior of each fan before letting you tweak its response profile with a simple GUI. To optimize cooling for specific components, you can link individual fans to different thermal sensors, including wired probes that come in the box. The X99-Deluxe II has headers for six fans and one thermal probe onboard, plus a connector for a separate Fan Extension card with headers for three more fans and probes. All told, there's enough capacity to manage system-wide cooling for the fully loaded PCs you'd expect to be built with a Deluxe motherboard.
Cooling controls are accessible through Fan Xpert 4 software and the UEFI. New for this generation, the UEFI lets you dial back how quickly fans react to temperature changes to make the accompanying acoustic transition less noticeable. This little feature nicely dampens the impact of transient loads, so you can work with fewer distractions.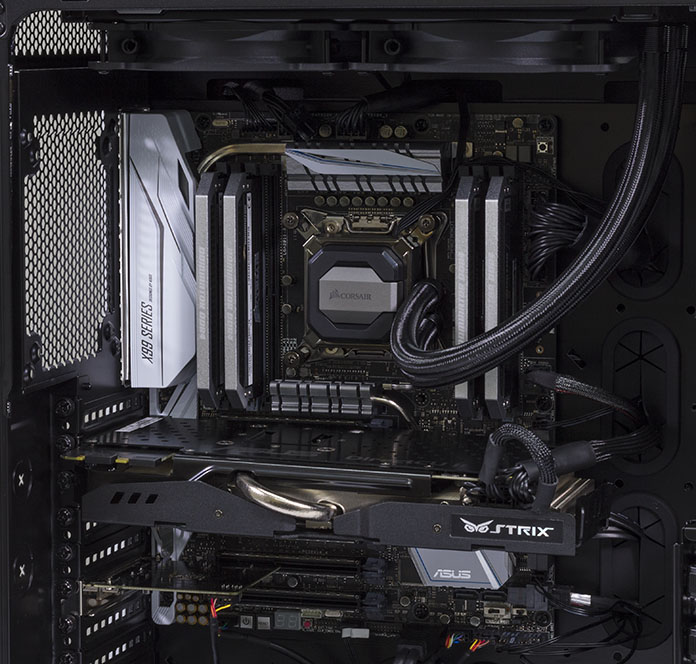 Since the evidence is in full view, I have to admit to removing the case's rear 140-mm exhaust fan because #branding to provide a clearer view of the motherboard's I/O shroud. The liquid cooler's dual fans evidently generate enough airflow around the VRMs and memory to compensate; we had no problem overclocking without a dedicated exhaust.
Switching gears to memory, Broadwell-E's quad-channel DDR4 controller more than doubles the bandwidth of Skylake-based Core i7 CPUs. More importantly for workstations, it supports eight-DIMM configurations with up to a whopping 128GB of RAM. Our exclusive T-Topology trace layout is optimized to maintain signal timing when all the DIMM slots are populated, so you can load up on memory without backing off on performance.
We loaded our build with 32GB of Corsair's Dominator Platinum DDR4-2800 memory. The $250 kit is rated to run at 16-18-18-36 timings on 1.2V, but you don't have to understand what any of that means to make sure it's configured correctly. The XMP profile containing the relevant settings can be loaded with a couple clicks in the UEFI or simply by flicking the corresponding switch on the motherboard. Configuring fancy memory doesn't get any easier.
The CPU's prolific pipelines extend beyond memory and into I/O. The integrated PCI Express controller boasts 40 Gen 3 lanes, 2.5X the capacity of more mainstream Core i7 CPUs. There's enough bandwidth to run dual graphics cards with a full 16 lanes each alongside two PCIe x4 SSDs. You can also feed three-way SLI and CrossFireX configs with an x16/x16/x8 arrangement, a big step up from the 16 total lanes available in Core i7 processors for LGA 1151.
We used a single Strix GTX 980 graphics in this build, but the $500 card has effectively become a placeholder in the wake of Nvidia's GeForce GTX 1080 reveal. The new GPU is much more powerful than its predecessor, and we'd recommend it if you're going to build a new system. Founders Edition cards can already be had for $699 online, and our custom Strix edition will be available starting June 4. The Strix has higher clock speeds than the reference design and a beefier cooler to improve overclocking headroom. It also has customizable Aura RGB lighting and auxiliary headers for GPU-controlled system fans.
Its Pascal-based successor aside, the Strix GTX 980 is still a formidable card for traditional games and VR applications. In the SteamVR Performance Test, it maintained "very high" graphics quality with no frames below the 90-FPS ideal preferred by the Oculus Rift and HTC Vive headsets. Like the X99-Deluxe II, the card is certified as part of our Beyond VR Ready program, which tests compatibility with VR headsets to ensure the best possible experience.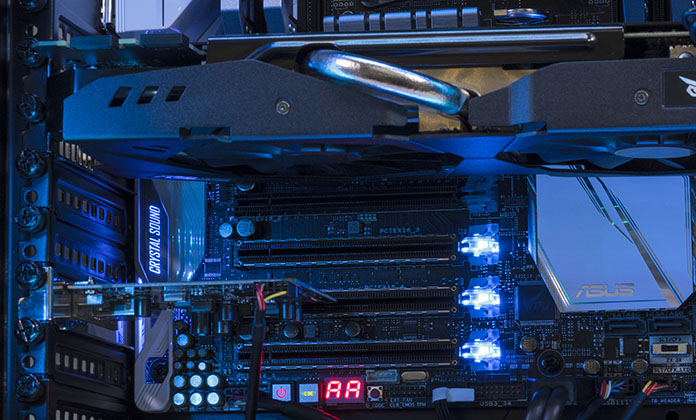 Larger graphics coolers like the one on the Strix put a lot of pressure on the expansion slot, especially if the system is jostled during shipping or when traveling to LAN parties. To prevent these forces from damaging the motherboard, we developed a SafeSlot design that uses insert-molding to integrate metal reinforcements into the walls of the slot. On top of that, additional solder points anchor the slot to the motherboard to ensure that it doesn't pull away under duress.
Internal testing confirms that our SafeSlot design withstands greater forces than competing solutions on other motherboards. All four of the X99-Deluxe II's PCIe 3.0 x16 expansion slots have SafeSlot reinforcement, so you can rest assured that your investment is protected.
Broadwell-E's PCI Express payload provides plenty of connectivity for the latest SSDs, a valuable asset for large datasets and storage-intensive applications. PCIe SSDs connect directly to the CPU, skirting the DMI bottleneck that limits storage performance on mainstream platforms.
The X99-Deluxe II sports dual U.2 ports, each with 32Gbps of bandwidth via four PCIe Gen 3 lanes. One of those ports also shares bandwidth with an M.2 slot for "gumstick" SSDs. Mini M.2 drives are appealing for small-form-factor systems with limited space, but numerous tech sites have shown they overheat under sustained loads and throttle performance to compensate. Since faster performance is the whole point behind PCIe SSDs, we prefer U.2-based drives that offer more consistent performance. The U.2 form factor uses a cabled connection to the motherboard, which lets drives incorporate heatsinks to aid cooling and fit into standard cages to receive airflow.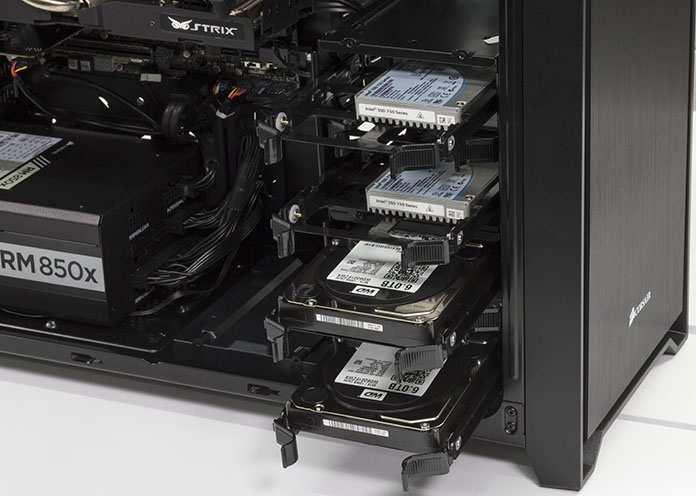 Intel's 750 Series is the best U.2 option for prosumer builds. It's derived from datacenter drives, which nicely fits the theme, and the ~$1/GB pricing is quite reasonable given the pedigree. 750 Series SSDs rip through both sequential and random workloads, and they have no problem maintaining top speed when pushed to the limit. We installed a couple of 400GB examples: one as a system drive for the OS, applications, and games, and the other as a scratch disk for content creation and frequently accessed data. It's possible to get even better performance by combining both drives in RAID 0, but the array has to be managed by the operating system, which precludes booting from it. The X99 platform unfortunately doesn't support booting from PCIe RAID arrays. Good thing even just one of these drives can easily handle the heavy lifting for a hardcore workstation.
If you prefer M.2 SSDs—or want to run them along U.2 storage—the X99-Deluxe II still has you covered. The board has a vertical M.2 slot near the primary power connector, and it comes with a low-profile Hyper M.2 adapter that lets drives connect via full-sized PCIe slots. Both options give M.2 SSDs more breathing room than parallel slots that hug the board. The only catch is that the onboard slot shares bandwidth with the second U.2 port.
While SSDs are clearly the best option for performance, mechanical storage still reigns supreme for capacity. The ballooning size of media files and other data makes hard drives vital for secondary storage, backups, and your out-of-control Steam library. With 10 SATA ports, the X99-Deluxe II has enough capacity to power massive mechanical arrays. We opted for something simple: a mirrored array of WD Blacks with reasonably fast 7,200-RPM spindle speeds. The drives pack 6TB each and ring in at $291, which works out to around five cents per gig—a fraction of the cost of solid-state storage.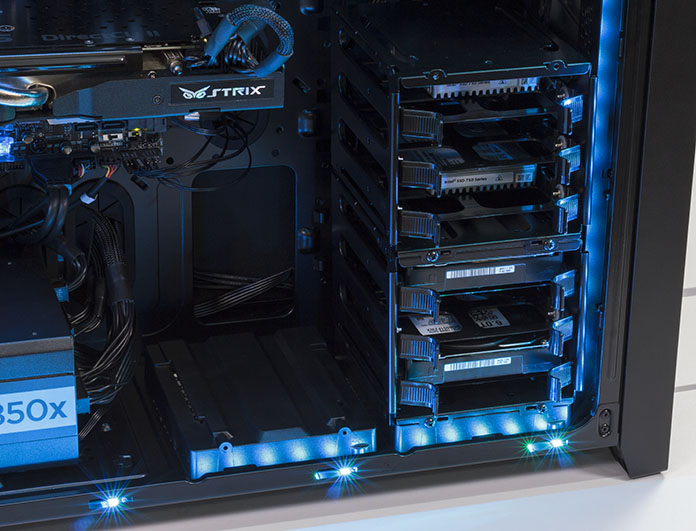 For storage that lives outside the box, the X99-Deluxe II offers USB 3.1 Gen 2 ports in both Type-A and reversible Type-C flavors. There are loads of USB 3.0 ports, too, plus an add-in ThunderboltEX 3 card with Thunderbolt 3. This third iteration of the Thunderbolt standard pushes speeds up to 40Gbps over a single cable, quadrupling the performance of fastest USB connection. It's ideal for attaching external storage devices and auxiliary displays. The ThunderboltEX 3 card also supports Type-A and Type-C USB 3.1 devices, and it's capable of delivering up to 36W via the USB Power Delivery specification. With it installed, the X99-Deluxe II truly has all the ports.
The networking bases are covered without the need for add-in cards. In addition to dual Intel-powered Gigabit Ethernet ports, the board has Wi-Fi and Bluetooth built in. The dual-band 802.11ac wireless module and 3×3 antenna are capable of pushing speeds up to 1300Mbps under ideal conditions, while the Bluetooth adapter makes it easy to connect wireless peripherals.
You don't even have to connect a sound card to enjoy high-fidelity audio. The Crystal Sound 3 integrated audio features dedicated circuitry to kill unwanted pops, a pre-regulator stage to clean power for the codec, and shielding to reduce interference from other system components. There's also a dedicated amplifier to boost headphone output and real-time DTS encoding for passing surround-sound game audio to compatible receivers and speakers. The onboard audio delivers regardless of your preferred listening device.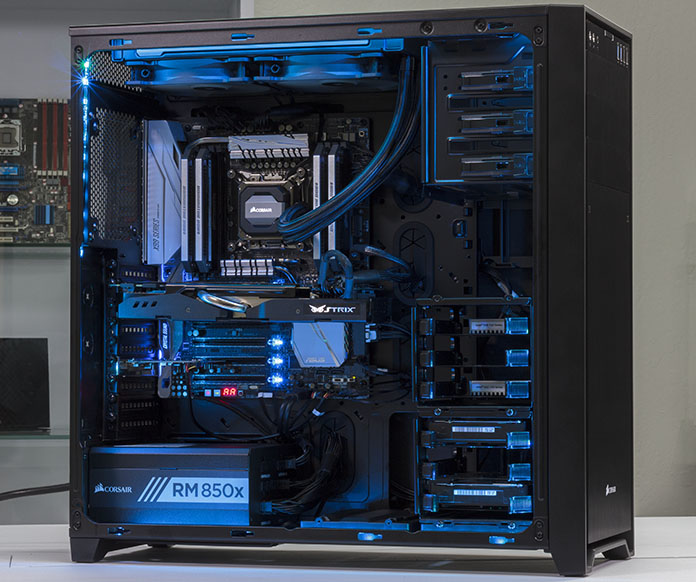 We packed a lot of hardware into this build, and Corsair's RM850x PSU had no problem running everything smoothly. The PSU has dual 12V leads for the motherboard, which helps improve stability when stressing the Core i7-6950X. It also comes with enough PCIe connectors for three high-end graphics cards, providing plenty of capacity for multi-GPU configs. Like the Strix GTX 980 graphics card, the PSU spins down its fan completely to reduce noise under lighter loads. And it carries 80 Plus Gold certification, which guarantees high efficiency from 10-100% utilization. You can find the RM850x for $110 online.
Everything is housed in Corsair's Obsidian Series 750D, a $160 tower that swallowed all the components with loads of space to spare. Roomy cases like this one are a pleasure to build inside, and there are loads of cut-outs and anchor points for clean cabling. On the outside, the stately styling is classy enough for the office while still maintaining an enthusiast edge. The lighting nicely softens the monolithic look by illuminating the view through the gaping side window.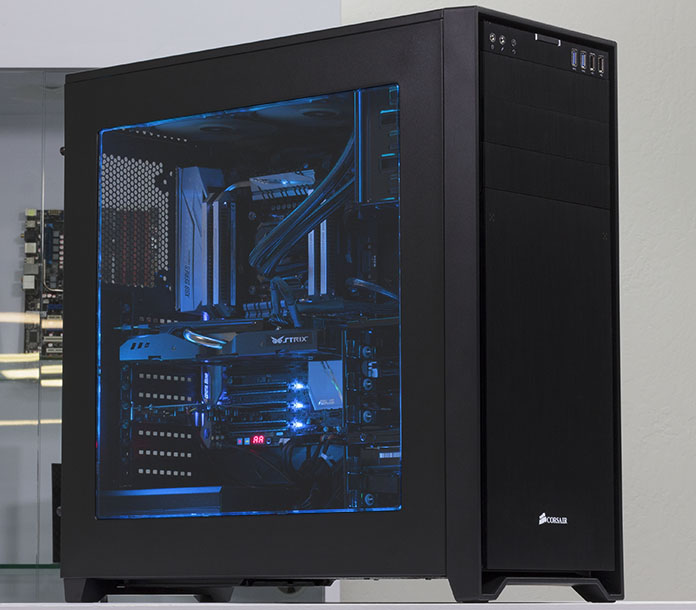 With the hardware is assembled, it's time to tune the system. And that means overclocking, an admittedly tedious process that involves incrementally increasing clock speeds, testing stability, and repeating the process until you hit a frequency wall. Thankfully, our 5-Way Optimization software eliminates the monotony by automating the process. It seeks out the optimal frequency for your particular chip-and-cooler combo using the same methodical approach followed by experts. Anyone can activate the auto-tuner with a single click, allowing beginners to easily maximize their CPU's potential, and experienced overclockers to reach a stable starting point for more hardcore tweaking. Be sure to read our upcoming Broadwell-E overclocking guide for the scoop on how to extract the best performance from Intel's new chips.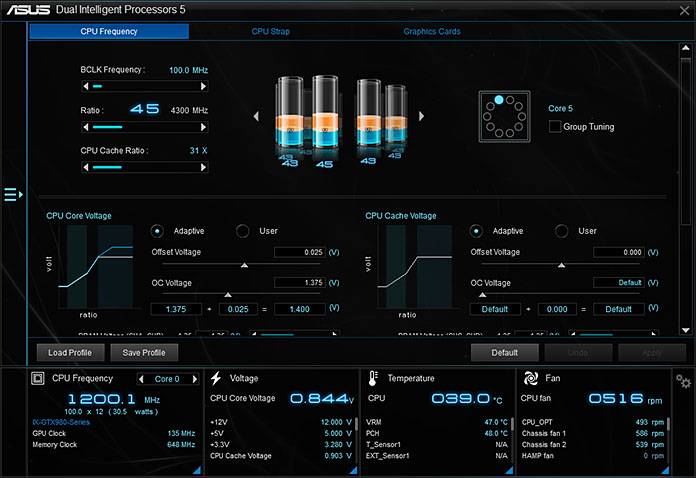 The 5-way auto-tuner cranked our Core i7-6950X up to 4.3GHz for all-core loads and 4.5GHz for the favorite core used by single-threaded tasks. That all-core speed is a huge increase over the 3GHz default, while the single-core peak is an impressive 1GHz higher than stock. All in all, those are exceptional results from a single click.
The system passed ROG RealBench's stability test and made it through a series of benchmarks without issues. Check out the performance increases in 3D rendering, video encoding, and image processing:




Although the improvements don't track linearly with the frequency, the benefits of overclocking are readily apparent. The boosted config does everything faster, which is a godsend when in crunch mode on a tight deadline. While saving a few seconds might not seem like a lot, the time adds up in the real world, especially when processing-intensive tasks are repeated throughout the day. We should also note that these benchmarks are relatively short by design. When encoding a longer video, for example, overclocking stands to save you minutes rather than seconds.
If time is money, overclocking might actually save you some cash. But even if it doesn't, the X99-Deluxe II makes the process simple enough—and the performance benefits apparent enough—to take the plunge with a prosumer workhorse.

This system is actually one of three that we put together to celebrate the arrival of Broadwell-E. Be sure to check out our
beast based on the Strix X99 Gaming
and value-conscious
VR contender built on the X99-A II
. Those other machines nicely illustrate the range of possibilities with our latest X99 motherboards and the new Core i7 processors, but they don't epitomize Intel's high-end desktop platform quite like the rig we assembled around the Deluxe. The platform is all about getting more, and so is the X99-Deluxe II.