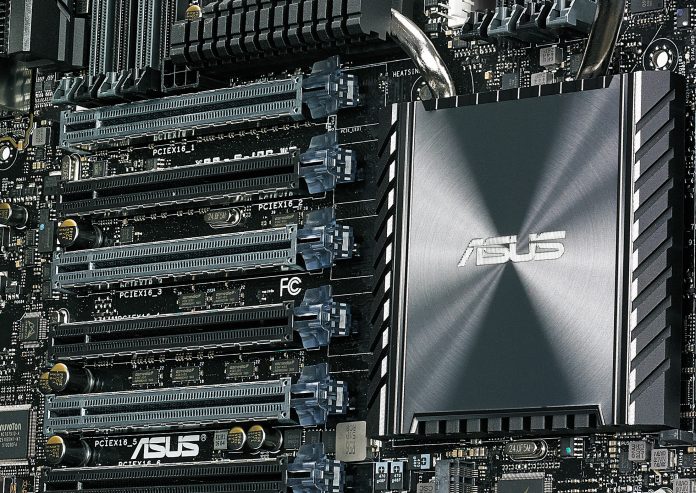 In an industry full of ostentatious claims, every product stack needs a reserved, understated statesman. Not the type that stays quiet in board meetings out of fear, nor the type that needs to raise their voice to make a point. Nope, we're talking about the type that sits back and observes the young upstarts as they clamber over each other to get into the limelight and then makes one careful, reassuring statement in a deep, soothing voice that stops everyone in their tracks. In the ASUS motherboard family, that role is gracefully played by the new X99-E-10G WS.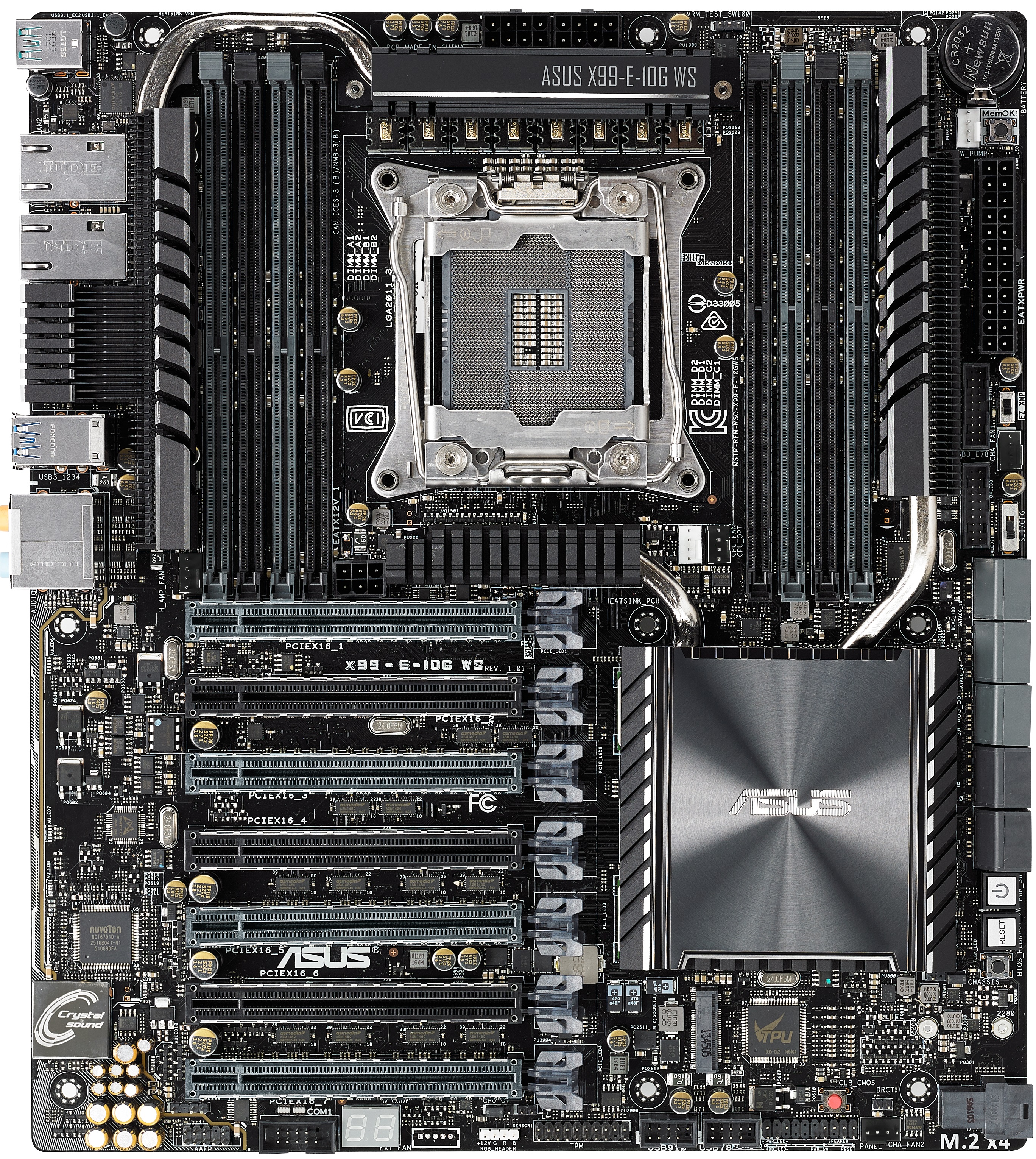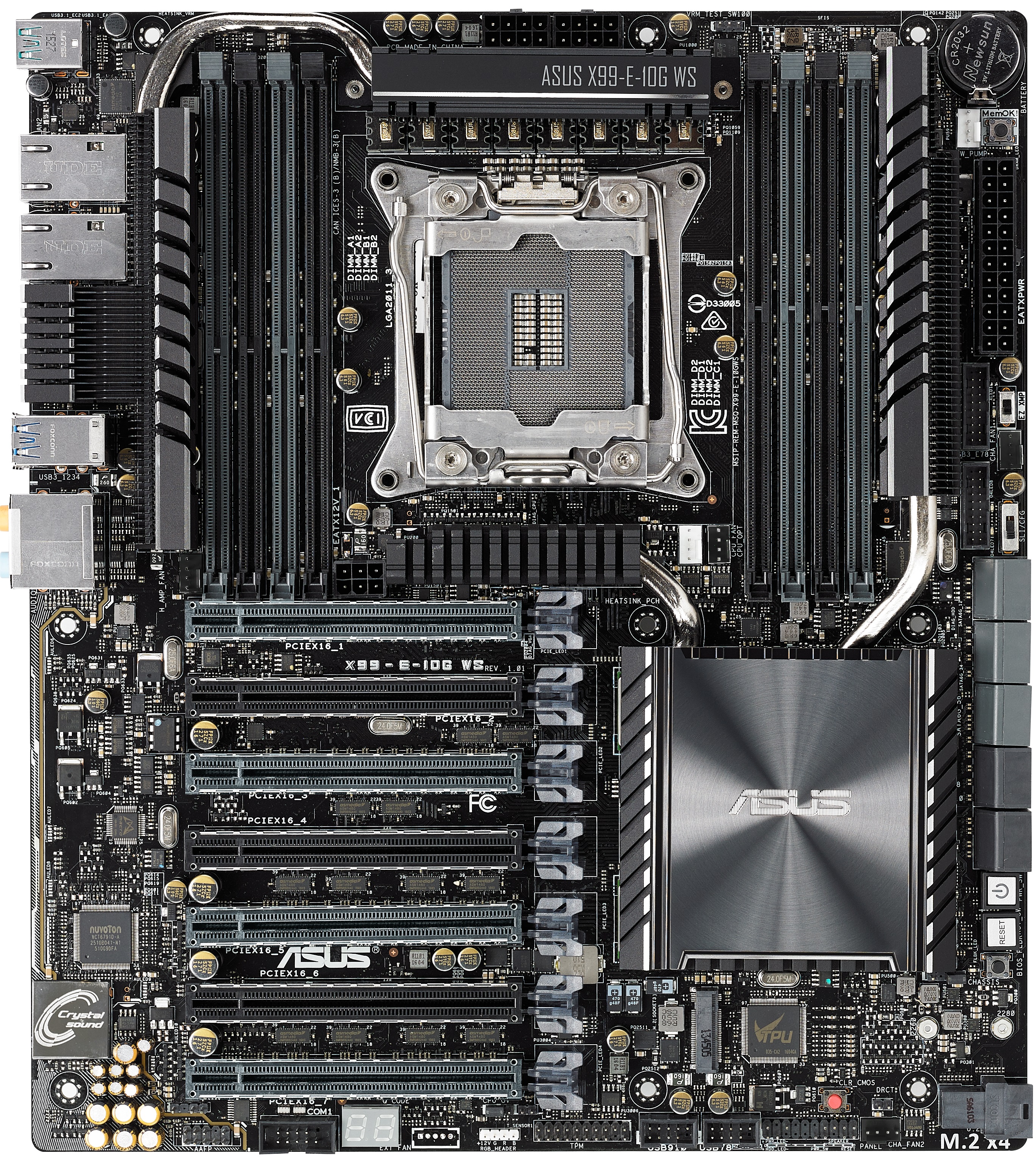 The X99-E-10G WS –  master of multiple trades
Sharing the same refined aesthetic flair as its workstation-oriented X99-E WS predecessor, the 10G version brings some notable new features to the table. The most prominent is the addition of dual 10 Gigabit Ethernet ports courtesy of the Intel X550AT2 10GBASE-T controller. Each port boasts 10X the bandwidth of standard Gigabit Ethernet, making the X99-E-10G WS ideal for situations that demand uncompromised networking performance.
Implementing a 10G controller like this on a feature-laden motherboard requires some thought. The Intel chip consumes up to 11 watts of power, so the associated thermal output needs to be handled efficiently. At the motherboard level, getting the best performance from the X550AT2 also requires short signal lines that steer clear of sources of noise. On the X99-E-10G, both of these requirements are tackled by placing the 10G controller close to the rear Ethernet ports and by utilizing a heatsink array to dissipate heat via the rear IO panel.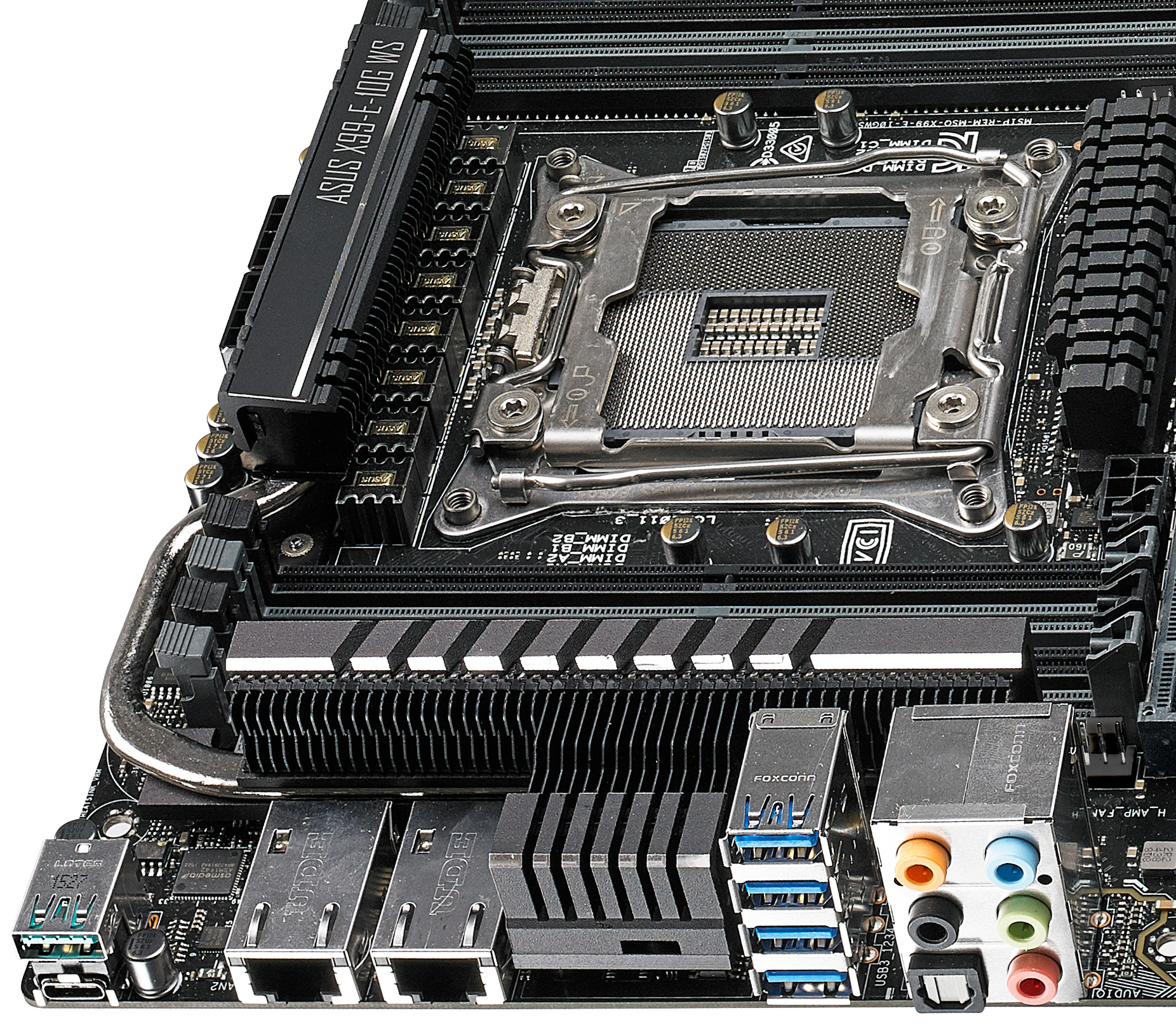 Putting a cutting-edge Intel 10G Ethernet controller onboard negates the need to allocate a PCI Express slot to a dedicated network card, saving valuable space for other components. WS motherboards are designed to be loaded up with multiple expansion cards, especially high-end GPUs and PCIe SSDs.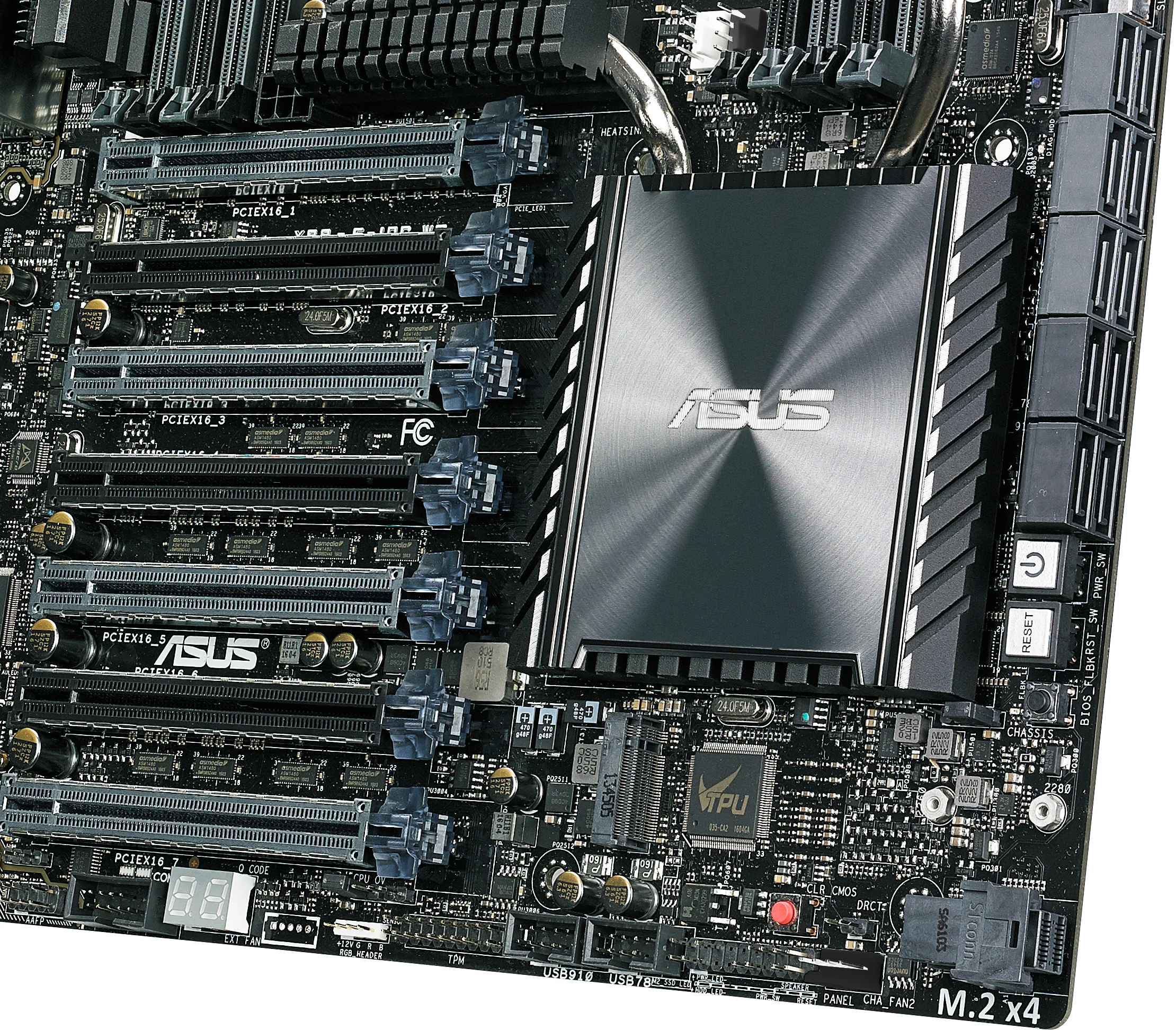 The X99-E-10G WS is ready for all the latest high-performance solid-state drives
There are enhancements on the storage front, too. Along with a copious array of SATA ports, you get a full-bandwidth M.2 slot strategically placed away from typical motherboard hot spots. The now-obsolete SATA Express connector on the old X99-E-WS has also been replaced by an U.2 port that, like the M.2 slot, tops out at an impressive 32Gbps. U.2 support is particularly applicable to workstations, since it allows ultra-fast PCIe SSDs to be placed away from heat sources without taking up precious slot space.
Like its predecessor, the X99-E-10G WS expands upon the number of PCI Express 3.0 lanes in the CPU by using multiplexers to divide up to 64 lanes between seven x16 slots. The spacing allows up to four dual-slot graphics cards or a multitude of expansion cards to be used at the same time. All seven slots have been reinforced to meet the ASUS SafeSlot spec, which uses integrated metal bracing and PCB anchor points to help prevent slot damage when fully-built systems are shipped.
An enthusiast-grade workstation motherboard
Another advantage ASUS workstation motherboards have over the competition is being able to draw from our vast expertise in the enthusiast arena. Features such as intelligent fan controls, an intuitive firmware interface, and powerful overclocking options are often overlooked by workstation motherboard makers, resulting in systems that are unnecessarily noisy, frustrating to configure, and unable to capitalize on the platform's full performance potential.
The X99-E-10G shares the same acclaimed ASUS firmware, fan control options, and overclocking features as our enthusiast motherboards, allowing for easy setup, custom cooling profiles, and optimized performance for all types of workloads. You can tweak the system to your liking via firmware-level controls that suit beginners or advanced users, or via time-saving software capable of automatically tailoring overclocking and fan tuning to suit your unique system configuration.
Even the onboard audio far exceeds expectations. With an optimized trace and component layout to mitigate noise, plus a headphone buffer that can drive most cans, the onboard audio is good enough to dismiss the need for a dedicated sound card. Again, you save prized PCIe slot space.
Our workstation motherboards couple over-engineering with assured device compatibility detailed in a comprehensive set of validation lists (QVLs). The X99-E-10G WS is guaranteed to work with over sixty PCI Express expansion cards and a vast array of memory modules. And it packs all this together without needing to be brash or in your face, so it's easy to see why our latest WS design is the new statesman of the ASUS motherboard stack.
Pricing and availability
The X99-E-10G WS lands with an MSRP of $650 and will be available from ASUS Authorized resellers and distributors soon.
Full specifications are available here.