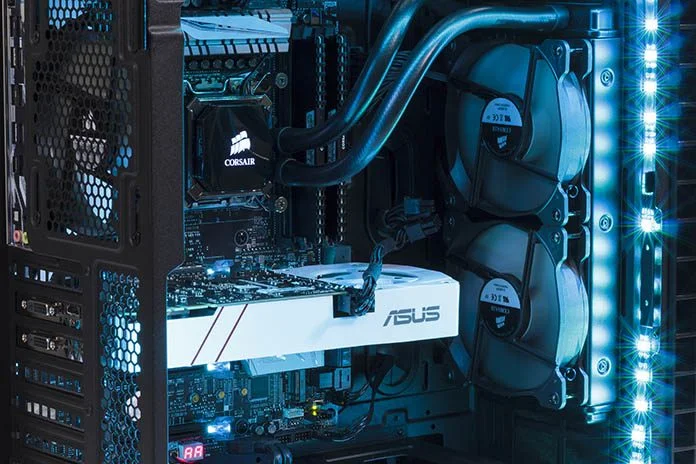 There are many kinds of PC builders. Some spend as little as possible in an attempt to scrape by with the bare minimum. Others go all out with extreme excess fit only for those with richer blood. And then there are those who seek out the sweet spot, a perfect balance that retains the important things without indulging in superfluous extras. We make the A series for those people, and the new ASUS X99-A II is the most advanced of the breed.
With our latest motherboard innovations and the ability to harness the full potential of the underlying Intel platform, the X99-A II is a flexible foundation for a wide range of Broadwell-E builds. Since we've already put together a premium prosumer workstation based on the top-of-the-line X99-Deluxe II and hardcore gaming rig with the high-end Strix X99 Gaming, we decided to create an entry level VR machine with the X99-A II. Like the board itself, the build is all about making the right choices to get the most bang for your buck. If I'm honest, it's probably my favorite of the three.
Customizable Aura RGB lighting is one of the most impactful features in our new X99 motherboards. With a few clicks in the accompanying software utility, you can easily change the colors to subtly match other system components or configure an obnoxious light show to attract attention at a LAN party. Aura is split between multiple onboard zones and a header for off-the-shelf "5050" RGB strips. The board can power up to two meters of auxiliary lighting at optimal brightness, which is more than enough to bathe complete systems in the glow of your choice.
Aura offers the full rainbow of colors and a wide range of configurable effects. In addition to following basic patterns like breathing, flashing, and color cycling, the lighting can pulse to the beat of the onboard audio or change color based on the CPU temperature. You can mix and match by configuring each zone independently or synchronize them all for a unified look. Future software updates will also extend synchronization to other Aura-compatible components, so you can match the lighting across your entire rig.
We used CableMod WideBeam Magnetic RGB strips in all of our Broadwell-E builds. They're reasonably priced at $23 each, and their WideBeam design throws off an exceptional amount of light. They're also incredibly easy to install and reposition thanks to magnetic backs that play nicely with metal cases. The strips come with connectors for chaining multiple lengths together, and the motherboard ships with a handy extension cable that lets you start the line pretty much anywhere in the case.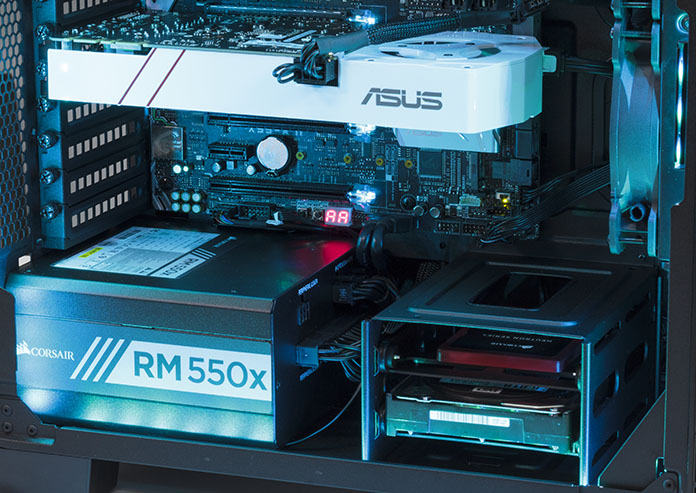 RGB lighting mixes particularly well with white components, which act like a blank canvas that amplifies your choice of colors. We matched the white accents on the X99-A II with our GeForce GTX 970 Turbo in what seemed like a smart decision when we were speccing the build. And then NVIDIA threw a wrench into the works by announcing its next-gen replacement, the GeForce GTX 1070, and its VR-capable little brother, the GTX 1060.
The $320 Turbo is still a great card, and it still meets the minimum specification for virtual-reality headsets like the Oculus Rift. But NVIDIA's Pascal GPUs are faster, and they come with VR-specific enhancements, so we'd recommend them if you were building a machine like this today. We've introduced the ROG Strix GTX 1070 and Strix GTX 1060, custom solutions with hot-clocked GPUs, customizable Aura RGB lighting, and the ability to control auxiliary case fans based on the GPU temperature.
Thanks to its relatively lightweight cooler, the Turbo card we're using here doesn't put too much stress on the PCI Express slot. But beefier graphics cards do, which is why we developed a reinforced slot dubbed SafeSlot. The new design integrates metal strips into the walls of the slot and a matching hook secured to the PCB. Additional solder is also applied to further strengthen the connection to the board. These upgrades help guard against damage that can occur if systems are jostled during shipping or on their way to the next LAN, and when inexperienced builders install or remove cards clumsily.
The X99-A II's primary x16 slot comes with full SafeSlot reinforcement, while the rest of the slots are anchored with additional solder. A system like this one isn't likely to have multiple high-end graphics cards, so the full treatment isn't necessary across the board.
The motherboard's $250 asking price puts it at the more affordable end of the spectrum, so we've paired it with a Broadwell-E CPU that occupies similar territory. At $450, the Core i7-6800K is the cheapest of Intel's new chips for LGA 2011-v3. Yet it still packs a heavy punch, with six cores and 12 threads—50% more than you get with more mainstream Core i7 chips based on Skylake.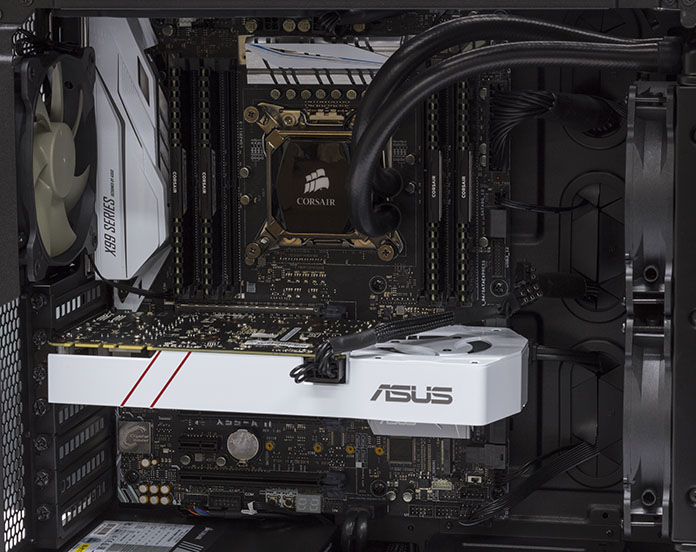 Instead of delivering the 40 PCI Express lanes available in pricier Broadwell-E chips, the Core i7-6800K scales back to 28. While that's not enough for a dual-x16 graphics configuration, it does let you run a single graphics card at full bandwidth alongside multiple PCIe SSDs with direct lines to the CPU. SLI and CrossFireX configurations can also get by on x8 connections—that's how it works on Skylake chips, which have only 16 total PCIe lanes for graphics.
Unlike its mainstream desktop counterpart, Broadwell-E doesn't waste valuable die area on integrated graphics that will be bypassed by a discrete GPU. That saves some space on the chip for a quad-channel DDR4 memory controller with double the bandwidth its dual-channel desktop counterparts. With two slots connected to each channel, the X99-A II supports up to 128GB of memory. And thanks to our exclusive T-Topology trace layout, the board maintains optimal signal timing when all the slots are populated, so you don't have to dial back the speed when loading up on DIMMs.
128GB is a little extreme, so we equipped our build with 32GB of Corsair's Vengeance LPX DDR4-3200 memory. The modules have standard-height heat spreaders that keep a low profile around the socket, so they won't interfere with larger coolers. Configuration is simple thanks to the embedded XMP profile, which can be activated by flipping a switch on the motherboard or selecting the profile in the UEFI. At a reasonable $154 for a 4 x 8GB config, these are a good fit for our build.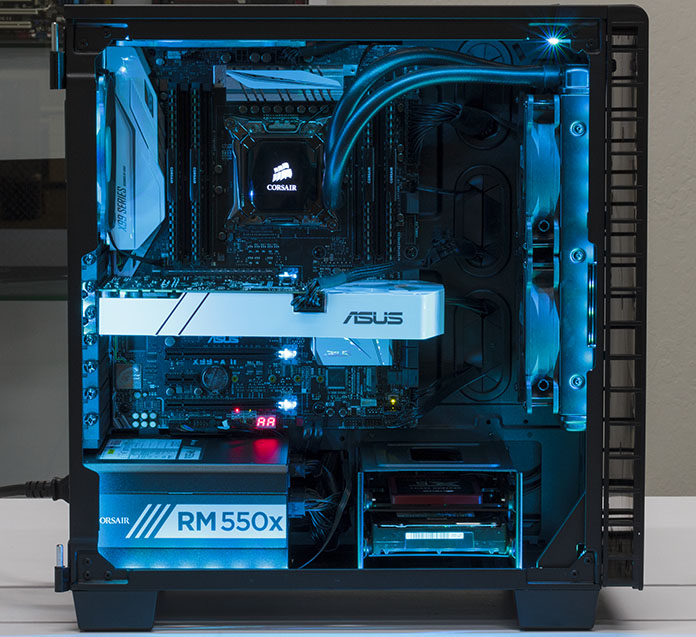 Broadwell-E is fabricated using Intel's latest 14-nm process, whose high density makes cooling more challenging. We opted for Corsair's Hydro Series H100i, the older precursor to the $105 H100i v2. The newer version sticks to the same basic design, with factory-sealed plumbing circulating coolant between the CPU block and 240-mm radiator chilled by dual 120-mm fans. Broadwell-E processors ship without a stock heatsink, and we strongly advise using a powerful liquid cooler like this one if you intend to overclock.
The pumps used in liquid cooling are typically designed to operate at a constant voltage, so they don't always place nicely with motherboard fan headers that vary their output based on the CPU temperature. To compensate, the X99-A II has a dedicated pump header configured for liquid cooling. The header's default profile is optimized for pumps, though it can be switched to fan mode if you want.
All six of the onboard headers differentiate between three-pin DC and four-pin PWM fans automatically and adjust their profiles accordingly. One of them can also drive as much as 3A to the high-amperage finger annihilators industrial fans used by some extreme overclockers. Tuning options abound, with an integrated calibration routine that tests the performance of each connected fan, an intuitive GUI for modifying response curves, and the ability to link fans to different temperature sensors and external probes. New for X99, you can also control how quickly fans respond to temperature changes to prevent brief bursts of activity from triggering unnecessarily distracting acoustic transitions. All these features are available in both our Fan Xpert 4 software and in the UEFI, so they're accessible even if you want to run Linux or other operating systems.
While we're talking about the UEFI, the embedded flashing utility can now connect to the Internet to download the latest firmware automatically, which simplifies both the initial setup and subsequent updates. There's also an integrated secure-erase tool that wipes SSDs to restore full performance.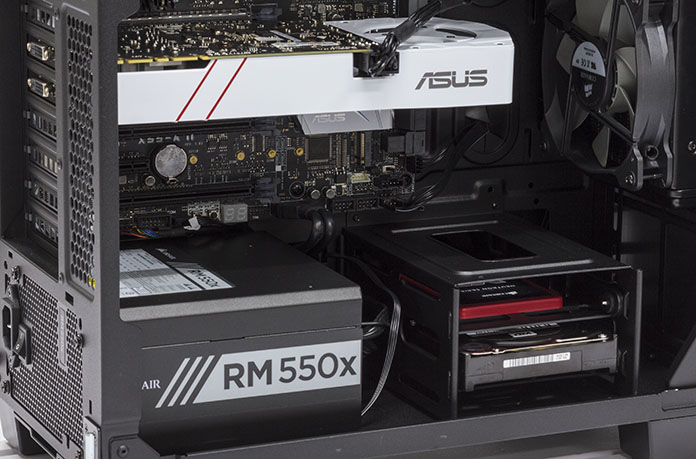 The X99-A II has native M.2 and U.2 interfaces for PCIe SSDs. M.2 drives are great if you want ultra-fast storage with a minimal footprint and simple installation. Their U.2 counterparts use a larger form factor that can accommodate heatsinks to improve sustained performance and more flash chips to reach higher capacities.
The M.2 and U.2 connectors share four PCIe Gen3 lanes from the CPU, and they can't be used concurrently. But let's be honest—the real-world situations where you actually need the performance of PCIe storage are few and far between in a desktop like this. Big file transfers and hardcore content creation can benefit, and so can workstation-class applications with large datasets. Games and applications don't load any faster than they do on good SATA SSDs, though, and it's difficult to detect a difference in responsiveness with typical desktop activity.
For a typical gaming or VR machine, the sweet spot is a SATA SSD with enough storage for your OS and the games, applications, and files you use the most. The X99-A II has a whopping 10 SATA ports onboard, two of which are part of a SATA Express connector, so there's more than enough capacity for even the biggest Steam fanatics and media hoarders. We were a bit more reserved with this build, which combines a single SSD and mechanical hard drive to balance high speed with mass storage.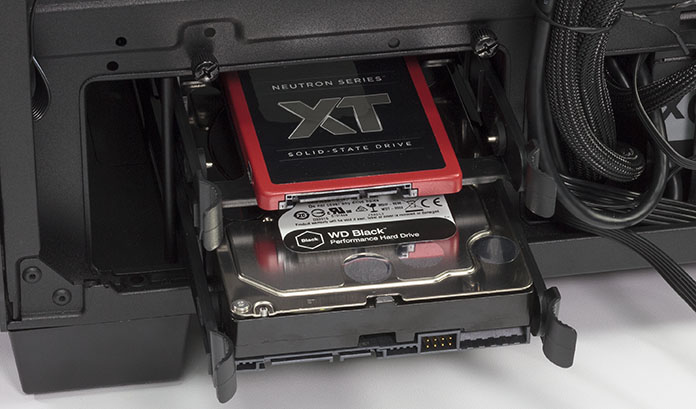 Corsair's Neutron Series XT 240GB has wicked-fast load times and good all-around performance for only $90, a drop in the bucket. Its gleaming red case looks fast and subtly matches the red accents on the Turbo graphics card. WD's Black 6TB fills out the mechanical side of the equation with enormous capacity at a fraction of the price of solid-state storage. At $292, the cost per gigabyte is only about five cents. You don't lose out on rotational speed, either; the Black's platters spin at 7,200-RPM, providing faster access than low-power alternatives in the 5,400-RPM range.
The X99-A II supports the latest in external storage via traditional Type-A and reversible Type-C USB 3.1 ports. Both push data up to 10Gbps, doubling the performance of USB 3.0. Gigabit Ethernet is handled by a reliable Intel controller backed by Turbo LAN traffic-management software that keeps background downloads from lagging online games and interrupting Netflix streams. If you want to add Thunderbolt 3, the board is compatible with our ThunderboltEX 3 card. It also has a header for our Fan Extension card, which adds three more headers and temperature probes that can be managed with the onboard intelligence.
You don't have to add anything to get great sound out of the motherboard. The integrated Crystal Sound 3 audio is enhanced by numerous little touches that improve the output quality. Power is regulated before even hitting the codec, which is shielded to minimize interference. A dedicated amplifier boosts the output for headphones, while special circuitry eliminates unwanted popping. Add premium capacitors and a digital output that passes pristine sound to receivers and speakers, and there's no need for a separate DAC or sound card.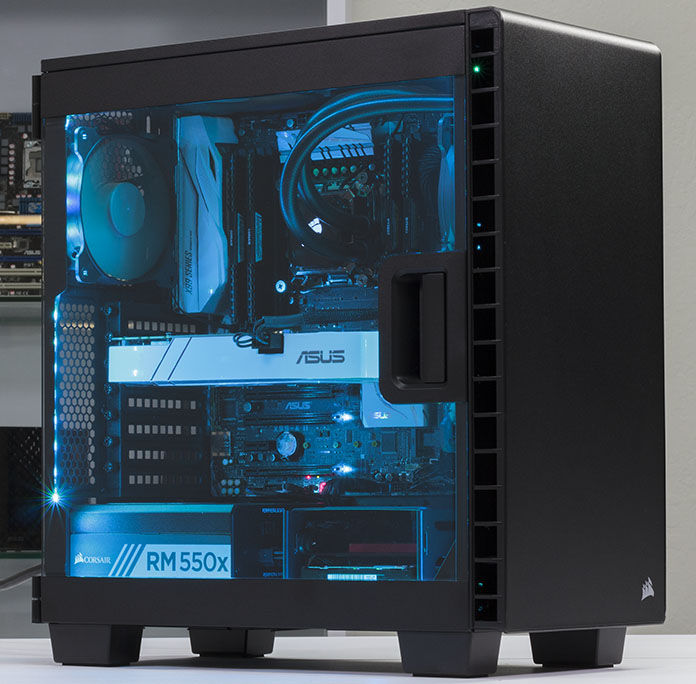 This was my first crack at building a system inside Corsair's new Carbide Series Clear C400 case, and I have to admit that I fell in love with it during the process. Despite selling for only $97, it looks absolutely fantastic, with understated styling and a gaping window. The dimensions are extremely compact, but the case still supports larger graphics cards and liquid coolers. And it tucks three 2.5" drive bays behind the motherboard tray for additional storage.
We powered the machine with the same Corsair RM550x PSU from our Mini-ITX home-theater PC builds. The 550W unit has modular cables to keep clutter to a minimum, and there are enough PCIe connectors for a high-end GPU. The RM550x also meets our acoustic needs; it varies speeds intelligently based on the load and turns off completely when power utilization drops below a specific threshold. Street price: $90.
After assembling all the components, we'd normally overclock the CPU and tune the fan profiles. But manual tweaking can be intimidating for beginners, and the process is often tedious for experienced enthusiasts, so we're going to let the X99-A II the work for us instead. The secret is our 5-Way Optimization software, which automatically tunes the cooling and processor along with a few other system parameters. The important difference between 5-Way and some other automated schemes is that it seeks out the best configuration for the unique mix of components in your system. Fan performance is measured to determine the exact rotational range of each one, and the CPU frequency is increased gradually, with stability tests at each step to best exploit the true potential of your individual chip and cooler.
And all it takes is a single click.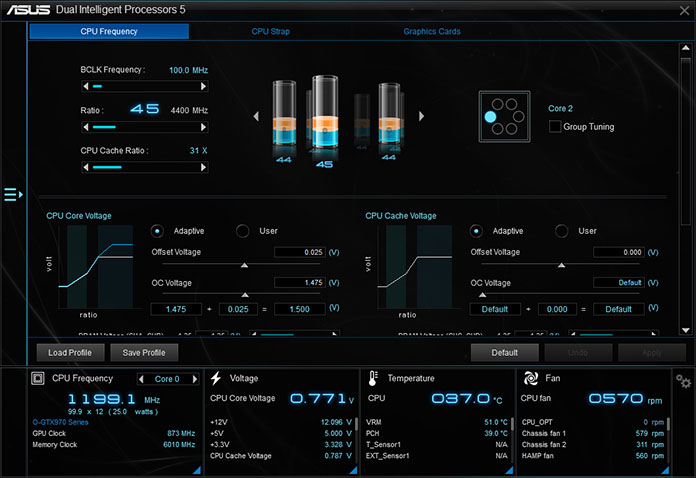 Our one-click auto-tuning attempt yielded an all-core speed of 4.4GHz with a 4.5GHz single-core peak—a full 1GHz faster than stock for all cores and 900MHz up for single-core loads. 5-Way pushed the CPU voltage to 1.5V, which is higher than we'd typically recommend, but the setup was stable and free of thermal-induced throttling under load. Once the auto-tuner settles on a baseline overclock, it's easy to save the profile and experiment with tweaking different variables to lower temperatures or increase frequencies. The optimization routine is configurable, as well, with options to toughen the stability test and set limits on how higher clock speeds are pursued.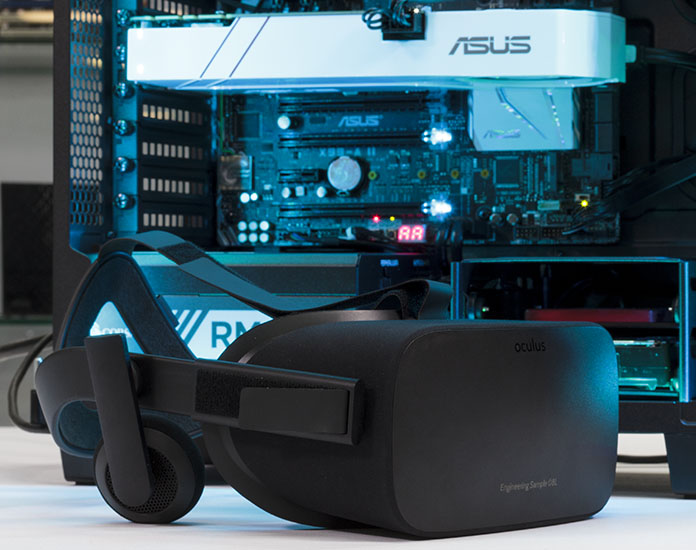 The X99-A II motherboard and GeForce GTX 970 Turbo graphics card are both certified by our Beyond VR Ready program, which tests compatibility with VR headsets like the Oculus Rift to ensure the best possible experience. We decided to go one step further and measure VR performance in a few titles. As with games, VR is mainly GPU-limited, so this is more a test of whether the GTX 970 lives up to its Oculus recommendion.
We started with the SteamVR Performance Test, which runs through a predefined benchmark sequence. The graphics quality changes dynamically to maintain a steady 90 FPS to match the 90Hz displays on the Rift and HTC Vive. Our setup never dipped below that threshold, and it averaged "high" graphics quality across the extent of the test for a score of 6.6 out of 11. For reference, the Strix GeForce GTX 980 scores 8.9, while the Matrix GTX 980 Ti gets full marks.
Next, we fired up a handful of games and "experiences" available through the Oculus store: Lucky's Tale, Henry, Invasion!, and Project Cars. We played each one several times and collected performance data with Fraps, which logged individual frame times that we then converted to FPS for easy interpretation. The results from a 60-second snippet of each game are below. Click the buttons below the graph to switch between the different games.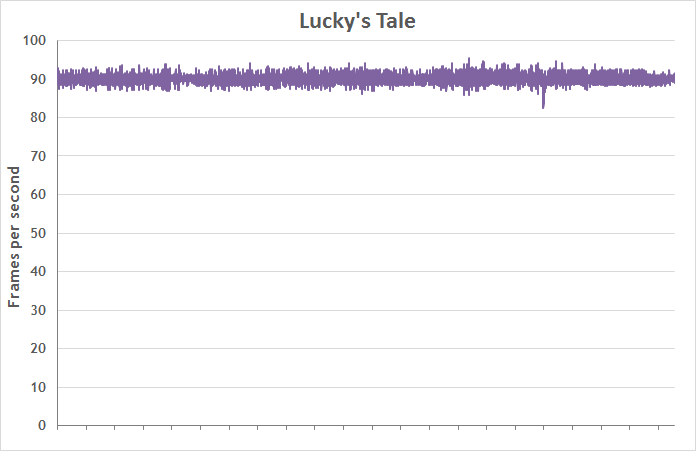 Although Lucky's Tale, Invasion!, and Henry maintained a reasonably steady 90 FPS throughout, Project Cars proved to be considerably more demanding. The frame rate dropped below the target threshold regularly, often to around 60 FPS, and that was with relatively low in-game graphics details.
To be fair, Project Cars still looked remarkably good, possibly because the headset's display and lenses seem to minimize fine details. The gameplay definitely didn't feel sluggish compared to the other titles; it was smooth, with no noticeable delays when quickly moving my head to change the view. Despite careening sideways through corners right after lunch, I didn't get even a hint of motion sickness. Some of the credit may be owed to a technique called time warping, which extrapolates the contents of new frames if the GPU can't keep up with the display's refresh cycle. Unfortunately, the effects wouldn't necessarily show up in Fraps. Traditional benchmarking methods need to adapt to better illustrate VR performance.
We plan to spend more time testing VR with different games and hardware configurations to provide you with a better sense of what to expect. Stay tuned for a more comprehensive look at the subject soon. In the meantime, it's clear that the GeForce GTX 970 Turbo is indeed fast enough to deliver a good VR experience—but also that there's room for more powerful cards to up the ante.
This system is one of three we put together to celebrate the arrival of Broadwell-E. Be sure to check out our beast based on the Strix X99 Gaming and premium prosumer workstation based on the X99-Deluxe II. The trio nicely illustrates the range of options with our latest X99 motherboards.
Among the three boards, the X99-A II is easily the most accessible. You get the best of the new features and signature refinements that make our refreshed X99 boards unique while saving money that can be spent on more GPU power for better gaming and VR performance… or a beefier CPU with more cores and PCIe lanes… or a lightning-fast PCIe SSD. The X99-A II is equipped to handle it all.