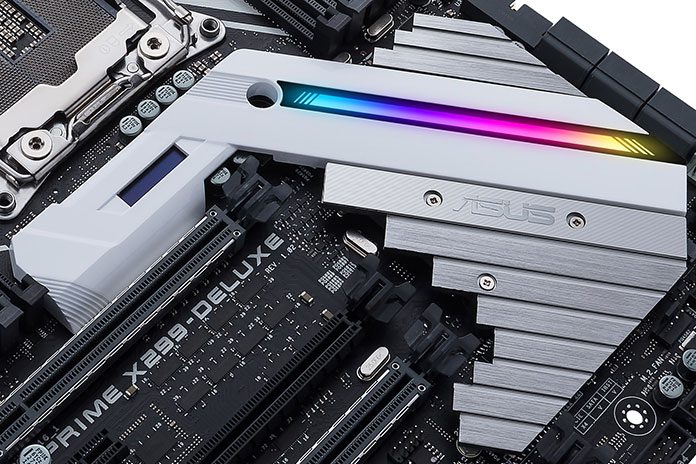 A new era of high-end desktops is here. Intel just took the wraps off its long-awaited Skylake-X CPUs and accompanying X299 chipset, which bring enough horsepower and bandwidth for everything from professional content creation to hardcore gaming. The LGA2066 processors require new motherboards, and ASUS has a diverse lineup split between the Prime, TUF, and ROG families. We'll cover the Prime and TUF boards here, and you can check out the latest from the Republic of Gamers in this article.
Intel's new Core X-Series processors boast up to 18 cores and can be paired with as much as 128GB of quad-channel DDR4 memory. The beastly chips demand serious cooling, which is why all of our new X299 motherboards have dedicated headers for all-in-one liquid coolers and stand-alone pumps. These headers combine with our critically acclaimed cooling controls, which now include the ability to read GPU temperatures on select graphics cards and react to the hottest temperature from a group of sensors, to provide comprehensive system cooling that reacts intelligently to a wide range of workloads.
Skylake-X processors have up to 44 PCI Express 3.0 lanes available for graphics cards and NVMe SSDs. All of our X299 motherboards support three-way graphics configs, and their x16 slots incorporate structural reinforcements to protect your investment. SafeSlot strengthening bolsters the walls of the slots and anchors them more securely to the board to prevent damage from the rough handling that can occur when shipping or transporting assembled systems.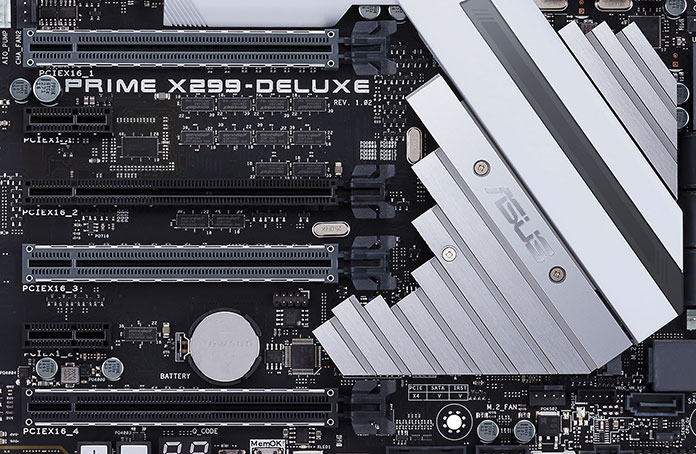 PCIe lanes left unused by graphics can be devoted to storage with VROC, which combines multiple M.2 SSDs in a bootable RAID array connected directly to the CPU. An insane number of drives can run in parallel across multiple VROC cards to deliver staggering throughput and massive capacity for system drives, scratch disks, and anything else you want to access at warp speed. All of our X299 boards also support Intel's Optane Memory, which provides a solid-state cache to accelerate other storage devices.
This new generation gets our latest onboard audio enhancements, including a Realtek S1220A codec paired with an amplifier and premium components that produce surprisingly good sound for an integrated solution. The 120dB output SNR rivals some dedicated sound cards, while the 113dB input SNR improves recording quality for streamers and voice chat.
Prime time for X299
Built for power users and prosumers, the Prime series represents the culmination of decades of experience refining all aspects of motherboard technology. These boards mate state-of-the-art connectivity with accessible tuning options to provide a premium experience everyone can enjoy.
All of our X299 motherboards have extensive overclocking and cooling options available in both the UEFI and software. The Primes go one step further with 5-Way Optimization, which intelligently overclocks your system and tunes the cooling based on the individual characteristics of your components. Beginners can effortlessly optimize their entire PC with a single click, while experienced users can adjust tuning parameters to meet their needs.
Refinement extends to the styling, whose predominantly black-and-white theme lays the perfect foundation for understated builds—or much flashier ones laced with RGB lighting. Our Prime X299 boards feature multiple headers for LED strips that can light up your entire chassis. They're part of a rich ecosystem of Aura Sync products that can synchronize colors and effects across a complete system, from the motherboard and graphics card to peripherals and other components. We've also opened up Aura Sync with an SDK that lets game developers, programmers, and others harness the lighting with their own software.
The Prime X299-Deluxe has everything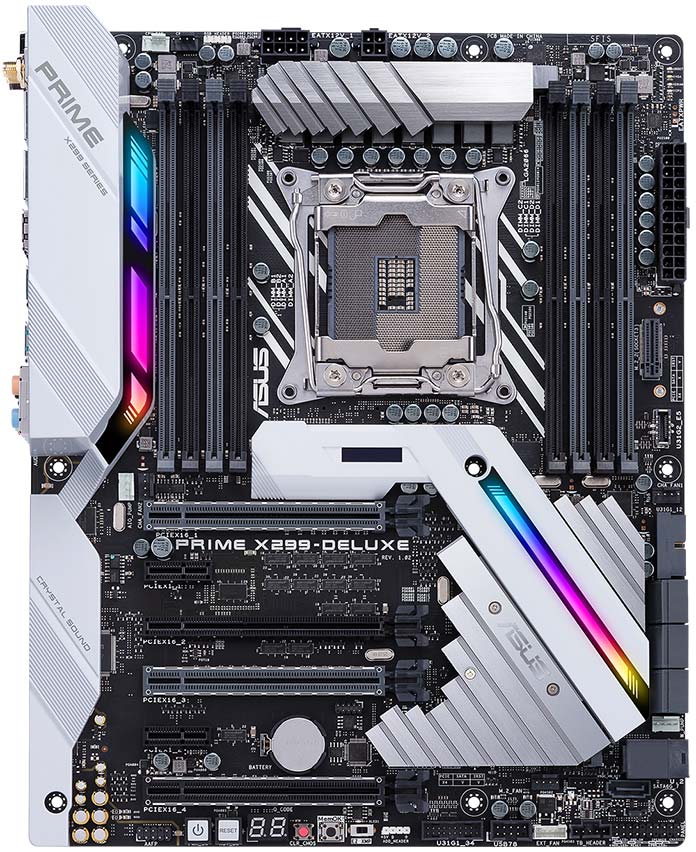 Our Deluxe motherboards set the template for high-end builders who want it all, and the new Prime X299-Deluxe continues that proud tradition. It adds pretty much everything you could want on a high-end motherboard, from ultra-fast I/O to cutting-edge aesthetic enhancements.
After setting the bar for RGB lighting with Aura Sync, we're raising it with new customization features that take personalization to the next level. Chief among them is support for addressable lighting strips that offer independent control over each LED on the line, which will allow developers to create considerably more advanced effects with an upcoming version of our Aura SDK. We're also working with Bitfenix, Cooler Master, Thermaltake, In Win, Phanteks, and CableMod to integrate addressable LEDs into their products. The Deluxe has headers for addressable and conventional RGB LED strips, plus dual onboard light bars that run down the I/O shield and chipset heatsink.
The chipset heatsink also houses the all-new LiveDash, an integrated OLED screen capable of displaying valuable system information and custom graphics. You can see vital stats like temperatures, frequencies, and fan speeds without alt-tabbing away from games and other full-screen tasks. LiveDash can also display text messages and graphical animations to set your rig apart from the rest.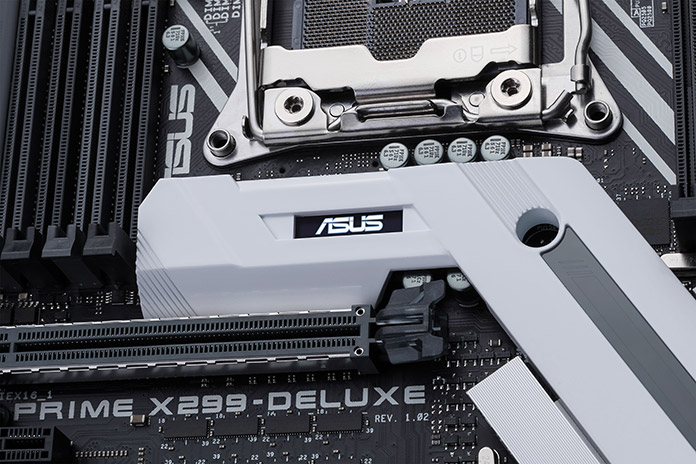 Ultra-high-speed storage is available in multiple form factors, and the Deluxe supports them all. In addition to offering a U.2 port for enterprise-grade SSDs, it comes with dual M.2 slots for gumstick-sized NVMe drives. Both M.2s are situated with thermals in mind; the main slot sits under the chipset heatsink, which reduces drive temperatures by up to 20°C, while the secondary one mounts drives vertically near the DIMM slots, where they can be exposed to airflow generated by system fans.
Networking gets a boost from next-gen Wi-Fi with an integrated 802.11ad module. The dual-band solution can push wireless rates up to 4.6Gbps—several times the speed of most wired connections. And the Deluxe has you covered on the wired front, too, with dual Intel Gigabit Ethernet controllers delivering reliable connectivity with no chance of interference.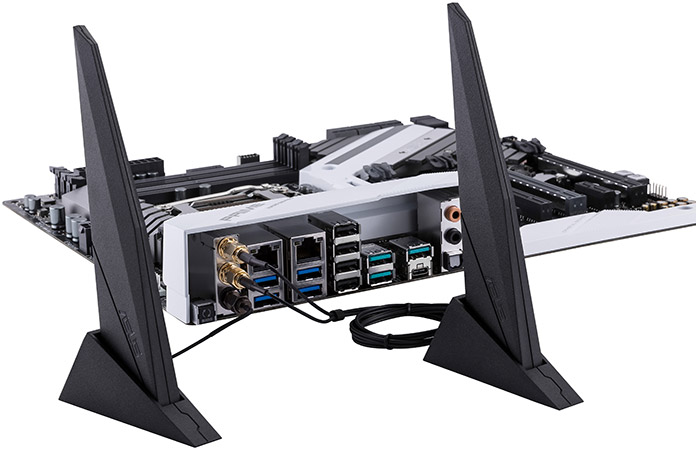 There's only so much we can squeeze onto a motherboard without exceeding standard ATX dimensions, so the Prime X299-Deluxe comes with a couple of sidekicks. Our ThunderboltEX 3 card is included, providing 40Gbps of bandwidth to external peripherals. We also bundle our Fan Extension card, which expands the board's already generous assortment of fan headers and temperature sensors. If you want one with everything, the Deluxe is it.
Distill the essentials with the Prime X299-A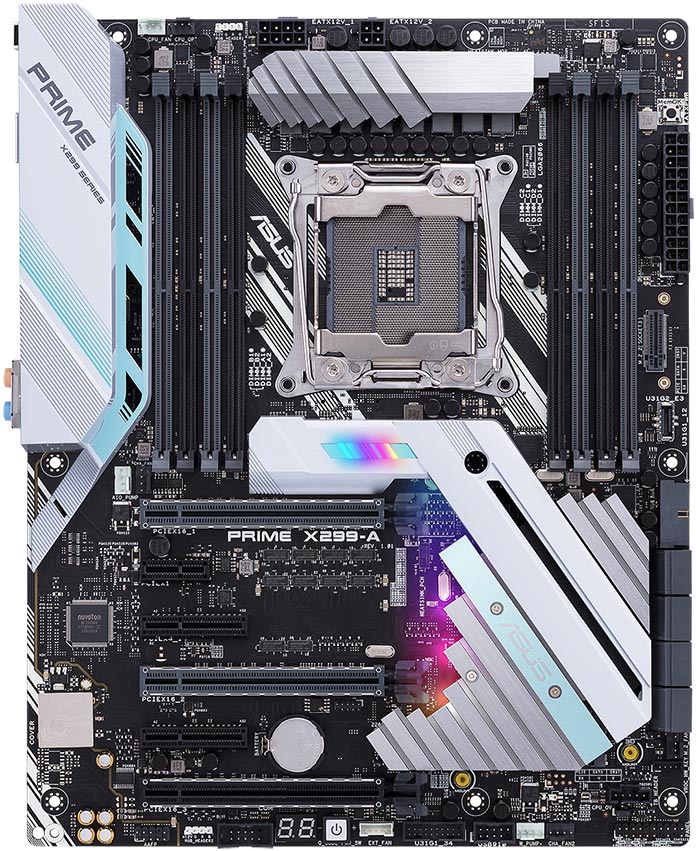 Although the Prime X299-A features many of the same technologies as the Deluxe, it eschews indulgent extras in favor of a straightforward approach that gets back to basics. The combination of core Prime features with the latest Intel platform is appealing enough that little embellishment is needed to produce an enticing board.
Like its big brother, the X299-A supports three-way graphics configurations across a trio of x16 slots. You can add VROC arrays via our add-in card, but that's only necessary if you want to go above and beyond the high-speed storage options already available. The board has two M.2 slots: one under the chipset heatsink for improved thermal dissipation, and the other mounted vertically near the DIMM slots for better airflow.
Essential I/O is fully covered, including USB 3.1 Gen2 in all its permutations. The X299-A has an internal header for chassis that support the new 10Gbps standard, plus Type-A and reversible Type-C ports at the rear. You don't get as many ports as with the Deluxe, but there are still plenty for a fully loaded system.
Despite looking more sedate than its sibling, the Prime X299-A can still light up your PC with RGB effects. The board has dual headers for off-the-shelf LED strips, each of which supports up to two meters of lighting at optimal brightness. The colors, effects, and tastefulness of the resulting glow is entirely up to you.
The Prime X299-A shows that affordable Skylake-X motherboards need not skimp on the features you crave. It has everything needed for an entry-level build, plus room to grow into something much more formidable.
TUF enough to endure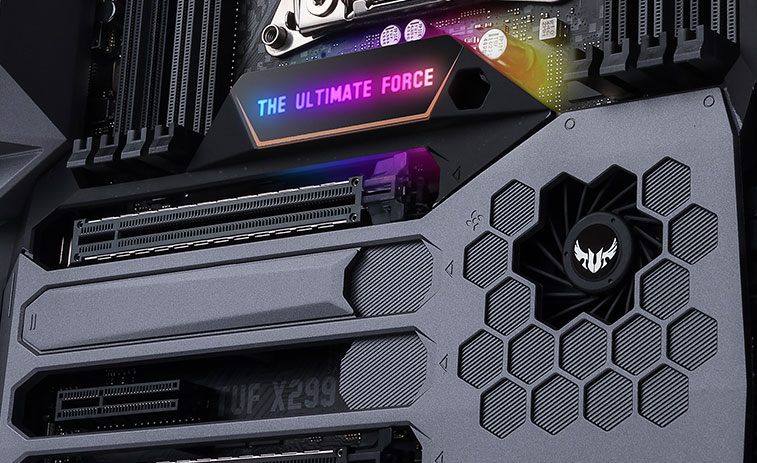 Our Prime X299 motherboards are balanced by entries from the TUF family. These models march to a different beat that prioritizes reliability and durability for PCs built to go the distance. They use tougher components than conventional counterparts, and they're subjected to more stringent testing. We're so confident that the boards are covered by five-year warranties, providing extra coverage that protects your investment over the long haul.
Shifting focus requires a new outlook, and TUF answers with distinctive designs that meld industrial sensibilities with a touch of space marine. Stealthy by nature, the new boards minimize RGB lighting to concentrate on different priorities.
Arm yourself with the TUF X299 Mark 1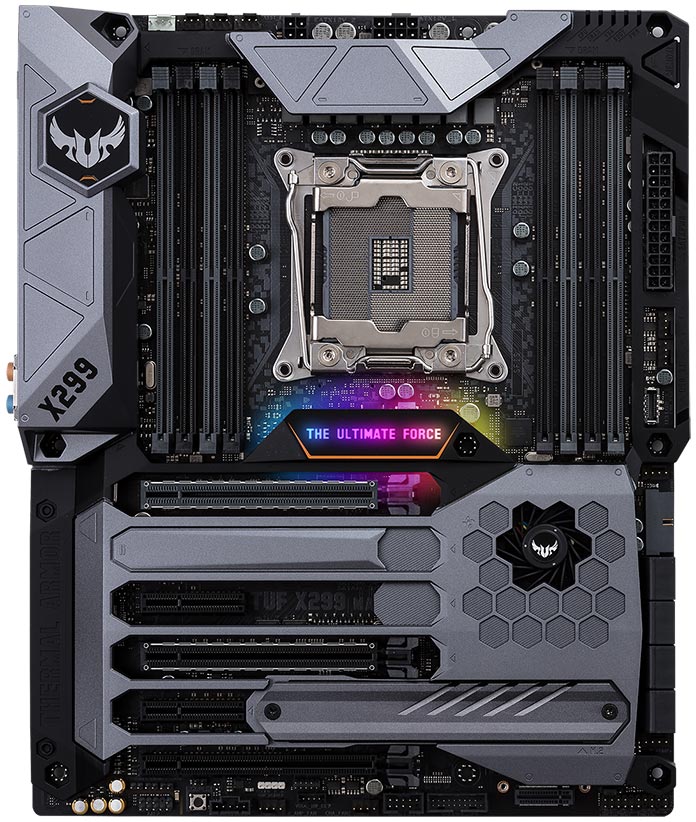 A new coat of reinforced armor makes the TUF X299 Mark 1 stand out from its predecessors. The protective cover streamlines airflow over the board and prevents dust from accumulating in nooks and crannies. Airflow beneath the surface is generated by a dedicated fan that also directs cool air toward the primary M.2 slot. NVMe SSDs installed in that slot are covered by a metal heatsink that further improves thermals, while those in the secondary slot stand vertically, where they can be cooled by air moving through the chassis.
Managing thermals is critical to maintaining stability when systems are pushed to the limit, especially on a high-end desktop platform that pumps more watts through the CPU. The TUF X299 Mark 1 is laced with additional temperature sensors to monitor different zones on the motherboard and in your system as a whole. Sensor data is fed into Thermal Radar 3 software that intelligently manages your cooling to keep temperatures and acoustics low.
The updated armor is our strongest yet, but the Mark 1's real strength comes from its Fortifier backplate. This rear reinforcement uses a carefully shaped and folded metal plate to stiffen the board against warping. It's especially helpful with massive air coolers that hang a lot of weight off the socket. And, as an added bonus, it helps dissipate thermal energy from multiple hot spots on the back of the PCB.
To deliver reinforcement where it's needed most, the TUF Fortifier now includes a removable GPU Holder that supports the weight of sagging graphics cards. The bracket is carved from a single sheet of metal to provide maximum strength, and it keeps a low profile to ensure clearance for SLI bridges. Finally, a solution to the scourge of GPU sag.
TUF Detective reprises its role as smartphone-powered troubleshooter and monitoring utility. Unlike previous iterations, which require a wired USB connection, the latest version performs diagnostics wirelessly over Bluetooth using the included USB adapter.
As the flagship of the TUF family, the Mark 1 also adds several perks. The glowing logo at the center of the board changes based on the load to show how hard the system is working. There are dual Intel LAN controllers instead of just one, plus all the flavors in the USB 3.1 Gen2 rainbow: old-school Type-A, reversible Type-C, and internal header.
Welcome the X299 Mark 2 into the TUF family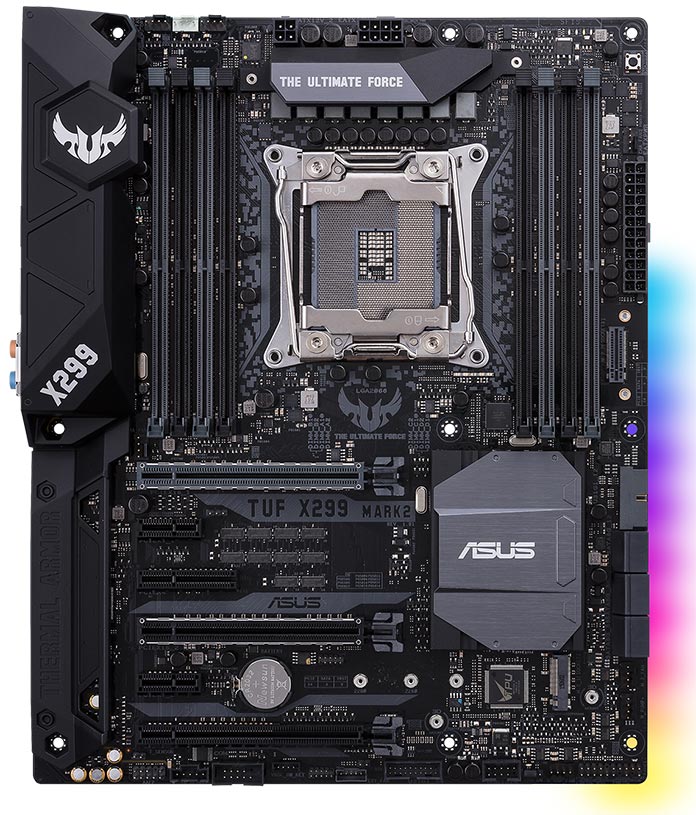 TUF strips down to the essentials with the X299 Mark 2. Like the Prime X299-A, the board delivers all the features of the new Intel platform, plus must-have ASUS innovations like advanced overclocking and tuning options. It removes the armor and backplate in favor of a naked PCB with a darker motif that blends into the shadows.
The two main PCIe x16 slots are structurally reinforced to support heavy graphics cards, but the third lacks the full SafeSlot treatment. It's more likely to be used with VROC cards that put minimal stress on the slot. Even without VROC, the board has dual M.2 slots for running RAID through the chipset. There are provisions to keep SSDs cool, too. The primary M.2 slot is compatible with our 3D-printed fan bracket, while the secondary one mounts drives vertically so they can benefit from ambient chassis airflow.
Including the header for the M.2 fan, the X299 Mark 2 has onboard connectors for a total of seven fans, two of which are pre-configured for liquid cooling. You can manage a complete system's cooling through one powerful Thermal Radar interface.
The Mark 2 makes TUF more accessible for X299 builders who want to deviate from the conventional formula. It's a breath of fresh air at a time when far too many motherboards offer more of the same.
Pricing and availability
Ask your local ASUS representative for pricing and availability info for your region. If you want to see what the Republic of Gamers has to offer for X299, check out our ROG coverage of the Rampage VI Extreme, Rampage VI Apex, and Strix X299-E. ASUS has X299 motherboards for everyone.