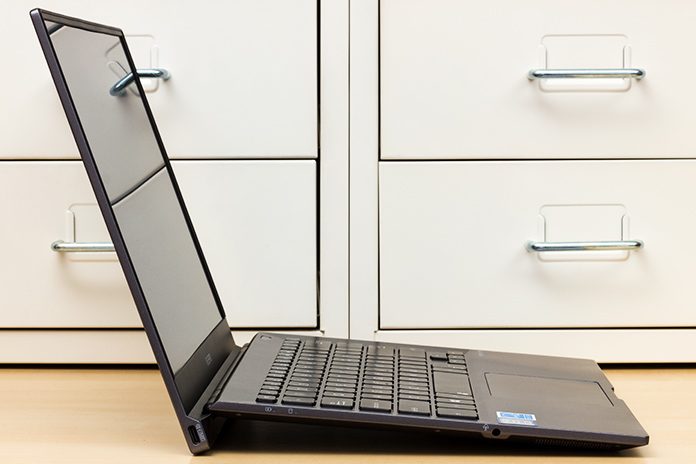 There's no denying that our new ASUSPRO B9440 laptop was designed with the corporate world in mind. The all-caps branding under display makes the machine's professional aspirations abundantly clear. But billing this solely as an ultraportable business notebook sells the B9440 short, because it's much more than just another suit on the rack. The unique design, expansive display, and phenomenal keyboard are compelling for anyone seeking a refined laptop they can work and live with day to day. Add a well-balanced spec, affordable pricing, and the enhanced durability of our business-oriented ASUSPRO family, and it's no wonder the B9440 has quickly become one of my favorite laptops—period.
The product of intelligent design
When closed, the B9440 hardly warrants a second look. The magnesium body's clean lines and grey finish complete an understated aesthetic that blends into its surroundings. Lifting the lid changes everything by exposing the slender frame surrounding the display and the unique hinge propping up the keyboard.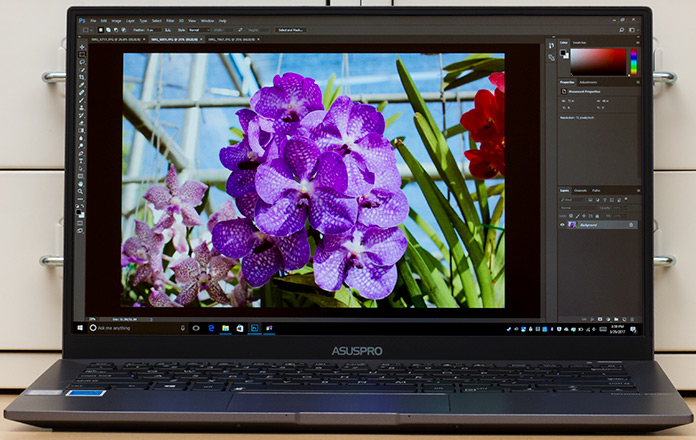 Those two elements are more related than you might expect. The extremely narrow bezels allow us to squeeze a larger 14″ screen into a smaller 13″ chassis, but the underlying panel and associated electronics produce a pouty lower lip; while the border measures just 5.4 mm at the top and sides, it's much wider at the base. Raising the hinge helps to hide this protuberance, making the B9440 look much more balanced when you're staring it in the face.
The benefits of relocating the hinge extend beyond form and into function. Angling the keyboard slightly creates a familiar position for desktop users, so you'll feel right at home with your hands at the controls. It also improves cooling by providing plenty of breathing room for the intake vents in the chassis' underbelly. Dissipating heat is difficult in ultra-slim laptops, and it's important for more than just application performance. Battery quick-charging times can suffer if the circuitry gets too hot. Our clever design lets the B9440 not only maintain strong performance under demanding workloads, but can also charge its battery to 50% capacity in a mere 30 minutes.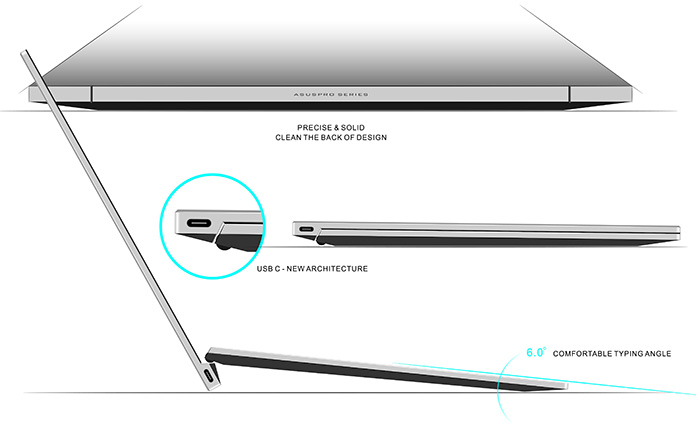 Sometimes, conceptual design changes have unintended advantages that don't become apparent until you get some hands-on time. When we received the first engineering samples for testing, we discovered that the unique profile makes it easier to hold the B9440 open with one hand, allowing us to quickly move between meetings and locations without putting the system to sleep by closing the lid. The preferred technique is grasping the lower lip, which provides enough grip to hold the laptop vertically. I'm also fond of bracing my thumb and pinky against the lip when balancing the B9440 on my palm.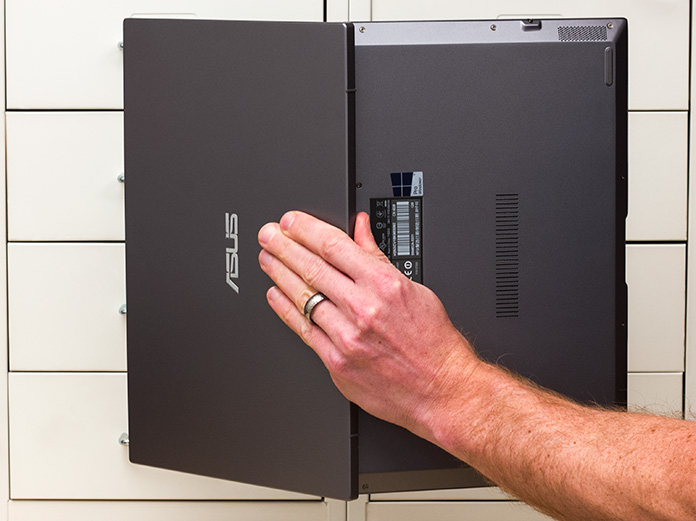 One of the biggest challenges we faced with the hinges was making the accompanying cables meet our demanding ASUSPRO durability requirements. The cables carry USB and power, so they're responsible for more than just the display. They also need to survive a punishing 50,000-cycle open/close test that's much tougher than the 20,000-cycle test used for consumer-oriented notebooks. It took multiple iterations to develop cables strong enough to survive. I won't reveal the secrets behind the final design, but other teams within the company are benefiting from what we learned developing the B9440.
The thin display bezels left no room for the 2×2 antenna attached to the 802.11ac Wi-Fi, so we moved it to the base. They also complicated webcam placement, so we removed the camera completely. I wouldn't say I've missed it, Bob. Webcams aren't essential for this kind of laptop, especially with the ubiquity of front-facing cameras on mobile devices. Also, there's no need to worry about three-letter government agencies looking in on what you're doing.
At work in the office and on the road
The B9440 traveled with me between our offices in Fremont, California and my home in North Vancouver, Canada. That's a relatively short distance as far as business trips go, but it doesn't take long to appreciate the laptop's appeal for road warriors and globe hoppers. At only 14.8 mm thick and with a compact footprint reminiscent of 13″ laptops, the B9440 effortlessly slips into any briefcase or bag. The machine tips the scales at just 2.3 lbs, so you'll barely notice it's there.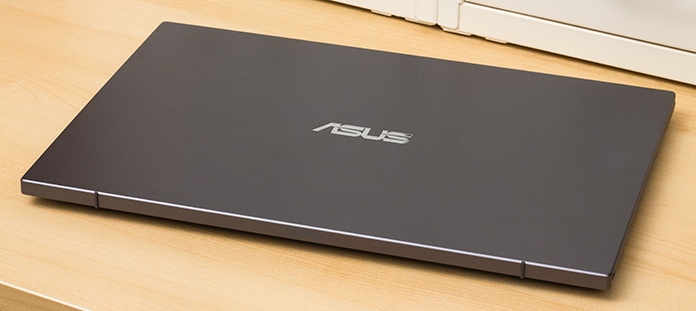 Our well-balanced spec delivers snappy performance across a range of applications. The ultrabook-grade Intel Core i5-7200U processor executes up to four threads in parallel to deliver smooth multitasking and stronger performance with multithreaded workloads. This class of CPU admittedly isn't great for serious video editing or hardcore 3D rendering, but it has more than enough horsepower for typical productivity apps, photo editing, and other daily essentials. The CPU is backed by 8GB of RAM, which is more than sufficient for most tasks, plus a speedy 512GB SSD with plenty of room for massive PowerPoint decks, ballooning PST files, and everything else you need on the road.
While the responsive hardware is an important component of the overall experience, the interfaces are what really set the B9440 apart. The 14″ display provides a spacious desktop for multiple applications; it's just the right size to open two documents side by size. The 1080p resolution is a good fit, too. It has enough pixels to produce crisp text and detailed images, and the larger panel ensures you won't have to squint with scaling set to 100%. Our Splendid software makes the display even easier on the eyes by including a blue-light filter that takes the edge off for long days and late nights.
Colors look great on the IPS-type panel, and wide viewing angles keep them from fading when you're presenting to small groups huddled around the screen. To combat glare, the screen has a matte surface that won't reflect your surroundings. Nothing ruins a pitch like your audience struggling to clearly see what's on the screen.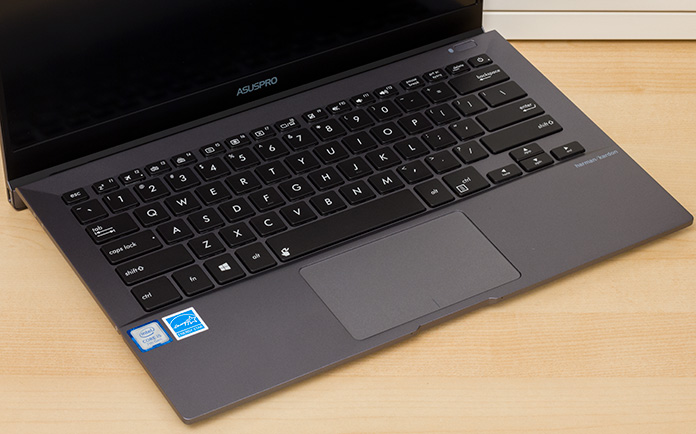 As much as I love the display, the keyboard is probably my favorite part of the system. In addition to sporting a desktop-style angle of attack, it has a full-sized key pitch that lets my hands stretch out comfortably. The base is solid, with minimal flex, and it combines with an ample 1.5 mm of key travel to make each press feel precise. Three-level adjustable backlighting provides vital visibility for working in bed or on evening flights.
I've written thousands of words on the B9440 so far, and the more time I spend typing, the more I appreciate the work that went into the keyboard. We went so far as tweaking the tooling for the key caps to lower the acoustic frequency of the noise they produce. As a result, you can subtly catch up on social media work-related email during meetings that don't require your full attention.
The keyboard can even survive small spills unscathed. Our spill tests involve dumping 66 ml of liquid onto the keyboard and then leaving it there for three minutes, which is more than enough time to react to a real-world accident. The B9440's keyboard performed within specifications after tests involving water, Mr. Brown coffee, and Diet Coke, allowing klutzes to stay hydrated and caffeinated without worrying about small spills.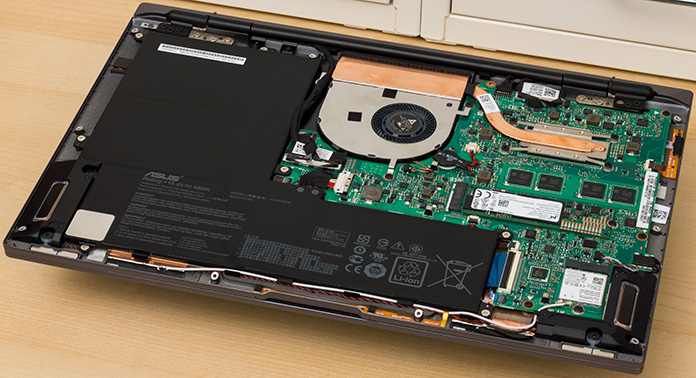 Spill resistance is just one part of a battery of durability tests that ASUSPRO gear must pass before they're released to the public. These products are dropped from greater heights, subjected to higher pressure, and put in more extreme environmental conditions than our consumer-oriented hardware. The B9440 has passed 10 industry-standard MIL-STD 810G tests, so you know it's built to last. And, if it needs to be serviced, you can pop off the back with a little more than a Philips screwdriver. The IT department will thank you for that.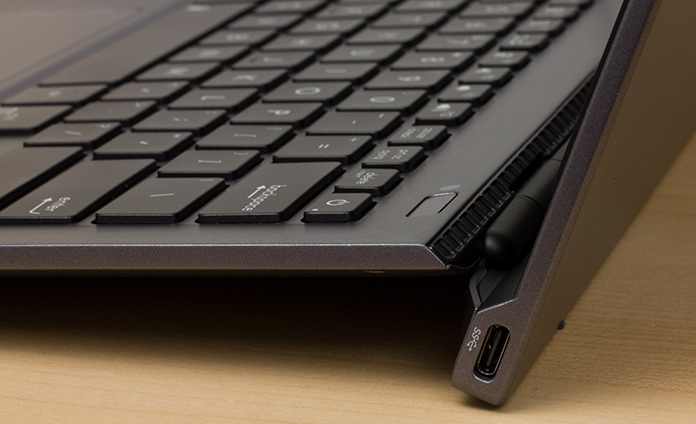 The touchpad below the keyboard is silky smooth, with ample space to move. Built-in Bluetooth lets you easily add a wireless mouse, while a headset jack and dual USB ports provide additional connectivity. The reversible Type-C ports are perfect for next-gen devices, but your legacy gear is still covered. The B9440 ships with a slim dongle lined with both Type-C and Type-A USB ports, plus an HDMI output. You can connect thumb drives and other peripherals right out of the box, and the HDMI output is perfect for projectors and other auxiliary displays.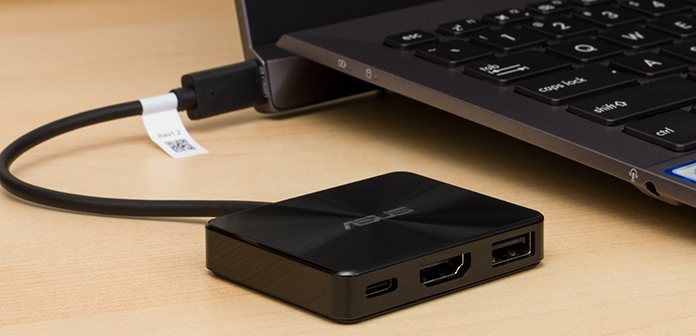 For serious workstations, we offer a separate SimPro dock with a comprehensive cornucopia of connectivity. The dock can drive two auxiliary displays simultaneously; you can choose between dual DisplayPort outs, one HDMI, and an old-school VGA. Additional ports include four USB Type-A (two with fast-charging support), Type-C USB, Ethernet, and an SD card reader. There's also a dedicated power button that lets you turn on the B9440 remotely, without even opening it.
The parade of corporate-friendly features continues with a TPM 2.0 module primed for trusted computing. Windows 10 Pro is standard issue, and so is the fingerprint reader tucked above the power button. The fingerprint reader integrates with Microsoft's biometric authentication system, otherwise known as Windows Hello, and it's an incredibly convenient way to secure the machine. You'll never forget a password that's physically attached to your hand. Fingerprint authentication is quick enough to make login virtually instantaneous—and much faster than typing a password or PIN.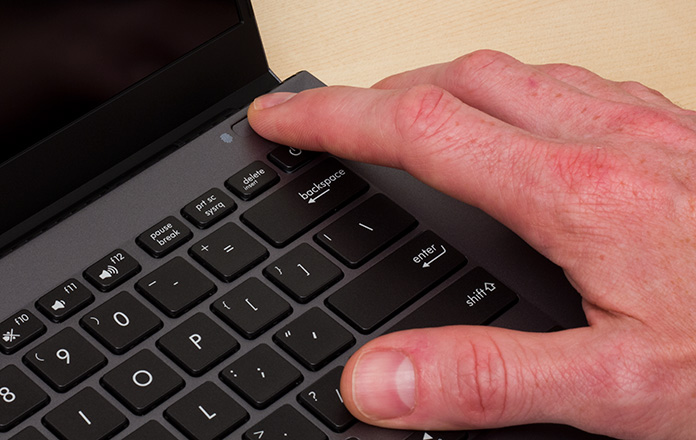 The potential to play after hours
Much of my time with the B9440 has been focused on work, but that's not all this versatile laptop can do. It's perfectly capable of helping you unwind after a long day at the office—or being a source of entertainment for anyone who wants a more professional laptop for personal use.
The display is fantastic for binging on Netflix and other videos. 1080p content completely fills the screen and almost seems to spread into your surroundings due to the thin frame. The large size and wide viewing angles are great for sharing the show with others, and the speakers are surprisingly loud for a machine this size. Our internal audio specialists worked with the experts at Harman Kardon to tune the audio system, and the results speak for themselves. You can experience room-filling volume with minimal distortion.
Perhaps more impressive is the sound the B9440 doesn't make. The fan stays idle while playing videos, letting you enjoy quiet scenes without distraction. While the cooler spins up periodically during day-to-day use and more consistently with demanding workloads, its low hum has an unobtrusive acoustic profile that won't offend your ears. You won't notice the exhaust, either; vents in chassis direct air towards the display, which keeps the machine cool on your lap.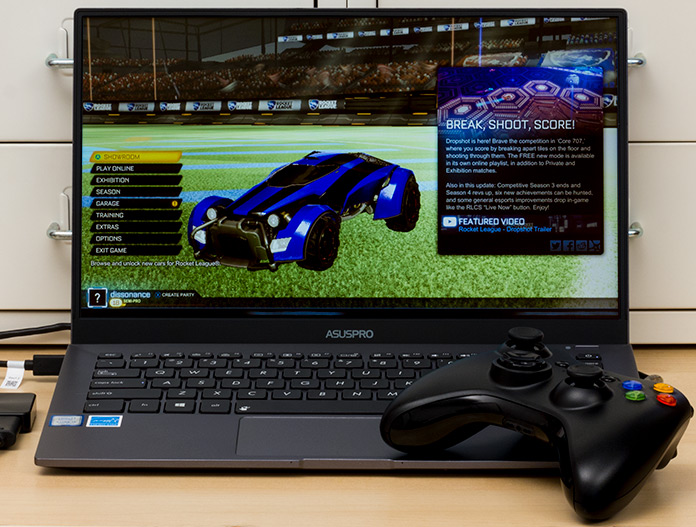 The CPU's integrated HD Graphics 620 is far from the fastest GPU around, and no, it can't play Crysis. You can still get your game on, though. Indie hits like Broforce, Super Meat Boy, and Race the Sun run great with maximum details at the native resolution, and popular titles like Rocket League and CS:GO are playable if you're willing to back off on the eye candy. The B9440 may not be a gaming laptop in the traditional sense, but it's definitely powerful enough to play a lot of really great games. The capacious 512GB SSD is especially well-suited to building a big Steam library.
B9440UA-XS51
CPU
Intel Core i5-7200U 2.5/3.1GHz
GPU
Intel HD Graphics 620
Display
Narrow-bezel 14" IPS-type
Resolution
Full HD 1920 x 1080
Memory
8GB LPDDR3
Storage
512GB SATA M.2 SSD
Networking
802.11ac Wi-Fi with 2x2 antenna
Connectivity
2 x Type-C USB, 3.5-mm audio, Bluetooth 4.1
Battery
4-cell 48Wh
Dimensions
12.6" x 8.5" x 0.58"
Weight
2.3 lbs
OS
Windows 10 Pro
MSRP
$999 USD
$1299 CAD
Availability (USA)
ASUS Store
Amazon
Adorama
B&H
Availability (Canada)
Best Buy
Newegg
Canada Computers
Memory Express
NCIX
Business and casual at an affordable price
Although business undoubtedly comes first for the ASUSPRO B9440, pleasure takes a close second. The intelligent design works just about everywhere, from boardrooms to classrooms to bedrooms. This is a great laptop for professionals, students, and anyone in the market for a refined ultraportable that's versatile enough to work and entertain.
The B9440UA-XS51 variant available in North America sells for an affordable $999 in the USA and $1299 in Canada, while the SimPro dock is available for $169.99 USD and $199.99 CAD. Look for the laptop at the retailers listed in the table above.