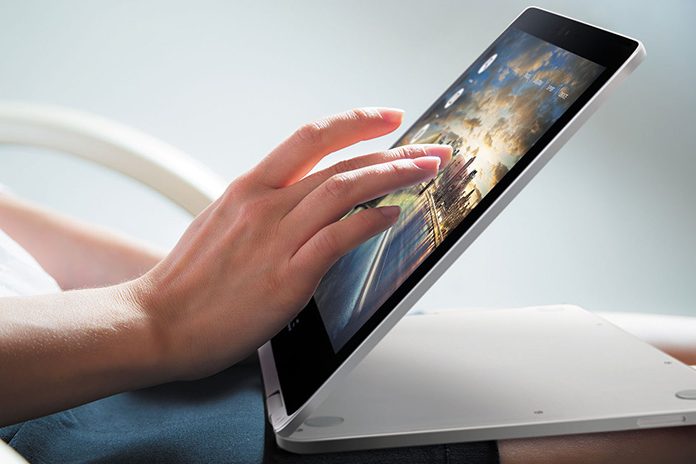 People were apprehensive about Chromebooks when they first launched in 2011. Their WiFi dependency made working offline difficult and was a barrier for success with regular consumers. But the education market found Chromebooks' affordable price point, easy management, and low-cost of maintenance to be a perfect fit for the classroom. And, as ChromeOS has evolved over the years, its popularity in schools has given way to a wider appeal outside of the education market.
Growing support for offline functionality, along with the prevalence of public WiFi and smartphones equipped with hotspot functionality, has eliminated much of the pain associated with Chromebooks' reliance on an internet connection. And the simplicity of ChromeOS is a stark contrast to full desktop operating systems, which can be intimidating for inexperienced users with relatively straightforward needs. Getting up and running on any Chromebook is as easy as signing into your Google account, and you get access to a full suite of productivity apps, as well as the ability to surf the web, share photos, and stream music and video. If all of your computing can be done within the browser, paying for extra features that you won't use doesn't make much sense.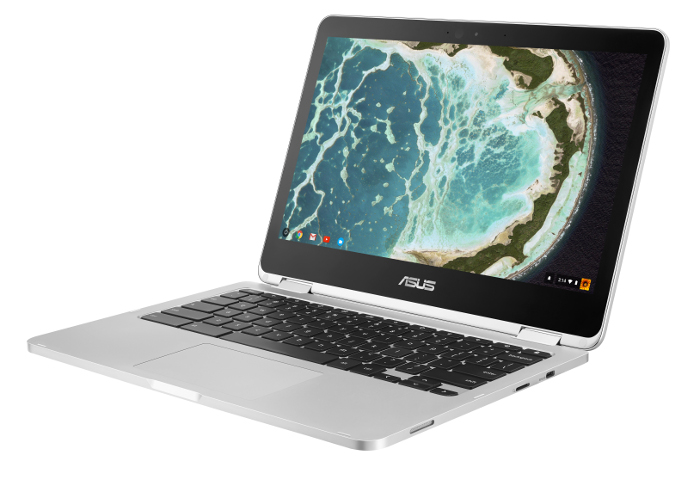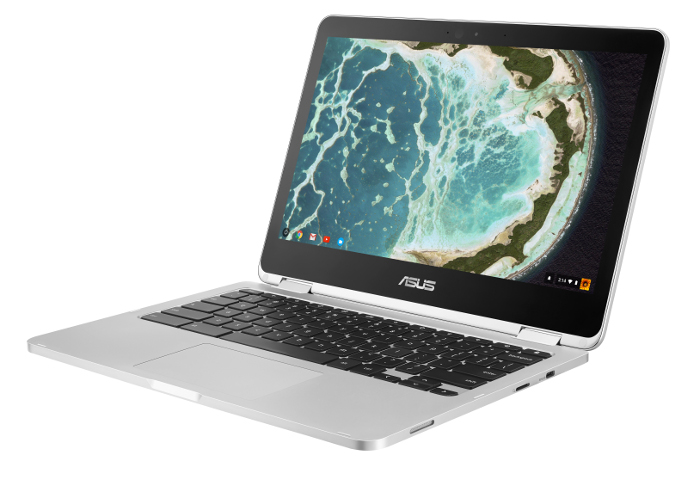 Chromebooks have changed a lot in the last five years, but 2017 brings the biggest advancement yet: support for Android apps. The ability to download and install apps from the Google Play Store opens up a whole new world for Chromebook users previously restricted to browser extensions, but it doesn't make shopping for a Chromebook any less confusing. Not all Chromebooks will support Android, and they run the gamut in terms of form factor, features, and pricing. Even within our own lineup, we have a varied list of offerings, each with their own unique qualities. This guide will help you figure out which Chromebook is right for you.
It's a family affair
The Chromebook Flip C302, Flip C101, Flip C213, and C202 all cater to a different type of user. However, they share the same DNA, so you'll see a number of common features throughout the lineup.
Simple and secure
ChromeOS is the lifeblood of any Chromebook, providing access to the Chrome Web Store, which features thousands of apps for productivity and entertainment alike. But any of our Chromebooks released in 2017 or later will also support Android apps via the Google Play Store, so they'll be able to run all of your favorite smartphone and tablet apps right out of the box as well.
Security has always been one of the biggest selling points for ChromeOS, and it's even more important with the arrival of Android support. But Google is working working hard to keep Chromebook users safe, even with this slew of new apps. ChromeOS auto-updates to keep your computer safe from malware, and Android runs in a separate container that doesn't have full permissions. Google patches vulnerabilities in the OS and rolls them out to all Chromebook users, and the same will be true of vulnerabilities related to Android.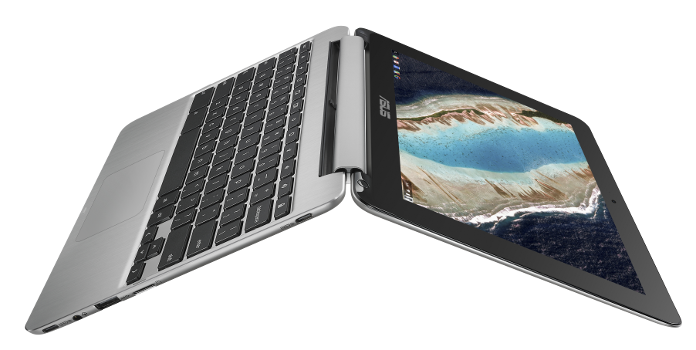 Masters in multitasking
Android apps give Chromebook users the ability to work outside of the browser in a much more meaningful way, and that means multitasking on ChromeOS is going beyond just having lots of tabs and extensions on the go at the same time. With at least 4GB of RAM, you should have no issues switching back and forth between tasks on any of these Chromebooks, be it the premium C302 or the rugged C213.
Offline work in Chrome has come a long way, but internet connectivity is still critical for syncing with the cloud and downloading your documents before you disconnect. All models feature 802.11ac wireless, which allows you to connect to the less crowded 5GHz spectrum. Bluetooth 4.0 is on hand to help you transfer files files, and each of our Chromebooks is also equipped with at least two USB ports for thumb drives and peripherals. We've squeezed in the requisite audio combo jack for video calls and entertainment, too.
On the move
Portability is key for any laptop, and all of our Chromebooks are compact and light enough to throw in your bag as you head out the door. While they are aesthetically quite different, all but the C202 feature a convertible 360° hinge that facilitates transitioning between a number of configurations, including tent mode, stand mode, and tablet mode. Regardless of form factor, we've outfitted each one with a battery big enough to last a full day so you don't have to lug around a charger along with your laptop.
The Chromebook Flip C302 is fit for a pro
Powerful on the inside, and beautiful on the outside, the C302 goes above and beyond what you typically see in a Chromebook in terms of design and specifications. The sleek design features an all metal, aluminum body for a professional aesthetic that is more scratch-resistant than regular plastic, and inside you'll find a powerful Intel Core m3-6Y30 processor. Paired with 4GB of RAM, this dual-core CPU won't struggle with heavy multitasking, whether it's multiple windows within Chrome or hopping between Android apps and working in Google Sheets. If Google's suite of productivity apps isn't your bag, Android support offers access to the more familiar Microsoft Office, including Word, Excel, PowerPoint, Outlook, and OneNote.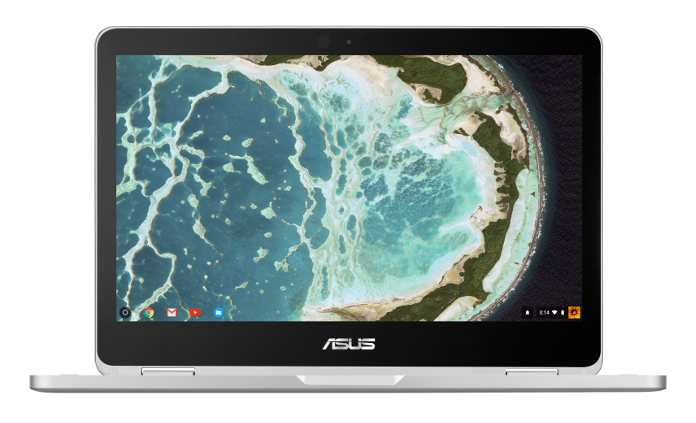 Chromebooks rely on the cloud for the bulk of their storage, which usually means relatively little onboard memory. However, the C302 boasts 64GB of storage for apps and media, so you don't have to worry about choosing your Android apps carefully or clearing off space for important documents when it comes time to work offline. If 64GB isn't enough, you can also make use of the microSD card slot to expand your storage even further.
Beyond raw power, the C302 possesses real versatility thanks to its convertible design. At the office, you can make use of tent or stand mode for presentations to a group of coworkers, while tablet mode is great for watching videos or catching up on reading. Regardless of mode, the power button and volume rocker are always accessible from their side-mounted positions, and the unique placement of the stereo speakers on the left and right side of the chassis ensures audio is never muffled by the desk or your lap.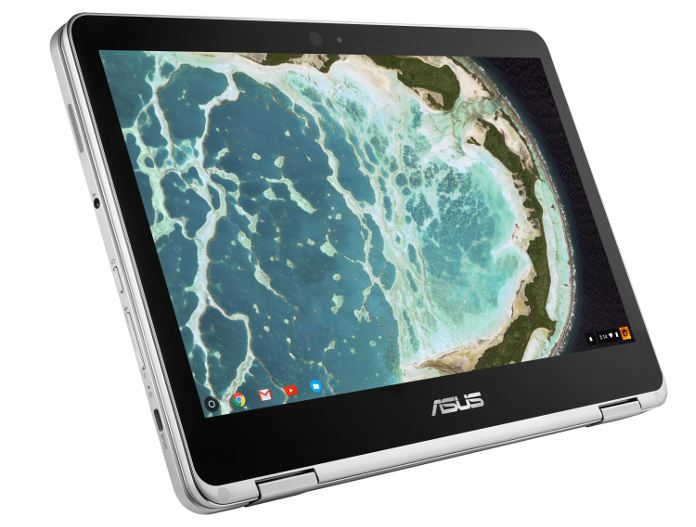 The 12.5" touchscreen features a 1920 x 1080 resolution, and is roomy enough for working comfortably on the road as well as watching movies in your down time. Two USB-C ports offer the ability to connect the C302 or hook up an external display, so you don't have to choose between charging and outputting video to a monitor.
The C302's larger form-factor allows us to squeeze in a full-sized keyboard along with a roomy trackpad. A generous 1.4 mm of key travel makes for more precise typing, and a redesigned back assembly provides a solid feel despite the C302's slim frame. The keyboard is also backlit, which is a rarity on Chromebooks, and allows you to get work done even in low light conditions, like late at night or on the plane.
The C302 is priced at  $469 USD and $649 CAD. Check the table below for retailers stocking the Chromebook Flip in the US and Canada. You can read more about the Flip here.
C302CA-DHM4
C302CA-E91T-CB
CPU
Intel Core m3-6Y30
Dual cores up to 2.2GHz, four threads via Hyper-Threading
Intel Pentium 4405Y
Dual cores up to 2.2GHz, four threads via Hyper-Threading
GPU
Integrated Intel HD Graphics
Display
12.5" IPS-type touchscreen, 1080p resolution
Memory
4GB LPDDR3
Storage
64GB internal eMMC flash
Micro SD card reader
32GB
Wireless
Dual-band 802.11ac Wi-Fi
Bluetooth 4.0
Ports
2 x USB Type-C
3.5-mm audio
Battery
2-cell 39Wh
Dimensions
11.9" x 8.3" x 0.59"
Weight
2.65 lbs
Operating system
Google Chrome OS, Android-ready
Price
$469 USD
$649 CAD
$599 CAD
Availability (USA)
Amazon
B&H
Best Buy
Micro Center
Newegg
N/A
Availability (Canada)
Amazon
Best Buy
Newegg
NCIX
Walmart
Visions
Staples
Ready to roam with the Chromebook Flip C101
Offering a similar premium design to the C302 but in a much more portable package, the C101 is the ultimate travel companion. At 15.6 mm thick, it's super thin, and the eye catching all-aluminum exterior is not only durable, but lightweight, too. The whole package weighs in at just 1.9 pounds.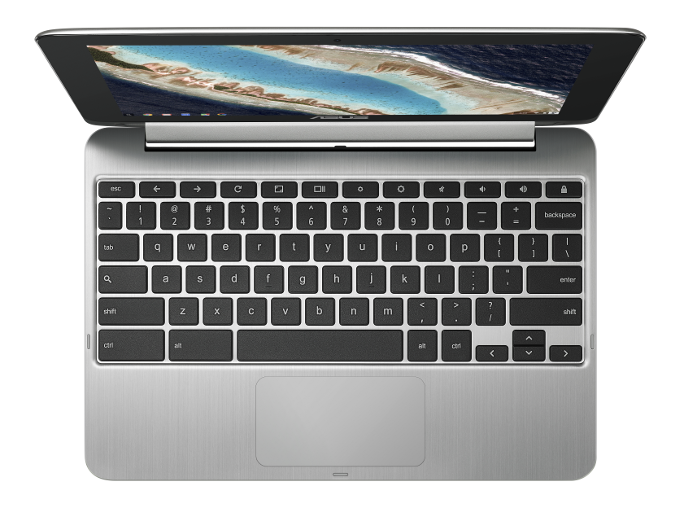 The 10.1" touchscreen display sits inside a 10.4" chassis, which creates enough real estate for a comfortably-sized keyboard while keeping things compact enough to slip into a small carry-on or even a purse. The smaller display of the C101 demands less power, resulting in longer overall battery life. You can get up to nine hours on a single charge, which is perfect for those long layovers or even entertaining passengers on road trips.
The C101 features the same convertible design as the C302, which is especially handy for cramped settings like airplane cabins where space is at a premium. With a quick flip you can easily convert this laptop into a tablet for reading or watching movies and you don't need to worry about clearing space on your tray table.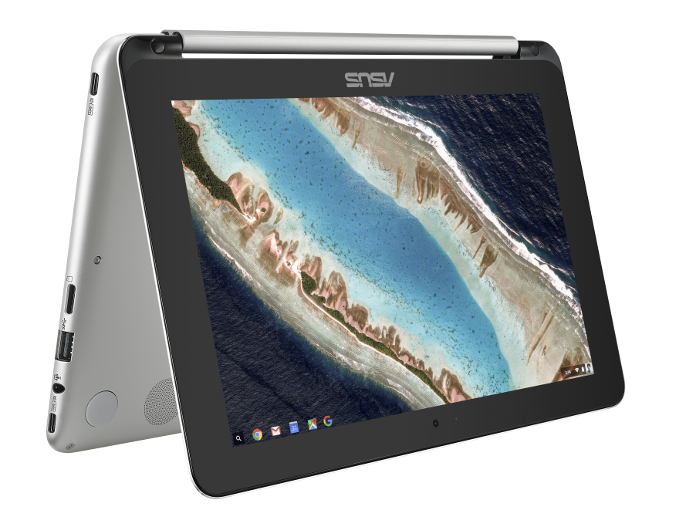 The C101's 32GB of onboard storage is more than enough for your favorite apps, and even a few downloaded episodes of your favorite shows via Netflix for Android, but it also has a regular USB 2.0 port for expanding storage via external drives. Two reversible USB Type-C ports facilitate charging as well as video out in case you want to hook your computer up to an external display when you get to your destination. If you pack an HDMI dongle, you'll be able to connect to almost any TV, monitor, or projector. Finally, there's a microSD card slot so you can quickly transfer vacation photos for easy backup to the cloud and fast sharing to social media.
Priced at $299 USD, the Chromebook C101 is available at the retailers listed in the table below.
Chromebook Flip C101
CPU
Quad-core Rockchip clocked to 2.0GHz,
Display
10.1" TFT LCD
Resolution
1280x800
Memory
4 GB DDR3
Storage
16GB / 32GB eMMC
Networking
802.11ac WiFi
Bluetooth 4.0
Connectivity
2 x USB Type-C
1 x USB Type-A
1 x SDXC card reader
1 x Audio jack
Battery
38Wh
Dimensions
10.4" x 7.2" x 0.6"
Weight
2 lbs
Price
$299 USD
Availability (USA)
Asus
Amazon
Newegg
Adorama

Availability (Canada)
TBA
The Chromebook Flip C213 is the toughest in the class
The rugged Chromebook Flip C213 is built to withstand life in the classroom, which makes it perfect for kids of any age. It has undergone military-grade testing for durability to ensure it can survive drops up to 3.9 feet, and a rubberized exterior with reinforced corners helps to protect against everyday knocks and bumps. Two rubber rails on the underside of the chassis provide a better grip for small hands and the water-resistant keyboard will prevent damage from spills. If something does go wrong, the C213 is easy to repair. A Phillips head screwdriver is all you need to access the internal parts, which are easily removable and replaceable, even if you don't have access to a computer lab.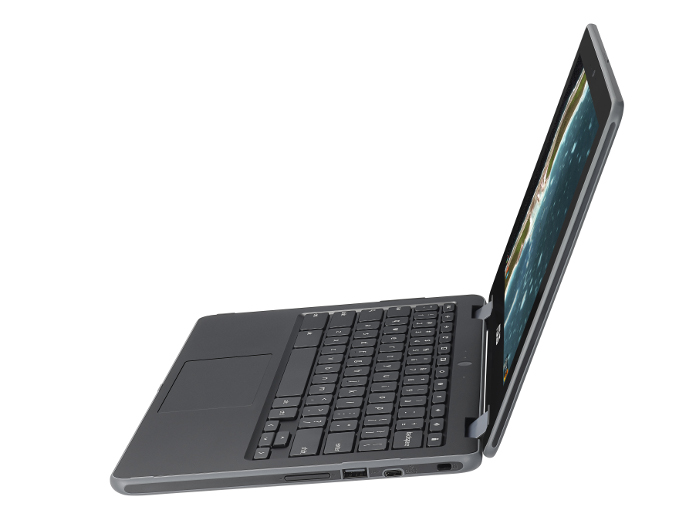 Though it's built as an affordable option for schools looking to put a laptop in front of every child, the C213 offers all the essentials that make up a great Chromebook. The 11.6-inch touchscreen features a matte display to diffuse distracting reflections from bright lights and sunlight. An optional stylus is available for activities such as handwriting, math and art, but the touchscreen is useful on its own for interactive touch-based lessons.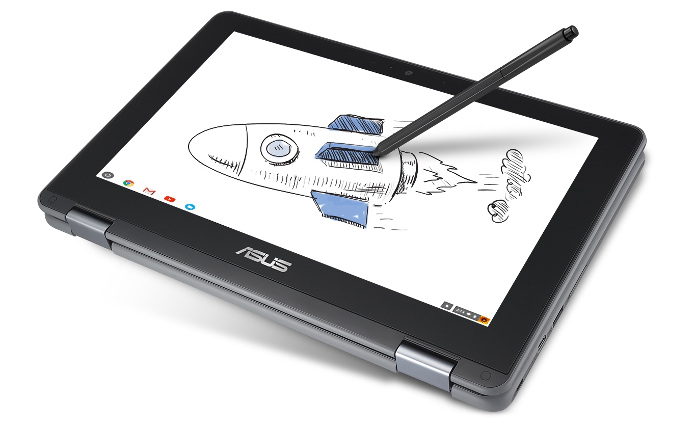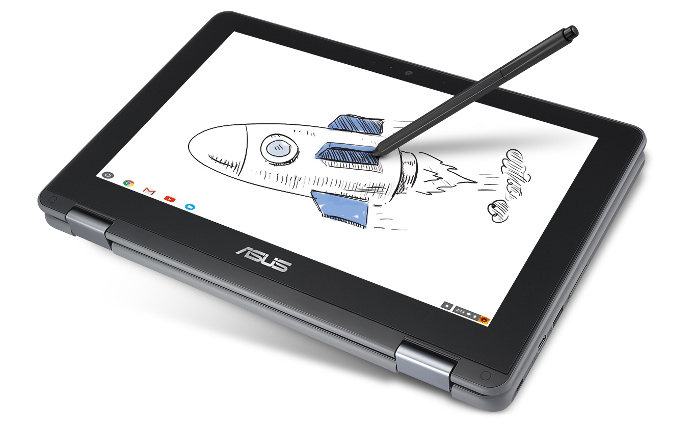 The 360-degree hinge allows for a single C213 to be used by multiple kids at once to watch videos and slideshows. And with one webcam in the top bezel and a second embedded in the keyboard, students can shoot video, capture photos, and video chat in tent, tablet, or laptop mode.
Under the hood, the C213 is powered by a dual core Intel Celeron CPU with 4GB of RAM. It's got 32GB of storage for offline work, and a microSD slot for expanding storage or transferring photos. Connectivity options are plentiful and include two USB 3.0 ports for peripherals and external storage as well as two reversible USB Type-C ports. Both of these support video out to an external display as well as charging. A Kensington lock is on hand to keep school machines secure, and an audio combo jack allows students to watch videos without disturbing classmates.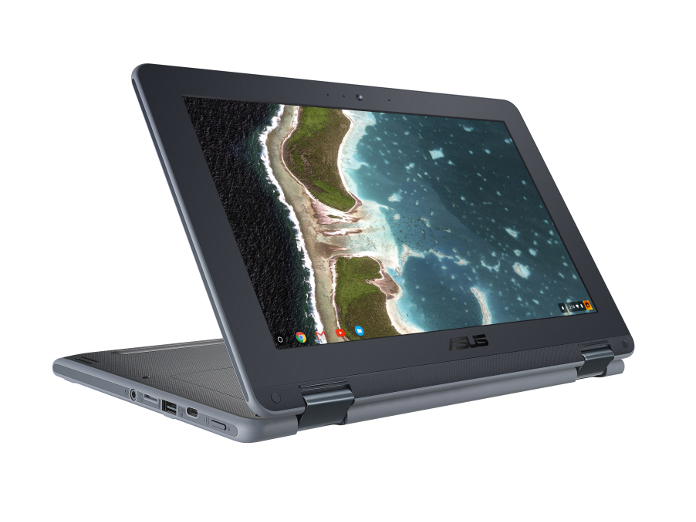 The C213 is also Android-ready which brings a whole new level of functionality for kids. Access to the Google Play Store means thousands of educational Android applications are just a couple of taps away. And with a battery rated for up to 12 hours, students should have plenty of time left over at the end of the day for a couple of games of Angry Birds.
The Chromebook C213 starts at $329 USD or $469 CAD for the version that ships without the stylus. You can read more about it here, and you'll find retailers selling the C213 listed in the table below.
Chromebook C213
CPU
Dual-core Intel Celeron N3350 1.1 GHz (Boost up to 2.4GHz)
GPU
Intel HD 500
Display
11.6" with matte coating
Resolution
HD+ (1600 x 900)
Memory
4GB of LPDDR4 2400MHz
Storage
32GB eMMC + TPM 1.2
Networking
802.11ac Wi-Fi with 2x2 antenna
Connectivity
2 x USB 3.1 Gen 1 Type-C, 2 x USB 3.0 Type-A, 1 x MicroSD card reader, 1 x audio combo jack, Bluetooth 4.0
Battery
42Wh
Dimensions
12.1" x 7.8" x 0.8"
Weight
2.8 lbs
Price
$349 USD
$469 CAD
Availability (USA)
ASUS Store

Availability (Canada)
Visions
Get the best bang for your buck with the Chromebook C202
Not everyone needs multiple modes or powerful processors—sometimes all you need is an economical way to get online, and the beauty of Chromebooks is that there are plenty of budget options out there. Priced at $229 USD or $299 CAD, the Chromebook C202 is very affordable, but don't think the low price tag translates to you getting short-changed on features.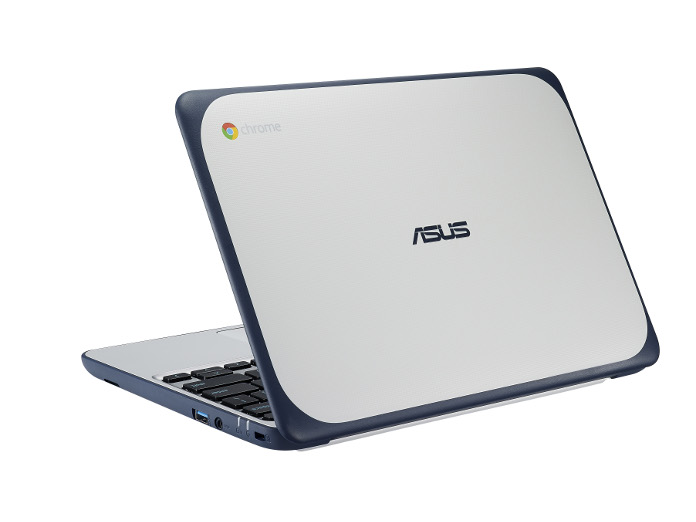 Powered by a dual core Intel N3060 processor and 4GB of RAM, the C202 packs more than enough power for browsing the web, streaming video from Netflix, and working via Google Docs. The 11.6-inch matte display looks great inside or outside, and though it doesn't flip all the way around, it does boast a 180-degree hinge, allowing you a wider range of adjustments than a typical laptop.
Working on the C202 is comfortable, despite its compact size. The keyboard offers 2 mm of travel, more than the average laptop keyboard, and spans almost the full width of the laptop's base. Typing up emails or working in Google Docs doesn't feel cramped or uncomfortable, and the longer travel distance offers improved accuracy compared to shallower keyboards. The C202 also comes equipped with a full-sized HDMI port so you can hook up to an external monitor or your TV without the need for an adapter or dongle.



Like its sibling, the C213, the C202 is built to last, which makes it the perfect first computer for users of any age. It has a water-resistant keyboard, a protective rubber exterior to protect from drops, and a rubber grip rail on the bottom side to help reduce the risk that it will slip out of your hands while you're carrying it around. If you do run into any issues with the C202, it's easy to open, remove, and replace components. A modular design provides easy access to the laptop's internals, and you can be in and out in just a few minutes, even if you're not an experienced tinkerer.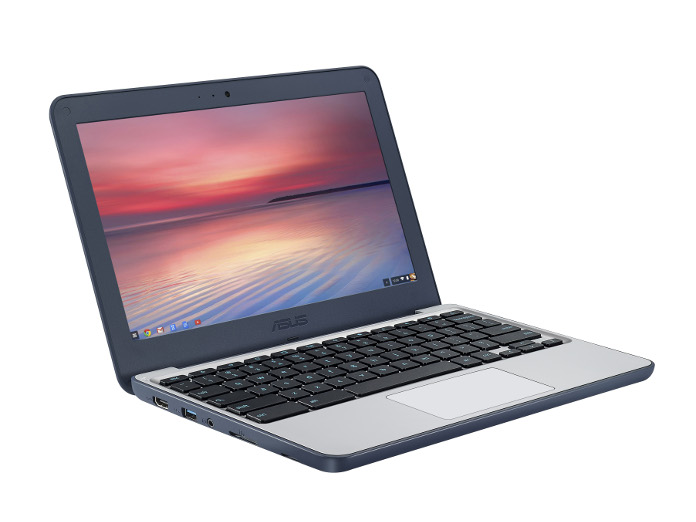 Long battery life is a hallmark feature of Chromebooks and the C202 is no exception. It's rated for up to 10 hours on a single charge, which should be plenty for a day out and about, away from outlets and power cords. The full-sized SD slot means you can handily transfer photos and videos without the need for a dongle or power adapter, and two USB 3.0 ports are on hand for boosting your storage or transferring files.
The C202 launched last year, so it doesn't come with Android support, but at $229 USD or $299 CAD, it's the most affordable Chromebook of the bunch. For retailers selling the C202 in North America, check out the table below.
Chromebook C202
CPU
Dual-core Celeron N3060 1.6 GHz (up to 2.48 GHz)
GPU
Intel HD 515
Display
11.6" anti-glare

Resolution
1366x768
Memory
2GB / 4GB LPDDR3
Storage
16GB eMMC
Networking
802.11ac WiFi
Bluetooth 4.0
Connectivity
2 x USB 3.0 ports
1 x HDMI
1 x SD card reader
1 x Audio jack
Battery
38Wh
Dimensions
11.6" x 7.9" x 0.9"
Weight
2.65 lbs
Price
$229 USD
$299 CAD