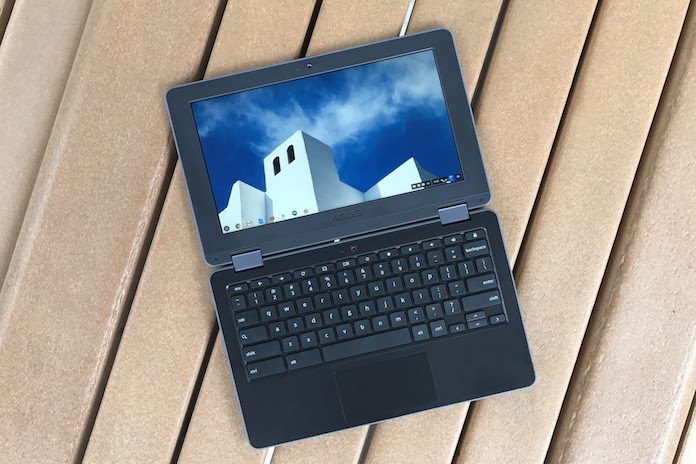 Six years after their debut, Chromebooks have found a home in the classroom. Originally criticized for their pared back, web-dependent functionality, these Chrome OS-based machines are perfect for the education market. Centrally managed and cheap to deploy, they're attractive options for educational institutions desperate to put a computer in front of every student but unable to shoulder the massive investment necessary to implement and maintain a large-scale IT program.
Although 20 million Chromebooks are being used in classrooms today, most aren't designed with that environment in mind. They end up in schools because they more or less fit the bill and are way more affordable than the alternatives. For most schools, full-blown computers with pricey software licenses, and the labor and ongoing cost associated with maintaining that type of network, just aren't an option. And despite the popularity of iPads among general consumers, the touch-only interface limits the value for older students. Unfortunately, most Chromebooks don't account for the fact that shared assets (like school-owned computers passed from student to student) receive their fair share of abuse, and their fixed form factor can be a barrier for evolving curriculum. Putting a laptop in front of every student isn't enough. It needs to be the right kind of device, optimized for its environment, and with the flexibility to accommodate changing trends in teaching.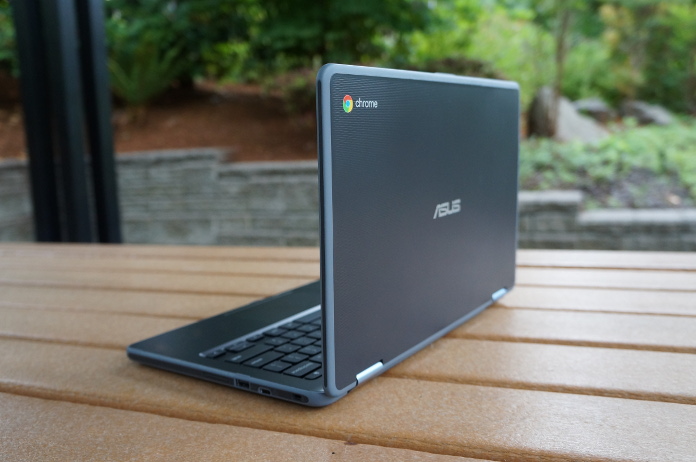 Ring, ring goes the bell
The Chromebook C213 is designed specifically for life in the classroom. Cheap to replace is only half the battle when it comes to maintaining a fleet of classroom laptops. They should also be hard to break. Weighing in at 2.8 pounds, the C213 is light enough to carry around and use as a tablet, but it still feels like a sturdy piece of equipment. To protect from inevitable tumbles between classes, this Chromebook features a military-grade ruggedized design with reinforced, rubberized edges. Its durable 360° metal hinge is basically immune to rough handling. The hinge feels smooth and pivots with relatively little pressure but hasn't loosened up or become floppy in the month I've been using it. There's also a spill-resistant keyboard to prevent death by juice box, and rubber grips on the base provide traction in laptop mode while serving as handy holds for small hands (and less-than-dexterous big ones).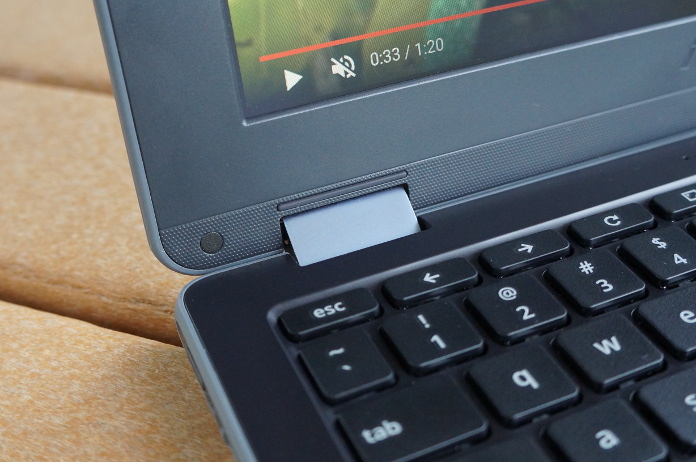 The current generation of K-12 students is growing up with technology. Touch-based interfaces serve as their first interaction with computers, so it makes sense that they also use touchscreen devices at school. However, even as education and teaching methods evolve based on touchscreen technology, keyboards aren't going away anytime soon. The C213's convertible design offers the flexibility of both. A version with stylus support is coming later this summer and will no doubt ensure Gen Z doesn't escape learning how to write the old fashioned way. It'll also open the door for art-based apps as well as more natural problem solving in math.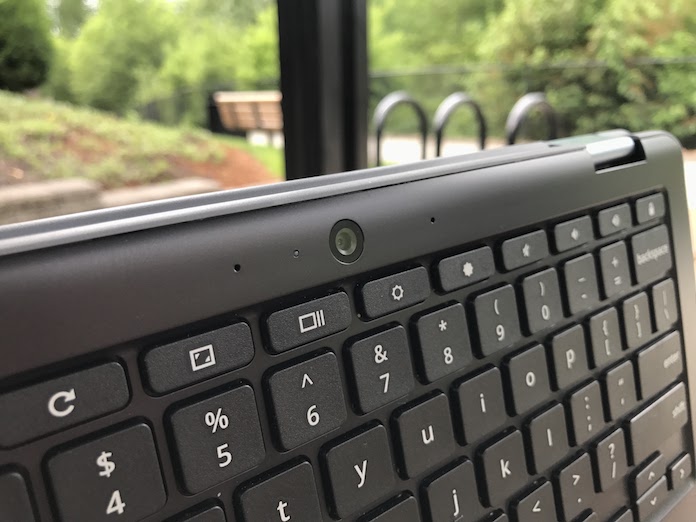 A 5MP camera above the display captures photos and video, and of course, enables video chat via Hangouts. A second camera embedded in the keyboard allows students to record in any mode, laptop, tablet, or tent, without obscuring the camera's view or taking their eyes off the screen. Switching between cameras requires just the touch of a button, and switching between landscape and portrait mode requires no additional futzing with the controls thanks to a built-in accelerometer.
The full-sized chiclet keyboard features a generous 2 mm of travel, more than a lot of standard laptops in this age of super-slim computers. I'll spare you the gory details of my average words per minute and typing accuracy (though they're probably comparable to the target market if that counts for anything). But I will say that neither speed nor accuracy suffered in back-to-back typing tests on the Chromebook and my ZenBook, so anyone working on a C213 at school and switching to more full-featured laptop at home won't have any issues. There's a nice amount of tactile feedback, key presses don't require an abundance of force to register, and if you enjoy a satisfying clickity-clack as you type, you'll love the C213's keyboard.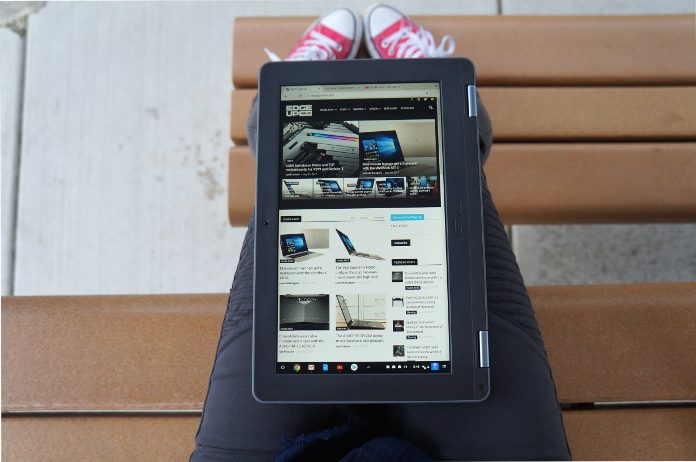 The touchscreen is responsive, and touch-based interactions with Chrome OS are intuitive. Gestures like pinch to zoom, drag to scroll, and swiping up from the bottom to show or hide the toolbar will be familiar to anyone who's used a touchscreen phone or tablet. Touchscreen Chromebooks are a relatively new breed, and though many tasks (like writing up assignments issued via Google Classroom) obviously make way more sense with a keyboard and trackpad, the touchscreen is really handy for tablet mode. In laptop mode, it's probably most useful with two people working on the same computer because you can both interact with the screen at the same time. Where it really shines is with Android apps, which are currently supported via the beta channel.
It's only beta channel but I like it
Last year, Google announced that it was prepping the Play Store for its Chrome OS debut, bringing millions of Android apps with it. The beta channel is an interim solution that allows Chromebook users to run Android apps before Google is ready to declare Android support official. Not all apps run seamlessly, far from it. However, the experience as it stands warrants some exploration if you're an Android fan. Many apps work without issue, like Real Racing 3, Netflix, and Duolingo, but the trial and error is part of the fun. Dipping in and out of your favorite apps and experimenting with keyboard input is addictive, and when you hit on a winner, it's awesome. Case in point: I prefer the UI of mobile Duolingo, but signing in on the web allows me to use a keyboard and get through lessons faster. The Chromebook running Duolingo for Android gives me the best of both worlds. And you'd think signing into Netflix on the web would eliminate any need to install the Netflix app, right? But then you remember that Netflix supports offline viewing for mobile devices. With Netflix for Android, you can download your episodes to the Chromebook C213 for offline viewing. So, while it's not perfect, there is some joy to be found in the beta channel as Google finishes work on official Android support, which should be completed within a few months.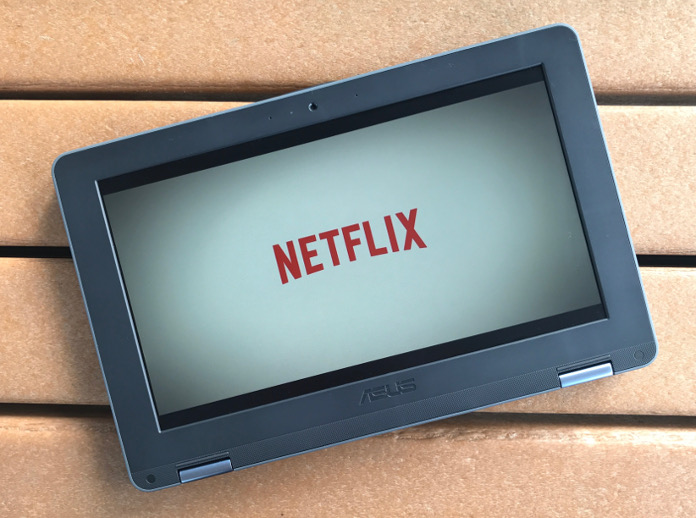 Ready to Run
Chromebooks rely primarily on the cloud and browser-based apps. As a result, they don't require the same processing power, memory, or storage as full-fledged notebooks. Incoming support for Android means we'll see literally millions of different apps available to Chromebook users. How well they run will depend on how the developers optimize their applications for Chromebooks, but all of the C213's principal apps come by way of the Chrome web browser, and the Intel Celeron N3350 CPU with integrated HD 500 graphics doesn't ever struggle. It's not a powerhouse, but the beauty of the Chromebook is it doesn't have to be. The N3350 works alongside 4GB of RAM and can comfortably stream video, hop between multiple browser tabs, and juggle documents in Google Drive. I had no issues streaming three videos simultaneously in different Chrome tabs (Netflix, Vimeo, and YouTube) while also messaging via the Slack for Andorid app and jumping between two different spreadsheets in Google Sheets. The Chromebook managed well, only giving up the ghost when I got greedy and asked if I could also play a game while doing all of the above.
While most of your files will live in the cloud, the C213 does have 32GB of local storage. That's about the same as your average smartphone, but a MicroSD card reader and two USB 3.0 Type-A ports open up your options for expandable storage. There are also two fully functional USB 3.1 Gen-1 Type-C ports capable of charging, data transfer, or display out, so you don't have to choose between hooking your Chromebook up to an external monitor or keeping it on the charger. In fact, if you have a Chromecast or Android TV, you can free up the port you're using for display out, too. And bonus: the Type-C ports are reversible, so no one (young or old) needs to worry about getting the right side up on a USB stick.


With its 45Wh battery, the C213 has enough juice for a whole day in class with time for homework after. How long it runs will vary depending on your activities on a given day, especially if you're going to town with Android apps and streaming. General use — web browsing, productivity apps, and email, with some video chat thrown in for good measure — will easily yield 10 hours of uptime on a single charge.
Build me up, buttercup
We did our best to reinforce the C213 to withstand the physical stress of its role in the classroom, but accidents happen, and when they do, it's always better to repair rather than replace. This Chromebook features modular components and is designed for easy repair. That's a necessity when you've got an army of them being carted between classrooms on an hourly basis. Any fallen soldiers can be quickly assessed, mended, and sent back to the front lines. The truly tragic cases can be broken down for parts and contribute to the continuing service of other machines.
Still, on-site support at schools varies greatly, so we had to go beyond repairable with the C213. It had to be ridiculously easy to open up and disassemble. Swapping out a battery or replacing a screen shouldn't be a job reserved for a qualified technician. To that end, disassembly is something you can do at home without specialized tools. All you need is a #1 Phillips head screwdriver and a spudger or similar prying tool.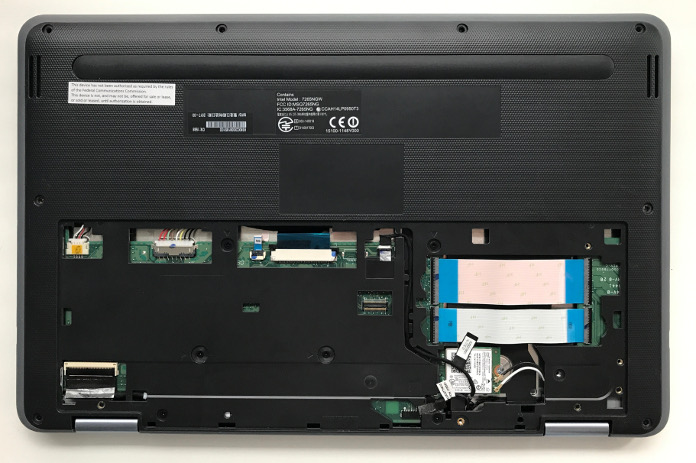 Gaining access to the components is as simple as unscrewing the rear cover and the six screws underneath. Right away, you'll be greeted by all your ribbon cables and connectors for the keyboard, trackpad, and I/O card. And look-it, there's the networking card in plain sight. Disconnect everything, flip it over, pry off the keyboard plate, and behold: modular hardware!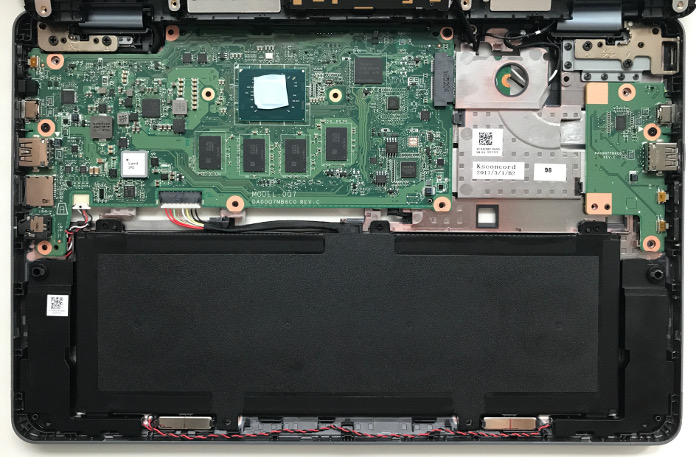 Though you may wish you had smaller fingers when disconnecting some of the daintier cables, or while trying to remove the networking card, all of the usual suspects for damage are delightfully easy to access. Shared computers like this see a lot of enthusiastic use, so the keyboard and trackpad take quite a beating. Replacing either on the C213 couldn't be easier. Disconnect the aforementioned cables around the back, see to a few screws securing each component, and they lift right out. The battery is the same: three more screws, and it's yours for the taking.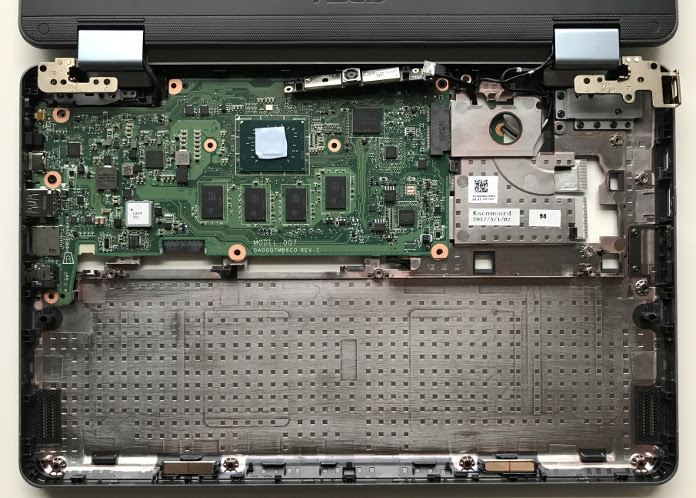 We also put one USB 3.1 Type-C on a separate I/O board along with one of the USB 3.0 Type-A ports; you won't need to replace the motherboard just because someone tripped over the charger or forced a USB stick in the wrong way. What's more, there's a spare for each on the other side of the machine, so you won't be stuck while you wait for a replacement I/O board, either. Experience certainly counts for a lot with these kinds of repairs, but even the most timid and inexperienced tinkerers can get into the C213 in a few minutes.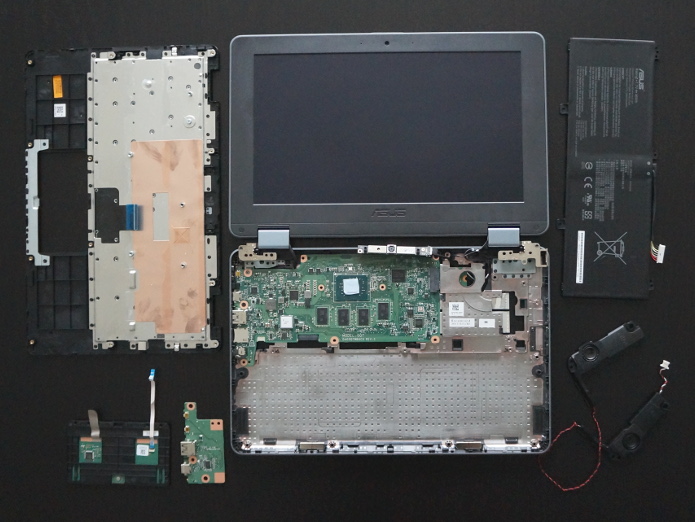 No more pencils, no more books
Modular repairs and a rugged exterior make the C213 a great starter laptop at home, too. Beyond the confines of the classroom, where teachers have a fairly tight handle on computer use, the C213 can be a perfect introduction to computing for much younger kids. Touchscreens aren't exactly hard to master, but the convertible C213 can serve as early training for the humble keyboard, and the stylus version coming later this summer rounds out this crash course in modern input methods. There are also swaths of educational apps available in the Chromes Store, and Android support will bring thousands more when it's official.
Chrome OS supports Supervised Users, so parents can offer web connectivity without the anxiety associated with turning their kids loose on the internet. You can not only block certain sites, but also monitor browsing habits, modify settings, and prevent certain users from installing apps or extensions without your input. It's perfect for parents who are looking to replicate an in-class setup but wary of providing unfettered access to the web.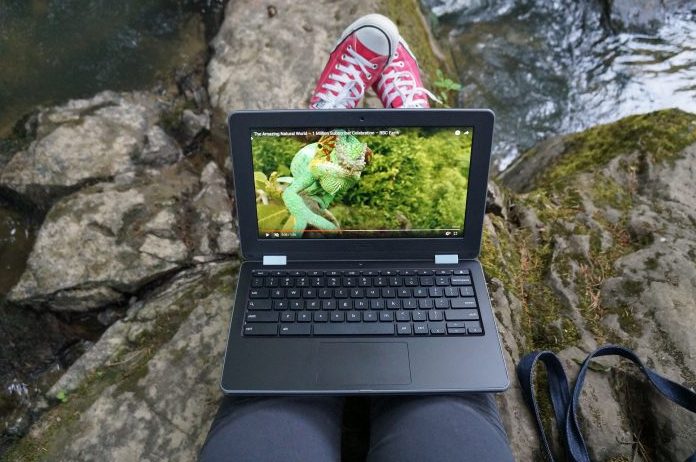 Of course, not every first-time computer user is under the age of five, and the C213 is just as suited to older students as it is the young'uns. For many seniors, the prospect of just buying a computer can be pretty daunting. Form factor is the first hurdle and it can make or break the entire experience. If the goal is just to get online and get the hang of social media, file sharing, and video chat, almost any device will do the job. So, how do you choose? If you've grown up around computers, you can easily understand the trade-offs that come with owning tablet versus a laptop versus a Chromebook. Those compromises are harder to comprehend if the world of personal computing is a relatively new concept.
Technology moves at breakneck speed, but Gen X, Gen Y, and now Gen Z have the luxury of context, so it's a lot easier to follow, even when something totally new hits the market. Although the computer I'm using to write this post bears no resemblance to the 386 that landed in my living room in 1992, because I've been using computers every day since then, the evolution is pretty linear in my mind. Baby boomers aren't necessarily working with the same amount of background information. Imagine picking up a new TV show in the middle of season five and trying to work out who everyone is and how they got on that damn island. It's hard. Well, so is working out whether you really need a keyboard, or if a tablet will be enough for what you want to do. That's the kind of thing you can only figure out once you've used both. The C213's convertible design takes form factor out of the equation from the get-go. It's a tablet when you're browsing and reading, and a laptop when you're writing emails or uploading and cataloging your photos. Beginners can work out what makes the most sense for them over time.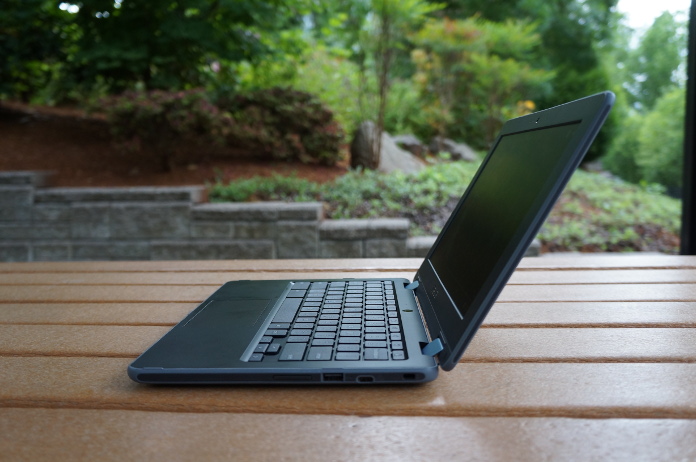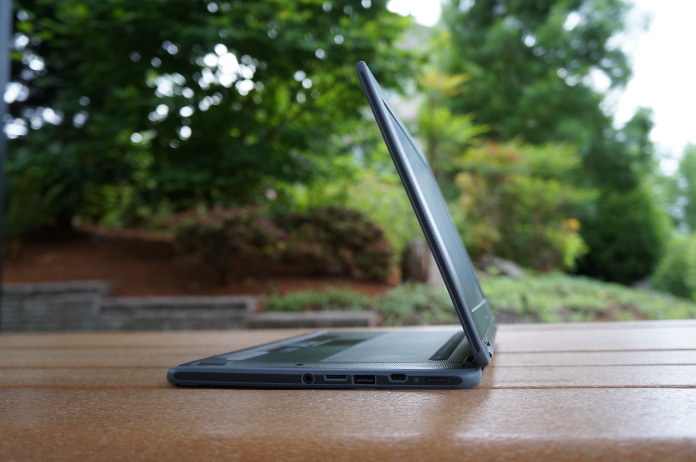 Another big fear for the uninitiated is accidentally clicking something they shouldn't and doing real damage. And, again, it goes back to context. If I end up somewhere I don't recognize, I go back to basics. I know to look for a little X in the top right corner, or an arrow pointing to the left. And I know that if I want to save something, I'm usually looking for a button or an icon that looks like a floppy disk. If you don't have that information, you can end up stalled at relatively simply actions. Luckily, Chrome's Remote Desktop supports remote access via the Chrome web browser, so family tech support is only ever a phone call away. You can fix any issues and teach remotely by logging into your parents' C213 from Chrome on your own computer. The Linux-based operating system is also extremely secure. While it's not impossible to run into malicious extensions or software on a Chromebook, automatic updates from Google keep all devices on the latest and most secure version of Chrome OS. For any problems that get way out of hand, a Powerwash (factory reset) offers a clean slate. All user settings are stored in the cloud, so they're restored at the next log in. Easy-peasy.
Chromebook C213
CPU
Dual-core Intel Celeron N3350 1.1 GHz (Boost up to 2.4GHz)
GPU
Intel HD 500
Display
11.6" with matte coating
Resolution
HD+ (1600 x 900)
Memory
4GB of LPDDR4 2400MHz
Storage
32GB eMMC + TPM 1.2
Networking
802.11ac Wi-Fi with 2x2 antenna
Connectivity
2 x USB 3.1 Gen 1 Type-C, 2 x USB 3.0 Type-A, 1 x MicroSD card reader, 1 x audio combo jack, Bluetooth 4.0
Battery
42Wh
Dimensions
12.1" x 7.8" x 0.8"
Weight
2.8 lbs
Price
$349 USD
$469 CAD
Availability (USA)
ASUS Store

Availability (Canada)
Visions
Whatever you want, whatever you need
The C213's versatility is key to its effectiveness as an educational tool in the classroom, but this hybrid computer is just as at home on a plane or in a living room as it is at school. With a rugged finish, it's perfect for first-time users, casual surfers, and anyone looking for an on-the-go device for travel. Priced at $349 USD or $469 CAD, the C213 launches today in the United States and Canada. A version with stylus support will launch later this year.