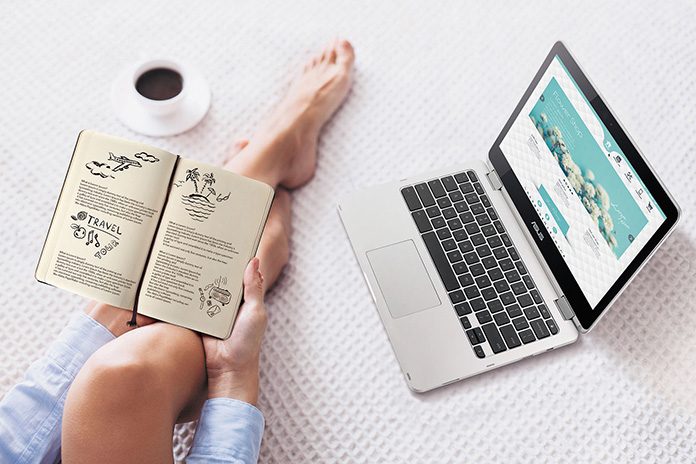 Our new Chromebook Flip C302 embodies the bright future of Chrome OS. Its vivid touchscreen rotates on 360° hinges that let you quickly switch modes to suit your surroundings, while its potent processor supplies enough horsepower to transcend the platform's humble beginnings. We've added a few other modern conveniences to round out the package and wrapped the whole thing in a sleek metal body that belies the affordable $499 price tag.
A convertible Chromebook with style and purpose
Elegant aesthetics and upgraded materials make the Chromebook Flip C302 appear more expensive than it actually is. The clean lines and neutral color blend seamlessly into the surroundings, whether you're composing a novel in a hipster coffee shop or pitching your start-up in a buttoned-down boardroom.

Rather than crying out for attention, the subtle styling rewards closer inspection and tactile interaction. The metal skin feels impeccably smooth while also imparting reassuring strength and rigidity. Its matte finish keeps the exterior free of fingerprints, smudges, and other blemishes even after a full day of manhandling.
Handling is encouraged because the shape-shifting chassis effortlessly bends to your will. Rotating the display all the way around transforms the C302 from compact laptop to jumbo tablet. The 12.5" touchscreen puts loads of real estate at your fingertips, which is great for sharing with a small group or surfing solo on the couch, and it's protected by a tough layer of Gorilla Glass.
Pulling up the display sets a free-standing stage for video streaming and other entertainment. Scenes have sharp details thanks to the Full HD 1080p resolution, along with vibrant colors courtesy of the IPS-type panel. Wide viewing angles keep the picture from washing out, allowing the C302 to captivate modest crowds. The audio holds up its end of the bargain with dual side-mounted speakers that pump out enough volume to fill decent-sized rooms with surprisingly clear, distortion-free sound. For higher fidelity and more bass, you can connect headphones and speakers via Bluetooth 4.0 and the 3.5-mm audio jack.
Sometimes there isn't enough room for the Flip's standing pose. To squeeze into shallow shelves and other cramped quarters, the body arches like a tent perched on its edges. The full-range hinges glide smoothly in motion and hold firmly once positioned, regardless of the pose.
Powerful hardware primed for the future
The convertible chassis and responsive touchscreen will truly come into their own later this year, when Android apps are officially available on the device. Being able to run mobile apps full-screen or in their own windows on the Chrome OS desktop will make the Flip an even more flexible companion. Our 10" Chromebook Flip C100 already provides a sense of the Android experience today, but it doesn't do its big brother justice. The C100 and most other Chromebooks use processors designed for tablets and netbooks, while the C302 has a more capable Core M pulled from ultraportable laptops. Its CPU cores and integrated graphics are derived from Intel's desktop silicon, giving the chip enough muscle to power through demanding applications that can frustrate devices like the C100. Add 4GB of RAM, and even multitasking is smooth.
C302CA-DHM4
C302CA-E91T-CB
CPU
Intel Core m3-6Y30
Dual cores up to 2.2GHz, four threads via Hyper-Threading
Intel Pentium 4405Y
Dual cores up to 2.2GHz, four threads via Hyper-Threading
GPU
Integrated Intel HD Graphics
Display
12.5" IPS-type touchscreen, 1080p resolution
Memory
4GB LPDDR3
Storage
64GB internal eMMC flash
Micro SD card reader
32GB
Wireless
Dual-band 802.11ac Wi-Fi
Bluetooth 4.0
Ports
2 x USB Type-C
3.5-mm audio
Battery
2-cell 39Wh
Dimensions
11.9" x 8.3" x 0.59"
Weight
2.65 lbs
Operating system
Google Chrome OS, Android-ready
Price
$469 USD
$649 CAD
$599 CAD
Availability (USA)
Amazon
B&H
Best Buy
Micro Center
Newegg
N/A
Availability (Canada)
Amazon
Best Buy
Newegg
NCIX
Walmart
Visions
Staples
Chrome OS is optimized to run well on the lowest common denominator, so it screams on the C302's hopped-up hardware. The system boots in a few seconds, wakes from standby instantly, and generally responds with the energetic eagerness of a Jack Russell Terrier. But there's no bark, because passive cooling maintains blissful silence even when the machine is fully loaded. You can go about your business quickly and quietly—and for hours on end. The C302 delivers up to 10 hours of battery life on a single charge.
Although Chromebooks usually depend on the cloud, the Flip keeps you productive and entertained while the 802.11ac Wi-Fi is out of range or coping with a finicky connection. Documents and media can be saved to the 64GB of integrated flash or stored on Micro SD cards plugged into the right side of the chassis.
Despite its unique touches, the Flip is still a Chromebook at heart. It's at home in a traditional laptop configuration, with your hands stretched out over the spacious keyboard and touchpad. Keystrokes move through 1.4 mm of travel before bottoming out with a satisfying impact that makes typing a pleasure. The feel is comparable to the keyboard on my pricier Ultrabook, which is high praise for such an affordable device. I can type comfortably at speed for hours on end—and well into the night. Backlighting illuminates the keyboard, so you can work in the dark.
Peripherals connect via two Type-C USB ports split between the left and right edges. Charging works with both ports, so you can plug the adapter into the most convenient side for the setting. With Type-C adapters, the C302 can also drive HDMI and DisplayPort monitors at resolutions up to 2400×1350. You can even extend the Chrome desktop to dual displays simultaneously.

Reversible Type-C ports ensure everything plugs in the right way the first time. That might seem like a small detail, but once you get used to the convenience, old-school ports with specific orientation requirements feel frustratingly antiquated. Another Type-C benefit is the low-profile design, which helps us shave the C302's chassis down to just 15 mm thick. The Flip weighs only 2.65 lbs, so it's easy to tuck into a bag and carry all day.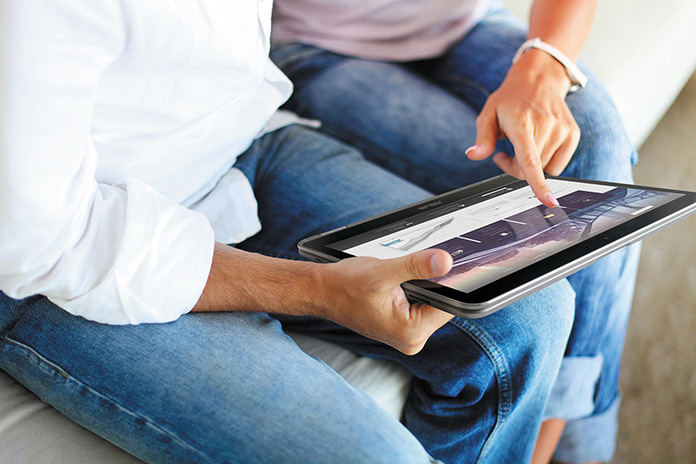 A flippin' good Chromebook destined for more
With Android apps on the horizon, much of the Chromebook Flip C302's story remains to be told. But the narrative so far is compelling even without considering future potential. The upgraded hardware and premium finish provide a faster and more upscale experience than conventional Chromebooks. Better performance makes the C302 a more capable workhorse, while its flippable form factor lets you quickly transition between work and play in any environment. Best of all, you can get your hands on one for only $499 in the USA and $649 in Canada. Look for the Chromebook Flip C302 at the retailers below.