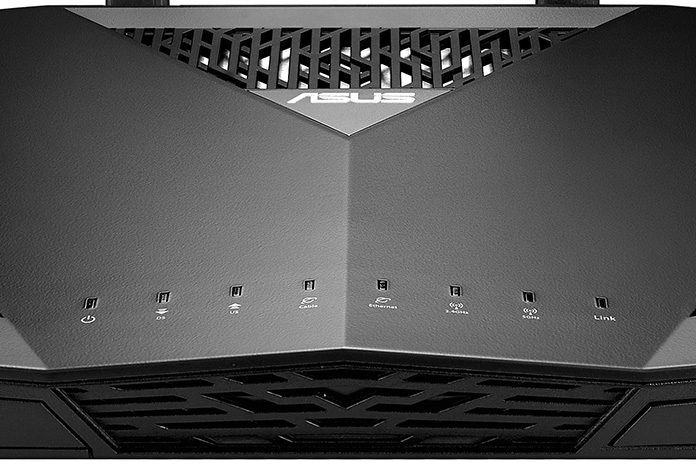 Your internet connection is arguably one of the most important things in your home. It's the primary source of information and entertainment for many of us, and it's typically shared between multiple simultaneous users all vying for a slice of bandwidth. Keeping up with increasing demand for content streaming, online gaming, and more requires not only a fast connection to your ISP, but also the ability to distribute it throughout your home. The new ASUS CM-32 AC2600 handles both by combining an ultra-fast DOCSIS 3.0-compatible cable modem and 802.11ac Wi-Fi router in a single, easy-to-manage device that lets you avoid monthly modem rental fees.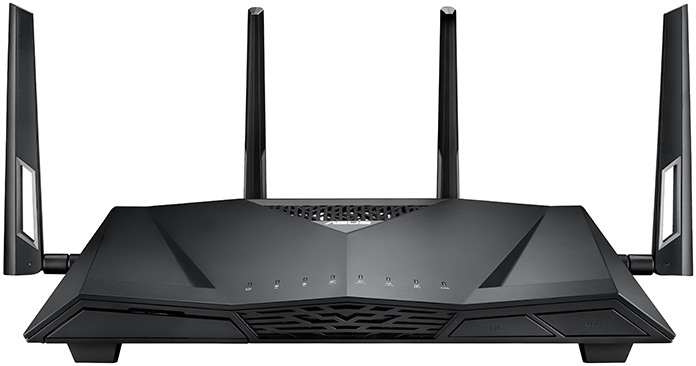 Tuned for the fastest cable connections
Today's cable connections offer gigabit speeds, and the CM-32 is ready. Its DOCSIS 3.0 implementation bonds 32 parallel channels to push downstream bandwidth to a whopping 1372MBps, allowing for nearly instantaneous downloads alongside multiple flawless 4K video streams. Eight upstream channels deliver peak throughput of 245Mbps in the opposite direction, providing plenty of bandwidth to broadcast your own content, from live gaming commentary to makeup tutorials.
Certification for Comcast XFINITY® and Spectrum® networks ensures worry-free compatibility right out of the box. The CM-32 is also certified for legacy Charter and Time Warner Cable networks, and official support for legacy Cox and Bright House Networks is coming soon. The presence of both coaxial- and RJ45-based WAN ports solidifies the cable modem's versatility.
Extended range to cover your home
It's not enough to have a fat pipe to the Internet. Modern households are filled with an increasing number of connected devices, often multiples per user. Sharing your connection seamlessly is essential to keeping everyone happy, so the CM-32 employs extended-range Wi-Fi, multiple wired ports, and intelligent traffic management.
The 802.11ac Wi-Fi is spread across dual bands and a 4 x 4 antenna. There's 1734Mbps of bandwidth on the 5GHz band and 796Mbps on the 2.4GHz band, which is more than enough to keep up with a full household. MU-MIMO support improves wireless performance across multiple devices, while our AiRadar beamforming tech focuses signals to improve reception at greater distances. The result is fast wireless performance with ample coverage for large homes.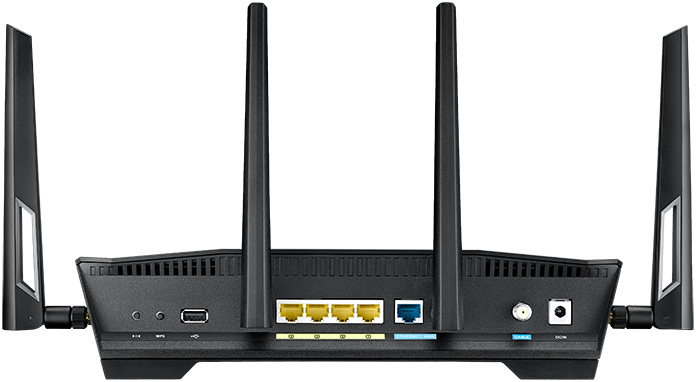 While most devices connect wirelessly, wired networking is still useful for gaming systems, file servers, and other machines that demand the lowest latency and highest throughput. The CM-32's four Gigabit Ethernet ports have you covered on that front, and they make it easy to add an auxiliary switch for a larger installation or LAN party.
Integrated QoS manages traffic to make sure everyone has the bandwidth they need. You can prioritize specific devices and activities to prevent downloads from interfering with binge watching and online gaming—and monitor traffic in real time to keep tabs on usage.
More than just a cable modem and Wi-Fi router
Intelligent traffic management and monitoring are part of a collection of features that make the CM-32 smarter than your average cable modem and router. You can set up a guest network with limited access for those visitors who will inevitably ask for your Wi-Fi password. Parents can monitor and restrict Internet access for their children. And, for added privacy and security, there's an integrated client and server for VPNs.
Dual USB ports let you connect and share multiple devices, including storage and printers. You can even share a 3G/4G dongle's cellular data if your main connection goes down. With USB storage attached, the CM-32 can effectively act as a home media server. Its integrated AiCloud software provides a personal cloud service that puts you in control of your online files.
Under the hood, Intel's powerful Puma 6 processor keeps running everything smoothly. The chip is backed by 512MB of RAM and 256MB of flash storage, which is plenty for the streamlined software and intuitive ASUSWRT management interface that live on the device.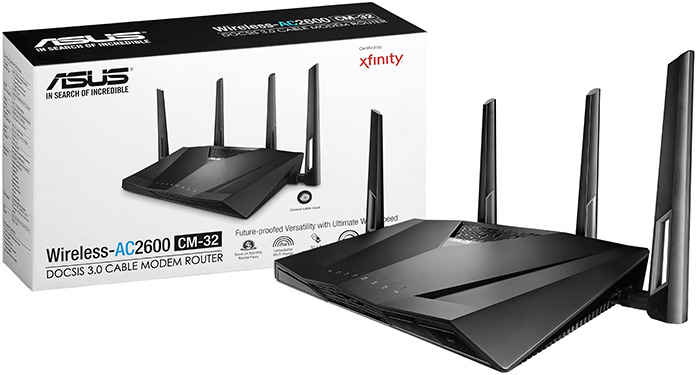 Available now with no contracts or rental fees
The ASUS CM-32 AC2600 is available for only $249.99 with a two-year warranty. That works out to a little more than $10/month over two years, which is similar to rental fees for cable modems. The CM-32 doesn't require a contract, though, and you own it outright. You also get more advanced Wi-Fi router and integrated features than what's typically provided by cable providers. And it's all self-contained in a single device from a networking name you trust.