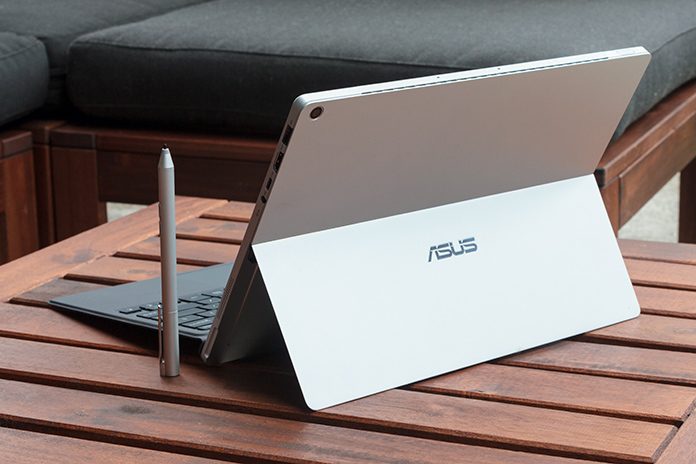 Stand-alone tablets started as conduits for consumption, but they've become much more versatile. Detachable keyboards freed slates from the clunkiness of touchscreen typing, transforming them into productivity tools capable of rivaling laptops. Then they added stylus sidekicks that introduced a whole new dimension for precise artistry and easy note-taking. It's no wonder the class of devices once prized for consuming content is now sought out by the people responsible for creating it.
Designed for creators and professionals looking for a machine that can tackle any task, our new Transformer Pro T304 blends the best of the tablet and laptop worlds. It's a powerful canvas when you need one and an office workhorse when you don't. True to its roots, the T304 is also a phenomenal entertainer when you want to kick back after a long day of work. And it's surprisingly affordable, with a $999 starting price for a well-balanced spec that includes the keyboard, stylus, and a Core i7 CPU.
The stylus is mightier than the keyboard
We bundle our ASUS Pen with the Transformer because it's central to the experience. The pointy tip is much more precise than your finger, allowing fine detailing that just isn't possible when using the touchscreen alone. With 1024 levels of pressure sensitivity, the stylus easily differentiates between a light touch and heavy stroke. The nuance makes drawing and writing feel natural and more akin to using a pen and paper.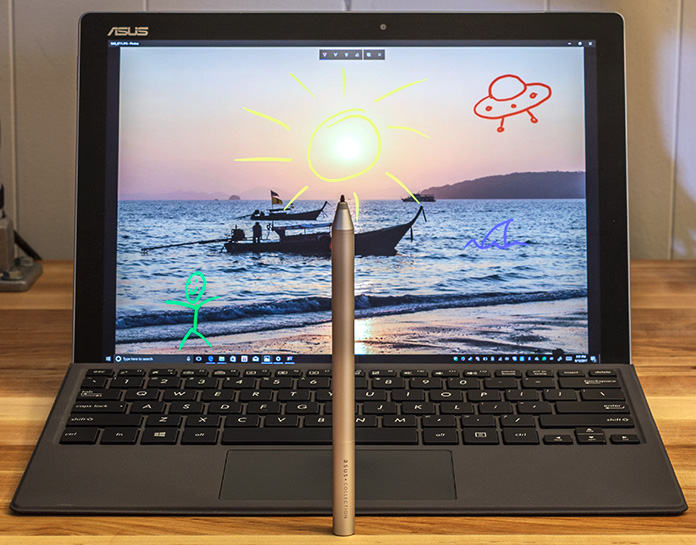 While the stylus replicates the mechanics of old-school writing implements, it applies them to a high-tech canvas with much greater potential. A lot of the credit goes to Windows 10 and its expanding Ink Workspace. This suite of integrated tools includes Sticky Notes for quick scrawlings and Sketchpad for basic drawings. Scribbling also extends to screen sketch, which swaps the usual blank page for a screenshot of what's on your desktop. Pen-based annotation is already integrated into some applications, like the Microsoft Edge browser, but the beauty of screen sketch is that it works with everything.
The stylus really comes into its own in creative apps like Photoshop. Although my artistic skills are mostly limited to stick figures and crude doodling, talent isn't required to appreciate the pen's smooth tracking and minimal lag. With the right software, the T304 is a powerful tool for artists and designers of all skill levels.
Windows 10's excellent handwriting recognition reliably turns my messy penmanship into clear text. It works so well and feels so natural that I find myself using the stylus much more frequently than the on-screen keyboard. There's something satisfyingly analog about writing by hand, at least compared to tapping the screen. But I grew up in the world of pen and paper; Gen Z'ers who have been thumbing touchscreens most of their lives may disagree.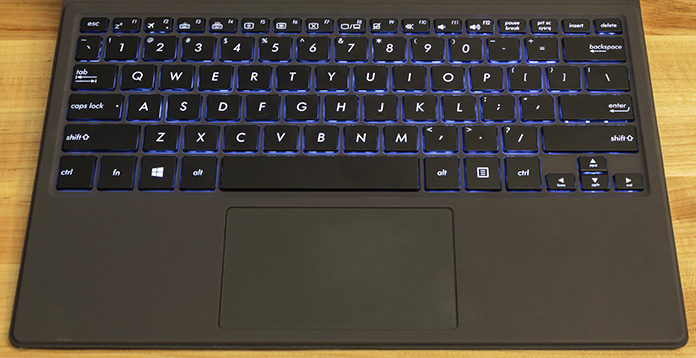 Regardless of your generation, there's no question that a proper keyboard is the fastest way to get words onto the screen. That's why the Transformer Pro T304 ships with a protective cover that doubles as a keyboard for when productivity is key. The keyboard is the same size as what you get on standard laptops, and the feel is comparable. We made the key caps and switch mechanism thinner to squeeze 1.4 mm of travel out of a cover just 5 mm thick. Each keystroke is accompanied by clear tactile feedback produced by the combination of a scissor mechanism and rubber dome.
Adjustable backlighting makes the keyboard easily visible in darker environments, whether you're working on a late-night flight or catching up on email in bed. Below sits a silky smooth trackpad that provides plenty of room for multitouch gestures with up to four fingers. The keyboard cover snaps into the tablet with a magnetic connector that holds tightly in day-to-day use but detaches easily when you want to pull the two pieces apart. When connected, it can sit flat on a table or at a slight angle to emulate the slope of typical desktop keyboards.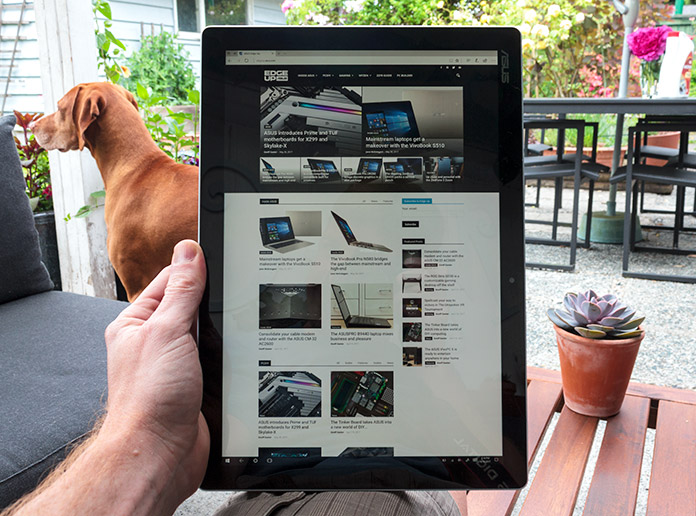 A beautiful screen that stands tall, leans back, and goes anywhere
Need a break from sitting at a keyboard all day? You can recline in a chair or couch and use the T304 as a digital clipboard. It even works well in the hammock hanging in my yard. And you don't have to be stationary, either. The tablet weighs just 1.85 lbs, so you can easily cradle it with one hand while wielding the stylus with the other. Making notes while standing and walking about around is much easier than awkwardly balancing a laptop and typing with one hand.
With or without the keyboard, the tablet can be propped up at a range of angles with its stepless kickstand. At full recline, the tablet sits at a gentle 10° angle that's perfect for sketching and writing with the stylus. From there, you can increase the angle gradually to suit your position, ending with a near-vertical orientation that's ideal for watching videos and presenting to groups. Standing up the tablet without the keyboard attached is especially useful if you're crammed into coach on a crowded flight, where tray tables never seem to have enough room to comfortably fit an open laptop.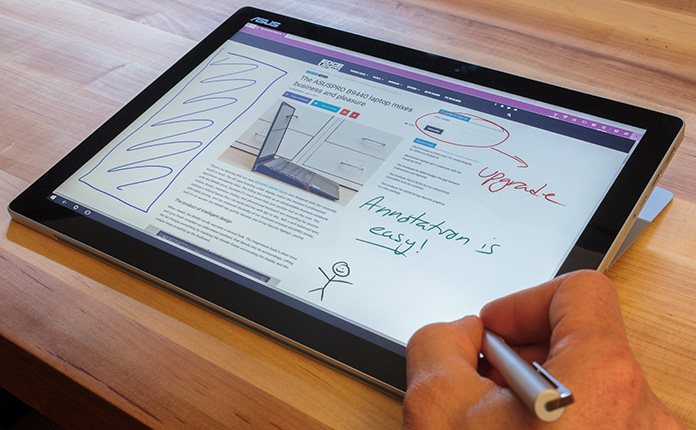 The screen is fantastic for everything from binge-watching your favorite show to creating your next masterpiece to wrangling multiple windows on a busy desktop. Its 12.6″ panel has a 3:2 aspect ratio that strikes a great balance for landscape and tablet orientations. Landscape mode is wide enough to comfortably fit two documents side by side, and portrait mode avoids the too-skinny feel you get with a 16:9 aspect ratio.
With a 2160×1440 resolution, the display delivers over 3.1 megapixels at a razor-sharp 206 PPI. The high pixel density produces richly detailed images and impeccably crisp text. You can also reduce the OS scaling to create an effectively huge desktop with room for massive spreadsheets or myriad windows. I've quickly become partial to this approach, which combines with Win10's improved snapping to make it easy to arrange document, browser, and messaging windows.
Colors look vivid across wide viewing angles thanks to the IPS-type panel. You can pitch your deck to an audience or share your Netflix stream with a crowd without worrying about the picture washing out for people on the periphery. More importantly for content creators, the display covers 100% of the sRGB spectrum. The colors are extremely accurate, too. Fresh out of the box, the sample I pulled for testing had an average ΔE of 3.28. Calibrating the display with a colorimeter reduced its average color difference to only 0.25, with a maximum ΔE of only 0.79. To put those numbers into perspective, our professional-grade ProArt PA329Q desktop monitor is calibrated at the factory for ΔE ≤ 2.

Ultrabook-class horsepower with more connectivity
The Transformer's sleek metal body is just 8.85 mm thick, which is less than a millimeter thicker than our new ZenFone 3 Zoom smartphone. Despite its svelte profile, the chassis houses an ultrabook-grade Intel Core i7-7500U CPU with dual Kaby Lake cores clocked up to 2.7GHz. The chip scales up to 3.5GHz with Turbo, making the system especially responsive with the bursty workloads typical of everyday computing. An M.2-based SSD further improves responsiveness by providing ultra-fast access to applications and data. The T304 boots from a full shutdown in seconds and loads apps at warp speed.
Unlike the Surface Pro, we don't skimp on the minimum spec. The base model comes with 8GB of RAM, which is ample for the kind of multitasking you'd want to do on this class of CPU, plus 256GB of storage, which is enough for all your applications, essential data, and a few games. That's right, you can play games. While the CPU's integrated HD Graphics 620 isn't potent enough for Crysis or the latest blockbusters, it can handle less ambitious titles like CS:GO, Rocket League, and loads of indie hits. Just be aware that you may need to dial back the resolution and graphics details to get smooth frame rates in some games.
For normal desktop activity, battery life clocks in at about seven hours. Fortunately, the T304 charges to 60% capacity in just 60 minutes, so you can quickly top up when the opportunity presents itself. If you spend most of your time plugged in, it's worth enabling one of the optional modes that improve the battery's longevity by reducing the maximum charge. Choosing a 58% or 78% maximum reduces the runtime when you're unplugged, but it can dramatically improve the lifespan of the battery over the long run.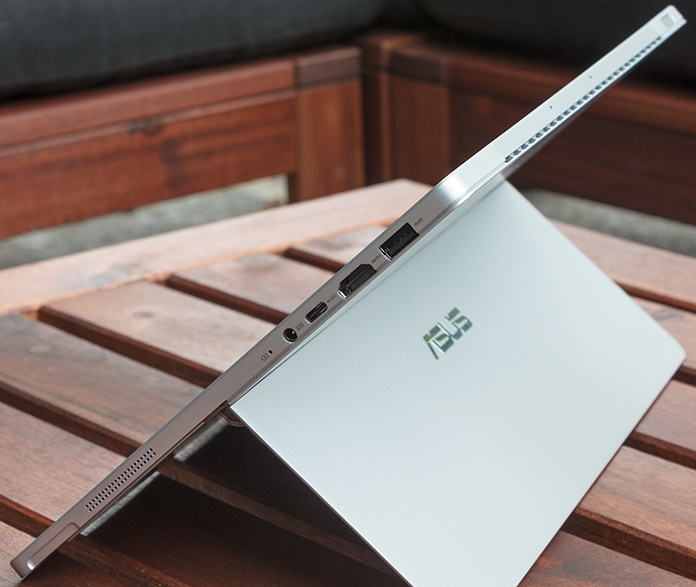 Full-sized ports are disappointingly rare on slim devices, but not on the Transformer Pro T304. A proper USB port makes it easy to connect existing devices, like a mouse or thumb drive, and there's a Type-C port for next-gen gear with reversible plugs. If you need to hook up a monitor, TV, or projector, the integrated HDMI port gets the job done without requiring a dongle. Everything you need is built in, including a MicroSD slot for expandable storage, plus 802.11ac Wi-Fi and Bluetooth 4.1. There are even dual cameras: a 2MP front-facing webcam for video chat and an 8MP rear shooter for snapping quick shots when your smartphone isn't handy.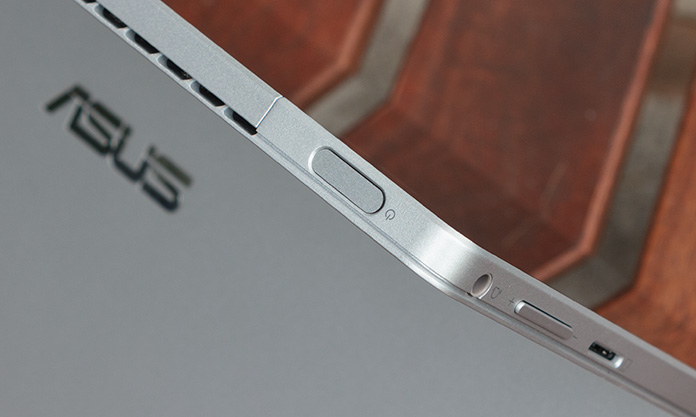 A 3.5-mm audio jack joins volume buttons on the left edge. Headphones aren't required to get a lot of sound out of the T304, though. While the integrated speakers lack chest-thumping bass, they're loud enough to fill a room if you're presenting to a larger audience. Smart amplification minimizes distortion, keeping the output surprisingly clear even with the volume is turned up to 11. Just above the audio controls sits a power button that doubles as a fingerprint reader, enabling convenient login and Windows Hello authentication regardless of how you're using the tablet.
T304UA-XS74T
T304UA-DS71T
T304UA-P72S-CA
CPU
Intel Core i7-7500U (Dual-core up to 2.7GHz, 3.5GHz Turbo)
GPU
Integrated Intel HD Graphics 620
Display
12.6" IPS-type touchscreen
2160x1440 @ 206 PPI
Memory
16GB LPDDR3
8GB LPDDR3
8GB LPDDR3
Storage
512GB M.2 SSD (SATA)
Micro SD slot
256GB M.2 SSD (SATA)
Micro SD slot
256GB M.2 SSD (SATA)
Micro SD slot
Networking
802.11 ac Wi-Fi with 2x2 antenna
Connectivity
Bluetooth 4.1, USB 3.1 Type-C, USB 3.0, HDMI 1.4, 3.5-mm audio
Camera
8MP rear, 2MP front
Battery
39Wh
Dimensions
11.7" x 8.2" x 0.3"
Weight
1.85 lbs
OS
Windows 10 Pro
Windows 10
Windows 10 Pro
MSRP
$1399.99 USD
$999 USD
$1399 CAD
Availability
Costco
ASUS Store
Canada Computers
Amazon
Newegg
Staples
Memory Express

The right multitool for the job
The old adage says you should pick the right tool for the job, but that fails to capture the increasingly complex reality of PC usage. These days, personal computers regularly alternate between productivity, creativity, and entertainment. Each of those facets has its own requirements, and the Transformer Pro T304 effortlessly transitions between them. Pairing a powerful slate with a separate keyboard and stylus gives you the right tools for a multitude of jobs, whether you're a seasoned professional or aspiring amateur.
This versatile combo is more affordable than you might expect. The Transformer Pro T304UA-DS71T starts at only $999 USD for the Core i7 CPU, 8GB of RAM, and 256GB of solid-state storage. You can also opt for the T304UA-XS74T, which upgrades to 16GB of RAM, a 512GB SSD, and Windows 10 Pro for $1399.99 USD. Canadians get the T304UA-P72S-CA with the same specs as the DS71T but Win10 Pro for $1399 CAD. All three versions come with the ASUS Pen. The US models include the backlit keyboard, while the Canadian keyboard trades illumination for a brushed metal finish. You can find the T304 at the retailers listed in the table above.