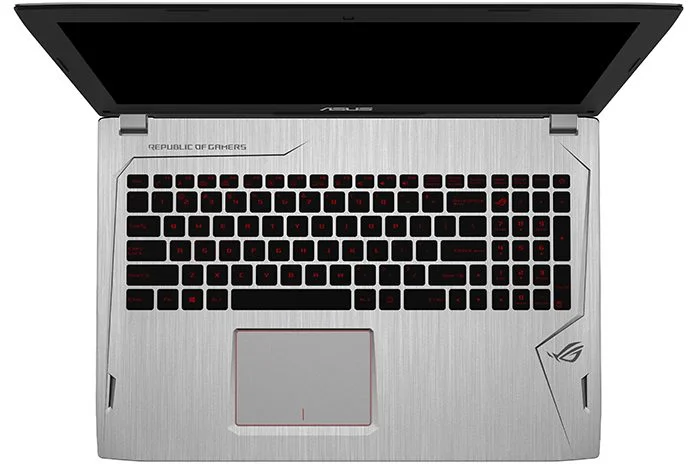 Intel's new family of 7th Generation Core processors now includes powerful quad-core chips suitable for gaming laptops and mobile overclocking. This new "Kaby Lake" silicon runs at higher clock speeds, supports faster DDR4 memory, and integrates better video decoding hardware, among other enhancements. We've been busy adding it to a new round of ROG machines, including a diverse family of updated gaming notebooks.
To be fair, the CPU upgrade doesn't have a huge impact on the gaming experience. Modern titles are primarily limited by graphics performance, and we're still using the best in the business: NVIDIA's Pascal-based GeForce 10-series GPUs, including the new GTX 1050 and 1050 Ti.
Industry-leading GPUs aren't enough, though. The depths of immersion are heavily influenced by the display that turns frames per second into the moving pictures before your eyes. We pay particularly close attention to this part of the equation, which is why we've extended IPS-type panels throughout the ranks. Their vivid colors make Doom's hellscapes more menacing and The Witcher's landscapes more luscious. Wide viewing angles keep the picture from washing out at off-center angles, so you can gather around for split-screen action or Twitch surfing.
Most of our gaming laptops use NVIDIA's G-Sync technology to synchronize the display's refresh rate with the GPU's frame rate. This close integration smooths out stuttering and eliminates tearing, which makes gameplay look and feel more engaging. We've gone one step further with this generation by offering ultra-fast 120Hz refresh rates across a broad range of models, including the versatile GL series. The amped-up IPS-type panel delivers a true 120-FPS experience with buttery-smooth motion and low input lag. After debuting in our high-end G701VI last year, it's now available on systems priced as low as $1699. Read more about the display in our hands-on look at the G701VI—and see it in action in the high-speed video footage below.
Nearly a dozen new ROG gaming laptops are destined for North America. Stickers start at an affordable $1099 and scale all the way up to an indulgent $5999, so there's something for every budget. This guide will help you decide which one is the best gaming laptop for you.
Ultra-thin gaming without sacrifice
Slim gaming laptops face a difficult proposition. The thinner they get, the less room they have to chill the chips pumping out frames per second, which inevitably compromises performance. But it doesn't have to be that way. The ROG Zephyrus uses innovative cooling and clever engineering to bring a desktop-like gaming and VR experience to a premium ultraportable just 17.9 mm thick and 4.9 lbs.

Despite being the thinnest ROG gaming laptop we've ever made, the Zephyrus is among the most powerful. We offer configurations with an Intel Core i7-7700HQ quad-core processor and up to NVIDIA GeForce GTX 1080 graphics with Max-Q design. Our unique Active Aerodynamic System (AAS) keeps the chips from thermally induced throttling with a series of enhancements that begins with an expanding intake. When the laptop lid is lifted, the bottom panel flexes to create a larger opening for air to flow in. The fans also suck air through tiny holes above the keyboard before pushing it out exhaust vents in the edges.
The AeroAccelerator fans have their own enhancements, including thinner blades built from a liquid crystal polymer strong enough to withstand high RPMs. Slimming the blades allows us to fit more per blower while still increasing the space between them, resulting in greater airflow at lower rotational speeds. The radiators get a similar treatment, with thinner fins that let us expand the surface area and simultaneously reduce the air resistance. Add an intricate network of heatpipes that distributes thermal energy from not only the CPU and GPU, but also the power circuitry, and it's no wonder the Zephyrus can maintain top speed during prolonged gaming sessions.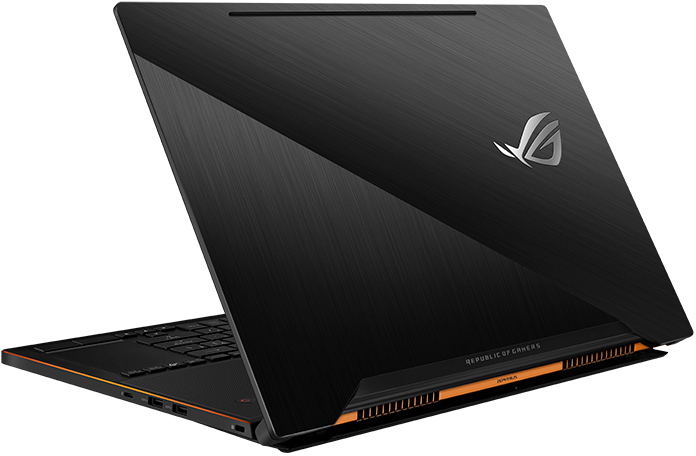 The action goes down on a 15.6" display cranked up to 120Hz with G-Sync. Thanks to the 1080p native resolution and powerful GPU, you can enjoy a true 120-FPS experience without giving up too much eye candy. The screen's picture quality holds up its end of the bargain with full sRGB gamut coverage and wide viewing angles.
The keyboard provides your crucial tactile link with the Zephyrus. We tuned it for gaming, starting with moving the keys closer to the front edge to create a more desktop-like position for your hands and better cooling for the internals. The switches have been tweaked to move the actuation point closer to the tactile bump in the stroke, which improves the overall feel, and anti-ghosting tech ensures inputs register precisely even when things get heavy. Aura RGB backlighting completes the package with customizable colors and effects, plus separate highlighting for the WASD or QWER keys. When you need a numpad, the trackpad transforms at the touch of a button.
Despite its thin profile, the chassis is loaded with connectivity. You get HDMI 2.0, Thunderbolt over Type-C USB 3.1 Gen 2, plenty of Type-A ports, and 802.11ac Wi-Fi. For serious multiplayer sessions, a Gigabit Ethernet dongle is included in the box.
The ROG Zephyrus GX501VI-XS74 is available now with 16GB of DDR4-2400 memory and a 512GB NVMe SSD for $2699 USD and $3499 CAD. We also have a GX501VS-XS71 version with a GTX 1070 GPU and 256GB SSD for $2299 USD. Find them at the retailers listed above, and check out our in-depth look at its cooling, gaming, and VR performance.
Exclusivity meets extreme performance in the GX800
We begin with the most powerful laptop in the ROG stable: the GX800. This liquid-cooled exotic represents the pinnacle of portable PC gaming hardware. It's an opportunity for our engineers to push the envelope of without worrying about the budget, resulting in a premium laptop with peerless performance.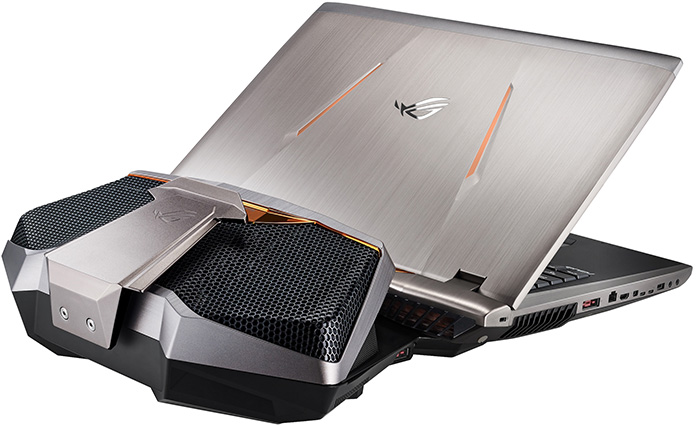 Liquid cooling sets the GX800 apart from other high-end gaming notebooks. The laptop plugs into a dedicated dock that houses the pump, dual radiators, and much of the plumbling that circulates coolant through the system. While the GX800 is capable of running without, attaching the liquid cooler enables higher overclocks, and it helps sustain top performance during long gaming sessions that can induce thermal throttling on air-cooled laptops. The dock also adds power, allowing the GX800 to draw up to 660W to quench its thirsty components.
The engine inside the beast is a new Intel Core i7-7820HK quad-core processor that's overclocked out of the box and unlocked for further tuning. We also equipped a hot-clocked version of the fastest laptop GPU around, NVIDIA's GeForce GTX 1080, and we added a second one for good measure. The dual-chip SLI config shares the graphics workload to hit higher frame rates than a single GPU can achieve on its own.
While the second GPU may seem excessive, good luck reaching high frame rates at the GX800's native 4K resolution without it. The Ultra HD display has four times the number of pixels of its 1080p counterparts, so SLI is a must for maintaining 60 FPS with the graphics details turned up in the latest games. Even when spread across the gigantic 18.4″ panel, the 3840×2160 resolution brings a whole new level of detail to games and other content.
GX800VH-XS79K
CPU
OC Core i7-7820K
GPU
2 x SLI OC GeForce GTX 1080
2 x 8GB GDDR5X
Display
18.4" 3840x2160 4K Ultra HD
60Hz G-Sync IPS-Type panel
Memory
64GB (4 x 16GB) OC DDR4-2800
Storage
1.5TB SSD RAID 0
(3 x 512GB NVMe PCIe3x4)
Battery
74Wh
OS
Windows 10 Pro
Price
$5999 USD
$7999 CAD
Availability (USA)
Newegg
HID Evolution
Availability (Canada)
NCIX
The rest of the specs are appropriately opulent for a system of this caliber. Three 512GB NVMe SSDs arranged in a single 1.5TB RAID 0 array offer enough blazing-fast storage for massive game libraries. The memory is maxed-out for extreme multitasking with 64GB of overclocked DDR4-2800. And you get a full complement of ports that includes HDMI 2.0, Thunderbolt, Type-C USB 3.1, and more.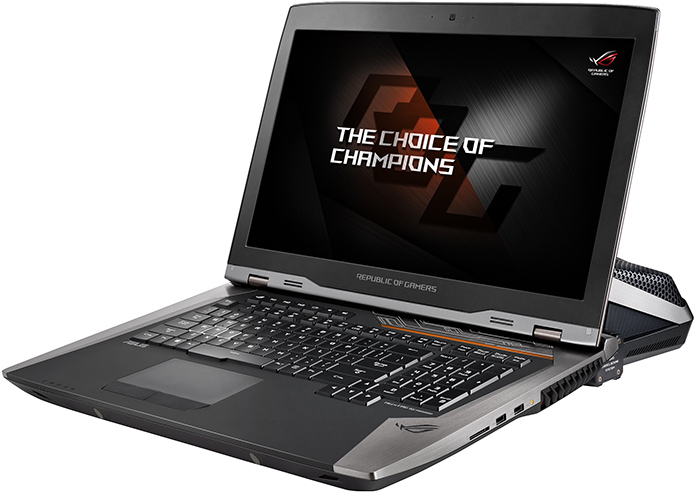 Speaking of more, the GX800 sports a MechTAG keyboard backed by mechanical switches that feel more precise than what's found on typical gaming laptops. The keys have customizable RGB backlighting with enough colors and effects for subtle styling or an attention-grabbing show. Programmable macro keys and anti-ghosting tech complete the keyboard, while an included backpack and hard-shell suitcase let you pack up the entire system for travel.
The GX800VH-XS79K model destined for North America will be available in extremely limited quantities for $5999 in the USA and $7999 in Canada. It's only fitting that our fastest and most extreme gaming laptop is also the most exclusive. Thankfully, we have lots of other machines with more affordable price tags.
Push performance with the ROG G701 and G752 OC Editions
ROG's more conventional desktop replacement laptops are purpose-built for maximum performance with air cooling. They're bigger, beefier, and heavier than our GL-series designs to provide enough room for the fastest hardware—and sufficient cooling to keep it all running at top speed. Stock frequencies are too slow for the OC Editions, which overclock the CPU, GPU, and memory right out of the box. You can reach for even higher speeds by dragging intuitive sliders in the included ROG Gaming Center software.
These machines boast all the bells and whistles you'd expect from gaming-focused rigs. The keyboards have adjustable backlighting to illuminate late-night marathons, programmable macro keys to execute complex combos, and 30-key rollover to track simultaneous key mashing. Gigabit Ethernet and dual-band 802.11ac Wi-Fi are standard equipment along with All The Ports: Thunderbolt, Mini DisplayPort, HDMI, and both traditional Type-A and reversible Type-C USB.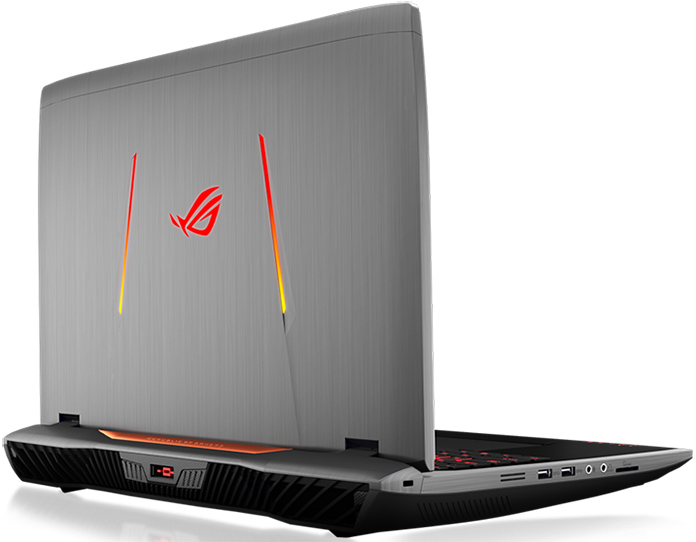 The G701VI OC Edition takes over at the top of the 17.3" lineup. We've expanded the chassis from the previous generation to incorporate a larger cooler with improved overclocking headroom. The extra thickness is worthwhile for heavy artillery like a desktop replacement, where portability is already compromised to increase performance.
Under the hood sits a cutting-edge GeForce GTX 1080 GPU easily capable of saturating the 120Hz display with frame rates over 120 FPS. You can play the latest games at the native 1080p resolution with all the details turned up and not have to worry about whether the machine can keep up.
Intel's new Core i7-7820HK CPU holds up its end of the bargain in games, and it also cuts through heavy multitasking and demanding tasks like rendering and video editing. It has enough horsepower to blur the line between portable battlestation and mobile workstation, which is why the operating system is upgraded to Windows 10 Pro. The CPU is paired with overclocked DDR4-2800 memory running 400Hz higher than Kaby Lake's stock DRAM frequency. For storage, you get dual NVMe SSDs in an ultra-fast RAID 0 array that pushes transfer rates to the limit of what the platform can handle.
G701VI-XS78K
OC Edition
G701VI-XS72K
OC Edition
G752VS-XS74K
OC Edition
CPU
OC Core i7-7820K
OC Core i7-7820K
OC Core i7-7820K
GPU
OC GeForce GTX 1080
8GB GDDR5X
OC GeForce GTX 1080
8GB GDDR5X
OC GeForce GTX 1070
8GB GDDR5
Display
17.3" 1920x1080
120Hz G-Sync
IPS-Type panel
17.3" 1920x1080
120Hz G-Sync
IPS-Type panel
17.3" 1920x1080
120Hz G-Sync
IPS-Type panel
Memory
64GB (4 x 16GB)
OC DDR4-2800
32GB (2 x 16GB)
OC DDR4-2800
16GB (1 x 16GB)
OC DDR4-2800
Storage
1TB SSD RAID 0
(2 x 512GB)
(NVMe PCIe3x4)
512GB SSD RAID 0
(2 x 256GB)
(NVMe PCIe3x4)
512GB SSD RAID 0
(2 x 256GB)
(NVMe PCIe3x4)
1TB HDD
(7200 RPM)
Battery
93Wh
93Wh
88Wh
OS
Windows 10 Pro
Windows 10 Pro
Windows 10 Pro
Price
$3499 USD
$2999 USD
$4299 CAD
$2499 USD
$3299 CAD
Availability (USA)
Amazon
Newegg
B&H
HID Evolution
Mobile Advance
Amazon
Newegg
B&H
HID Evolution
Mobile Advance
Amazon
Newegg
B&H
ExcaliberPC
XoticPC
HID Evolution
Mobile Advance
Availability (Canada)
NA
Canada Computers
NCIX
NA
At $3499 USD, the G701VI-XS78K OC Edition takes everything to the extreme. The RAM is maxed-out at 64GB, and dual 512GB SSDs deliver a full terabyte of RAID 0 storage. If that's too rich for your blood, the G701VI-XS72K OC Edition halves the memory and storage for $2999 in the USA and $4299 in Canada. The 2 x 16GB memory config leaves two SO-DIMM slots open for future upgrades, and you still get RAID via dual 256GB SSDs.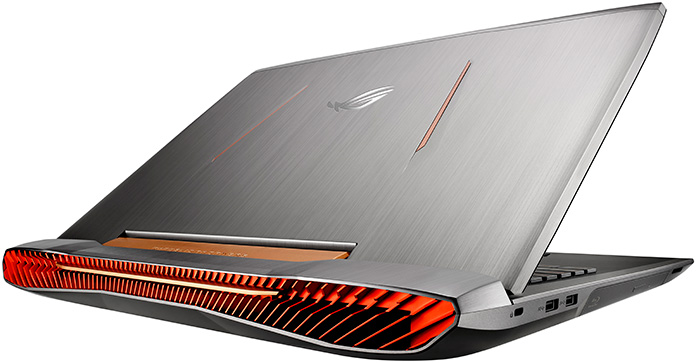 The G752VS OC Edition makes overclocked 120Hz gaming accessible at an even lower price. It has the same 17.3" display as the G701VI but GeForce GTX 1070 graphics instead of the flagship 1080. The GTX 1070 is based on the same Pascal silicon as its big brother, just with fewer functional units enabled and slightly lower clock speeds. You can still push frame rates into 120-FPS territory without sacrificing too much eye candy.
Although the GPU isn't quite as good as what's available in the G701VI, the unlocked Core i7 CPU is identical. So is the overclocked DDR4-2800 memory and dual-drive NVMe SSD RAID 0 setup. The G752VS-XS74K OC Edition comes with a single 16GB memory stick, plus three open slots for upgrades. The 2 x 256GB RAID array offers high-speed storage for your favorite games, while the accompanying 1TB hard drive handles the inevitable Steam spillover. Asking price: $2499 in USA and $3299 north of the border.
Hardcore gaming with easy portability: the ROG Strix GL502 and GL702
You don't need the fastest and most expensive parts to get a great experience. The ROG Strix GL502 and GL702 balance performance and portability to bring hardcore gaming to a wide audience. Rather than reprising the orange-and-black aesthetic of their forebears, they wear a striking metallic skin reminiscent of more premium ROG laptops.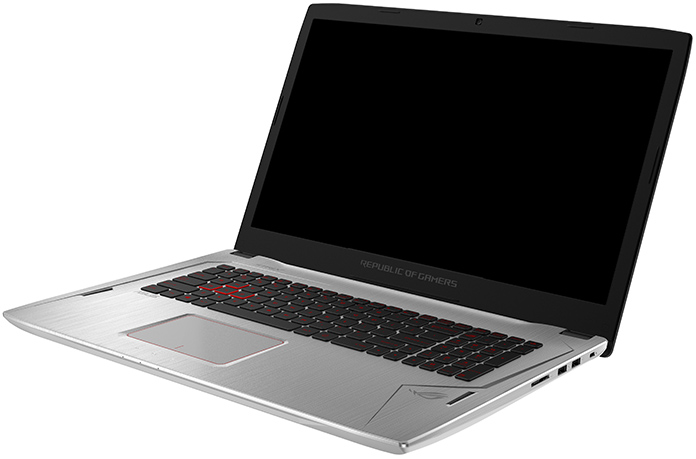 These new GL-series models squeezes the essentials into a thinner, lighter package ready to travel down the block to a coffee shop, across town to a LAN party, or to the other side of the world for an eSports tournament. There's more than enough power for serious work and hardcore play thanks to a Core i7-7700HQ quad-core processor that's is just a smidgen slower than the chip in our beastly desktop replacements. The Kaby Lake CPU adds native support for DDR4-2400 memory, providing a nice boost over the DDR4-2133 RAM from the Skylake generation.
The Strix's storage tag team mixes the agile responsiveness and quick load times of an SSD with the copious storage of a 1TB hard drive ready for massive media and game libraries. There's no optical drive, which is a sensible concession at a time when everything is downloaded or streamed, but you do get a full-sized SD slot that's handy for grabbing images from DLSR cameras. Additional connectivity includes all the usual suspects: HDMI, Mini DisplayPort, Type-A and Type-C USB, Gigabit Ethernet, 802.11ac Wi-Fi, and Bluetooth.
Backlit keyboards prime the GL series for dimly lit LANs and lights-out immersion. Full numpads are available even on the 15.6" models, and they all use anti-ghosting tech to ensure every keystroke registers during frantic battles.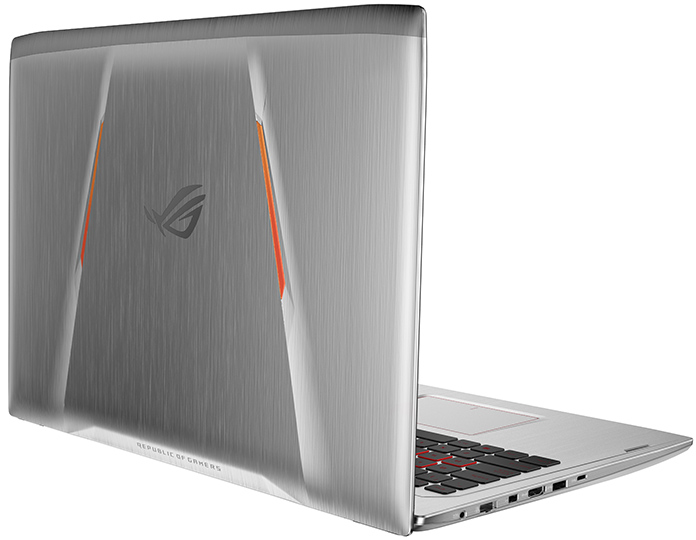 Gaming performance comes down to the GPU and display. The GeForce GTX 1070 has enough oomph to push triple-digit frame rates, so it's paired it with a 120Hz G-Sync panel that can take advantage. Your other option is the slower GeForce GTX 1060, whose accompanying display tops out at 60Hz. G-Sync ensures that both solutions offer smooth gameplay, but the GTX 1070 and 120Hz display are definitely better for competitive gamers and anyone who plays fast-paced titles like first-person shooters.
GL702VS-DS74
GL702VM-DS74
GL502VS-DS71
GL502VM-DS74
CPU
Core i7-7700HQ
Core i7-7700HQ
Core i7-7700HQ
Core i7-7700HQ
GPU
GeForce GTX 1070 8GB GDDR5
GeForce GTX 1060 6GB GDDR5
GeForce GTX 1070 8GB GDDR5
GeForce GTX 1060 6GB GDDR5
Display
17.3" 1920x1080
120Hz G-Sync
IPS-Type panel
17.3" 1920x1080
60Hz G-Sync
IPS-Type panel
15.6" 1920x1080
120Hz G-Sync
IPS-Type panel
15.6" 1920x1080
60Hz G-Sync
IPS-Type panel
Memory
16GB (1 x 16GB)
DDR4-2400
16GB (1 x 16GB)
DDR4-2400
16GB (2 x 8GB)
DDR4-2400
16GB (8 + 8GB)
DDR4-2400
Storage
512GB SSD
(M.2 SATA)
1TB HDD
(5400 RPM)
128GB SSD
(M.2 SATA)
1TB HDD
(5400 RPM)
128GB SSD
(M.2 SATA)
1TB HDD
(5400 RPM)
128GB SSD
(M.2 SATA)
1TB HDD
(5400 RPM)
Battery
76Wh
76Wh
62Wh
62Wh
OS
Windows 10
Windows 10
Windows 10
Windows 10
Price
$1999 USD
$2599 CAD
$1499 USD
$1999 CAD
$1699 USD
$2199 CAD
$1499 USD
$1999 CAD
In 17.3" territory, the GL702VS-DS74 combines the GTX 1070 and 120Hz display with a 512GB SSD and 16GB of RAM for $1999 USD or $2599 CAD. Gamers on tighter budgets can opt for the GL702VM-DS74, which scales back to the GTX 1060, a 60Hz display, and a 128GB SSD for $1499 USD or $1999 CAD. Both have a single 16GB memory stick installed, plus an open slot for one more.
Similar configurations are available with a smaller 15.6" display. The GL502VS-DS71 brings the GTX 1070 and 120Hz display for $1699 in the USA and $2199 in Canada, while the GL502VM-DS74 opts for the GTX 1060 and 60Hz panel for $1499 USD and $1999 CAD. Both machines have an ample 16GB of RAM and the same dual-drive combo comprising a 128GB SSD and 1TB HDD.
Redefine entry-level with the ROG Strix GL553 and GL753
Striking the right balance between features and components becomes more difficult as the budget shrinks. Some compromises are inevitable, but we've made the right choices to maximize value for not only gaming, but also all the other things you do with your laptop, from chilling with Netflix to working on school projects to turning gameplay footage into animated GIFs.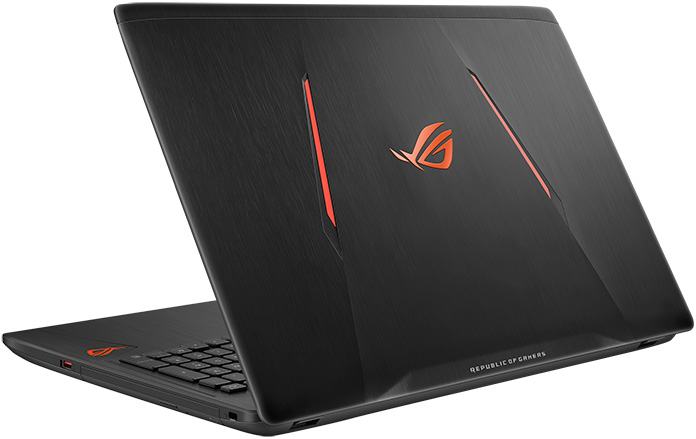 Despite lower starting prices, the ROG Strix GL553 and GL753 sport the same quad-core Kaby Lake CPUs as our other GL-series laptops. The 16GB of DDR4-2133 memory riding shotgun isn't quite as fast as the RAM we use higher up the line, but the real-world performance impact is minimal. These systems are fast enough to tackle everything from productivity to content creation, which is helpful when justifying the machines to parents and partners who may not appreciate gaming performance.
Graphics power comes from NVIDIA's new GeForce GTX 1050 and 1050 Ti. Like other mobile Pascal GPUs, the chips are based on the same silicon as their desktop counterparts. They offer smooth frame rates at the laptops' native 1080p resolution, especially in popular games like Counter-Strike, Overwatch, and League of Legends.
Maintaining consistent performance is important because these models lack the G-Sync technology available in pricier ROG gaming laptops. But visuals still pop on the IPS-type panels, whose superior picture quality can enhance much more than just in-game graphics.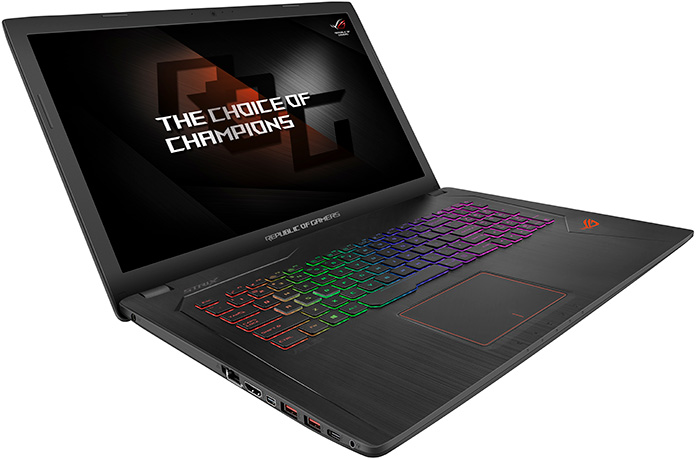 Versatility oozes from every pore: an optical drive deals with inevitable discs, Gigabit Ethernet and dual-band 802.11ac Wi-Fi connect to wired and wireless networks at top speed, SD cards slot right into the chassis, an HDMI output supplies auxiliary monitors and big-screen TVs, and Type-C and Type-A USB ports keep your mouse and other peripherals connected. The keyboards also add a little extra personality with four zones of customizable RGB backlighting. Because it's 2017.
Like with the other GL-series variants, you can choose between 15.6" and 17.3" screen sizes. The 15.6" GL553VE-DS74 offers the GeForce GTX 1050 Ti alongside a 256GB SSD and 1TB HDD for $1299 USD or $1699 CAD, with its 17.3" GL753VE-DS74 counterpart mirroring that config at the same price. For $1099 in the USA and $1399 in Canada, you can choose between the 15.6" GL553VD-DS71 and 17.3" GL753VD-DS71, both of which have GTX 1050 graphics and a 1TB hard drive. The HDD's 7,200-RPM spindle speed softens the blow from the lack of an SSD, but if you can afford it, solid-state storage is definitely worth the upgrade. The faster GPU is icing on the cake.
Available now and coming soon
The new ROG Strix GL553 and GL753 gaming laptops are available now in North America. The updated ROG G752, G701, and GX800 are slated to be available starting January 23, while the Strix GL502 and GL702 will follow in early March.