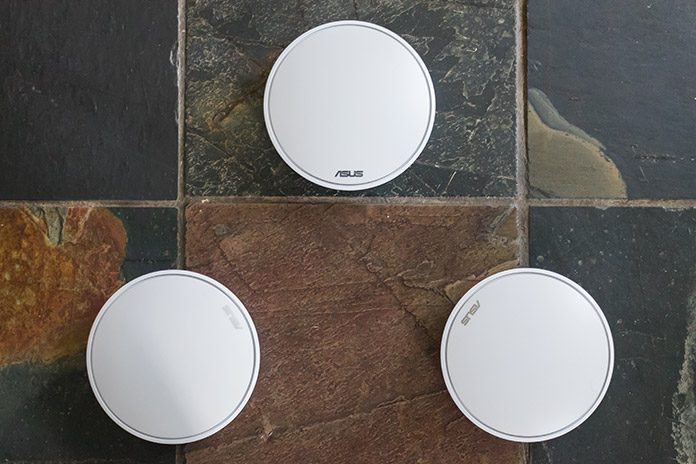 Since its introduction, wireless networking has revolved around a central router or access point. That was OK in the early days of WiFi, when no more than a handful of devices would connect at relatively close range, but times they are a changin'. Now we crave a strong signal that extends to the farthest reaches of our homes, and we demand that it service an ever-growing array of gear. The old way of doing things just isn't good enough anymore.
Instead of relying on the single sphere of influence offered by traditional setups, WiFi is branching into new territory known as mesh networking. This approach trades the central router for a collection of hubs linked by a wireless backbone. When spread throughout your home, these hubs provide corner-to-corner coverage for an optimal signal no matter where you are.
Installing a series of hubs sounds daunting, but our new ASUS Lyra mesh networking solution makes the process a breeze. We spent some time exploring the latest in home wireless to see why it's time to reconsider your router.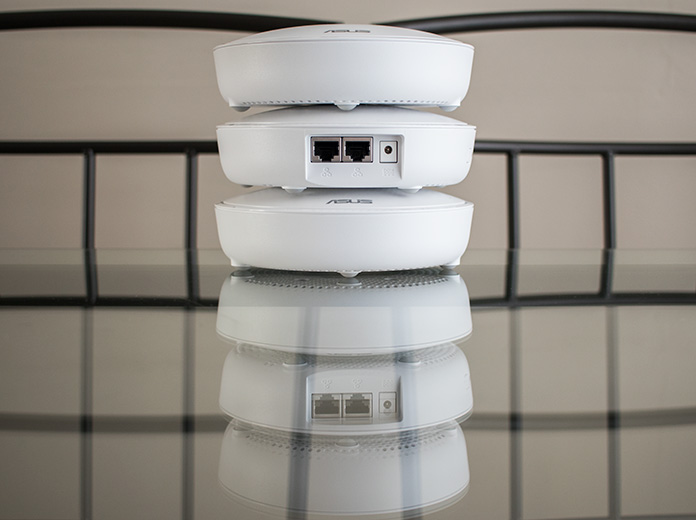 Welcome your new mesh overlords
Mesh networking is a straightforward concept to wrap your head around. It's not even the first example that stretches across multiple devices. We've long been able to extend the range of traditional routers by connecting auxiliary access points and repeaters that act as remote outposts. These extra pieces have to be added, configured, and managed separately, though, and wireless clients don't always connect to the right one. Mesh addresses those problems by tightly integrating hubs into a single, overarching network that intelligently migrates clients between hubs.
Although Lyra is a collaborative effort, internet access flows through a primary hub that connects to your modem via Gigabit Ethernet. The other hubs join the party with WiFi using a separate 5GHz band reserved specifically for inter-hub traffic. This dedicated backchannel binds the mesh together, extending its reach across without running cables.
When booting, each hub detects the signal strength of its nearby siblings across four smart antennas. It automatically selects the best neighbor and pair of antennas for backchannel communication, leaving the remaining antennas for clients. Lyra hubs should be placed within sight of each other for peak backchannel performance, but they can still receive signals through walls and around corners. While ideal placement will vary depending on the layout of your home, the primary hub should always be in the most central, allowing hubs to connect directly to minimize latency. Standard Lyra kits come with three hubs, and extras can be added on top of those, though we recommend no more than five per network.
The backchannel boasts up to 867Mbps of bandwidth, nearly matching the Gigabit speeds available with typical wired networks. And the latest firmware allows a true Gigabit backchannel via wired links between hubs, improving performance while also allowing Lyra to span greater distances. Right now, you can easily connect wired clients using the two Gigabit Ethernet jacks on auxiliary hubs, plus the port on the primary hub that isn't connected to your modem.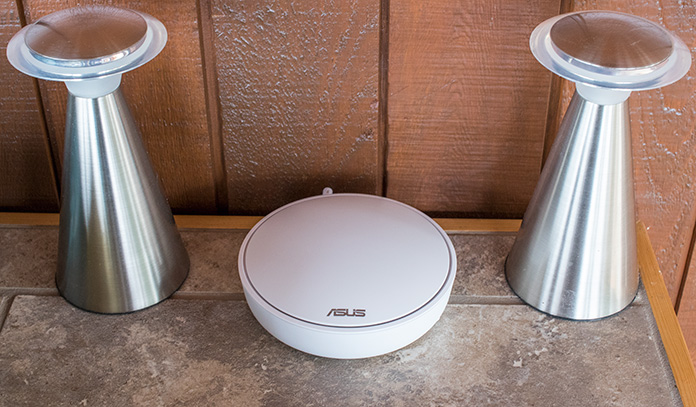 Clients can join wirelessly with any of the 802.11 WiFi flavors up to ac. There's 867Mbps of bandwidth on the 5GHz channel and another 400Mbps on the 2.4GHz band. Both bands use 2T2R antennas with dual transmitters and receivers to service a stack of devices. With Lyra networks ready for up to 60 simultaneous clients, there's enough capacity to handle not only everything in your household, but also whatever guests bring with them. Lyra can also improve performance for MU-MIMO clients by establishing a direct link using dedicated antennas. Hubs can connect two MU-MIMO clients each, for a total of six across a three-hub mesh.
Balancing multiple hubs and band sounds like a handful, but the underlying complexity is completely invisible to users. Lyra presents itself as a single WiFi network and doesn't even have separate SSIDs for its 2.4GHz and 5GHz bands. You only need to connect devices once. As you move them around the coverage area, Lyra automatically routes the connection through whichever hub offers the best signal. The process is so seamless that I can stream Netflix uninterrupted on my ZenFone while it migrates across hubs as I walk around the house.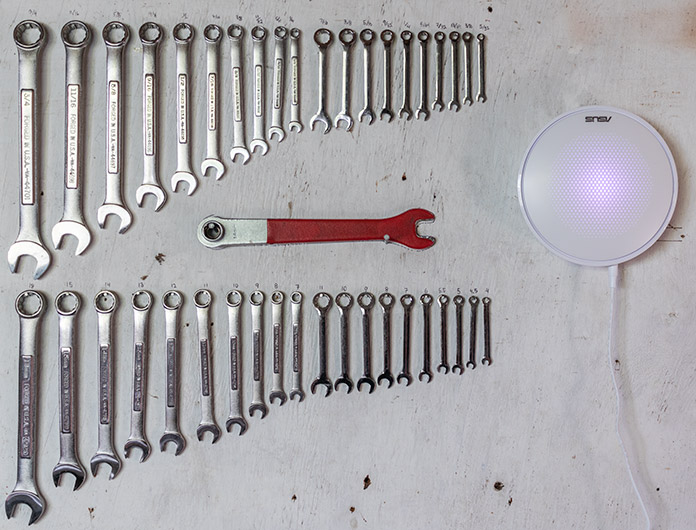 Simple setup that's Mom Approved
Our ASUS Lyra apps for Android and iOS make setup and monitoring accessible for everyone. Even a complete beginner can get up and running with ease, a fact I confirmed by having my mother set up a three-hub network on her own. She's in her 70s, uses a Windows laptop for day-to-day surfing and email, and barely touches her smartphone other than to make rare calls when away from home. More importantly, her experience with WiFi is limited to joining an existing network.
With the app's setup wizard guiding the way, the whole process took only about 15 minutes. And, to be fair, a lot of that time was spent physically planting the hubs in different areas of the house and then waiting for each one to boot up. The primary hub comes first, identified by a "Start" label next to its Ethernet jacks. Plug your modem into either port, and Lyra automatically configures the internet connection accordingly.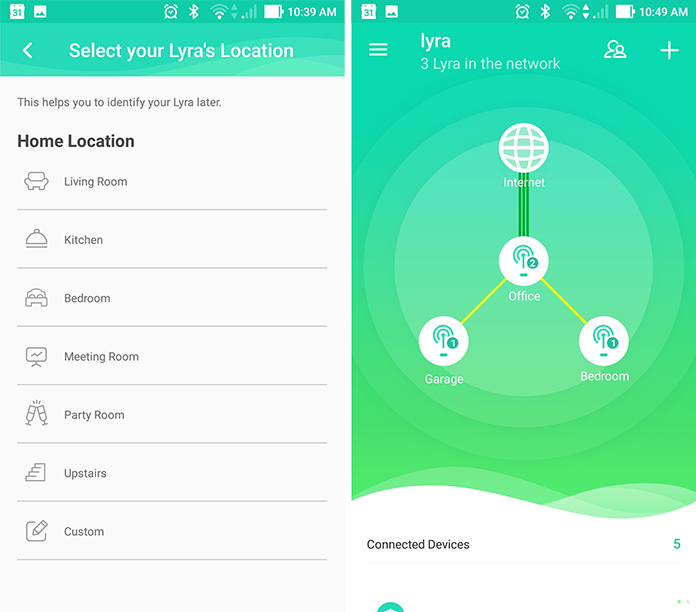 The mobile app talks to hubs over Bluetooth for initial setup; you need only to follow the wizard's instructions and tap when prompted. Impressively, Mom got her network going without calling in any lifelines. "This is rather simple to do," she said, adding that the only hang-up was her general lack of experience with mobile apps. Setting up a Lyra network is a cinch if you're a regular smartphone user.
Easy access to essential features
In addition to smoothing out the mesh setup process, Lyra's mobile app puts essential functions at your fingertips. Only a few taps are required to enable parental controls that limit internet access for specific users and devices. It's possible to completely disable internet access during specific portions of the day and to selectively block different types of content, like sites related to gambling or pornography. After establishing a profile for an individual family member and their devices, you can monitor usage remotely and even set limits to curb bandwidth hogging.
Capping bandwidth isn't necessary to keep busy clients from slowing others. Lyra's integrated Traffic Manager lets you quickly prioritize traffic by dragging and dropping categories within the mobile app. Move gaming and media streaming to the front of the line to prioritize entertainment and shift file transfers to the back to prevent big downloads from impeding other activities. If you want to keep an eye on what's happening, the app provides real-time traffic stats in addition to a rundown of connected devices.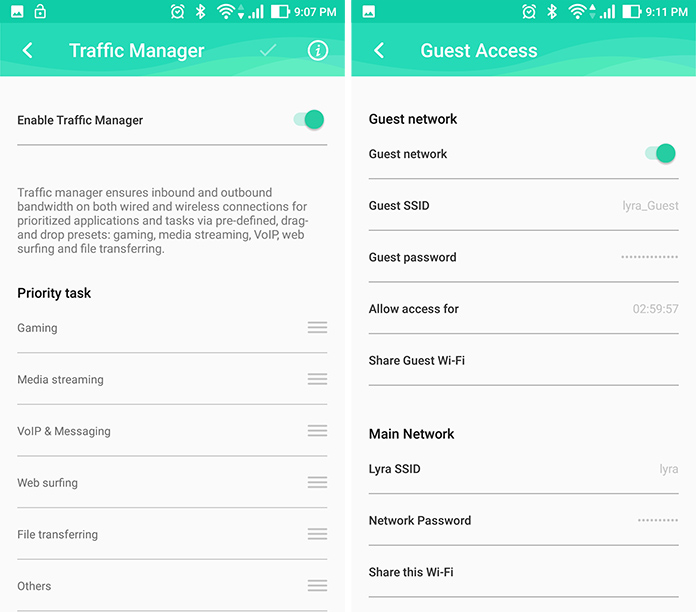 Security is covered by our AiProtection system, which guards against intrusion from common internet-based attacks. AiProtection also blocks known malicious websites, reducing the chances of unintentional infection, and it detects compromised machines on your own network, preventing them from sending personal data to the outside world. Automatic synchronization with Trend Micro's database keeps AiProtection up to date on the latest threats, so you can surf with peace of mind.
The last layer of security applies to guests who inevitably ask for your WiFi password. Lyra supports a secondary guest network that provides internet access without letting users snoop local clients. It's activated through the mobile app, which also provides easy sharing over instant messaging and email. For short or rare visits, the guest network can be configured to shut down automatically after a set period of time.
Networking hubs that belong in your home
It's not enough for distributed hubs to match the layout of your home; they also have to blend in with the aesthetic. Lyra's clean lines and gentle curves exhibit an elegant alternative to the insect-meets-spaceship aesthetic that pervades the high-end router space. A neutral white finish completes the understated look, allowing the Lyra to integrate seamlessly into any setting.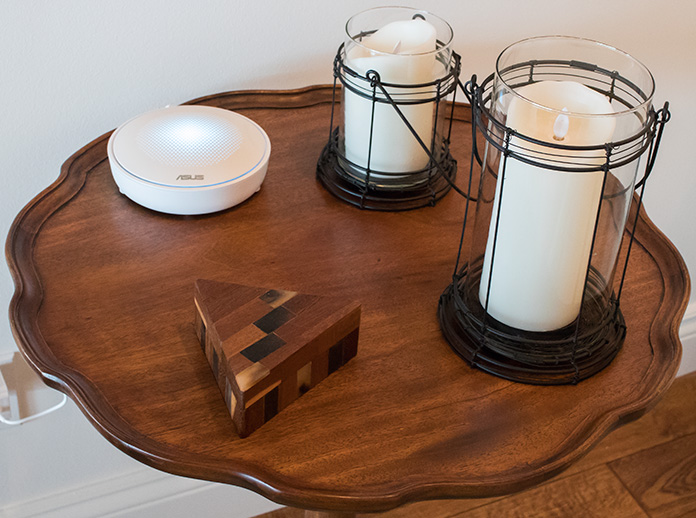 At only 1.6″ tall and 5.5″ in diameter, each hub is compact enough to sit unobtrusively on a table or shelf. There are notches on the backs for wall mounting, so you can hang them out of the way if space is limited where coverage is needed the most. Lyra works best when it's out in the open. For the best results, keep hubs out of enclosed spaces and away from sources of interference, like microwaves.
Lyra uses gentle illumination for easy troubleshooting. Hubs emit a white glow when they're ready for setup, cyan when everything is working properly, and orange if there's an issue with your internet connection. Individual hubs also glow red if they can't connect to the mesh, and they cycle through a rainbow of colors when booting up. If you prefer a more muted look, the lighting can be disabled completely with a few swipes in the mobile app.
Model number
Lyra MAP-AC2200
Chipset
Qualcomm IPQ4019 (2.4GHz & 5GHz-1)
Qualcomm QCA9886 (5GHz-2)
Networking standards
IEEE 802.11a/b/g/n/ac
IPv4 & IPv6
MU-MIMO support
Wireless throughput
AC2134 (867 + 867 + 400Mbps)
Tx/Rx
2.4GHz: 2T2R
5GHz: 2T2R
Antennas
7 per hub (4 smart)
Operating frequency
2.4GHz: 2412-2472MHz
5GHz-1: 5475-5825MHz
5GHz-2: 5180-5240MHz
Ethernet
Primary hub: 1 x WAN, 1 x LAN
Auxiliary hubs: 2 x LAN
Price (3 hubs)
$399.99 USD
$499.99 CAD
Availability (USA)
Newegg
Amazon
B&H
Availability (Canada)
Canada Computers
Best Buy
Give your wireless network a mesh makeover
Mesh networking represents a fundamental shift that's long overdue. Distributing WiFi across multiple hubs is a smarter approach than relying on a single router, especially as wireless spreads from PCs and mobile devices to connected appliances and IoT gear. Lyra separates you from all the complexities to deliver home networking with broad coverage, simple setup, and easy management. At $399.99 USD, the three-hub Lyra MAP-AC2200 kit has everything you need to blanket larger homes with seamless WiFi. Look for it at the retailers listed in the table above.