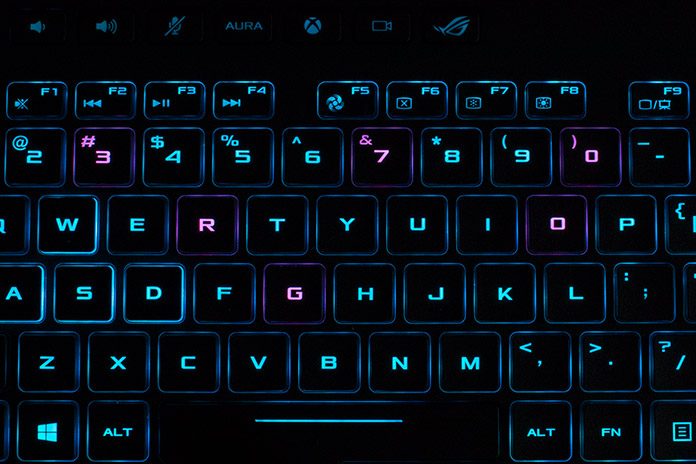 Our Republic of Gamers division has been making laptops for nearly a decade. It started with the G70, a beastly machine that sparked a string of desktop replacements designed to deliver the best gaming performance. Much of the early focus was on the CPU and GPU under the hood. Those chips remain important today, but components like the display and keyboard play a larger role in defining the experience. The new ROG G703 gaming laptop embodies this evolution with the biggest advancement for this class of gaming laptops yet.
The headliner is the 144Hz G-Sync display, which is paired with a factory overclocked Core i7 CPU and GeForce GTX 1080 GPU that are unlocked for further tuning. Per-key RGB lighting turns the keyboard into a customizable canvas, while extras like the integrated Xbox wireless module add new facets to your game. Each of these elements is worthy of attention, but the real payoff is how they all come together.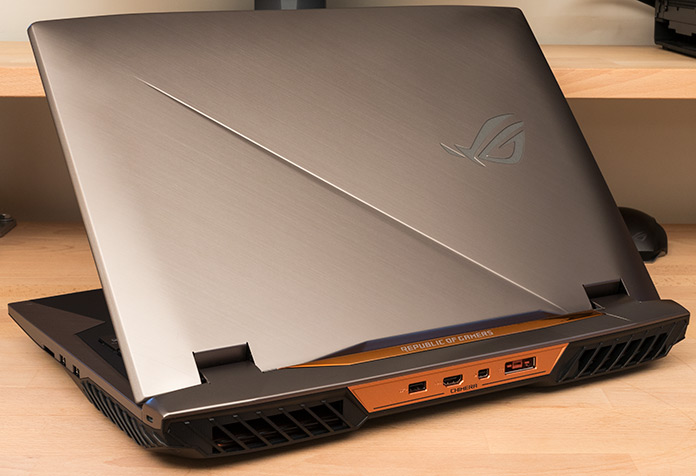 Heavyweight cooling for overclocked components
Laptop performance is increasingly defined by cooling and, more specifically, how much it helps the CPU and GPU maintain high frequencies. This is important for stock-clocked configs and vital for overclocking, so we defied the industry trend of pursuing thinner and lighter designs to expand the chassis for additional cooling. At 2" and 10.6 lbs, the G703 is thicker and heavier than the previous generation. The cooling system alone weighs 1.6 lbs.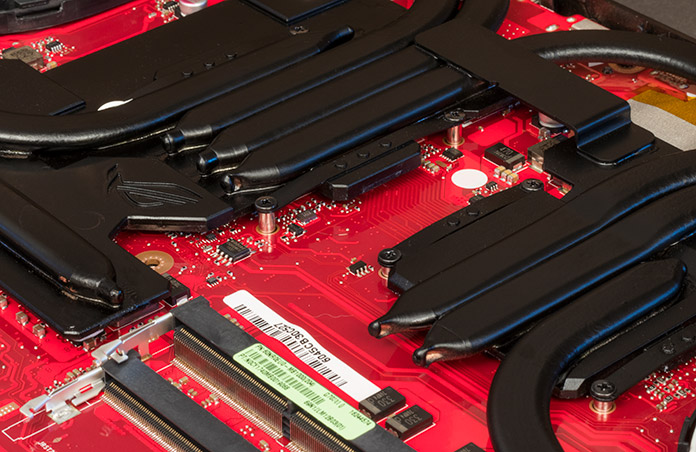 Thermal dissipation begins with a network of heatpipes that snake across not only the CPU and GPU, but also the VRM supplying them with power. The fan profile is tuned to keep the power circuitry under under 80°C, which helps improve long-term reliability. All the internal plumbing draws heat toward four radiators embedded in the G703's haunches. The cooling system was designed by the same team that worked on the ultra-thin ROG Zephyrus, and the G703 uses similarly slimmed-down radiator fins measuring just 0.1 mm thick. Putting the fins on a diet lets us squeeze more of them into the chassis, which increases surface area. Despite adding fins, we still managed to widen the gaps between the them to reduce airflow resistance.
Airflow through the radiators is generated by dual blowers than run on 12V power instead of the usual 5V. The voltage boost enables higher rotational speeds that push more air. Each blower also has a special channel that diverts dust away from the radiators. Keeping the fins free of particulate maintains consistent cooling performance over time.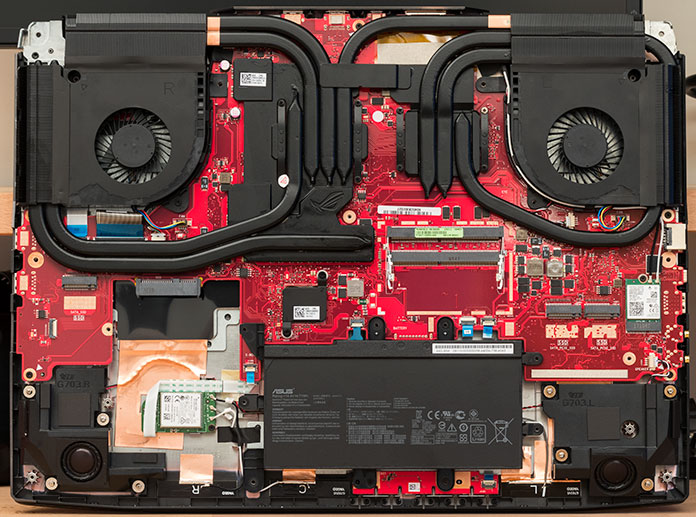 Upgraded cooling allows the G703 unlock the full potential of its desktop-class hardware. The default Extreme mode overclocks the Intel Core i7-7820HK CPU to a maximum Turbo speed of 4.3GHz across all four cores and eight threads. To put that into perspective, consider that the chip's default config Turbos up to 3.9GHz, but only with single-core loads that occupy a fraction of the CPU. The discrete graphics runs faster than stock, too. NVIDIA's GeForce GTX 1080 GPU normally has a maximum Boost clock of 1733MHz, but the G703 raises the frequency to 1974MHz. Add a modest boost to the 8GB of GDDR5X graphics memory, along with 32GB of DDR4-2800 system RAM, and we've overclocked every component we can.
To test the effectiveness of the cooling, We roamed Playerunknown's Battlegrounds for an hour while logging GPU vitals with AIDA64. The graph below shows the clock speed and utilization during repeated failed attempts to dine on a delicious chicken dinner.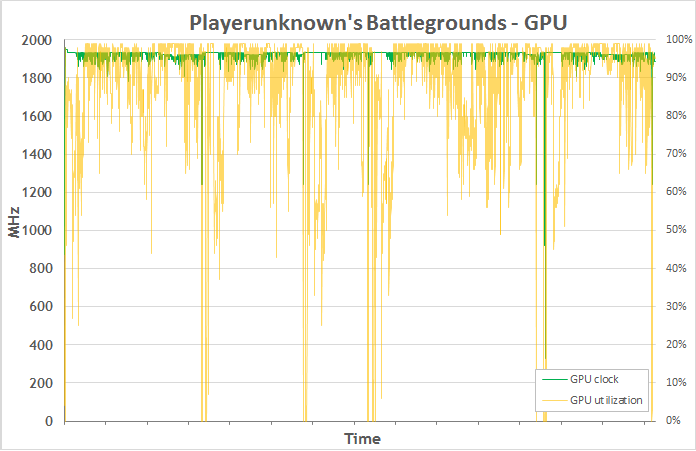 GPU utilization was high for the vast majority of the test, but the G703 handled the load like a champ. Apart from a few brief dips that correspond to low utilization (likely during menu screens between rounds), the GTX 1080 hovered around its peak Boost frequency throughout.
The fastest pixels on the block
While the overclocked silicon and hardcore cooling combine to deliver high frame rates, the display determines how games actually look and feel while you're playing. The G703 gets off to a good start with a massive 17.3" IPS-type panel that radiates rich colors across wide viewing angles, but the important details for gaming are all related to speed.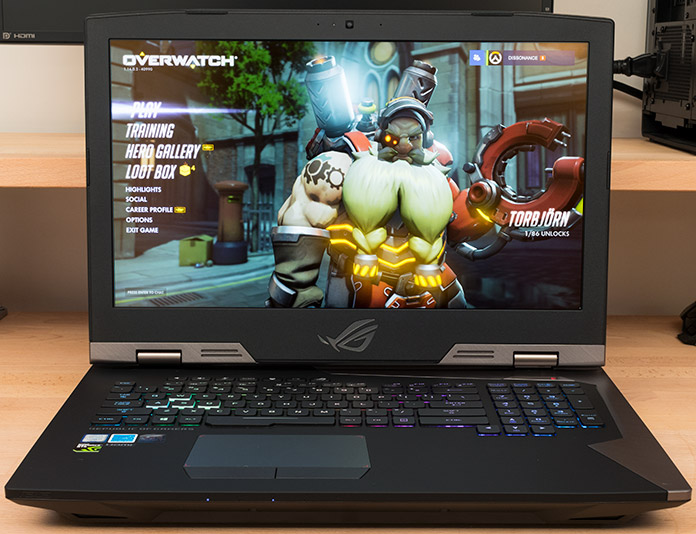 The spec that attracts the most attention is the 144Hz maximum refresh rate. That corresponds to a new frame every 6.9 milliseconds, which sounds great, but the IPS-type displays used in notebooks usually have a pixel response time of around 25 ms, which means it takes more than three times longer for individual pixels to change color. This discrepancy makes the remnants of old frames faintly visible, an artifact referred to as ghosting or blurring. To avoid tainting the visuals with faded memories of frames past, we worked closely with our panel partner to reduce the response time to just 7 ms. The G703's pixels transition almost as quickly as new frames are drawn, resulting in a pristine picture for everything from gaming to scrolling through web pages.
Our focus on speed is also evident in the 1080p native resolution, which makes triple-digit frame rates attainable without sacrificing in-game eye candy. We tested this for ourselves by playing a stack of games while logging individual frame times with Fraps. The data was converted to frames per second to make the graphs below easy to interpret, and we added a horizontal line at 144 FPS to mark the refresh rate of the display. Click the buttons to switch between games.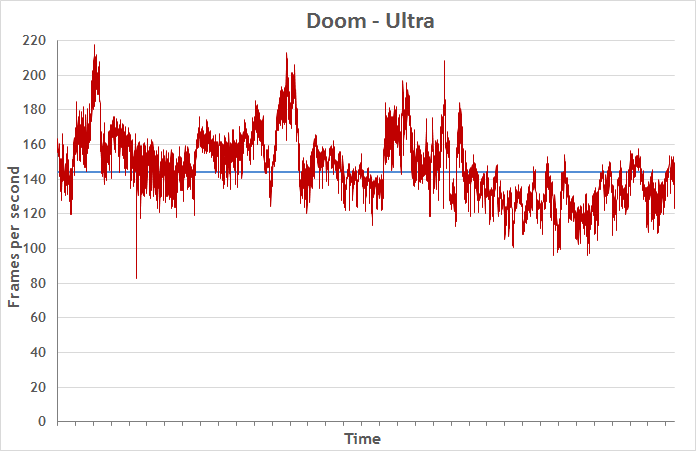 br>
CS:GO and Rocket League have relaxed system requirements, so the G703 easily kept performance above the maximum refresh rate with all the in-game details turned up. Gameplay felt impeccably smooth, and the visuals looked incredibly crisp. Fast-paced action makes these games especially prone to blurring and ghosting, but thanks to the display's quick response time, I didn't see evidence of either.
The other titles are more demanding, and performance dipped accordingly. That said, frame rates generally stayed over 100 FPS with maximum details, which translated to blissfully fluid gameplay. The lack of obvious blurring and ghosting was readily apparent even when the frame rate dipped below the display's maximum refresh rate.
Ghost Recon: Wildlands is our one performance outlier. At ~60-80 FPS during the intense jungle firefights we used for testing, performance fell well short of the display's peak. The game didn't feel quite as buttery as in the other titles, but it was still smooth thanks to the display's G-Sync technology. Instead of updating the screen at a fixed interval, G-Sync refreshes only when new frames are available from the GPU. This synchronization minimizes perceptible stuttering and input lag, and it eliminates distracting visual tears that can cut across the screen.
Illuminated input
We developed a new keyboard to ensure that the tactile side of the G703's gaming experience lives up to the visuals. With 2.5 mm of key travel and a clearly defined actuation point, the keyboard feels much better than what's typically found on gaming laptops. Its punchy precision is enhanced by n-key rollover, which registers each keystroke accurately no matter how many you're mashing simultaneously. We also added little touches, like a wider spacebar that's easier to hit with your thumb, and a row of dedicated hotkeys for common functions. Being able to adjust the volume and mute the mic without executing a multi-key combo is especially helpful in the heat of battle.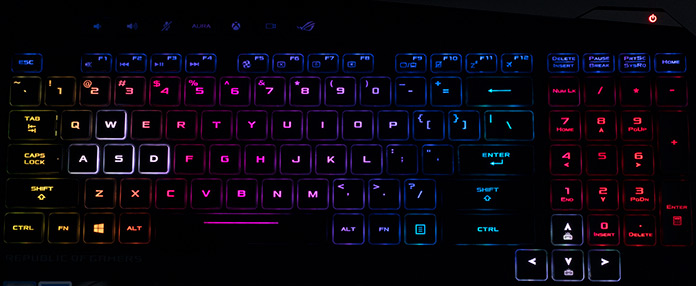 Other hotkeys provide shortcuts for applications that control overclocking, streaming, and Aura backlighting. Each key is backed by its own RGB LED, and the software can assign different colors and effects to each one, putting virtually limitless possibilities at your fingertips. With room for three custom configurations, you can experiment with different looks and quickly switch between them. RGB lighting isn't limited to the keyboard, either. The same colors and effects can be applied to the illuminated ROG logo on the lid.
Although most PC gamers swear by a keyboard and mouse, some titles play better with a gamepad, so we worked with Microsoft to integrate an Xbox Wireless module into the G703. You can connect up to eight Xbox One controllers without touching the USB ports. There's also a dedicated hotkey that launches the Xbox Game bar. Between the Xbox software available for Windows 10, the bundled XSplit app, and GeForce Experience software for the discrete GPU, the G703 has multiple ways to stream and record gameplay.
Plugged into virtual reality
A full slate of ports is available to power a plethora of peripherals. Between Thunderbolt, HDMI, and Mini DisplayPort, the G703 is capable of driving three 4K displays simultaneously. The HDMI and DisplayPort outs are at the back along with a Type-A USB port that's conveniently placed for VR headsets. There are enough USB ports on the sides for wired trackers like those used by the Oculus Rift, setting the stage for another round of testing.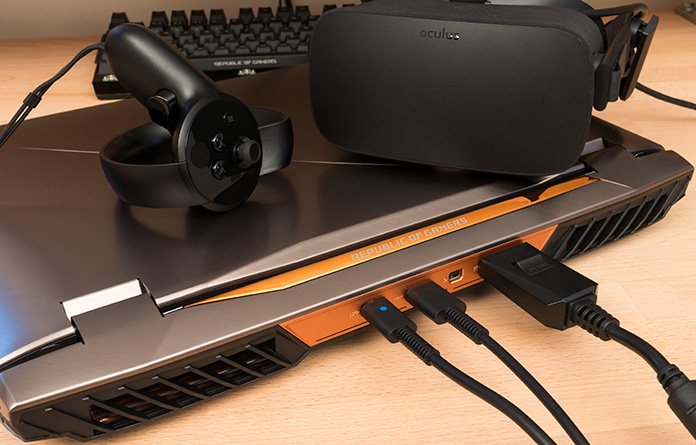 We used NVIDIA's FCAT VR utility to measure performance in a collection of VR titles. The graphs below show frame times up top and problems down below. Ideally, you want frame times under 11.1 milliseconds to keep up with the headset's 90Hz refresh rate. More importantly, you want to avoid dropped or synthesized frames that can disrupt the experience.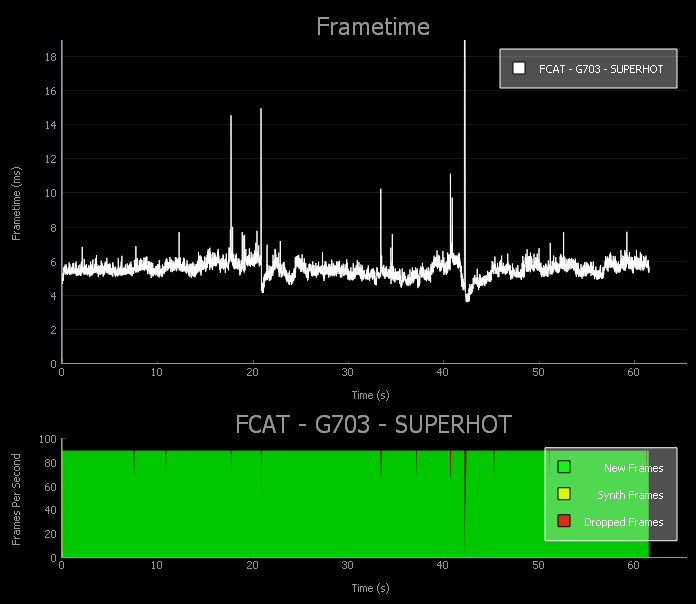 br>
The G703 is a potent VR machine. Although it didn't completely avoid dropped and synthesized frames, those small hiccups largely went unnoticed. Arizona Sunshine, Raw Data, Robo Recall, and SUPERHOT performed particularly well, with no synthesized frames and only occasional drops. The experience inside the headset was essentially flawless.
Project Cars and Redout pushed frame times higher, causing more drops and occasional bouts of synthesized frames. The imperfections were noticeable when I was looking for them, but only faintly so. With my attention on weaving through traffic and hitting each apex, they quickly faded into the background of an otherwise fantastic VR experience.
Stacked from sound to storage
In addition to bringing out the big guns, the G703 includes several subtler enhancements. Its integrated audio uses a premium ESS Sabre DAC and headphone amp that noticeably improve the output quality with a decent set of cans. If you don't want to be confined to stereo, our accompanying Sonic Studio III software can simulate 7.1-channel surround sound.
The speakers are surprisingly powerful, in part because smart amplification lets you crank the volume without burying the output in distortion. But numbers and placement are also key. The dual tweeters under the display fire sound directly at you, while the two full-range speakers in the base bounce sound off the table to add depth.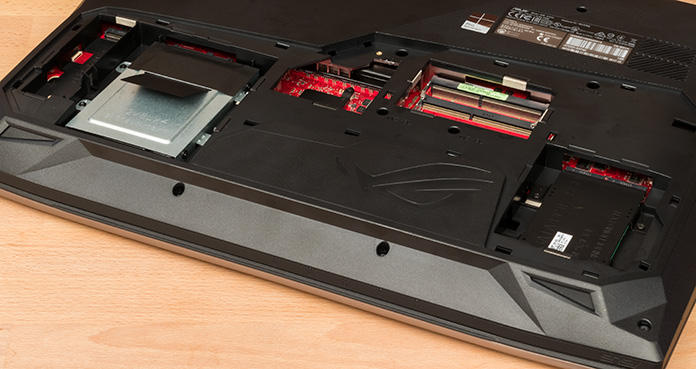 Upgraders will appreciate the access panel in the belly of the chassis. It's held in place by a single Philips screw, making removal a cinch, and inside the memory and storage await. The G703VI-XH74K configuration selling in North America hardly needs embellishment, though. With 32GB of RAM and two open SO-DIMM slots, you're ready for serious multitasking out of the box and future upgrades down the road. The 1TB HDD and 512GB NVMe RAID 0 array provide a balanced mix of blazing speed for your favorite games and apps, plus high capacity for everything else.
ROG G703VI-XH78K
CPU
Intel Core i7-7820HK OC
GPU
NVIDIA GeForce GTX 1080 OC
8GB GDDR5X
Display
17.3" IPS-type 144Hz G-Sync
Resolution
Full HD 1920 x 1080
Memory
32GB DDR4-2800
Storage
512GB NVMe RAID 0 (2 x 256GB M.2 SSD)
1TB HDD
Networking
Gigabit Ethernet
Dual-band 802.11ac Wi-Fi
Connectivity
HDMI 2.0, Mini DisplayPort, Type-C Thunderbolt/USB 3.1 Gen2, 4 x USB 3.1 Gen1, 2 x 3.5-mm audio, Bluetooth 4.2, Xbox One wireless
Battery
8-cell 71Wh
Dimensions
16.7" x 12.6" x 2.0"
Weight
10.4 lbs
OS
Windows 10 Pro
MSRP
$3499 USD
$4499 CAD
Availability (USA)
ASUS Store
Newegg
Amazon
B&H
Best Buy
Availability (Canada)
Canada Computers
Memory Express
Newegg
High-end desktop gaming to go
Taking a high-end desktop gaming experience on the road is a tall order, but the ROG G703 gaming laptop delivers with a potent cocktail of cutting-edge components. Everything works together, from the beefed-up cooling that chills the overclocked internals, to the ultra-fast display that pumps out flawless frames, to the upgraded inputs that connect you physically to the game. The result is an absolute beast of a machine that will make you rethink your expectations for gaming laptops and desktops alike. You can find the ROG G703VI-XH78K selling for $3499 USD and $4499 CAD at the retailers listed in the table above.