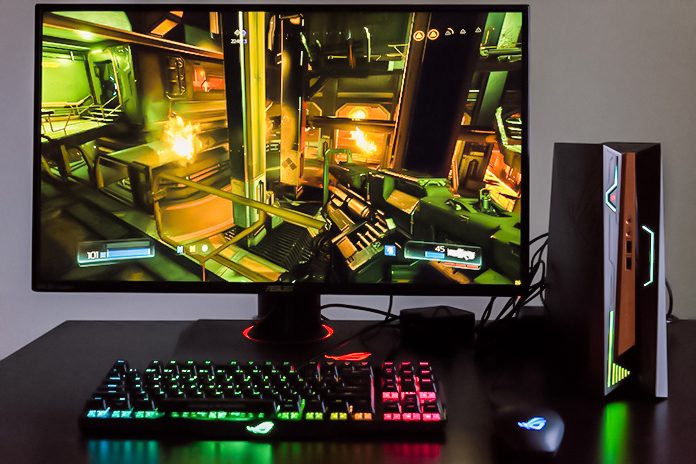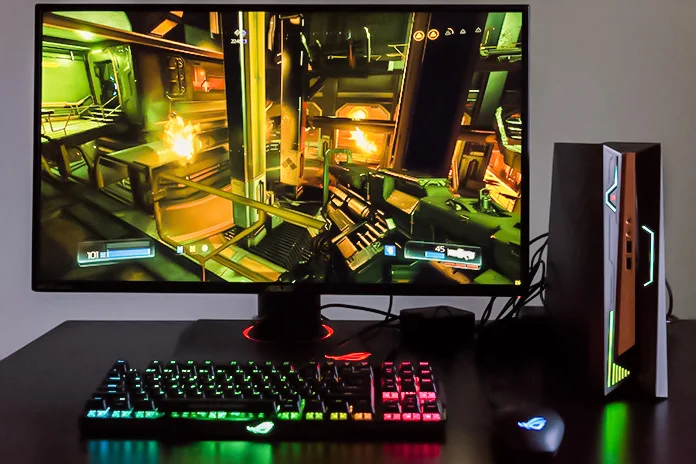 Despite the release of the PlayStation 4 Pro and Xbox One S in 2016, the current generation of consoles is several steps behind what's available to PC gamers today. Still, there are those who crave something other than desk-bound battle stations; many gamers prefer to play on their home theater setups from comfy couches – the classic home of consoles. The new ROG GR8 II is the ultimate solution for this environment and for gamers who want a sleek, compact form factor with more power and infinitely greater flexibility than consoles.
Big power in a small package
Brand new for 2017, the GR8 II has a volume of just four liters, so it's about the size of a gaming console. The original GR8 was smaller, but it had low-power mobile parts. This revival packs full desktop hardware, enabling much better performance. The top configuration is powered by the latest 7th Gen Intel Core i7-7700 quad-core processor with Hyper-Threading; it can process eight threads simultaneously, giving you the muscle to handle some fairly hefty productivity and content-creation loads if you want to mix work and play.
Pushing the pixels is a custom NVIDIA GeForce GTX 1060 graphics card that makes short work of gaming at Full HD resolutions. The GPU is VR-ready, so you can hook up the HTC Vive or Oculus Rift, and the card has two HDMI outputs, making it perfectly suited for running a VR headset alongside a traditional display. The card also adds a DisplayPort 1.4 output with full support for G-Sync-compatible gaming monitors that smooth out stuttering and eliminate tearing artifacts – another feature you won't find on consoles.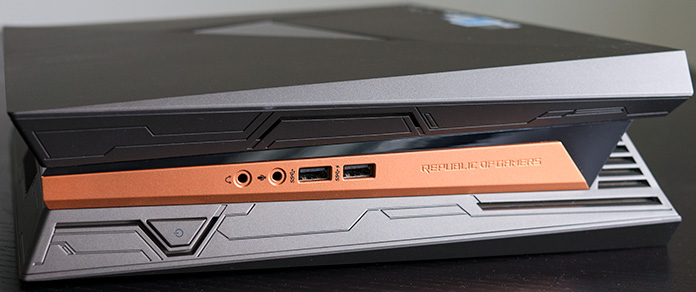 While the specs can be matched by other machines, the integration into such a compact chassis is what sets the GR8 II apart. This machine will likely be the most portable gaming PC at any LAN party, and even around the house. We've already mentioned how competent the GR8 II is for productivity, so it's easy to take from the home office to the living room.
The 2T2R Intel 802.11ac Wi-Fi hardware let us stay connected to the network regardless of where we used the GR8 II, and the Intel Gigabit LAN port with ROG GameFirst IV packet prioritization provides a hardwired option for when gaming gets seriously competitive. There are a pair USB 3.0 ports on the front, with one capable of charging devices even when the system is powered down, and two more at the back. You also get two rear USB 3.1 connectors capable of 10Gbps speeds – one Type A the other reversible Type C. A bundle of audio ports, including separate headphone and microphone jacks up front, as well as a stereo line out and optical S/PDIF out back, make the GR8 II very home theater friendly.

Compact PC gaming for the living room
The ROG GR8 II's console-like size and appearance perfectly complement couch-based gaming setups, but with a load more horsepower and a more diverse gaming library than any console. To test the machine's gaming chops, we played a collection of popular games at 1080p and 4K resolutions. Fraps was used to gather individual frame times from real-world gameplay, and we then converted the data to frames per second (FPS) for easy interpretation. Click the buttons below the graphs to switch between games.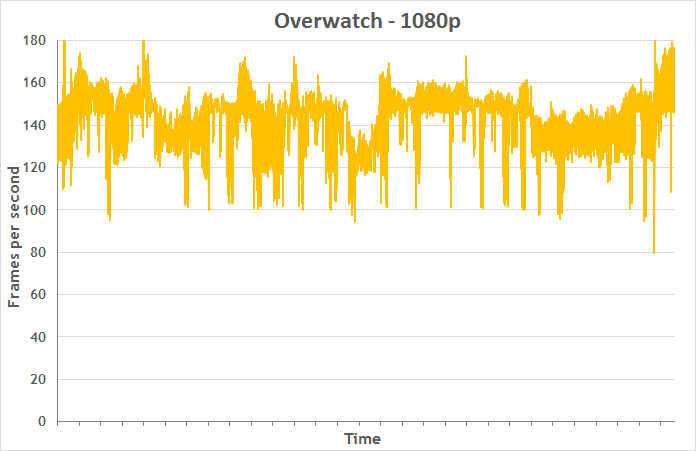 br>
The GR8 II doesn't even break a sweat when gaming at the Full HD resolution common for PC monitors and big-screen TVs. Frame rates were consistently smooth, with graphics quality and performance way beyond than anything you can get on today's consoles.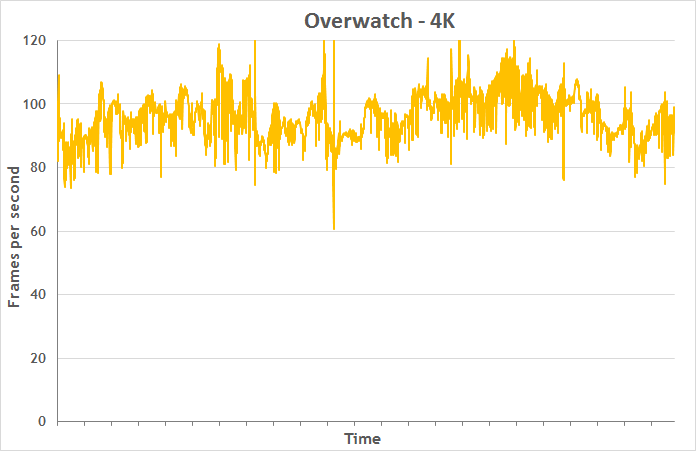 br>
If you're lucky enough to have a 4K display, the GR8 II still manages playable performance. Less-demanding titles like CS:GO and Rocket League run great without backing off the graphics details. We even managed to play Overwatch with the Ultra preset and GTA:V with High settings. With more graphically intensive games, some tweaking is required to accommodate the scaled-back VRAM allocation and core configuration of the GeForce GTX 1060 3GB variant used in the system. We had to use Medium settings in Mirror's Edge and Doom to get the performance illustrated above–and Low settings in The Witcher 3, which is especially strenuous. No-compromise 4K gaming requires more graphics power than the GR8 II provides, but unlike with consoles, you have the freedom to adjust the graphics details to get acceptable performance.
We weren't able to test VR performance for this article, but the GR8 II has enough oomph to power the new wave of games and experiences available for modern headsets. Stay tuned for a detailed look at the system's VR capabilities.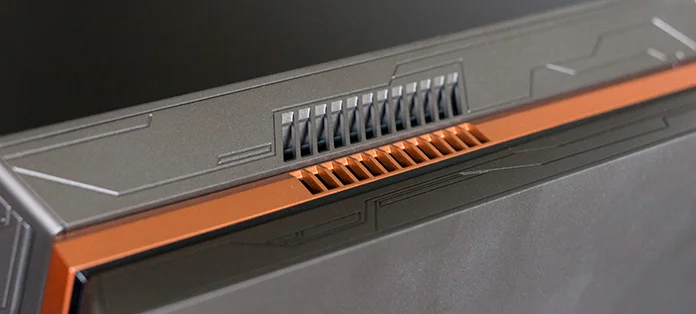 When not gaming, the GR8 II proved to be a fantastic home-theater PC (HTPC). Its small size fits neatly in almost any arrangement, and the whisper-quiet cooling makes the machine imperceptible even during the quietest scenes in movies and TV shows. The fans spin up to an audible level when the GPU is put to use in games, but they're not overly loud. They're even less noticeable if you happen to be sitting on the couch, where you're likely to be further away from the PC than if it were right next to you at a desk.
Customizable and upgradeable
Just because the GR8 II is small doesn't mean it lacks the Aura RGB lighting of its bigger desktop brethren. Illuminating the smaller chassis makes it look even more futuristic. The default pattern is an ever-changing rainbow of colors that snakes its way from top to bottom. It's very cool – almost hypnotic – and the Aura software lets you choose from a total of nine different lighting effects.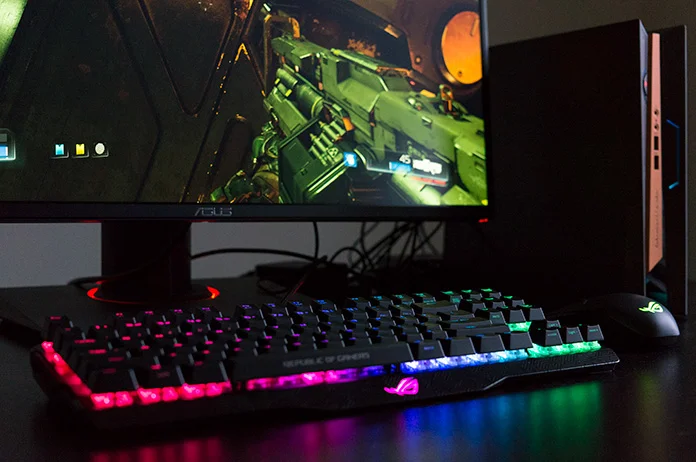 If you have keyboard and mouse compatible with Aura Sync, such as the ROG Claymore and ROG Spatha, you can synchronize the lighting to match across your entire system. While this may seem trivial, it's very much appreciated in a movie-watching or intense-gaming setting, where you want to be free from as many distractions as possible. The lighting isn't just for aesthetics, either; Aura can be programmed to change color with CPU and GPU load to give you immediate feedback on what your system is doing.
Also remarkable for a system size is the dual-drive storage built in. The GR8 II comes packed with up to a 512GB M.2 SSD that's ideal for frequently-accessed and performance-oriented applications, and it has up to a 1TB 2.5" HDD for all your movies, music, and other storage needs. You'll want to put your favorite games on the SSD – especially those with online competitive components – for the quickest load times.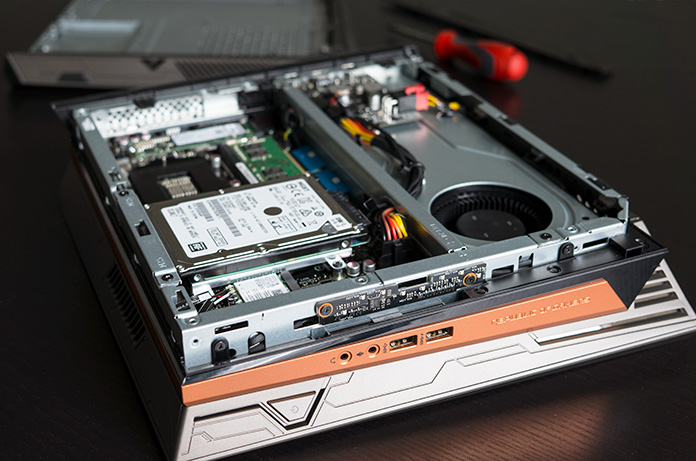 Best of all, the GR8 II is upgradable thanks to a simple slide-off cover that gives access to some of the internals. Should you ever crave more storage or RAM, all you have to do is pop off the plastic cover, remove four screws, and slide off the panel–you'll then have full access to the M.2 slot, HDD bay, and dual SO-DIMM slots. If you really want to crank things up in the storage department, you can run a 2.5-inch SSD along with the M.2 drive.
Much more than a gaming console
At a starting price of $899, there's no question that the ROG GR8 II is more than twice the price of a console. But it has capabilities far beyond what you can do with what is essentially an amped-up set-top-box. It's a small-form-factor PC that fits into a backpack or home theater with room to spare. And it comes loaded with desktop parts that effortlessly tackle serious productivity workloads, easily play the latest games at Full HD resolution, and even handle 4K gaming with the right titles and graphics settings.
GR8 II-T043Z
GR8 II-T069Z
GR8 II-T044Z
CPU
Intel Core i7-7700
Intel Core i5-7400
GPU
NVIDIA GeForce GTX 1060 3GB
Memory
16GB DDR4
8GB DDR4
Storage
512GB M.2 SATA SSD
1TB 7,200-RPM HDD
512GB M.2 SATA SSD
1TB 7,200-RPM HDD
Networking
Gigabit Ethernet
Dual-band 802.11ac Wi-Fi
Connectivity
DisplayPort 1.4, 2 x HDMI, Type-C USB 3.1, Type-A USB 3.1, 4 x USB 3.0, 3.5-mm audio, S/PDIF audio, Bluetooth 4.0
Dimensions
3.46" x 11.77" x 11.07"
Weight
8.8 lbs
OS
Windows 10 Home
MSRP
$1199 USD
$1589 CAD
$999 USD
$1319 CAD
$899 USD
$1189 CAD
Availability (USA)
Amazon
Newegg
B&H
Amazon
Newegg
B&H
Amazon
Newegg
B&H
Availability (Canada)
NCIX
Canada Computers
NCIX
Canada Computers
NCIX
The GR8 II offers the rare balance between compact desktop PC and entertainment device. It's available in three configurations: the GR8 II-T044Z starts with a Core i5-7400 CPU, 8GB of RAM, and a 1TB HDD for $899 in the USA and $1189 in Canada; the GR8 II-T069Z upgrades to 16GB of RAM and switches to a 512GB M.2 SSD for $999 USD and $1319 CAD; and the GR8 II-T043Z tops the lineup with the Core i7-7700, 16GB of RAM, and a 512GB SSD + 1TB HDD combo for $1199 USD and $1589 CAD. Look for the family at the retailers listed in the table above.