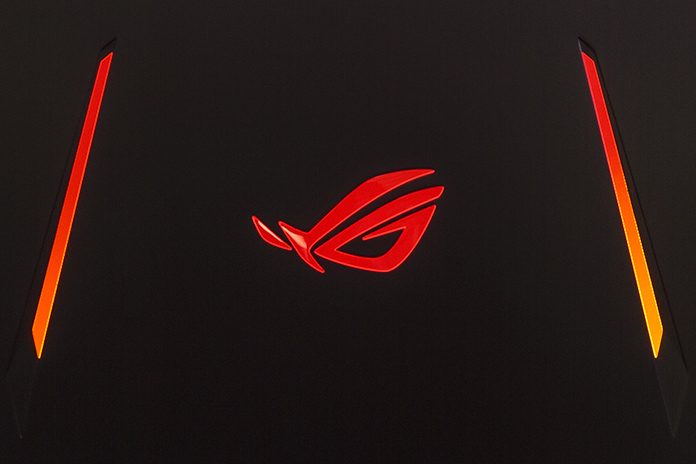 We rolled out a diverse family of updated ROG gaming laptops to coincide with the arrival of Intel's 7th Generation Core processors, otherwise known as Kaby Lake. The lineup runs the gamut from entry-level machines with good overall performance to high-end marvels overclocked beyond stock speeds. People keep asking me which one is best, and the answer really depends. Each has a unique mix of components and attributes tuned for different types of gamers—and different budgets. Some people want a burly desktop replacement with no-holds-barred performance, while others need a more portable battlestation to carry around all day.
If you're looking for the ideal blend of performance and portability, the right ROG gaming notebook can be narrowed down to two choices: the 15.6″ Strix GL502VS and 17.3″ Strix GL702VS. They're virtually identical apart from their screen sizes, and both boast NVIDIA GeForce GTX 1070 graphics paired with 120Hz G-Sync goodness.
I've been playing with the GL502VS for the past week, and it's not only a fantastic gaming rig, but also an eminently capable all-rounder.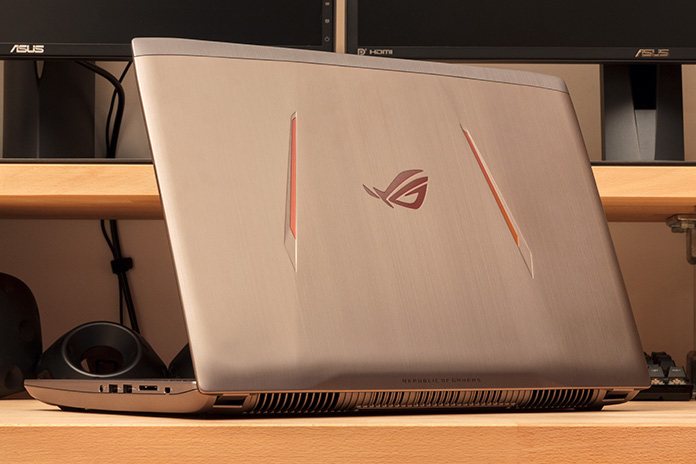 The key to the machine's versatility is its easily portable chassis. At only 1.2" thick and 5.2 lbs, the GL502VS fits into most laptop bags and backpacks with plenty of room to spare. So does the GL702VS, which has the same thickness but a slightly larger footprint. It's also a bit heavier at 6.4 lbs.
Thinner and lighter designs do exist, but they often sacrifice cooling and performance to shave a few millimeters. We don't think that's good trade-off for ROG laptops that put gaming before everything else.
New for this generation, the Strix GL502 and GL702 adopt the Titanium Copper colorway familiar from more exotic ROG gear. The brushed metal lid lights up with glowing accents that add a little bit of flair to a relatively understated design. Brushed textures extend to the main deck, which includes a full keyboard backlit in ROG red.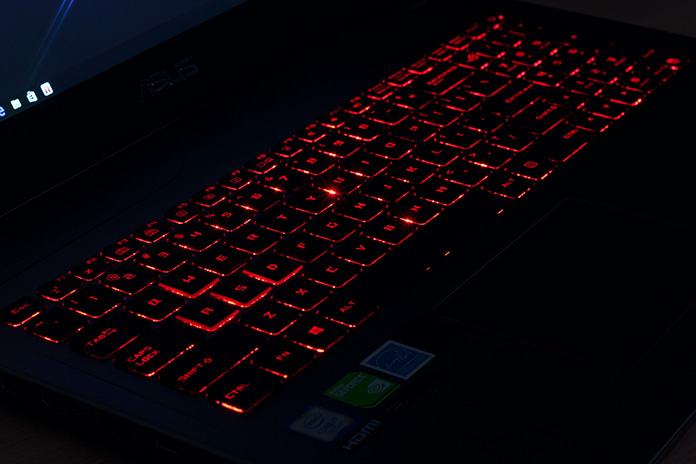 Gaming at 120Hz—and 120 FPS
If you really care about looks, pay close attention to the display. Both laptops have IPS-type panels with vivid colors that maintain their richness across wide viewing angles. Games are appropriately saturated even when viewed from askew, so you can share the screen with a small group of friends and be confident that even people pushed to periphery can see what's going on. If you want to blow things up on a bigger screen, integrated HDMI and Mini DisplayPort outputs are ready for big-screen TVs, projectors, and desktop gaming monitors.
Realistic colors are just one part of the equation. On-screen movement and animation need to be smooth to maintain immersion, so the brothers Strix employ two techniques to ensure maximum fluidity. The first and arguably most important is a 120Hz refresh rate that redraws the screen twice as frequently as typical gaming laptops. This doubling puts more frames in front of your eyes, enabling a true 120-FPS experience. Doubling the refresh rate also halves the delay time between new frames, which reduces input lag and ultimately makes gameplay feel more responsive and connected.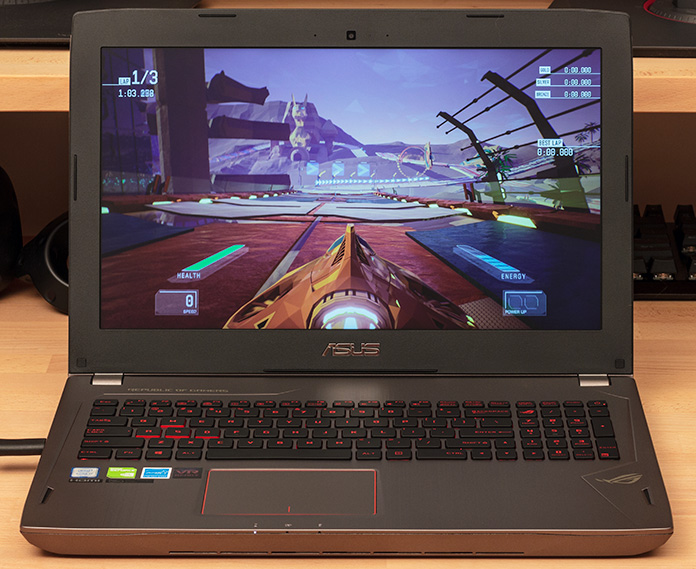 Games need to sustain at least 120 FPS to get the most out of the display, but that can be a tall order if you want to enable all the eye candy. Intricately detailed games like The Witcher 3 require a lot more horsepower with maximum graphics settings than stylized shooters like Overwatch. And, to be fair, The Witcher's slower pace of action is more forgiving of lower frame rates than the frenetic mayhem of the average Overwatch match. NVIDIA's G-Sync technology offers the best experience in both scenarios by tightly coupling the refresh rate of the display with the frame rate of the graphics card. Syncing these components reduces the visible stuttering that can occur when performance dips below the maximum refresh rate. It also eliminates visual tears that cut across the screen, disrupting your view of the scene. That's what we call a win-win, and when you add the display's higher refresh rate, it's really a win-win-win.
120Hz displays demand fast graphics, which is why the GL502VS and GL702VS come with NVIDIA's GeForce GTX 1070. The Pascal-based GPU is clocked only a smidgen slower than its desktop counterpart and comes with the same 8GB of dedicated video memory, so it's well-equipped to push ultra-high frame rates at the 1080p native 1080p resolution of both screens.
Although not as exotic as 4K, Full HD is a great fit for laptop displays. The GL702VS has a pixel density of 127 PPI, which is much higher than most of our desktop gaming monitors, and the GL502VS is even sharper at 141 PPI. Everything looks crisp, from textures in the world to text in the HUD. Combining the two-megapixel resolution with a high-end GPU lets you crank the details in most games and still get into 120-FPS territory.
Check out the following performance data from the GL502VS. I used Fraps to log individual frame times for real-world gameplay and then converted the values to FPS. Click the buttons to switch between games.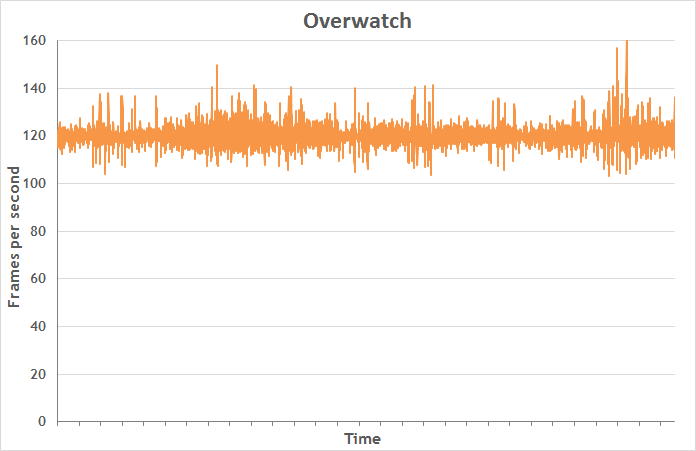 br>
Everything was run with the details maxed and vsync enabled in-game for optimal image quality. It's possible to hit even higher frame rates by tweaking those settings, but this is the sweet spot for speed, visuals, and overall smoothness.
And oh how smooth it is. The relentless forward motion of Redout and Race the Sun is especially silky at the limits of the 120Hz screen, while Thumper's rhythm on rails is more visceral. First-person shooters like Doom, Overwatch, Star Wars Battlefront, and Counter-Strike feel just right, with immediate input and flawless animation that inspire confidence in the heat of battle. Mirror's Edge Catalyst is more of a first-person runner, but the effect is similar, if not more noticeable given how the game encourages a trance-like state when you're in the zone. The performance fluctuations seen in some of the games are completely normal, and G-Sync does a great job of compensating.
Fair warning: high-refresh gaming is addictive. I've had the pleasure of playing beyond 100Hz on multiple laptops and a collection of desktop gaming monitors, and the experience has sort of ruined me. Gaming on 60Hz displays feels awkwardly sluggish and unresponsive after a high-refresh session, especially with the fast-paced titles that dominate my Steam library. To see how 120Hz and 60Hz refresh rates look on camera, check out the high-speed footage in our hands-on look at the ROG G701VI.
GL702VS-DS74
GL702VS-RS71
GL502VS-DS71
CPU
Intel Core i7-7700HQ
GPU
NVIDIA GeForce GTX 1070 8GB GDDR5
Display
17.3" IPS-type 120Hz G-Sync
15.6" IPS-type 120Hz G-Sync
Resolution
Full HD 1920 x 1080
Memory
16GB DDR4-2400 (1 x 16GB)
16GB DDR4-2400 (2 x 8GB)
Storage
512GB SATA M.2 SSD
1TB 5,400-RPM HDD
1TB 7,200-RPM HDD
128GB SATA M.2 SSD
1TB 5,400-RPM HDD
Networking
Gigabit Ethernet
Dual-band 802.11ac Wi-Fi
Connectivity
Mini DisplayPort, HDMI,Type-C USB 3.1, 3 x USB 3.0, SDXC reader, 3.5-mm audio, Bluetooth 4.0
Thunderbolt
Yes (Via Type-C USB 3.1)
No
Battery
4-cell 74Wh
4-cell 62Wh
Dimensions
16.2" x 10.9" x 1.2"
15.4" x 10.5" x 1.2"
Weight
6.4 lbs
5.2 lbs
OS
Windows 10
MSRP
$1999 USD
$2599 CAD
$1699 USD
$1699 USD
$2199 CAD
Availability (USA)
ASUS Store
Amazon
Newegg
B&H
Xotic PC
GentechPC
HID Evolution
Coming soon
iBuyPower
Pro-Star
GentechPC
Computer Upgrade King
Xotic PC
ExcaliberPC
HID Evolution
Mobile Advance
Jacks of all trades that master many
While the ROG Strix GL502VS and GL702VS are designed for hardcore gaming, they can do much more than that. Their GPUs are VR-ready, so you can connect a headset and experience virtual worlds from a completely different perspective. And their Core i7-7700HQ quad-core CPUs make quick work of demanding tasks like video editing heavy multitasking, so you can mix work and play on the same machine. There's something extremely satisfying about seeing the chip's eight logical processor cores displayed in the Windows Task Manager, especially alongside the accompanying 16GB of DDR4-2400 memory.
Storage is a dual-drive affair split between a conventional hard drive and optional M.2 SSD. With a terabyte of capacity, the HDD has plenty of space for all your files. The SSD's nearly instantaneous response times are ideal for your OS, applications, and frequently played games. The GL502VS-DS74 comes with a 128GB SSD, while the GL702VS-DS74 bumps the solid-state capacity up to a whopping 512GB. Select retailers also offer the GL702VS-RS71, which can be configured with a range of different M.2 drives depending on how much you're willing to spend.
The stock configurations aren't destiny if you're handy with a screwdriver. 10 Philips screws hold the bottom panel in place, and they can be removed in less than a minute if you want to get at the guts. Both memory slots and storage bays are easily within reach, and you can equip up to 32GB of RAM and an NVMe-based PCIe x4 SSD. The CPU and GPU are soldered to the motherboard under a dual-pipe cooler linked to twin turbines that exhaust hot air out the back of the chassis, away from your hands.
You don't need to pop open the case to expand these machines. Three Type-A USB ports offer ample connectivity for existing devices, while a reversible Type-C connector is primed for next-gen gear capable of speeds up to 10Gbps. On the GL702VS, Thunderbolt support lets the Type-C port push up to 40Gbps—and tap into the ROG XG Station 2 external graphics dock. We've also courageously integrated Gigabit Ethernet, an SD card reader, and an analog audio jack to make the system as versatile as possible—with no dongles required.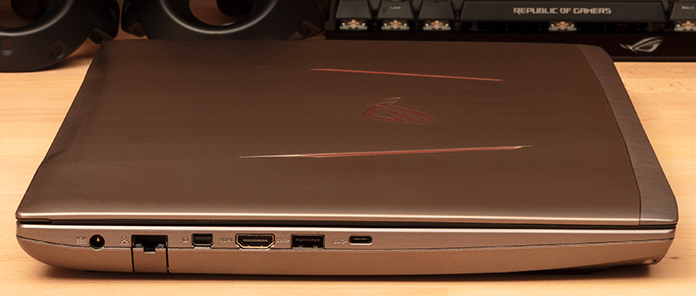 Specced to game and priced to move
No one gaming laptop can be all things to all people, but the ROG Strix GL702VS and GL502VS come close. They're powerful without sacrificing portability and include all the little things gamers crave, like anti-ghosting keyboards and bundled XSplit streaming software. Serious gamers who are constantly on the move should have these machines at the top of their list.
The GL502VS-DS71 gives you a slightly smaller and lighter package for $1699 in the USA and $2199 in Canada. I like that it's more compact, but its big brother has some nice perks. The GL702VS-DS74 puts the action on a bigger screen, its 512GB SSD holds more games, and Thunderbolt broadens your peripheral options. That's an appealing set of upgrades for $1999 USD and $2599 CAD. Being able to configure your own GL702VS-RS71 at select retailers also has some allure. That model starts at $1699 with a faster 7,200-RPM hard drive, and you can pick from a range of SSD sidekicks up to 2TB!
If you want to save a few Benjamins, the GL702VM-DS74 scales back to a 60Hz display, slower GeForce GTX 1060 graphics, and a 128GB SSD for $1499 USD and $1999 CAD. You still get G-Sync and wide viewing angles, just no high-refresh awesomeness. Its GL502VS counterpart follows a similar plot, but with half the system memory soldered to the motherboard, and a slightly thinner chassis as a result. The asking prices are the same at $1499 USD and $1999 CAD.
For me, the 120-FPS experience is easily worth spending more, especially considering the total cost of the system. Look for the new ROG Strix GL-series gaming laptops at the retailers listed in the table above.