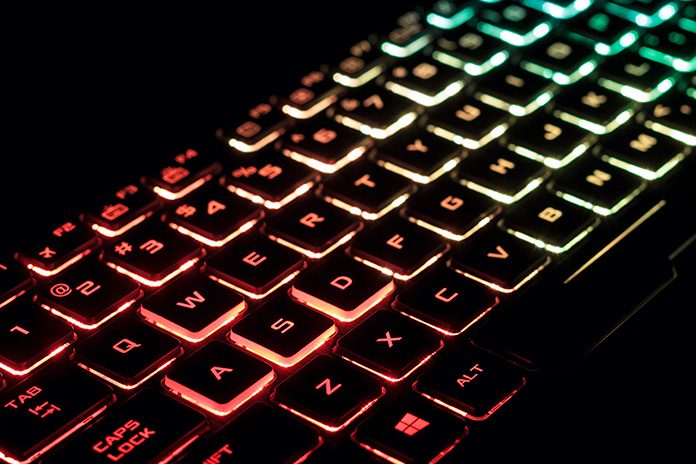 It's easy to get excited about high-end gaming laptops. Machines like our latest ROG G701VI and G752VS continue to push the limits of performance while integrating 120Hz displays that make gameplay much more responsive and immersive. But you pay for the privilege, with prices starting at $2499 and scaling up from there. That's well beyond the means of most buyers.
Fortunately, our ROG lineup has something for everyone, including gamers with tighter budgets. The new ROG Strix GL553 and GL753 gaming notebooks start at only $1099. They don't skimp on features, either. You still get a fast quad-core CPU, discrete GeForce 10-series graphics, a Full HD IPS-Type display, and customizable RGB lighting. And you'll have enough change left over to add to your Steam library or spring for upgrades.
The obvious question is which of these budget gaming laptops is best, but it's not quite that simple. Each one is available with GeForce GTX 1050 or 1050 Ti graphics, a choice that has a big impact on gaming performance. To get a better sense of how things play out in the real world, I snagged a couple of laptops and put them to the test.

A common core ready for gaming and more
Before exploring the differences in gaming performance, it's worth highlighting the common elements shared by these two fraternal twins. Both laptops are equipped with fast quad-core processors from Intel's new Kaby Lake generation. The Core i7-7700HQ chips can execute up to eight threads in parallel, which is great for heavy multitasking, and they scale up to 3.8GHz to deliver excellent performance with lightly threaded workloads. Whether you're browsing the web, editing photos, or rendering videos, the ROG Strix GL553 and GL753 have horsepower to spare.
Machines in this price range need to be capable of doing a little bit of everything, which is why we opted for IPS-Type displays. The panel technology produces more vivid colors than TN alternatives, making everything from games to movies to photography look more lifelike. The picture doesn't wash out when viewed from off-center angles, so you can gather a small group to watch movies or play split-screen multiplayer games. And, as an added bonus, a matte coating prevents glare and reflections from disrupting your view of the action.
The display isn't the only component bursting with colors; the Aura-infused keyboard lets you choose from a rainbow of different hues. RGB backlighting is hardly new, but it's usually confined to high-end gear. We want to make customizable lighting affordable for everyone.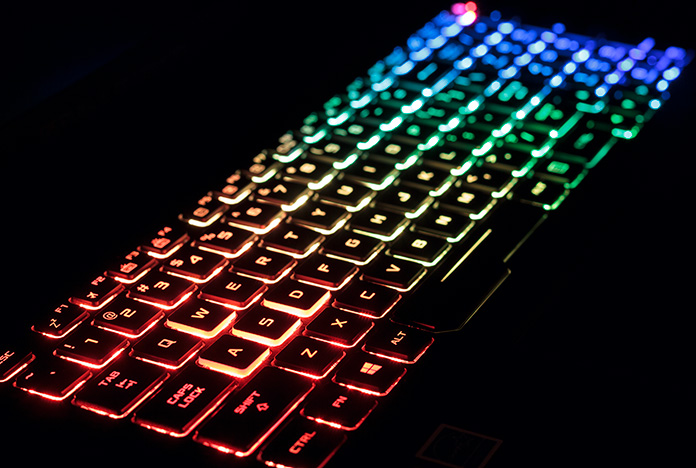 The backlighting is split between four zones that can be configured independently or synchronized harmoniously. Static, breathing, and color-cycling modes are available with everything in-sync, while independent configs drop the cycling option. The included Aura Core software offers full control over colors and effects, and it includes three profiles for saving multiple motifs. It's also tied to our ROG Gaming Center software, which can activate your preferred keyboard, display, and audio profiles automatically when specific applications are launched.
The keyboard's gaming optimizations extend beyond adding a bunch of LEDs. An ample 2.5-mm of travel makes keystrokes feel deliberate and precise, and the left side of the spacebar is slightly larger to provide a bigger target for your thumb. To ensure uninterrupted input during the heat of battle, anti-ghosting tech supports 30-key rollover, letting you simultaneously mash more keys than you have fingers.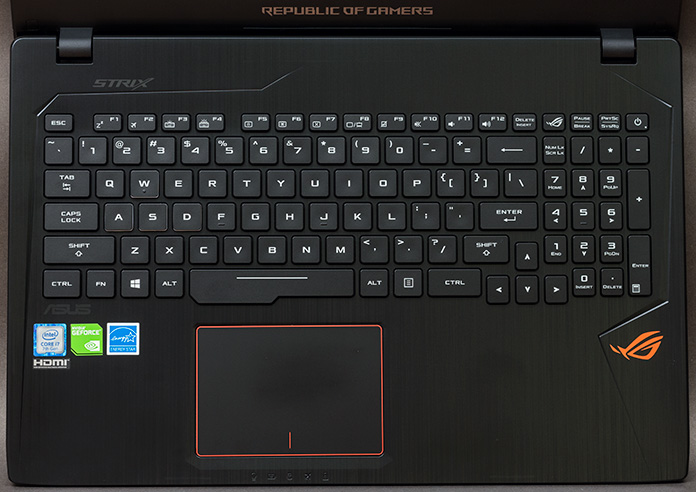 All the ROG Strix GL553 and GL753 configurations available in North America come with 16GB of DDR4 memory. That's more than enough for gaming and other applications, but you can bump up to 32GB for hardcore multitasking and content creation. Storage is split between an M.2 slot and 2.5" drive bay. Model variants ending in DS74 combine a 256GB M.2 SSD with a 1TB 5,400-RPM HDD, while the entry-level DS71 omits the SSD and upgrades the HDD to a faster 7,200-RPM unit.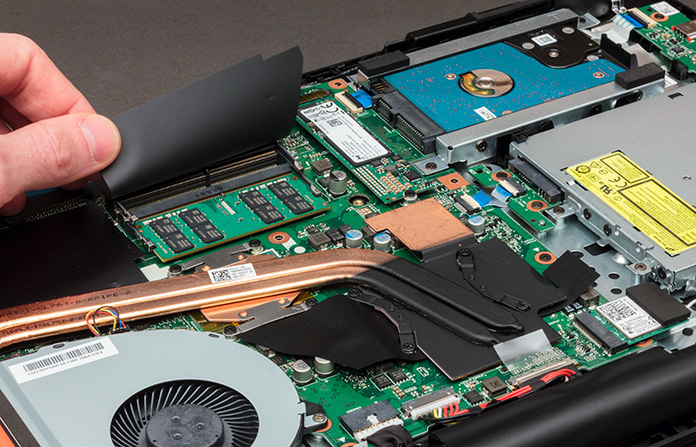 Those memory and storage configurations should really have an asterisk, because swapping components is incredibly simple. A few minutes with a standard Philips screwdriver is all that's required to remove the bottom of the chassis and expose the internals. The memory is confined to a single SO-DIMM, leaving one slot open for upgrades, and the M.2 slot and 2.5" bay are both easily accessible.
The internal expansion options are bolstered by loads of external connectivity. There's an optical drive for your vintage DVD collection, an HDMI output for big-screen TVs and other auxiliary displays, a reversible Type-C USB connector for next-gen devices, and three Type-A USB ports for existing gear. Gigabit Ethernet is built in, ensuring a low-lag connection for serious multiplayer gaming, while 802.11ac Wi-Fi and Bluetooth provide wireless convenience. Both laptops also have a standard 3.5-mm headphone jack, but the G753's larger chassis leaves room for a Mini DisplayPort output and an additional USB port.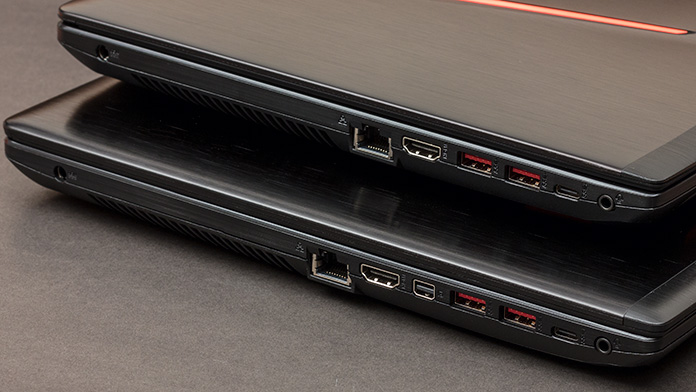 Delving into the differences
Although both laptops measure 1.2" thick, the ROG Strix GL753's 17.3" display requires a larger footprint than the 15.6" panel on the GL553. The smaller chassis is slightly lighter, with the GL553 tipping the scales at 5.5 lbs and the GL753 weighing 6.2 lbs. Either one is portable enough to stuff into a backpack and carry all day.
The most important difference for gamers is the choice of GPUs. Both machines can be configured with either NVIDIA's GeForce GTX 1050 or 1050 Ti. The chips are based on the same Pascal architecture that powers the rest of the GeForce 10 Series, and they use the same silicon as their desktop counterparts. They also come with the same 4GB of dedicated GDDR5 VRAM.
The differences come down to core counts and clock speeds; the GTX 1050 Ti has 768 CUDA cores with 1493MHz base and 1620MHz boost frequencies, while the GTX 1050 has 640 cores clocked at 1354MHz base and 1493MHz boost. With more cores running at higher speeds, the GTX 1050 Ti has substantially more pixel-crunching power at its disposal.
To see where that matters—and how much—I tested a bunch of games at the 1080p native resolution used by both laptops. Fraps logged individual frame times during gameplay, and I converted the data to FPS for easy interpretation. Because the data is based on the number of frames generated by each GPU, faster configurations produce longer lines. The graphs also feature a consistent 60Hz line that identifies the maximum refresh rate of the display. Vsync was disabled for all tests to illustrate how much performance headroom is available above that refresh rate.
CS:GO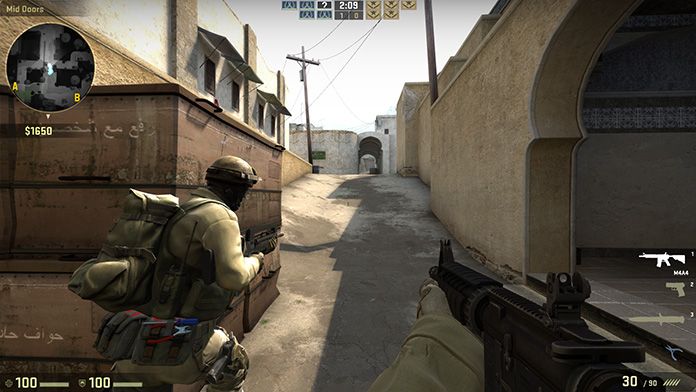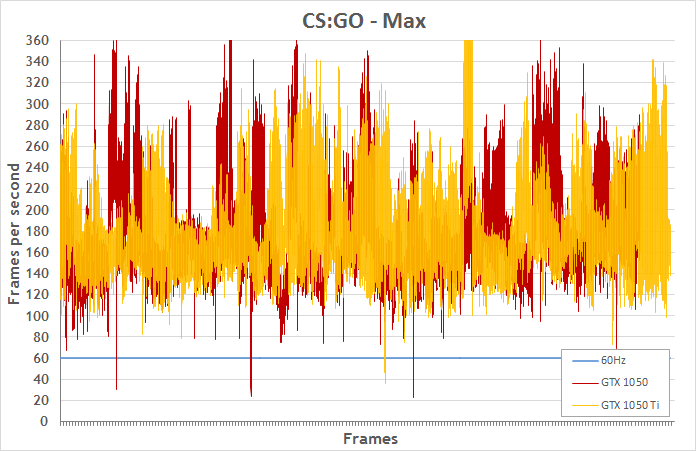 Counter-Strike remains one of the most popular games around, but to be perfectly honest, testing it was kind of a waste of time. Even the GTX 1050 has no problem sustaining triple-digit frame rates with the in-game details turned all the way up. Although performance fluctuated throughout my five-minute tests, high frame rates made the gameplay feel perfectly smooth on both GPUs.
Rocket League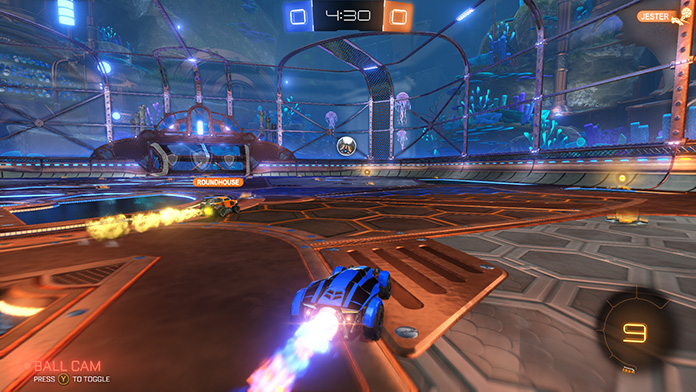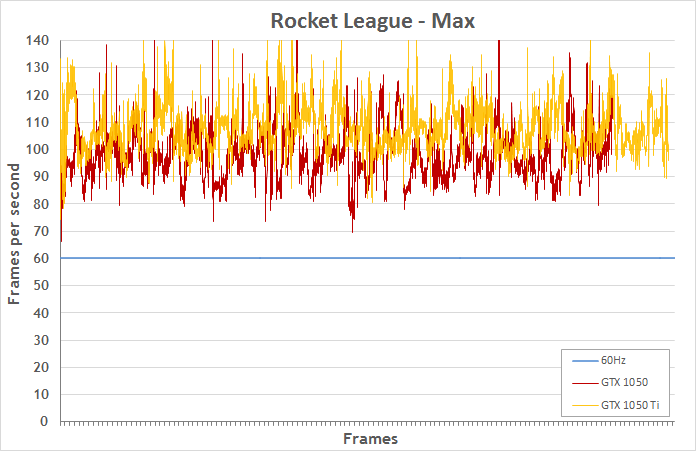 Even with the eye candy maxed out, Rocket League runs like a champ on the GTX 1050. The 1050 Ti performs even better, but it's hard to tell the difference with the refresh rate capped at 60Hz—the equivalent of 60 FPS. Both GPUs stayed comfortably above that level for the duration of my five-minute test runs.
Overwatch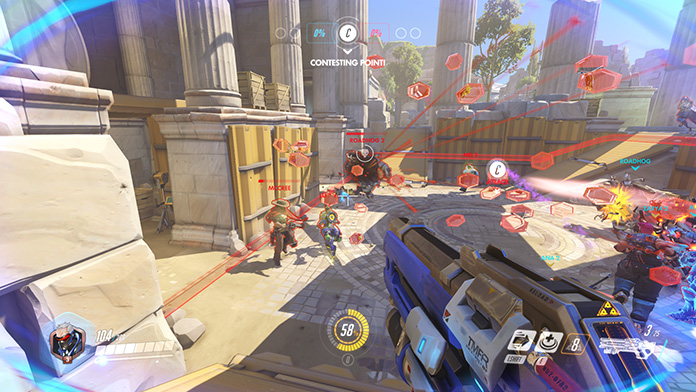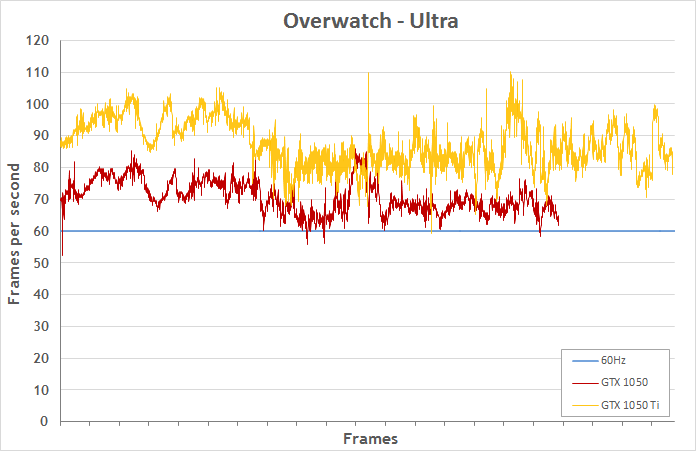 I didn't expect the GTX 1050 to run Overwatch with the Ultra graphics preset, but it barely dipped below 60 FPS during my one-minute tests. That's pretty incredibly for an entry-level gaming GPU, especially one stuffed inside such an affordable laptop.
The 1050 Ti is definitely faster. The graph clearly shows an advantage of 15-20 FPS, and the longer plot highlights the fact that more frames were produced during the session. I can feel the difference, too. Movement is noticeably smoother on the 1050 Ti, without the slight jerkiness that occasionally manifests on the 1050. You can always raise the 1050's frame rates—and improve the accompanying subjective experience—by dialing back the details to High, which is what the game recommends for this GPU.
Doom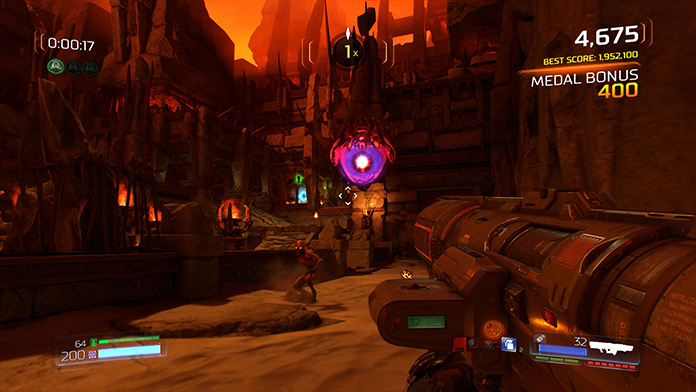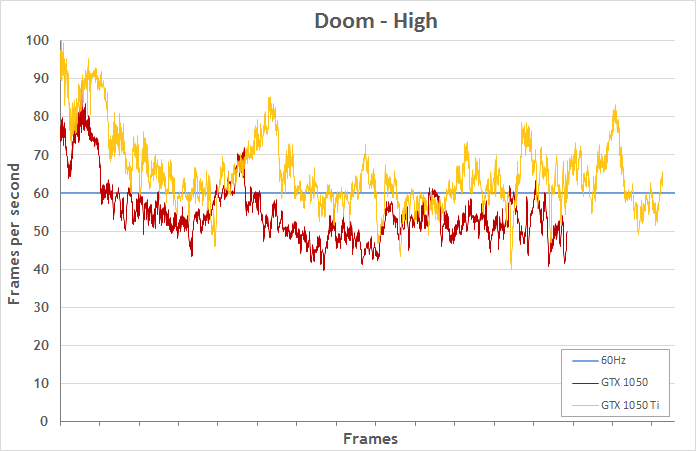 Probably my favorite game of the past year, Doom is loaded with heart-thumping encounters that pit you against hordes of monsters simultaneously. I used one of these demanding scenes for testing, and performance was reasonably good with the High graphics preset. The GTX 1050 Ti spent most of its time over 60 FPS, while the 1050 largely stayed in the 40-60 FPS range.
The overall experience was good, although the action didn't feel as fluid as in Overwatch for either GPU. If you want the smoothest experience on fixed-refresh displays like those in the Strix GL553 and GL753, it's best for the frame rate to always be higher than the refresh rate. That can be achieved by tweaking a few graphics settings.
Mirror's Edge Catalyst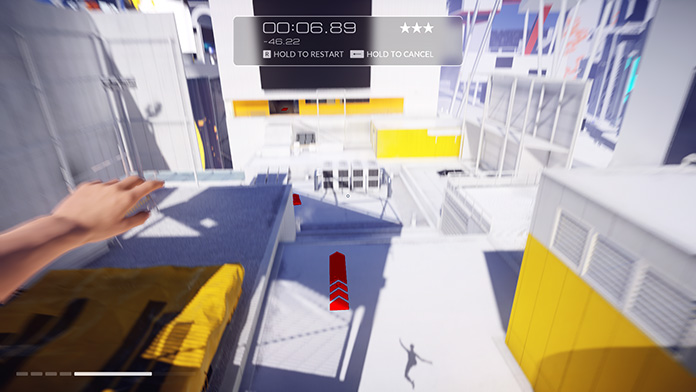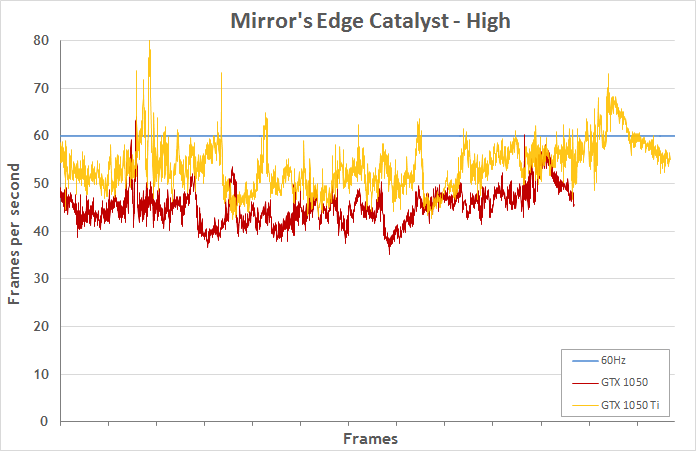 Here's a case where both GPUs fall short of the 60-FPS ideal. The High graphics preset we used bears some of the responsibility, and it comes with the usual caveats about getting better performance by backing off on the details. But that's not strictly necessary, because Mirror's Edge still plays well enough to offer an enjoyable experience with these settings. Sometimes, it's worth trading frames per second for prettier visuals.
If you want to strike the best balance, the 1050 Ti obviously has more headroom. The standard 1050 still has enough oomph to tackle blockbuster titles, though.
Watch Dogs 2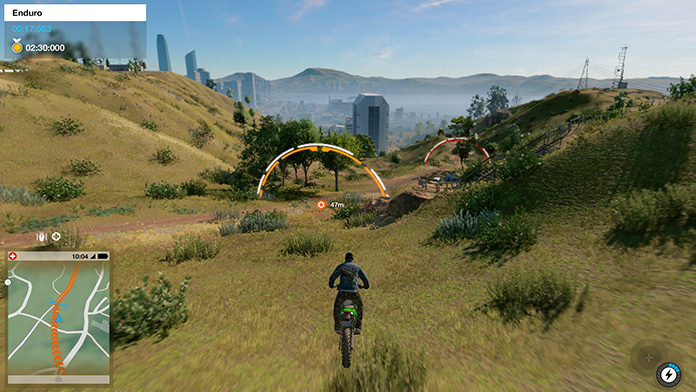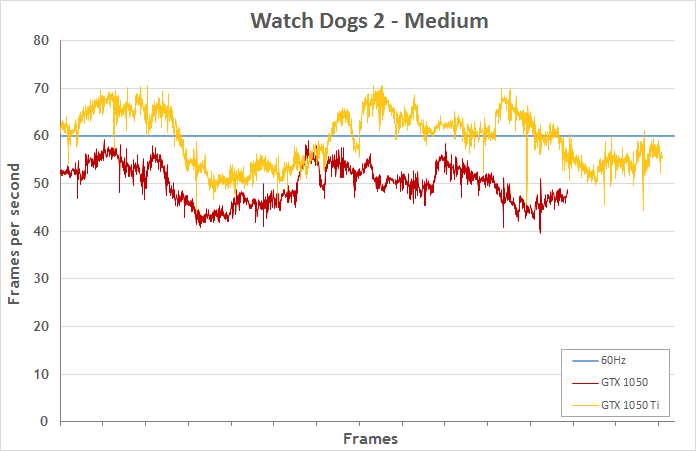 Speaking of blockbusters, Watch Dogs 2 presented the biggest challenge for our budget gaming laptops. I had to scale back to the Medium graphics preset to get a good experience, but the game still looks good with the details dialed back.
Once again, there's a definite difference between the 1050 and 1050 Ti. The Ti runs around 10 FPS faster, and it feels noticeably smoother than the standard 1050. That said, the game's slower pacing is fairly forgiving, making lower frame rates feel better than they would in twitchier shooters like Doom and Overwatch.

And the winner is…
The ROG Strix GL753 and GL553 are great laptops for gamers who want to work and play without breaking the bank. They're ideal for cash-strapped students living on ramen diets and for new PC gamers who aren't quite ready to make a bigger hardware investment.
Within the family, there are two sets of choices. The first is between the GL753 and GL553, which comes down to screen size and a couple of ports. If you're strapped for space—in your bag or on your desk—the 15.6″ GL553 is the better option. But 17.3″ GL753's bigger screen is a nice perk if you have the room, and narrower bezels make it feel even more expansive. Add a DisplayPort out and extra USB port, and you're getting more for the same price.
Then there are the two configurations: the GL753VD-DS71 and GL553VD-DS71 offer GeForce GTX 1050 graphics and a 1TB HDD for $1099 in the USA and $1399 in Canada, while the GL753VE-DS74 and GL553VE-DS74 upgrade to the 1050 Ti, add a 256GB SSD, and dial back the HDD speed for $1299 USD and $1699 CAD. The GPU upgrade is definitely welcome if you play graphically intensive games, want an edge in competitive multiplayer matches, or desire extra headroom for future releases. It's not enough to justify the $200 premium on its own, but the accompanying SSD makes up the difference by improving overall system responsiveness and reducing load times for games, applications, and even the OS.
It's hard to go wrong either way, because the standard 1050 is still fast enough for popular games, and the chassis makes it easy to add your own SSD. The best option really depends on what games you play. Look for the Strix GL553 and GL753 at the following retailers, and be sure to check out the rest of the lineup in our ROG gaming laptop guide.