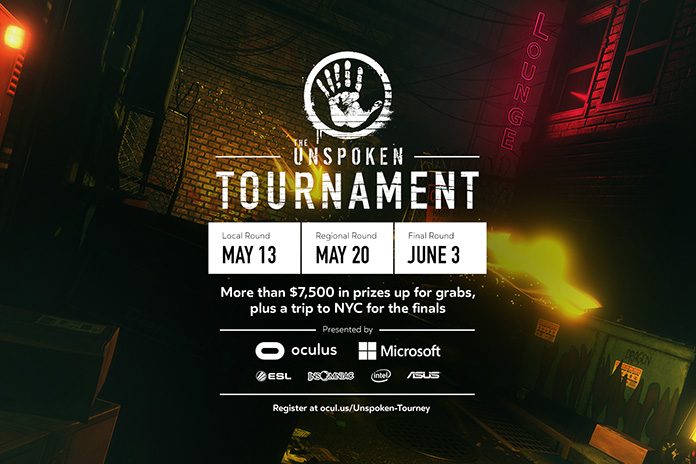 The esports scene is growing rapidly, and it's not just for traditional games. Intense competition is about to enter virtual reality. ASUS ROG is teaming up with ESL, Insomniac Games, Intel, Microsoft, and Oculus to create the world's first VR tournament. Starting May 13, players will face each other in one-on-one spellcasting duels in The Unspoken, a VR action game designed for motion-enabled Oculus Touch controllers.
Developed by Insomniac Games, The Unspoken lets you channel your inner Arch-mage. Players duel in dynamic urban environments with destructible elements and other features they can use to their advantage. Spells are cast with fluid, motion-fueled gestures that bring a greater sense of presence to the virtual experience. Check out some game footage in the trailer below.
Smooth VR experiences require serious horsepower, especially for competitive matches where split-second timing can be the key to victory. That's why the tournament will run on Oculus Rift headsets and Touch controllers connected to ROG's G752 gaming laptop. This beastly desktop replacement has an unlocked Intel Core i7-6820HK CPU and NVIDIA GeForce GTX 1070 graphics that comfortably exceed the requirements for The Unspoken. The laptop is also powerful enough to pump out high frame rates in traditional games and deliver excellent performance for content creation and other demanding tasks.
The tournament will take place across 80 Microsoft Stores in North America. It begins May 13, and the best local players will compete in regional finals on May 20. The top players from each region will earn a free trip to the finals in New York City on June 3. They'll compete in a special esports studio inside the Microsoft Flagship Store.
All the sponsors are contributing to a prize pool that's worth over $7,500 and includes our own Oculus Ready VivoPC X mini desktop. You can sign up to compete starting today at participating Microsoft Stores. Hit the official tournament page for more details.
Legal disclaimer: NO PURCHASE NECESSARY. Open only to legal residents of the United States and Canada excluding Quebec. Open to players 13+, some restrictions apply. Round 1 ends 5/13/17. For details, see www.oculus.com/unspoken-tournament or your local Microsoft Store.