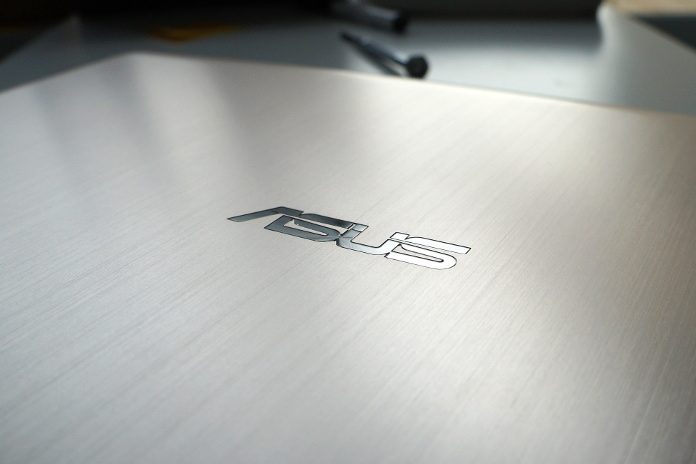 "What will you be using your computer for?" It's a question any half-decent salesperson will ask, but they might as well be asking, "Where do you see yourself in five years?" If your answer is anything but definitive, it'll immediately incite a discussion based solely on your current needs. Do you play games? Are you a photographer? Will you be using this computer for work? All great questions, but they're designed to help you figure out what you need right now, and they tend to preclude talk of what you might want to do in the future.
The problem with eliminating all the things you don't do is that you may not be left with a whole lot of wiggle room for things you might do someday. The great deal you got on that mid-range laptop might be enough for now, but your next job or a newfound love of graphic design could well send you back to the store within the year.
The VivoBook turns semi-pro
We built the VivoBook Pro N580 as a consumer machine but gave it the flexibility of a professional notebook by upgrading certain components. The idea is to insure yourself against the things that are likely to cause problems down the line, and save money on the stuff that won't. That way, you're less likely to run out of power when you pick up a new hobby or skill, but you won't pay an exorbitant amount either.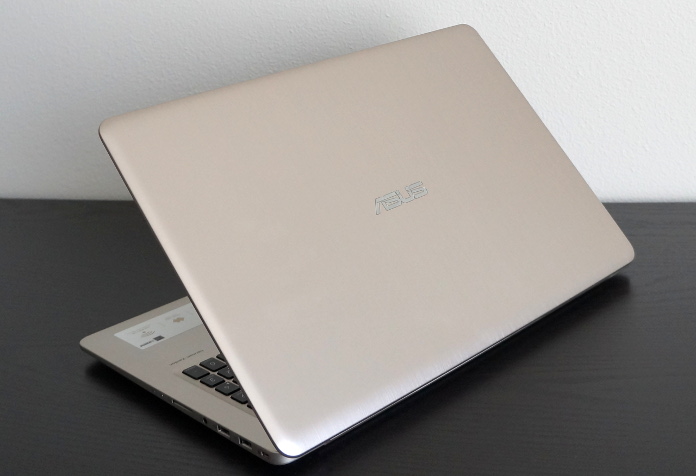 Running the whole show is a quad-core Intel Core i7-7700HQ processor with eight parallel threads of execution, the same breed of CPU that powers other professional portables and high-end gaming machines. This powerful processor works in tandem with a whopping 16GB of RAM, which might even be more than what's in your desktop. Whether you're spending your workday hopscotching between spreadsheets, email, and multiple Chrome windows, or editing video while streaming music in the background, this potent pairing easily handles heavy multitasking across different applications.
Even under heavy CPU loads, the VivoBook barely breaks a sweat. It's got a dual-fan cooling system and three vents (two on the bottom of the laptop and one hidden in the hinge). During a stress test with Prime95, the fans were audible but not remarkably loud. The keyboard deck stayed between 90°F and 95°F under a full CPU load, and though the underside was a little warmer, it was never uncomfortable on my lap. Storage is a speedy 512GB M.2 SSD, which offers a fast boot, as well as decreased load times and the general boost in responsiveness that comes with solid-state drives. There's also support for 2.5" drives if you run out of room.
The NVIDIA GeForce 1050 GPU is the same graphics chip powering our entry-level ROG GL533 gaming laptop, and it can easily handle many of today's games at medium or high settings.
Overwatch consistently registered above 60 FPS with the settings on high, and less demanding games like Rocket League and FIFA 17 were buttery smooth. The fans were spinning the entire time I was playing, but a thermal reading put surface temperatures between 100°F and 105°F, so the situation never got too hot to handle.
If you're interested in photo or video editing, your projects will enjoy a nice boost courtesy of the GPU acceleration that's available with popular content creation apps. Discrete graphics are not strictly necessary if you want to run programs like Photoshop and Lightroom, especially if your content creation is limited to light editing, but it's nice to have the headroom for more complex projects. Anyone dealing with multiple layers or adding special effects will be glad of the power the 1050 brings.
Beauty inside and out
I wasn't planning to open up the N580, but a run in with a cup of coffee had me frantically mashing the power button as I reached for a Philips screwdriver. A total of 11 screws secure the rear plate, which pops off with surprisingly little force. They're all visible when you flip the laptop over, so you won't waste precious time gouging out the rubber feet to access any hidden screws.
Mercifully, none of my smelly, sticky coconut cold brew made it inside the laptop. However, I was pleased to find the components of the N580 are actually accessible enough for at-home repairs and upgrades. Two of the USB Type-A ports are on their own daughter board, along with the SD card slot and audio jack, which means you don't need to replace the entire motherboard just because you crammed a vintage USB stick in upside down. In addition to an empty parking spot for a 2.5" drive, you'll find an empty SO-DIMM slot that's easily accessible should you decide to add more RAM. Everything is neatly arranged inside the compact chassis, a rare but welcome sight in a world of unibody ultrabooks held together with glue and stubborn clips.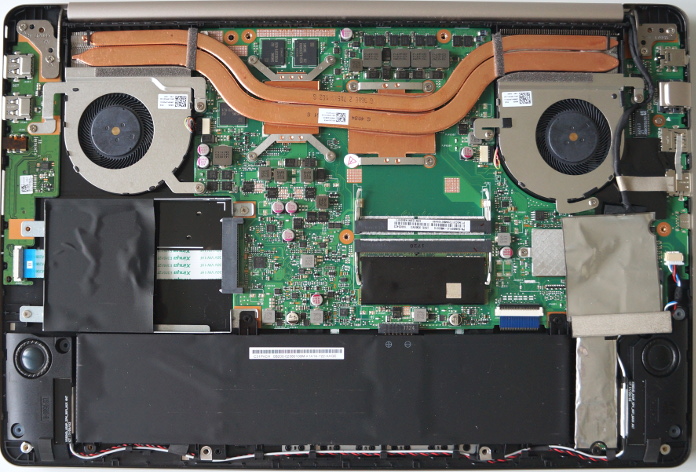 Outside, the N580 is just as beautiful. Its Full HD 1080p touchscreen covers 100% of the sRGB color gamut and has plenty of detail for a 15.6" laptop. You get more pixels per inch on a 15.6" panel at 1080p than if you were to use a 2560×1440  27" monitor or even a 32" 4K display, and support for hooking up to a 4K monitor is on hand if you need to work on really large images in Photoshop. A 178° viewing angle ensures everyone has a good view when working on group projects, and it's great for streaming Netflix with a buddy. I had no problems working by the window on a bright sunny day, nor at night under the overhead lights in my office. Shows with lots of vivid color, like Breaking Bad and Dexter, looked awesome.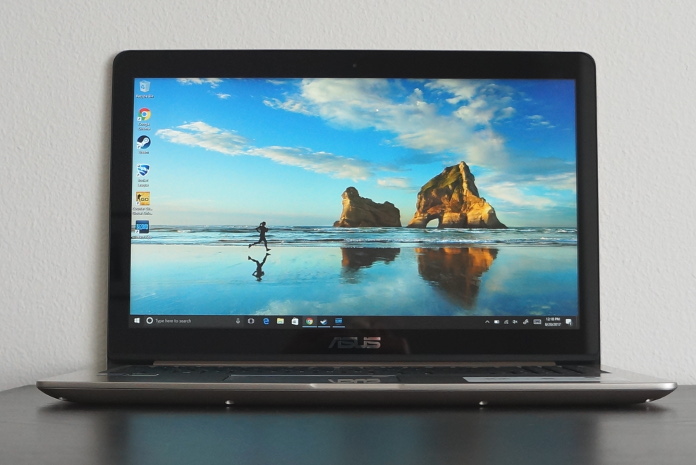 A high-end finish without a high-end price
Of course, specs are only half the equation when shopping for a laptop. Just as important is the surrounding chassis; it needs to be light enough to carry around and not so bulky that it takes up an unreasonable amount of room in your bag. The VivoBook Pro takes its design cues from our premium ZenBook line with sleek metal accents and a tapered profile. It weighs in at just a hair over 5 lbs and measures 20.5 mm thick. The lid and top plate are fashioned from brushed aluminum and colored in a classy champagne tone that'll fit in just as well at school as it will at the office. The bottom is a matte plastic that blends in nicely with the metal, making it difficult to tell this laptop's case is composed of a mix of materials.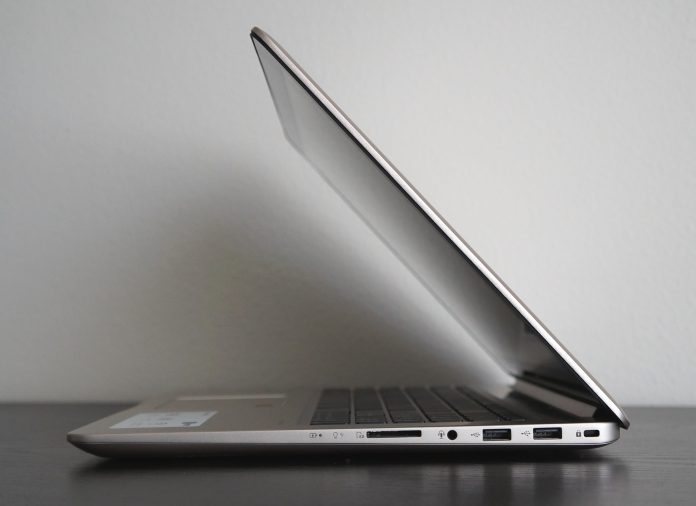 Long work sessions are aided by a backlit keyboard with a full-sized layout that includes a numpad. Slimmer laptops often suffer from mushy keyboards that are uncomfortable or even frustrating to type on. With 1.4 mm of key travel and good tactile feedback, typing on the VivoBook Pro is enjoyable, with a clean, precise feel to each key press. Once I got used to having the numpad to the right, my speed and accuracy with the N580 was no different than what I can achieve with my favorite keyboard.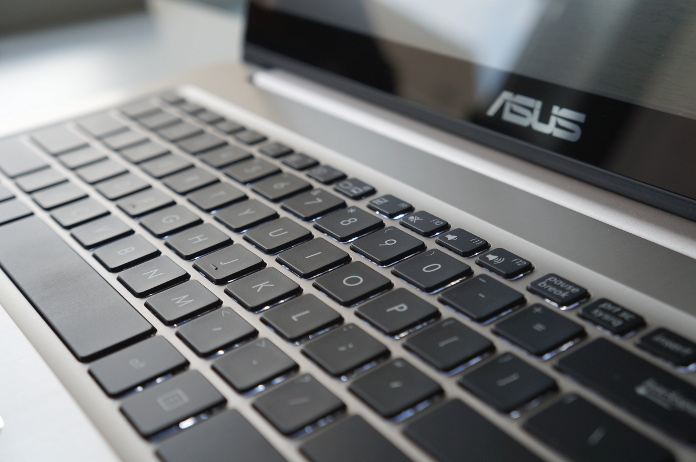 Below is a roomy trackpad that's silky smooth and boasts an embedded sensor for secure sign-in using your fingerprint. It's framed by chamfered edges that have been polished to a high shine, which gives the trackpad an almost backlit effect when the edges catch the sun.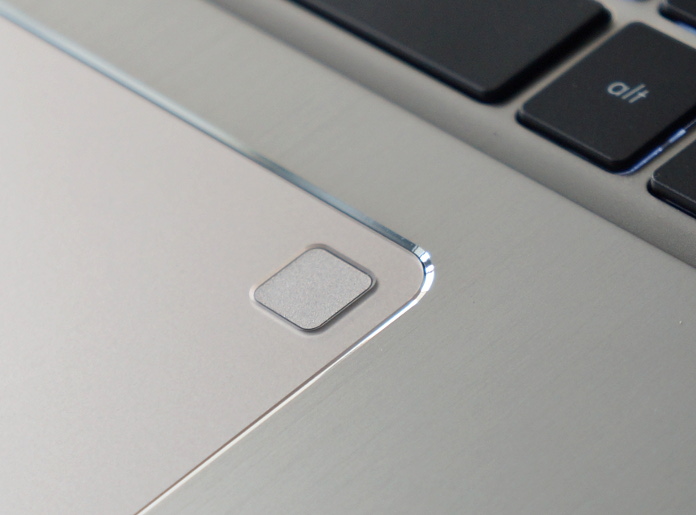 Audio comes via a Harmon Kardon-certified sound system with a smart amplifier that pumps out more than three times the volume of a regular amp, and larger-than-average speaker chambers for clearer, louder sound. They're enough to fill a small room, and the Smart Amp means you can crank the volume without doing long-term damage to the speaker coils. The speakers are located on the bottom of the device, but the laptop's rubber feet add just a smidgen of height to ensure sound isn't muffled by the desk.
One of the biggest issues with today's laptops, regardless of price range, is a lack of connectivity. Ports are sacrificed in a quest to make devices thinner, and therefore more portable. That's the logic, but it falls a bit flat when you're carting around dongles and hubs to get the connectivity you need on a daily basis. The VivoBook Pro ensures you don't have to pack anything extra to plug in a USB stick, use the wired-only internet at your hotel, or transfer photos to your computer. It's got three USB Type-A,one Type-C, a full-sized HDMI port, an SD card reader, an audio combo jack, and a Gigabit Ethernet jack. To avoid making the laptop thicker than necessary, the Ethernet port utilizes a spring-loaded flap that opens up to accommodate the bulky connector and snaps closed when the cable is removed.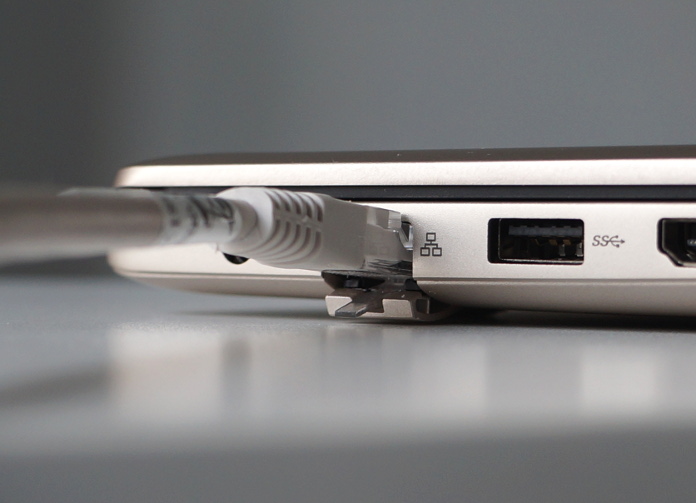 VivoBook Pro N580
CPU
Intel Core i7-7700HQ,
2.8 GHz (6MB cache, up to 3.8 GHz)
GPU
NVIDIA GeForce GTX 1050 2GB
Display
15.6" Wide View touchscreen
Resolution
Full HD 1920 x 1080
Memory
16GB DDR4 2400MHz
Storage
512GB SSD
Networking
802.11ac Wi-Fi with 2x2 antenna
Connectivity
2 x USB 2.0 Type-A, 1 x USB 3.0 Type-A, 1 x USB 3.1 Gen1 Type-C, 1 x audio jack combo, 1 x full-sized HDMI 1.4, 1 x SD card reader, 1 x Gigabit RJ-45LAN

Dimensions
14.96" x 10" x 0.75"
Weight
4.9 lbs
OS
Windows 10 (64-bit)
Price
$1299 USD
$1699 CAD
Availability (USA)
Amazon
Mobile Advance
Excaliber PC
Newegg
Availability (Canada)
NCIX
Canada Computers
Best Buy
Blending professional with great value
Finding a great mid-range laptop with enough horsepower for content creation and gaming is no mean feat, but with its sleek design and high-end components, the VivoBook Pro handily does double duty for work and play. A powerful CPU, 16GB of RAM, full-sized keyboard, and snappy solid state storage get the job done at work, while GTX 1050 graphics, a Full HD display, and rich sound from the Harmon Kardon are there to help you unwind after a long day. Priced at $1299 USD or $1699 CAD, the VivoBook Pro is available now in the United States and Canada. Check out the table above for retailers selling the N580 near you.