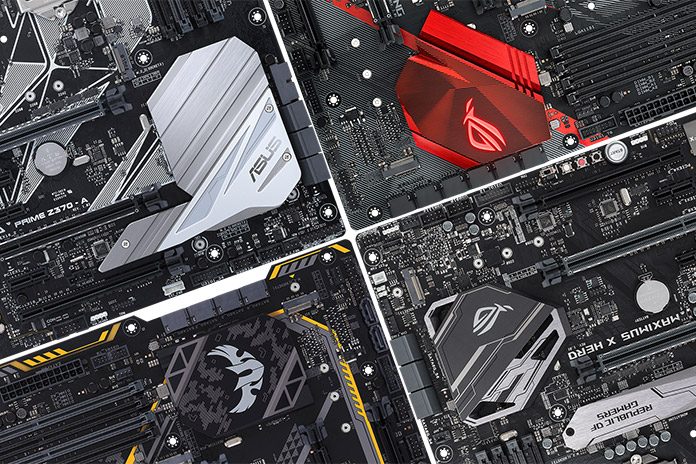 Intel's 8th Generation Core i7 processors mark the fifth in an unprecedented flurry of new desktop platforms this year. Otherwise known as Coffee Lake, these new CPUs add more cores, larger caches, and higher clocks to an already potent foundation. They're not only Intel's fastest desktop chips for gaming, but also substantially better for content creation and power users who do more with their PCs. And they require new motherboards, so we've developed a deep lineup to meet different needs. The diverse cast of models covers a range of priorities, budgets, and form factors. This guide will help you pick the best Z370 motherboard for your Coffee Lake build.
Our Z370 collection spans Prime, ROG, and TUF Gaming motherboards tailored for distinct audiences. There's something to suit all tastes, whether you're a prosumer seeking a well-equipped system for work and play, a hardcore overclocker pursuing performance records on the world stage, or a PC gamer building a battlestation tuned to perfection. Which Z370 motherboard should you buy for Coffee Lake? Let's find out.
Interested in other CPU platforms? Don't miss our guides for motherboards based on AMD's similar AM4 platform for Ryzen CPUs. We also have guides for high-end desktop platforms from both companies: Intel X299 for Skylake-X and Kaby Lake-X, AMD X399 for Threadripper.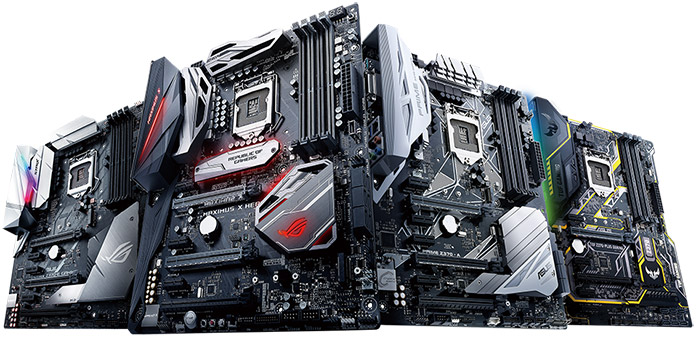 Common threads in a varied lineup
Although each one of our Z370 boards is unique, they're bound together by shared family values and core DNA. These capabilities represent the culmination of nearly three decades of experience building PC motherboards to enhance both the underlying CPU platform and the rest of the system around it.
A splash of cold brew for extra CPU cores
Coffee Lake boasts formidable performance at stock speeds, but it's a real beast when overclocked. You don't have to be an expert to unleash the CPU's potential, though. Our intuitive UEFI and tuning utilities balance easy configuration for beginners with advanced options for veterans. Depending on the board, you can choose between 5-Way Optimization or OC Tuner intelligence that automatically overclocks the CPU based on the characteristics of the chip and accompanying cooling.
Squeezing more cores into such a small die presents an additional thermal challenge. Liquid cooling is required for top performance, especially at overclocked speeds, so our Z370 motherboards are ready right out of the box. All of them have a dedicated header for an all-in-one liquid cooler or stand-alone pump; our ROG models include both along with separate headers for monitoring the coolant flow and temperature inside custom loops.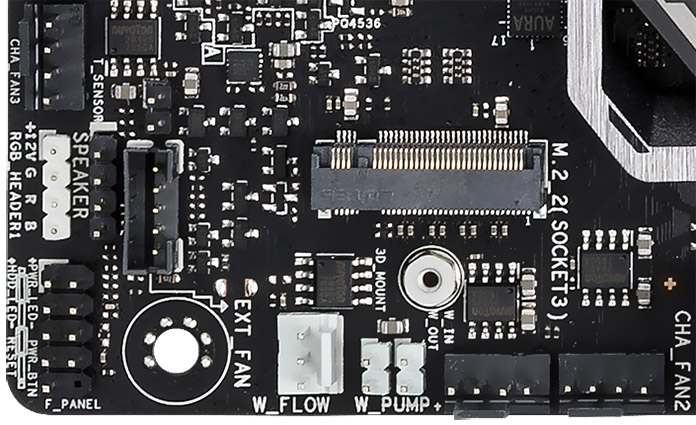 System cooling is best managed by the motherboard, and our critically acclaimed fan controls make it easy. The latest enhancements are part of the full Fan Xpert 4 package available on our ROG and Strix boards in addition to the Prime Z370-A. Individual fans can now be linked to multiple sensors, including the GPU diode on compatible graphics cards. This allows system cooling to respond to varied workloads, like gaming sessions that disproportionately heat up the GPU and rendering tasks that hammer the CPU. If you don't want to configure the fans yourself, 5-Way Optimization can handle setup automatically with a single click.
Bring on faster memory and more SSDs
The top Coffee Lake CPUs officially support DDR4-2666 memory, but we don't stop there. With the right CPU and RAM, most of our Z370 motherboards can overclock to DDR4-4000 speeds with all slots populated, and some are capable of reaching DDR4-4333 and higher. Part of the credit goes to ASUS OptiMem, which routes memory traces and vias through optimal PCB layers to preserve signal integrity. OptiMem complements the T-Topology layout we use to equalize trace lengths specifically for four-DIMM configs. These enhancements improve overall signaling, resulting in superior stability, and they raise the frequency headroom for both traditional DIMMs and RGB-infused memory that typically doesn't scale as well.
Dual slots for NVMe SSDs appear on all of our Z370 motherboards, including microATX Strix Z370-G Gaming and Mini-ITX Strix Z370-I Gaming models with limited space. The fastest M.2 drives can get hot enough to induce thermal throttling that saps their performance, so the slots are covered by heatsinks or situated clear of potential hot spots. Some boards, like the Maximus X Apex and Hero, even have provisions to direct airflow over your drives.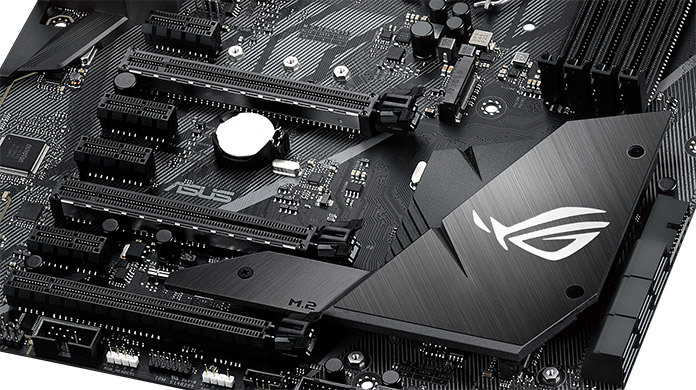 The M.2 slots work with both standard SSDs and Intel Optane Memory. They're connected to the Z370 chipset and can be configured in bootable RAID arrays, but they share limited DMI bandwidth with SATA, USB, and networking devices. Coffee Lake will sidestep this bottleneck by extending RAID support to SSDs linked directly to PCI Express lanes in the CPU. With the ASUS Hyper M.2 X16 card (sold separately) and a future Intel software update, you'll be able to put up to three SSDs just one hop away from the processor. CPU-connected SSD RAID arrays will be supported on all of our Z370 motherboards except the non-WiFi version of the Maximus X Hero.
Stand out for all the right reasons
Aesthetics are increasingly important for PC builders seeking to set their rigs apart. Everyone has different tastes, so our Z370 lineup is filled with varied styles. Prime boards exude elegance in black and white, ROG and Strix bring more aggressive designs, and TUF Gaming takes inspiration from the digital battlefield.
RGB lighting makes it easy to change your PC's looks on the fly, whether you're going for an attention-grabbing disco vibe or low-key highlights. Our Aura Sync lighting advances this art form on multiple fronts, starting with the nature of the illumination itself. Instead of indiscriminately adding LEDs out in the open, where their naked intensity can turn the inside of your PC into a sea of garish lens flares, we diffuse the lighting to produce an even glow that looks more natural.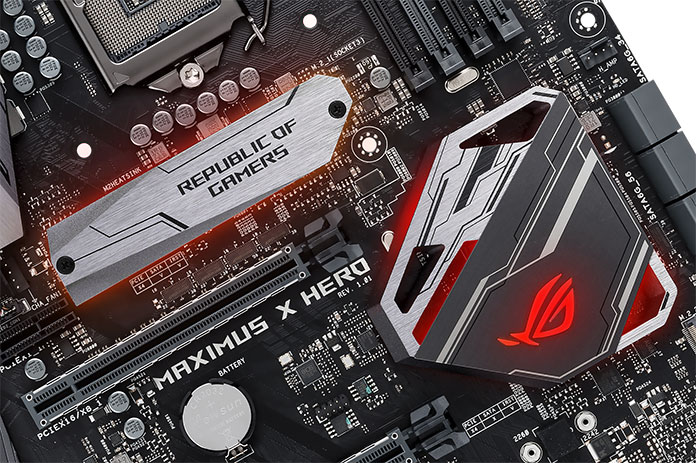 After pioneering motherboard support for 4-pin RGB LED strips that light up entire systems, we've taken things to the next level. Select members of the ROG and Strix families have addressable 3-pin headers that enable advanced effects by allowing control over individual LEDs. We're working with BitFenix, CableMod, Cooler Master, In Win, Phanteks, and Thermaltake to bring addressable LEDs to light strips, chassis, fans, and other hardware.
To make lighting setup easier, most of our boards come with RGB extension cables that provide some flexibility when positioning strips and other devices inside your chassis. We've also developed an improved version of our Aura software that simplifies selecting the exact colors you want. Our Aura Sync motherboards can synchronize colors and effects with compatible components, from graphics cards and memory to peripherals and monitors, putting harmonious system lighting just a few clicks away. Developers who want to harness the lighting with their own software will be able to access our Z370 motherboard lighting with a future update to the official Aura SDK.
Attention to small details makes all the difference
Although big-ticket features monopolize the spotlight, ASUS Z370 motherboards also incorporate important little touches. Enhanced overvoltage and ESD protection shield the boards from electrical damage that can fry your hardware, while digital VRMs feed pristine power to the CPU. On the physical side, SafeSlot structural reinforcements prevent heavy graphics cards from fracturing PCIe slots and pulling them away from the PCB.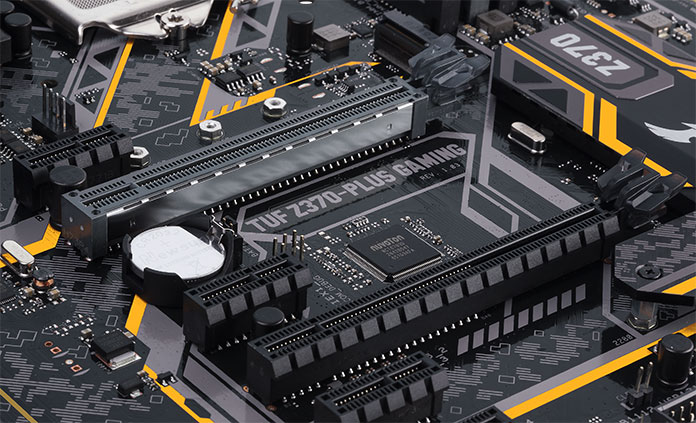 Virtually all of our Z370 motherboards feature reliable Intel Gigabit Ethernet controllers as standard equipment. The Maximus X Apex delivers a huge boost in wired networking throughput with onboard 5G connectivity, while several other members of the ROG family add robust WiFi via dual-band 802.11ac with MU-MIMO support.
Our onboard audio benefits from continuous evolution. In this generation, all but the Prime Z370-P and TUF Gaming boards have shielded S1220-series codecs augmented by dedicated headphone amps and premium Nichicon capacitors. They can detect your headphone impedance automatically and adjust their output accordingly to produce the best sound for your setup. We paid particular attention to improving the microphone input, resulting in a 113-dB SNR that ensures excellent voice quality for coordinating with teammates, streaming to an audience, and recording hot takes for your followers.
Summarizing key specifications
ASUS Z370 motherboards are divided between four families. The ROG Maximus represents our best for both gamers and enthusiasts, while Strix distills the essence of ROG to reach more lower price points. TUF Gaming stretches into even more affordable territory with distinctive military-inspired designs. At the opposite end of the aesthetic spectrum is the Prime series, which takes a more professional approach aimed at prosumers. The vital specifications for all the new boards are listed in the table below. Scroll horizontally to see the full lineup and click the model name to jump to that section of the guide.
Maximus X Formula
Maximus X Code
Maximus X Apex
Maximus X Hero
Strix Z370-E Gaming
Strix Z370-F Gaming
Strix Z370-I Gaming
Strix Z370-G Gaming
Prime Z370-A
Strix Z370-H Gaming
TUF Z370-Pro Gaming
TUF Z370-Plus Gaming
Prime Z370-P
Size
ATX
ATX
EATX
ATX
ATX
ATX
Mini-ITX
microATX
ATX
ATX
ATX
ATX
ATX
Memory
4 x DDR4 up to 4133+ (OC)
4 x DDR4 up to 4133+ (OC)
2 x DDR4 up to 4266+ (OC)
4 x DDR4 up to 4133+ (OC)
4 x DDR4 up to 4000 (OC)
4 x DDR4 up to 4000 (OC)
2 x DDR4 up to 4333+ (OC)
4 x DDR4 up to 4000 (OC)
4 x DDR4 up to 4000 (OC)
4 x DDR4 up to 3866 (OC)
4 x DDR4 up to 3866 (OC)
4 x DDR4 up to 3866 (OC)
4 x DDR4 up to 3866 (OC)
Multi-GPU
2 SLI, 3 CrossFireX
2 SLI, 3 CrossFireX
2 SLI, 4 CrossFireX
2 SLI, 3 CrossFireX
2 SLI, 3 CrossFireX
2 SLI, 3 CrossFireX
NA
2 SLI, CrossFireX
2 SLI, 3 CrossFireX
2 SLI, CrossFireX
2 SLI, CrossFireX
2 CrossFireX
2 SLI, CrossFireX
PCIe
3 x16
3 x1
3 x16
3 x1
4 x16
2 x1
3 x16
3 x1
3 x16
4 x1
3 x16
4 x1
1 x16
2 x16
2 x1
3 x16
4 x1
3 x16
3 x1
3 x16
3 x1
2 x16
4 x1
2 x16
4 x1
M.2
2 x4
2 x4
2 x4
2 x4
2 x4
2 x4
2 x4
2 x4
2 x4
2 x4
2 x4
2 x4
2 x4
SATA
6
6
4
6
6
6
4
6
6
6
6
6
4
Ethernet
Intel 1G
Intel 1G
Aquantia 5G
Intel 1G
Intel 1G
Intel 1G
Intel 1G
Intel 1G
Intel 1G
Intel 1G
Intel 1G
Intel 1G
Intel 1G
Realtek 1G
WiFi
802.11ac
802.11ac
NA
802.11ac*
802.11ac
NA
802.11ac
802.11ac*
NA
NA
NA
NA
NA
Audio
SupremeFX S1220
ESS Sabre DAC
SupremeFX S1220
ESS Sabre DAC
SupremeFX S1220A
SupremeFX S1220
ESS Sabre DAC
SupremeFX S1220A
SupremeFX S1220A
SupremeFX S1220A
SupremeFX S1220A
Crystal S1220A
SupremeFX S1220A
Realtek ALC887
Realtek ALC887
Realtek ALC887
USB 3.1 Gen2
1 front
1 Type-C
1 Type-A
1 front
1 Type-C
1 Type-A
1 Type-C
1 Type-A
1 front
1 Type-C
1 Type-A
1 front
1 Type-C
1 Type-A
1 Type-C
1 Type-A
1 Front
2 Type-A
1 Type-C
1 Type-A
2 Type-A
2 Type-A
2 Type-A
NA
Aura Sync headers
2 strip
2 address
2 strip
2 address
4 strip
2 strip
1 address
2 strip
1 address
2 strip
1 address
1 address
NA
1 strip
NA
NA
1 strip
NA
Price
$449.99 USD
$593.99 CAD
$319.99 USD
$422.99 CAD
$349.99 USD
$461.99 CAD
$259.99 USD
$279.99 USD (WiFi)
$369.99 CAD (WiFi)
$209.99 USD
$277.99 CAD
$194.99 USD
$257.99 CAD
$189.99 USD
$250.99 CAD
$184.99 USD (WiFi)
$244.99 CAD (WiFi)
$179.99 USD
$230.99 CAD
$169.99 USD
$224.99 CAD
$159.99 USD
$211.99 CAD
$149.99 USD
$197.99 CAD
$139.99 USD
$184.99 CAD
Availability (USA)
Micro Center
Amazon
B&H
Amazon
B&H
Amazon
Newegg*
Amazon*
Amazon
Newegg
Amazon
Newegg
Amazon
Newegg
Amazon
Amazon*
Newegg
Amazon
Newegg
Amazon
Newegg
Amazon
Newegg
Amazon
Amazon
Availability (Canada)
Canada Computers
December
Memory Express
Memory Express*
Memory Express
Memory Express
Memory Express
Memory Express
Memory Express
Memory Express
Memory Express
Memory Express
Turn to the next page for a detailed look at each board, starting with the ROG Maximus family. And check out our motherboard picker if you want to whittle down the options by specifications.