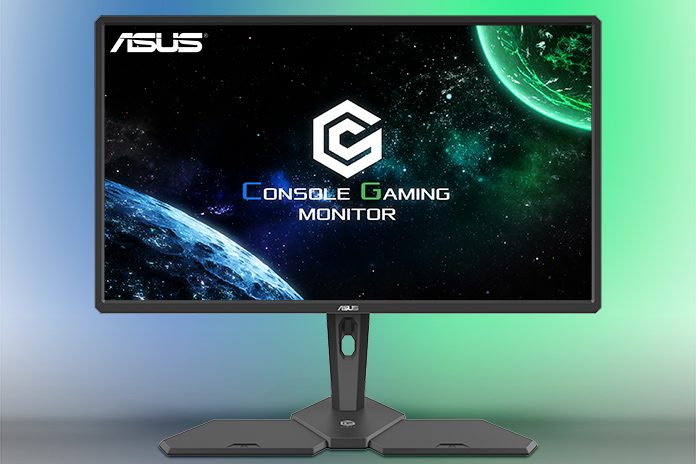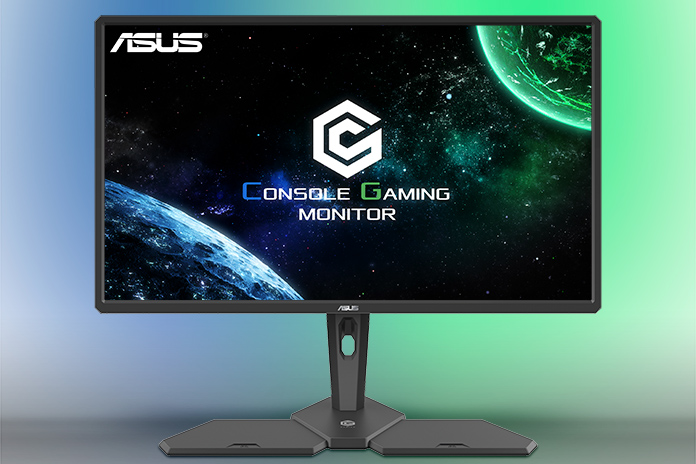 Although console gaming usually happens in the living room, it's not the only place to kick back with a gamepad. Plenty of bedrooms, gaming dens, playrooms, and even home offices contain an Xbox or PlayStation. These spaces are typically smaller than a living room and thus don't need a giant TV as a display. In fact, for rooms where you don't want something so gargantuan, like a bedroom, a good monitor is the best fit.
We created the ASUS CG32 console gaming monitor for those less cavernous environments. Its  31.5" size is large without being overwhelming, and the 4K Ultra HD resolution is high enough to handle Enhanced Xbox and PlayStation games. Adaptive Sync and HDR support further enhance gaming and entertainment across different platforms, while Halo Sync lighting adds reactive ambiance that extends beyond the boundaries of the display.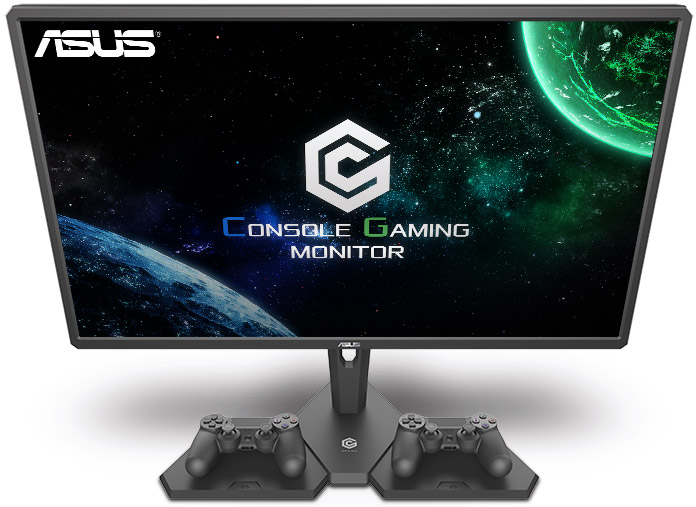 You've got the look(s)
As new games and content push the envelope of what displays can do, monitors need upgraded hardware to keep up. The ASUS CG32's VA panel punches up picture quality with HDR10 support and VESA DisplayHDR 600 compliance. It boasts 10-bit color and covers 95% of the cinema-grade DCI-P3 gamut, which is a much wider range of colors than sRGB. Zone-based dimming enables vast dynamic range from deep blacks to bright whites that push up to 600 cd/m² of localized luminance. Translation: colorful and bright!
Variable refresh technology has delighted PC gamers for a few years now, and console gamers are starting to experience the same joy as their preferred platforms roll out similar support. This more cooperative approach to frame delivery matches the refresh rate of the monitor with the frame rate of compatible graphics cards and consoles. Synchronizing these components eliminates visual tearing that cuts across the screen. It also minimizes stuttering when performance drops below the maximum refresh rate, a frequent occurrence when gaming at 4K on all but the most powerful desktops. The CG32 can vary its refresh rate from 40-60Hz to compensate for normal in-game performance fluctuations. Adaptive-Sync works with not only the DisplayPort 1.2 input, but also all three HDMI 2.0 ports, so you can enjoy the benefits across a complete collection of gaming machines.
Lower input lag is another benefit of variable refresh technologies like Adaptive-Sync. While competing TVs typically take 27-50 ms to catch up with your actions, the CG32 cuts the delay to just 13 ms. Reducing the latency between input and result can make you feel more connected to the game and even provide a competitive advantage over opponents with slower screens.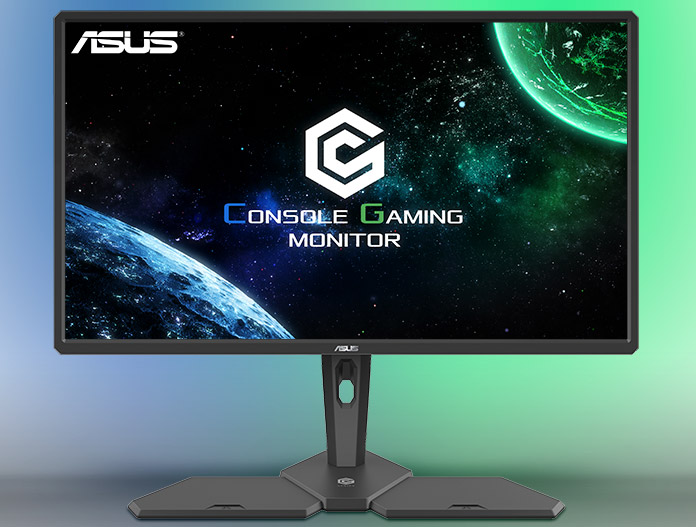 The CG32 charms your eyeballs with not just its gorgeous and responsive screen, but also the amazing Halo Sync lighting that splays colorific ambiance across your walls. A total of 38 addressable RGB LEDs are embedded into the back of the frame. Whenever you're playing a game, watching a movie, or even sitting at the Windows desktop, Halo Sync matches the LED colors with what's happening along the borders of the screen. The synchronized glow extends immersion into your room with your own private light show.
Extras make the difference
The display technology present in the ASUS CG32 is certainly ideal for console gamers, but when we designed this monitor, we understood that the physical setup for PC and console gamers is fundamentally different. PC gamers sit close to the monitor and generally have their mouse and keyboard wired to their systems at all times, whereas console gaming is a lean-back experience that predominantly uses wireless gamepads that need to be charged.
If you're sitting at your desk and want to adjust something on your monitor's OSD, you simply reach out and punch a few buttons. To give you the same easy control while reclining in your beanbag chair or sitting across the room on the couch, we include a remote that can adjust the brightness, change inputs, and perform other OSD functions without forcing you to struggle to your feet and traipse across a room.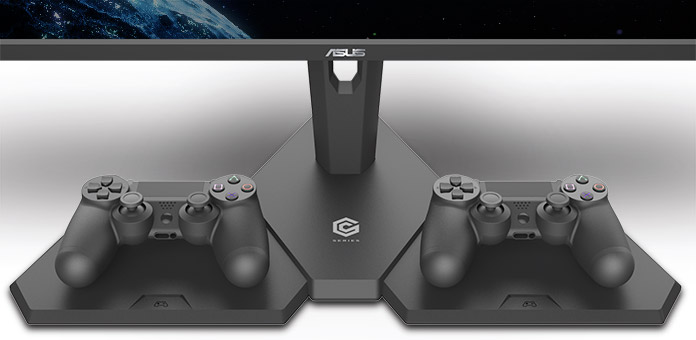 The monitor also functions as a peripheral and charging hub with four USB 3.0 ports on its base. Two are reserved for charging, so you can keep your gamepads juiced up or plug in your phone if it's running low on battery, and the other two are downstream ports that let you connect peripherals and external storage devices to one of your systems. A pair of integrated 5W speakers supplies audio right out of the box, and you can connect standalone speakers or a headset if you so desire.
Wall mounting is supported via a standard VESA-compatible bracket. If you choose to hang the ASUS CG32, you can still use the base as a hub. Simply connect a charging cable from the monitor to the base, and all of the USB ports are there for you to use.
ASUS CG32
Panel
31.5" VA
Resolution
4k Ultra HD 3840x2160
Color gamut
95% DCI-P3
HDR support
VESA DisplayHDR 600
Refresh rate
40-60Hz with Adaptive-Sync
Input lag
13 ms
Inputs
3 x HDMI 2.0
1 x DisplayPort 1.2
2 x USB 3.0 (downstream)
2 x USB 3.0 (charging)
Audio
2 x 5W speakers
1 x 3.5-mm analog output
Setting a new standard for console gaming monitors
Gaming PCs and consoles continue to evolve and adopt exciting new display technologies. The ASUS CG32 is essentially future-proofed for both thanks to its HDR support, Adaptive-Sync, and 4K UHD resolution. It perfectly addresses the practical needs of console gamers, from where they sit to which USB devices they connect, and it generates a glorious halo of RGB lighting to enhance the mood
The CG32 console gaming monitor will be available later this year. It's on display at Computex 2018 in Taipei, Taiwan, from June 5-9.
Check out our many other Computex 2018 product announcements. Skip over to this article for a summary covering the entire ASUS line-up at the 2018 show.