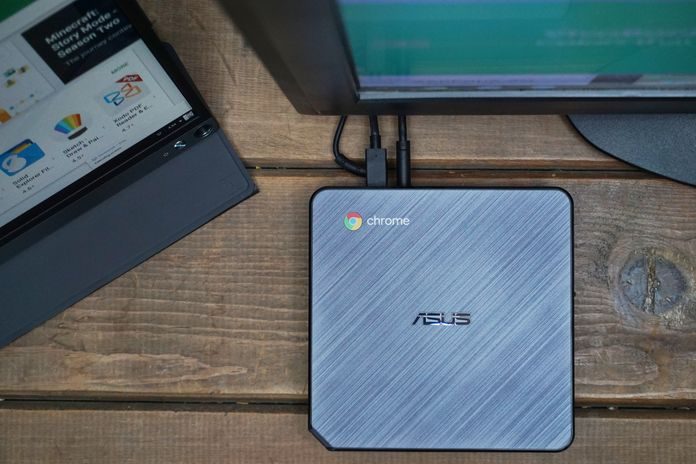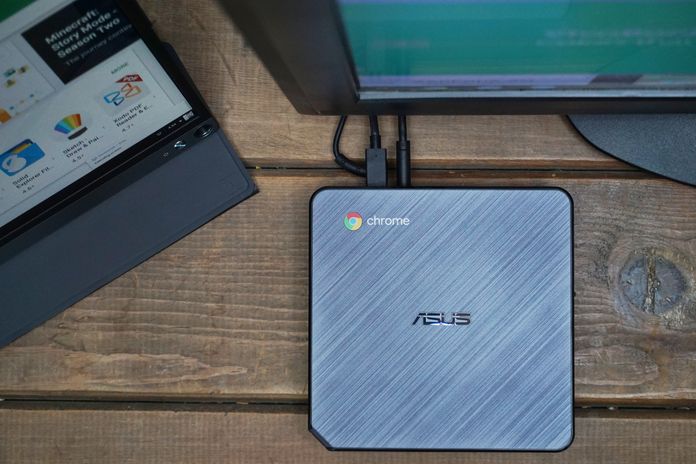 Chrome OS is one of the most lightweight and flexible operating systems out there, combining the best of Google's cloud and online services. With support for Android apps and the Google Play Store, its value has skyrocketed, but you can't install Android apps on just any Chrome OS device. Only the newer devices feature Google Play Store support. The ASUS Chromebox 3 is designed to give you access to all that Chrome OS and the Play Store have to offer on any screen you like.
Setup? What setup?
It's exceptionally easy and fast to get the Chromebox 3 configured and running. Instead of installing components, tweaking a host of settings, and waiting for large OS updates to finish, you can pull the thing out of its box and be browsing the web, editing photos, or working on a document within a few minutes.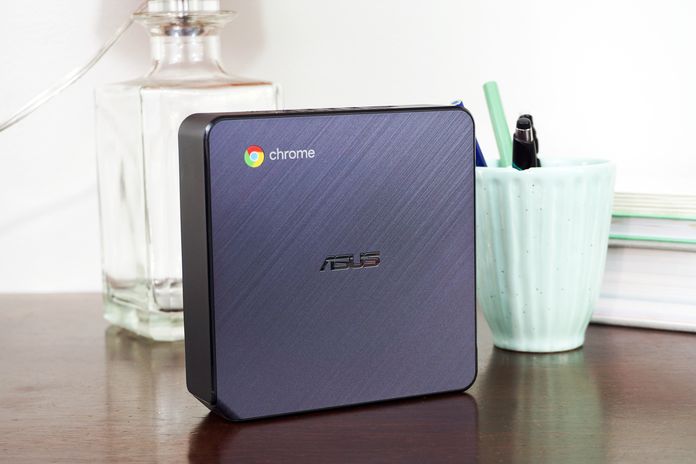 Once you plug in the Chromebox 3's power adapter, you connect it to a monitor and attach your peripherals. There are six total USB ports, with two in the front and four around back. The two in the rear are perfect for a keyboard and mouse, but I had my preferred Bluetooth setup at the ready. Using Bluetooth peripherals means you can keep your USB ports free for other devices, like external storage drives. The system found my mouse and keyboard right away and pairing was a snap. Finally, the Chromebox 3 has an HDMI port to connect your display of choice. It automatically scales the display output so you can plug into a regular monitor or a big TV without having to mess with any settings.
With everything plugged in and turned on, I picked my wireless network from the list, and the system automatically checked for and installed any updates to Chrome OS. Then it prompted me to punch in my Gmail account and password, and I was ready to go. Chrome OS is by nature largely reliant on the cloud, so once you log in with your Google account, all your plugins, bookmarks, extensions, services like Drive, and so on are right where you expect them to be.
Android in a box
By far one of the Chromebox 3's most powerful features is its support for Android apps and the Google Play Store. The Android platform is so mature and diverse, it nearly rivals Windows and macOS. If you want to play PC games, or you require powerful software for video editing or 3D modeling, you'll need more than Android apps running on Chrome OS. But the Play Store has evolved way beyond news and messaging apps, and it has plenty to offers users with less demanding workloads. Microsoft has released versions of Microsoft Office optimized for Android, and Adobe's Photoshop Express is present and accounted for, too.
The main issue is that Android is typically paired with a touchscreen interface that isn't conducive to getting serious work done. Some tasks, like word processing and photo editing, are just easier with a mouse, keyboard and a large display. The Chromebox 3 packages all of your favorite Android applications in a desktop setup that allows you to tap into all the Android ecosystem has to offer. You can connect a second monitor via the USB Type-C port because it supports both Power Delivery and DisplayPort out. With your favorite mouse and keyboard connected, you have a full desktop productivity experience right at your fingertips. The Chromebox 3 even has a LAN port so you can take advantage of wired internet speeds, although the onboard 802.11ac WiFi is also super fast and reliable.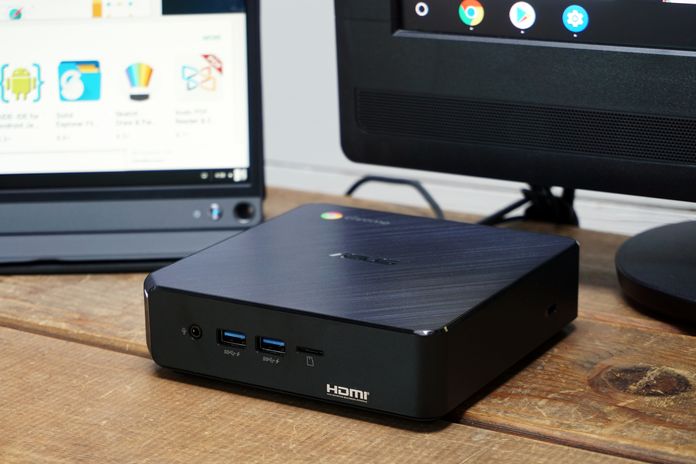 Chrome OS is lightweight by design and demands little from its hardware compared to Windows and macOS, so you don't need monster specs. But there's a huge variation in the demands of various Android apps. Twitter requires almost nothing, for example, whereas a video editing app will need a lot of computational resources. To ensure there's more than enough horsepower to handle multiple demanding apps simultaneously, the Chromebox 3 offers up to an Intel Core i7-8550U processor and up to 8GB of RAM. However, even the entry-level Celeron-powered model with 4GB of RAM used for this article was able to multitask across various apps and Chrome windows without breaking a sweat.
Talk to me
The Chromebox 3 isn't just for your desk at home. When paired with the ASUS Hangouts Meet hardware kit, you can set up the Chromebox 3 as a dedicated comms PC in an office, whether you're working out of your own office or sharing a big conference room. The kit gets you a 4K UHD camera, a speakermic, and a 10-inch color touchscreen control panel. You can have as many as 50 people in one Hangout.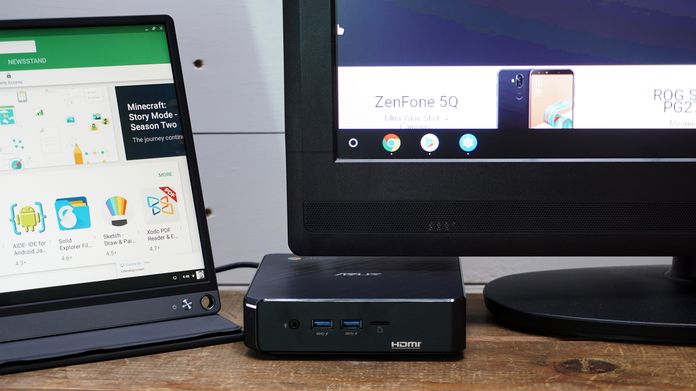 If you have limited desk space or need something demure for a meeting room, the Chromebox 3 is ideal. Measuring 6″ square and about 1.5″ thick, it's compact enough to discreetly power digital signage for a storefront or a lobby. Just strap it to the back of a TV or monitor with the VESA mount that's included in the box.
The living room Android
For all its usefulness as a replacement for a traditional desktop, I secretly wanted the Chromebox 3 to serve as an Android-powered living room entertainment and productivity center that the whole family could use. Chrome OS is an incredibly secure system. It's protected by account logins, of course, but you also get the benefit of an automatically and constantly updated OS. No malware with an EXE suffix can even run on Chrome OS, so you're inherently protected from certain classes of malware just by using the Chromebox to begin with. You'll spend a great deal of your time using the Chrome browser, which is sandboxed to prevent malicious apps from spreading. It's also really easy to keep kids safe using the baked-in Family Link feature, because you can approve (or deny) any app installs, monitor their activity, and set limits on screen time.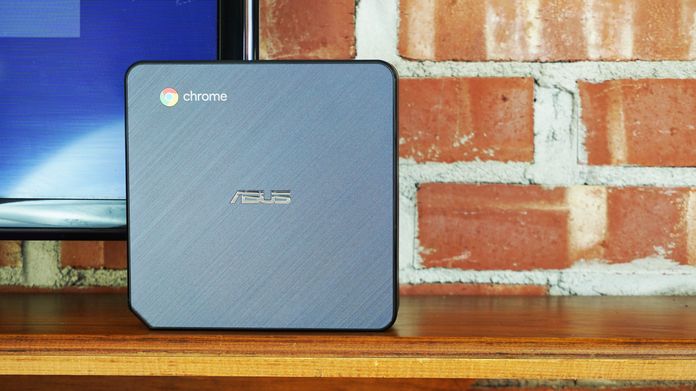 The first thing I did upon opening the Chromebox 3 was connect it to my living room TV. All my favorite streaming apps, including YouTube and Netflix were right there, big and bright on my TV, and I didn't need a smart TV or separate streaming hardware to make it happen. And don't forget that the Chromebox 3 gives you access to the deep and wide ocean of Android games. If you connect a gamepad, you have yourself a nice little living-room Android game console.
I particularly like editing and displaying photos using the Chromebox 3 and my TV. Google Photos is pre-installed, so I can save and organize all my best shots, and then make guests sit through slideshow after slideshow of my vacation photos from the couch. If you have your pictures and video stored on a microSD card instead, you can just pop it in the slot on the Chromebox 3 and view them that way.
When it's time to get real work done, Bluetooth peripherals are a blessing. Sometimes you just don't want to sit in a desk chair all day, and this lean-back productivity setup is a welcome change of scenery from my office. I wrote this entire article sitting on my couch with my feet up on the coffee table and a wireless keyboard on my lap.
CHROMEBOX 3-N017U
CHROMEBOX 3-N018U
CHROMEBOX 3-N019U
CHROMEBOX 3-N020U
Operating System
Google Chrome OS
CPU
Intel Celeron 3865U Processor

Intel Core i3-7100U Processor
Intel Core i3-7100U Processor
Intel Core i7-8550U Processor
Memory
4GB DDR4
4GB DDR4
8GB DDR4
8GB DDR4
Graphics
Integrated
Storage
32GB M.2 SATA SSD
LAN
Intel 10/100/1000Mbps
Wireless
Intel 802.11ac + Bluetooth
Interfaces
1 x USB 3.1 Gen1 Type-C (with Power Delivery and DP Output)
2 x USB 3.1 Gen1 (support BC1.2)
3 x USB 3.1 Gen1
1 x audio jack (combo)
1 x microSD card reader
1 x HDMI
1 x LAN (RJ-45) port
1 x Kensington lock
Dimensions
5.9" x 5.9" x 1.5"
2.2 lbs
Price
$229 USD
$289 CAD
$429 USD
$549 CAD
$479 USD
$609 CAD
$699 USD
$889 CAD

Availability (USA)



US Vendors




US Vendors




US Vendors




US Vendors



Availability (Canada)

Canada Vendors

Canada Vendors

Canada Vendors

Canada Vendors
Flexible, fast, fun, and fully featured
The ASUS Chromebox 3 is small and unobtrusive, fitting anywhere from your office to the living room. There's virtually no configuration involved, so you can be writing, browsing, streaming, or playing your favorite Android games within minutes of setup. Its size and convenience belie how powerful it is, giving you the best of Android and Chrome OS in one neat little box. The Chromebox 3 starts at just $229 USD and $289 CAD. Check the table above for regional retailers stocking each configuration.