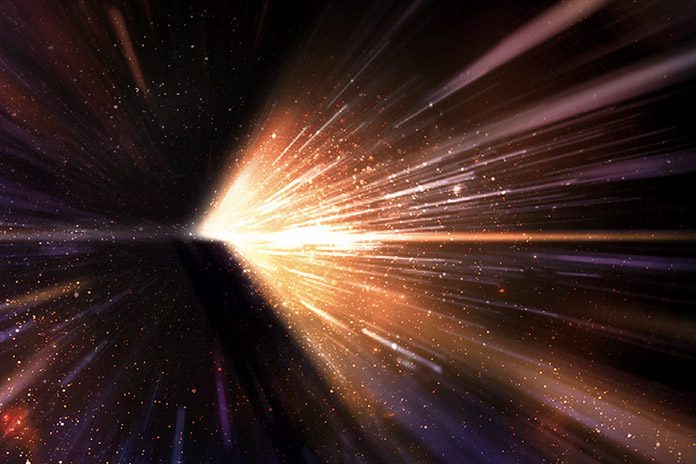 Computex 2018 is underway in Taipei, Taiwan, providing an opportunity to show the latest ASUS innovations in our own backyard. Our vision for the future of computing and connectivity is taking shape across multiple fronts as we hone our craft in familiar categories and bring fresh ideas to new frontiers.
The array of new products unveiled this year is filled with firsts that reinforce our industry leadership and willingness to try new things. But more importantly, it comprises carefully considered designs that have been tailored to solve problems for specific scenarios and form factors. Our new VivoBook laptops and 2-in-1 strike the right balance between form and function without blowing your budget. Premium ZenBooks raise the bar with not only a sexy ultraportable dressed in red, but also a professional ultrabook with an innovative second screen. Professionals and prosumers can also get the power and precision they need in the stylish Zen AiO Pro and ProArt PA90 mini PC.
Our monitor game starts with a professional-grade ProArt that mixes ultra-wide content creation with high-refresh gaming. The VG49V takes the ultra-wide concept to a 49" extreme cranked up to 144Hz, while the CG32 console gaming monitor combines 4K with ambient RGB lighting. TUF Gaming has a full collection of peripherals alongside a new chassis and complete systems, and then there's ROG. With the first ROG smartphone, narrow-bezel esports gaming laptops, and components in all-new categories, the Republic of Gamers stakes its claim to the cutting edge of gaming hardware across multiple platforms.
Keep reading for what you need to know about all the new products ASUS introduced at Computex 2018.
Next-gen AX networking connects all your devices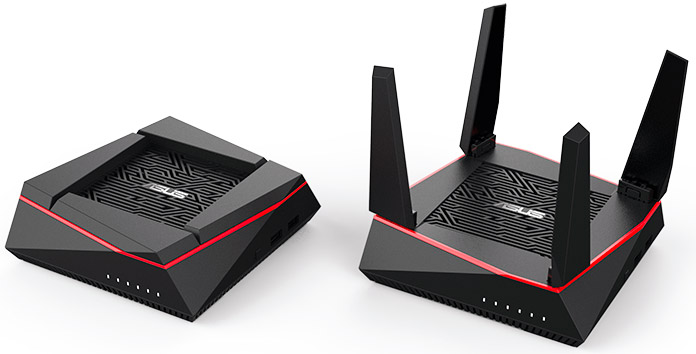 With products across a full range of computing platforms, we're keenly aware of the vast volume of devices that modern households and business have to manage on their networks. The new 802.11ax version of WiFi provides relief by employing techniques used in 4G LTE to more efficiently manage bandwidth while simultaneously raising the top speed for your network as a whole. This technology is integrated into a family of ASUS AX networking products built for busy wireless, including an AiMesh AX6100 WiFi system that deploys 802.11ax in a two-node mesh network capable of spreading coverage more evenly across larger homes. Additional AX bandwidth speeds up the wireless link between nodes, with plenty left over for all your devices. The AX6100 kit comprises two RT-AX92U routers, and you can add more nodes to expand over even larger areas.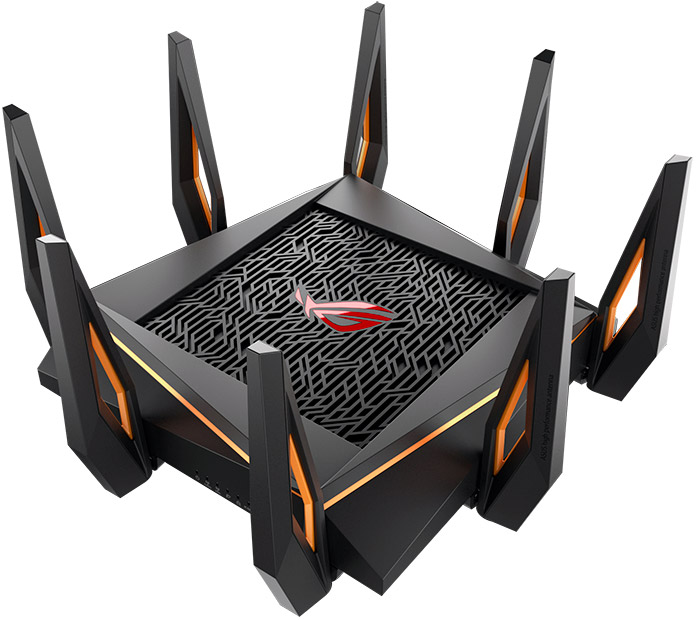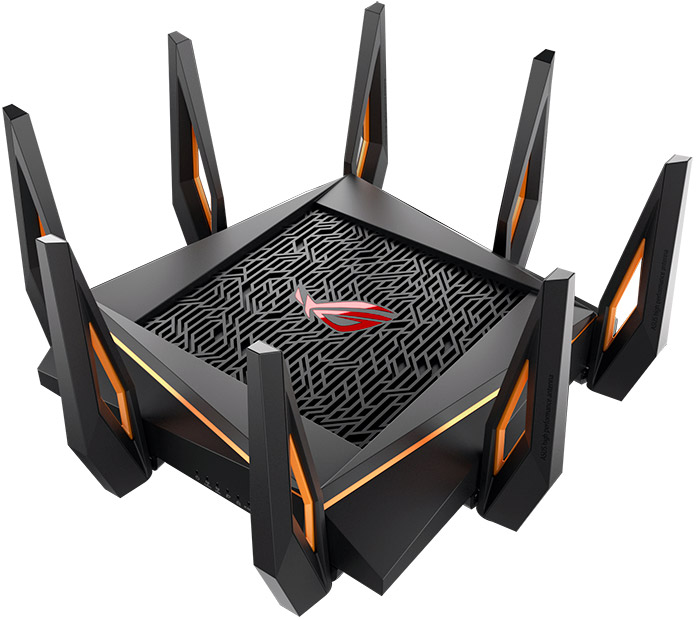 Support for AiMesh configurations is also coming to the new ROG Rapture GT-AX11000, whose tri-band design offers an extra 802.11ax band that keeps wireless clients from interfering with high-priority devices like gaming machines. We also added a 2.5G Ethernet port for greater-than-gigabit ISPs or faster local clients, giving the Rapture remarkable throughput across wired and wireless connections. With loads of other advanced features built-in, plus smart traffic prioritization that extends beyond the router, the Rapture GT-AX11000 sets the standard for AX routers.
The RT-AX88U completes the family with a dual-band design that shares core configuration and security features with the other two. It was announced last year and will begin shipping with the others in Q3, providing another option for users who want to start with a single capable router but potentially expand with a custom AiMesh setup down the road.
Vivo brings life to your everyday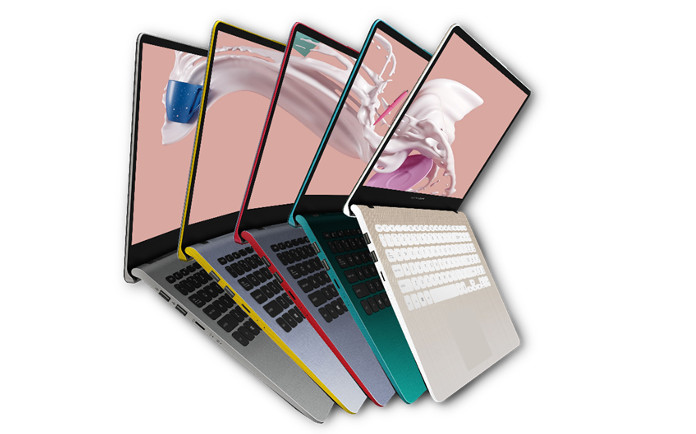 The ubiquity of personal laptops plays a part in overcrowding wireless networks. With the new VivoBook S14 430 and S15 530, there really is one for everybody. These affordable slim notebooks come in a full assortment of flavors, from a forested Firmament Green with textured surfaces to sporty two-tone treatments that mix splashes of color with shades of gray. We didn't lose sight of function while playing with the palette, though. With narrow-bezel 14" and 15.6" displays, Intel's latest quad-core ultrabook processors, and enough ports to live without dongles, the VivoBook S14 and S15 put a lot of practicality in a compact package. They also elevate the keyboard with a clever ErgoLift hinge and ample key travel to make productivity more comfortable.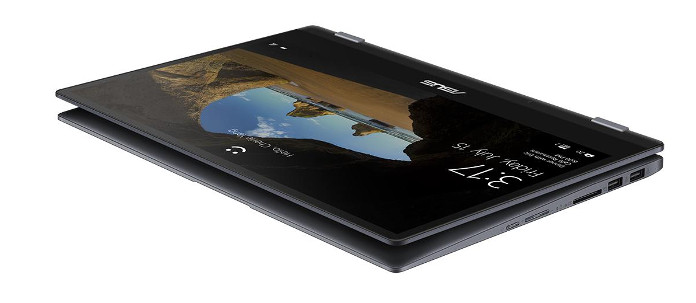 While those VivoBooks focus on the traditional clamshell, the VivoBook Flip 14 TP412UA bends over backwards to add versatility with tablet, tent, and stand poses. Its 360° hinge lets you flip effortlessly between answering emails, watching videos, and sketching out plans with the included active stylus. Despite budget-friendly pricing, the VivoBook Flip 14 comes with premium perks that enhance your day-to-day, like slim bezels that make the screen feel more expansive, keyboard backlighting that keeps you company at night, a fingerprint reader for convenient security, and CPU options that scale up to rival our high-end ZenBooks.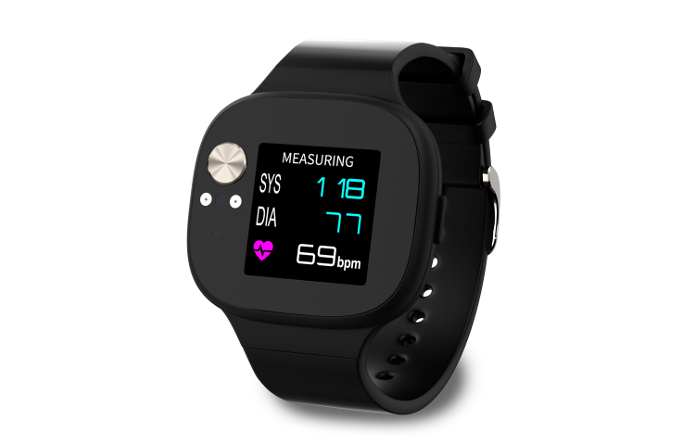 The VivoWatch BP highlights the diversity of our portfolio with a wearable device that monitors blood pressure in addition to heart rate, sleep, and activity. It takes measurements on demand and also watches trends over time. Using a complex algorithm developed by an internal team with a background in medical engineering, ASUS HealthAI synchronizes multiple data points to provide a clear picture of your health, and then offers suggestions for lifestyle adjustments to improve it.
Premium portables for PC aficionados
As VivoBooks raise the bar for affordable PCs, ZenBooks push the limits with the luxury of bigger budget. The most striking example is arguably the new ZenBook S UX391, whose amazingly thin 12.9-mm body is accentuated by stately Deep Dive Blue or seductive Burgundy Red that stand out in the sea of gray slivers that washes over the market. Ultra-slim bezels extend the theme to the gorgeous 4K display, whose vivid visuals practically spill into your surroundings. Ultraportable keyboards too often feel shallow and lifeless, but the ZenBook S combines our ErgoLift hinge with modified switches to make typing feel lively and precise, so you can power through work without slowing down.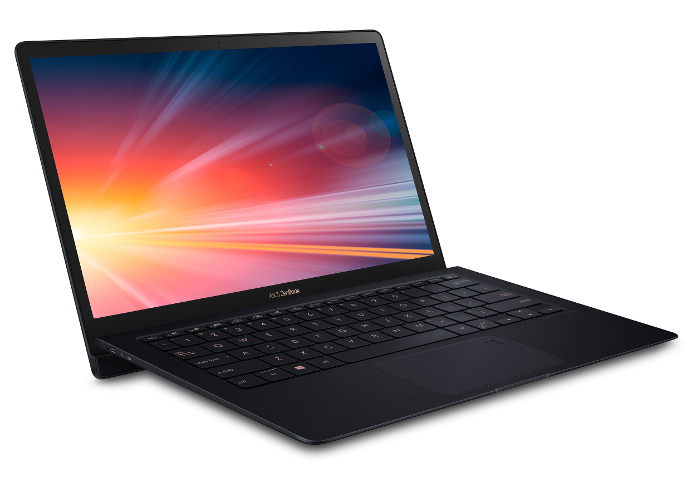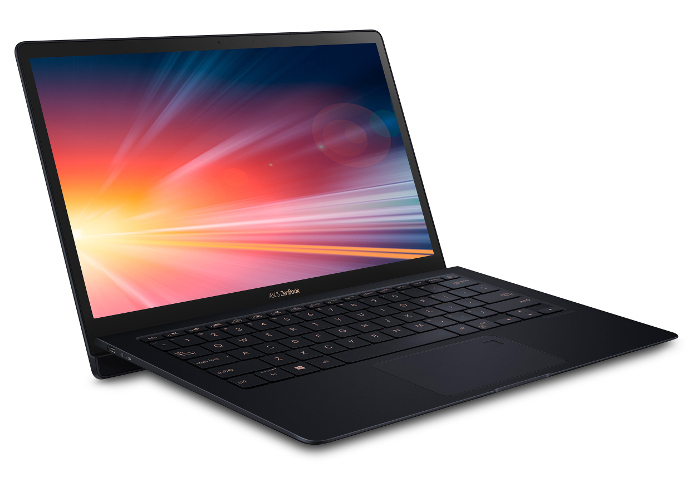 A premium ultraportable through and through, the ZenBook S can even muscle through more demanding tasks like video and photo editing thanks to 8th generation Intel CPUs with quad cores and eight threads. For regular heavy lifting, professionals and prosumers should look to the new ZenBook Pro 15 UX580. This versatile workhorse upgrades to a more powerful Coffee Lake CPU with six cores and 12 threads, then adds discrete NVIDIA GeForce GTX 1050 Ti graphics capable of accelerating content creation and squeezing in a few rounds of Fortnite after a long day. It also has a slim-bezel 4K display that's calibrated at the factory to deliver accurate colors with a delta E difference under two.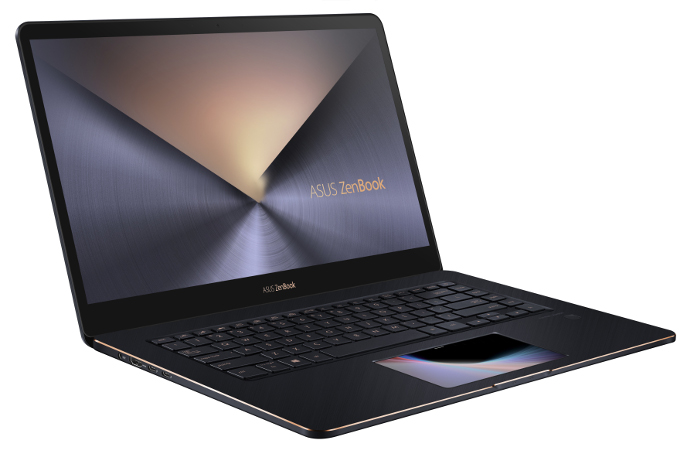 To enhance productivity, the ZenBook Pro replaces the trackpad with our new ScreenPad, a smartphone-grade Full HD touchscreen capable of mixing traditional tracking with application-specific toolbars that put frequently used functions within easy reach. The ScreenPad can host dedicated apps like a calculator and calendar, or you can switch modes to a true secondary display that extends your Windows desktop to the 5.5" IPS-type panel. An SDK due later this year will open up the ScreenPad to developers who want to integrate it with their own software.
Desktops that make the professional grade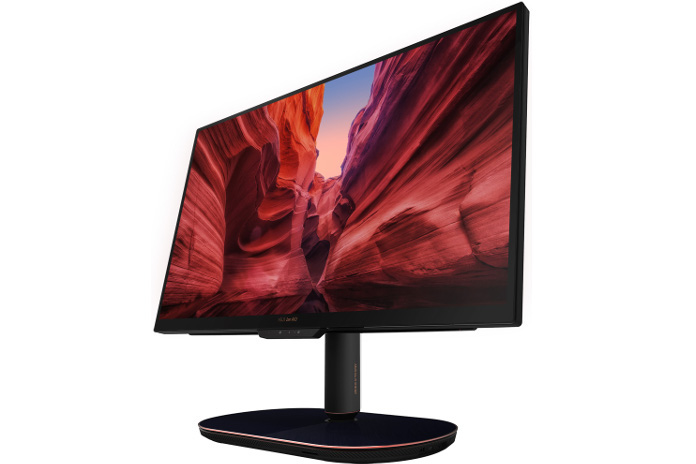 The Zen AiO Pro Z272 puts our professional philosophy into practice in a stationary form for homes and offices. A low-profile all-in-one draped in signature Deep Dive Blue, it immediately catches your eye with a stunning 27" 4K display wrapped in another gloriously slim frame. True to its pro aspirations, the IPS panel is calibrated to guarantee color accuracy with a delta E of less than three, and it's mounted to an adjustable stand that lets you set the ideal ergonomic position. The Zen AiO Pro is powered by NVIDIA GeForce GTX 1050 graphics that give work and play a palpable boost, plus a six-core Intel 8th Generation Core i7 processor that makes quick work of demanding tasks like photo and video editing, 3D rendering, and compiling code. Unlike typical all-in-ones, everything is housed in the base, which opens up easily to let you upgrade the DDR4 memory, M.2 SSD, and 2.5" HDD.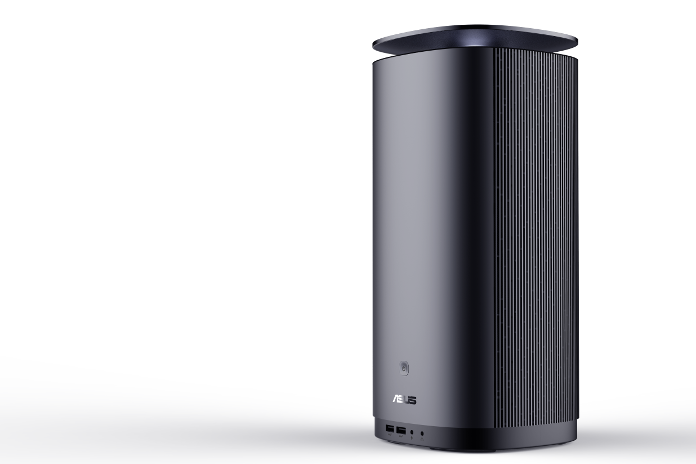 If you'd rather separate PC and display, the upcoming ProArt PA90 puts potent components inside a compact chassis. Content creators and creatives professionals told us they wanted a stylish system that's quiet and expandable, so we put an 8th Generation Intel Core processor and NVIDIA Quadro graphics in a handsome tower with an small footprint and unobtrusive acoustics. The PA90 may look more like a smart speaker than a computer, but it's equipped for serious work.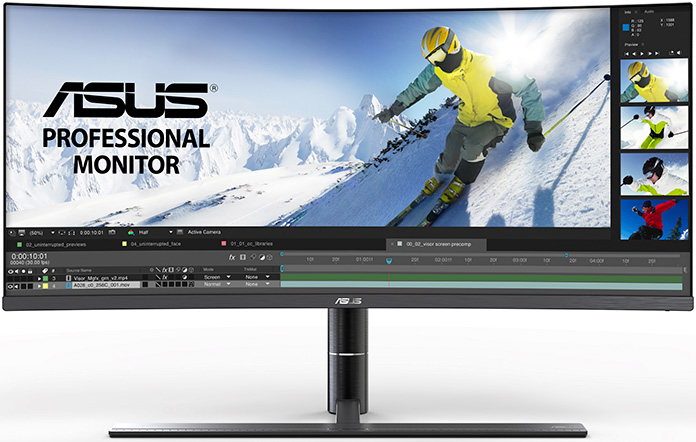 Our ProArt family of professional-grade desktop monitors offers no shortage of pairing options, including the Thunderbolt 3-equipped PA34VC. The curved ultra-wide display spreads long video timelines and multiple editing windows across an expansive 21:9 aspect ratio that pulls you deeper into your projects. Factory calibration ensures the IPS panel has accurate colors with a delta E under two, and ProArt calibration profiles let you save tweaks directly to the monitor, so they work with a range of inputs. The 3440×1440 resolution and 100Hz Adaptive-Sync refresh rate strike an enticing balance between detail and speed, allowing the ProArt to keep you focused on your work all day and entertained with ultra-smooth gaming after hours.
Displays as far and wide as you can see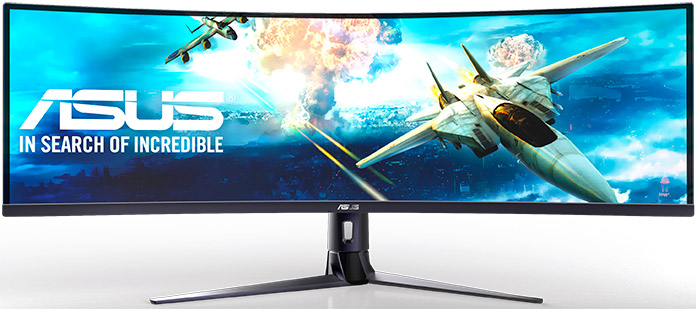 Gaming is becoming more pervasive, influencing not just the ProArt, but also two gaming monitors very different appeal. The VG49V extends the ultra-wide philosophy to an even greater extreme with a huge 49" screen stretched across a panoramic 32:9 aspect ratio. The resulting Double Full HD resolution has enough space for two 1080p windows side by side, including Picture-by-Picture configs that show different sources simultaneously, like a laptop and desktop. It's also fantastic for ultra-ultra-wide PC gaming, especially driving sims and first-person shooters. Those genres benefit immensely from the VG49V's FreeSync-infused 144Hz refresh rate and extremely low 11.9-ms input lag, which make fast-paced action feel smooth and responsive.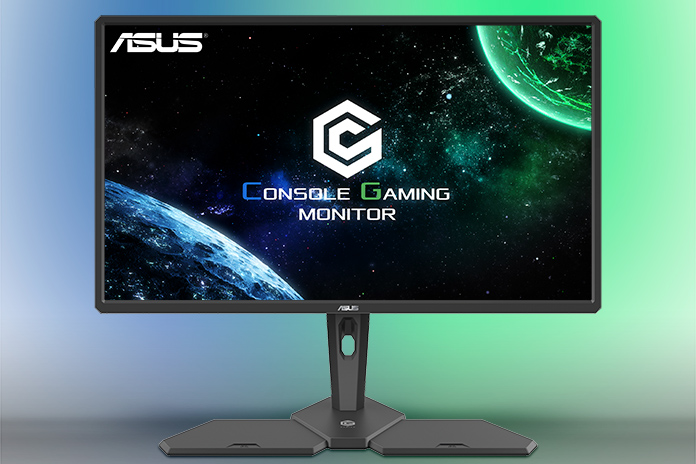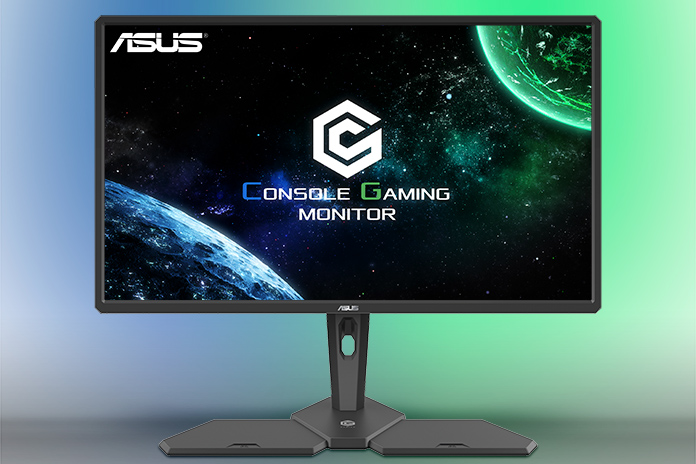 The CG32 console gaming monitor fills a different need by combining platforms on a 32" display that's perfect for smaller spaces like bedrooms and dorms. It's a visual marvel that can enhance all forms of content with a sharp 4K Ultra HD resolution, luscious 10-bit colors that cover 95% of the cinema-grade DCI-P3 color space, and high dynamic range with VESA DisplayHDR 600 compliance. Halo Sync lighting integrated into the back extends the a matching glow into your environment for additional ambiance. Low input lag of just 13 ms makes gaming more responsive than conventional TVs, and support for Adaptive-Sync smoothes out gameplay when connected to compatible PCs and consoles. The CG32 has DisplayPort and HDMI inputs for four devices, along with a USB hub and charging station for multiple controllers, making it the ideal center for all your gaming systems.
TUF Gaming enlists a new generation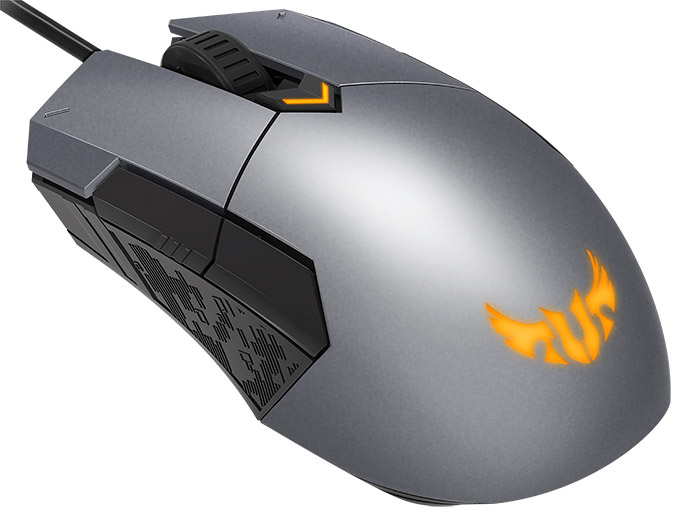 Our TUF Gaming division brings PC gamers the performance and reliability they crave at more affordable prices. A collection that began with motherboards is growing with a complete family of peripherals. The TUF Gaming M5 mouse is coated with extra-durable paint and boasts Omron switches that can survive an astounding 50 million clicks. Its splash-resistant TUF Gaming K5 keyboard sidekick puts five-zone Aura Sync RGB lighting behind an array of Mech-Brane switches whose membrane design is tuned for a more mechanical feel. Our lightweight TUF Gaming H5 headset is comfortable to wear for longer sessions, and offers 3.5-mm stereo input or virtual surround with an included USB adapter. The peripherals are joined by a matching TUF Gaming GT501 chassis with durable steel construction and lots of room for internal cooling.
The GT501 isn't the first TUF Gaming chassis. Cooler Master makes one of its own as part of the TUF Gaming Alliance, a collaboration between industry partners to produce matching components that adhere to our values. Products are already selling or in the works from a who's-who of industry heavyweights that includes Antec, Apacer, Ballistix, Cooler Master, Corsair, Deepcool, Enermax, G.Skill, GeIL, In Win, Scythe, Silver Stone, Team Group, and XPG. We're also establishing higher standards for DRAM and PSU validation to ensure that first-time builders have a trouble-free experience with parts they can trust to be stable.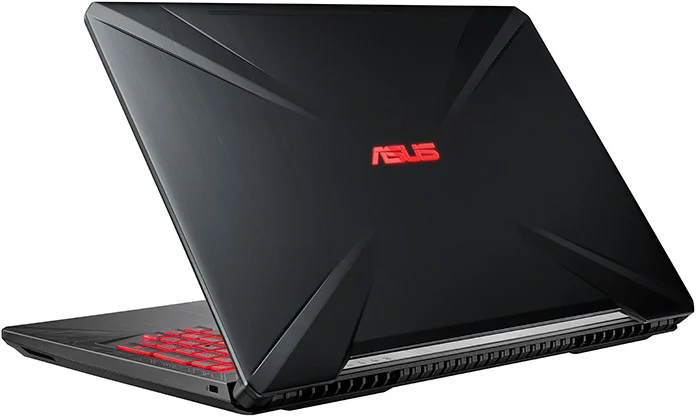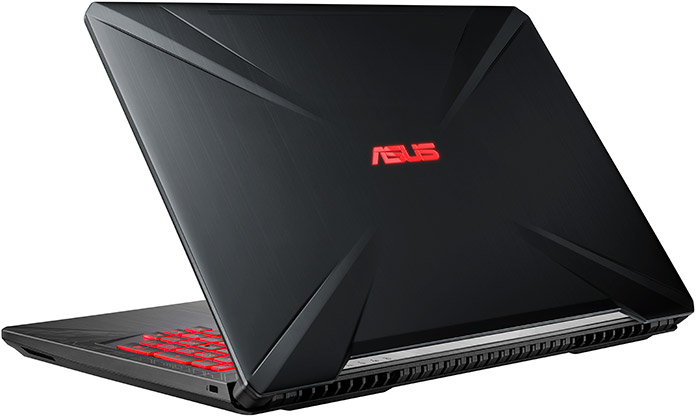 As TUF Gaming expands, complete systems are beginning to join the family. They embrace the same principles by putting gaming essentials in affordable packages built to last. Take the TUF Gaming FX504 laptop, whose top configuration hooks GeForce GTX 1060 graphics up to a high-refresh 120Hz display with a fast 3-ms response time and broad 130% sRGB color gamut. Its desktop-style keyboard has switches rated for 20 million clicks, and the chassis is strong enough to survive the rigors of daily use. The TUF Gaming FX10CP is an actual desktop, and like the laptop, it's available with six-core processors based on Intel's latest Coffee Lake architecture. Both systems also have 802.11ac Wave 2 WiFi to help you get online at top speed, and surround-sound virtualization to make gaming audio more immersive for stereo headphones.
On the road with the Republic of Gamers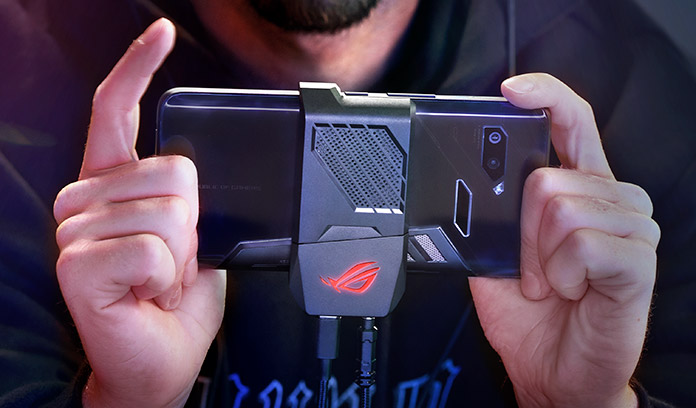 Gaming is increasingly mobile, in part thanks to the fact that our omnipresent digital sidearms make it easy to play a few rounds whenever a free moment arises. The technology and games have advanced to a point that the experience is really compelling overall, and we saw opportunities for the Republic of Gamers to make it even better. The new ROG Phone uses an exclusive version of Qualcomm's Snapdragon 845 processor that's faster than stock and backed by upgraded cooling that helps sustain peak gaming performance. Graphics look amazing on the no-compromise AMOLED, which combines the smoothness and clarity of a 90Hz refresh rate and 1-ms response time with the phenomenal colors and contrast of a wide DCI-P3 gamut and HDR support. On the edges, programmable AirTriggers optimize input while a side-mounted port keeps cables out of the way for a more comfortable grip. You still get all the features of a high-end smartphone, plus tightly integrated accessories for WiGig display, dual-screen play, and gaming desktop day-to-day that allow the ROG Phone to become something much more than just another gaming phone.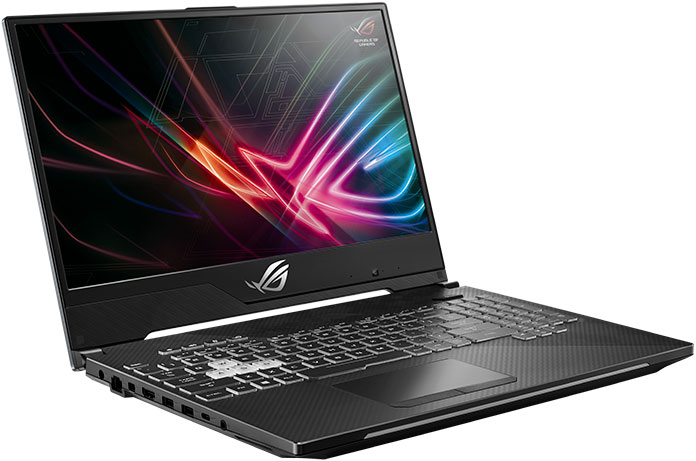 Though too large to be pocketable, the new Strix Scar II and Hero II esports gaming laptops are more compact thanks to narrow bezels that shrink the overall footprint. We worked closely with AUO to develop a class-leading IPS-type display with an ultra-fast 144Hz refresh rate and 3-ms response time. Combined with an Intel Core i7 six-core CPU and up to NVIDIA GeForce GTX 1070 graphics, it gives esports pros the triple-digit frame rates and visual clarity they need when they hit the road. Additional cooling keeps performance on point for prolonged play, while 802.11ac Wave 2 WiFi and smart quad-antenna array maintain a better wireless connection. The slashing motif and enhanced Aura Sync lighting channel common ROG themes across Scar II and Hero II flavors inspired by FPS and MOBA games.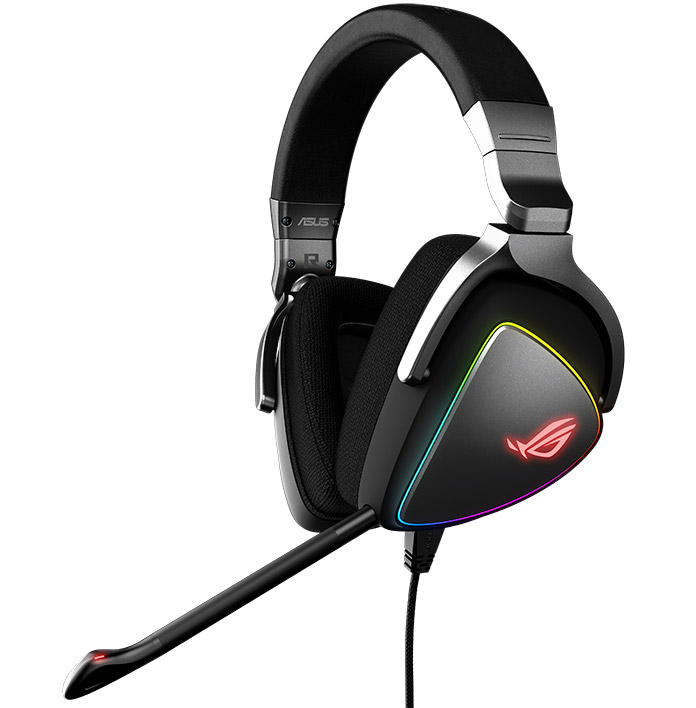 The ROG Delta Type-C headset ties together all your gaming devices with clear audio from a pristine digital interface. These comfortable cans plug right into the ROG Phone and new Strix laptops, and they come with a Type-A adapter compatible with most PCs and even consoles, so you can wear them all day as you move between devices. Inside, quad DACs split the stereo signal to expose every detail, enabling an impressive 127-dB(A) SNR that's much higher than what's available on mobile devices, laptops, and even our best motherboards. The Delta also works with a new APO injection feature built into the Strix Scar II and Hero II laptops that brings surround sound and other Sonic Studio effects to any USB headset or DAC.
Into new territory for DIY desktops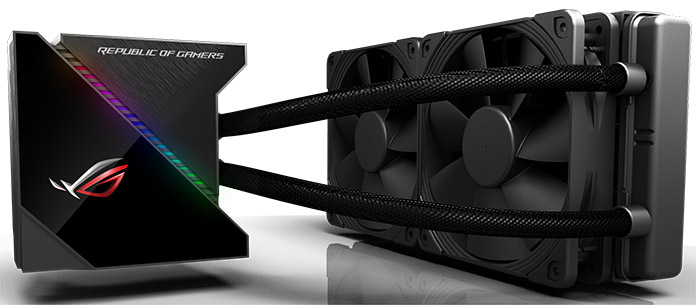 Fans have long requested for more components to build all-ROG rigs, so we're bringing our own style and enhancements to new categories. While our focus on cooling is evident across many products, including the ROG Phone and Strix Scar II and Hero II laptops, the ROG Ryujin and Ryuo are the first stand-alone coolers to bear our name. They're both based on proven Asetek hardware infused with Aura Sync lighting and capped by a full-color LiveDash OLED that strikes the right balance between purely cosmetic enhancement and functional system monitoring. The Ryuo comes in 120- and 240-mm radiator sizes with fans based on the same Wing-Blade technology as our graphics cards and new PSU. It's joined by the Ryujin, which pairs industrial-grade Noctua fans with a 240- or 360-mm radiator. This flagship model also adds a premium pump cover and additional fan that help cool VRMs and M.2 SSDs near the CPU socket.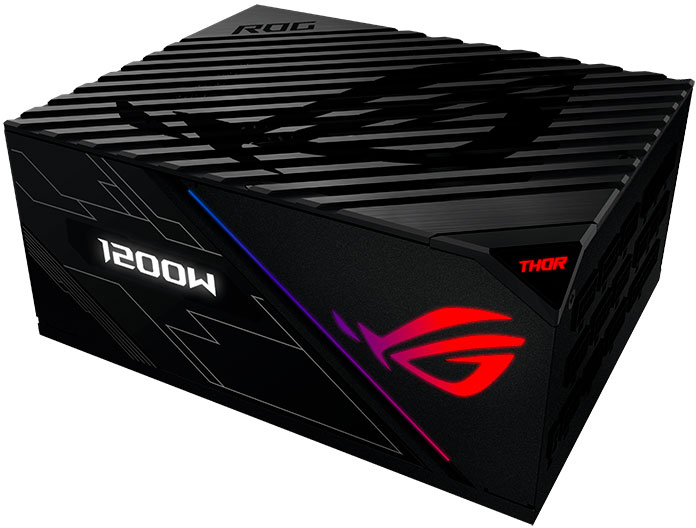 A similar approach brings ROG into the PSU world with the Thor 1200W Platinum, which delivers the reliable power high-end systems require with impeccable 80 Plus Platinum efficiency. We added beefier heatsinks to accelerate thermal dissipation on the inside and installed a system-facing Wing-Blade fan that helps exhaust warm air from your chassis. Our 0dB mode turns off the fan completely when it's not needed, allowing the PSU to run in complete silence even when playing some games. You can monitor the output wattage for different loads in real time using the external OLED, and customize the integrated Aura Sync lighting by connecting the PSU to an addressable RGB header on one of our recent motherboards.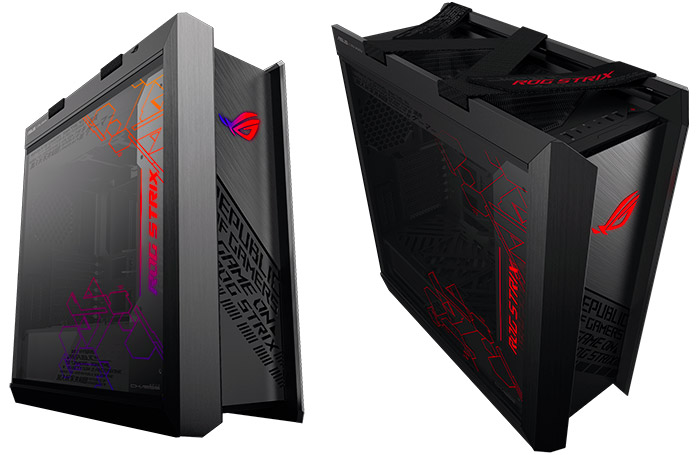 The upcoming Strix gaming chassis brings everything together with a true family home for all our internal components. Although the case isn't completely finalized, we're providing a early look at two designs that blend tempered glass with brushed surfaces. The Strix chassis has room for high-end liquid coolers like the Ryujin 360, and it will include a vertical GPU bracket to showcase Strix graphics cards. Separate addressable lighting zones on the side and front panel plug directly into headers on ROG motherboards, illuminating everything with your personalized palette. There are also woven handles up top for easy carrying to LAN parties.
Broadening beyond the box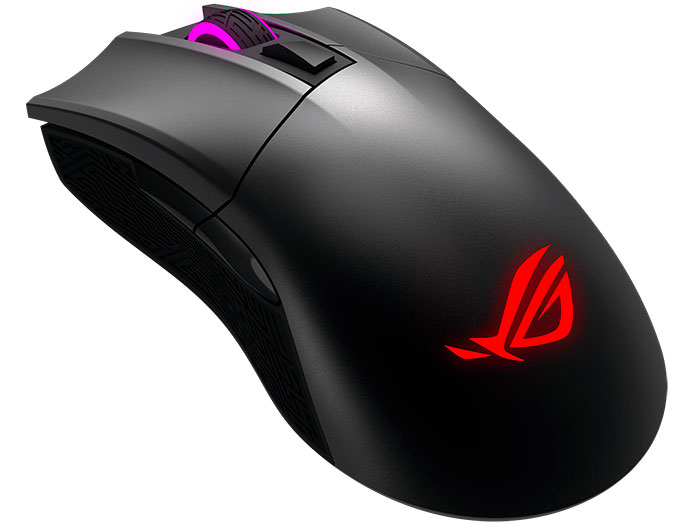 While the chassis contains your build, our new peripherals provide additional set pieces for the rest of your battlestation. A natural fit for both laptops and desktops, the Gladius II Wireless frees our most coveted gaming mouse from the shackles of a USB tether. It pairs RF and Bluetooth technologies with a new Pixart sensor that provides impeccable tracking. We helped optimize the sensor's power consumption to improve battery life, allowing the Gladius II Wireless to game for 24 hours with the lighting turned off. Aura Sync illumination is still available, and topping up the battery is easy with the included USB cable, which switches the mouse into wired mode for the best possible connection.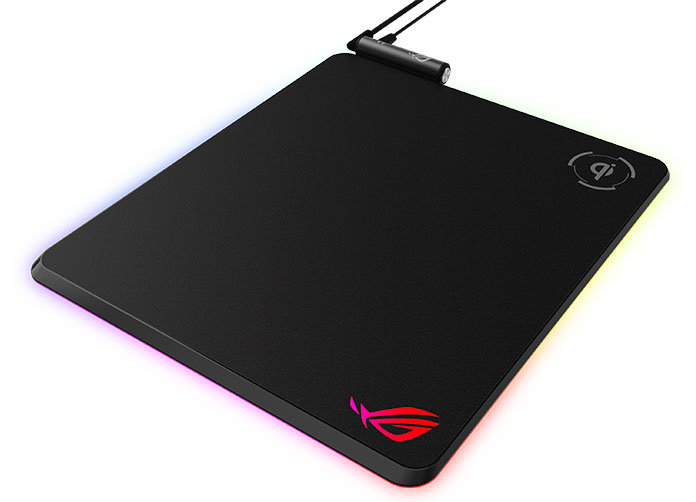 Armoury II software handes the Gladius II's extensive programmability, including calibration for different surfaces like our new Balteus and Balteus Qi. These hard surfaces offer fast tracking without being too rough on your wrist. They're ringed by 15 Aura Sync lighting zones that highlight the boundaries and further reinforce our comprehensive approach to full-system illumination. The tracking area is deeper to accommodate a range of positions from slouching back to hunching forward. The additional real-estate also leaves room to rest your phone, and the Balteus Qi takes further advantage by adding a wireless charging zone for compatible devices.
One more thing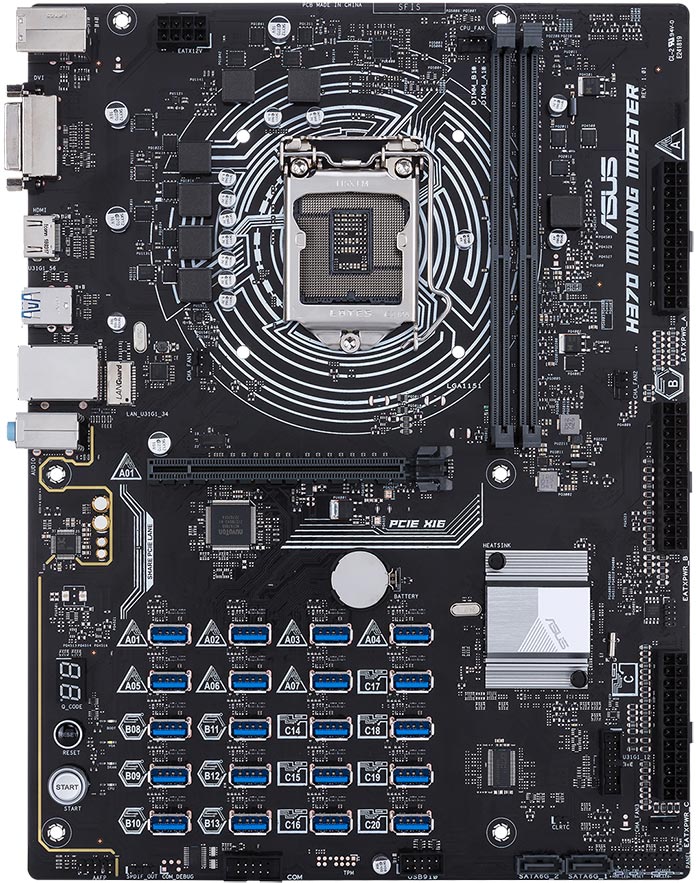 We're doing so much across different areas that there's always something that doesn't quite fit in with the rest. This year, it's the new H370 Mining Master and its accompanying demo rig, which connects 20 GPUs to a single motherboard. A blockchain-crunching spectacle worthy of superlatives, this tentacled beast connects each graphics card with a PCIe-over-USB riser wired directly to a compatible port on the motherboard. Tidy cable routing is important in densely packed farms, and so is uptime, so the H370 Mining Master adds diagnostic features that make it easier to spot problems with individual GPUs or other system components. While mining may exist on the fringes of the more traditional PC industry, our engineers have been watching the scene for years, and their expertise has allowed us to create the ultimate motherboard for both mining hobbyists large-scale operations.