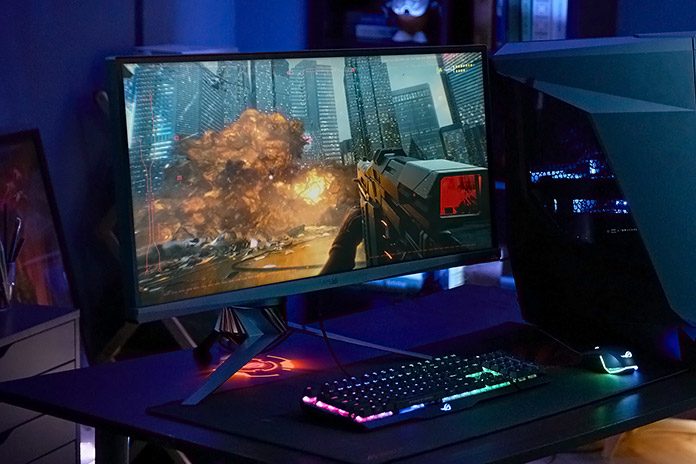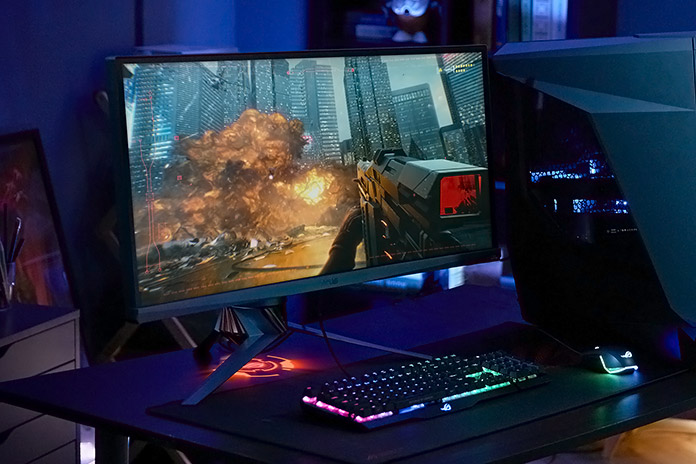 Your monitor is the centerpiece of your gaming setup. Sure, your graphics card might be responsible for all the GPU horsepower, but a great display is crucial if you want to take full advantage. It turns the frames rendered by your GPU into the graphics that define your visual experience. The right one can alleviate not only the blurring and tearing that often ruins how games look, but also the stuttering and input lag that affects how they feel.
Finding the best option for your setup is more complicated than just ponying up for the highest resolution and fastest refresh rate that you can afford. Everyone's needs (and PCs) are different. There's little point in coughing up the cash for a 4K monitor if your graphics card can't maintain high enough frame rates at the native resolution, for example.
Choosing the right monitor can be a bit overwhelming even if you've narrowed down your desired features. We've put together this guide to help you make sense of what ASUS and ROG have to offer across different categories. Whether your goal is gaming at 4K resolution, with an ultra-high refresh rate, or on a sexy curve, our monitors are engineered to deliver the best gaming experience possible.
Figuring out where to start
Before we break down all the features and specs, it's best to begin with the kind of monitor you want. Looking for something that ensures you can keep up in competitive multiplayer matches? Concerned about the best possible picture quality to maximize the eye candy? Different features cater to different needs, so you'll need to get comfortable with a few key concepts to find the right balance. Phrases like refresh rate and response time will come up again and again, so you should understand how they affect your game.
Keeping it fresh
High-refresh monitors bring serious benefits to your gaming experience. They let you see more frames per second, which translates to smoother motion and animation, and they offer real gameplay benefits, like reduced input lag that lets you react faster. If you're serious about competitive shooters, a monitor with a high refresh rate is a must. It's not the only ingredient in the recipe for the smoothest graphical experience, though.

High-speed footage of a faster refresh rate in action. Video captured at 240 FPS and played back slower than real time.
When gaming, graphics cards typically render and deliver frames to your monitor at a variable rate. The number of frames per second, or FPS, goes up and down depending on a range of factors, like the title you're playing, how you've tweaked the graphics settings, and even what's happening in a given scene. However, monitors usually refresh the picture at their own pace, which is fixed and expressed in Hz. Problems arise when the two fall out of step, leading to perceptible stuttering and visual tearing.
Tearing happens when the graphics card sends a new frame while the monitor is still drawing the old one. The picture changes mid-refresh, producing a visible seam that's especially obvious with fast action. Many games eliminate tearing with a VSync setting that only provides new frames at the beginning of the monitor's refresh cycle. While this approach keeps the picture complete, it forces the graphics card to reuse old frames if new ones aren't rendered fast enough. Missing refresh cycles produces stuttering and input lag that affect how gameplay feels.
The missing link: synchronicity
Variable refresh technology tackles the problem by matching the refresh rate of the monitor with the frame rate of the graphics card. New frames are displayed right after they're rendered, which makes gameplay much smoother, and each one is drawn in its entirety, so there's no ugly tearing.
There are two takes on variable refresh. NVIDIA's G-Sync technology uses proprietary hardware to provide a consistent experience for compatible GeForce graphics cards. AMD's FreeSync is based on the Adaptive-Sync component in the DisplayPort standard; it works with recent Radeons, and Intel has pledged to support Adpative-Sync in the future.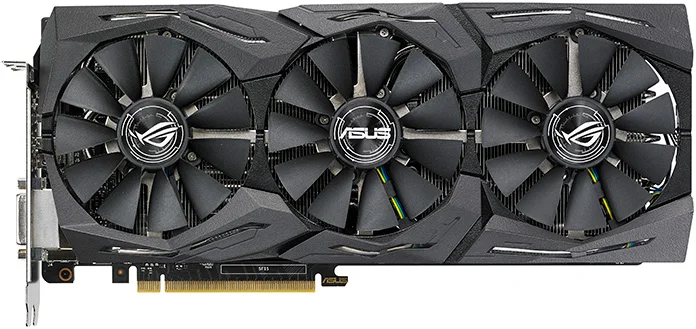 Getting picky about panels
Another thing to keep in mind when shopping for a new monitor is the panel. Most monitors use TN or IPS-type panels (either true IPS or similar technologies like VA). Each type has unique characteristics that make it better suited for certain use cases.
TN panels have rapid response times that are ideal for fast-paced action. This metric describes how long it takes individual pixels to change color. Slower response times leave remnants of old frames visible as blurred or ghost-like trails behind moving objects. Quicker pixel transitions minimize these artifacts, resulting in a sharper picture that's particularly noticeable in fast-paced gameplay.
Quick response times are vital for competitive shooters, but they're not as important for games that are short on rapid movement and frantic action. MMOs, for example, may be better off with an IPS-type panel. The response times aren't as quick, but the color reproduction is generally better, which is a must for fantastical scenes, and the viewing angles are wider, so you don't have to be right in front of the screen. IPS-type panels are more versatile, making them appealing for all kinds of work and play, while TN caters more to hardcore gamers.
Beyond the eye candy
While the best refresh rate and resolution is debatable, we believe that some elements of a great monitor are non-negotiable. Regardless of the kinds of games you play or the size of your budget, you should be guaranteed a certain level of comfort and ease of use. All of the displays in this guide are built with this philosophy in mind.
Comfort for your eyes and body
You need to be in the right position if you're going to play comfortably for prolonged periods. Our gaming monitors are equipped with adjustable bases that allow you to easily swivel, tilt, and raise the screen to prevent an aching back and stiff neck. Some even rotate to a portrait orientation for document-heavy work.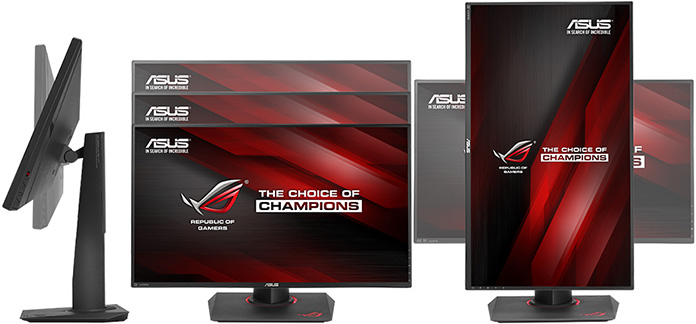 Over the past few years, research has revealed the risks of extended exposure to even perfectly positioned screens. The blue light emitted by LCDs can damage the cells in your eyes, causing discomfort and even macular degeneration. It can also disrupt your circadian rhythm, making it harder to fall asleep. Rather than applying a single one-size-fits-all filter, our gaming monitors have filters of varying intensities that give you control over how much blue light is reduced. Our Eye Care technologies also include a flicker-free backlight that reduces eye strain and fatigue, leading to greater comfort for epic gaming binges. All the monitors in this guide are certified by the display experts at TÜV Rheinland as low-blue-light and flicker-free.
Gaming enhancements at your fingertips
Blue light filters are just one of the features accessible through our integrated monitor controls. GamePlus hardware overlays add helpful on-screen tools, like a persistent crosshair to aim help you aim with laser precision in any setting. You can utilize on-screen timers to track everything from spawning to cool-downs to speed runs, and the FPS counter provides an at-a-glance assessment of game performance.
GamePlus overlays are complemented by GameVisual picture profiles tuned for different scenarios. The RTS/RPG, FPS, sRGB, Racing, Scenery, and Cinema modes each have their own look, like saturated colors that make scenery more vibrant, or brighter shadows that improve visibility in first-person shooters. You can quickly switch between them to match your needs, without modifying individual settings.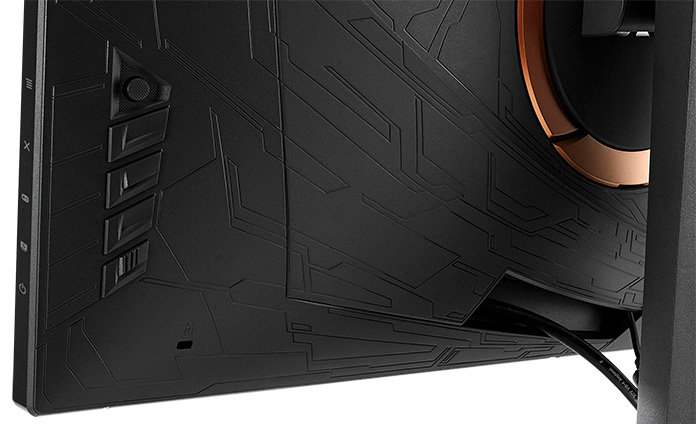 Changing profiles and other settings is simple thanks to our on-screen display (OSD). Instead of navigating with finicky controls, you use an intuitive joystick tucked behind the edge of the display. Darting in and out of menus is a breeze, and functions like GamePlus overlays can be accessed even faster via dedicated buttons.
Finding the perfect monitor
Our gaming monitors fall into multiple families. ROG Swift displays sit at the top of the line and are defined by their support for NVIDIA's G-Sync tech, while ROG Strix monitors represent a more affordable alternative based on AMD's FreeSync. Those ROG siblings have a distinct family resemblance, but the ASUS MG and VG series are more distant cousins. Although they share similar DNA, they hold back in a few areas to hit lower prices.
There are different options within each family, especially for ROG, and it's best to split the discussion along those lines. Our gaming monitors occupy the following categories: ultra-wide, ultra-fast, 4K, QWHD, and 1080p. We'll cover one each separately, so you can understand its unique attributes and easily compare similar options.
Ultra-wides offer a panoramic view
Ultra-wide monitors offer an immersive experience that rivals multi-monitor setups. Their expansive 21:9 aspect ratios produce a pristine panoramic picture that's uninterrupted by unsightly bezels. And you can still line them up side by side for deeper multi-monitor immersion.
ROG Swift PG35VQ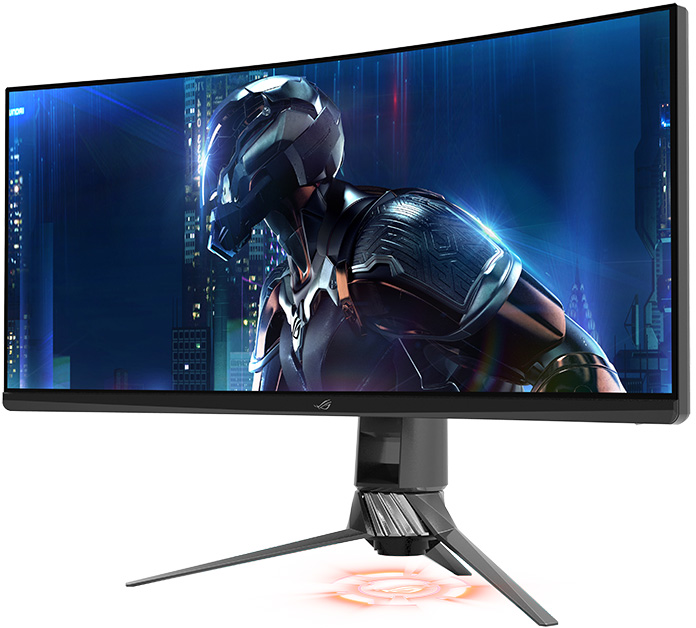 For gamers who demand the best visuals, the ROG Swift PG35VQ is the pinnacle of ultra-wide monitors. It packs a 3440×1440 resolution into a 35″ screen that follows a gentle 1800R curve. NVIDIA's G-Sync works in tandem with a 200Hz maximum refresh rate to deliver silky smooth gameplay that's exceeded only by our fastest esports monitors. Contrast is exceptional thanks to an LED backlight with localized dimming across 512 individual zones, enabling support for High Dynamic Range (HDR) content with deeper blacks and brighter whites. With quantum dots and a wider DCI-P3 color gamut, the PG35VQ offers a vibrant picture with a broader range of hues than typical sRGB displays. It's all topped off with Aura Sync lighting that can be synced with in-game audio or configured to match other compatible components for a cohesive look aross your whole system.
ROG Swift XG35VQ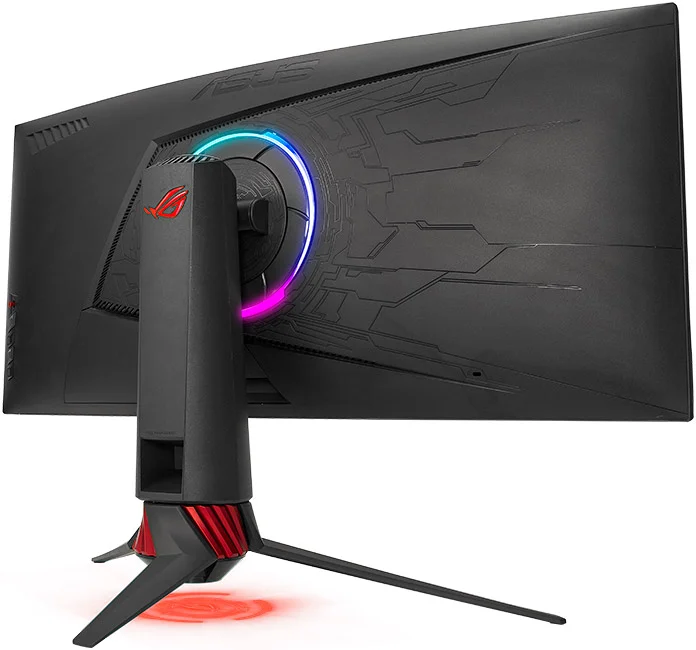 The ROG Strix XG35VQ has the same size and resolution as the PG35VQ, but it deviates from the Swift with FreeSync support for AMD GPUs. Its 100Hz maximum refresh rate is also lower than that of the ROG flagship, but you can still push true triple-digit frame rates with enough Radeon firepower. Like the Swift, the Strix wraps its eye-popping view across a curved screen that brings the far corners in closer for a more intimate feel. The rest of the specs are solid, and you still get Aura Sync RGB lighting on the back, plus a projected logo on your desk that can be customized to add subtle flair that's all your own.
ROG Swift PG348Q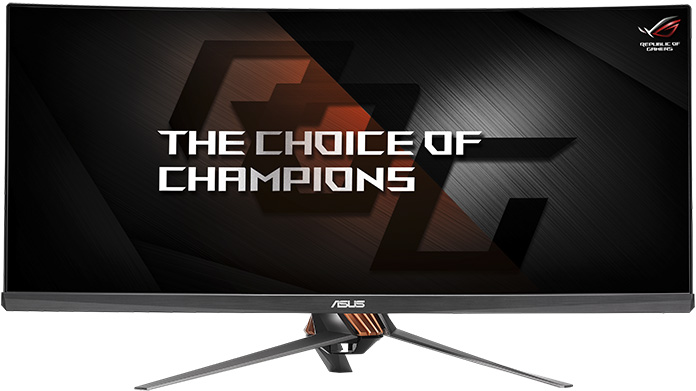 Before the latest 35-inchers appeared, the ROG Swift PG348Q was the king of ultra-wides. Its 34″ screen is a small step down in size, and the 3800R curve is slightly shallower, but the resolution is the same. G-Sync support up to 100Hz offers prime conditions for immersive gameplay on GeForce-equipped rigs without requiring a top-of-the-line graphics card. Lighting manifests in a projected ROG logo that combines with the Armor Titanium and Plasma Copper color scheme to create a distinctive aesthetic that looks slick next to any rig.
While the larger ROG Swift PG35VQ is the most impressive ultra-wide of the bunch, it's not on the market just yet, and the final specs and pricing haven't been revealed. The Swift PG348Q can satisfy your ultra-wide fix now for a more reasonable $1299 USD and $1899 CAD, while the Strix XG35VQ makes panoramic gaming even more affordable at only $799 USD and $1059 CAD.
Ultra-fast refresh rates for competitive play
Monitors with ultra-fast refresh rates are literally game changers. They provide the smoothest visuals and the most accurate controls for esports professionals and hardcore players who demand the best. All the monitors in this section pair 1080p resolutions that enable maximum performance with TN panels that offer stratospheric refresh rates. If you want to minimize motion blur and compete at the highest level, you're in the right aisle.
ROG Swift PG258Q and Strix XG258Q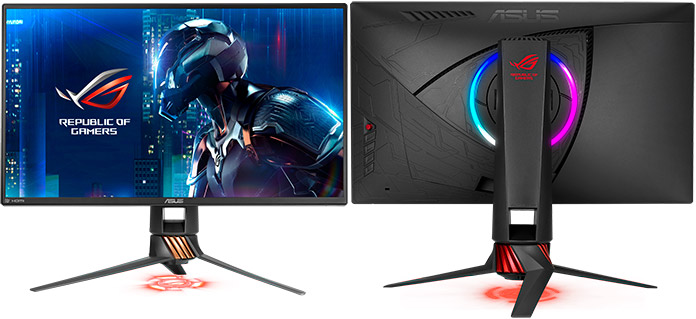 The ROG Swift PG258Q and ROG Strix XG258Q boast similar specs and looks. These matching 25″ displays feature blazing 240Hz refresh rates that offer smoother action than any of our other gaming monitors. They also have rapid 1-ms response times that keep the visuals sharp even in fast-moving scenes. Narrow bezels minimize distractions, especially for multi-monitor configs, and a customizable light in the base allows you to project your own logo or fly the ROG flag. These nearly identical twins are designed for different hardware: the Swift PG258Q is armed for GeForce cards with NVIDIA G-Sync, while the Strix XG258Q is made for Radeons with AMD FreeSync.
ROG Swift PG248Q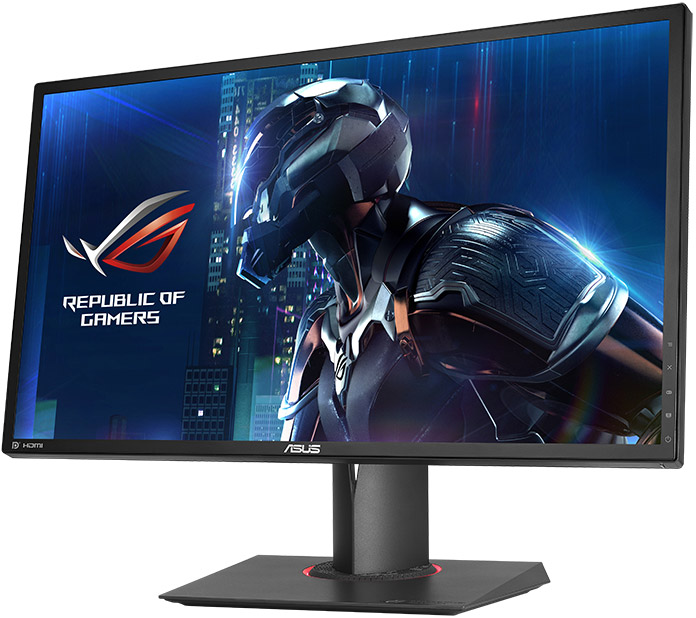 Rounding out our wicked-fast trio is the ROG Swift PG248Q. At 24″ with a refresh rate that overclocks to 180Hz, it's a little smaller and slower than the others, but also more affordable. The maximum refresh rate is still three times higher than typical desktop displays, and combined with G-Sync and a 1-ms response time, it makes for a compelling gaming experience whether you're competing on the main stage or playing at a local LAN. The more understated design still has slim bezels and subtle LED lighting that adds just a hint of flash to the base.
The PG248Q has already proven its mettle in major tournaments and with top teams. It's ideal for players seeking a competitive edge, and it's available for only $449 USD and $599 CAD. But esports lives on the cutting edge, and the pros are already demanding faster 240Hz displays. The ROG Swift PG258Q is ready at $599 USD and $799 CAD, while its Strix XG258Q alter-ego rings in at $449 USD and $569 CAD.
Maxing out at 4K
Ultra HD, 4K, 2160p. Whatever you call it, the 3840×2160 resolution is all the rage these days, and it's easy to see why. It has 8.3 million pixels, quadruple the number in 1080p. That's a massive leap, and it makes for a crisper and more detailed picture than anything we've seen before.
Finding a 4K panel capable of exceeding 60Hz is still rare, which is why most of the monitors in this category lack higher refresh rates. That's OK, because with so many pixels to fill, gaming at 4K requires monstrous GPU power. Even high-end cards struggle to maintain a consistent 60 FPS with all the details turned up in demanding titles, making variable-refresh technologies especially important. A dynamic refresh rate that maxes out at 60Hz is still plenty smooth when you've got the stunning detail of Ultra HD visuals.
ROG Swift PG27UQ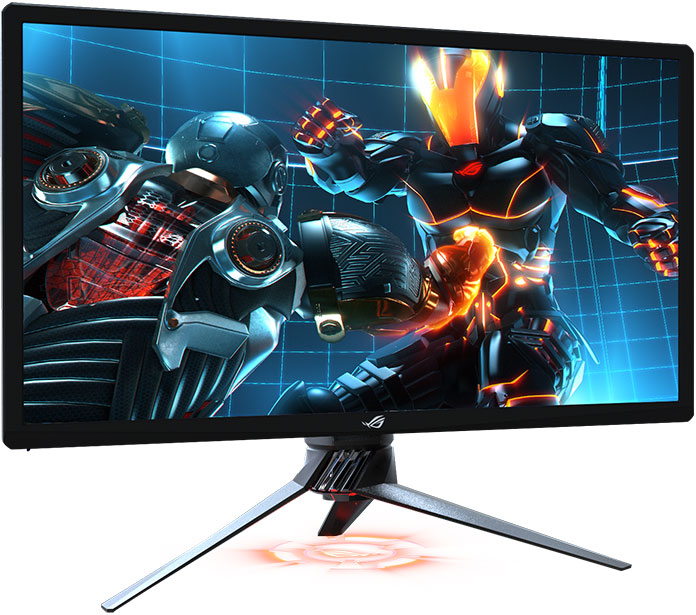 The exception to the rule and crown jewel of the collection is the ROG Swift PG27UQ, which is the first monitor to eliminate the compromise between speed and resolution by taking 4K all the way up to 144Hz with G-Sync. Like the Swift PG35VQ ultra-wide, this model is backlit by an array of LEDs with localized dimming. The resulting range of bottomless blacks to searing whites enables support for HDR content, while quantum dots and DCI-P3 gamut coverage ensure scenes are painted with a vivid palette of colors.
ROG Swift PG27AQ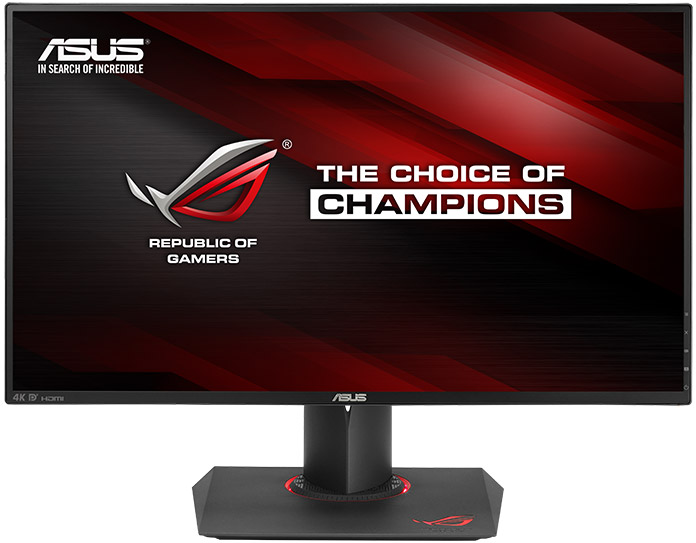 If you're less concerned with absolute speed but still want gorgeous visuals with variable refresh, the ROG Swift PG27AQ ticks all the right boxes for GeForce owners. When your frame rate dips below the panel's 60Hz peak, G-Sync adjusts the refresh rate to match. The wide 178° viewing angles are perfect for split-screen gaming, and the low-profile base and narrow bezels make it easy to line up multiple monitors for a surround setup.
MG28UQ
Don't worry; Radeon rigs aren't left out in the cold. The 28″ MG28UQ is the biggest 4K monitor in our gaming collection, and AMD's FreeSync tech is on hand to harmonize the 60Hz panel with compatible GPUs. Add the 1-ms response time, and you get smooth, responsive performance in stunning detail.
MG24UQ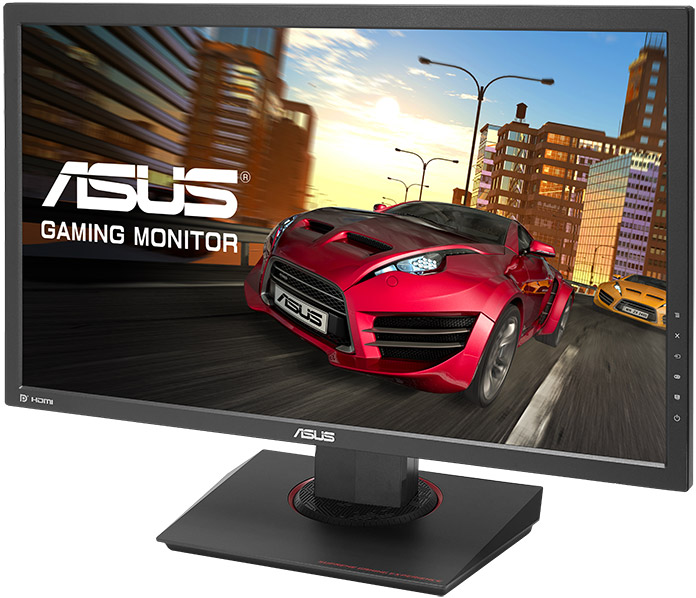 The MG24UQ downsizes to a dorm-friendly 23.6″ canvas based on an IPS-type panel with wider viewing angles. At 186 PPI, the pixel density is higher than any other monitor in our gaming lineup, and it offers an awesome level of detail for gamers and content creators who want one display that does it all.
Although the ROG Swift PG27UQ rises to the top of the class on potential alone, it's not ready yet, and the eventual price tag will reflect its premium status. To get your 4K fix today, the ROG Swift PG27AQ offers a well-rounded G-Sync package for a more affordable $899 USD and $1129 CAD. Our MG-series alternatives bring 4K down to even lower prices, with the MG28UQ catering to gamers at $549 USD and $599 CAD, and the MG24UQ ready for work and play at $399 USD and $459 CAD.
Varied options at WQHD
With a resolution of 2560×1440, WQHD montiors occupy the middle ground for anyone ready to upgrade from Full HD without getting into 4K or ultra-wides. This resolution features 77% more pixels than 1080p, so you get more detail without putting undue strain on your GPU. That means there's lots of room to explore higher refresh rates.
ROG Swift PG27VQ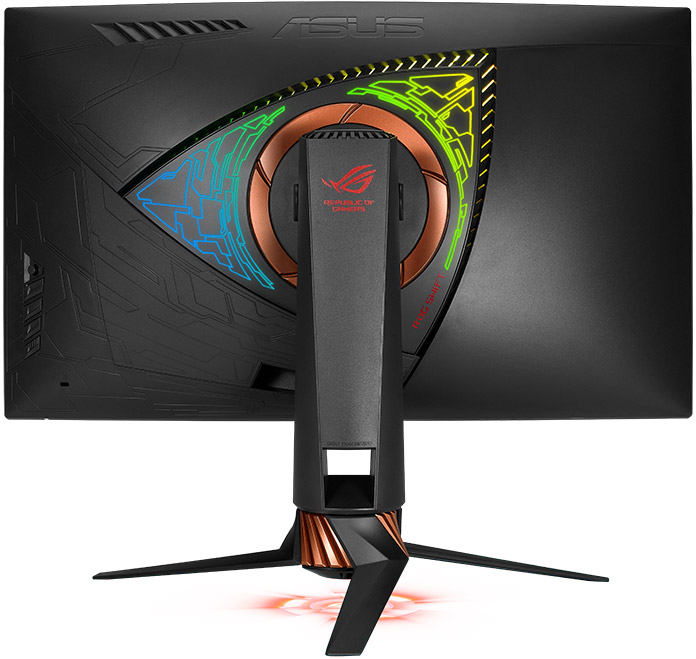 Curved displays equalize the distance to your eyes, so the benefits apply outside of ultra-wide territory. The ROG Swift PG27VQ sports a curved 1800R screen with a 27" diagonal that fills your foreground. G-Sync and the lightning-fast response time keep gameplay smooth and sharp, and the refresh rate can be overclocked up to 165Hz for extra fluidity. With 400 cd/m2 of brightness, you get vibrant graphics even in rooms with lots of ambient light. Aura Sync RGB illumination brings a customizable glow to the back.
ROG Swift PG279Q and Swift PG278QR
If you prefer to keep things flat, there are more choices on the menu. The ROG Swift PG279Q and Swift PG278QR both measure in at 27" and push super-high refresh rates up to 165Hz, but they're based on different display technologies. The PG279Q's IPS panel has rich colors and wide viewing angles that are great if you you want to dabble in photo editing or other work, while the PG278QR opts for TN tech that has a quicker response time better suited to high-speed gaming.
MG278Q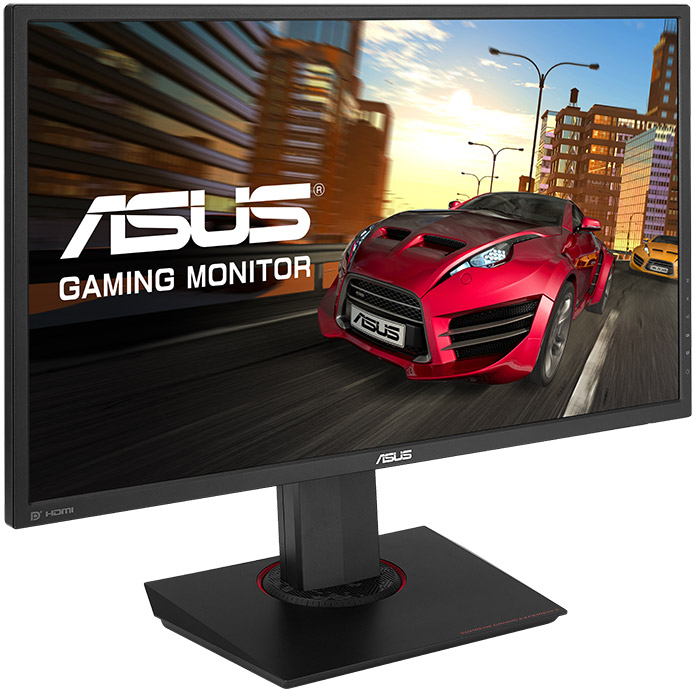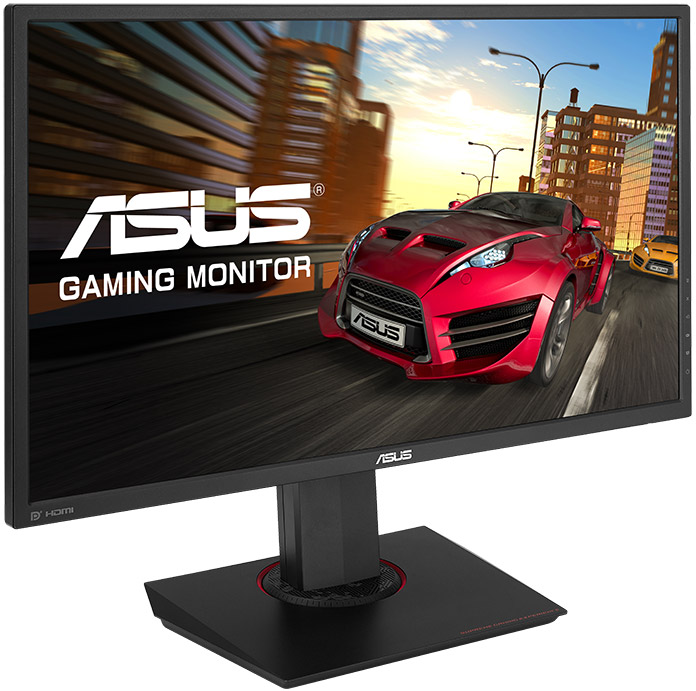 Radeon owners also have a couple of options in this category, both of which scale FreeSync up to 144Hz. The MG278Q is fairly understated, with a subtler design and flat 27″ panel. It's basically the Radeon-friendly version of the PG278Q, minus overclocking and at a lower price.
ROG Strix XG32VQ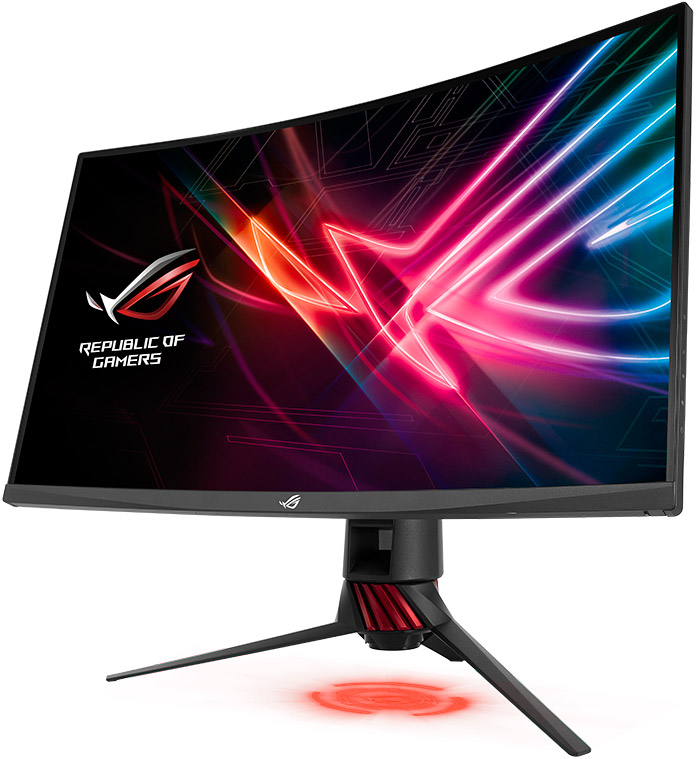 The ROG Strix XG32VQ is a different animal. Its massive 31.5" screen is curved at 1800R, creating an immersive experience that sucks you into the game. The VA panel has excellent contrast and colors across wide viewing angles, which makes it ideal for all kinds of entertainment. You also get a more striking ROG Strix aesthetic, complete with Aura Sync lighting on the back and a projected logo that can be customized with your own design.
If you're running a Radeon, it's hard to deny the Strix XG32VQ's versatile appeal at only $699 USD and $929 CAD. At $729 in the US and $699 in Canada, the MG278Q is a better fit for gamers with less space and a taste for TN response times. On the G-Sync side of the fence, the Swift PG27VQ offers a more premium experience with all the latest features for $799 USD and $999 CAD. The Swift PG278QR has similar gaming credentials with a more straight-laced design at $699 USD and $924 CAD, while the Swift PG279Q straddles work and play for $799 USD and $1059 CAD.
Old faithful Full HD
Full HD may seem old hat alongside the sprawling ultra-wide and detailed 4K monitors in this guide, but it's still a great choice. Taking the resolution down a notch requires less graphics horsepower, which in turn makes it easier to saturate high refresh rates for super smooth visuals. The monitors in this category are also more affordable, freeing up more budget for your graphics card.
ROG Strix XG27VQ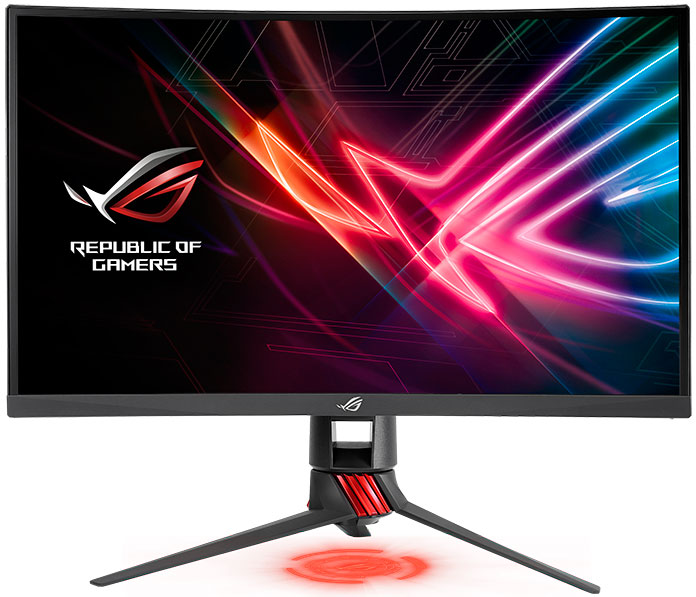 A 27″ screen curved at 1800R keeps your focus front and center with the ROG Strix XG27VQ. The VA panel boasts 3000:1 contrast with inky blacks and vivid colors. Its 144Hz maximum refresh rate is paired with AMD FreeSync to reduce input lag and make gameplay smoother. If the curve isn't enough of a statement, you can add a flourish on your desk with a personalized projected logo.
VG278Q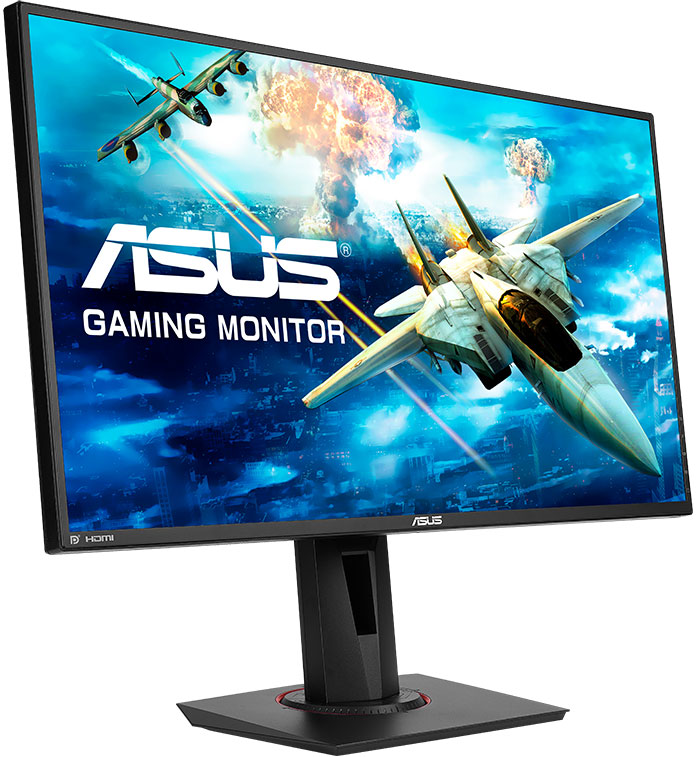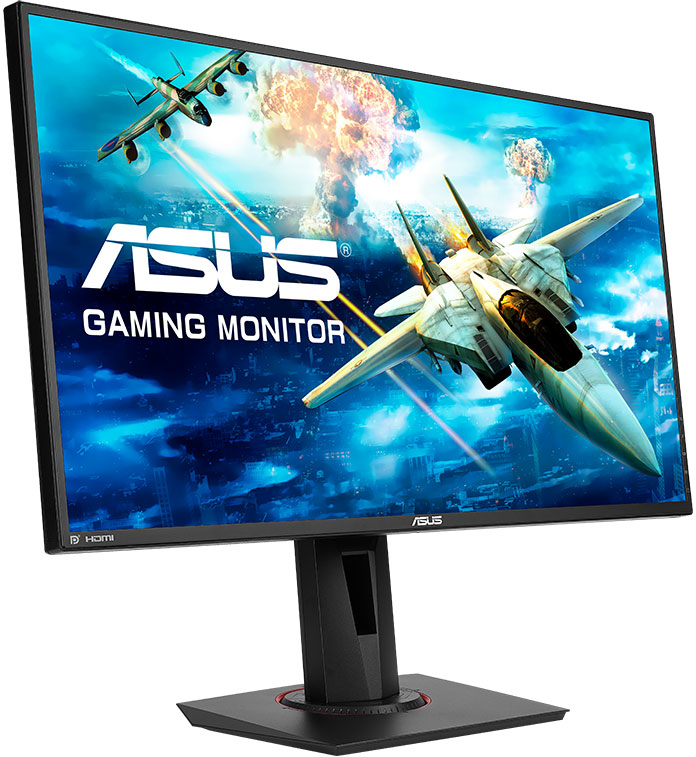 Curves aren't for everyone, and that's just fine. If the XG27VQ's size and speed appeal to you but you'd rather have a flat display, the VG278Q is just the ticket. It has the same 144Hz refresh rate and FreeSync support, but its panel is completely planar and utilizes TN tech with quicker response times.
MG248QR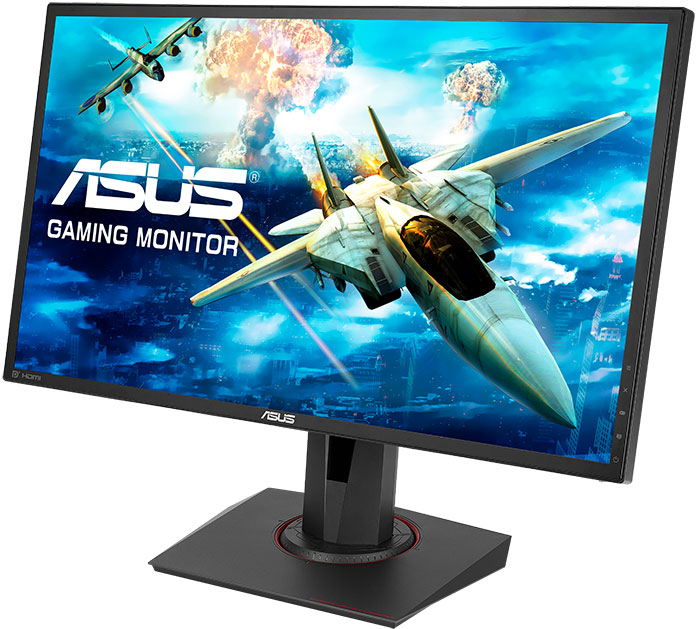 FreeSync also appears in the MG248QR, an affordable entry into the world of 144Hz monitors with variable refresh. This 24″ screen is a natural fit for the 1080p resolution, and we haven't skimped on connectivity or other essential features.
VG248QE and VG245H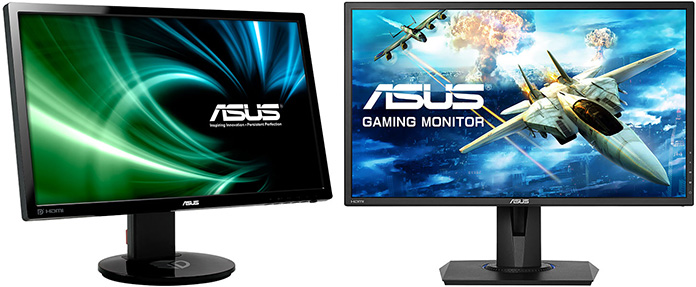 Though they match each other inch for inch and pixel for pixel, the VG248QE and VG245H cater to different kinds of gamers. The VG248QE is much faster, with a 144Hz fixed refresh rate primed for hardcore PC gamers—especially budget-minded competitive FPS players who can't have input lag or blurry visuals. Dual HDMI inputs with low input lag bolster the VG245H's appeal as console gaming monitor that also works with PCs. The 75Hz refresh rate and FreeSync tech help smooth out gameplay with PC titles, while the low input lag helps gaming of all types.
The ROG Strix XG27VQ gives you blazing speed with ample size at $349 USD and $469 CAD, while the VG278Q flattens your 27″ 144Hz fix for just $299 USD and $399 CAD. Drop down to 24″ displays, which squeeze more easily into a dorm room, and the MG248QR hits the sweet spot for speed and features at $299 USD and $399 CAD. If your budget already has you living on a ramen diet, the VG248QE gets you to 144Hz for only $279 USD and $369 CAD, while the VG245H brings the console love for just $199 USD and $264 CAD.
More guides from Edge Up
Want to learn more about other ASUS products? Check out our guides to Z370, X299, Ryzen, and Threadripper motherboards. And be sure to check out our gaming section for hands-on looks at the latest hardware, including some of the monitors featured in this article.