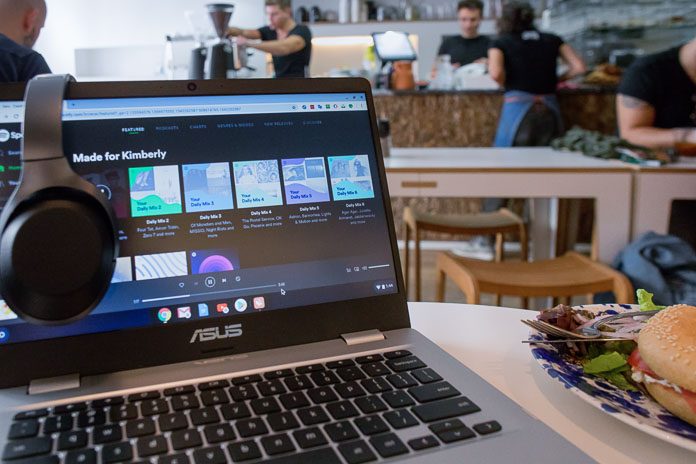 Chromebooks have come a long way in the seven years since they were first introduced, but many people are still somewhat gun-shy about taking the leap. Understandably so, when some early adopters found it hard to wrap their heads around living and working in the cloud 24/7. Google has addressed a lot of early Chrome OS pain points, and Chromebooks are easier than ever to use. With support for offline work, a near unlimited number of Chrome extensions, and Google's own suite of cloud-based productivity apps, the experience for nervous new users couldn't be more seamless.
Not too long ago, Chromebooks were exclusively focused on the early education market. These learning tools were soon followed by a new wave of consumer models designed for environments beyond the K-12 classroom, and that only boosted demand for something more affordable. These days, everyone from minimalist, globetrotting remote workers to cost-conscious families and university students are looking to Chromebooks as a viable option for staying connected everywhere.
In this fast-growing space, it can be difficult to separate the hyped-up from helpful. Good looks are a start, but you have to go beyond the surface to figure out what's actually right for your needs. Our new Chromebook C423 carves out a spot in the entry-level market with good looks, great performance, and a portable design.
Beauty and the budget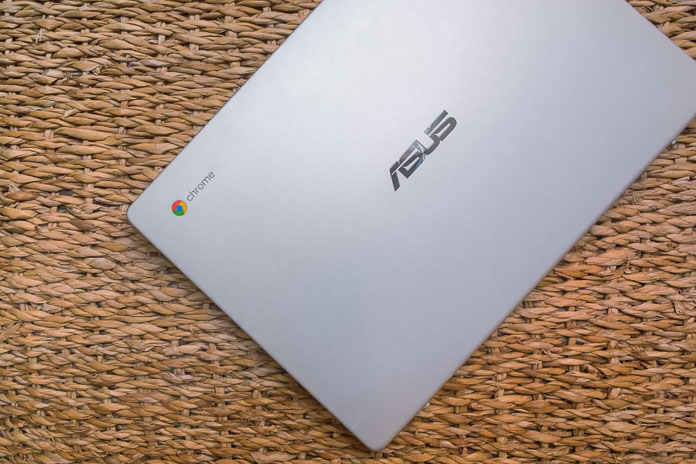 Right out of the box, the C423 is sleek, attractive, and minimalist. The aluminum lid and metallic-finish chassis are smooth and lightweight without feeling plasticky. On aesthetics alone, this laptop holds its own against far pricier competition. I actually did a double take at the price tag: $279 USD is downright shocking. It looks like it costs twice that.
The C423's screen helps with the high-end look. The 14″ HD NanoEdge display has an ultra-narrow 5.8-mm bezel. That's less than the width of a pencil and it keeps the laptop body small and compact. If you constantly feel your blood pressure spiking when docking windows side-by-side on small devices, the proverbial choir of angels will be singing on this Chromebook. The 1366×768 widescreen resolution actually has enough horizontal leeway to snap apps without any cramped-screen claustrophobia.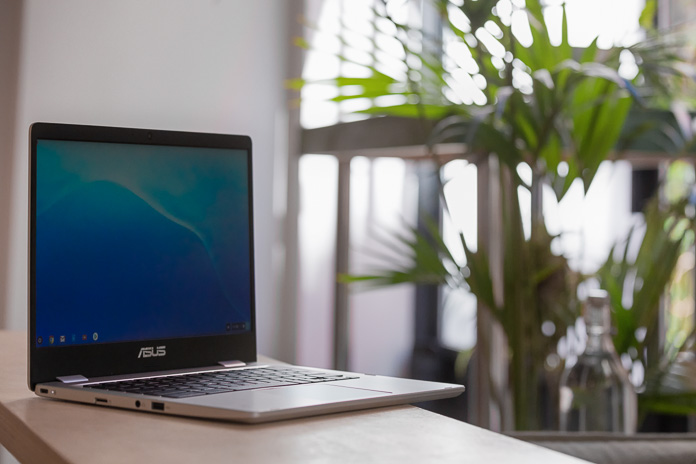 The 14″ C423 is just right for me, but if you're looking for something bigger or smaller, it's actually a middle child. The 11.6" Chromebook C223 is perfect for smaller bags or younger family members with little hands, and the 15.6" Chromebook C523 is ideal for those that want a larger screen for watching movies as well as working.
Key details haven't been overlooked for any members of this happy new family. Lightweight and portable no longer means compromising on connectivity. The C423 has two USB Type-C and two USB Type-A ports, as well as a combined headphone/mic jack, and a MicroSD slot. Remote workers can plug in their favorite noise cancelling headphones for tuning out the cafe chatter or hopping on a conference call. The generously-sized touchpad is smooth and responsive, and it features intuitive multi-touch gestures that take some of the work out of navigation. If you prefer the precision of a mouse, you can plug in or pair via Bluetooth.
I was glad of the MicroSD slot for quickly transferring interview audio to the cloud, and it's handy for vacationers capturing their adventures on a GoPro, too. The HD webcam makes jumping into family video calls or remote work scrums easy. When you do, the dual-band 802.11ac WiFi ensures you'll be able to connect to wireless networks on the 2.4GHz band as well as the less crowded 5GHz band, which makes for a more reliable connection with less interference from other devices.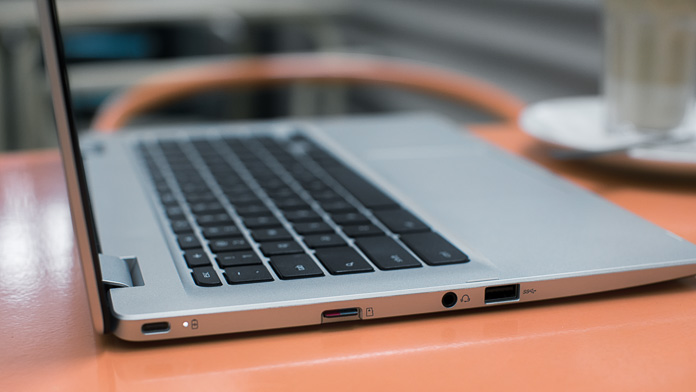 Road warrior
The C423 checks all the boxes for me on paper, but real life is the true test. One day after unboxing, I hit the tarmac to see if it could handle all the rigors of a remote work trip to Portugal. My mission for the next three weeks was for this machine to go everywhere I did—from airports and coworking spaces to cafes, photoshoots, and conventions. It's been years since I used a Chromebook, so I didn't know what to expect with this latest generation. Could I learn the ropes quickly and be fully productive with zero ramp-up? Would it have all the apps I needed for writing, email, and photo-editing? Could it multi-task the way I needed it to? And would it have the comfort, durability, and flexibility to survive close to three weeks on the road? With the C423, the answer is a resounding chorus of yeses.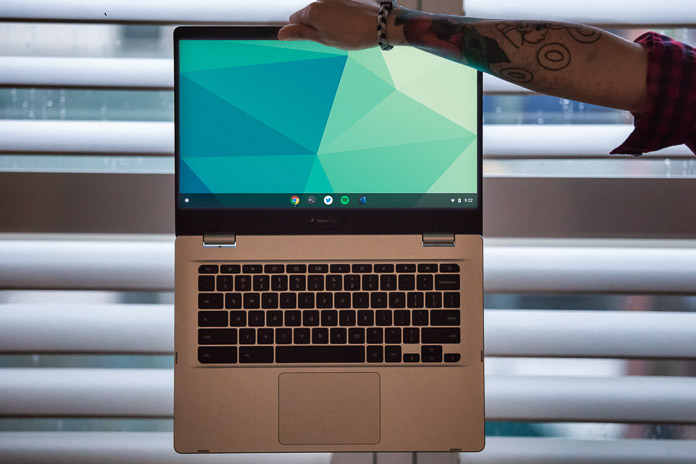 What's immediately apparent is the laptop's ultra-portability: at just 2.6 lbs, it's half the weight of a typical textbook. I had just 25 lbs of luggage split between two backpacks and almost half of that was taken up by camera gear, so this Chromebook met my ultralight travel goals without turning my shoulders numb on cross-terminal treks. Measuring 16 mm thick, it took up barely any room in my carry-on backpack and was easy to pull out of my bag as I breezed through security. Getting the Chromebook back into my carry-on was as easy as sliding a magazine back into place. If you're the type who loves getting things done on planes, the C423's small 12.7" by 9" footprint is fantastic for cranking out work on the tray table. The versatile 180° hinge gives greater range for angle adjustments in tight spaces.
Keep calm and work on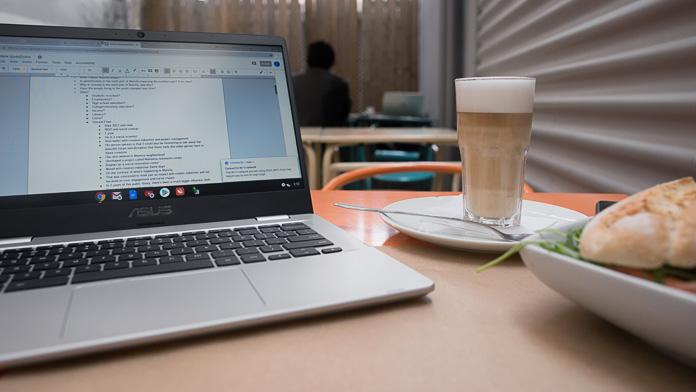 I'm a Chrome tab addict. You know, the kind of person who gets comments on the dozens of open tabs each time someone catches a glimpse? Naturally, I was curious how the dual-core Intel Celeron N3350 and 4GB of memory would handle my tab-hoarding habits, not to mention Spotify streaming and photo editing, but multi-tasking was surprisingly fluid. I got through a whole day of my regular work-flow without any noticeable lag to stymie my full-throttle multitasking, and the battery lasted until I was ready to call it a day, too. This meant I was able to go from morning email over breakfast, to working on the metro, to an afternoon at a cafe, to my evening back at my accommodations, all without needing to plug in for a top up. If you forget to charge up before you leave home, the adapter is hardly an inconvenience. It's the same size as my cell phone charger, so it was easy to toss into my bag in the morning. Still, it's always nice to not have to fight it out for the one coveted cafe spot near the power outlets.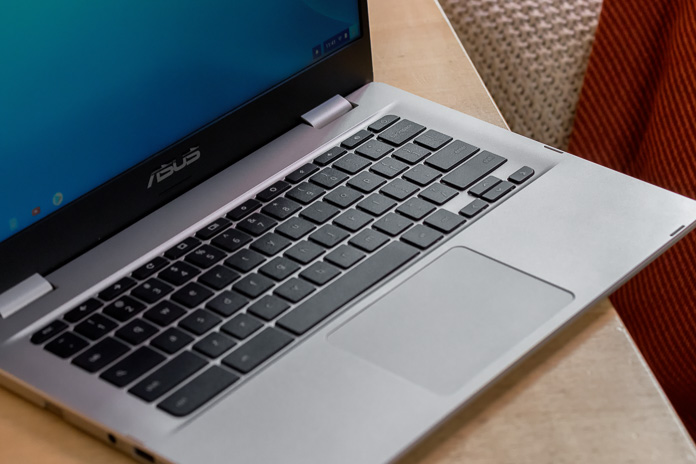 Comfort is often hard to come by when traveling, and I hate to leave my desk setup behind at home. As much as I'm used to working on planes and in cafes, wrist pain is an unfortunate reality when your work space is constantly changing. Small laptops, netbooks especially, are known for skimping on keyboards in favor of smaller footprints, and cramped keyboard layouts can cause serious hand and wrist problems with time.
Thankfully, this entire Chromebook family features full-size, ergonomic keyboards, and the C423's is as comfortable as it is attractive. The matte, black keys have a satisfyingly 1.4 mm of travel; it feels great to type on and is easy on the hands during long work sessions. It may seem like a small detail, but I also appreciate the Chromebook keyboard's pared-down simplicity. Beyond the usual brightness and volume controls, the function keys handle web-browsing basics. Instead of caps lock—do people still use that?—there's a universal search key. This opens Chrome OS's Omnibar, which is Google's answer to Windows 10's search bar and Mac OS's spotlight. It serves up Google's handy instant answers, plus results from your Google Drive, the web, and the Google Play store.
The 180° hinge that was so useful on the plane made a variety of work configurations possible. It folds all the way flat, making it much easier to share your screen with everyone at the table. Pressing Ctrl-Shift-Refresh actually rotates the screen 90°. Open the laptop wide, and voila; the perfect book layout awaits for the couch or coffee table. The hinge itself is stress tested for 20,000 opens and closes, so it'll withstand years of use, even if the kids insist on grabbing the laptop by the screen (cringe) and carrying it around like that.
Easy to learn, easier to love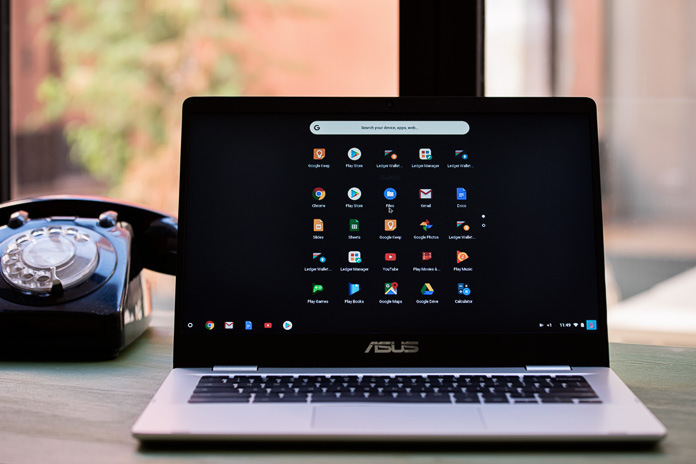 As for ramp-up, it seems all my fears were misplaced. Chrome OS had next-to-no learning curve. The desktop UI has all the familiarity of Windows 10, the intuitiveness of Mac OS, and the simplicity of the Chrome browser. For someone who needs to open my laptop and begin working at a moment's notice, I appreciate that updates are automatically streamed in the background. Beyond the added security (since I'm guilty of always delaying the "restart required" updates), this means there aren't any surprise restarts to take my computer offline as I'm poised in productivity mode.
Wake time is basically instant, and Google Drive and Gmail are right at my fingertips in the bottom app shelf, meaning G Suite-based documents and emails are just a click away. Offline document editing is enabled by default. Once I was on the plane, there weren't any unpleasant surprises about unsynced files. I jumped right in and started working. G Suite isn't for everyone, though, and it can be jarring if you're used to the familiarity of Microsoft Office. Because the latest Chromebooks feature support for the Play Store, you can download the mobile versions of Word and Excel if you need them. The Play Store has millions of applications across every genre. Even my favorite password manager, Lastpass, was there. Careful, though. Turn your back and the kids might steal your new Chromebook to play PUBG Mobile.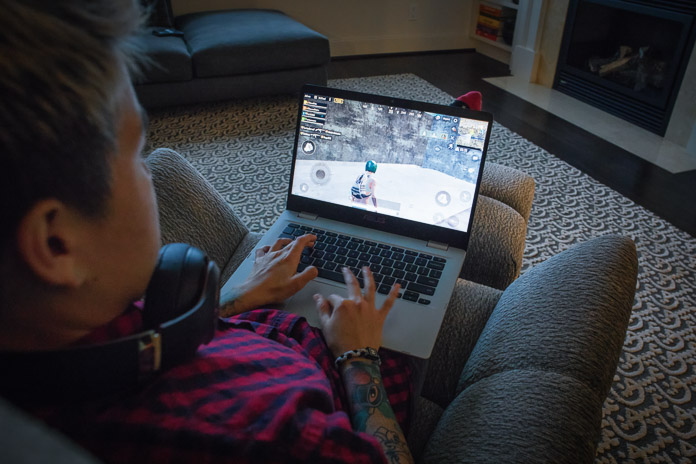 If you do get a little too app-happy, the C423's 16GB or 32GB eMMC storage goes a surprisingly long way. After installing all the apps I needed (and a few I just plain wanted), from productivity and entertainment to social networking and photo editing, I had only used up 4.25 GB. It also helps that files are stored in the cloud with Google Drive. Options like OneDrive and Dropbox are available, too, although they won't be quite so seamless as the native Google option.
Bend me, don't break me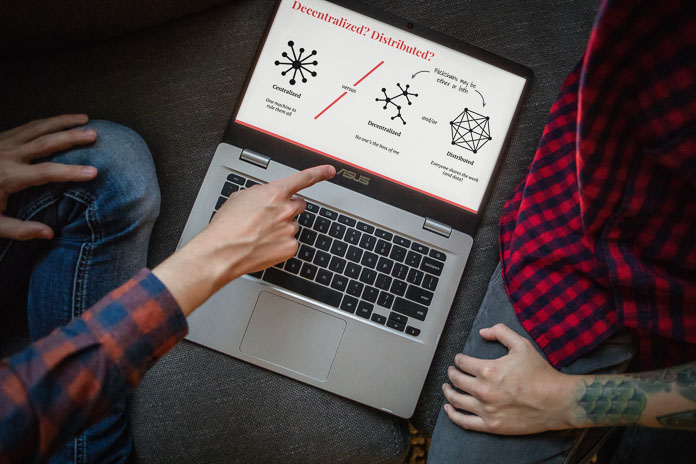 The C423's aluminum and plastic chassis is lightweight and durable without the toy-like, cheap feel of many low- and mid-range computers. Families will also love how foolproof the OS is. The kids basically can't mess it up, but if something catastrophic somehow goes down, all files and settings are already stored in the cloud, making device resets even more painless than clearing your browser cache and cookies.
Chromebook C423
CPU
Dual-core Intel Celeron N3350 1.1 GHz
GPU
Intel HD 500
Display
14.0" with matte coating
Resolution
HD (1366x768)
Memory
4GB of LPDDR4 2400MHz
Storage
32GB eMMC
Networking
802.11ac with 2x2 antenna
Connectivity
2 x USB 3.1 Gen 1 Type-C, 2 x USB 3.0 Type-A, 1 x MicroSD card reader, 1 x audio combo jack,
Bluetooth 4.0
Battery
38Wh
Dimensions
12.7" x 9" x 0.63"
Weight
2.6 lbs
Price
$279 USD
Availability (USA)

US Vendors
Between the impactful NanoEdge display, sleek aluminum aesthetic, and uncompromising connectivity, the C423 and its siblings look and act like big-boy computers for a fraction of the price. The result is a reimagining of what it means to be a Chromebook. In this brave new world, they aren't just portable classroom computers. They're productive, versatile, and, yes, beautiful in a way that's a joy to use even on work-from-home days (whether you're working from home home or somewhere a bit more far-flung.) The ASUS Chromebook C423 is priced at $279 USD. Check the table above for retailers selling the C423 in the US.