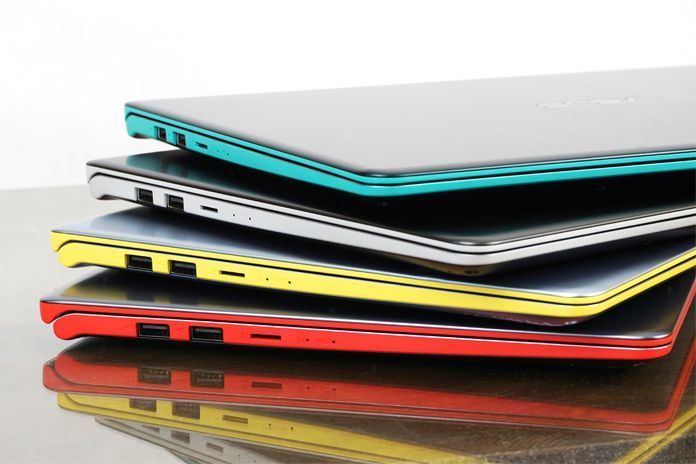 When it comes to the laptop you use for school or work, you of course care about performance, but looks and design are important, too. You want a laptop like the VivoBook S530UA, one that can handle classwork and side projects while looking sharp enough to turn heads on campus and in the coffee shop.
Let's get superficial for a sec
Most budget laptops are pretty boring, but the VivoBook S530 comes in a variety of colors and finishes. I felt pulled to the Firmament Green model because the whole chassis is shades of green. I wasn't sure how I'd feel about that much green once I'd used the laptop for an extended period of time, but I haven't fallen out of love with it yet.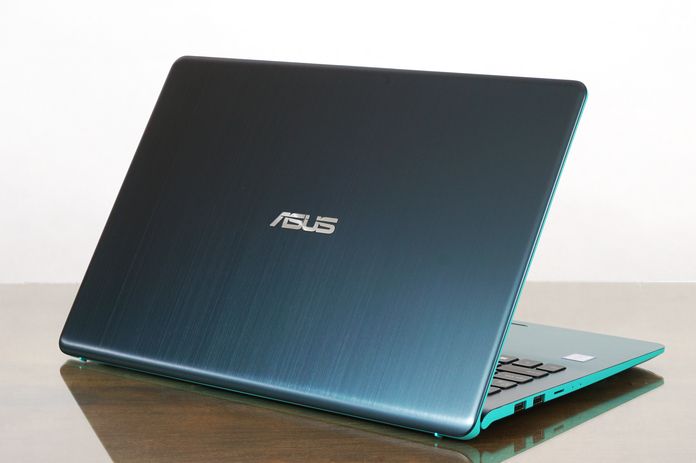 The lid of the S530 is beautiful, with a dark green brushed metal finish. For color contrast, the sides of the laptop and lid are spiked with a bright minty turquoise that brings some flair.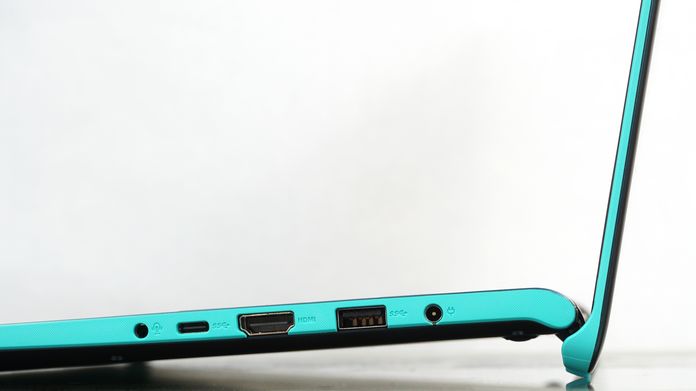 When the lid is open, the side profile is striking. The ErgoLift hinge shows the colorful sides, highlighting and shaping the contours of where the lid and body intersect.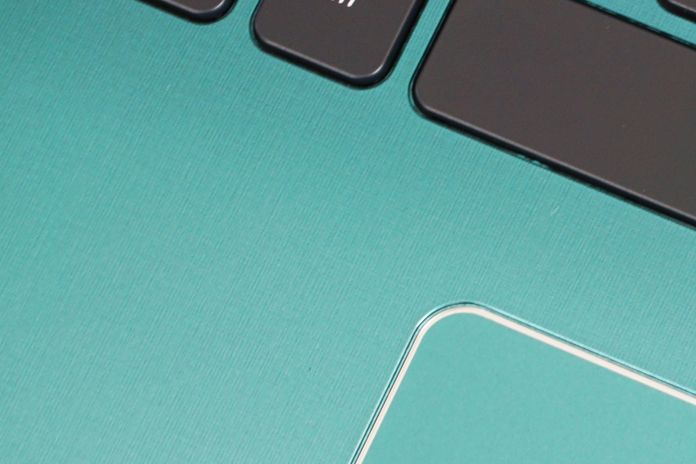 The woven texture on the interior surface of the VivoBook S resists fingerprints better than any smooth or matte finish I've seen on more expensive laptops. Even after hours of use, there weren't any greasy finger or wrist smudges anywhere.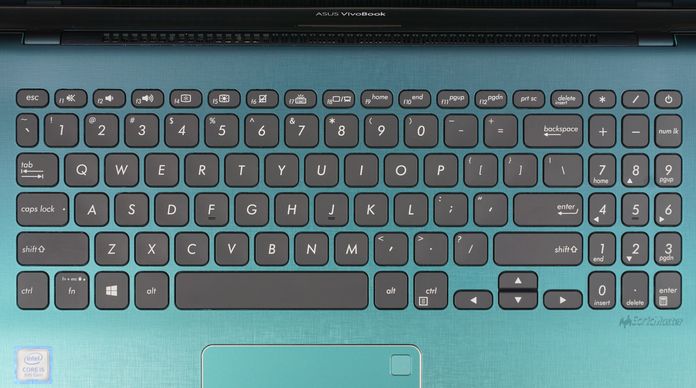 The beauty of the design details revealed themselves the more I used the laptop in different lighting scenarios and at various times of day. As the day wore on, I noticed a pretty shadow gradient creeping across the surface around the keyboard and touchpad area. Rather than a noticeable dip with hard edges or seams, there's a gentle indentation for the keyboard. Low, warm evening lamp light brings out the shimmer and nuance of the woven texture, lending a metallic look to the area surrounding the keyboard. The quality of the finish is due in part to the fact that we used colored, molded plastic instead of paint to achieve the precise tone and and hue, and because it's injection molded, it won't wear away over time.
Greedy for options
Firmament Green is not the only color option in the VivoBook S family. There are three others, each with their own palette and flavors. Each was painstakingly researched, crafted, tested, and revised to ensure the chassis and side colors perfectly complement one another.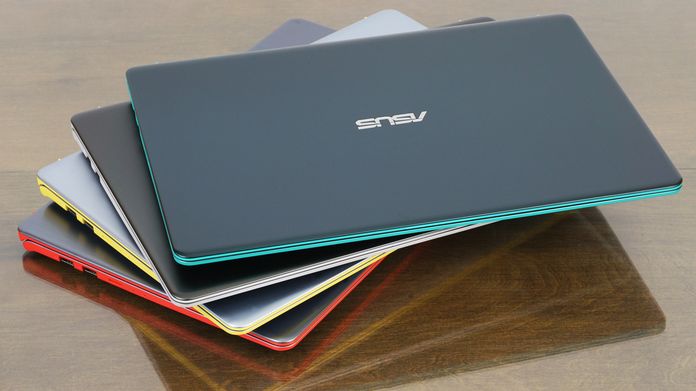 The Star Grey model has a darker grey chassis save for an understated red accent around the edges that's just the right amount of pronounced. It's a fine balance of mature and fun and is my second favorite of the bunch.
The Silver Blue version makes a bold statement without being overpowering. The canary yellow accent screams "flashy muscle car," while the ever-so-slightly blue chassis maintains a degree of stylish subtlety.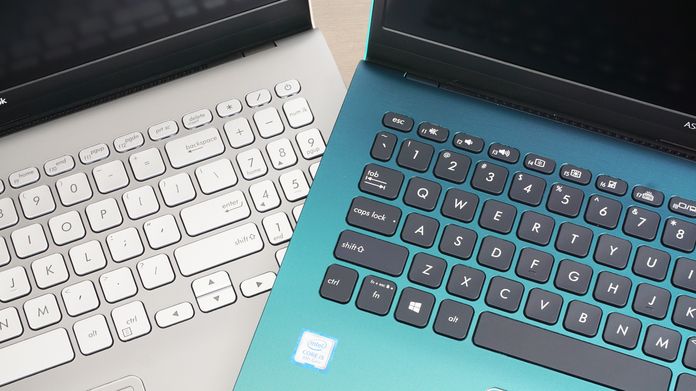 By contrast, the Gun Metal colorway is a decidedly masculine mix of greys and silvers, and it's the only one that has silver keycaps, which shine against the steely gray chassis.
Feeling it
The VivoBook S is a study in illusions. When closed, it looks like the 15.6-inch laptop that it is, but the display's NanoEdge bezels measure just 6mm on either side, so the Full HD screen looms larger than you expect when you're actually using it. The 178° viewing angles ensure that you can see what's happening on the matte screen without having to be parked directly in front of it, which makes it ideal for watching movies with a friend or sharing your screen during group work. Despite feeling more like a 17″ laptop when you're typing away, the VivoBook S530 is still extremely compact. It measures just over 14″ across and 18mm thick, and at just shy of four pounds, it won't weigh you down if you're carrying it around all day.
The keycaps maintain a sleek, low profile with rounded edges that match the contours of the touchpad and fingerprint sensor, but we weren't focused on looks alone for the VivoBook's keyboard. The ErgoLift hinge sets the laptop's base at an angle for a more comfortable, ergonomic typing experience. The keys offer a deep 1.4mm of travel for a more satisfying feel to each press, and they have a pleasing, firm weight with a pronounced rebound. Even though it was a brand new keyboard, I adjusted to it immediately, and my typing speed didn't slow down at all.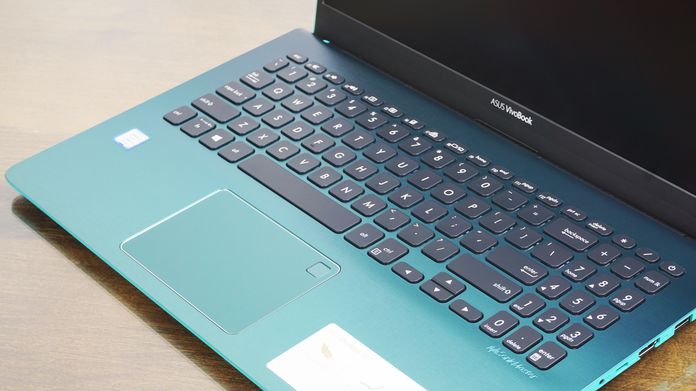 The full complement of F keys on the VivoBook S530 have secondary functions, but we flipped things around to make them a bit more useful. Instead of having to press Fn plus an F key to perform certain actions, like increasing screen brightness or turning down the volume, they're the default function. Meanwhile, pressing Fn first will enable the normal F key layer.
Despite the VivoBook's small footprint, we were able to fit in a dedicated numpad, which is ideal for math and and accounting. These additional keys are a bit narrower, which makes it easier to stretch your fingers across to reach them, and you can even bring up an onscreen calculator by pressing Fn plus the Enter key on the numpad.
The touchpad matches the keyfeel with a satisfying click that's paired with responsive mouse movement. Its surface blends in perfectly with the color of the chassis on each model, and there's a discreet fingerprint sensor embedded in the top right for easy, secure logins.
Work it out
The VivoBook S530 admirably fulfills its role as a workhorse. The Intel Core i5-8250U processor features four cores and eight threads and is backed by 8GB of DDR4 RAM, so it's tailor-made for multi-tasking with ease. It can even handle heavier workloads like photo-editing. Despite my daily onslaught of typing, web browsing, editing photos, and streaming music, it never lagged or slowed down. The zippy SSD inside keeps load times to a minimum and is much faster than a mechanical HDD. At 256GB, it's roomy enough for all of your applications and ongoing assignments. Most of us work in the cloud these days so dual-band 2×2 802.11ac WiFi is on hand to ensure a stable, reliable connection while you work.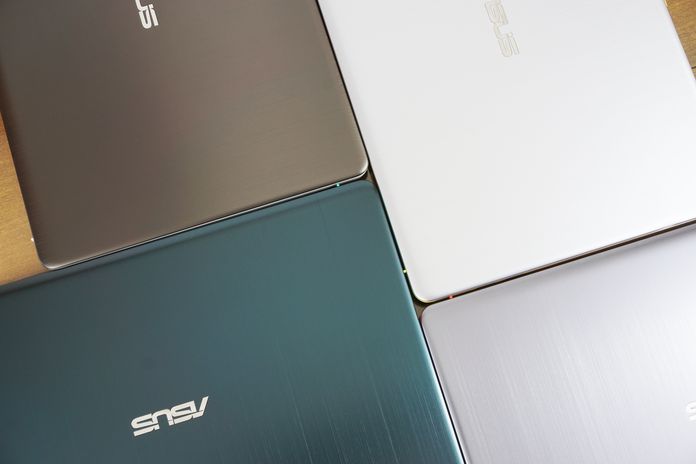 A laptop's not much use if you can't rely on it when you need it most. The VivoBook S530 features a 42Wh battery with fast charging that can get you to 60% in less than an hour. With the screen at full brightness and a media stream rolling for hours on end, I made it through most of the workday before plugging in. If you dial down the screen brightness, it will last through a day of note-taking and writing and into your evening study session.
Even while under a demanding load, the laptop stayed cool, and the fans didn't spin up much at all. The ErgoLift hinge helps make that possible. When the lid is up, the hinge props the laptop up at an angle, leaving an air gap underneath the components so heat can escape.
Let me entertain you
After letting my music blare for much of the day, I noticed that the SonicMaster speakers produce a more balanced audio experience than I'm used to on a laptop. The bass is nice and deep, and the highs aren't tinny like they so often are on smaller speakers. The VivoBook was loud enough that I could still hear Bob Dylan singing the classics from the other room while I made coffee in the kitchen. They're located on the bottom of the laptop, with a bit of clearance thanks to the curve of the chassis, which helps to reduce muffling from the table underneath.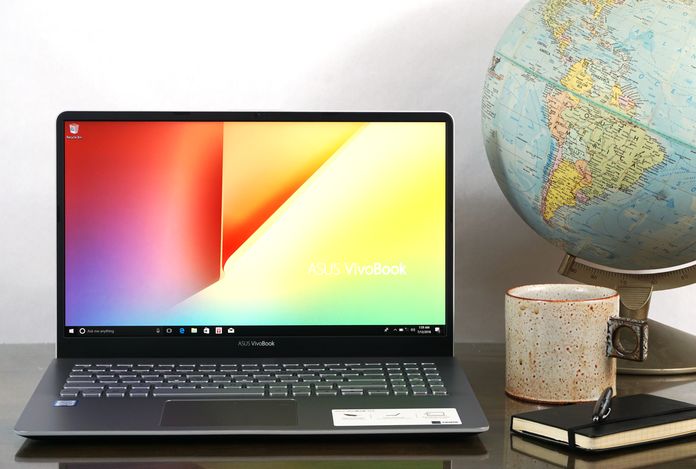 The VivoBook S530 isn't a gaming laptop, but you can still sneak in some playtime on this machine when you want to unwind. I was able to hit playable frame rates with the integrated Intel UHD 620 graphics. In Rocket League, the laptop delivered an average of 35 FPS on the Performance setting with the resolution set at 1600 x 900. I got an average of 38 FPS with essentially the same settings in Overwatch. With the graphical demands dialed down a bit, gameplay was smooth and fun.
I plugged a mouse into one of the Vivobook's USB Type-A ports for better control while I played, and there's a total of three, so you don't have to unplug your mouse when you want to plug in an external storage or print something out. There's an HDMI port for connecting to monitors or projectors, though the more modern any-way-is-up USB 3.1 Gen1 Type-C offers an alternative for multi-monitor setups, too.
A spate of laptop inputs wouldn't be complete without a 3.5mm audio combo jack for your headphones and mic, which is crucial for video chat and watching movies at night when everyone else is asleep. I was also pleased to see the microSD slot on the left side for pulling photos off my phone.
VivoBook S15 S530UA-DB51
VivoBook S15 S530UA-DB51-GN
VivoBook S15 S530UA-DB51-RD
VivoBook S15 S530UA-DB51-YL
CPU
Intel Core i5-8250U, 1.6GHz (8MB cache, up to 3.6GHz)
GPU
Intel HD 620
Display
15.6" 178° wide viewing angles
Resolution
Full HD 1920 x 1080
Memory
8GB DDR4
Storage
256GB SSD
Networking
802.11ac Wi-Fi
Connectivity
1 x USB 3.1 Gen1 Type-C
1 x USB 3.0 Type-A
1 x USB 2.0 Type-A
1 x HDMI
1 x MicroSD
1 x Audio combo
Dimensions
14.2" x 9.6" x 0.7"
Weight
3.96lbs

Battery
42Wh
OS
Windows 10
Price
$699 USD
$929 CAD
Availability (USA)

US Vendors

US Vendors

US Vendors

US Vendors

Availability (Canada)

Canada Vendors

Canada Vendors

Canada Vendors

Canada Vendors
Pizzaz and performance
The VivoBook S series is all about marrying excellent performance with hot looks that stand out in a crowd, and the S530 delivers on both fronts. The NanoEdge display and ErgoLift hinge have been brought over from our premium ZenBook line of ultrabooks, and this improved design is available in a variety of colors to suit anyone's style. With a quad-core processor from Intel, snappy solid state storage, and ample connectivity to set up at home, school, or your favorite cafe, the VivoBook S is versatile enough to tackle work and play without breaking the bank. You can snag the VivoBook S530 for $699.99 USD​ or ​$929.99 CAD from the vendors listed in the table above.