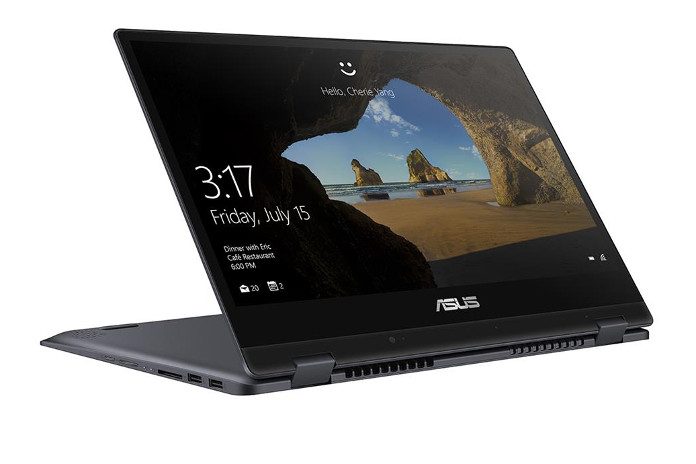 Truly versatile 2-in-1s are equal parts laptop and tablet. There's no bulky hinge, big bezel, or clumsy passive stylus comprising the tablet experience. Similarly, the keyboard feels as solid and fully formed as a regular laptop. It's a hard balance to achieve, especially when you factor in other important details that can tip the scale too far in the wrong direction, like size and weight.
Finding the perfect blend is generally a lot easier at the high end, where premium materials and advanced components allow for more compact devices that still pack the necessary punch for proper work. The choices are far more limited for cost-sensitive customers, but now there's another option: our VivoBook Flip 14 TP412UA convertible is built for mid-range budgets without compromising in the areas that matter. Available in a range of configurations, it squeezes Intel's latest 8th generation chips, a narrow-bezel 14" display, and ample storage into a versatile package that takes portability and styling cues from our high-end laptops.
We can work it out
At first glance, the VivoBook Flip 14 TP412 could be mistaken for one of our premium ZenBooks. Wrapped in smoky looking Star Gray, it's styled like a pro with an aluminum lid and matching matte body, and it has all the high-end finishings, like a backlit keyboard and fingerprint reader. The full-width keyboard offers a generous 1.4 mm of key travel for comfortable typing with fewer errors than shallower keyboards with shorter travel. A new, rounded shape for the keycaps mirrors the corners of the trackpad and lends a minimalist look without altering the size of the keys themselves.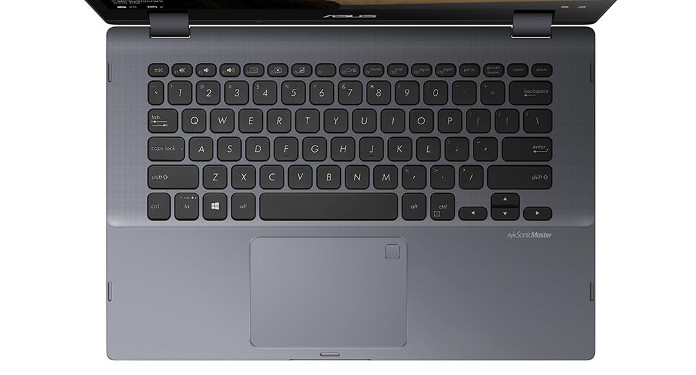 To avoid the cliché clunkiness that plagues lots of budget laptops, the Flip features a slim body with tapered edges that highlight its ultrabook-grade 0.7"-thick frame. Narrow bezels allow the 14" Full HD display to fit inside a chassis that's just 13.3" wide. At 3.3lbs, the Flip 14 is lighter and easier to carry around than the previous generation as well.
The NanoEdge display really pops thanks to slim 6.2-mm bezels that keep your focus on what's on the screen and not the frame around it. Wide 178° viewing angles keep the picture vivid whether you're working in laptop mode or relaxing on the couch reading in tablet mode. A low-profile hinge anchors the display to the keyboard and allows 360° rotation for transitioning to tablet mode, where the narrow bezels all but fade away. The accompanying ASUS Pen active stylus has 1024 points of pressure sensitivity and facilitates natural input for jotting down notes, marking up documents, and drawing diagrams. Tablet and tent mode are awesome for watching movies, too.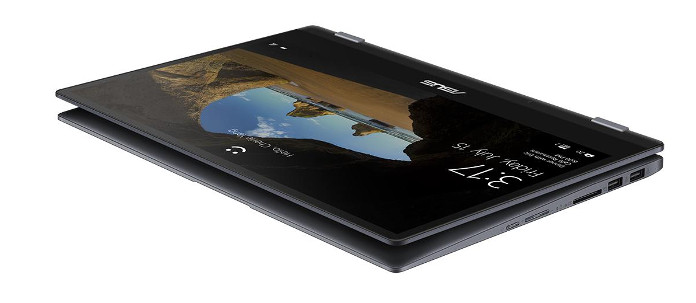 Pick your poison
While the VivoBook Flip 14 makes a makes a strong first impression, it's what's on the inside that counts, right? The TP412UA comes in a variety of configurations to fit a range of budgets starting at $499, but every model features one of Intel's 8th generation Core i-series processors. The entry-level version has a Core i3-8130U with two cores and four threads, while the fully loaded Flip boasts a powerful Core i7-8550U with four cores and eight threads, which is the same chip as our luxury ZenBooks.
A dual-core processor with Hyper-Threading is more than enough for multitasking across productivity apps, Chrome tabs, music streaming and more, but Intel's latest generation of ultrabook processors represents one of the biggest ever upgrades for slim and light laptops. For the first time, we're able to squeeze quad-core CPUs into ultraportables, and the difference in performance is palpable with more demanding workloads. When we swapped our ZenBook 3 Deluxe's dual-core Kaby Lake chip for a quad-core Kaby Lake-R, performance increased across the board, especially in multithreaded workloads like 3D rendering. If you want to be able to continue to work while a video renders or images process in the background, you'll want the additional cores in the top TP412UA configuration.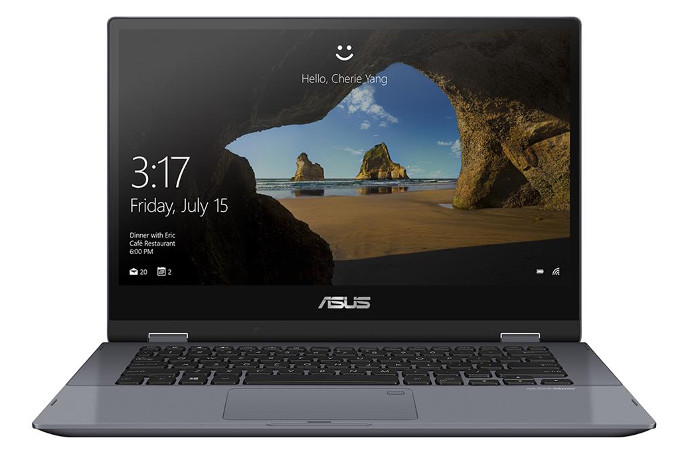 In North America, the Core i7-8550U is paired with 8GB of RAM and a 256GB PCIe SSD to ensure the system boots in a jiffy and applications launch quickly. Additional models featuring up to 1TB of storage and 16GB of RAM will be available in select countries.
Hooking up
Convertibles need to be thin, and too often that translates to a distinct lack of connectivity, but the VivoBook Flip 14 comes with all the essential ports you need to be productive sans dongles. This includes a full-size HDMI port for hooking up to an external monitor or projector, three traditional USB Type-A ports for plugging in thumb drives and peripherals, a new reversible USB Type-C port, and an SD slot for transferring photos and video from your camera.


The Flip's 42Wh battery is rated for up to 10 hours, and fast charging is available if you forget to plug in and need to give yourself a quick boost before you head to a meeting or your next class. Just 49 minutes on the charger is enough to bring the battery up to 60%, so you don't need to worry about looking for an outlet as soon as you unpack your laptop.
TP412UA
CPU
Up to Intel Core i7-8550U, 1.8GHz (8MB cache, up to 4.0GHz)
GPU
Intel UHD 620
Display
14", 178° wide viewing angles
Resolution
Full HD 1920 x 1080
Memory
Up to 16GB
Storage
Up to 1TB PCIe SSD
Networking
802.11ac Wi-Fi with 2x2 antenna
Connectivity
1 x HDMI
1 x USB 3.0 Type-A
2 x USB 2.0 Type-A
1 x USB 3.1 Type-C
1 x Audio combo
1 x SD card
1 x DC Jack

Dimensions
12.89" x 8.89" x 0.69"
Weight
3.3lbs
OS
Windows 10
The VivoBook Flip 14 TP412UA is a versatile mid-range 2-in-1 that doesn't skimp on style or performance. Available in a range of configurations and bundled with the ASUS Pen stylus, it's perfect for students or professionals who need a compact convertible for working while on the road. See the ZenBook Flip 14 at Computex 2018 in Taipei, Taiwan from June 5-9, and look for it on store shelves in the coming months. Check with your local ASUS representative for region-specific details on specifications and availability.
Check out our many other Computex 2018 product announcements. Skip over to this article for a summary covering the entire ASUS line-up at the 2018 show.