Your near and far-flung family are coming to your house for the holidays, laden with mobile devices, tablets, and laptops. But these aren't gifts; they're a fleet of network-hogging screens, and your network may not be ready to handle the increase in devices. That sudden jump in network activity can lead to traffic jams. There are lots of steps you can take to bolster your network and avoid crippling speeds and spotty WiFi, though. This guide explains how to optimize your home network for the holidays.
Call the guy about the thing
Step one is contacting your internet service provider to see about upgrading your subscription or scheduling service. Available internet speeds vary by provider and location, of course, but it's wise to check in with your ISP every now and then to see if they offer faster speeds. Networks get upgraded all the time; fiber rollouts, for instance, will be installed street by street or neighborhood by neighborhood, and suddenly the available speeds on your block will be an order of magnitude higher than they were when you first signed up.
If faster speeds have always been available, but you chose a less expensive and slower tier, consider upgrading your package. You know you've been thinking about it. Doing so before your house is full of people for the big meal is a good time to pull the trigger. Don't forget to ask very nicely about any deals your ISP may offer, be it temporary monthly discounts or bundle deals, like TV service and internet together. And shop around, if you have the luxury of multiple ISPs to choose from in your area. There's a good chance your ISP's competitor will offer you a sweet incentive rate to switch.
If you've been experiencing lots of drops or slower speeds with your home internet, it's worth it to have a technician come out and clear any error messages that may be clogging your series of tubes. Plus, modems and ISP-issued routers sometimes need to be replaced as they age, so you may be due for a hardware upgrade. I had this experience myself. The tech who came out to my house told me that I had the oldest hardware that the ISP provided, that it wasn't even in circulation anymore, and that it was choked with thousands of error messages. A free new modem later, I was enjoying faster internet speeds and much more consistent connectivity.
The route to happiness
After the above nipping and tucking to your network, you'll want to address your router situation. The first thing you should consider is the physical placement of your wireless router. These devices do have ranges, after all, and physical obstacles like walls and floors can reduce the wireless signal. This is why if your router is in the basement at one corner or your house, the signal in your attic on the opposite side of the house is going to be the weakest.
The most obvious place to put your wireless router is right in the middle of your house, but of course there are other considerations. For one thing, the placement of your router may depend on the location of your modem. Those two devices have to be physically connected. But given the freedom, you want your router closest to the device that will demand the most from it. For example, if your kid is gaming online upstairs, and all you're doing on the main floor is streaming TV and working on your laptop, it's not a bad idea to park the router closer to the more demanding gaming action.
Router up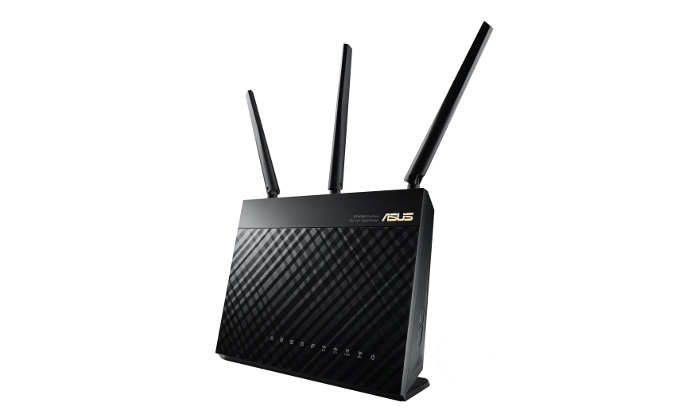 If your router is already enjoying prime placement in a central location (or it can't be moved), it might be time to make a change. The router provided by your ISP may not be the greatest networking device known to humanity, even if it's brand new, so it's wise to consider upgrading that crucial component of your home network. For starters, look for at least 802.11ac, which is rated for speeds well over a gigabit, or 1,000Mbps. To give you a sense of how much that is, a single Full HD Netflix stream takes up around 5Mbps. One of our most affordable 802.11ac routers is the ASUS RT-AC68U. It costs $159 USD or $199 CAD and delivers dual-band on a budget, along with a host of extra features to help you better manage your network, like parental controls and Adaptive QoS.

Raw bandwidth isn't the whole story, though. Like real traffic, wireless traffic has to be organized. Some routers do this in part by offering both the 2.4GHz and 5GHz bands. The 2.4GHz band has been in use for a long time, but because numerous household gadgets like microwaves and baby monitors use the same frequency, it's often rather cluttered. The 5GHz band is wider and generally less congested. If you have a dual-band router, you may want to use the 5GHz band for gaming, for example, and leave the 2.4GHz band for more mundane activities like web browsing. 
Multi-user, multiple input, multiple technology, mercifully foreshortened to "MU-MIMO," is a technology that makes routers perform even better. It splits up the available bandwidth into individual streams. Think of it like waiting in line; if a bunch of people need to pay for their groceries, and there's only one lane open, you have to wait your turn. MU-MIMO is like having multiple lanes open at once, which obviously gets customers checked out much more efficiently. If you apply that metaphor to wireless router traffic and all the devices your relatives bring with them, you get why MU-MIMO is an indispensable feature.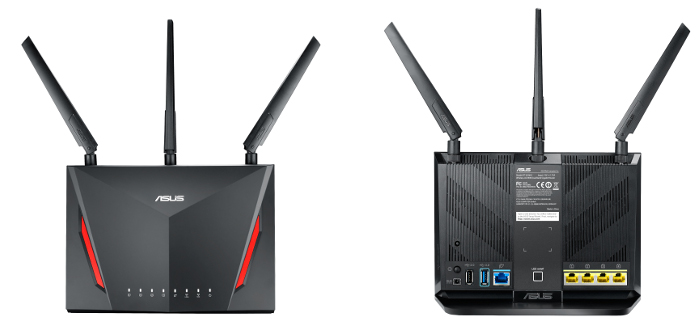 The RT-AC68U features a 3×3 antenna but the ASUS RT-AC86U raises the stakes with more bandwidth on both bands and support for faster 4×4 MU-MIMO connections. It also augments our adaptive internal traffic management with the ability to reduce ping times to select multiplayer servers through the WTFast Gamers Private Network. The RT-AC86U is just a small step up from the RT-AC68U in price. It retails for $199.99 USD and $269.99 CAD.
RT-AC68U
RT-AC86U
Price
$159 USD
$199 CAD
$199.99 USD
$269.99 CAD
Availability (USA)

US Vendors

US Vendors

Availability (Canada)

Canada Vendors

Canada Vendors
If you want to go all out, you can opt for a tri-band router like the ROG Rapture GT-AC5300 or the ASUS RT-AC5300. Both boast an additional 5GHz channel that can be dedicated to high-priority devices. With peak aggregate bandwidth of over 5000Mbps across eight antennas, they have enough capacity to handle busy WiFi networks all on their own. Like lots of our routers, they offer intelligent traffic management, and AiProtection keep packets flowing smoothly and securely, too, but the Rapture goes the extra mile for gaming.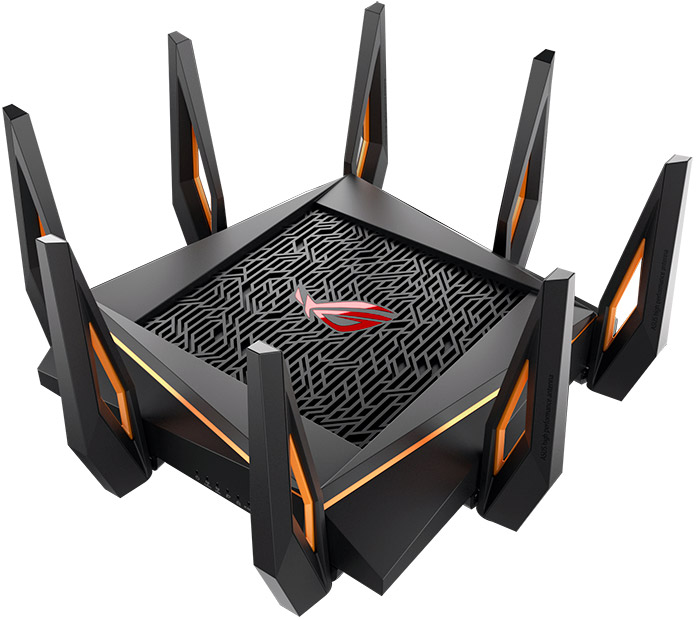 Gamers constantly lamenting the fact that a sudden influx of relatives puts undue pressure on the network and limits bandwidth need Game Boost. Game Boost analyzes network traffic and automatically prioritizes gaming packets, but it can also prioritize based on device. If you've got cousins coming over and one of them is bringing their gaming laptop, you can guarantee their machine will take precedent over the flock of tablets and smartphones streaming music and surfing social media. The ASUS RT-AC5300 is priced at $349.99 USD and $449.99 CAD, while the ROG Rapture GT-AC5300 will set you back $399.99 USD or $499.99 CAD. 
ASUS RT-AC5300
ROG Rapture GT-AC5300
Price
$349.99 USD
$449.99 CAD
$399.99 USD
$499.99 CAD
Availability (USA)

US Vendors

US Vendors

Availability (Canada)

Canada Vendors

Canada Vendors
Homeowners keen to keep the number of black electronics parked in hallways or resting on shelves to a minimum should investigate the dual-band Blue Cave router. It's designed to look more like a piece of art than a traditional router, which is ideal if your house isn't laid out in a way that allows you to hide the router in a corner or under a desk.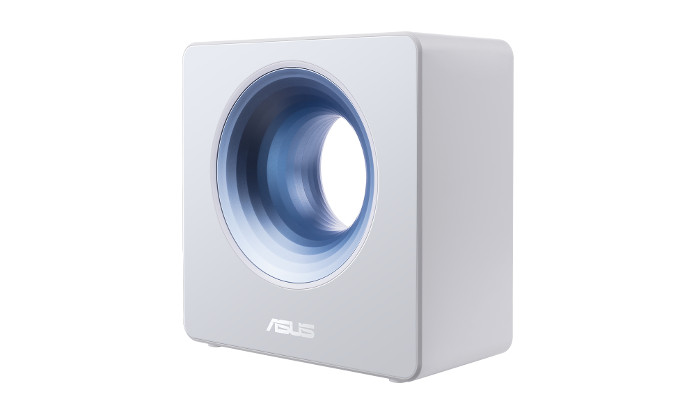 It delivers 4×4 MIMO capabilities to handle multiple user streams and keep traffic flowing freely and costs $179 USD or $239.99 CAD. Though it's not as geared for gaming, it features plenty of extra features, including ASUS AiProtection for protecting your network from external threats, advanced parental controls, and even smart home integration with support for Amazon Alexa, so you can have Alexa switch off the internet altogether once the family is ready to sit down to dinner. 
Blue Cave
Price
$179 USD
$239.99 CAD
Availability (USA)

US Vendors

Availability (Canada)

Canada Vendors
Making a mesh (network)
If you have a large house, a single router may not provide full, reliable coverage, especially with potentially dozens of devices on one network. There are a couple of solutions to that problem, but one of the most elegant is mesh networking.
A mesh network is one of the best ways to ensure full wireless coverage around your home. It uses multiple routers, or nodes, on a single network to spread your wireless signal across a wider area. If you're already attempting to alleviate weak signal in certain spots with repeaters or range extenders, a mesh network is a great upgrade.
Repeaters just extend your existing signal, and moving between them isn't seamless. Your device will usually hang onto one until it completely loses signal before looking for the next one, so you have to manually switch between them on your phone. Mesh networks are a bit different. These daisy-chained nodes work together to blanket your house in WiFi and all of them are part of the same network. There's just one SSID and password, and they offer seamless hand-off between nodes, so you can walk from the garage to the guest room and not experience any slow down or dead spots as your device is passed from one node to the next.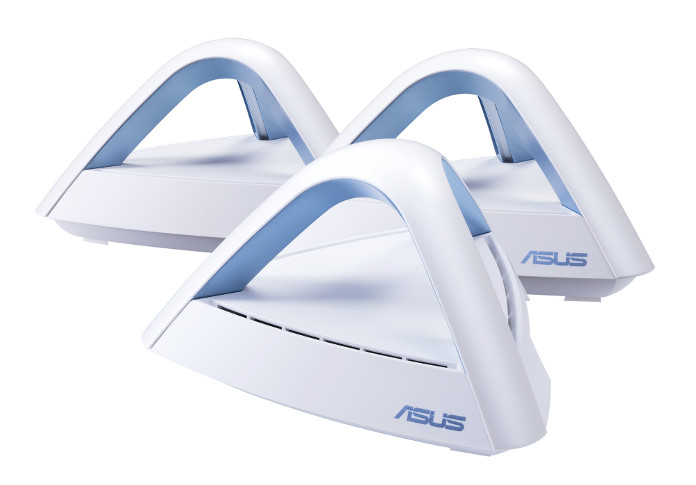 Most mesh network solutions come as a bundle with multiple nodes. The downside of that is that you have multiple routers around your house, and routers typically aren't the nicest looking devices. Our Lyra Trio bundle comes in a pack of three for $279.99 USD or $399.99 CAD, and the nodes are small enough to pop on an end table.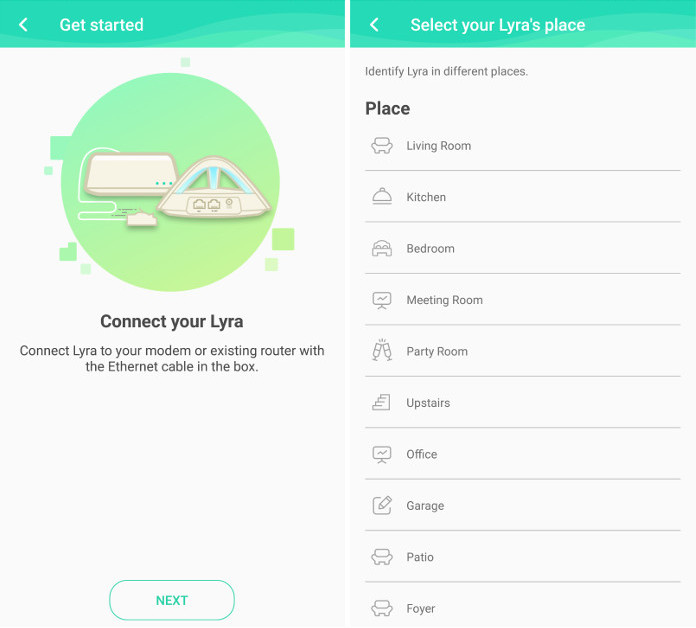 The blue and white design is a far cry from the usual black square with antennas jutting out the top; these little guys can sit on the mantle or a shelf without drawing too much attention. The design isn't just for show, either. Each node is equipped with a unique antenna design that improves signal across multiple floors. The Lyra Trio is ridiculously easy to set up. You can do it from your phone or using the web UI, and adding more nodes just takes a couple of taps.
Lyra Trio
Price
$349.99 USD
$449.99 CAD
Availability (USA)

US Vendors

Availability (Canada)

Canada Vendors
There are more economical ways to deploy a mesh network, though. While most mesh networks require multiple identical nodes, our exclusive AiMesh technology allows you to mix and match ASUS routers for a more affordable setup. If you have an existing router that supports AiMesh, like the Blue Cave or RT-AC68U, you can pick up a second router and set up a mesh network without footing the bill for a full set of nodes.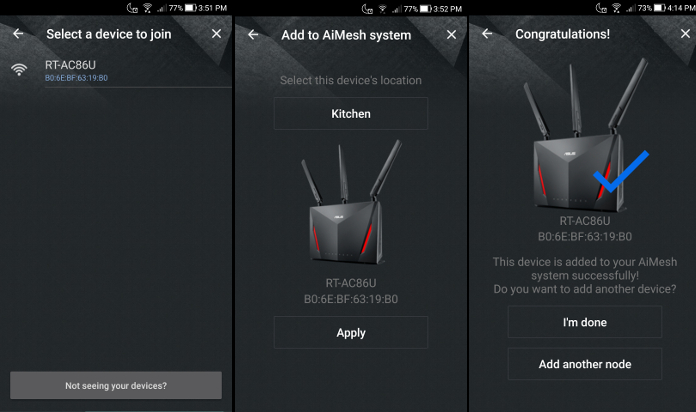 Using AiMesh is easy. You can configure the first router for your hub via the web-based GUI or use the ASUS app on your phone to download and install the necessary firmware updates and get started. This is a straightforward process, and the GUI or app will give you step-by-step instructions. It only takes a few minutes. To add a second device and create the mesh network, plug in a compatible ASUS router wherever you want your node to sit. AiMesh works best if the routers are within sight of each other, but it's not strictly necessary. You can press a button to pair the nodes, or use the GUI or app to add them.
Managing the madness
A stable network with fast speeds is enough to keep everyone online, but that's just the beginning. Welcoming people into your home and onto your network is about more than just ensuring there's enough bandwidth for everyone to get along. Our routers support setting up a guest network, which is advised for convenience if nothing else. Instead of repeating the password every five seconds all weekend long, you can set up a temporary network with a separate SSID and password. Guests can connect all of their devices, and you can set it up so that the network is only up and running for the dates that you have guests.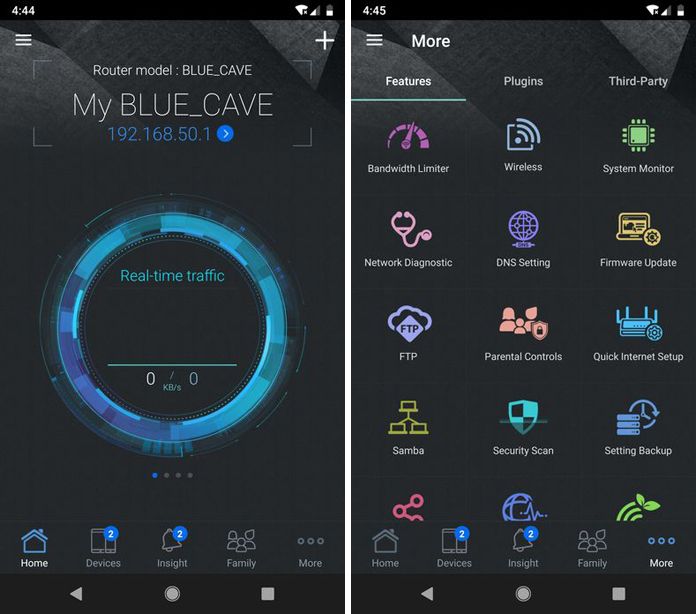 If you have younger guests with tablets and phones, you can go one step further and employ parental controls to make sure no one is running amok on your network. Our routers comes with the ability to limit access to certain sites, as well as restrict network access by device. That way iPads and computers that stay in common areas can access streaming sites, but smartphones that disappear into bedrooms at night can have restricted or even timed access to the web.
Traffic prioritization is an entirely separate layer of network management, and it's key if you want to guarantee certain devices or applications are given priority no matter what else is happening in the house. Our high-end Rapture router uses Game Boost to inspect packets and automatically accelerate the ones associated with gaming; it can also shift traffic from two LAN ports to the front of the line, ensuring top priority for wired gaming machines. Those measures are separate from other traffic management features that are built into a wider range of ASUS routers. If you're not interested in throwing down the cash required for a serious gaming model, you can still get Adaptive QoS on more conventional routers, including the RT-AC68U and the RT-AC86U. Both also allow you to give priority to certain applications and activities, like media streaming and console gaming.
Home networking for the holidays
Your wireless network doesn't have to slow to a crawl just because you have a house full of internet device-wielding loved ones. A little preparation and a hardware upgrade or two (that you've been meaning to get to anyway) will ensure that your holiday get together won't be hampered by congested internet access. Even some strategic traffic and network management can help keep bandwidth hogs at bay.