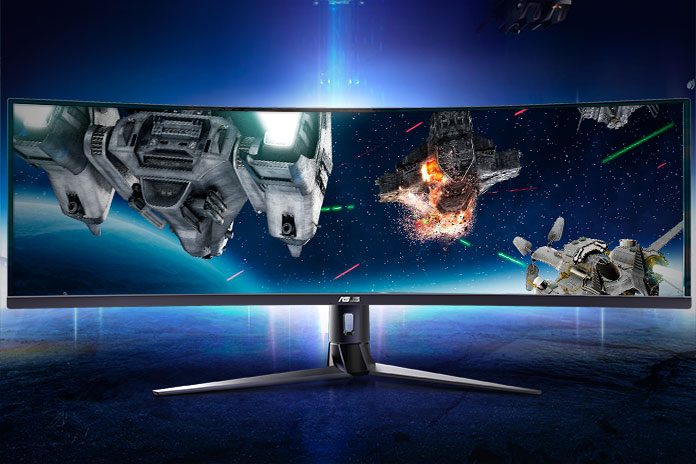 Gamers and professionals want as much screen real estate as they can afford, but size must be balanced with other features that make the viewing experience ideal. Introduced today at Computex 2018 in Taipei, Taiwan, the ASUS VG49V fits that bill by delivering a massive 49" display that's packed with technology to improve what you see, whether you're blasting through an FPS at 144Hz or crafting a gorgeous multimedia presentation for work.
Grading on a curve
The monitor's VA panel stretches a super-ultra-wide 32:9 aspect ratio over an 1800R curve that brings the far edges closer for a more immersive experience. The 3840 x 1080 resolution is exactly twice as wide as 1080p, which is why it's dubbed Double Full HD or DFHD. You get double the horizontal space of a Full HD monitor, which is tons of width to expand games deep into your periphery and view multiple open windows and tabs.
For multitasking on multiple devices, the VG49V's Picture-by-Picture mode lets you view input from two separate sources simultaneously. Anyone who's used a powerful desktop PC for intensive work alongside a laptop to handle day-to-day tasks can attest to how handy it is to be able to easily see both on the same screen at once.  Devices connect via the VG49V's DisplayPort 1.2 and dual HDMI 2.0 inputs.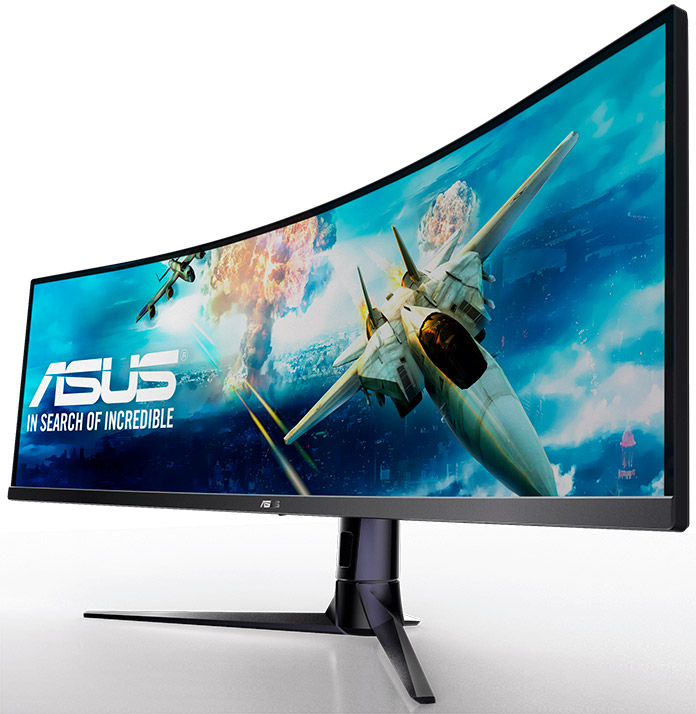 Set refresh for 144 FPS
While you can get away with gaming at 60Hz, higher refresh rates make gameplay much smoother and more engaging. The VG49V's 144Hz maximum refresh rate is widely regarded as the sweet spot, and the manageable DFHD resolution doesn't require otherworldly graphics power to push frame rates to an equivalent 144 FPS. In-game performance changes constantly, so the VG49V uses FreeSync to vary the refresh rate from 48-144Hz to match the output of compatible graphics cards. Synchronizing the display with the GPU minimizes performance stuttering and eliminates screen tearing that disrupts your view of the game.
Refresh rates aren't everything, though. The 4-ms pixel response time ensures objects on the screen look crisp, with minimal ghosting, blurring, and smearing even when they're zooming by. For an even sharper image, Extreme Low Motion Blur (ELMB) strobes the backlight to achieve a moving-picture response time of just 1 ms. Strobing requires a fixed refresh rate, so ELMB works at 85, 100, or 120Hz.
GameFast minimizes input lag between your PC and the monitor, heightening your connection to the game and providing a competitive edge in multiplayer matches. In internal testing, we measured the VG49V's input lag at just 11.9 milliseconds.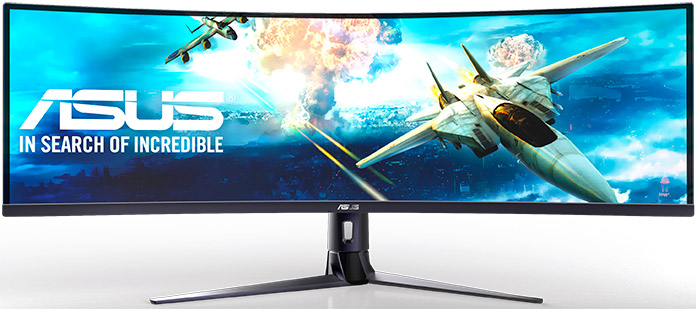 Work and play in comfort
To ensure you can keep gaming for hours on end or grinding away against a work deadline, the VG49V has a flicker-free backlight that's easy on your eyes. Low Blue Light technology filters out harmful emissions and can help prevent late-night viewing from disrupting your sleep. Both technologies are certified by the display experts at TUV Rheinland, because we care about your health.
Although you'll probably want to pair the VG49V with a killer headset or surround setup, you won't need to right away thanks to the integrated 5W stereo speakers in the bottom left and right corners. Because the monitor curves across such a wide expanse, those speakers offer a bit more stereo immersion than usual.
ASUS VG49V
Panel
49" VA
32:9 aspect ratio
1800R curve
Resolution
DFHD 3840x1080
Refresh rate
48-144Hz with FreeSync
Input lag
11.9 ms
Extreme Low Motion Blur
85/100/120Hz
1-ms moving-picture response
Picture modes
Picture-by-Picture (PbP)
Inputs
2 x HDMI 2.0
1 x DisplayPort 1.2
Audio
2 x 5W speakers
1 x 3.5-mm analog output
Go beyond ultra-wide
Whether your head is in a game or you're juggling simultaneous projects like video editing and word processing, the ASUS VG49V provides an extraordinarily wide display that delivers a truly immersive experience. See it at Computex 2018, and expect worldwide availability toward the end of 2018.
Check out our many other Computex 2018 product announcements. Skip over to this article for a summary covering the entire ASUS line-up at the 2018 show.