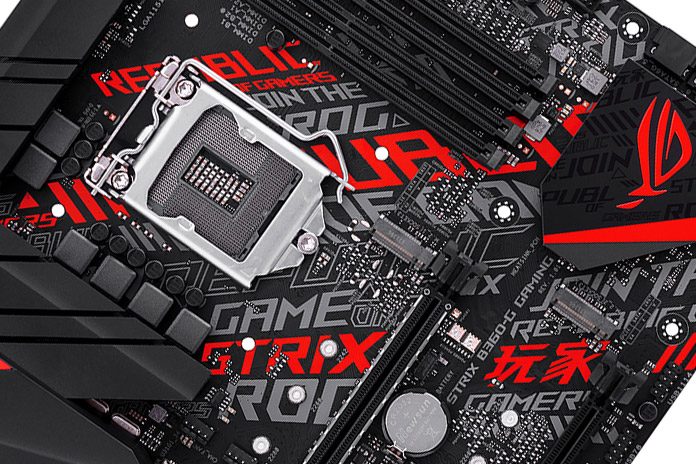 Intel's first batch of Coffee Lake desktop CPUs added cores alongside a high-end Z370 platform primed for overclocking. The increased horsepower is ideal for people who do more with their PCs, whether it's serious work like content creation and video editing, or recreational tasks like live-streaming gaming sessions. But extra cores aren't limited to flagship territory. They extend all the way down to the entry-level Core i3, and today they're joined by new H370 and B360 platforms that bring additional connectivity to affordable price points. We've deployed these chipsets across a complete family of ASUS 300-series motherboards that help everyone get the most out of their PCs.
A new generation built on an evolved foundation
Every build and user is different, so we offer a range of options across ROG, TUF Gaming, and Prime lines. While each family has distinct aesthetics and personalities, all three draw from core ASUS DNA that has been carefully refined over nearly 30 years of making motherboards. Signature features can be found throughout, from DIGI+ VRM circuitry that delivers reliable power to the CPU, to OptiMem trace routing that improves signaling for your memory.
Our critically acclaimed UEFI BIOS makes it easy to dial-in your rig. Along with providing the usual selection of intuitive tuning options, it has a new search function that lets you quickly find and modify specific settings. Configuration profiles can now be saved and shared with others, and the firmware retains them after updates. Even novices can flash the UEFI with the integrated firmware updater, which automatically downloads and applies the latest release without booting into the operating system.
PC gaming is on everyone's lips, but we're doing more than just talking about it. Our new H370 and B360 motherboards provide better cooling for gaming by intelligently adjusting the speed of system fans based on the GPU temperature of select ASUS and ROG graphics cards. System fans are usually governed by CPU or chassis temperatures, but gaming taxes the graphics card more than anything else, making the GPU temperature a much better trigger for ramping up the cooling.
Some of the boards' shared features are contributed by Intel's latest 300-series chipsets. The H370 and B360 go beyond their Z370 predecessor by integrating not only USB 3.1 Gen 2 support for next-gen peripherals, but also optional 802.11ac Wi-Fi for wireless networking. And they retain support for Intel Optane Memory, which uses ultra-fast flash storage to reduce load times for the mechanical storage commonly found in entry-level machines. The H370 platform can also turbocharge storage performance with bootable RAID arrays based on NVMe and SATA drives.
ROG Strix brings gaming motherboards in all sizes
Unlike recent entrants, the Republic of Gamers has been building gaming motherboards for over a decade. Our experience and expertise shows in the new 300-series family, which is filled with upgrades that simplify assembly, enhance cooling, and improve the look of your PC.
The new ROG Strix motherboards are emblazoned with unique cyber-text patterns that range from bold and colorful to subtle and monochrome. We add more color to the entry-level models because system lighting isn't as common at that end of the spectrum, and you shouldn't need LEDs to stand out in the crowd. If you want to light up your chassis, all the boards have a header for RGB strips that illuminate your entire system, and Aura Sync can match colors and effects with compatible components from ROG and our partners.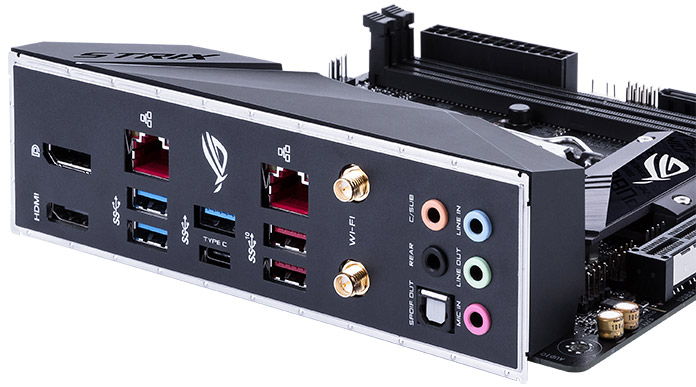 Form meets function in the pre-mounted I/O shield we pioneered with the high-end Rampage V Edition 10 motherboard created to celebrate ROG's 10th anniversary. Now available on all Strix H370 and B360 motherboards, this feature streamlines the installation process for budding builders and savvy enthusiasts alike. It also looks cleaner, especially when paired with the I/O covers that now adorn even our Mini-ITX models.
Tuning your system's cooling for maximum performance with minimal noise is easy with Fan Xpert 4. Its configurable response curves can draw from a range of sensors, including an external probe, and Extreme Quiet modes for the CPU and system fans offer instant stealth. These adjustable options are complemented by a dedicated header for all-in-one liquid coolers that doesn't require any setup—just plug in and go.
Additional enhancements are available across the line, including SafeSlot reinforcement to protect against damage from heavy graphics cards, Intel Gigabit Ethernet for lag-free wired networking, and SupremeFX audio that pulls you deeper into games. Dual M.2 slots provide plenty of storage capacity for ever-larger downloads, and the UEFI integrates secure-erase functionality for both SATA and NVMe SSDs.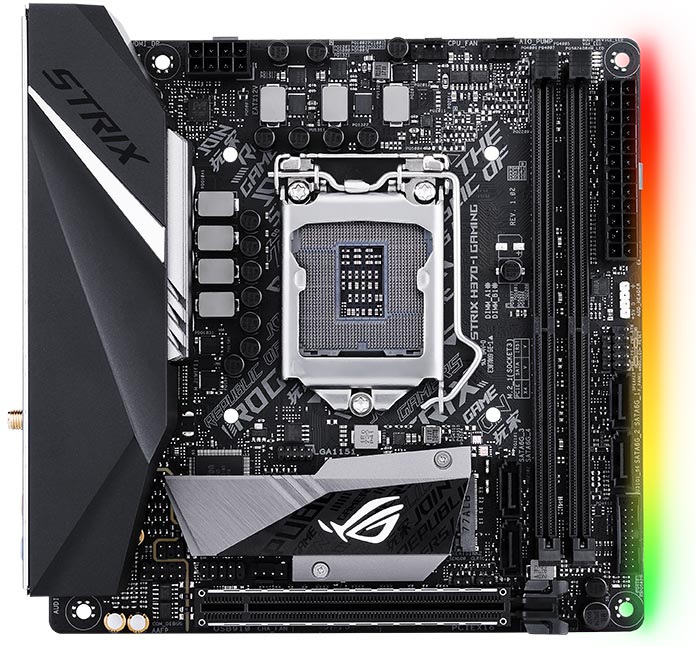 With solutions for multiple form factors, the Strix H370 and B360 series scales to fit any build. The ROG Strix H370-I Gaming and Strix B360-I Gaming squeeze the Republic of Gamers experience into a compact Mini-ITX footprint that's perfect for minimalist battlestations and LAN party rigs. Both boards keep your primary M.2 SSD cool using a double-decker heatsink that also dissipates thermals from the chipset. Aura illuminates the entire right edge and combines with a header for addressable RGB strips to enable next-level lighting effects, while dual-band Intel Wi-Fi with MU-MIMO support adds wicked-fast wireless networking.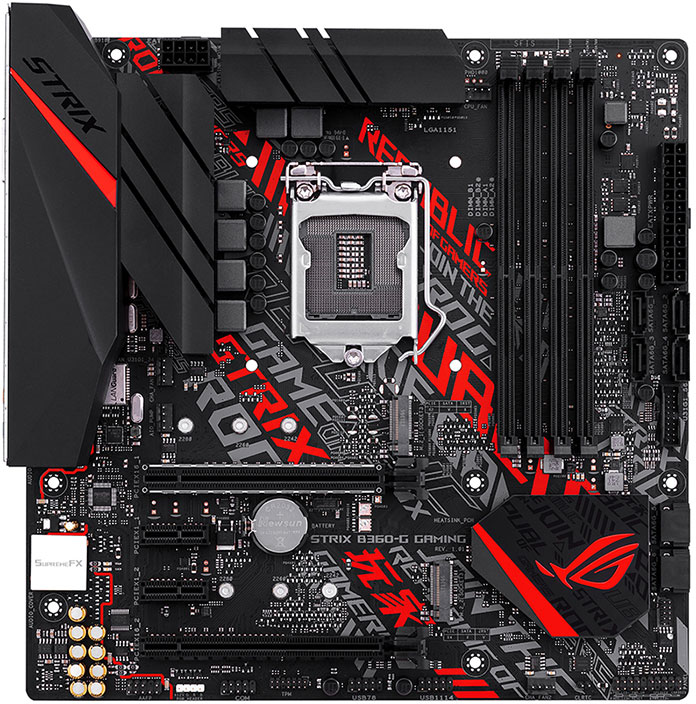 The ROG Strix B360-G Gaming makes a striking statement with microATX proportions. It echoes the Republic's red-and-black roots with a new shade that reflects our forward-looking focus. You can still customize your system's glow with the onboard RGB header, which has enough juice to power up to two meters of lighting at optimal brightness. A similarly dramatic look is available with the ROG Strix B360-H Gaming, a full-sized ATX variant with a similar spec but extra expansion capacity.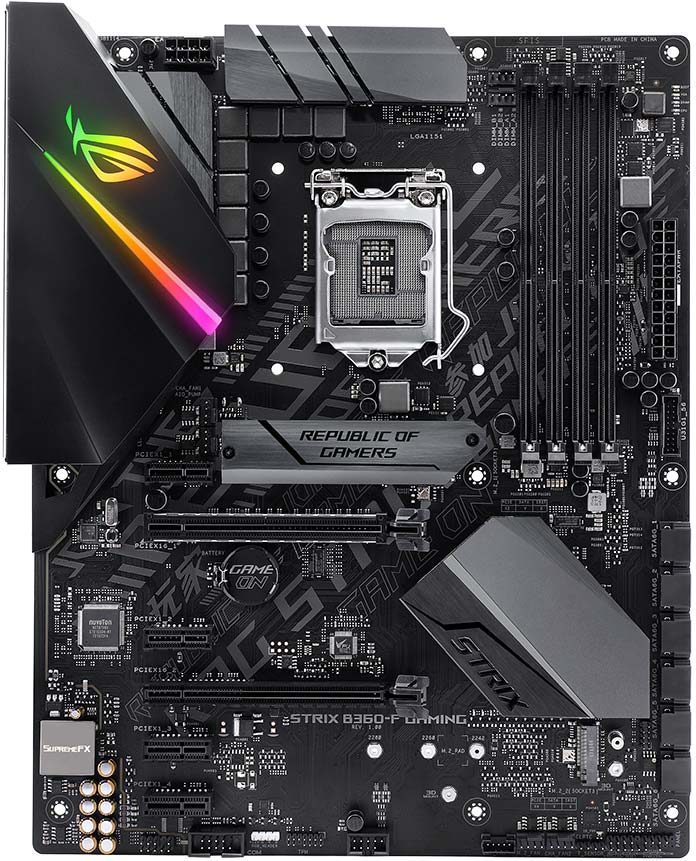 Muted tones blanket the ROG Strix H370-F Gaming and Strix B360-F Gaming, but there's more room for customization via 3D-printed accessories. The 3D Mount next to the bottom SSD slot is ready for our M.2 fan bracket, providing optional cooling to complement the heatsink covering the primary slot. Aura shines through the I/O cover and powers an onboard RGB header that puts the color palette entirely in your hands.
TUF enough for gaming and more
TUF Gaming goes beyond a military motif for a new breed of affordable gaming motherboards; it's the heart of a collaboration between industry heavyweights around a common theme. One part of the TUF Gaming Alliance is spreading this family's distinctive styling across other components, so you can build a complete system that looks battle-ready inside and out. G.Skill already has matching memory, and Cooler Master is set to release a chassis, PSU, and coolers. We're working on additional hardware with other partners, and also on functional integration that's more than skin deep.
The other side of TUF Gaming is a desire to help new recruits build rigs that run reliably right out of the box. Setting up cooling is simple thanks to a header that automatically adapts to DC and PWM pumps. The rest of the onboard cooling headers do the same for fans, and the integrated calibrator profiles each connected fan to ensure optimal airflow when Fan Xpert intelligence demands it.
Effective cooling helps maintain peak clocks when you're loading up Coffee Lake's extra CPU cores and hitting your GPU with gaming, streaming, and other multitasking. It can also improve stability by keeping critical parts in the right temperature range. TUF Gaming uses military-grade electrical components that are more durable than civilian hardware, along with ESD guards that protect against damage from electrostatic discharge. The graphics card slot is also reinforced with SafeSlot's metal walls and stronger anchors to the board.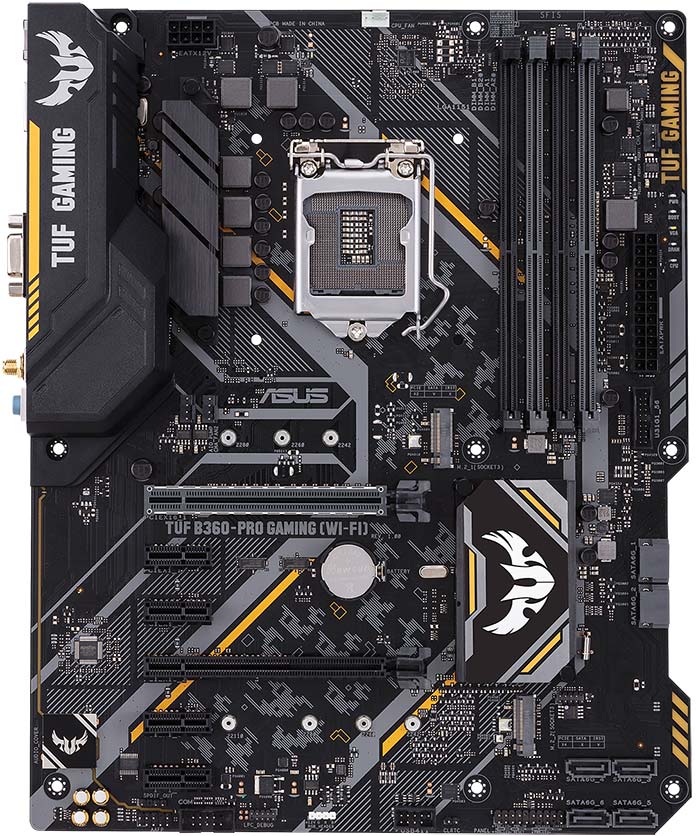 The TUF H370-Pro Gaming and TUF B360-Pro Gaming put slightly different spins on the same foundation. Their carved PCBs color outside the lines without compromising compatibility, and each wears its own uniform. You can add copious color of your own with the onboard RGB headers.
Both boards have plentiful storage via dual M.2 slots, including one that supports longer 110-mm drives. Intel Gigabit networking provides dependable connectivity, while Turbo LAN packet prioritization prevents streaming and other applications from lagging multiplayer gaming. You're not limited to a hardline connection, though. There are Wi-Fi editions of both models, each one based on the same Intel hardware as its Strix Mini-ITX cousins. With peak throughput up to 1.73Gbps, the onboard Wi-Fi can exceed Gigabit speeds without plugging in.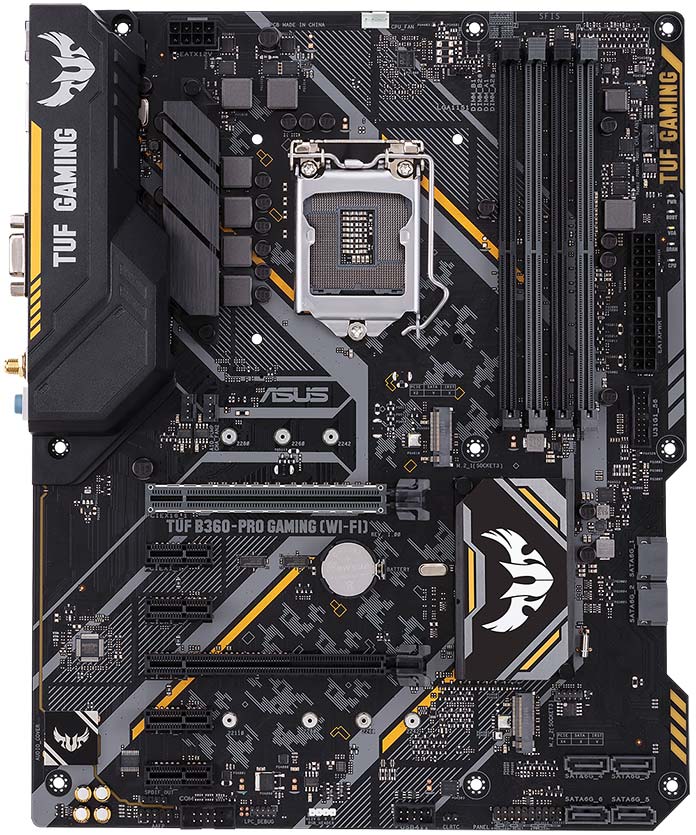 Regardless of whether you opt for Wi-Fi, the Pros heighten immersion by virtualizing surround-sound environments over standard stereo headsets. Three DTS Custom modes offer tailored tuning for different genres: Aerial lifts you above the game world for MOBA, strategy, and sports titles with airborne perspectives; Soundscape puts you in the center for MMOs, RPGs, and action-oriented gameplay; and Tactical makes it easier to detect your enemies in first-person shooters and stealthy sneakers.
Prime your PC for the new generation
Although gaming components dominate the market, the appeal of the H370 and B360 platforms extends into content creation and everyday productivity. Our latest Prime motherboards cater to these more professional pursuits with subdued designs inspired by futuristic architecture. This family focuses on function before flash to deliver the essentials with the refinement you'd expect from ASUS. It also has a public QVL listing the extensive collection of components that have been validated to work with the boards, so you can be confident of compatibility when picking parts for your build or fleet.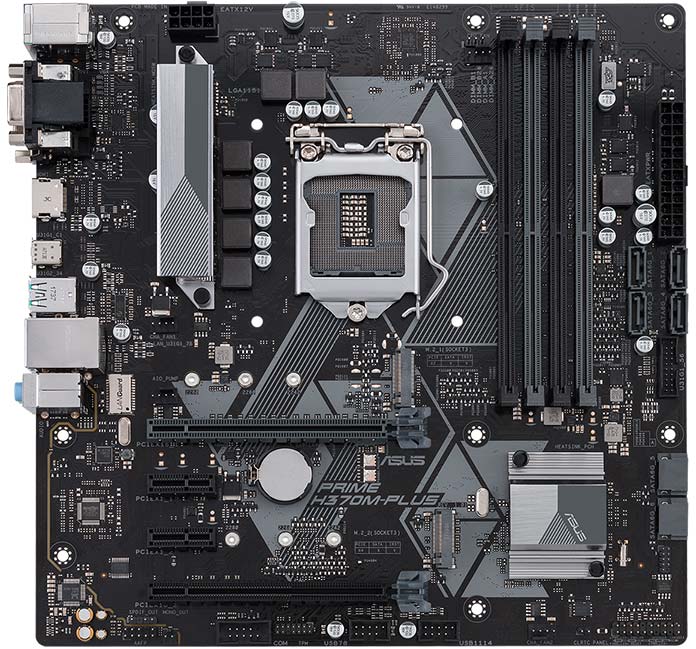 The Prime H370M-PLUS applies the family's principles to a microATX package. Its diverse assortment of ports connects a wide range of devices, from old-school PS/2 keyboards to next-gen USB-C peripherals. Broad compatibility extends to the Fan Xpert 4 Core cooling, which has the same fan and pump auto-detection as our TUF Gaming boards. And a secondary PCIe x16 slot (with x4 connectivity) offers additional flexibility for internal expansion cards.
Pricing and availability
ROG Strix, TUF Gaming, and Prime motherboards based on Intel's new H370 and B360 chipsets are available today from the retailers listed above. They're part of a larger 300-series family that also includes our complete Z370 lineup and lower-end models based on the H310.