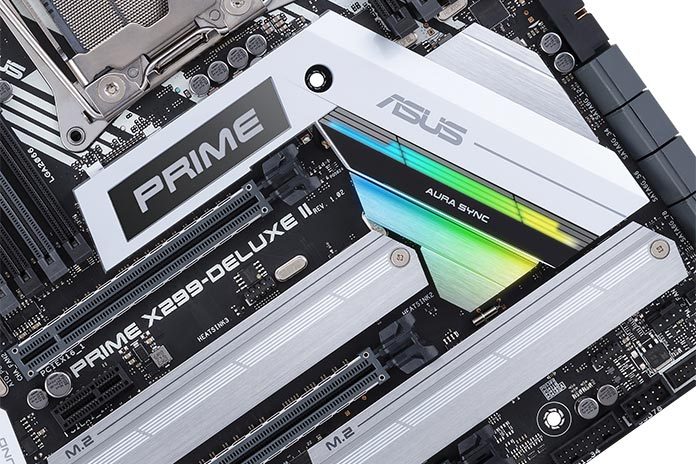 The new 9th Gen Intel Core processors bring more muscle than ever before to desktop PCs and gaming machines, but they're only one part of the picture. Intel's high-end desktop platform raises the stakes with updated Core X-Series chips that boast a lot more of everything, including cores, cache, bandwidth, and more. The additional processing power plows through CPU-intensive tasks, while the extra bandwidth lets you add more GPUs and NVMe SSDs to accelerate a wider range of workloads.
Anchored by the X299 platform, this upper echelon scales up to 18 cores with the new Core i9-9980XE. It's now joined by an even more exclusive chip with 28 cores and an entirely separate platform that redefines extreme desktop PCs. We have new motherboards designed to exploit the strengths of each CPU. The Prime X299-Deluxe II gives professionals and power users a flexible foundation for serious work, while the ROG Dominus Extreme shows what's possible when our engineers have the freedom to go beyond traditional boundaries.
Get the most out of all your cores
Unlike with our last generation of X299 boards, the Prime X299-Deluxe II drops support for four-core Kaby Lake-X CPUs to focus on providing the best experience for chips with higher core counts and more connectivity. With up to 18 cores, four memory channels, and 44 PCIe lanes, these processors demand a lot more juice than typical desktop CPUs. The Deluxe II feeds their appetite with 12 power stages hooked up to the socket and two more for the DRAM. It also augments the motherboard's link to the PSU with dual eight-pin connectors that pass 12V power directly to the processor. These jacks are based on our ProCool design, which uses solid pins that can handle more current than conventional connectors with hollow pins.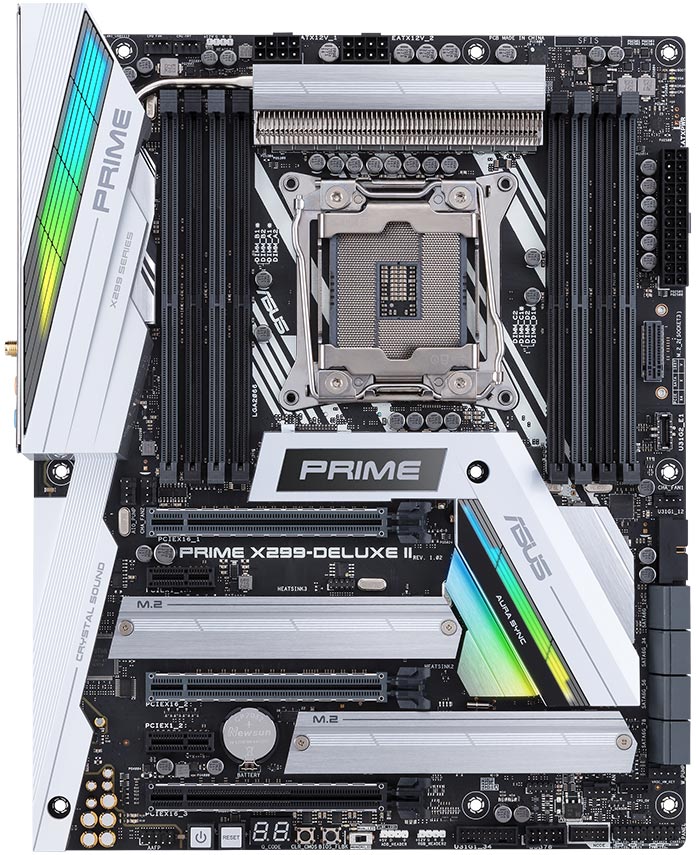 Higher power requirements are balanced by beefier heatsinks that carefully balance mass and surface area to maximize thermal dissipation. The VRM cooling has enough headroom to push CPUs beyond stock speeds if you want even more performance, and our 5-Way Optimization software makes it easy to get the most out of your individual chip and cooling. This fully automated tuning routine acts like a human overclocker by raising clock speeds and voltages iteratively and then testing stability before proceeding to the next frequency. It can even calibrate connected fans as part of the process, supplying full system optimization with a single click.
Effective cooling is extremely important even at stock speeds, and the Prime X299-Deluxe II is well-prepared. Its FanXpert 4 intelligence can automatically adjust RPMs based on input from a range of sources, including onboard sensors, wired thermistors, and even the GPU diode on select graphics cards. The ability to draw from groups of sensors and react to the highest temperature among them makes the cooling versatile enough to react to a wide range of workloads that tax different system components.
There are more than enough cooling headers to power a complete system. Two are preconfigured for liquid pumps and all-in-one coolers, while five more are ready for fans. The Prime X299-Deluxe II is also bundled with our new Fan Extension Card II, which adds six more headers controlled by the same FanXpert intelligence. The extension card includes three temperature sensor headers to complement the one available onboard, and more importantly, it comes with three thermistors that you can affix to different components. Right out of the box, you have enough tools to configure advanced cooling for a fully loaded rig.
Load up the platform with graphics and storage
Fully loaded takes on new meaning when you have up to 44 PCI Express lanes stemming from the CPU. Those lanes can be split in an x16/x16/x8 config spanning the board's trio of PCIe x16 slots, allowing you to load up on GPUs to accelerate an increasingly diverse array of workloads that includes 3D rendering, scientific research, financial modeling, and AI training. Each SafeSlot is bolstered with reinforced walls and a stronger connection to the PCB that helps it withstand the weight of heavier graphics coolers and protect your investment.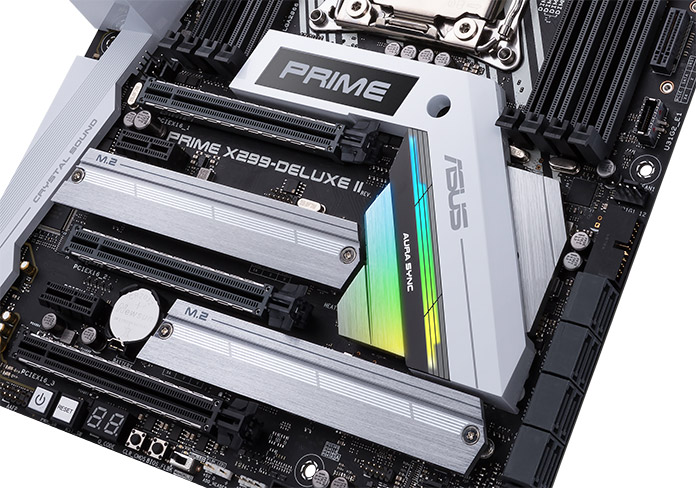 The PCIe slots can also be used to connect bootable RAID arrays directly to the CPU via Intel's VROC technology and a special key that plugs into the motherboard. Our Hyper M.2 X16 Card V2 puts up to four NVMe SSDs on a single x16 card with integrated cooling. That's a lot of ultra-fast storage in a single slot, and VROC supports arrays that span multiple cards for even higher speeds and capacities.
Even without VROC, the Prime X299-Deluxe II has lots of capacity for SSDs. Two M.2 slots sit under passive heatsinks that help ward off the throttling that can occur with sustained transfers. A third pokes out from the PCB vertically near the memory slots, where connected drives can benefit from ambient airflow around the CPU socket. All three slots support longer 110-mm M.2 drives with more room for flash storage than shorter 80-mm sticks.
Connect to networks and devices at maximum speed
High-speed external storage is required for many workstations, so the Prime X299-Deluxe II integrates Thunderbolt 3 with up to 40Gbps of aggregate interface bandwidth. The rear I/O panel has dual Type-C Thunderbolt ports that support data in addition to DisplayPort 1.4 output. Since this processor platform lacks an integrated GPU, you need to connect your graphics card to one of the dual DisplayPort inputs on the motherboard in order to use a Thunderbolt monitor. Daisy chaining allows six Thunderbolt devices to share a single interface, and the ports provide up to 15W of power for fast charging devices.
If you don't have Thunderbolt gear, the rear ports still offer USB 3.1 Gen 2 connectivity for Type-C devices like newer external SSDs. There's also an internal Gen 2 header capable of making faster USB connectivity more convenient for cases with compatible front-panel ports.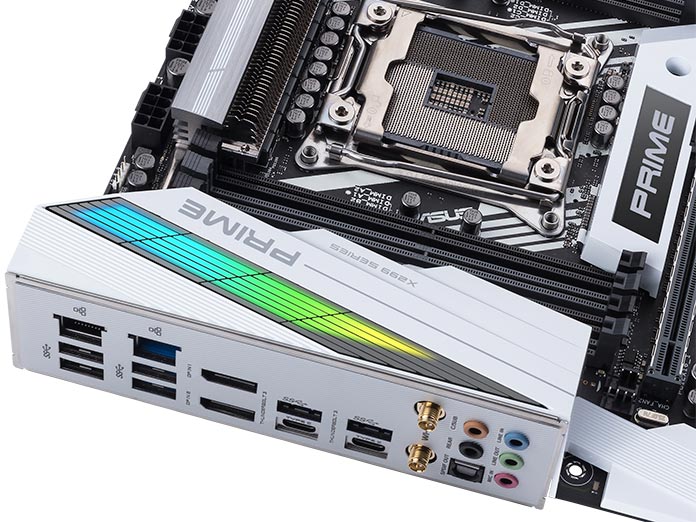 Next-level networking brings higher speeds to both wired and wireless connections. The Prime X299-Deluxe II features 5G Ethernet from Aquantia that offers five times the throughput of traditional Gigabit Ethernet, which is also available via a secondary LAN port tied to an Intel controller. Intel provides the gigabit-class integrated wireless card, as well. The 802.11ac adapter has a 2×2 antenna and supports MU-MIMO to maximize performance with compatible routers. Bluetooth 5 is part of the package, extending wireless support to headsets and other peripherals.
Deluxe in every sense of the word
Onboard Crystal Sound 3 audio combines a shielded codec with premium capacitors and a special de-pop circuit and power pre-regulator to produce clear output that lives up to the name. The 120-dB output SNR speaks for itself, and the 113-dB rating for input is great for streaming and recording. A headphone amp is integrated into the S1220A codec, complete with the ability to detect and adjust for different impedances, and DTS Headphone:X offers virtual surround sound for stereo headsets.
The center of the board is dominated by a large 2" LiveDash OLED like the one on the new Maximus XI Formula motherboard. It's positioned for easy visibility and capable of showing vital system stats like clock speeds, temperatures, and voltages. For a more personalized touch, you can add text and custom images, including animated GIFs.
Additional monitoring is possible using the board's new ASUS Node connector, which offers a bidirectional interface with lots of potential for DIY components and builds. In Win is developing a compatible OLED panel that fits into a chassis and offers both LiveDash functionality and the ability to boot directly to the UEFI, while FSP has created a power supply that shares power stats, temperatures, and control over the CPU fan. Stay tuned for more details on the interface and devices built to take advantage of it.
The Fan Extension Card II included with the motherboard already connects via Node. In addition to supplying extra headers for cooling, it has three primed for RGB strips. Those lighting headers combine with two onboard headers for standard strips and one for addressable RGB gear, giving the the Deluxe II enough capacity to illuminate an entire room. The LEDs diffused by the I/O cover and chipset heatsink are more subdued, allowing easy personalization to suit any style. With Aura Sync, it only takes a few clicks to synchronize colors and effects between the motherboard, LED strips, and compatible components. Stealth mode turns off all the onboard lighting for a cleaner look, including smaller diagnostic LEDs that aren't part of the Aura ecosystem.
Prime X299-Deluxe II
Size
ATX
Memory
8 x DDR4 up to 4200+ (OC)
Multi-GPU
3 x SLI, CrossFireX
PCIe
3 x16 (CPU): x16/x16/x8
2 x1 (Chipset)
Storage
1 x M.2 (NVMe x4 or SATA 6Gbps)
2 x M.2 (NVMe x4)
8 x SATA 6Gbps
Networking
1 x Aquantia 5G Ethernet
1 x Intel Gigabit Ethernet
2x2 802.11ac Wi-Fi MU-MIMO
Bluetooth 5.0
Audio
Realtek S1220A
Thunderbolt
2 x Type-C (shared with USB 3.1 Gen 2)
USB
3.1 Gen 2: 1 x front, 1 x Type-C
3.1 Gen 1: 4 x front, 4 x Type-A
2.0: 2 x front, 2 x Type-A
Aura
I/O shield, chipset heatsink, 2 x strip header, 1 x addressable header
3 x strip headers (Fan Extension Card)
Cooling
2 x pump headers (AIO, pump+)
5 x fan headers
1 x thermal sensor header
6 x fan headers (Fan Extension Card)
2 x thermal sensor headers (Fan Extension Card)
And there's more
A professional powerhouse ready to take on any task, the Prime X299-Deluxe II is the perfect complement to Intel's updated Core X-Series processors. It's also not alone; ROG engineers are working on a new Rampage motherboard geared toward hardcore gamers and overclockers. Users with existing ASUS X299 motherboards can also update their firmware to UEFI version 1503 to add support for the latest Skylake-X processor family. This update is available for all of our existing X299 boards, including models from the ROG Rampage, Strix, TUF, and Prime families.
The ROG Dominus Extreme redefines extreme desktop motherboards
Core X-Series processors are derived from parts intended for workstations and servers, which is why they're much more capable than standard desktop CPUs. But Intel's enterprise-grade Xeon lineup reaches much higher if money is no object, leaving room for a whole new tier of ultimate PC desktops based on a Skylake-X chip with 28 cores. We're one of only two companies selected to work with Intel on enthusiast-oriented motherboards for this monster chip, and the resulting ROG Dominus Extreme is something to behold.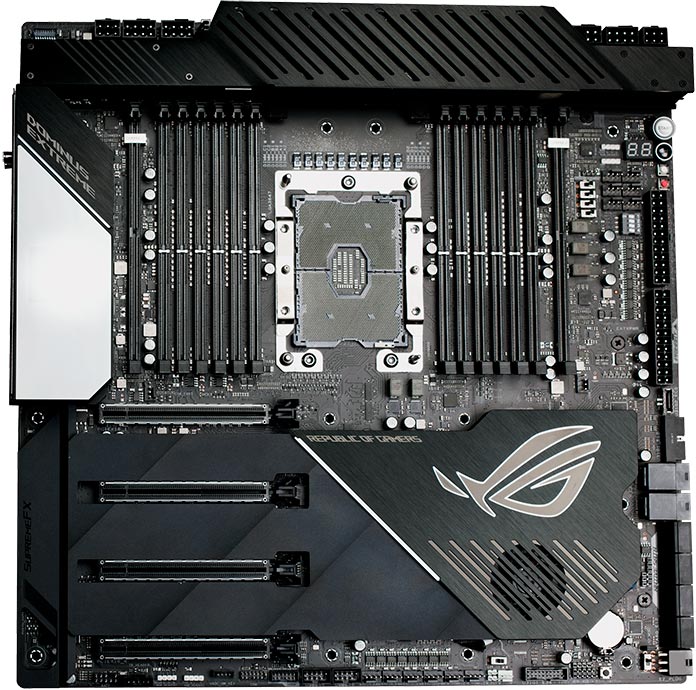 Everything you'd expect from ROG except more
This board is all about applying ROG sensibilities on a much larger scale. Despite the fact that it occupies a massive 14" x 14" EEB form factor, there's no room to spare. The socket is flanked by a dozen DDR4 DIMM slots with support for up to 192GB of RAM, and the memory is bookended by dual DIMM.2 modules with room for four NVMe SSDs between them. Dual U.2 ports provide connectivity for additional NVMe drives, while four PCIe x16 slots line up for a stack of graphics cards. To bypass bottlenecks, that's all connected directly to the CPU.
Supplying such a potent platform takes enormous power, which is why you can connect two PSUs. Among the nine EATX power connectors, six are devoted exclusively to 12V power. A staggering 32 power stages stretch across the full width of the board, and they sit under a large heatsink with stealthy active cooling. Four fans are hidden inside and only spin up when thermals demand.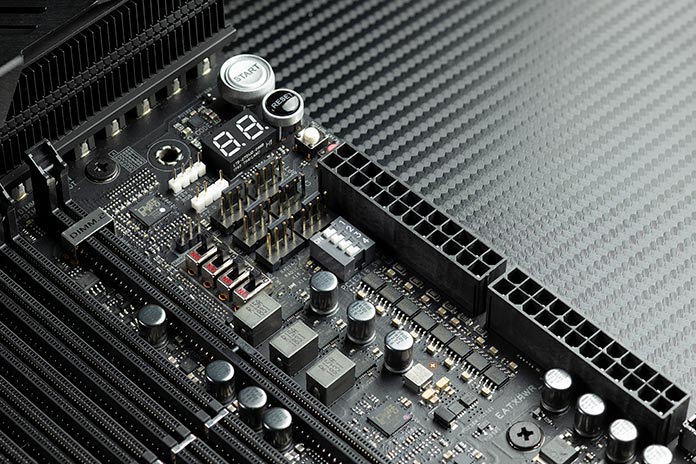 The rest of the onboard cooling is tailored for custom liquid loops, starting with a special connector that supports temperature sensing, flow monitoring, and leak detection for compatible CPU blocks. Separate headers for flow and temperature sensors let you monitor another point in the system, and two of the onboard fan headers are configured for pumps. They're joined by 12 additional fan headers capable of feeding multiple massive radiators.
Part of the family
Even the styling is a cut above what's available on other ROG boards. The armor is aluminum, which adds a more premium feel, and the LiveDash OLED uses the same 1.77" color display as our Ryujin and Ryuo liquid coolers. Aura Sync lighting punctuates the armor and I/O cover with an easily customized glow that also extends to four headers for RGB strips: two standard and two addressable. This all-black beast doesn't need illumination to look good, but don't expect stealth mode to turn it into a sleeper. True PC aficionados will immediately recognize the ROG Dominus Extreme.
Support for wicked-fast 10G wired networking reinforces the platform's enterprise roots. Gigabit-class WiFi is included as well, along with ROG's latest SupremeFX audio. The board even has the new ASUS Node connector for our latest cooling expansion card and other compatible components.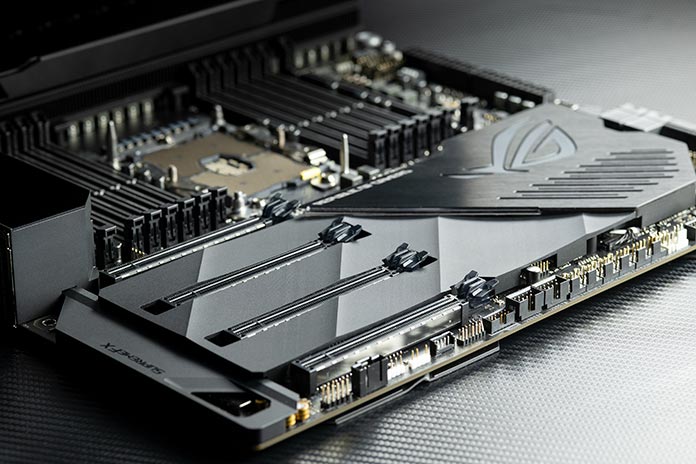 For only a select few
The ROG Dominus Extreme was designed to push the boundaries of PC performance without traditional desktop constraints or budgets. Look for more details about the board and its fearsome processor platform to be released in the coming months.