We introduced the first external graphics dock for laptops way back in 2007 with the original XG Station. It allowed ultraportables to harness the horsepower of full-fat desktop graphics cards, providing a much-needed boost in frames per second. Gaming was the initial focus, but GPUs are now widely used for much more productive pursuits. They're adept at accelerating content creation like photo and video editing, and they're essential for serious 3D modeling and CAD. Their massively parallel architectures also make compelling compute engines for scientific research and development in fields like deep learning.
The new ASUS XG Station Pro brings professionals the refinement you'd expect from our decade of experience with external GPUs. Its sleek exterior hides high-end graphics cards inside a compact chassis that fits seamlessly into your space, while intelligent cooling keeps you running at top speed with minimal acoustic accompaniment. The included Thunderbolt 3 cable plugs into a wide range of ultrabooks and laptops, making the XG Station Pro a versatile solution for ZenBooks and other professional-grade systems.
Origin of the species
We developed the original external graphics dock based on a simple idea: most of the GPU's heavy lifting is done at your desk, so you can station a potent graphics card there and keep your laptop as thin and light as possible for easy portability. Making it a reality was more complicated. No one had done this before, and we had to push Intel and Microsoft to even allow the XG Station to work on their platforms.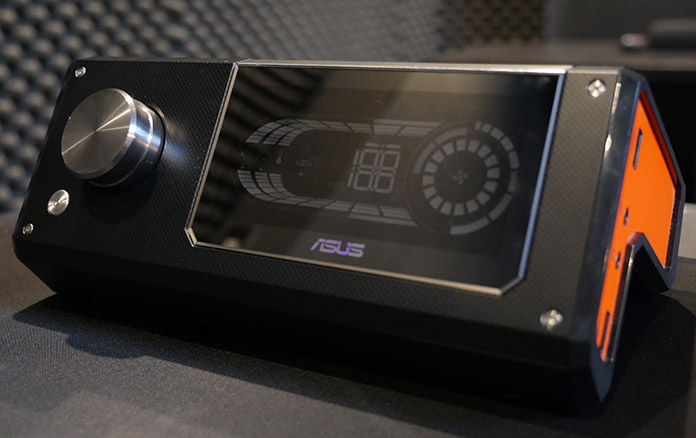 br>The original XG Station. Click the buttons below to see unreleased prototypes. br>

The initial incarnation relied on an ExpressCard connector that remained relatively rare on notebooks. Finding an interface fast enough to keep up with high-end GPUs and common enough for broad compatibility was the biggest challenge in the early days of external graphics docks. After the XG Station, we developed multiple prototypes based on new connectivity standards, but none made it to mass production. Then came Thunderbolt 3 with 40Gbps of bandwidth and native PCI Express support, along with a growing collection of compatible laptops. The time and technology were finally right, so we released the ROG XG Station 2, an appropriately extreme Thunderbolt 3 external graphics dock for gamers. The XG Station Pro is its business-class brother tailored for work before play.
Staggering GPU power squeezed into a smaller footprint
With clean lines and subtle styling, the contemporary design puts a gentle face on monstrous GPU power. Our design team collaborated with renowned case maker In Win to create an aluminum chassis that is as functional as it is beautiful. The top and side panels can be removed with little fuss, making it easy to add the requisite graphics card. There's enough room inside for massive cards up to 2.5 slots wide, like ROG Strix versions of the GeForce GTX 1070 Ti and 1080 Ti, and Radeon RX Vega 56 and 64. The XG Station Pro is compatible with desktop-grade cards from the GeForce GTX 900 and Radeon R9 series or newer.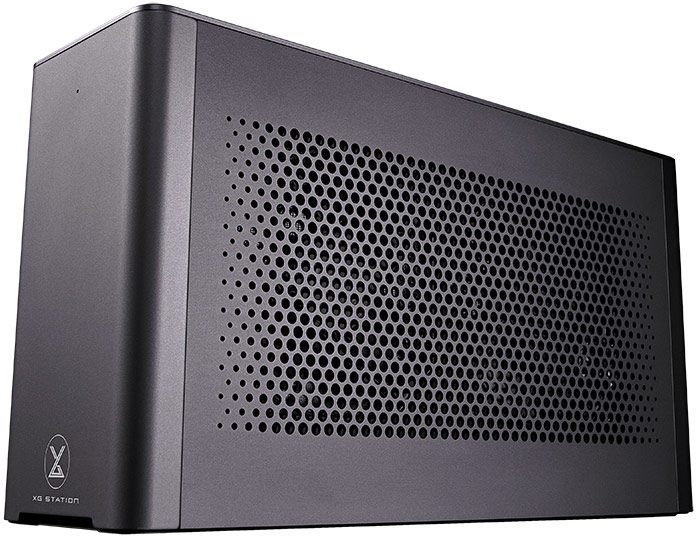 Despite its capacity, the chassis occupies a footprint of just 4.3" x 14.8", making it an unobtrusive addition to your desk. We saved space by moving the power supply out of the case and into a separate adapter that tucks neatly out of the way. External bricks usually max out around 240W, which isn't enough for top-of-the-line cards, but the XG Station Pro has no problem keeping up thanks to a beefy 330W unit borrowed from ROG's liquid-cooled GX800 gaming laptop. Power is split between the PCIe slot and dual 8-pin connectors with enough juice to handle ROG's factory overclocked Strix cards. We plan to make all future ASUS and ROG graphics cards compatible with the XG Station Pro.
Quiet cooling that knows when to stay silent
The external PSU is passively cooled, eliminating the fan noise associated with internal power. It also moves a major heat source out of the dock, allowing the chassis and GPU cooling to run quieter without compromising performance.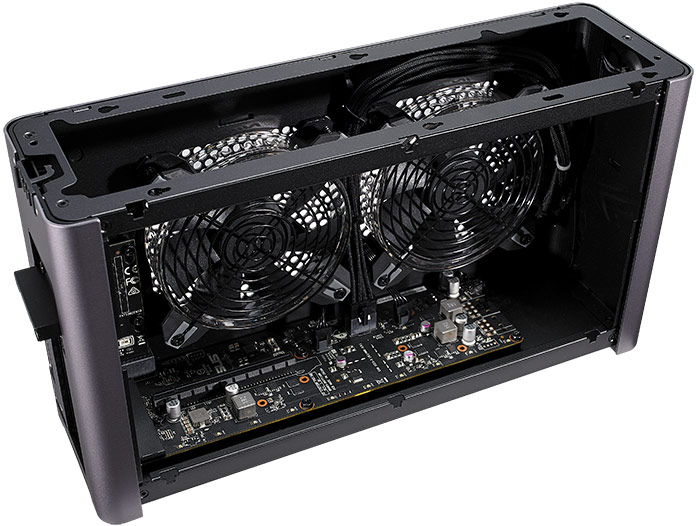 Venting in the side panels lets graphics card breathe deeply. The intake on the left aligns with the orientation of fans on typical graphics cards, bringing cooler outside air directly to the GPU heatsink. It's guarded by a removable filter that prevents dust, pet hair, and other would-be infiltrators from accumulating inside. Dual 120-mm In Win fans exhaust warm air out the right side, pulling heat away from the back of the graphics card. They generate a horizontal airflow path that works with the graphics card's existing fans.
The fans on the XG Station Pro are governed by intelligence from our graphics division. They only turn on when the chassis' internal temperature exceeds a predetermined threshold, so they remain completely silent when you're slaying your inbox, surfing the web, and performing other basic tasks that ask little of the GPU. We optimized the default fan profile to let you work in peace and quiet, but you can adjust the 0dB trigger point and the rest of the response curve using our GPU Tweak II software for Windows. The fans are standard four-pin models, so they can also be plugged directly into Strix cards with FanConnect headers. While fan speeds are normally dictated by a thermal diode on the XG Station Pro's circuit board, FanConnect lets them react directly to the GPU temperature for more responsive cooling.
How the complete package comes together
Attention to detail is evident throughout the XG Station Pro. The In Win chassis exudes expert craftsmanship, and its dark grey finish matches popular pro hardware. Little touches like the black PCB, tidy internal cable routing, and sleeved PCIe power leads make the inside almost as gorgeous as the outside. A soft white glow illuminates the interior by default, but you're not married to monochrome. With our Aura software, PC users can customize the color to suit their space. The XG Station Pro supports Aura Sync, which synchronizes lighting colors and effects with compatible ASUS and ROG graphics cards.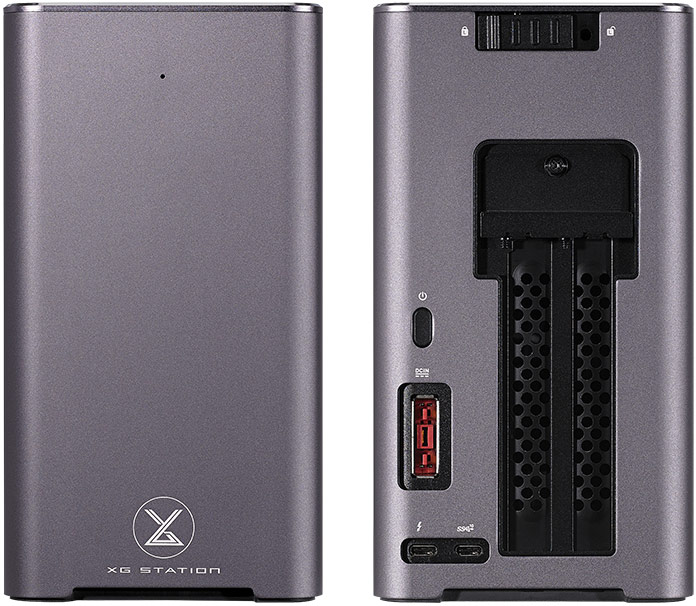 There's more to docking than just graphics, so the XG Station Pro includes an extra Type-C port with USB 3.1 Gen 2 connectivity for high-speed external drives and other peripherals. This port can supply up to 15W of power to compatible devices, turning the XG Station Pro into a capable charger for mobile devices.
While some external graphics docks are sold without the Thunderbolt 3 cable required to actually plug them into your laptop, the XG Station Pro includes one in the box. At nearly five feet, the long cable makes it easy to stash the dock out of the way. We had to spec an expensive active cable to maintain the interface's full 40Gbps of bandwidth across that distance, but the cost is worth the flexibility. Naturally, the cable is also black to match the rest of the motif.
Pricing and availability
The XG Station Pro is available now priced at $329 USD or $414.99 CAD; add a graphics card that fits your needs and take your laptop's performance to the next level. We currently support AMD and NVIDIA GPUs in Windows 10. It's also possible to use other operating systems. The XG Station Pro is officially certified to work with macOS High Sierra 10.13.4 or later when paired with Radeon RX 580, RX 570, and Radeon Pro WX 7100 graphics cards and a Thunderbolt 3-equipped Mac. See the XG Station Pro on display at CES 2018 in Las Vegas, NV, from January 9-12.
Don't miss out on the rest of our announcements from CES. You can read all about the newest ASUS tech for 2018 in this article.