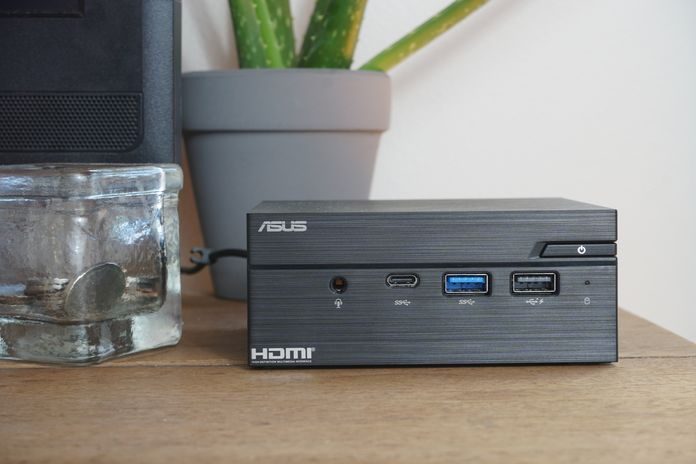 Mighty mini PCs are one of my favorite innovations in the PC world because they boast so much power and flexibility in a teeny, tiny package. You get all of the advantages of a modest desktop PC squeezed into a chassis that's a fraction of the size. The ASUS Mini PC PN40 offers the best of a mini PC, pairing a super compact footprint with a cleverly laid-out interior so you can easily swap out and upgrade parts as needed. And with a wide range of available configurations, you can tailor it to whatever your needs may be, whether you want a slick HTPC or a demure productivity replacement for a desktop PC.
Here, there, and everywhere
At just 4.5" square and 1.9" deep, the PN40 can fit just about anywhere. I have coffee mugs that take up nearly the same amount of desk space. Its case is all matte black with a subtle brushed metal look, so it blends in with its surroundings. That makes it an ideal HTPC, because you don't have to try and hide a big tower somewhere in your living room.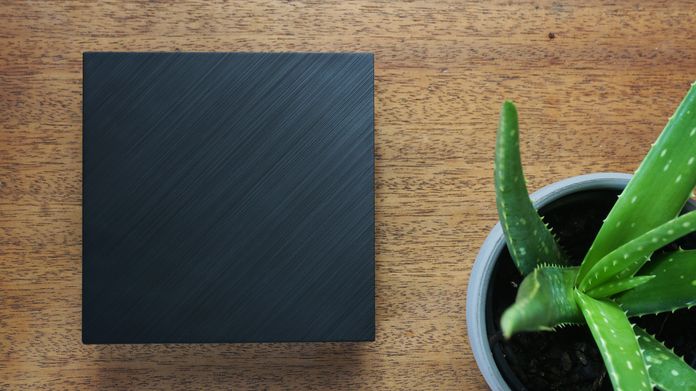 It comes with a VESA mount that's perfect for digital signage applications, but I used it to park the PN40 on the back of my TV. That let me hide the PC and its cables behind the big screen and keep my mantle uncluttered. To complete the perfect setup, I connected a Bluetooth mouse and keyboard so I could work or stream movies from my couch with hardly a cable in sight.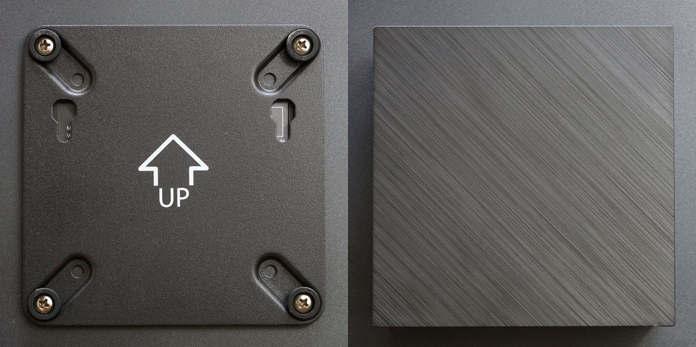 Installing the PN40 on the included VESA mount could not be less complicated. There are two silver posts that you screw into the back of the PN40. Then, you align the included metal plate with the VESA-compatible holes on the back of your TV or monitor and install the four screws. They're rubber tipped so they won't scratch the back of the PN40. Next, line up the two silver posts you've installed on the PN40 with the notches on the plate, and slide the box into place. This design makes it a cinch to quickly slide the PC out when you want to swap connections or upgrade interior components, too.
Upgrade with ease
The barebones version of the PN40 ships with an Intel Celeron N4000 processor or an Intel Celeron J4005 CPU and everything you need to get rolling except for memory and storage, so you can either drop in hardware you already have or go comparison shopping for great deals. It's incredibly easy to add those parts once you have them. After you remove four screws with a mini Phillips screwdriver (a #1 will do nicely), the bottom part of the chassis slides right off. I mounted a 240GB 2.5″ SATA drive onto the bottom panel and secured it in place with four small mounting screws. The drive slots securely into the SATA port when you slide the bottom panel back on.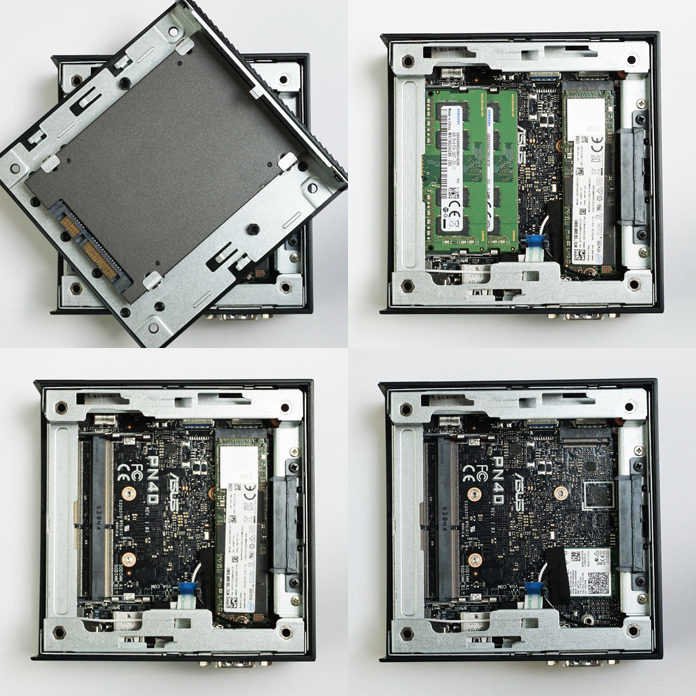 The PN40 can accommodate up to 32GB of RAM across its two SO-DIMM memory slots, and installing memory is easy. Just push the sticks of memory gently into the slots and press down firmly until the metal clasps lock them safely in place. To remove RAM, push the two metal clasps outward and the memory will pop up at an angle for easy removal. Opposite the SO-DIMM slots is an M.2 slot for a second storage drive. I opted for a zippy 512GB NVMe drive, but you could easily opt for a larger capacity 2.5″ SATA drive for all of your media files and then smaller capacity M.2 SSD for your OS and applications. That way you'd get enjoy the fast boot and snappy load times of an SSD without spending big on your secondary drive. The M.2 SSD goes into the slot at an angle, and then you press it down into place where it's secured with one Phillips screw. Everything is packed in fairly snugly, but even with my clumsy man fingers, I had no trouble installing and removing those components. I didn't even scrape a knuckle.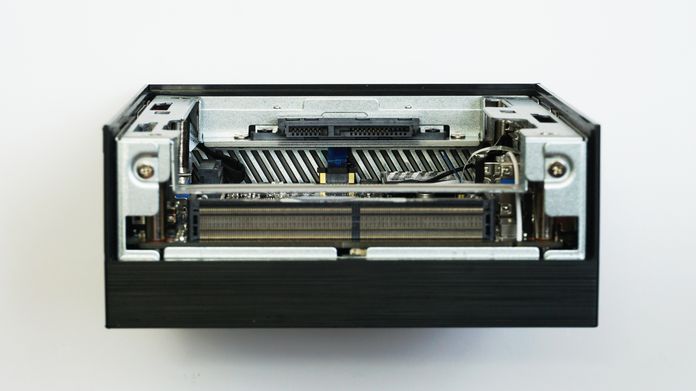 The CPU is tucked away on the other side of the motherboard, but you'll notice that there are no fans anywhere. This PN40 is passively cooled, meaning warm air exits the chassis through vents in the case without the help of any fans. Because there are no spinning blades generating noise, the computer is completely silent while in operation and won't interfere with the audio coming from your TV. Like any passively cooled PC, the PN40 needs adequate ventilation to stay cool, so be sure your setup doesn't block or obscure the side vent.
Maximizing your work
The PN40 is more than an entertainment hub for the living room, though. It's also a capable work machine, and though it's quite different to my everyday PC, I didn't miss a beat in my normal workflow. I experienced no performance issues while working on a document with a pile of web browser tabs open, even while simultaneously streaming a video. Photo editing didn't seem to slow down the little PC at all, and even making a multi-clip video was relatively breezy. The PN40 nicely served up 4K UHD content on my big TV, too.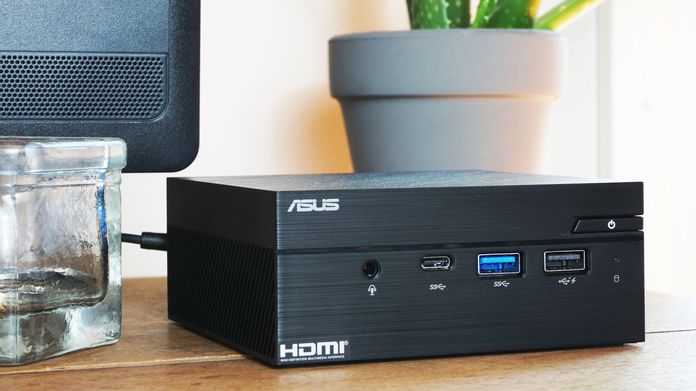 Despite its diminutive footprint, the PN40 has enough ports for a traditional desktop setup. With the exception of the Kensington lock, they all fit on just two sides of the chassis. One side houses the power button as well as a 3.5mm audio combo jack, a reversible USB Type-C Gen 1 port, and two traditional Type-A ports (one USB 3.1 Gen 1 and one USB 2.0). That gives you a quick way to plug in headphones, peripherals, and external storage drives without plugging in dongles or USB hubs. There's two more USB 3.1 Gen 1 ports around back that are ideally placed for a mouse and keyboard. A gigabit LAN port offers wired speed and stability, though the 802.11ac WiFi onboard serves up plenty of bandwidth if you'd rather not run a physical cable to your computer.
I cannot and will not work without a second display, and the PN40 has multiple options for running dual-monitor setups. In addition to the USB Type-C port on the front, the rear has an HDMI port and a mini DisplayPort. There's even a COM port so you can connect older devices.
Ready to roll
Kitting out the PN40 can be done with relatively little PC building experience, and it allows you to customize the PN40 for your specific situation. A dual-storage configuration with a fast boot drive like the model I'm using for this hands-on is ideal for a productivity PC. Insatiable shutterbugs and those with extensive media libraries will want as much storage as possible, and maxing out the memory will help you extract the fastest performance from the PN40. If you just plan to use it as a HTPC for watching video from various streaming services, you can save some money with more modest memory and storage choices. If you'd rather something that requires no tooling around or installation, the PN40 has a sibling, the ASUS Mini PC PN60, which can be ordered fully loaded with up to an Intel Core i7, as well as multiple configurations for memory, and storage. It also ships with Windows 10 pre-installed. The PN60 fits all of its components into the same size chassis but incorporates a fan to keep its beefier CPU cool.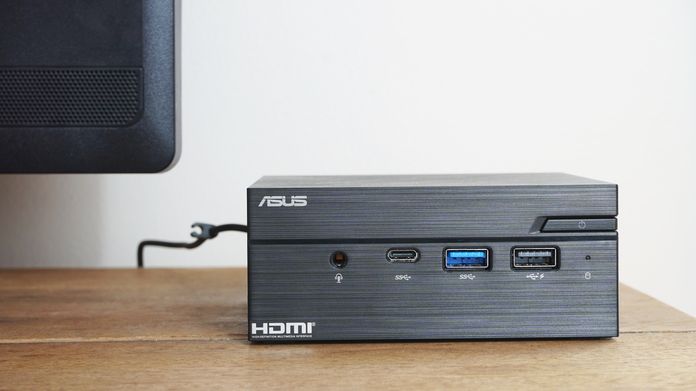 ASUS PN40 Mini PC barebones
CPU
Intel Celeron N4000
Intel Celeron J4005
Graphics
Intel UHD Graphics 600
LAN
10/100/1000 Mbps
WiFi
Intel 802.11a/b/g/n/ac
Bluetooth 4
Side (Front) I/O
1 x USB 3.1 Gen1 USB Type-C
1 x USB 3.1 Gen1 USB Type-A
1 x USB 2.0 w/ Quick Charge
1 x audio combo jack
1 x Kensington lock
Back I/O
1 x HDMI
1 x Mini DisplayPort
1 x Optional I/O port (COM or VGA)
2 x USB 3.1 Gen1 USB Type-A
1 x RJ-45 LAN
1 x DC-in
Power Adapter
65W
Dimensions
4.5 x 4.5 x 1.9"
1.54 lbs (with 2.5" HDD)
Price
$159 USD / $199 CAD
Availability (USA)
Amazon
B&H
Walmart
Availability (Canada)
Canada Computers
Amazon
Good things come in small packages
The PN40 solves multiple problems at once. Flexibility in the hardware configuration means it can be better tailored to your specific computing needs while also helping to control costs. It's small enough to park just about anywhere, and it still packs enough power to get real work done. Whether the PN40 is mounted on the back of your TV or monitor, or sitting on your desk, it's inconspicuous and boasts totally silent operation. Starting at $159 USD and $199 CAD for the barebones kit, the ASUS PN40 is available at the retailers listed in the table above.