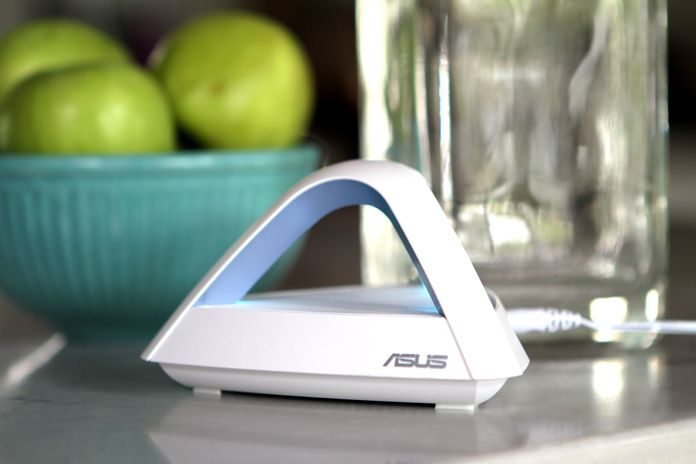 There are lots of ways to set up internet access in your home or office, but one of the most effective means of spreading the Wi-Fi love around a larger space is by using a mesh network facilitated by the likes of our new Lyra Trio.
A mesh network is similar to the Wi-Fi networks you're accustomed to connecting to at home, at work, and at your local coffee shop in that it broadcasts a signal that allows you to wirelessly connect to the internet. The major difference is that instead of a single access point or router broadcasting a wireless signal as far as its little antennas can throw it, a mesh network distributes the signal across a series of hubs. That keeps the wireless signal strong over a much larger area. While a single router may not be able to broadcast to the farthest corners of the house, a mesh network made up of multiple nodes can cover your entire home.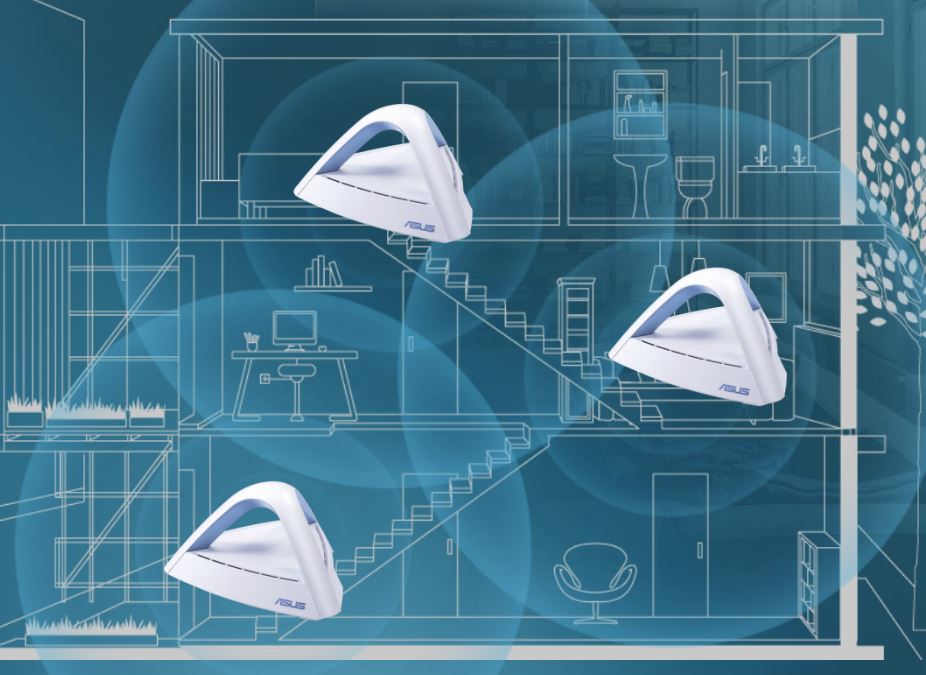 You can accomplish more or less the same thing by adding repeaters and access points to your network, but that process is rather complicated. You have to acquire additional networking devices and separately set up, configure, and manually manage them all. It's a lot of extra steps. A mesh network is smarter and simpler by definition. The hubs are all part of one overarching network with a single SSID, and they intelligently talk to one another and seamlessly hand off your devices to whichever hub offers the strongest connection at any given time.
Getting meshy
ASUS AiMesh allows you to create a custom mesh network using ASUS routers you may already own, but setup is a bit more involved because you still have to configure each additional node so that they can all communicate with each other. Our Lyra family of mesh networking products makes deployment much easier. With multi-packs of identical nodes, setup is done via the dedicated app and takes only a few minutes. The original Lyra launched last year with a sleek design and robust tri-band connectivity, and it paved the way for a line of compatible hubs, including the upcoming Alexa-enabled Lyra Voice smart speaker. For anyone looking for an affordable entry into the world of mesh networks, the dual-band Lyra Trio is the best solution.
The Lyra Trio consists of three AC1750 hubs, but you can add up to two more if you're covering a really large space, or want to extend coverage to areas beyond the house, like the yard. Each hub supports 802.11ac Wi-Fi with combined peak bandwidth up to 1,750Mbps. That far exceeds the gigabit speeds you get from a wired LAN port. The hubs offer both 2.4GHz and 5GHz bands and 3×3 MIMO technology, which not only keeps connected devices well fed with plenty of bandwidth, but also ensures that the hubs maintain strong connections to one another.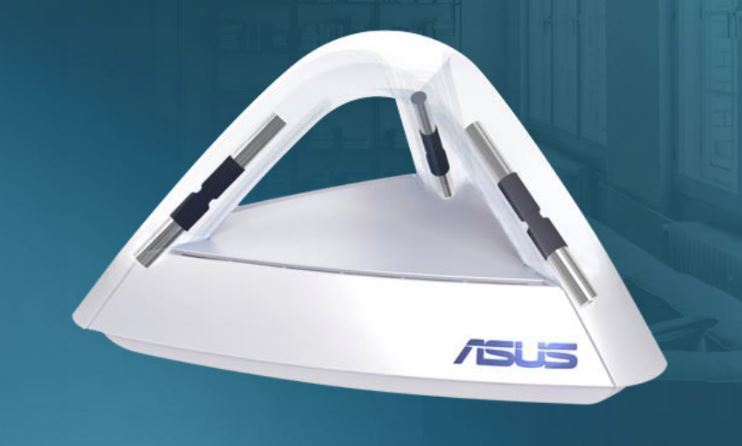 One look at the Lyra Trio tells you this is no ordinary router. Each unit has three antennas, but they're cleverly hidden inside the frame to maintain a clean and tidy look. The design is not a cosmetic conceit. In this configuration, the three antennas are angled upward, broadcasting Wi-Fi vertically and horizontally for a stronger signal that's better able to penetrate walls and floors.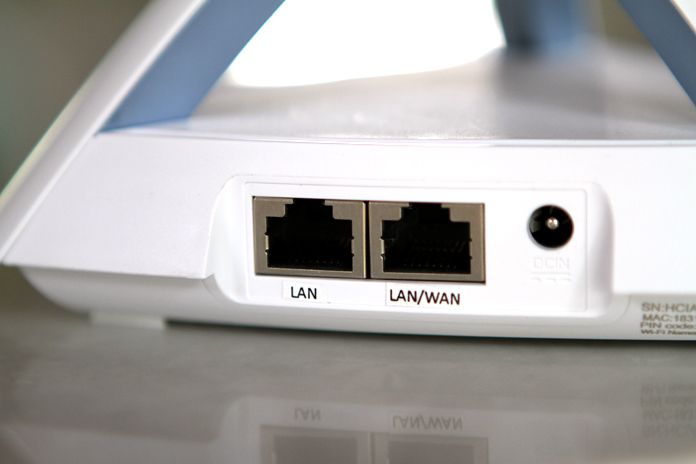 The Trio's Ethernet support can buy you even more speed and stability. The default backhaul link connecting each of the Lyra Trio hubs to one another uses the 5GHz wireless band, but you can also connect your hubs with standard network cables thanks to the two Ethernet ports on each one. If you're fortunate enough to have multiple in-wall Ethernet ports in your home, or if you've been crafty enough to run cabling between various rooms, connecting your hubs directly via Ethernet ensures a low-latency link between them that's impervious to walls and other obstructions, and it frees up more wireless bandwidth for all of your Wi-Fi devices.
Talkin' 'bout my situation
I pitted the Lyra Trio against a problem that has been driving me nuts ever since I moved into a new house: I can't get stable Wi-Fi in my living room. Even though I have Gigabit internet from my ISP (be jealous), the living room and modem are on different floors and opposite sides of the house. The living room can usually get sufficient bandwidth to support Netflix streaming to the TV with enough left over for someone to dink around on the internet on a tablet or get work done on a laptop. But the signal is terribly inconsistent and routinely dips low enough for the Netflix stream to drop. I need more bandwidth and a more reliable connection. A mesh network is the obvious solution.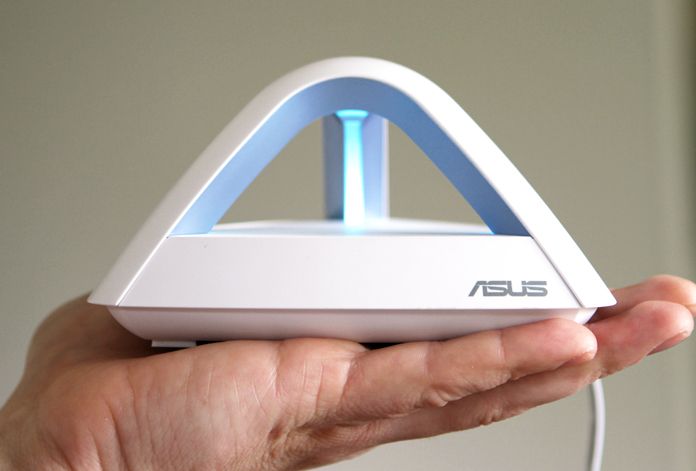 Even though a mesh network may sound like a complex thing to set up, it's actually easy and takes very little time with the Lyra Trio. There are a few ways you can go about it, including connecting to the first hub using your PC and configuring the network via a web-based GUI, but I chose the easiest route. The dedicated Lyra mobile app lets you configure the first hub with your phone, and then you can connect additional hubs with just a couple of button presses on each unit.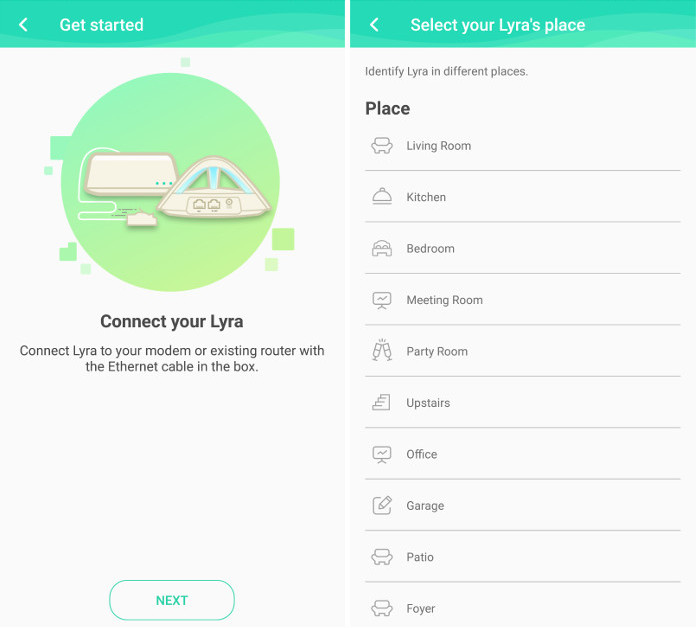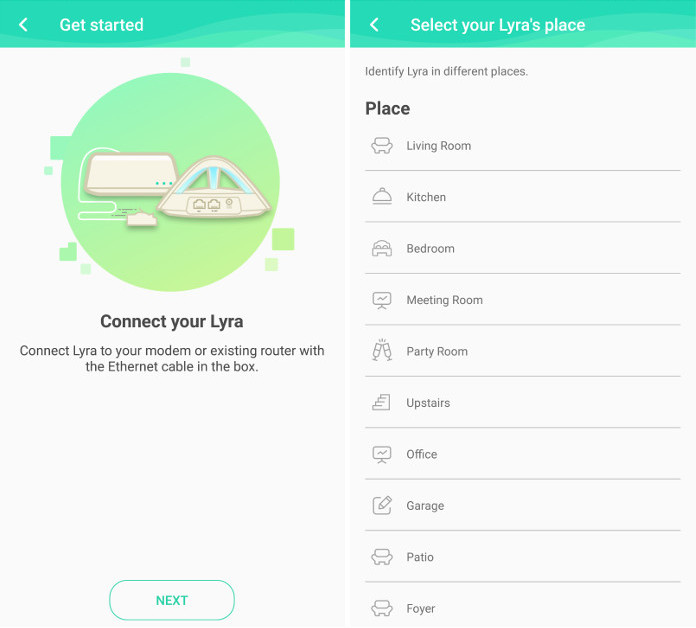 Download the ASUS Lyra app to get started (it's available for both iOS and Android) and enable Bluetooth so the phone can find the hub. Next, disconnect the power from the modem and physically connect the first Lyra hub to it with the included Ethernet cable. All three hubs that come in the box are identical, so you don't have to fuss with figuring out which one is which.
After power cycling the modem, turn on the Lyra hub by plugging its power adapter into an outlet. You can determine the status of a given hub by observing the color of its LEDs. They blink white when they're looking for a connection and turn yellow if there's no internet connection. If you see red, you know that hub has lost its link to the primary Lyra Trio hub hooked up to the modem. Cyan tells you that all is well with the world.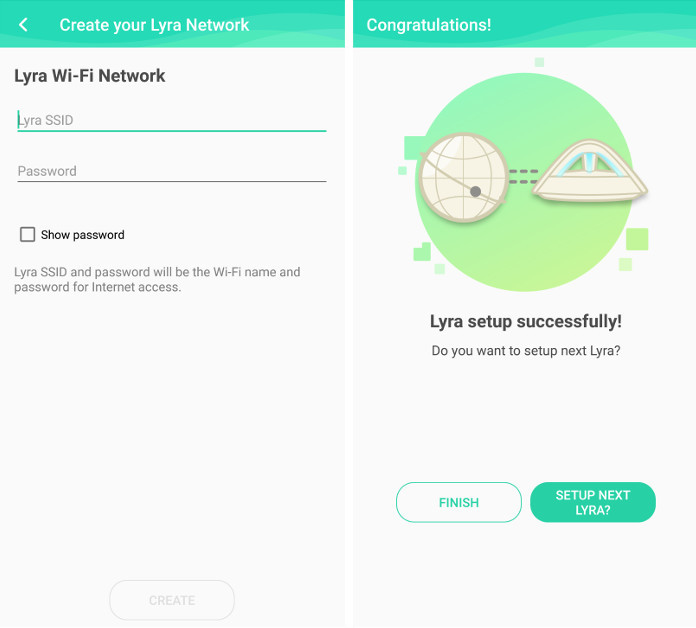 When you're setting up the network for the first time, cyan indicates that it's broadcasting a Wi-Fi signal and is ready to be configured. Then, fire up the Lyra app on your phone and follow the simple onscreen instructions. After a few taps, the app will find the hub, and you'll be prompted to name the network (i.e., the SSID) and set a password. And just like that, your mesh network is up and running! Well, technically, it's just a regular old Wi-Fi network until you add more hubs. Fortunately, this couldn't be easier.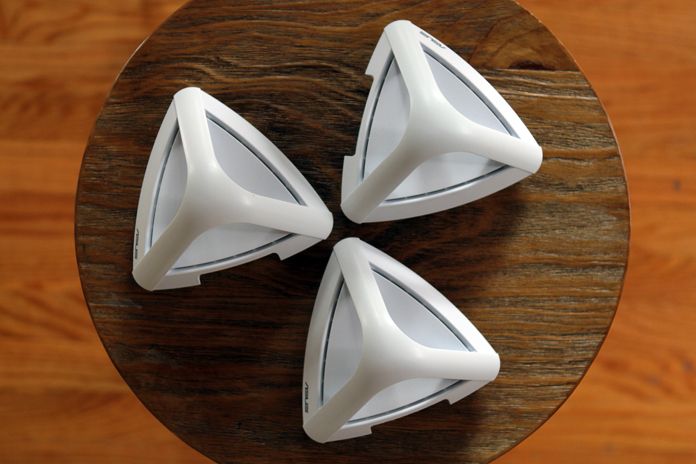 For best results, set the hubs up within line of sight of each other. Plug the second Lyra hub into an outlet and wait a few moments for its lights to stop blinking white. This indicates that it's ready to join its sibling on the network. Press the Pair button on the underside of the first Lyra hub until the LEDs flash white, and do the same with the second hub. When both hub's LEDs are solid cyan, you're good to go. To add the third Lyra hub to the network, just repeat the above steps. The entire process should take less than 15 minutes.
The Lyra Trio provides Wi-Fi download speeds in my living room that are an order of magnitude faster than what I had before. Plus, that signal is consistent and persists throughout the entire house, which is another huge advantage of a mesh network. The Lyra Trio connects your devices to whichever hub has the strongest signal, so you can stroll around the house watching, say, a 4K video stream without worrying about dips, drops, or interruptions.
The hubs can cover up to 5,400 square feet across multiple floors, which is far bigger than most homes (including mine), but I had expected to still have some dead spots given the layout of the house and where I placed the nodes. Once I had all three hubs in place, I couldn't find a dead spot anywhere in the house. Even in the areas where I expected coverage to drop out, speeds were consistent.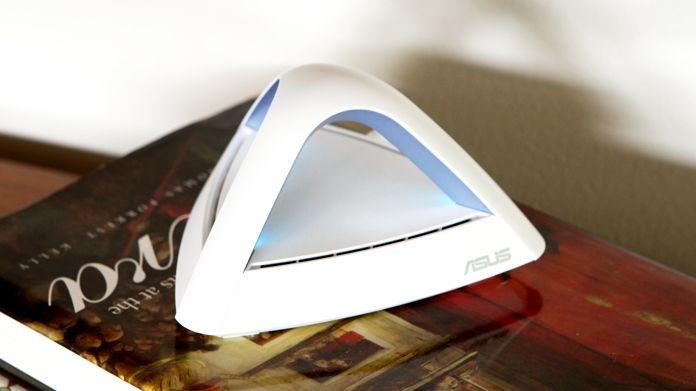 Problem solved
In addition to providing a blanket of high-speed wireless internet that covers the whole house, the Trio keeps messy wiring to a minimum. You need one network cable total, and that's just to connect the first hub to the modem. The other two hubs require only a power adapter, which means you can place them just about anywhere you have an outlet, and you don't have to try to hide a bulky networking cable. The hubs are small enough to easily tuck out of sight, but their unique design helps them blend in if you can't avoid having them out in the open.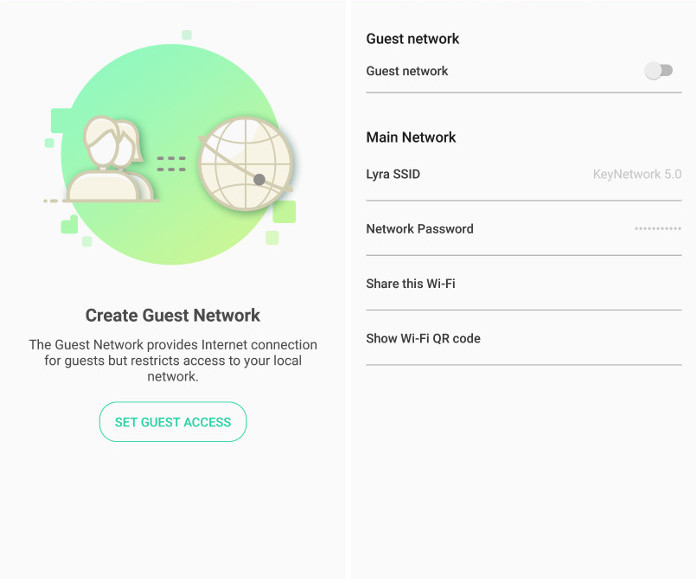 Once you have everything set up, you can explore some of the Lyra Trio's other features. AiProtection Classic includes a built-in firewall and that blocks not only malicious internet sites, but also infected devices on your own network. This extra layer of security is powered by Trend Micro and includes free updates for life. That's accompanied by parental controls, including URL filtering and scheduling, which allows you to block access to unsavory sites and limit internet access for specific devices to certain times. For more occasional visitors, there's also a guest network feature that lets friends get online without having access to your internal network.
Turning on the guest network is one of several functions conveniently available via voice command when the Lyra Trio is paired with an Amazon Alexa device. Other skills include enabling guest access for a specific period of time, pausing internet access for the entire network, checking for firmware updates, rebooting the router, and switching to modes optimized for gaming or streaming.
Model
Lyra Trio
Chipset
Qualcomm QCA9563 (2.4GHz & 5GHz)

Networking standards
IEEE 802.11a/b/g/n/ac
IPv4 & IPv6
MIMO support

Wireless throughput
AC1750 (450 + 1,300 Mbps)
Tx/Rx
2.4GHz: 3T3R
5GHz: 3T3R
Antennas
3 per hub, internal
Operating frequency
2.4GHz
5GHz
Ethernet
Each hub: 1 x LAN/WAN, 1 x LAN
Price (3 hubs)
$299.99 USD
$399.99 CAD
Availability (USA)

US Vendors

Availability (Canada)

Canada Vendors



A mesh network has obvious advantages over both a typical single-router setup and a frankennetwork of multiple access points that require constant management. Your modem can be just about anywhere in your home or office, and the additional hubs will keep your Wi-Fi signal strong throughout your space. The Lyra Trio provides all of that in a compact package that's less expensive than many of the alternatives and is easy enough for anyone with a smartphone to set up. Priced at $299.99 USD and $399.99 CAD, the Lyra Trio is available in North America at the retailers listed in the table above.