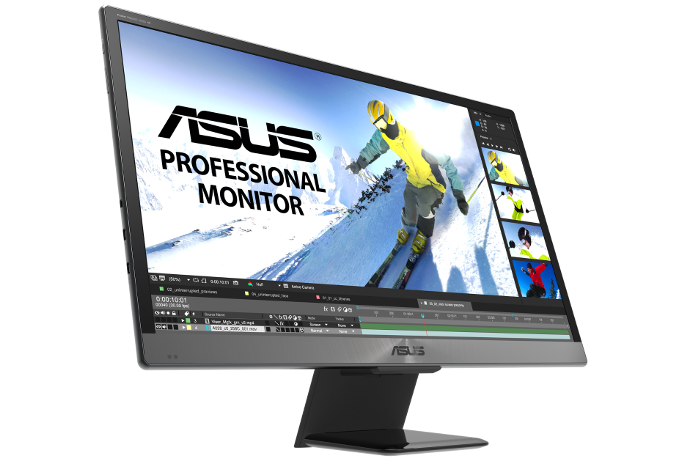 Traveling for work usually means accepting some uncertainty in your workflow and productivity. Your laptop might allow you to work from anywhere, but even a 17" notebook can feel restrictive if you're used to having more screen real estate. If you're trekking to new locations every week, or you don't really have a fixed office, the realities of living on a laptop screen alone can wear pretty thin.
But you don't have to be restricted to just your laptop screen, because we have two new portable monitors to keep you productive in a range of scenarios. The stunning ASUS ProArt PQ22UC takes no-compromise content editing and creating on the road with a professional-grade 4K OLED boasting HDR support. And you can leave outlets behind with the battery-powered ZenScreen Go MB16AP, which stashes in a laptop bag and hooks up to computers or phones to provide maximum versatility for anyone who travels. Both displays will be shown at CES from January 9-12 in Las Vegas, NV, and the ZenScreen Go has already won a CES 2018 Innovation Award.
The creatively brilliant ProArt PQ22UC
Measuring an expansive 21.6", the PQ22UC bucks the trend for portable monitors by providing a canvas that almost matches the size of a desktop monitor but is still light enough to carry between client meetings all day. Thanks to its thin-and-light OLED panel, the display weighs in at just 2.2 lbs; that's less than our premium ZenBook 3 Deluxe ultrabook, making the PQ22UC a great alternative to a hefty portfolio filled with hard copies of your best work.
While most mobile screens focus on adding a second display for multitasking and general productivity, the ProArt ups the ante with a professional-grade package designed for photo and video editing. This display is an absolute dream for content creators. Its Ultra HD 3840×2160 resolution allows you to preview 4K video on the road without losing detail, and its 0.1-ms pixel response time maintains a sharp picture with fast-moving scenes that blur on lesser screens. The 21.6″ panel packs 204 pixels per inch, which offers plenty of detail for editing large photos that usually have to wait until you get back to the office. With a true RGB stripe OLED panel that produces primary hues natively rather than filtering white light, the PQ22UC covers 99% of the DCI-P3 color space. You see a wider range of colors as you edit, with smoother gradients between hues for natural looking images thanks to real 10-bit color depth. The colors are accurate, too, because each ASUS ProArt PA22QC monitor is factory-calibrated to guarantee a Delta E color difference of less than two. ASUS ProArt Calibration Technology ensures consistency across a range of devices by saving color parameter profiles to the monitor rather than to your laptop. After calibration, colors will remain consistent whether you're hooking the monitor up to your PC at home or a client's laptop.
The vast palette of vivid colors is complemented by phenomenal contrast that stretches from perfect blacks to brilliant whites. OLEDs are known for their range, and this one boasts a contrast ratio of 1,000,000:1. The dynamic range is wide enough to support HDR content, allowing you to produce and enjoy HDR content in all its glory.
The PQ22UC accepts video input over USB Type-C or micro HDMI to minimize the number of dongles you need to pack based on the device you're bringing. The angled stand provides desktop ergonomics wherever you set up shop, but it detaches and twists flat to easily slip into the included carrying case along with the display and power adapter.
The ZenScreen Go MB16AP is untethered and Android-ready
The smaller 15.6" ZenScreen Go is a Full HD display that runs on battery power, so you don't spend your time on the road looking for outlets. It's capable of connecting to either your laptop or your Android phone, which means it can do double duty for work and play while you're traveling. Getting up and running is easy regardless of what device you're hooking up: just connect via the USB Type-C port on the side. The MB16AP supports Type-C USB devices natively and also works over Type-A USB 3.0 with a DisplayLink driver.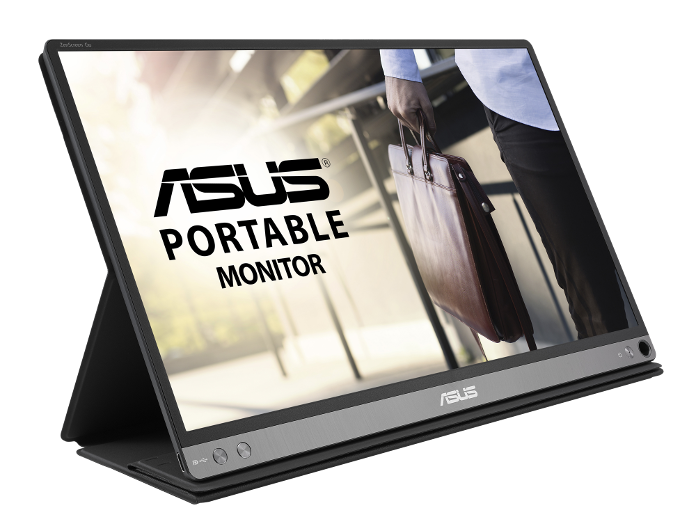 At just 1.98 lbs, this slim slate is supremely portable, slipping into your bag next to your laptop without adding much in the way of bulk or weight. Narrow bezels not only reduce overall footprint, but also give the illusion of a larger screen. The wide viewing angles of the IPS-type panel ensure colors stay vivid and bright whether you're watching a videos side-by-side with a friend or presenting slides to a larger group. Audiences can comfortably watch the screen for hours thanks to ASUS Eye Care Technology, which uses a flicker-free backlight and adjustable blue light filter to make long days and late nights easier on your eyes.
With a 7,800mAh battery onboard, the ZenScreen Go lasts at least four hours on a single charge with the brightness dialed up the maximum level. There's enough juice to get through a series of meetings without plugging in. If you don't want to run down the battery, the screen can be powered by the same USB connection supplying the video feed, keeping your desk free of unnecessary clutter. It also works with Type-A USB 3.0 ports, extending compatibility to most modern laptops.
The integrated battery is the primary difference between the new MB16AP and our existing ZenScreen MB16AC, which relies exclusively on USB power. Both come with the same smart cover that doubles as a stand; it folds back to prop up the display in either landscape or portrait modes. If you prefer to go case-free, a neat little cutout in the frame allows you to use a pen or pencil to prop up the screen.
All you need to get up and go
Whether your job involves editing photos on location or preparing presentations in your hotel room, the ProArt PQ22UC and ZenScreen Go MB16AP offer the flexibility to move from conference rooms to coffee shops without interrupting your workflow. Both models will be available in the spring, with pricing announced closer to the street date. You can see them at CES 2018 in Las Vegas, NV, from January 9-12.
Don't miss out on the rest of our announcements from CES. You can read all about the newest ASUS tech for 2018 in this article.