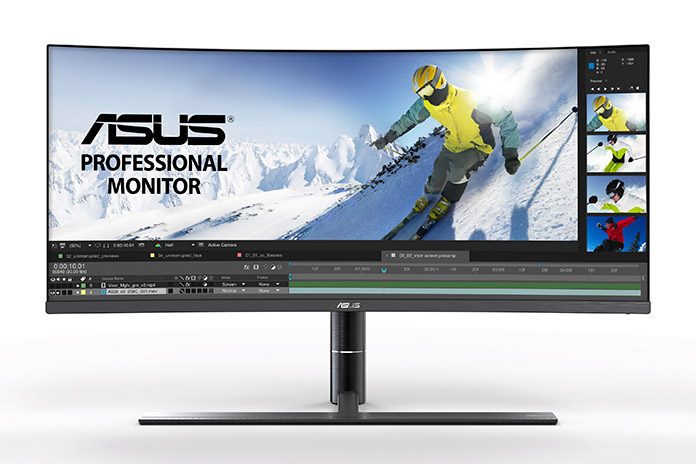 For creative professionals like video editors and photographers, your monitor cannot be an afterthought. It's not just the canvas that displays your work, but also a vital tool for doing your work. For many privateers and prosumers who work from home, the same screen serves up games and entertainment at the end of the day.
The ASUS ProArt PA34V mixes work and play on a gorgeous ultra-wide curve. It delivers the color accuracy required for media-intensive projects and is loaded with useful features and technologies that help you be more productive and efficient. With support for Adaptive-Sync and refresh rates up to 100Hz, it also enables a much more fluid gaming experience than conventional displays.
Longview
Curved displays have obvious benefits for gamers who enjoy the extra immersion they experience when the action stretches into their peripheral vision, but there are perks for professionals, too. Whether you're working on multiple CAD files or flowing through video edits, a curved display can pull you deeper into a project and help shut out distractions.
The ProArt PA34V bends its 1900R curvature across an ultra-wide format with extra real estate. The 34" display sports a 21:9 aspect ratio with a UWQHD resolution of 3440 x 1440. A 16:9 display with the same vertical resolution would be only 2560 pixels wide, so that broader aspect ratio delivers substantially more space.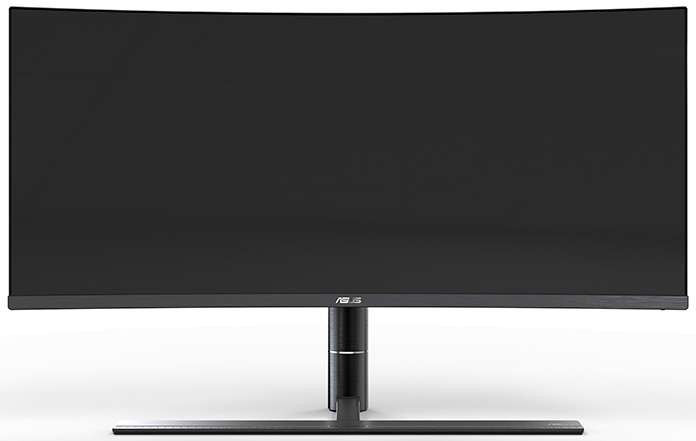 One can hardly overstate how valuable that extra desktop area can be for your work. It allows you to replace a multi-monitor configuration and simplify the layout of your work space.
Stop, calibrate and listen
Color calibration is of utmost importance for achieving accuracy in photos, graphics, and videos. To ensure that your ProArt PA34V is ready to go out of the box, we calibrate each one before it ships to guarantee a delta E color difference of less than two. You can further adjust the calibration if you desire, and ProArt Calibration Technology lets you save color profiles directly to the monitor itself instead of relying on your PC. This is a brilliant feature that guarantees consistent colors no matter which devices are connected to the display.
Complete coverage of the sRGB gamut ensures that the PA34V can display all the colors available on typical PC monitors. Thanks to an IPS panel, those colors retain their richness across wide viewing angles, which is handy when you're gathering others around to collaborate or just watch a movie.
The panel supports variable refresh rates from 40 to 100Hz. The higher peak rate makes everything feel smoother, from playing games like Fortnite to dragging applications around on the Windows desktop. Adaptive-Sync is particularly important for gaming, where it varies the refresh rate of the monitor to match the frame rate of compatible graphics cards. This synchronization makes gameplay more fluid by compensating for dips in performance, and it also reduces input lag and eliminates visual tearing that can distract from the game.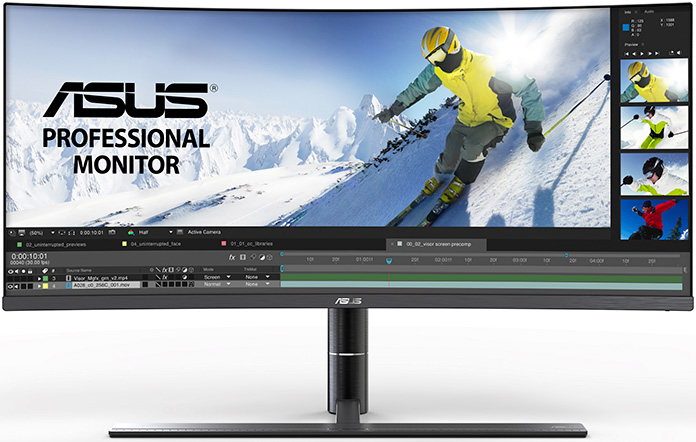 ASUS Eye Care Technology reduces eye strain regardless of what you're doing. The flicker-free backlight and adjustable blue light filter help you spend more time immersed and less time rubbing your eyes.
Everything in its right place
Although we often think of the PC as our productivity control center, the ProArt PA34V turns that notion on its head. This monitor can be the heart of your setup because it handles inputs from multiple devices at once and offers plenty of ports for attaching both systems and storage.
Picture-in-Picture mode gives you a small window on the display that lets you keep an eye on a secondary input source; you can move this window between the corners of the display depending on where you need it. Picture-by-Picture (PbP) mode is more powerful, because you can view content from up to four different sources simultaneously, each one confined to its own portion of the display.
PbP is like having several monitors at once, but with everything on one large display. You can even use different color modes for each source, such as using sRGB mode for your desktop window on the left, and Scenery mode for your laptop view on the right.
ProArt PA34VC
Panel
34" IPS
21:9 aspect ratio
1900R curve
Resolution
3440x1440
Color gamut
100% sRGB
Color accuracy
Delta E < 2
Refresh rate
40-100Hz with Adaptive-Sync
Picture modes
Picture-in-Picture (PiP)
Picture-by-Picture (PbP)
Inputs
2 x Thunderbolt 3
2 x HDMI 2.0
1 x DisplayPort 1.2
To connect those multiple sources, the ProArt PA34V has a DisplayPort 1.2 input as well as a pair of HDMI 2.0 ports. All three support Adaptive-Sync when paired with compatible graphics cards and game consoles.
Two Thunderbolt 3 ports add tremendous flexibility; via reversible USB Type-C connectors, they support peak bandwidth up to 40Gbps, which is plenty of throughput to work with content on external storage devices. Because you can daisy-chain Thunderbolt 3 hardware , you can use one of the ProArt's ports to plug in a string of up to six storage devices. Meanwhile, you can use a laptop to drive the display with the other TB3 port, while also charging the laptop with 60W of power delivery.
By enabling several simultaneous display inputs and loading up on powerful ports like Thunderbolt 3, we put more control at your fingertips. To view and manage content from multiple sources, you need only one keyboard, one mouse, and one ProArt PA34V.
Break on through to the other side
Rather than wrestling with multiple monitors and juggling different devices, you can put the ProArt PA34V in the center and run your the whole operation from one display. The calibrated colors and captivating curve shut out distractions when it's time to dig in, get creative, and bust out projects on a deadline. When you need to unwind, the fast panel and variable refresh rate provide silky visuals rivaling dedicated gaming displays. See for yourself at Computex 2018 in Taipei, Taiwan, and look out for the ProArt PA34V to be available later this year.
Check out our many other Computex 2018 product announcements. Skip over to this article for a summary covering the entire ASUS line-up at the 2018 show.