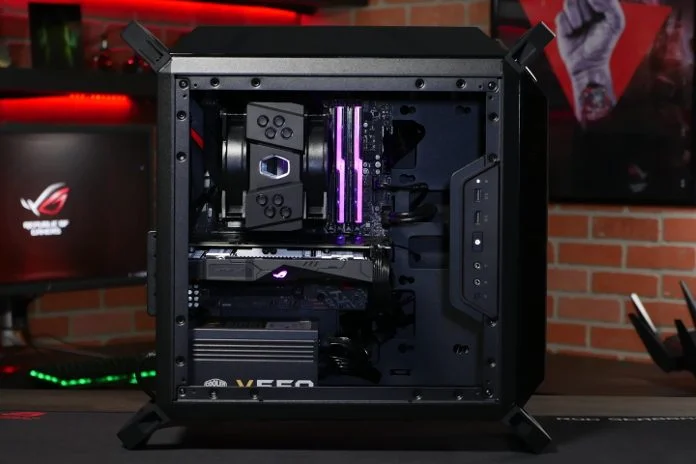 We love building high-end PCs, but not all gamers can roll like that. DIY system building can be an expensive hobby, and most builders have to think about their wallets first. It is possible to build a great gaming PC on a budget, though, and you don't have to resign yourself to a stark or bland theme just because you're being mindful of price. We picked out a series of components for a budget build that won't break the bank and will turn up the look in your gaming den. To prove its worth, we put our Shadow Box budget build through a rigorous gauntlet of performance tests to demonstrate its abilities.
Founded on strength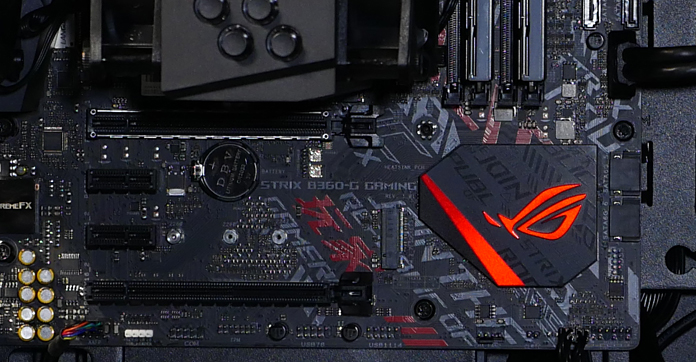 A strong foundation is key for any system, so we selected the ROG Strix B360-G Gaming as our platform of choice. Priced at $109.99 USD and $142.99 CAD, the B360-G is easy on the wallet but doesn't compromise on features or stability. The board's microATX form factor is smaller than a full-sized ATX board, which allows for a more compact system with more expansion space than a Mini-ITX board.
The B360-G forgoes flash to prioritize function. Extensive RGB lighting is less common in more affordable systems, so we made sure the B360-G has enough style for totally dark builds by using splashes of color to add character and flair to the board itself. An onboard header feeds RGB strips for those inclined to add lighting down the line. The header can power up to two meters of lighting strips at peak brightness, which is enough to deck out most systems.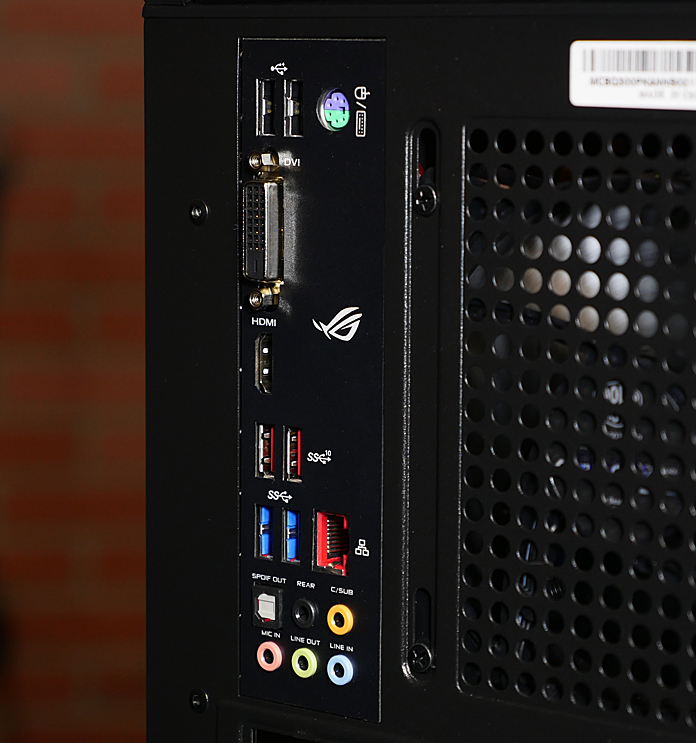 Don't let the price tag fool you, because the B360-G is no "cheap" board. Pre-installed I/O shields are often reserved for more expensive solutions, but the B360-G has one of its own, making it easier to install the motherboard into the case. Internal chassis space is rather limited in the back of our Cooler Master MasterBox Q300P, and it can be frustrating trying to carefully guide a board into place so it fits correctly into a separate I/O shield. The pre-installed shield made the process simple and painless for this build.
Despite its budget sensibilities, this motherboard dishes out quality Intel networking. The board is equipped with an Intel I219-V Gigabit Ethernet controller that is fast and reliable. It's also stacked with enough connectivity options to plug in a heap of peripherals and accessories, like our ROG Strix Flare keyboard and Gladius II Origin mouse. Although it's not supported on the chassis we chose for this build, the motherboard also features an internal USB 3.1 header for expanded peripheral connectivity. It's backward compatible with USB 3.0, so we're able to connect the front USB ports on our case with no problems. All told, the B360-G has two high speed USB 3.1 Gen2 ports, two USB 3.1 Gen1 ports, two USB 2.0 ports, and onboard headers for two USB 3.1 Gen1 and four additional USB 2.0 ports.
Gaming beyond our means
We've paired the ROG B360-G with our ROG Strix GTX 1050 Ti OC Edition, which is priced at $209.99 USD and $272.99 CAD. The card is installed in the the top PCIE x16 slot, which uses Safelot technology that reinforces the slot for heavier graphics cards and helps to prevent damage from bumps during travel.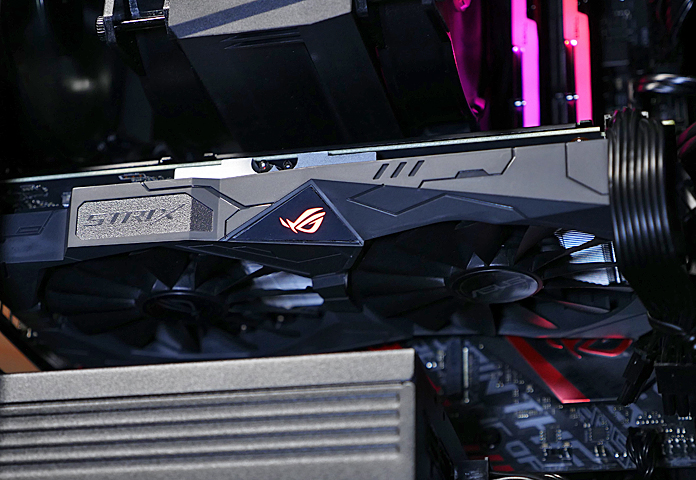 The Strix 1050 Ti offers considerable bang for your buck at 1080p in many popular games, and with a baked-in factory overclock it can outperform stock-clocked solutions without the need for hands-on tweaking. It has an OC base clock of 1392MHz and can boost to 1506MHz, versus the 1290MHz/1392MHz base and boost for a stock GTX 1050 Ti.
During intense gaming, the card is kept cool by a large heatsink and dual Wing-Blade fans. Using the companion GPU Tweak utility, we set the fans to be completely silent in 0dB mode when idle, and they only spin up as needed under load. This saves a bit on power consumption and can help prolong the life of the fans. More importantly, it helps to keep the system quiet until the action starts.
The Strix matches our array of sharp-looking components, too. The card is produced using our fully automated Auto-Extreme technology for improved quality and reliability, and this process also eliminates the usual solder points on the back of the PCB for a cleaner look. A black shroud matches the dark theme of our build, and the illuminated ROG logo lends an element of customizable style. You can play with colors and effect using our Aura Sync software and synchronize everything across multiple compatible components.
Centralized cool
A six-core Intel Coffee Lake CPU for $200? Oh yeah! The Intel Core i5-8400 is a little dynamo. It can reach a peak turbo speed of 4GHz, which is more than ideal for single-threaded operations. We're all about gaming here at ASUS, and a proper CPU can really shine in titles that are more sensitive to the performance of a single thread. It's not a one-trick pony, though. This processor's six cores are ideal for multi-threaded workloads like content creation, too. You can find the chip online for around $200.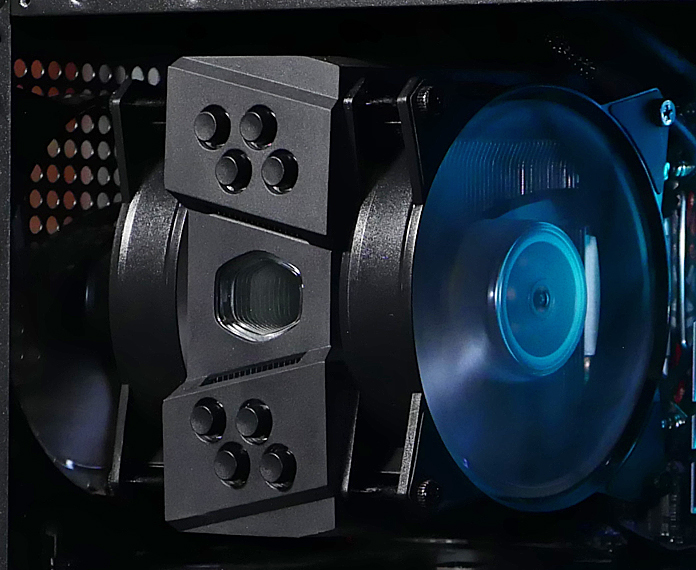 The CPU only requires 65W of power, which generates minimal heat. Heat is properly dispelled using a towering Cooler Master MasterAir MA410M air cooler, which keeps temperatures at about 57°C under load and in the low 30s while idling. The MA410M is a descendant of the company's MasterAir Pro 4; to aid heat dissipation, it uses second-generation Direct Contact Technology that increases surface area by 45% where the heatsink meets the CPU. It sells for about $50 online.
The MasterFan 120-mm fans are very quiet even under load. Noise levels are low enough to enjoy an extended gaming session without the need for headphones. The two fans are preinstalled in a push-pull configuration. Air is already being pulled out of the chassis via the pre-installed 120-mm fan on the MasterBox Q300P case, so we oriented the cooler to keep air flowing in the same direction.
The essentials to play
Memory is G.Skill's bread and butter, and the company has a wealth of options to choose from. We went for a 16GB Trident Z RGB DDR4-3200MHz kit. This mighty two-module kit can be found for $177 online. Its striking brushed metal heat spreaders match our dark theme quite well and are topped with an exposed light bar that supports Aura Sync.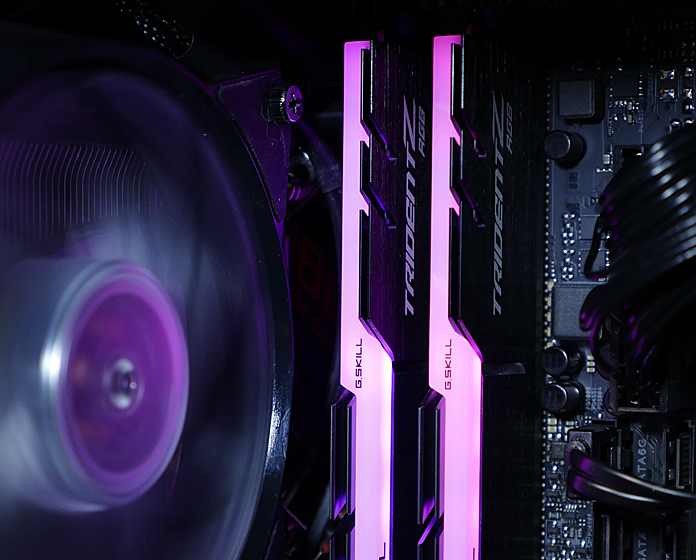 The 16GB kit is enough RAM for our gaming goals, but the motherboard and processor support up to four times that amount for upgrades down the road. All four slots are accessible on our roomy Strix B360-G without having to remove the CPU cooler, but you will want to remove the right 120-mm fan to easily access the DIMM_1 slot if you're populating all four slots.
We divvied up storage duties between a speedy SSD and a deep well of traditional storage. The B360-G supports dual M.2 drives in both SATA and PCIe flavors for supercharging load and access times. Six SATA ports allow you to add an array of additional drives.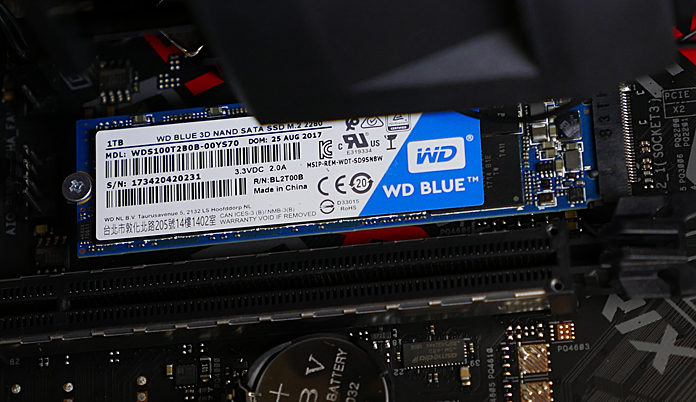 In our build, Windows 10 sits on a Western Digital Blue SSD. I opted for a 1TB M.2 SATA model that's available for only $150. SATA SSDs are cheaper than fancier NVMe drives while still providing comparably quick load times. Booting to the desktop is fast, so I can be ready in seconds, and there's enough room for my favorite games and applications.
Storage requirements for games are on the rise, so we wanted something we could install and forget, knowing we'd be set for a good long while. The Western Digital Blue HDD is a conventional mechanical drive with a massive 4TB capacity that costs just a hundred dollars. The slower 5400-RPM spindle speed is great for quieter operation, and you can boost performance by adding Intel Optane Memory that accelerates access to frequently used data. The motherboard's dual M.2 slots allow an Optane module to run alongside a conventional M.2 SSD.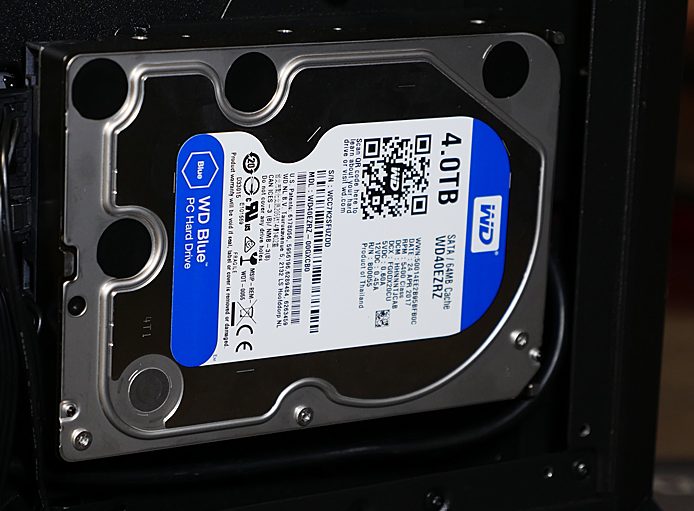 We have a fairly powerful complement of components and enough storage capacity to install any games we want. Now, we need a PSU with sufficient wattage to power it all. The Cooler Master MasterBox Q300 chassis has limited internal space, so we went with the company's modular V550 power supply, which is available for $85.
The compact PSU is only six inches inches wide, so it fits nicely the case. The modular design allows you to plug in cables as needed. Traditional PSUs come with all their cables attached, so builders have to come up with creative ways to tidy and manage any excess that may not be used in the system. The modular design allowed me to keep the case mostly clear of unnecessary wires. It looks great and makes cable management less of a chore. The cables are flat, further minimizing the space they take up in the case.
The Cooler Master V550 is 80 PLUS Gold certified, which corresponds to efficiency up to 92% under load. The company's Silencio FP fan enhances cooling and reduces vibration with carefully shaped blades and a lubricated bearing with IP6X dust resistance.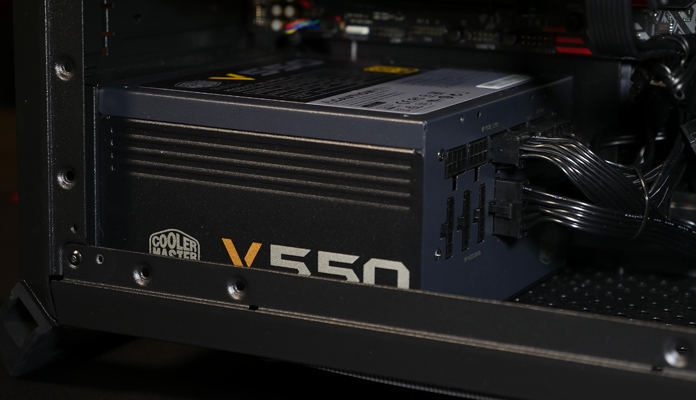 Living in versatile style
The MasterBox Q300P is small, stylish case decked out in black and a bargain at $69.99. It features glossy reflective surfaces on the top, front, and left side panel. One of the more unique features is its handy modular I/O panel that can be moved to six different locations around the side panels. It works well for our needs in its default location toward the front on the left panel, but positioning it at the back to keep all connections at the rear of the chassis works, too. The panel features buttons for power and reset, and includes two USB 3.0 ports and audio jacks.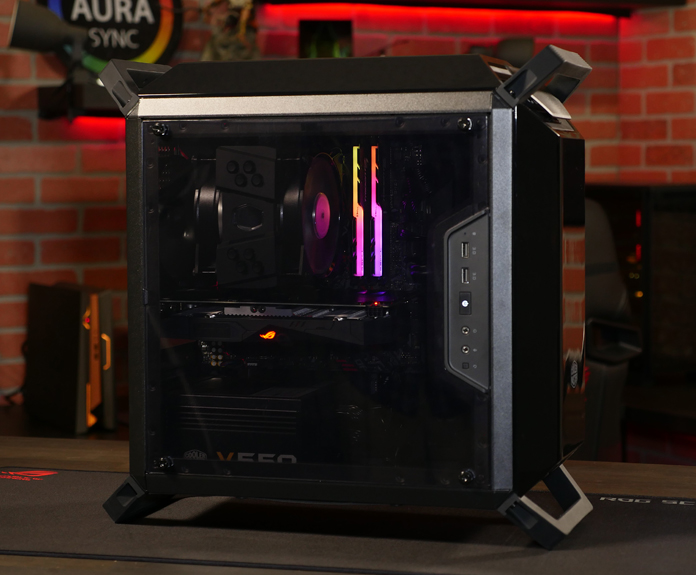 The left side has a translucent panel that offers a nice view of the insides. Even with the guts of the system masekd by a dark smoked effect, I felt compelled to tidy things up with some diligent cable management. The case features plenty of cable tie-downs for zip ties and plenty of cut-outs and holes in the motherboard tray for routing cables.
The interior is a little tight, but there was plenty of room for me to work without scraping knuckles and drawing a blood sacrifice during the build. It was also very handy to have the HDD on the opposite side of the motherboard tray where it can't obstruct interior airflow.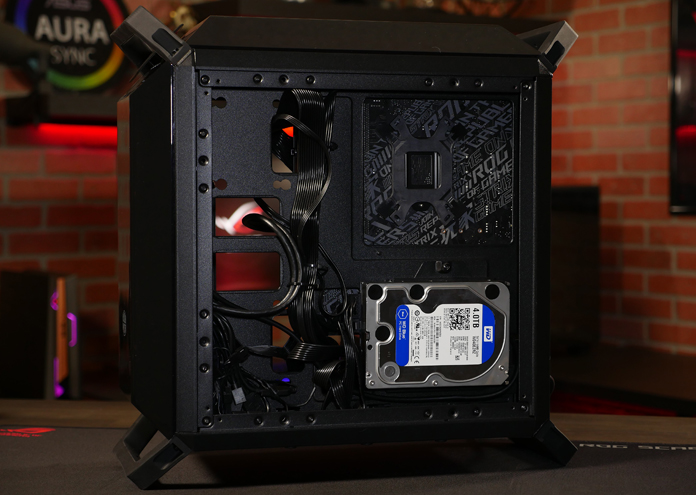 The built-in handles at the top make it extremely easy to carry the system, whether you're just rearranging your gaming setup, or hitting the road to head to a LAN party. They are mirrored down below where they serve as the feet for the chassis.
Get in the game
The build came together without a hitch, so we fired up some of our favorite titles to enjoy the fruits of our labor. We targeted 60 FPS at 1080p and tested some of the most popular games around. We used OCAT to capture frame time and then plotted the results in frames per second for your viewing pleasure.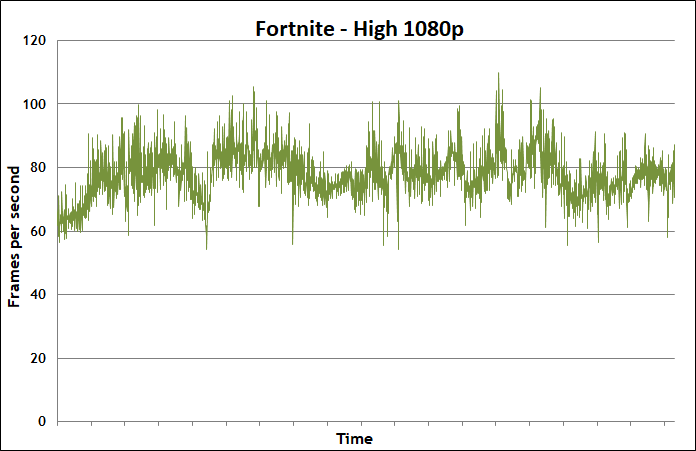 br>
This little Shadow Box is a fighter and more than capable of tackling modern titles like Fortnite and Destiny 2. In-game settings were dialed to High for Fortnite. I experienced FPS spiking during indoor skirmishes, while the dips you see are when I'm mostly traveling between locations where the view distance and open areas push the video card harder. Destiny 2 was set to Custom with a mix of Medium settings, 16x anisotropic filtering, and the Highest texture quality. The system served up a quality gameplay experience that was consistently smooth and exceeded our 60 FPS target. Sparrow riding offered the most consistent performance, seen in the tightly packed group of data with minimal spiking there in the mid-60s. While hectic, public events and strikes still allowed me to enjoy great performance above 80 FPS.
This setup also cut through Overwatch's Ultra graphic preset without breaking a sweat, yielding nail-biting and competitive fragging sessions. Frame times were mostly consistent, but I did feel slight dips when getting shot in the face by heavy firepower that produces a lot of onscreen effects and splash damage, like Bastion's ultimate and Pharah's rocket cannon. Esports favorites like League of Legends, Rocket League, and CS:GO offered up tournament-worthy performance in the triple digits. CS:GO is a skill-based twitch shooter, and I was able to hold my own as I would on a much pricier machine. In LoL's more hectic and most crucial moments, I could zoom in on the action without any noticeable impact on performance. Doing so allowed me to pinpoint specific enemy units to hit with my abilities, which can easily decide a match.
From the shadows
Our new Shadow Box delivers solid performance in popular games without blowing your budget. At its heart, our ROG Strix B360-G Gaming motherboard offers expansion and versatility with a low cost of entry. We built this puppy to game, and our Strix GeForce GTX 1050 Ti OC Edition supplies with factory-overclocked performance that matches the affordable theme.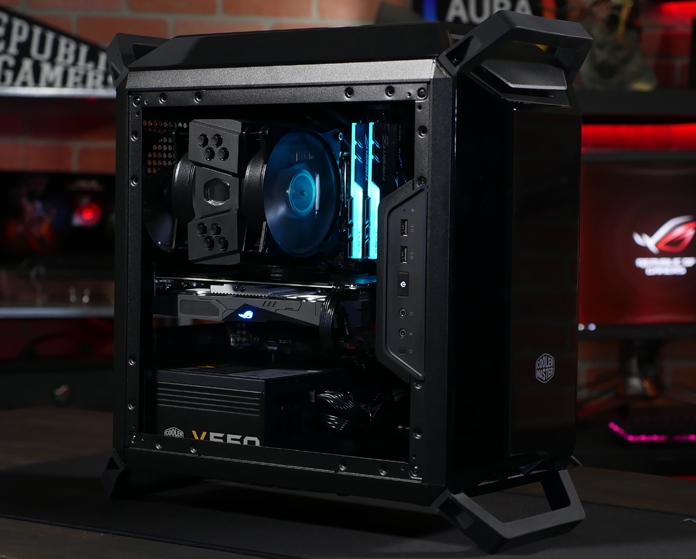 It managed to stay well above 60 FPS in all of our tested titles. Even the more demanding Destiny 2 put up great numbers. Because our systems are not just for gaming, we also tested out some multitasking to make sure it could handle daily multi-tasking and entertainment. Streaming 4K videos while working across multiple applications was no problem.
The entire system was a breeze to build. Aura Sync lighting ties it all together, so the Shadow Box and ROG peripherals shine in perfect harmony. Even though we didn't go heavy on the RGB for this build, the components mesh well together to further accentuate the brooding theme. This is a complete system ready to handle moderate gaming and productivity while playing very nicely with your pocketbook.