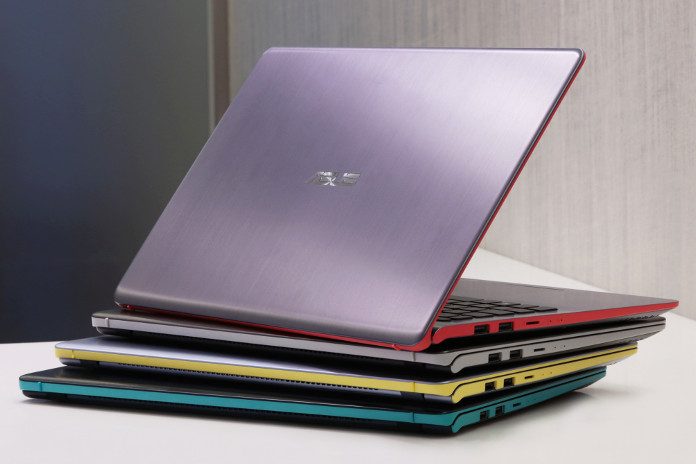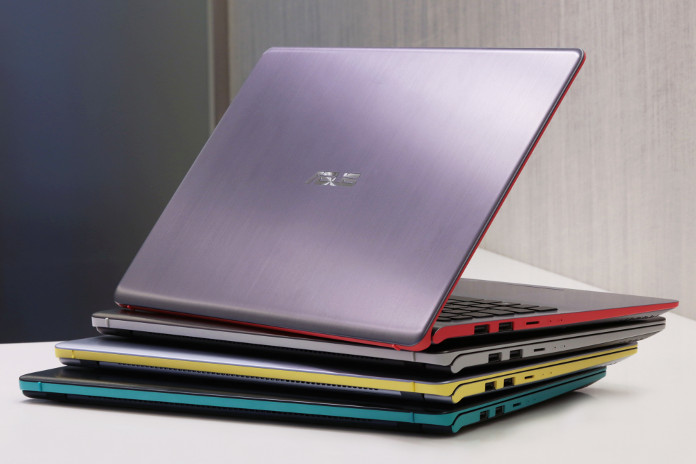 The world is awash with dreary looking laptops in various shades of gloomy grey and boring black, especially if you're shopping on a budget. Libraries, coffee shops, and school campuses are a sea of dull, drab, plastic slabs that inspire nobody.
We've been bucking that trend with our ZenBook line of premium laptops for the last few years, and now we're going all in on style with our mid-range VivoBooks, because looking good and expressing your personal style shouldn't be reserved for those who can afford a luxury laptop.
Dressed to kill
The 14" VivoBook S14 S430 and 15" VivoBook S15 S530 come in an array of color schemes. For fans of bolder motifs, there's a forested Firmament Green, a Starry Gray with splashes of red, and the periwinkle-on-yellow Silver Blue. If you'd rather have something more subtly stylish, there's a Gun Metal option that matches a dark gray chassis with silvery accents, and a stunning Icicle Gold with clean white keycaps.

Each unique color combination was carefully selected by our designers based on current trends and then refined based on feedback. Matching the chassis parts to the exact shades on our color swatches involved a lot of trial and error, but it was worth the extra effort to get colored plastic rather than resorting to paint. The colors are durable and stay bright, even when subjected to our rigorous real-world wear simulations. These tests involve abrasion as well as smearing the surface with artificial sweat and rubbing alcohol, and even rubbing it with an eraser to ensure the colors and finish remain as unblemished as the day they were made.
The Firmament Green flavor adds extra flare with a funky effect that spreads a woven texture across the palm rests, while a brushed line with diamond patterns graces the Icicle Gold model. We haven't fussed around with fabrics that will only get dirty with time; the patterns are created with injection-molded plastic, so they won't wear away with friction from your palms as you type.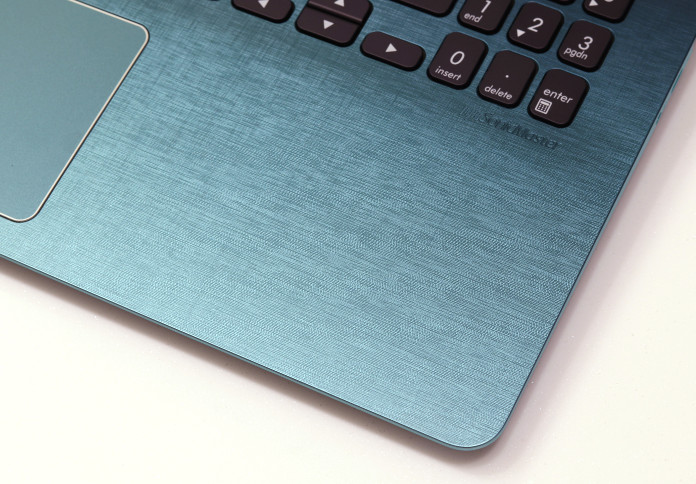 Not just a pretty face
Lift the lid on either the 14" S430 or the 15.6" S530 and you'll find a bright Full HD NanoEdge display. The super skinny bezels on either side measure just over 6 mm and allowed us to squeeze the displays into more compact packages, reducing the physical size of the laptops without making the screens any smaller. We were also able to reduce the size of the top bezel while still leaving enough room for the HD webcam. The displays feature wide 178° viewing angles that keep colors vivid and bright even if you're sharing the screen with multiple people while doing group projects or watching videos.
Sometimes when so much attention is paid to a product's appearance, important details get overlooked. Rest assured, the VivoBook S combines style and substance in a compact package. Powered by Intel's 8th generation ultrabook processors, the VivoBook S can be configured with up to a Core i7-8550U, the same CPU inside our luxury ZenBook 3 Deluxe ultrabook. This quad-core CPU with eight threads is made for multitasking. Paired with 16GB of RAM, it's more than capable of juggling your Chrome tabs with Spotify, Word, and whatever else you're doing to avoid your latest assignment. The top configurations have NVIDIA MX150 graphics that offer a boost for creative projects like video editing and rendering, while the quad-core Core i5 variants use the integrated Intel UHD Graphics.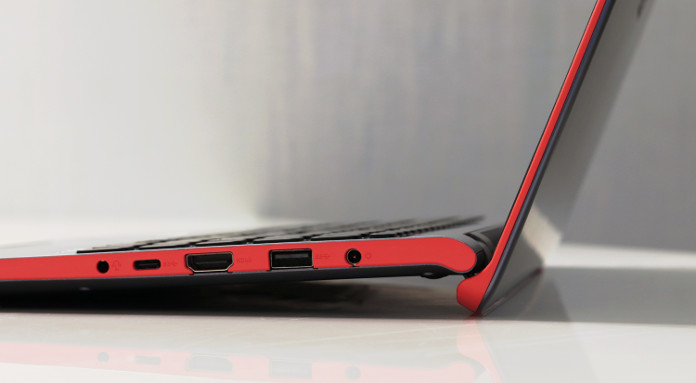 We didn't skimp on storage, either. The VivoBook S has options for both faster SSDs and larger HDDs; the pricier configurations combine both, but even the more affordable models have enough storage to satisfy. In North America, the Core i5 version will pack a 256GB SSD to ensure your computer boots quickly and has room for all your necessary applications and files.
Down to business
Inspired design isn't just about looks, it's about maximizing usability. When you open the laptop, the VivoBook's ErgoLift hinge raises up the rear of the keyboard by a few degrees. This facilitates better airflow and allows the laptop to run a little cooler, but there's more to this tweak than just reducing the VivoBook's temperature by two or three degrees.
The ErgoLift hinge started in our business-class B9440 laptop and soon made its way to the premium ZenBook line, and it makes a big difference when you're working. Though laptop keyboards can often be less than pleasant to use, the ErgoLift hinge pitches the keys at a more comfortable angle than when typing totally flat. A generous 1.4 mm of key travel offers a more accurate and satisfying typing experience, and the backlight helps keep errors to a minimum when you're working at night or taking notes in dark lecture halls.

To go with the trendy design of the rest of the laptop, the keycaps also got a makeover; their rounded edges match those of the chassis, touchpad, and fingerprint sensor and contribute to a retro feel that looks more minimalist, even though the keys themselves are the same size.
Take me out
Portability is paramount for any laptop, especially if you spend your days schlepping back and forth across campus for classes. The VivoBook S430 and S530 are both just 18 mm thick, so they slide right into a backpack or tote. They're relatively lightweight, too; the S530 weighs in at less than four pounds, and the S430 is a veritable flyweight at about three pounds.
Despite the slim profile, there's an array of ports designed to meet the needs of any user desperate to avoid dongles and USB adapters. Dotting the sides are two USB Type-A ports, as well as a reversible USB Type-C. The HDMI port lets you easily connect to an external monitor or projector, and photographers will be glad to see the SD card slot. Dual-band 2×2 802.11ac WiFi hops onto the web from wherever, and Bluetooth 4.2 allows you to connect a mouse without having to plug into one of the USB ports.
The S530 and S430 both pack 42Wh batteries to keep you going when you're out and about. They're also equipped with fast charging that will get you to 60% capacity in just 49 minutes if you need to top up before leaving the house.
S530
S430
CPU
Up to Intel Core i7-8550U, 1.8GHz (8MB cache, up to 4.0GHz)
GPU
Up to NVIDIA MX150
Display
15.6" 178° wide viewing angles
14" 178° wide viewing angles
Resolution
Full HD 1920 x 1080
Full HD 1920 x 1080
Memory
Up to 16GB DDR4
Storage
Up to 2TB HDD + 512GB SSD
Up to 2TB HDD + 512GB SSD
Networking
802.11ac Wi-Fi
Connectivity
1 x USB 3.1 Gen1 Type-C
1 x USB 3.0 Type-A
1 x USB 2.0 Type-A
1 x HDMI
1 x MicroSD
1 x Audio combo
Dimensions
14.2" x 9.6" x 0.7"
12.7" x 8.9" x 0.7"
Weight
3.96lbs

3.08lbs
Battery
42Wh
OS
Windows 10
The VivoBook S series brings ultrabook style to the next level with a wide range of colors to suit all different tastes, but it doesn't prioritize form over function. Powerful components and ample storage are complemented by an improved keyboard design and stunning NanoEdge display that ensure nothing stands in the way of your productivity. The VivoBook S will be available in a variety of configurations when it launches this summer. Check with your local ASUS representative for details on pricing and availability in your region.
Check out our many other Computex 2018 product announcements. Skip over to this article for a summary covering the entire ASUS line-up at the 2018 show.