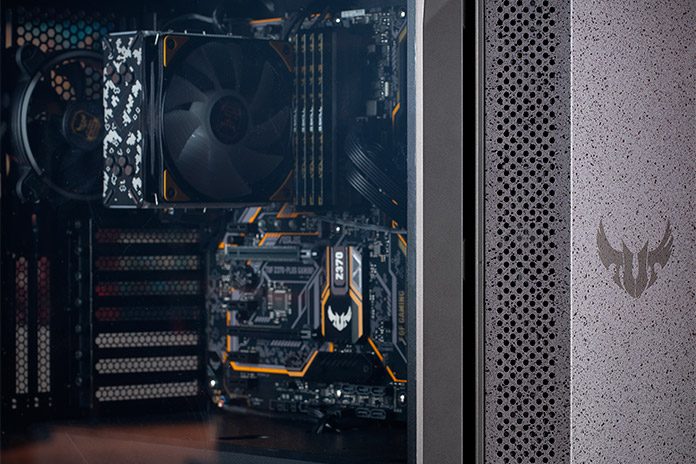 The PC gaming renaissance is bringing a new generation of recruits into the ranks. They're joining a community that's increasingly diverse and frequently unfamiliar with the intricacies of building a complete rig. TUF Gaming aims to make the process more approachable by smoothing out the wrinkles in the DIY experience. Designed for gamers seeking reliability and performance at an affordable price, it focuses on delivering durable gear that can survive the rigors of punishing play and maintain stability in challenging environments.
TUF Gaming takes battle-hardened aesthetics in a futuristic direction. Although it started with motherboards, the family is expanding to peripherals and other components that embrace the same style, making it easier to assemble a cohesive gaming setup without blowing your budget. All-new additions include a mouse, keyboard, headset, and chassis developed by our own internal teams, plus an array of components produced by TUF Gaming Alliance partners who embrace the same ideals. Complete systems are also beginning to spread TUF Gaming values to machines that get you in the game right out of the box. You can see them and more TUF Gaming components at Computex 2018 in Taipei, Taiwan from June 5-9.
A solid foundation in motherboards
True to TUF's roots, the first models for this new generation debuted with motherboards. They arrived on Intel's Z370 platform for 8th Generation Core processors and set the tone for the family with premium components rated to meet military standards, intuitive interfaces that make it easy to tune your hardware and cooling, and distinctive styling that stands apart from other brands.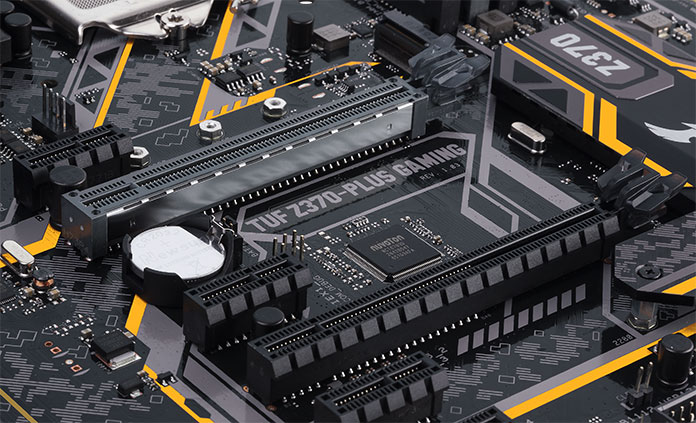 More boards followed, reinforcing TUF Gaming's position with Intel's broader 300-series chipset series and AMD's X470 platform for Ryzen CPUs. In addition to bringing virtual surround sound to headsets with DTS-powered profiles tuned for different genres, they improve cooling for gaming by allowing system fans to react to the GPU temperature on select graphics cards.
While motherboards are critical for system builders, they're largely limited to the DIY audience. Our philosophy has broader appeal, and expanding into peripherals and other components allows it to reach a larger audience.
Introducing the TUF Gaming M5 mouse
Mice are particularly prone to physical wear and tear, so the TUF Gaming M5 is coated in durable paint that stands up to heavy use. The Omron switches under the left and right buttons are ready for the long haul, too. They're rated to survive 50 million clicks, assuring reliably responsive input for years of regular gaming in even click-centric MOBAs. Teflon feet on the base keep tracking smooth and sharp, so you don't lose a step as the miles add up.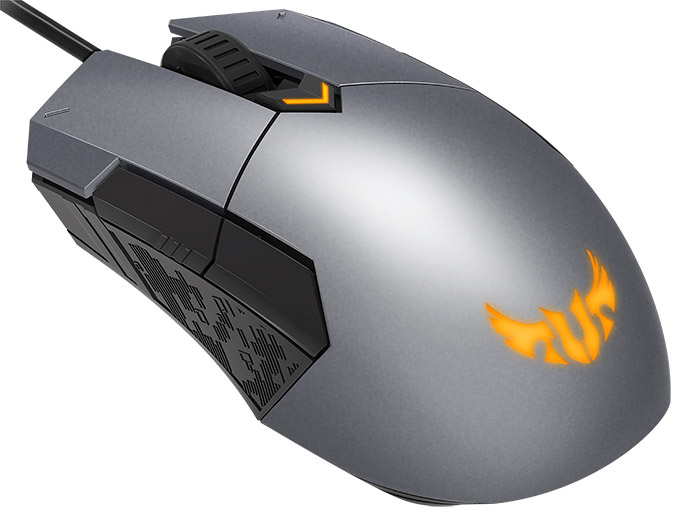 Pixart's PAW3327 optical sensor monitors motion at resolutions up to 6200 DPI, which is more than enough sensitivity for the vast majority of gamers and even esports pros. The accompanying DPI button instantly switches sensitivities to let you adapt to different weapons and scenarios, like long-range sniping and close-quarters combat. Two thumb buttons are also set into the symmetrical shape, which is designed to provide a comfortable fit for both fingertip and claw grips.
All the buttons are programmable with functions or macros using our Armoury II software, which saves settings for up to three profiles directly on the mouse's internal memory, making them available on any machine. Aura Sync adds configurable accent lighting that's easy to match with the rest of your rig, ticking the final box on the list of essential features offered by the TUF Gaming M5 mouse.
Make a splash with the TUF Gaming K5 keyboard
Keyboards also suffer a lot of hands-on abuse, including accidental spills if you get bumped inadvertently at a crowded LAN party or celebrate a hard-fought victory a little too emphatically. But the TUF Gaming K5 isn't afraid of a little liquid; its splash-proof design can withstand up to 60 ml, preventing small spills from ruining your night.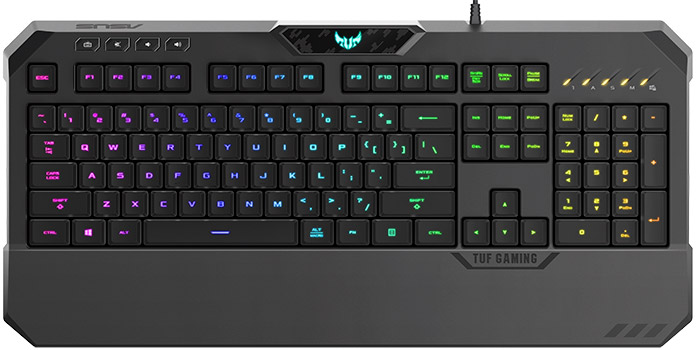 The key caps are also covered by three layers of paint, one more than typical keyboards, which helps them hold up to everyday use. Under each cap, Mech-Brane switches use a specially tuned membrane to mimic the feel of a mechanical design. The feedback is similar to tactile mechanical switches with the soft landing of a rubber dome. Five-zone Aura Sync backlighting stretches across the keys, powering a personalized array of colors and effects that you can easily synchronize with the M5 mouse and other compatible gear. Dedicated volume and multimedia shortcuts are located within easy reach in a natural gaming stance, while 24-key anti-ghosting ensures every input registers reliably in the heat of battle.
Like with the M5 mouse, Armoury II lets you record custom macros and save them to onboard storage. The TUF Gaming K5 keyboard can even adapt in the midst of a mission thanks the on-the-fly macro recording that captures input sequences while you play, completely independently of Armoury II.
Lighten your load with the TUF Gaming H5 headset
The TUF Gaming H5 headset rounds out our new peripheral collection with carefully balanced durability and comfort. Its stainless steel headband adds strength in a key area while giving the headset a more premium look. The lightweight design is comfortable to wear for longer gaming sessions that would otherwise test your endurance.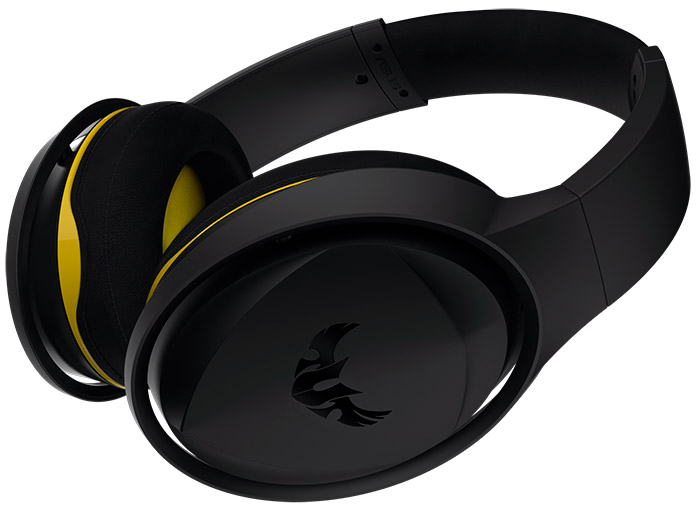 Each ear cup contains a 50-mm Essence driver backed by an airtight chamber that improves sound quality. A removable boom hangs down from the left with an analog mic for communicating with your squad. The headset plugs into standard 3.5-mm audio jacks, providing broad compatibility with all of your devices. For more immersion, plug in the included USB adapter to add virtual surround sound that puts you at the center of the action. The click of a button switches between standard stereo output and simulated surround speakers, so you can easily adapt to different games, music, and other media.
Assemble your build inside the TUF Gaming GT501 case
While TUF Gaming peripherals march our military-inspired motif across all of the across what you wear and wield, the GT501 chassis clads your PC components in matching armour. Sturdy steel dominates the construction, with plastic limited to pieces for front-panel connectors and the base of the front face. The only other materials are a sheet of smoked tempered glass that provides a stealthier window into the belly of your beast, and woven cotton handles that make it easy carry to LAN parties.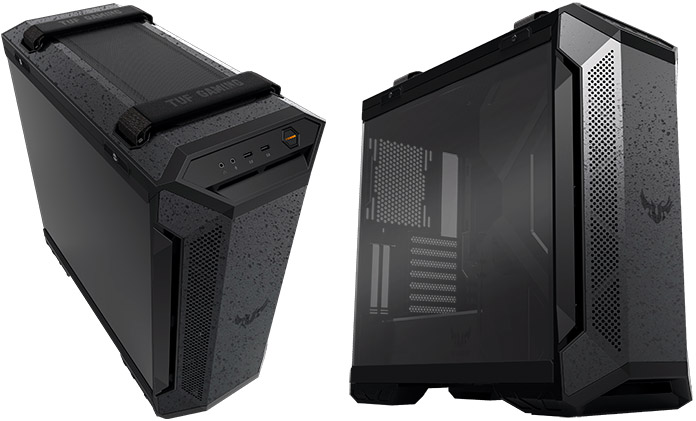 The thumb screws holding the window can sometimes be affixed too tightly at the factory, so the case ships with a handy TUF Gaming tag that doubles as a screwdriver. Once you're inside, ample routing options and a generous 30-mm gap behind the motherboard tray make it easy to thread cables cleanly. We even left space to neatly run RGB strips, since many of our TUF Gaming motherboards have onboard headers capable of powering up to two meters of lighting.
Effective cooling is one of the most important factors for sustaining peak gaming performance and ensuring the long-term health of your hardware, so the GT501 has plenty of room for fans and radiators. It includes a trio of high-flow 140-mm PWM fans right out of the box, which is perfect for pairing with the intelligent cooling control offered by TUF Gaming motherboards. In addition to a rear 140-mm exhaust, there are mounts for three fans up top and three more at the front, with both locations supporting dual-fan radiators up to 280 mm and triple-fan units up to 360 mm. Removable filters in the bottom, front, and top panels prevent dust and other particles from getting sucked into the case and onto your heatsinks, where buildup can slowly sap cooling performance over time.
Complete your rig with parts from the TUF Gaming Alliance
The TUF Gaming Alliance is assembling an army of components made by like-minded partners. Our initial focus has been on maintaining an aesthetic theme across a broader array of the parts that make up your PC. Matching memory modules, coolers, cases, and one PSU are available now, with more on the way in each category. Products are already selling or in the works from a who's-who of industry heavyweights that includes Antec, Apacer, Ballistix, Cooler Master, Corsair, Deepcool, Enermax, G.Skill, GeIL, In Win, Scythe, Silver Stone, Team Group, and XPG.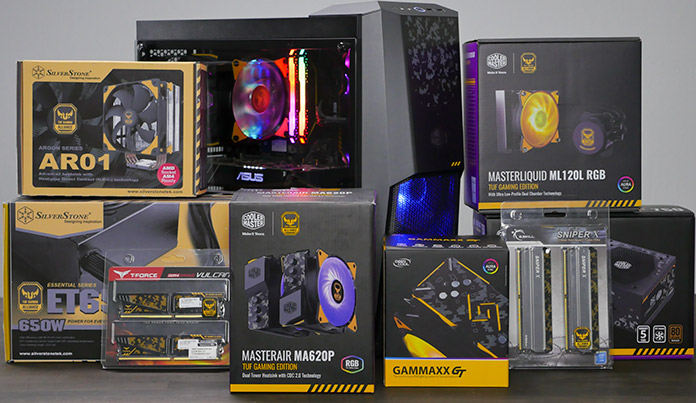 Beyond mandating consistent cosmetics, the TUF Gaming Alliance establishes new standards for stability that go beyond our usual vendor validation procedures. DRAM compatibility has long been a problem area because some modules are pushed so close to the edge that they're sensitive to minor frequency and voltage fluctuations that occur in the real world. We account for these normal variances with stricter DRAM testing that stresses modules with their clock speed raised 1% and voltage lowered 20 mV. To wear the TUF Gaming Alliance badge, memory must survive 24 hours of Memtest in a thermal chamber cranked up to a sweltering 50°C.
Environmental conditions affect power delivery, so PSUs must endure their own torture test in the heat locker. They're qualified at an even higher temperature and also face a steamy 90% humidity throughout testing. We're currently exploring other ways to not only guarantee stability, but also more deeply integrate products in the TUF Gaming Alliance.
A systematic approach to gaming laptops and desktops
TUF Gaming systems provide an alternative to DIY builds for gamers who want a ready-made desktop or a laptop they can take on the road. These initial imports into the family fit our priorities and provide an early glimpse at what we can bring to affordable gaming machines.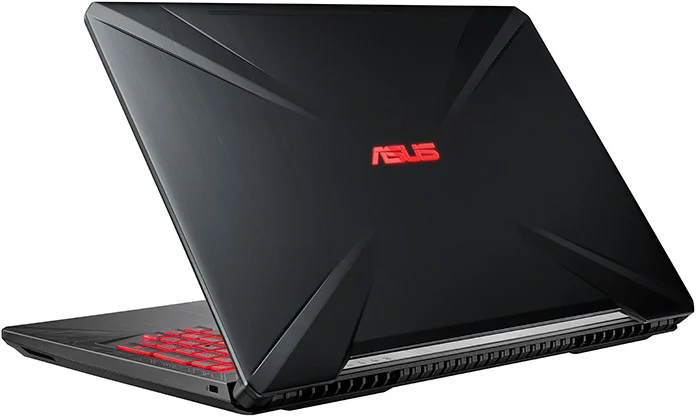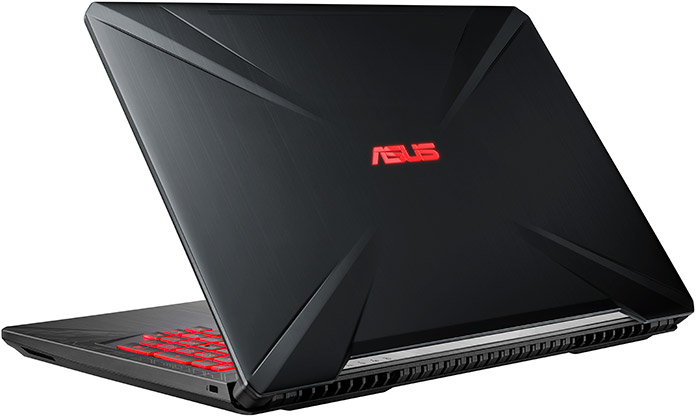 Focusing on what matters for gaming is the best way to maximize a limited budget, so the TUF Gaming FX504 laptop offers upgrades in key areas. The top model's 15.6" display hits all the right notes: high refresh, quick response, and wide gamut. Its 120Hz refresh rate makes gameplay and graphics much smoother, its 3-ms pixel response time (grey-to-grey) maintains a clearer picture that's free of ghosting and blurring, and its panel produces a rich range of colors covering 130% of the sRGB gamut.
With up to an NVIDIA GeForce GTX 1060 GPU, the FX504 can hit triple-digit frame rates in many popular games. It's available with up to a six-core Intel Core i7-8750H processor with ample horsepower for gaming, live-streaming, and much more. And it comes with the latest Intel 802.11ac Wave 2 Wi-Fi to help you get online at top speed.
At about an inch thick and five pounds, the TUF Gaming FX504 is easy to stash in a bag and carry all day. Its chassis is strong enough to survive daily use, and anti-dust technology lifted from ROG laptops ensures consistent cooling performance that helps extend the life of the underlying hardware. The desktop-style keyboard is also in for the long haul with key switches rated for 20 million presses. Our Overstroke technology raises the actuation point to ensure each stroke registers faster, so you can get the drop on your opponents.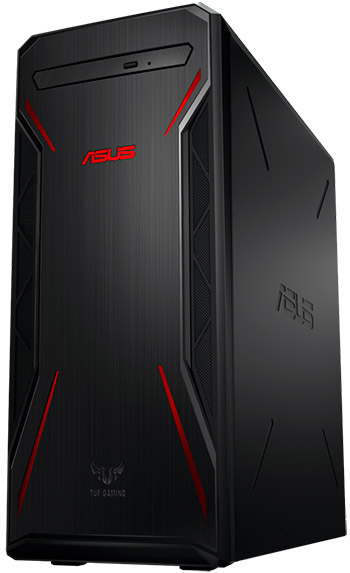 For stationary battlestations, the new TUF Gaming FX10CP desktop puts capable components in a reinforced tower. The Radiating-X design on the side panels adds structural reinforcement that protects your investment, while dual chambers with dedicated intakes optimize cooling on the inside. The PSU and storage sit in the lower chamber, isolated from the heat produced by the CPU and GPU above.
With up to an Intel Core i7-8700 six-core CPU and NVIDIA GeForce GTX 1050 graphics, there's ample horsepower for gaming and other tasks, like catching up on work, editing photos, or splicing together in-game recordings to create your own highlight reels. Immersive surround sound is supplied by DTS technology that works with standard stereo headsets, a feature mirrored on the TUF Gaming FX504 laptop. Both systems also feature Intel's latest 802.11ac Wave 2 Wi-Fi, which pushes throughput well beyond gigabit speeds, and 2×2 antennas, which expand wireless coverage by 30%.
Like its portable sibling, the FX10CP is tougher than traditional gaming PCs. It endures more stringent quality tests than the industry norm, ensuring it can survive rough handling during shipping, environmental extremes, and even voltage and frequency fluctuations from unstable power.
The start of something new in PC gaming
TUF Gaming is as much a collection of products as it is an attitude toward future development and what affordable gaming PCs should be. Durability and stability will always be paramount, along with improving the elements essential to your gaming experience. This is just the beginning for TUF Gaming and our industry alliance. Learn more at our official TUF Gaming site.
Check out our many other Computex 2018 product announcements. Skip over to this article for a summary covering the entire ASUS line-up at the 2018 show.