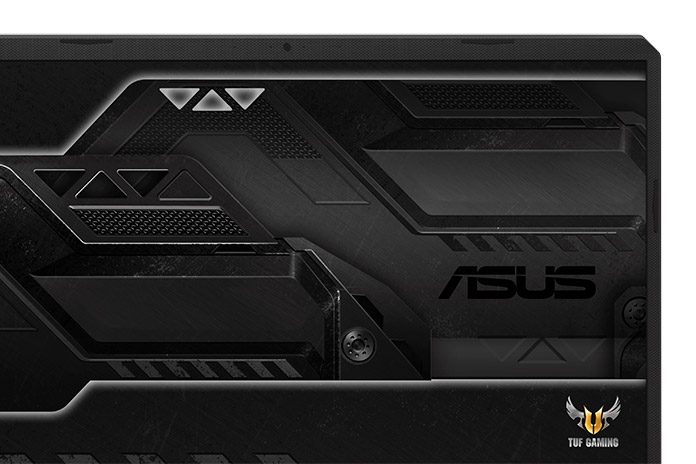 Although everyone loves a gaming laptop with all the bells and whistles, real people usually have a budget to think about when they're making a purchase. Once you cut away the "wants" from the "must haves," you're left with the core of what makes a great gaming laptop. The TUF Gaming FX505 and FX705 deliver all the essentials at affordable prices, marrying the performance necessary for a great gaming experience with military-grade toughness and other features that enhance durability. They boast GeForce 10-series graphics and up to six-core Intel 8th Generation CPUs primed for demanding workloads like the latest games, and they frame the action in immersive narrow-bezel displays with ultra-fast refresh rates.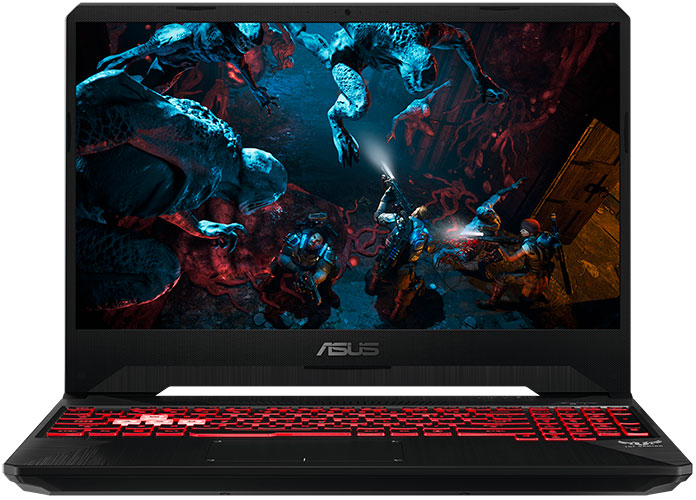 Barely-there bezel surrounds a 144Hz display
Most of your time on a laptop is spent staring at the screen, so that's where we devoted much of our attention. The bezel around the NanoEdge display is significantly narrower than the last generation, making the chassis more compact without losing screen real estate. At just 6.5mm on each side, the FX505's bezel is significantly thinner than traditional gaming laptops, resulting in a 77% screen-to-body ratio. The FX705 adds less than a millimeter to the frame, which produces an even higher 79% screen-to-body ratio for the larger display.
Slimming down helps the bezels blend into the surroundings, which improves immersion in games. But we didn't make compromises to go thin. Both displays boast refresh rates up to 144Hz for smoother gameplay with lower input lag, and their fast pixel response times reduce blurring to produce a clearer picture. The IPS-level panels cover the full sRGB gamut, producing vivid colors visible over wide viewing angles, and their matte coatings minimize glare. With Full HD resolutions, these well-rounded displays are not only great for gaming, but also enticing for budding photographers and video editors who want to mix work and play on one machine.
Intelligent cooling for the latest chips
To keep pace with their high-refresh displays, the new TUF Gaming laptops are loaded with NVIDIA GeForce graphics up to the GTX 1060 6GB. The discrete GPU is paired with powerful Intel Coffee Lake processors up to the Core i7-8750H, a next-gen workhorse with six cores and 12 threads that chew through multithreaded workloads much faster than the previous generation.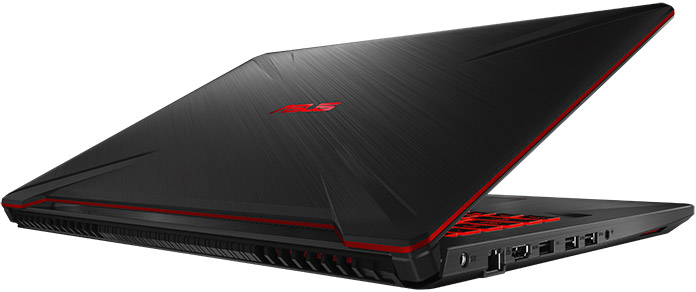 In the confined space within a laptop, the components are only as good as the cooling they enjoy, which is why we put so much effort into creating the HyperCool system in the FX505 and FX705. Under the hood, independent fans and heatsinks cool the CPU and GPU separately. The fans are directly underneath the keyboard, which also removes heat from where you're most likely to lay your hands during long gaming sessions. Warm air generated by the cooling system is ejected unimpeded out the back thanks to our patented trapezoid-cut lid, which improves cooling performance by up to 25% over other designs. As component temperatures rise, the system automatically adjusts fan speeds to compensate. You can easily switch between three cooling modes with a simple keyboard shortcut, choosing between maximum performance, quieter acoustics, or a balance between the two.
Dust buildup on the heatsinks degrades thermal dissipation, so we developed a self-cleaning fan that captures particles in special tunnels that direct dust and debris out of the laptop. Preventing particles from accumulating on the heatsink fins and exhaust grills ensures consistent cooling performance that can improve overall system stability and long-term reliability, helping the FX505 and FX705 run happily over the long haul.
Multiple choices with military-grade toughness
TUF Gaming laptops are built to withstand everyday abuse. To ensure they're ready for the real world, we put them through rigorous quality and durability tests that exceed industry standards. The FX505 and FX705 are also undergoing military-grade tests that raise the bar even higher. These new models have already passed the MIL-STD-810G test for sudden jolts, allowing them to handle the knocks and bumps of everyday life. We expect similar success in extreme temperature, humidity, and altitude tests currently underway.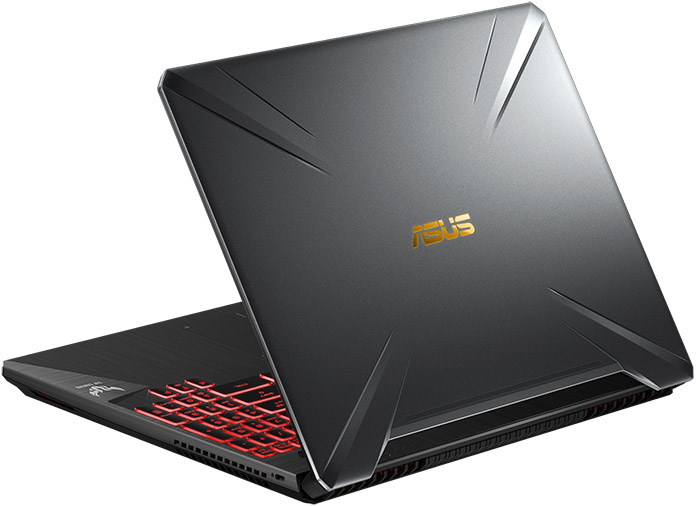 br>
A reinforced chassis helps the FX505 and FX705 survive rough handling, and you can choose from multiple styles to suit your personality. The Gold Steel motif features a metal lid with an ASUS logo that glows gold, while Red Matter sports a brushed finish with red accents. An alternative Red Fusion design on the FX505 adds a little more personality to the Red Matter template. Regardless of the style, the hexagonal design on the bottom adds structural rigidity to make the laptop even sturdier.
Loaded with all the gaming essentials
Durability improvements extend to the keyboard. The Hyperstrike deck on the FX505 and FX705 uses switches with a lifetime of 20 million key presses, which is enough for years of heavy work and play. Each switch has an ample 1.8 mm of travel, and our exclusive Overstroke technology raises the actuation point higher in the stroke to improve responsiveness. This adjustment can give you an edge in the heat of battle, and the longer post-actuation distance results in a more comfortable typing experience.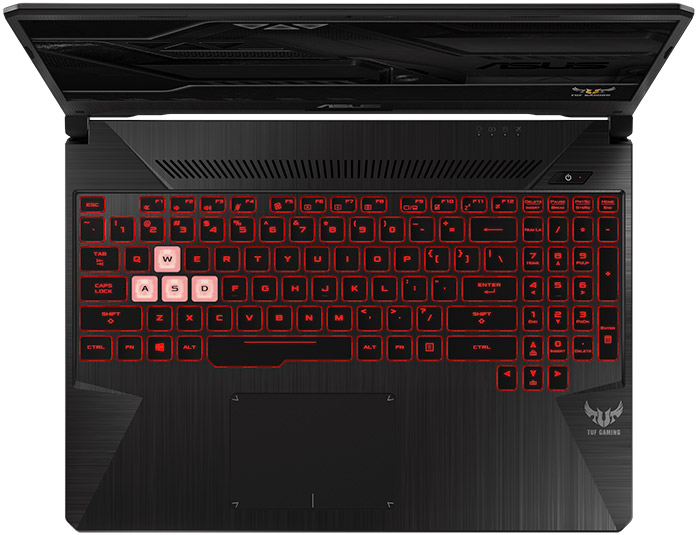 The keyboard is inspired by desktops, with curved caps that cradle your fingers, defined gaps that make function keys easier to find, and isolated arrow keys with a familiar traditional layout. Backlighting illuminates the full board for improved visibility in darker environments. Gold Steel versions of the FX505 and FX705 let you customize the color of an RGB glow, while the others use red backlighting that matches the accents on the chassis.
Upgraded audio further tailors TUF Gaming laptops for gaming and entertainment. We integrate DTS Headphone: X technology to deliver virtual surround sound technology over stereo headsets or speakers, putting players at the center of a sonic landscape. With preset profiles optimized for games, movies, or sports, you get a finely honed auditory experience no matter what you're doing.

Ethernet jacks give these laptops low-latency connectivity for serious multiplayer gaming, and with the right router, you can also get gigabit-class speeds wirelessly. The TUF Gaming FX505 and FX705 both feature Intel's latest 802.11ac Wave 2 WiFi with 2×2 MIMO, which offers peak theoretical throughput up to 1.73Gbps. That's just the tip of the I/O iceberg, because these laptops are loaded with ports that provide flexibility for a range of setups. There's an HDMI port for connecting a second display, two USB 3.1 and one USB 2.0 for peripherals and external storage, a 3.5-mm audio jack for a headset or external speakers, and a Kensington lock for security.
There are plenty of storage options on the inside, including a 1TB HDD or SSHD with loads of room for growing game libraries, plus an M.2 slot that can be filled with a speedy NVMe SSD or Intel Optane Memory. Capacity for up to 32GB of DDR4-2666 system memory lays the foundation for future upgrades and serious multitasking.
TUF Gaming FX505
TUF Gaming FX705
CPU
Up to 8th Gen Intel Core i7-8750H
GPU
Up to NVIDIA GeForce GTX 1060 6GB GDDR5
Display
15.6" Full HD 1920 x 1080
17.3" Full HD 1920 x 1080
Panel
NanoEdge up to 144Hz IPS-Type AHVA
Memory
Up to 32GB DDR4-2666
Storage
Up to 512GB NVMe SSD
Up to 1TB FireCuda SSHD
Networking
Gigabit Ethernet
Gigabit Wi-Fi 802.11ac Wave 2
Connectivity
1 x HDMI 2.0
2 x USB 3.1 Gen 1
1 x USB 2.0
Battery
48Wh
64Wh
Dimensions
14.2" x 10.3" x 1.02~1.05"

15.7" x 11" x 1.05~1.09"
Weight
4.85 lbs
5.73 lbs
OS
Windows 10
Bang goes your buck
The TUF Gaming FX505 and FX705 are built to maximize performance per dollar, giving you all the gaming essentials and then some without wrecking your budget. You get sizzling performance from the combined might of the 8th-gen Intel processor and NVIDIA GeForce 10-series graphics, games look amazing on the 144Hz NanoEdge display, and the carefully crafted keyboard and upgraded DTS audio make endless gaming sessions more comfortable and engaging. Because these machines are built to survive more intensive quality and durability tests, you can expect that they'll perform reliably for years to come.