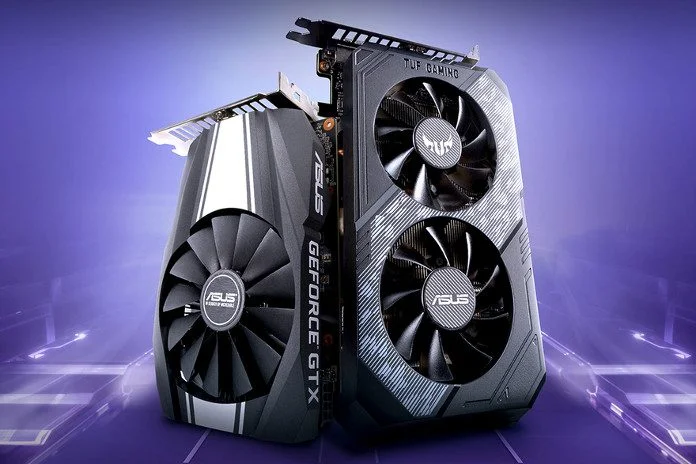 Even if you don't follow graphics card technology too closely, by now, chances are you've heard about Turing, NVIDIA's latest graphics chip architecture. Turing is a pretty radical departure from Pascal before it, and the newcomer has a laundry list of new features and upgrades. In its higher-end incarnations, you get ray-tracing for pitch-perfect reflections and lighting, and Deep Learning Super Sampling (DLSS) for boosting performance via clever upsampling algorithms. But there's plenty to love about Turing outside those headline features, and you don't need to pony up for an RTX card to reap the benefits.
If you're happy to forgo RT and Tensor cores for the time being, NVIDIA has scaled Turing down for the masses with the GeForce® GTX 1660 Ti, and the introduction of the GeForce GTX 1660 offers an even more affordable entry point. It's equipped with a total of 6GB of GDDR5 RAM to ensure games with detailed textures won't give you any trouble, and it's perfect for folks on a budget, whether you're building a 1080p gaming rig or specing out a HTPC for the living room.
Turing in affordable packages
The TU116 chip sitting on the GeForce GTX 1660 boards brings a host of architectural improvements over Pascal, including the ability to perform concurrent floating-point and integer operations, which comes in handy for compute operations in games; a unified cache architecture with a bigger L1 cache; and content-adaptive shading, a rendering technique that optimizes shader processing by only rendering them at full quality when necessary. Together, these improvements allow the GTX 1660 handily to beat the outgoing GTX 1060 6GB by 15%, and the GTX 1060 3GB by 30%. There's even better news for old system upgraders, as folks with aging GTX 970 cards can expect a 68% performance boost.
Those architectural improvements are just part of what makes Turing great. The new chips are manufactured on a 12 nm FinFET process, making them smaller and more power-efficient than ever before. The TDP for these cards sits at 120W, and they require only a single eight-pin PCIe power connector. This simple requirement means the GTX 1660 is a great option for upgrading older machines that may not have the mightiest of power supplies. As an extra bonus, particularly for a budget card, the GTX 1660 supports G-SYNC, ensuring you get smooth, tear-free frame delivery when using a compatible monitor.
When the going gets TUF
You might have heard horror stories in gaming forums about graphics cards that died as a result of overheating thanks to dust-seized fans. None of those things are a concern for the battle-tested TUF Gaming GeForce GTX 1660.
This card is fitted with a protective backplate for safeguarding the back PCB. Atop its cooler sit two fans rated for IP5X particle ingress resistance to prevent dust from gumming up the works and impacting performance. The fans also employ dual ball bearings, ensuring they'll last up to twice as long as common sleeve-bearing variants.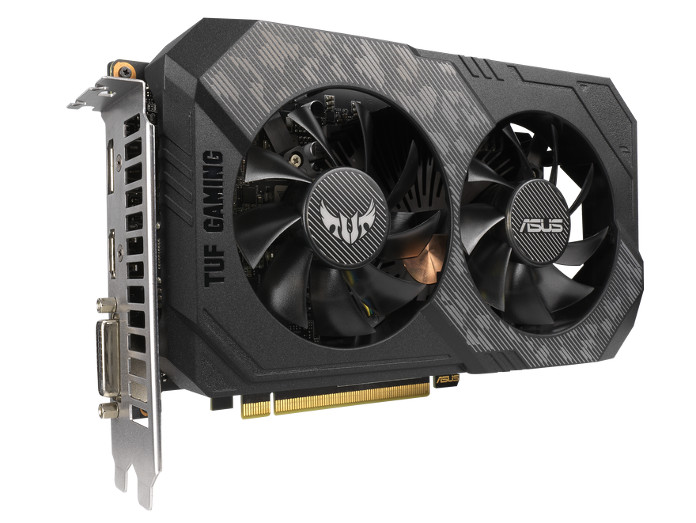 That's only half the story, though. Our TUF Gaming cards are manufactured using ASUS's automated Auto Extreme process, which solders all of the on-board components in a single pass to reduce stress caused by repeated heating and cooling cycles. This automated production process is also easier on the environment, because it uses less power and doesn't use harsh chemicals.
Afterwards, the cards undergo a punishing gauntlet of testing that lasts 144 hours to ensure they reach your hands in tip-top shape, and an additional test verifies compatibility with other components in the TUF Gaming family.
The Phoenix rises once again
If you're looking for a simple, affordable graphics card for a smaller build or are eager to upgrade to an older machine, our ASUS Phoenix GeForce GTX 1660 rises to the occasion. It shares some of the same traits as the TUF card, but its compact design means it's a great fit for machines of all sizes.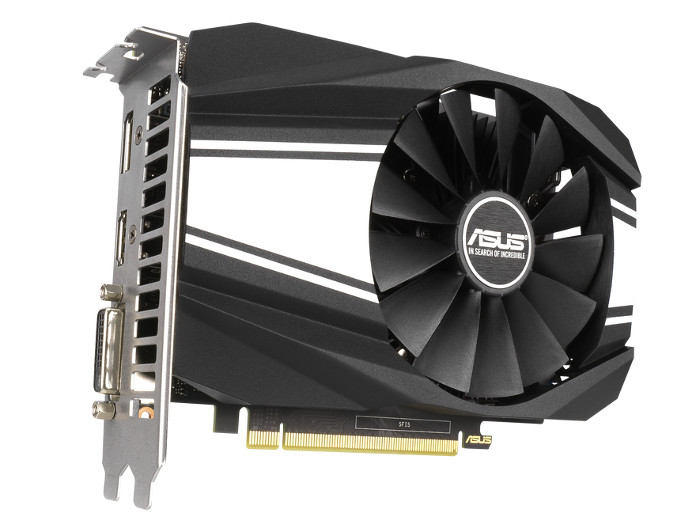 Our Auto Extreme Technology solders everything in a single pass, reducing the thermal strain on the card's electronics and ensuring the best possible quality and reliability. Taking a page from the TUF playbook, the Phoenix's fan also has IP5X dust resistance to keep dust particles from building up on the blades, and dual ball bearings further improve reliability. The single fan uses a wing-blade design with drooped tips that reduce drag to boost cooling efficiency.
Turing for the masses
Our GeForce GTX 1660 cards prove that you don't need to spend a lot of money to enjoy the latest graphics technology. The TU116 chip on the cards offers most of the higher-end Turing chips' performance improvements, but without the associated cost. ASUS' TUF Gaming and Phoenix GeForce GTX 1660 graphics cards are ready for action on March 14. Hit up your local ASUS retailers for pricing and availability in your region.