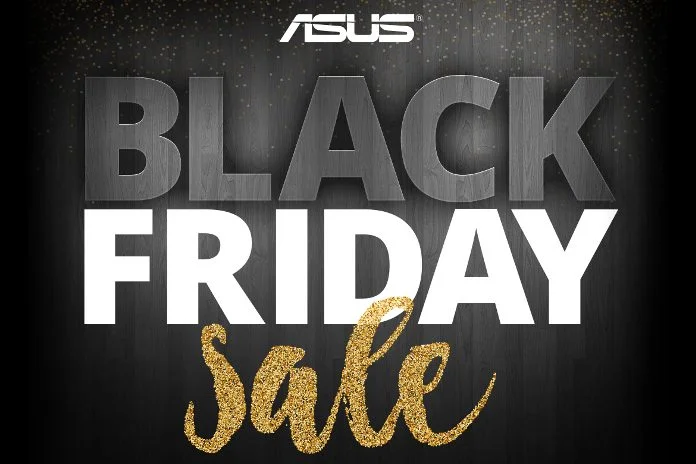 ASUS participates in several affiliate programs, including the Amazon Associates program, and may receive affiliate fees for qualifying purchases.
There are three things nobody can do without during Thanksgiving season: good food, a house full of family and friends, and smoking-hot Black Friday deals. Every retailer and e-tailer in North America is running off markdown labels by the thousands, slapping discounts big and small on heaps of computing gear. That flurry of activity means there are plenty of opportunities to get ahold of that special laptop, monitor, component or peripheral you've been dreaming of from ASUS and ROG.
Sorting through all the deals can be daunting despite the potential gains on hand, and that's where this article comes in. We've cherry-picked a curated list of the finest deals for your perusal and described each one so you know exactly why it made the cut.
Although a good portion of these deals will be running for a week or until Christmas, we'd advise you to quickly pull the trigger on the items you like as quick as possible, as we're certain we picked out the most popular pieces. Some deals are exclusive to the weekend or even just Black Friday itself, too. We've helpfully placed links for multiple retailers and deal expiration dates for your convenience.
Premium ultrabooks
ZenBook Flip S UX370UA-XH74T-BL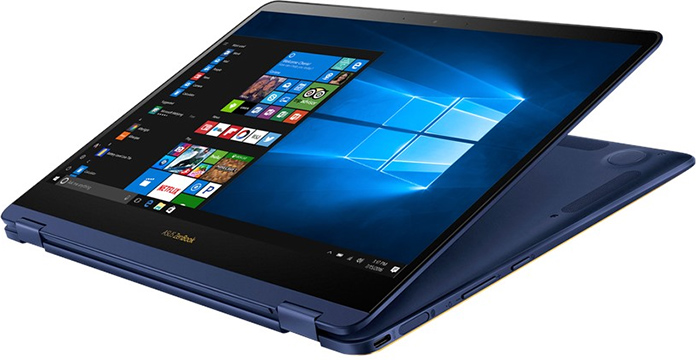 $1399.99 $999.99 at Best Buy (11/17/2019 – 12/2/2019)
Our design team consistently delivers computing gear both sleek and functional, but the ZenBook lineup is definitely one of our crowning achievements. The ZenBook Flip S UX370 sits among the thinnest and lightest convertible laptops in the world, all while making no compromises on performance.
The exquisite Royal Blue chassis with gold trim is definitely a standout feature. It's carved out of a single piece of solid aircraft-grade aluminum, making the ZenBook Flip S both durable and light. It measures only 0.43" thick and ranks in the feather-weight division at 2.4lb. That figure includes a battery that's good for 11.5 hours of usage, no less.
The vibrant 13.3" Full HD touch display held by the 360° hinge has razor-thin NanoEdge bezels on two sides and is capable of reproducing 100% of the sRGB color space. It's covered by a sheet of Gorilla Glass for added durability. A premium backlit keyboard and a multi-touch glass-covered trackpad rest atop the main body.
Inside, you'll find a high-end Intel Core i7-8550U processor with eight threads ticking away at up to 4GHz, a generous allotment of 16GB of RAM, and a 512GB solid-state drive. Two USB-C ports with power delivery and display output capability are ready to hook up with the latest-gen peripherals. The included 45W charger can get the battery up to 60% in only 49 minutes, too.
ZenBook 13 UX331FA-AS51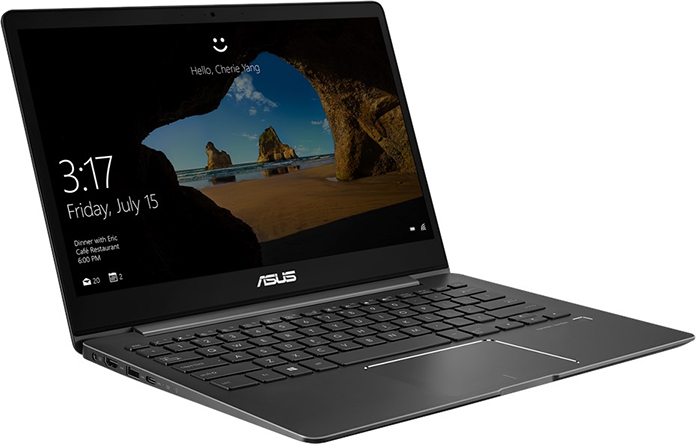 $799 $649 at Amazon (11/28/2019 – 12/2/2019)
Black Friday is one of the few days when you can get a top-grade ultrabook like the ZenBook UX331FA for a mid-range price. As we're sure you've noticed from the photos, the UX331FA's slate grey finish is positively stunning, and if the polished aluminum chassis didn't catch your eye, the vivid 13.3" touchscreen certainly will. It fits in a compact frame with two NanoEdge bezels, and its 178° viewing angles ensure everyone can get a look when it's laid back on a table. At only 0.55" thick and 2.5 lb, the UX331FA is a breeze to carry around. 
A spacious and speedy 512GB drive has plenty of room for big, heavy-duty applications, and the Intel Core i5-8265U processor and 8GB of RAM will have no trouble putting them to work. The UX331FA can easily log you in thanks to a webcam with Windows Hello support and a fingerprint reader. You can use an optional ASUS active pen if you'd rather draw on the screen rather than use a touchpad or a mouse. We've saved what's probably the most impressive figure for last: 14 hours of continued usage thanks to a 50Wh battery with fast-charging support. Charging your laptop only every couple days was but a dream not too long ago, after all.
Windows laptops
VivoBook 15 F512DA-WH31
$399 $279 at Walmart (11/1/2019 – 12/2/2019)
This section kicks off with a rather loud bang: a fully-featured laptop at a price that suits every pocket. The F512DA's centerpiece is the 15.6" NanoEdge display wrapped in gorgeous 5.6mm bezels. That means that while the display area is large, the machine's footprint is roughly that of the average 14" laptop. The deceptively compact body is just 0.78" thick and 3.5lb, too. 
Inside the slim body, a four-thread Ryzen 3 3200U chip with Radeon Vega 8 graphics is accompanied by 4GB of RAM and a fast 128GB solid-state drive. This setup is a fine fit for general-purpose work. The VivoBook 15's fingerprint reader and backlit keyboard with an ErgoLift hinge are also hallmarks of higher-priced laptops, along the the eight-hour battery. You won't have to worry about adapters, either, as the port selection includes a reversible USB-C port as well as regular USB-A connectors, a card reader, and an HDMI output.
VivoBook 15 X509FA-DB51
$599.99 $499.99 at Best Buy (11/24/2019 to 11/30/2019)
Next up, we have an mid-price machine with high-end build quality and specs. The VivoBook X509FA has an internal stiffening system in the body and lid for improved rigidity, ensuring that it won't yield under the rigors of daily use.
Raise your hand, everyone who's tired of dull-gray screens that you have to look at dead-on to see anything from. The X509FA's display is a 1920×1080 IPS panel with superior color reproduction and excellent viewing angles. The NanoEdge bezels wrapped around the panel are only 5.7mm thick, and in turn the chassis footprint resembles that of an ordinary 14" machine, or even an older 13.3" model. The svelte body is only 0.9" at its thickest point, too.
The engine underneath the hood is an Intel Core i5-8265U processor—a mighty quad-core, eight-thread affair that can hit a 3.9GHz turbo speed. That's enough horsepower for heavier types of work like photo and video editing. The swift 256GB SSD gives you plenty of room to stretch out, too. Additional niceties include an ErgoLift hinge that angles the keyboard upward for comfort when the lid is open. The comprehensive set of peripheral ports include a USB-C connector for the latest phones and tablets.
VivoBook Flip 14 J401MA-YS02 and VivoBook L203MA-DS04
VivoBook Flip 14 J401MA-YS02
$349 $249 at Amazon (11/28/2019 – 12/2/2019)
What's an affordable, compact, convertible Windows laptop perfect for light work and browsing? The answer is the VivoBook J401MA, folks. It's got a 14" Full-HD display, but its body measures just 12.9" by 8.9". It's only 0.6" thick and weighs in at 3.3lb despite the reinforced convertible hinges.
Once you open the VivoBook J401MA-YS02 (perhaps to be laid flat, or used as a tablet), you'll be greeted by a quality keyboard and trackpad. The large keys have 1.6mm of travel for comfortable typing, while the trackpad is substantially larger than you'd expect. A dual-core Intel N4000 processor sits next to 4GB of RAM and 64GB of flash storage. That combination of gear is quite energy efficient, and you can expect the 38WHr battery to last a good long while between charges.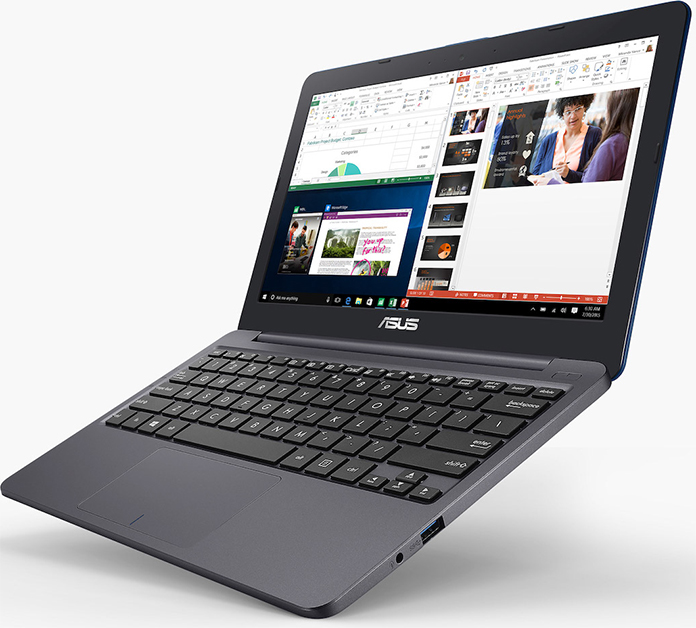 VivoBook L203MA-DS04
$249 $169 at Amazon (11/28/2019 – 12/2/2019)
If you want this same bag of goodies in a package that'll fit a coat pocket, the VivoBook L203MA-DS04 is nearly identical except it's got a 11.6" display sitting on a traditional hinge. It weighs a dainty 2.2lb and is dressed in a sleek dark gray finish.
The VivoBook L203MA might be diminutive, but it nevertheless has a full set of connectivity options: USB-C and USB-A ports, an HDMI output, and a microSD card slot. There's dual-band 802.11ac Wi-Fi on tap, ensuring a fast connection free of annoying dropouts.
All-in-one desktops
Zen AiO ZN242GD-DS751T
$1,299.99 $859.99 at Amazon (11/28/2019 – 12/2/2019)
We're switching gears now to a gorgeous all-in-one desktop: the Zen AiO ZN242GD. This exquisitely designed and crafted machine wouldn't look out of place in a futuristic movie. The frameless Full HD display has near-imperceptible 2mm NanoEdge bezels on three sides, and the stylish stand will wow you with its barely-there looks.
The display panel is 24" across, and thanks to the slim bezels, the screen-to-body ratio is a massive 90%. The display has multi-touch capability on hand, as well. By the way, can you spot the camera? We didn't think so. It's hidden within the body and it only pops up when it's actually in use, safeguarding your privacy at all times. It also supports Windows Hello authentication so that just looking at the system is enough to log in. The premium design touches extend to the downward-facing (and thus invisible) vent system, while all the wired connectors sit at the back for easy cable management. 
The inside of the ZN242GD is equally well thought-out. The main driving force is a Core i7-8750H, a six-core, 12-thread piece of silicon with clock speed at up to 4.1GHz. That's a serious processor, and its presence is likely to invite heavier work like video editing or 3D rendering—tasks that can also take good advantage of the NVIDIA GeForce GTX 1050 4GB graphics card within. Of course, gaming is also a potential activity during the after-hours. The tech spec sheet wraps up with 8GB of memory and a combination of a 128GB SSD and a 1TB hard drive that ensures you can have both speed and lots of room.
Chromebooks
Chromebook C425TA-DH384
$499 $369.99 at Amazon (11/28/2019 – 12/2/2019)
Chromebooks are often regarded as mere cost-effective alternatives to regular Windows and macOS laptops rather than premium machines. Let us dispel this notion with the Chromebook C425TA.
This machine just exudes quality, starting with the 14" Full HD display with narrow NanoEdge bezels. The hinge has 180° of travel for easy screen sharing in meetings. The entire body is just 0.7" thick and weighs 2.8lb, with roughly the footprint of a compact 13" laptop. The luxury feel extends to the backlit keyboard with 1.4mm-travel keys and a large 6" touchpad.
Such a beautiful exterior in a Chromebook begets an equivalent technological feast on the inside: an Intel Core m3-8100Y CPU with a 3.4GHz turbo speed, coupled with 8GB of RAM and 64GB of storage. This machine can handle photo and video editing with aplomb, as well as keep multiple apps and tabs open with ease. You can expect a day and a half of work thanks to the 12-hour battery, too. The port selection includes a USB-C connector with display capability for hooking up an external monitor.
Chromebook C423NA-DH02 and C223NA-DH02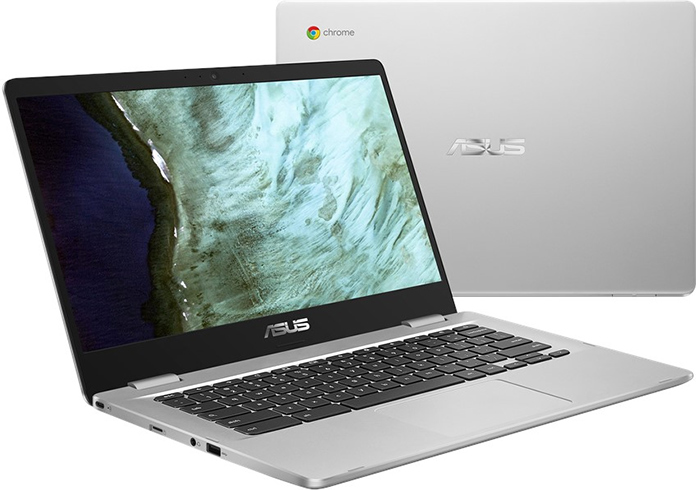 Chromebook C423NA-DH02
$269 $179 at Amazon (11/28/2019 – 12/2/2019)
It's time for a Chromebook that's both affordable and slim. The svelte C423NA has a 14" display with NanoEdge bezels on two sides and an anti-glare coating. It can open 180° for laying flat on a table, too. The body has a slender profile at only 0.6" thick, and it's feather-light at 2.6lb. The aluminum lid gives off a premium look and feel, as do the large-chambered stereo speakers for high-end audio output.
The C432NA's engine bay contains an Intel Celeron N3350 chip hooked up to 4GB of RAM and 32GB of flash storage. That's a power-sipping combination of hardware, and you can expect the battery to get you through 10 hours of work. For hooking up power and peripherals, you get two each of USB-C and USB-A ports along with a microSD card reader.

Chromebook C223NA-DH02 in Gray
$229.99 $169.99 at Best Buy (11/28/2019 – 12/2/2019)
Chromebook C223NA-DH02-RD in Red
$229.99 $169.99 at Best Buy (11/28/2019 – 12/2/2019)
Should you prefer the same choice of materials and hardware in a more compact format, the Chromebook C223NA-DH02 is a near-exact copy of the C423NA save for the 11.6" display (and much smaller footprint) and one less USB connector. It tips the scale at just 2.2lb, though, and has a rather snazzy red finish option.
Chromebook C202SA-YS04
$269 $189 at Amazon (11/28/2019 – 12/2/2019)
Broken, wet, and shattered laptops. They're realities of schools everywhere as well as some particular lines of work. We have machines suited for every situation, though, and the 11.6" Chromebook C202SA is rugged and ready to brush away hard knocks.
On the outside, a molded rubber bumper protects it against bumps and drops, while two strategically placed grip points ensure that small (or clumsy) hands can find purchase on the Chromebook without dropping it. The 180° hinge is likewise reinforced. Our labs put this model through 3.9ft drop tests, twist tests, and sudden shock tests. In case someone somehow still manages to break something in the C202SA, the internal layout and bottom cover make it easy for a tech to tear it down and access the main components in minutes.
The keyboard is designed to survive liquid spills, and its amply sized keys have 2mm of travel to prevent homework goofs. A dual-core Intel Celeron N3060 chip, 4GB of memory, and 32GB of eMMC storage offer more than enough power for schoolwork. An HDMI port lets you connect the Chromebook to a projector for display a presentation or a bigger screen at a desk.
Gaming laptops
ROG Zephyrus S GX701GX-XS76
$3299 $2499 at the Asus Store (11/18/2019 – 12/24/2019)
Gaming laptops are packed with powerful hardware, elaborate cooling systems, and big batteries to power it all. All those pieces take room, though, and most machines of this type end up substantially bigger than standard laptops. Our engineering and design teams managed to cook up something truly special, though: the ROG Zephyrus S GX701, a high-end, full-featured gaming laptop packed with all the goodies and none of the fat. Even with a 17.3" display, the GX701 is just 0.74" thick, and the external dimensions resemble the frame of older 15.6" laptops. All told, this mean machine is 23% smaller than conventional 17" models.
As you can tell from the picture, the Zephyrus S GX701 is atypical in all the right ways. It has a gorgeous and expansive 17.3" Full HD display with hair-thin bezels on three sides. The screen can hit a 144Hz refresh rate and has NVIDIA G-SYNC, meaning motion is extra-smooth and free of distracting tear or stutter. When you prefer to preserve battery life, you can disable G-SYNC and enable Optimus power-saving with a few clicks—there's no need to reboot like in the old days. To better enjoy games' colorful visuals, or perhaps to do video editing afterwards, the IPS panel is color-calibrated from the factory and comes Pantone Validated.
A tag-team of a 12-thread Core i7-8750H CPU and a mighty NVIDIA RTX 2080 Max-Q graphics card helps push frames onto the display at a breakneck pace. The GeForce RTX family of GPUs has ray-tracing acceleration built in for gorgeous lighting and reflections in the latest crop of games. To keep all that silicon cool, the Zephyrus S GX701 is loaded with a clever cooling system with five heat pipes that whisk heat away from the chips and into four heatsinks. Dual fans with extra-thin blades and anti-dust tunnels push hot air out the exhausts with aplomb, and our Active Aerodynamic System opens up a 5mm vent at the bottom of the notebook when it's in use. All this cooling power lets the Zephyrus S avoid thermal throttling and game faster for longer. The core setup is completed by 16 GB of RAM and a top-notch 1TB SSD.
A desktop-style keyboard with per-key RGB LED lighting and a bespoke trackpad with an integrated 10-key block line rest atop the main components. A volume wheel on the left-hand side is handy for tweaking the output of a headset or the built-in speakers, which are powered by a smart amplifier that delivers louder, clearer, and bassier sound.
ROG Zephyrus S GX531GX-XS74 and GX531GW-AB76
ROG Zephyrus S GX531GX-XS74
$2,999 $2,199 at the Asus Store (11/18/2019 – 12/24/2019)
$2,999.99 $2,199.99 at Best Buy (11/8/2019 – 12/24/2019)
If the Zephyrus S GX701 above caught your eye, but your laptop bag can't handle a 17″ notebook, then the 15.6" GX531 series is your ticket to happiness. Laptops in this series measure 14.2" by 10.6", or about the size of a common 14" laptop. They're also impossibly thin at just 0.6", an almost unreal figure for laptops packed with high-end graphics cards and elaborate cooling systems.
We have two options for Black Friday shoppers, the first of which is the GX531GX-XS74. It's got the same Core i7 CPU, GeForce RTX 2080, and 16GB RAM allotment as its bigger brother, and the 15.6" screen in this model is still an IPS-type display with a 144Hz refresh rate and a low 3ms response time. The NVMe SSD is smaller but still generously sized at 512GB, more than enough room for dozens of games.
ROG Zephyrus S GX531GW-AB76
$2,199.99 $1,599 at Amazon (11/28/2019 – 12/2/2019)
Gamers on the hunt for a portable powerhouse should also consider the GX531GW-AB76. This variation keeps the same compact 15.6" frame and display, but the graphics card switches gears to an RTX 2070 Max-Q in exchange for a rather sizable cut to the price tag. Since this exact model is a recent entry to the Zephyrus S line, the CPU inside is cutting-edge—an Intel Core i7-9750H processor with six cores and 12 threads that can hit a whole 4.5GHz each.
TUF Gaming FX505DV-PB74
$1,399 $1,049 at Amazon (11/28/2019 – 12/2/2019)
Life on the road, subways, trains, and walks can be tough for laptops. We've all dropped one at some point, with sometimes quite expensive consequences. If you're looking for a gaming portable that can take a few hard knocks and laugh, it's the TUF Gaming FX505DV.
Ruggedness and durability are the FX505DV's calling cards. We put the machines through rigorous testing to ensure they can withstand the rigors of the world. The gauntlet includes shock, temperature, and humidity resistance tests. The end result is that the TUF machines can withstand twice as much shock force, three times higher temperatures, and 10 times the humidity levels of your average laptop. Taking a page from the high-end Zephyrus S line, the TUF FX505DV employs a cooling system with anti-dust fans and multiple vents. Despite all its structural reinforcement, the FX505DV is just 1" thick. 
The trapezoid-cut reinforced lid holds a 15.6" Full HD display ensconced in thin NanoEdge bezels. The screen can hit a 120Hz refresh rate for silky-smooth motion and swift response times. The backlit keyboard has a desktop-style keyboard with a carefully considered layout. Thanks to Overstroke technology, each key has a high actuation point that's ideal for rapid repeated key presses.
There's a combination of AMD and NVIDIA hardware inside the FX505DV. An eight-thread Ryzen 7 3750H processor with clock speed up to 4GHz handles general number-crunching duties, while a NVIDIA RTX 2060 graphics card rapidly pushes pixels—with ray-tracing capabilities to boot. The CPU has 16GB of RAM to play with, and a 512GB SSD offers plenty of room for your game library. The left side of the body accommodates not only a trio of USB ports, but also a Gigabit Ethernet port for those times when every millisecond of ping time counts.
TUF Gaming FX705DY-EH53
$799 $649 at Amazon (11/28/2019 – 12/2/2019)
Not every single gaming laptop needs to be a high-octane, high-priced affair. The TUF Gaming FX705DY is packed with a sensible selection of mid-range hardware, all at an exceedingly low price tag for a durable, reliable machine.
The FX705's Full HD display measures 17.3" across its diagonal and has a 60Hz refresh rate, but the chassis and overall build match that of the FX505DV we discussed above. That means it passes tests against shock, temperature, and humidity with flying colors. The underside has an hexagonal pattern that adds structural rigidity, and the trademark trapezoid-cut lid ensures that neither will an errant twist break the display, nor will the keys be pressed against the panel over time.
The FX705DY might be an affordable option, but its component selection is by no means cheap. The AMD Ryzen 5 3550H has eight threads ticking away at up to 3.7GHz, and its bandmates are 8GB of system RAM and a Radeon RX 560X graphics card with 4GB of video memory. A 512GB SSD holds your applications and game installs with plenty of room to spare.
Gaming monitors
ROG Swift PG27UQ
$1,499.99 $999.99 at MicroCenter (11/1/2019 – 11/30/2019)
If there's one way to describe what features the PG27UQ has, it's "all of them." At heart, it's a super-high-end 27" gaming display with 4K resolution and a silky-smooth refresh rate of 144Hz. That barely scratches the surface, though. The quantum-dot IPS panel can reproduce 97% of the cinematic DCI-P3 color space, meaning the PG27UQ is equally at home gaming or doing color-critical photo and video work. We're also quite proud of the full-array 384-zone backlight that allows the PG27UQ to show deep blacks and shine as bright as 1000 nits. Those qualities earn it a coveted DisplayHDR 1000 certification.
HDR games and movies will look their absolute best on the PG27UQ, but we've also taken clarity of motion into consideration. The monitor supports NVIDIA G-SYNC Ultimate for clear, tear-free animation under all circumstances. Input lag is likewise reduced so you always have the edge on your competition. When you dim the lights to focus on the action, or perhaps to sit back and enjoy the movie, the integrated ambient light sensor will automatically adjust the brightness for added comfort. The quality touches extend to the chassis and finish. The fully-adjustable stand is positively gorgeous, and the hues for the two ROG logos as well as the customizable desk light projector can be set up with Aura Sync.
ROG Strix XG49VQ
C$1,199.99 C$949.99 at Canada Computers (11/29/2019 – 12/5/2019)
The feeling of immersion when gaming is a wonderful thing, but oftentimes even a large monitor can feel limiting due to the incredible field of view of human vision. The XG49VQ is the closest you'll come to being inside a game short of using a VR headset. It's 49" wide with roughly the same surface area as two standard 27" monitors side-by-side, for a super-ultra-wide 32:9 aspect ratio. You don't need to worry about color shift at the outer edges, as the screen is curved with an 1800R radius.
This display might be gigantic, but it's by no means slow. The 3840×1080 VA panel can refresh at up to 144Hz, and can you can enable AMD FreeSync 2 HDR tech if you're using a compatible AMD graphics card. The XG49VQ's color range is rather impressive, too, with 90% coverage of the DCI-P3 color space. The monitor also bears a DisplayHDR 400 badge, meaning bright lights and explosions will shine bright.
Despite the incredible expanse of this display, a well-engineered stand allows tilt, swivel, and height adjustment without annoying wobble in the heat of battle.
ROG Strix XG35VQ
$749.99 $549.99 at Newegg (11/29/2019 to 12/2/2019)
There's a sale running on another top-notch ultra-wide display: our XG35VQ. This is a 35" monitor with a 3440×1440 VA panel curved inward for maximum visibility and proper color at all angles. The maximum refresh rate is 100Hz, and there are a couple of tricks up the display's proverbial sleeve—AMD FreeSync support for tear-free gaming, and a special Extra Low Motion Blur (ELMB) mode. With this feature enabled, the response time can go as low as 1ms, ensuring clean, crisp motion devoid of ghosting and blur.
The thin bezels around the display are quite striking, as is the back with its cybernetic motif and RGB LED light ring. The colors for the ring, ROG logo and desk light projector can be configured and synchronized with your system with Aura Sync. The stand has tilt, swivel, and height adjustments, and the port selection includes HDMI and DisplayPort inputs as well as a handy USB hub.
ROG Swift PG279Q and ASUS MG278Q
ROG Swift PG279Q
$549.99 $449.99 at Amazon (11/29/2019)
$649.99 $449.99 at Newegg (12/2/2019 to 12/2/2019)
$579.99 $449.99 at Micro Center (11/1/2019 to 11/30/2019)
C$929.99 C$699.99 at Canada Computers (11/29/2019 to 12/5/2019)
Our next entry in this deals bonanza is a pair of high-end 16:9 gaming displays, both at impressive prices. The ROG Swift PG279Q is a gaming monitor with a 2560×1440 IPS panel. That's good news already, but the party really gets going once the super-fast 165Hz refresh rate comes into play. That makes for buttery-smooth motion in games and exceedingly low input lag—just the edge you need over the competition in fast-paced games like shooters and racers. It gets better still, though. This model uses NVIDIA G-SYNC variable refresh rate technology, completely getting rid of visual tearing and motion jerkiness with GeForce graphics cards.
The monitor controls also hide a nifty little trick—a button to cap the refresh rate at 60, 120, or 165Hz at any point so you can match it to the frame rates of different games and maintain smoothness. The 6mm bezels on three sides make it easy to build an expansive multi-monitor setup, a task further helped along by the fully-adjustable stand.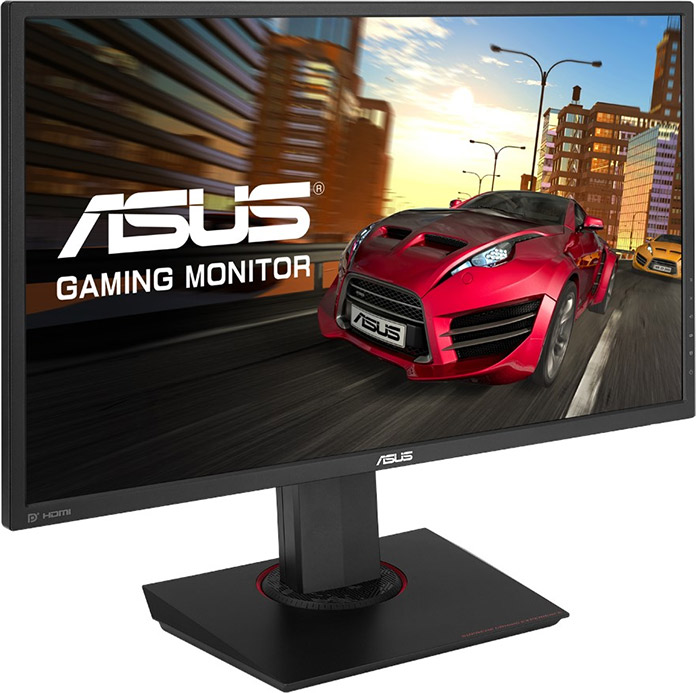 ASUS MG278Q
$399.99 $299.99 at Newegg (11/28/2019 to 12/2/2019)
If the PG279Q is too spendy, we have a second option: the ASUS MG278Q. It's also a 27" 2560×1440 display with ever-important G-SYNC support. It uses a TN panel for swift response times in fast action, an optimal characteristic given the display's high 144Hz refresh rate. 
ROG Strix XG27VQ and TUF Gaming VG27VQ
ROG Strix XG27VQ
$349.99 $249.99 at Newegg (11/29/2019 to 12/1/2019)
Having a big, fast, and stylish display doesn't have to cost an arm and a leg. The ROG Strix XG27VQ is a 27" display curved at 1800R for immersive gaming. The VA panel grants intense colors and fantastic contrast. Just like its upmarket teammates, the XG27VQ's refresh rate clocks in at 144Hz, and you have the option of either using AMD FreeSync for tearing and judder reduction or turning on ELMB mode for getting rid of ghosting. The Full HD resolution for this model helps ease the load on the graphics card and keeps frame rates up.
Since it's part of the ROG Strix family, the XG27VQ comes with premium styling: a specially designed back with an RGB LED ring, strikingly thin bezels, and a customizable desk light projector that you can devise your own styles for.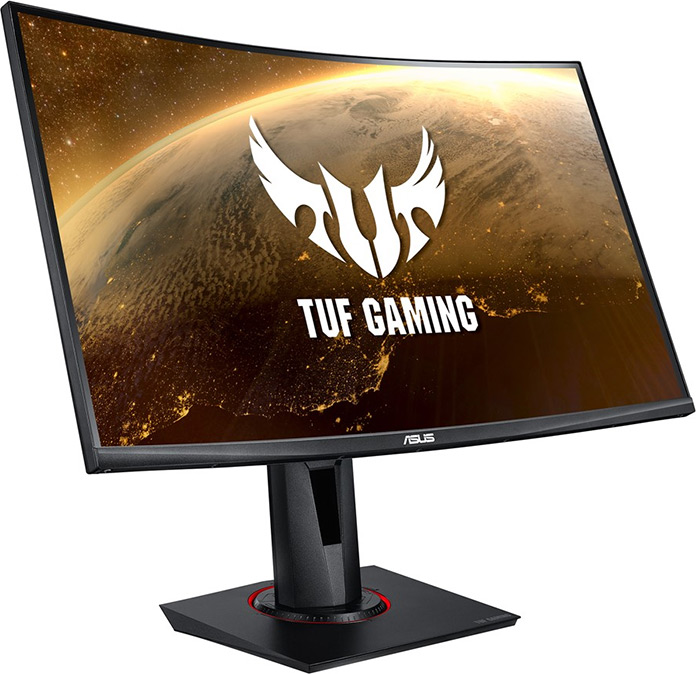 TUF Gaming VG27VQ
$259.99 $199.99 at Newegg (11/29/2019 to 12/2/2019)
$259.99 $199.99 at MicroCenter (11/1/2019 to 11/30/2019)
If you're fine with basic-but-solid styling and would rather put cash on slightly improved specs, then the TUF Gaming VG27VQ should be your option. At its core, this display is rather similar to the Strix XG27VQ above, with a 27" VA panel with Full HD resolution. This model pumps the refresh rate even higher to 165Hz, all while keeping AMD FreeSync and ELMB options on the table. The screen's curvature is tighter than usual at 1500R, too, for added viewing comfort and reduced off-axis color shift.
ASUS VG248QZ
$199 $149.99 at Amazon (11/29/2019)
$179.99 $149.99 at MicroCenter (11/1/2019 – 11/30/2019)
C$229.99 $C$189.99 at Canada Computers (11/29/2019 – 12/5/2019)
The VG248QZ is the perfect display for gamers looking for an affordable ticket to the high-refresh-rate world. It's a Full HD display with a 24" diagonal like many others, but it uses a TN panel with a 1ms response time and 144Hz refresh rate.
The VG248QZ is fitted with a pair of 2W speakers for convenience, while the input selection includes both modern DisplayPort and HDMI connectors as well as a DVI-D port to use with older machines. The basic styling doesn't have RGB LED lighting or a sculpted chassis, but you won't miss it when you're gaming at 144Hz. The stand has a full range of height, tilt, swivel, and pivot adjustments. You can also use the GamePlus feature to place a crosshair on the screen for improving FPS gaming, or an elapsed time counter for when you want to play just one more turn in strategy titles.
Professional and productivity displays
ProArt PA32UC
$1,599 $1,299.99 at B&H (11/10/2019 – 12/31/2019)
Professional photographers, film editors, and 3D artists have one requirement first and foremost for a display: positively perfect color accuracy. The ProArt PA32UC is a 32" monitor with 4K resolution and true HDR capability. Its 10-bit IPS panel is capable of hitting a brightness level as high as 1000 nits and static contrast ratio of 20000:1, thanks to the help of a full-array LED backlight with 384 local dimming zones. Those specs earn the display a coveted Ultra HD Premium certification seal. 
Since color reproduction is the name of the game, the big numbers are as follows: 99.5% coverage of the Adobe RGB space, 95% of wider DCI-P3, and 85% of the extra-wide Rec.2020. The PA32UC uses a 14-bit look-up table (LUT), and the ASUS production team calibrates each and every one of these displays at the factory down to a deltaE under 2, filling out a calibration report at levels 63, 127, and 255. Additionally, there's a uniformity compensation feature to ensure brightness and color consistency across the entire panel.
The PA32UC is easy on the eyes in more than one way. The super-thin bezels across three sides not only make the display look fantastic, but they also allow for multi-monitor setups with minimal visual interruption. Connectivity options are also modern and plentiful. You get a choice of Thunderbolt 3 via USB-C, DisplayPort, and HDMI inputs. The USB-C connector supports Power Delivery and can send 60W to an attached laptop. Naturally, the included stand offers height, tilt, swivel, and pivot adjustments.
ASUS MG28UQ
$349.99 $279.99 at Newegg (11/26/2019 – 12/2/2019)
When you're hunching down and cranking out some real work, there's no substitute for a big display with lots of screen real estate. The ASUS MG28UQ is a good entry point into the 4K world, and it's perfect for office work, development, monitoring, and a whole other slew of tasks where a big, sharp screen is valuable but there's no need for extra-high refresh rates or cinematic color reproduction. At 28" across, the resolution works out to 158 pixels per inch—four times the pixels of a Full HD panel. A display like this one can make text and pictures on your computer look as sharp as on your phone.
The MG28UQ is perfect for gaming on the side, as it has support for AMD FreeSync and a higher-than-average 75Hz refresh rate. There's a pair of built-in speakers, and the solidly built stand is fully adjustable.
ASUS VP239H-P
$139 $89.99 at B&H (11/26/2019 – 12/3/2019)
The VP239H-P is the perfect choice for a display that fills out the essential requirements with no cost-adding frills. Don't get the wrong idea, though—despite its low price, this monitor is still a quality piece. The 24" Full HD panel is an IPS type and has excellent viewing angles and color reproduction.
The thin frame gives the VP239H-P a far more upmarket look and help save precious desk space. There's a pair of down-firing speakers hidden away in the casing, too. The monitor's internal software includes handy ASUS features like VividPixel for sharpness adjustment, EyeCare blue light reduction, and GamePlus crosshair and timers.
Graphics cards
ROG Strix GeForce RTX 2080 Ti Gaming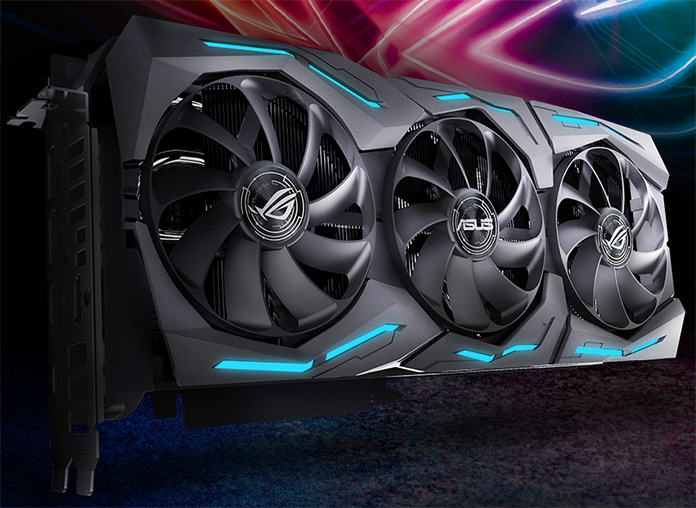 $1,259.99 $1,099.99 at Newegg
"Real-time ray tracing is just around the corner" is a mantra that's been repeated time and again since the 1990s. That rendering technique offers realistic reflections, light, and shadow by (you guessed it) tracing individual rays of light across a scene, but it's computationally very expensive. NVIDIA's GeForce RTX cards with Turing chips finally turned that dream into reality, and the biggest and baddest in the family is the GeForce RTX 2080 Ti. It's not only a beast at ray-tracing—it's the fastest consumer graphics card you can buy, period.
The ROG Strix RTX 2080 Ti is a massive three-slot card with a MaxContact heatsink and three fans sitting atop the GPU. A reinforced frame holds the heatsink in place, and a backplate secures the card against bending over time. The Aura Sync lighting around the fans and on the ROG logo in the back can be color-matched to your system, and the dual-mode BIOS lets you pick between performance- or silence-optimized configurations for the card.
There's a FanConnect II header at the back so you can make case fans work only as hard as the GPU load requires for thermal and acoustic optimization. The cherry on the top is the USB-C connector on the port cluster, ready to be hooked up the latest displays with minimal fuss.
ROG Strix GeForce RTX 2070 Super Advanced and ASUS Dual GeForce RTX 2070 Super EVO OC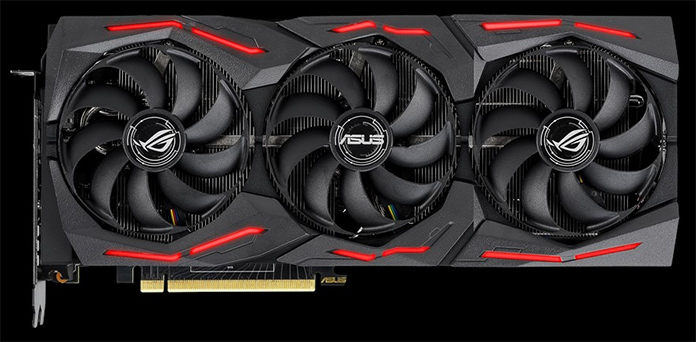 ROG Strix GeForce RTX 2070 SUPER Advanced Edition
$584.99 $539.99 at Newegg
Not everyone has ten Benjamins to drop on a graphics card, of course. If you want plenty of bang for your high-end graphics buck, take a look at the RTX 2070 SUPER and RTX 2060 SUPER series. Let's take a look at our RTX 2070 variants first. 
The ROG Strix RTX 2070 SUPER brings all the top-end features you expect from the Republic of Gamers to the table, including Aura RGB LED accents, FanConnect II headers, and three Axial-tech fans. The nominal clock speed is 1830MHz when boosting in the card's OC mode, but that figure will probably climb higher in practice thanks to the oversized cooler.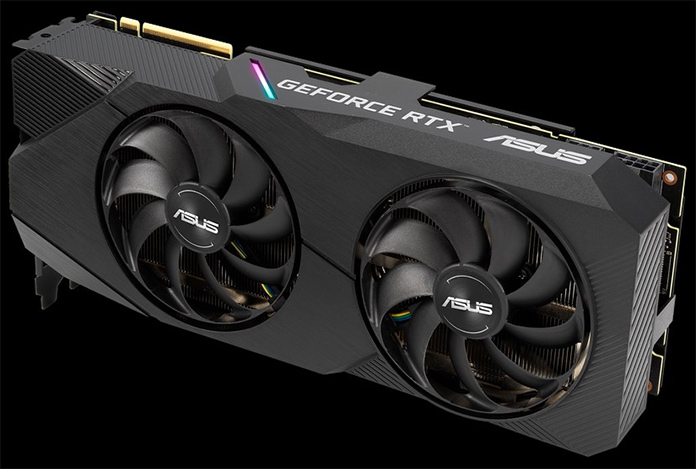 ASUS Dual GeForce RTX 2070 SUPER EVO OC
$529.99 $489.99 at Newegg
If you want to save a little cash, you can also opt for the Dual GeForce RTX 2070 SUPER EVO OC. This variant has a cooler with two Axial-tech fans atop it and skips the backplate and USB-C connector. There's no Aura Sync lighting in this model, but we endowed it with a stealthy look that will illuminate quite nicely under case RGB LED lights. Each and every one of these cards undergoes a 144-hour validation program before leaving the factory to ensure it's performing to spec.
ROG Strix GeForce RTX 2060 SUPER Advanced and ASUS Dual GeForce RTX 2060 SUPER EVO OC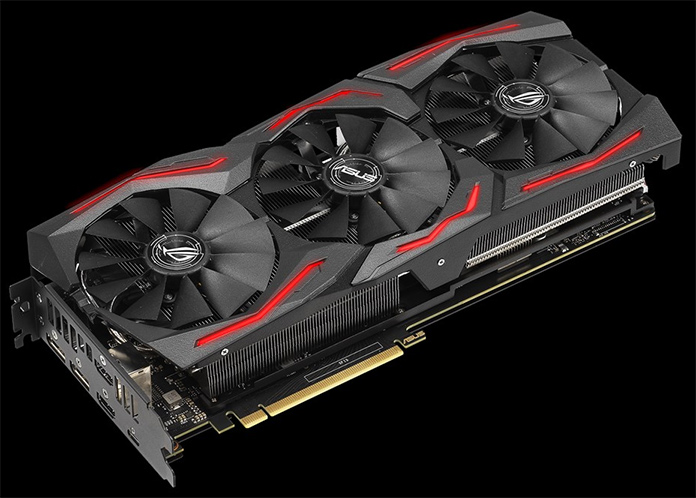 ROG Strix GeForce RTX 2060 SUPER Advanced Edition
$464.99 $424.99 at Newegg
The RTX 2060 SUPER could be the Goldilocks high-end graphics card of the moment. Its price isn't so high as to make a new system or upgrade too expensive, and the performance on offer is on par or above the venerable GTX 1080 of yesteryear—but with ray-tracing support baked in. 
The ROG Strix RTX 2060 SUPER Advanced Edition has a three-fan cooler resting above a MaxContact heatsink. The card has a reinforced frame and a backplate for extra physical protection and to help with heat dissipation. The RTX 2060 GPU has a 1710MHz default boost clock, though as usual, we expect this figure to climb higher in practice thanks to our massive cooling system. As with the rest of the ROG Strix GeForce RTX family, a VirtualLink USB Type-C port graces the output connector cluster, and the RGB LED lighting is fully configurable with Aura Sync.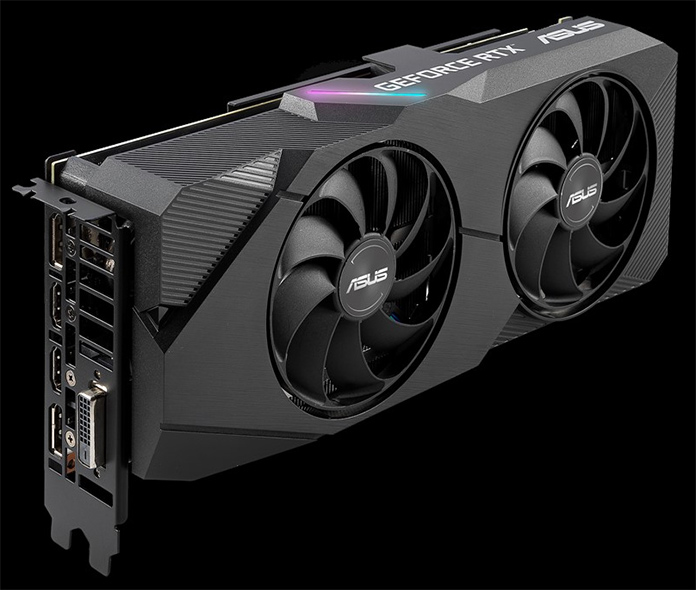 ASUS Dual GeForce RTX 2060 SUPER OC Edition
$429.99 $389.99
The alternative this time around is the ASUS Dual GeForce RTX 2060 SUPER EVO OC Edition. The story is nearly the same as with the RTX 2070 SUPER described above: a three-slot card with our latest Axial-tech fans, all optimized to push the RTX 2060 SUPER GPU resting underneath to a 1725MHz boost clock by default. The fans will turn completely off when they're not in use too.
ROG Strix Radeon RX 580 O8G Gaming OC and ROG Strix Radeon RX 570 O4G Gaming OC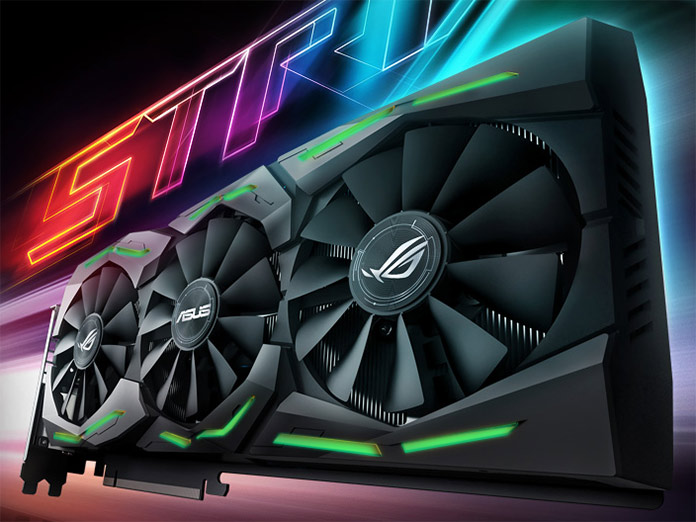 ROG Strix Radeon RX 580 O8G Gaming OC
$379.99 $164.99 at Newegg
AMD also makes some pretty snazzy graphics cards, and our Black Friday sale has extremely deep discounts on two of the company's Radeon offerings in their respective high-end ROG Strix incarnations. Given the low price tags and meaty performance, these models are a no-brainer option for 1080p gamers seeking an upgrade from an older GPU. They're also dressed in the finest RGB LEDs, to boot.
The first deal you'll want to pay attention to is the Strix RX 580 OC. Its centerpiece is the Polaris 20 GPU and its cadre of 2304 stream processors drinking data from 8GB of GDDR5 memory. The GPU is clocked at a default of 1380MHz in its OC mode. The three Wing-blade fans are resistant to dust ingress, and the MaxContact heatsink has a precisely finished, nickel-plated copper heatspreader that offers twice the contact area with the GPU as common offerings to lower heat output. A FanConnect II header and multi-zone Aura Sync RGB LED lighting round off the card's main specs.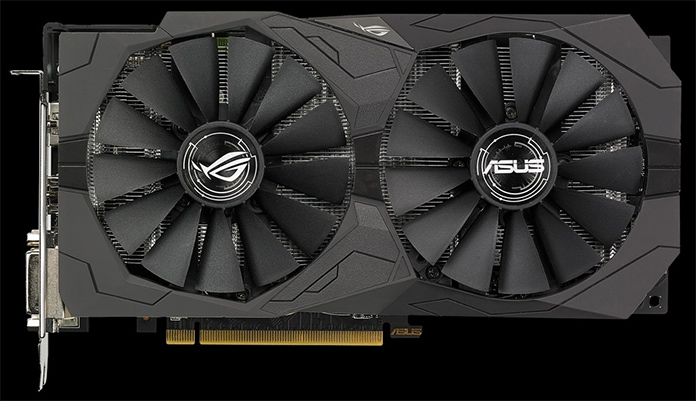 ROG Strix Radeon RX 570 O4G Gaming OC
$279.99 $119.99 at Newegg
For more modest needs and pockets, we offer the ROG Strix RX 570 OC. This card's GPU is clocked at 1310 MHz in OC mode. This card's cooler uses two Wing-blade fans, but the DirectCU II heatsink under them is still beefy and is crossed by heatpipes that directly contact the chip for optimal heat transfer. While this may be the humblest graphics card on our Black Friday display, it still has an upmarket VRM to help prospective overclockers push the GPU higher. This variation comes with 4GB of GDDR5 and Aura Sync lighting.
AMD motherboards
ROG Strix X570-E Gaming
$329.99 $279.99 at Amazon (11/29/2019)
$329.99 $279.99 at Newegg (11/27/2019 – 11/30/2019)
If you're considering setting up a system with one of AMD's latest high-core-count Socket AM4 CPUs, like the Ryzen 9 3950X or Ryzen 9 3900X, you'll have to give it a suitable home like the ROG Strix X570-E Gaming motherboard. It's the top-of-the-line Strix model in the range, and its main feature is the Digi+ VRM with 12+4 power stages ready to handle many-core chips that pull a lot of current. The VRM runs cool thanks to beefy heatsinks connected by 8mm pipes for improving heat distribution under heavy loads or even overclocked configurations. 
Thanks to third-gen Ryzen CPUs and the X570 chipset, every PCIe slot on this board benefits from PCIe 4.0 and its massive bandwidth. We also fit this board with two M.2 slots: one powered by PCIe 4.0 and the other with PCIe 3.0. Both M.2 slots sit underneath massive heatsinks to prevent SSD throttling when running I/O-intensive tasks.
For cooling high-end systems, the X570-E offers multiple hybrid fan headers as well as dedicated AIO coolers and pump headers for custom liquid-cooling setups. The network aisle is quite expansive, including a super-fast Realtek 2.5G Ethernet controller, an additional Gigabit Ethernet port, and a latest-gen Wi-Fi 6 adapter that's capable of pushing data over the air at multi-gigabit speeds.
The board's multiple RGB LED zones (particularly the one underneath the nitfy cyber-text motif) are configurable with Aura Sync, as are the Gen2 RGB LED headers that can auto-detect how many LEDs are attached to a strip and individually light them up. Quality sound is crucial for movie immersion and keeping track of your enemies in games, so we've set up the X570-E with high-end SupremeFX S1220A codec with dual op-amps for crystal-clear clarity. There's also DTS Sound Unbound support for object-based 3D audio in movies and compatible games.
TUF Gaming X570-Plus (Wi-Fi)
$199.99 $169.99 at Newegg (11/27/2019 – 11/30/2019)
$199.99 $169.99 at MicroCenter (11/18/2019 – 12/1/2019)
We'll now turn our attention towards a battle-forged motherboard with proven reliability. The TUF Gaming X570-Plus (Wi-Fi) is a rock-solid take on the X570 chipset. First and foremost, the VRM around the AM4 socket is made up of 12+2 DrMOS power stages and employs specially crafted TUF chokes that can withstand 20% more heat than the average. Two heatsinks keep the VRM chilly, and four onboard fan headers along with an AIO header let you design any system cooling setup.
The main PCIe 4.0 slot is reinforced with metal, ensuring that big-and-heavy graphics cards won't rip it out if you carry your battle station to a tournament. You can slot in two M.2 drives and place one of them under a heatsink to stay frosty. 
While the board itself has minimal but tasteful lighting, you can add your own flair with Aura RGB and Gen2 addressable LED strip headers. As you've noticed from the name, this board comes with built-in 802.11ac Wi-Fi and Bluetooth 5 support alongside a wired Gigabit Ethernet port. We've added a special touch to the Realtek S1200A audio codec: DTS Custom profiles for headsets that will optimize the sound depending on what you're playing or watching.
ROG Strix X470-F Gaming and ROG Strix B450-F Gaming
ROG Strix X470-F Gaming
$189.99 $144.99 at Amazon (11/29/2019)
$189.99 $144.99 at MicroCenter
$189.99 $144.99 at Newegg (11/27/2019 – 12/3/2019)
The PCIe 4.0 connectivity present in the latest crop of X570 motherboards is certainly enticing, but not every builder needs its massive bandwidth. Thanks to AMD, the latest-generation chips work fine on existing X470 boards, and the ROG Strix X470-F is one of the finest X470 mobos around.
Up top, the Digi+ VRM stands ready to juice up 3000-series Ryzen processors, while two PCIe x16 slots with metal sheaths can take in multiple graphics cards in SLI or CrossFireX setups. You can set up NVMe drives in two M.2 slots, either individually or in a RAID array for breakneck speeds or improved reliability. Elaborate cooling setups won't be a problem thanks to a total of seven headers split between fan and pump connectors.
This board's blacked-out aesthetic looks pretty nifty on its own and should sit quite well under RGB LED lighting. You can hook up your own strips to the three available headers, one of which can send instructions to addressable LEDs. Around the back, the integrated I/O shield holds eight USB ports including a Type-C connector, and there are mid-board headers for a handful more. An Intel Gigabit Ethernet controller and a SupremeFX S1220A audio codec round out the specs list.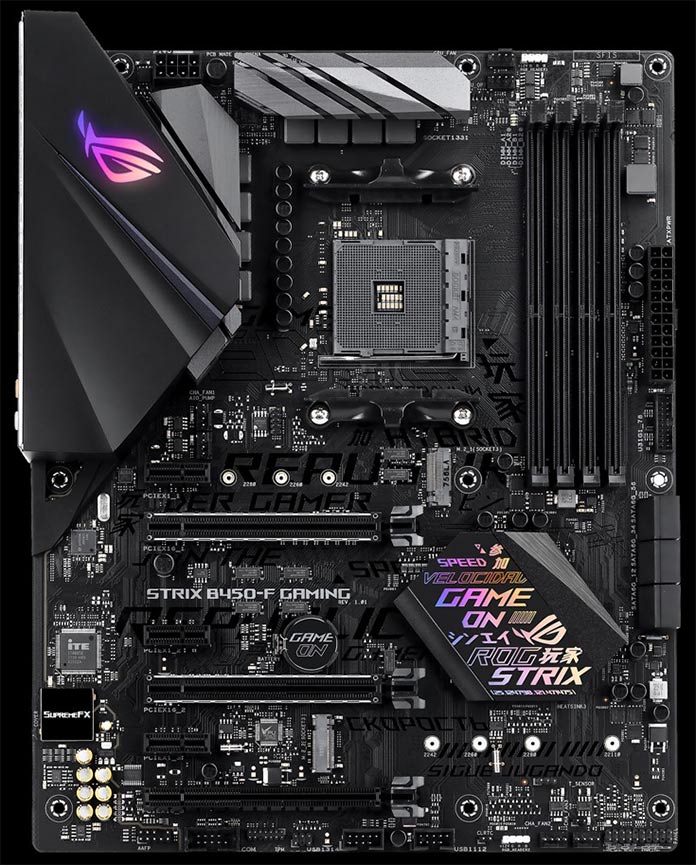 ROG Strix B450-F Gaming
$129.99 $104.99 at Amazon (11/29/2019)
$129.99 $104.99 at MicroCenter (11/18/2019 – 12/1/2019)
$129.99 $104.99 at Newegg (11/27/2019 – 11/30/2019)
If you're certain you'll only need a single graphics card and won't need the extra lanes that the X470 chipset has over B450, you have a good opportunity to save a few bucks with the ROG Strix B450-F Gaming. This board is nearly identical to the X470 version described above, and the only notable omissions are the addressable RGB LED strip header and, of course, SLI and CrossFireX support.
TUF Gaming B450M-Plus Gaming
$99.99 $79.99 at Newegg (11/27/2019 – 11/30/2019)
Not every case can fit a full-size ATX motherboard, nor is every build set up with extreme overclocking in mind. The TUF Gaming B450M-Plus is a solid foundation for Ryzen processors for simple builds. Although it might be one of the smallest boards in the family, it'll take in Ryzen 3000-series processors just like its big brothers.
The Digi+ VRM atop this board isn't quite as elaborate as the more expensive variants, but it still uses hardened, reliable TUF capacitors, MOSFETs and chokes. The primary PCIe slot is wrapped in metal for extra staying power when a heavy card is installed, and the M.2 socket is connected to a PCIe 3.0 x4 interface. A reversible USB-C port and a speedy USB 3.2 Gen2 Type-A port grace the integrated I/O shield. 
Nobody should have to suffer poor-quality audio, so the Realtek ALC887 chip is hooked up to dedicated circuit board layers for the main left and right channels. The audio circuit also uses premium Japanese capacitors to ensure a lower noise floor. DTS Custom positional audio for headsets can be configured with unique profiles for each main game type—FPS, role-playing, or strategy.
Intel motherboards
ROG Strix Z390-E Gaming
$259.99 $199.99 at Amazon (11/27/2019 – 11/30/2019)
$259.99 $199.99 at MicroCenter (11/29/2019 – 12/2/2019)
$259.99 $199.99 at Newegg (11/29/2019 – 12/2/2019)
The ROG Strix Z390-E is Black Friday's top choice for builds with Intel chips, especially for higher-end Core i7 and Core i9 models. Since it shares the Strix family name with the X570-E, this board is unsurprisingly similar in many ways—starting with the black matte finish with cyber-text accents and RGB LEDs. The I/O shield is particularly fetching, if we do say so ourselves.
The robust VRM should let you overclock LGA1151 chips with ease, while the RAM slots sitting next to the socket can push overclocked memory to 4266MHz or even beyond with compatible sticks. Those looking to squeeze every single Hz out of their CPUs will find a bracket for a dedicated VRM fan in the box, too.
The PCIe slot selection includes three x16 slots, and you can insert multiple graphics cards in SLI or CrossFireX arrays if you're so inclined. Speedy NVMe storage can go into two PCIe x4 M.2 sockets, one of which rests beneath a thick heatsink. The port cluster is quite busy, in a good way. You get eight USB ports of various types, including an ever-important USB-C connector for the latest devices. A twin antenna array enables 802.11ac Wi-Fi connectivity, while data can travel through wires to the Gigabit Ethernet port sitting next to it.
A SupremeFX S1220A codec with dual op-amps and a headphone amplifier with automatic impedance sensing emanates pleasing soundwaves. For further lighting customization, there are three Aura RGB LED strip headers, one of which works with addressable strips. 
Peripherals
ROG Spatha wireless mouse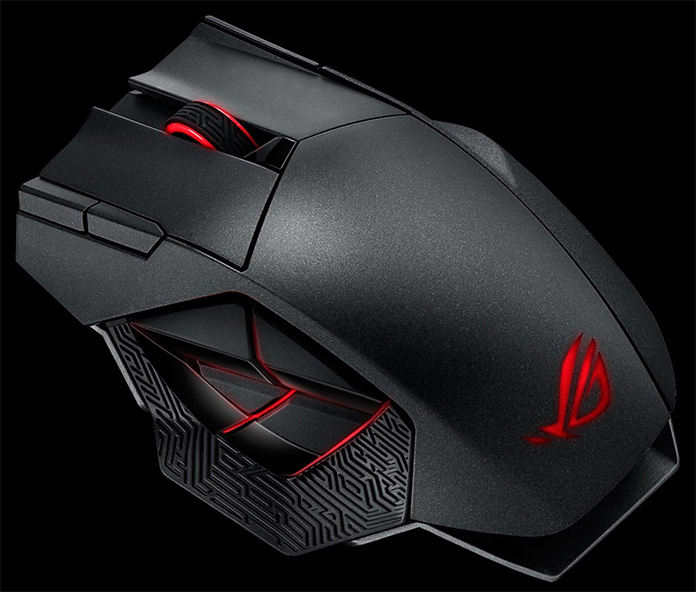 $159.99 $99.99 at MicroCenter (11/24/2019 – 11/30/2019)
Multiple mice in the market offer wireless connectivity, reinforced chassis, or extra-high polling rates. None of them combine all those attributes like the premium ROG Spatha. This mouse is named after the Roman longsword, and its design is just as iconic. There's a total of 12 buttons at your fingertips, six of which rest in a carefully designed cluster. Many multi-button mice end up confusing your thumb, but each button in the Spatha's cluster has a unique shape and can be identified by feel alone.
The sensor under the magnesium alloy chassis has sensitivity up to 8200 DPI and can deal with 30g of acceleration for accurate response even with whip-like movements. The cherry on top is the 2000Hz position reporting rate, twice that of other high-end mice. This comes in particularly handy when coupled with high-refresh-rate monitors and the graphics cards to drive them.
The magnetic charging cradle has a battery indicator that changes color according to the charge level. You can also use the Spatha as a regular wired mouse if the juice runs out in the middle of the action. The scroll wheel uses a premium Alps encoder, and you can customize or replace the Omron switches under the main buttons thanks to our socketed design. Multiple RGB LED zones round off the customization options.
ROG Gladius II Origin
$69.99 $49.99 at the ASUS Store (11/24/2019 – 11/30/2019)
We'll move on to a rodent with a tried-and-true design. The shell of the ROG Gladius II Origin is suitable for both claw and palm grip types, and the underside holds a premium PMW3360 optical sensor with tracking up to 12000 DPI and sure reporting under acceleration up to 50g.
The two primary buttons activate Omron switches set on our exclusive push-fit switch socket design. This design lets you switch out the preinstalled clickers with different switches for a new feel, or you can replace them if they happen to fail—something that's exceedingly unlikely to happen, as the included switches are rated for 50 million clicks.
The mouse can be detached from its microUSB cable via a sliding lock and stowed away in the included carrying pouch, minimizing strain on the USB port while the mouse is in transit. The three-zone RGB LED lighting can be harmonized with the rest of your system with Aura Sync.
TUF Gaming M3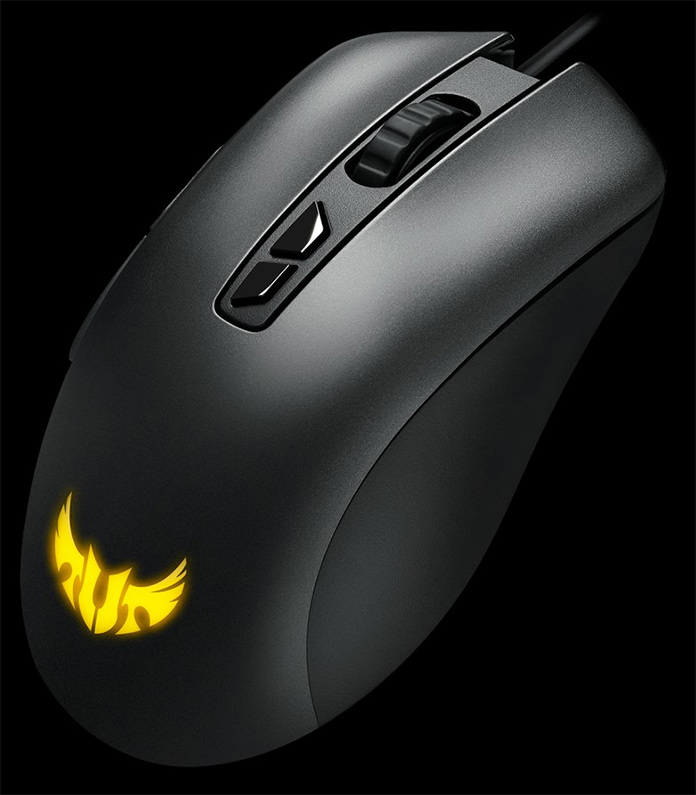 $19.99 $14.99 at the ASUS Store (11/24/2019 – 11/30/2019)
In a nutshell, the TUF Gaming M3 collects essential features for a gaming mouse built with reliable hardware. It's compact and lightweight at 83 grams, ideal for those starting their gaming journey. A total of seven programmable buttons rest atop the body, including two switches that can select between four DPI levels.
The optical sensor underneath the rugged body has sensitivity up to 7000 DPI. The TUF M3 might be of a more humble upbringing than its ROG friends, but its polling rate is still 1000 Hz, a fundamental feature for any gaming mouse worth its salt. The RGB LED under the stylish logo can be set up with Aura Sync, too.
ROG Strix Flare

$129.99 $89.99 at MicroCenter (11/24/2019 – 11/30/2019) – Brown switches
$129.99 $89.99 at MicroCenter (11/24/2019 – 11/30/2019) – Red switches
$129.99 $89.99 at MicroCenter (11/24/2019 – 11/30/2019) – Speed Silver switches
$129.99 $89.99 at MicroCenter (11/24/2019 – 11/30/2019) – Black switches
We have the mice covered, so let's move on to the keyboards. The ROG Strix Flare is a premium full-size deck with per-key RGB LED lighting. Cherry MX switches are ready to spring into action under each key. The Flare is available with six different switch types, ranging from linear, non-clicky Red to satisfyingly forceful Blue. There's even a variation with Speed Silver switches with quick actuation for the twitchiest pro gamers out there. 
A row of dedicated media controls rests above the top row, including a wide volume roller that's far more practical and precise than common volume up and down buttons. The wrist rest is detachable and has a soft-touch surface for extra comfort. A USB pass-through port lets you quickly and easily hook up flash drives, headsets, or mice, while a set of grooves underneath the chassis enable tidy cable management. The ROG logo at the top-right is actually a swappable inlay that can be customized with your own design. All the key macros and Aura Sync lighting can be set up with ROG Armoury II software.
ROG Centurion 7.1

$269.99 $186.99 at the ASUS Store (11/24/2019 – 11/30/2019)
The Centurion is one of our top-end headsets, and one that delivers true 7.1 audio thanks to a full set of 10 neodymium speakers (5 per cup). The boom microphone has extended range and superior sensitivity versus regular units and runs through digital circuitry that provides sonic compression and a noise gate for ultimate voice clarity.
The desk control station is an integral part of this system. It contains a high-end USB sound card with an ESS Laboratories headphone amplifier and a secondary microphone to work in tandem with the boom mic for active noise cancellation. The base includes independent controls for each audio channel, 7.1/5.1/stereo mode switching, and instant selection of soundscape modes for different game types. You can also mute the microphone and control the headset lighting from here. There's one additional special trick: pass-through functionality so you can switch the sound to your speakers at the mere click of a button without having to reconnect the headset.
The Centurion comes with two sets of ear cups with different materials. The ASUS Sonic Studio software lets you control each and every little bit of your sonic experience.
ROG Delta

$149.99 $99.99 at MicroCenter (11/24/2019 – 11/30/2019)
As you can tell from the picture, the ROG Delta is one stylish headset. An ESS Sabre quad-DAC sits inside to drive the two ASUS Essence speakers, processing each portion of the frequency spectrum separately across lows, mids, highs, and super-highs. Additionally, each signal and lighting circuit has its own layer in the circuit board. All that careful signal handling results in a 127 dB signal-to-noise ratio, or in practical terms, the ability to pinpoint every single noise in the middle of heavy action. You'll be able to hear even a grenade pin drop in the quietest moments. Enemy sneaking up on you? Not when you have the ROG Delta on.
The headset holds a handy volume wheel and controls for mic muting, and there are two separate sets of ear pads with different materials included in the box so you can pick which one is more comfortable. This headset is compatible with PCs, Macs, and PlayStation systems thanks to its USB-C connector and included USB-A adapter. The Aura Sync RGB LED lighting on the multiple zones is fully configurable.
ROG Delta Core

$79.99 $59.99 at MicroCenter (11/24/2019 – 11/30/2019)
If the ROG Delta's dapper suit caught your eye but you're fine with a simpler exterior and a corresponding chop to the price tag, then the ROG Delta Core might be a better fit. This variation on the theme does away with the ESS DAC and RGB LED lighting but keeps the feature list otherwise identical.
This model uses a standard 3.5mm jack for connectivity and is compatible with desktop computers, laptops, mobile devices, as well as Playstation 4, Xbox One, and Nintendo Switch consoles.
Networking
ASUS RT-AX88U and ROG Rapture GT-AC5300
ASUS RT-AX88U
$299.99 $249.99 at Amazon (11/29/2019)
$299.99 $249.99 at Newegg (11/29/2019)
$299.99 $249.99 at MicroCenter (11/29/2019)
C$399.99 C$329.99 at Canada Computers (11/29/2019)
C$399.99 C$329.99 at Memory Express (11/29/2019)
C$399.99 C$329.99 at Newegg Canada (11/29/2019)
C$399.99 C$329.99 at Amazon Canada (11/29/2019)
You may have heard of this new thing called Wi-Fi 6 (or 802.11ax, for the technically inclined). It's probably the biggest improvement in home networking in recent years. Wi-Fi 6 not only offers blindingly fast speeds, but thanks to OFDMA (fancy name, we know), it can also help solve drop-outs and unstable connections when there are many routers and devices around, like in apartment buildings and dorms.
The RT-AX88U is a top-notch Wi-Fi 6 router that can push up to 6000Mbps combined through its dual-band 4×4 antenna array with MU-MIMO support for fast, stable connections to many devices at once in crowded environments.
The back of the router contains a total of eight Gigabit Ethernet ports for wired devices, ideal for busy homes or just hosting a game tournament in your home. All the network packets are processed quickly and safely thanks to the 1.8GHz quad-core processor running the show.
The AX88U includes built-in WTFast acceleration optimizing the route to game servers to lower ping times and increase connection reliability. Your home network will be safe from attacks thanks to an included lifetime subscription to AiProtection Pro. Although the AX88U offers massive coverage on its own, you can easily extend it further with AiMesh support.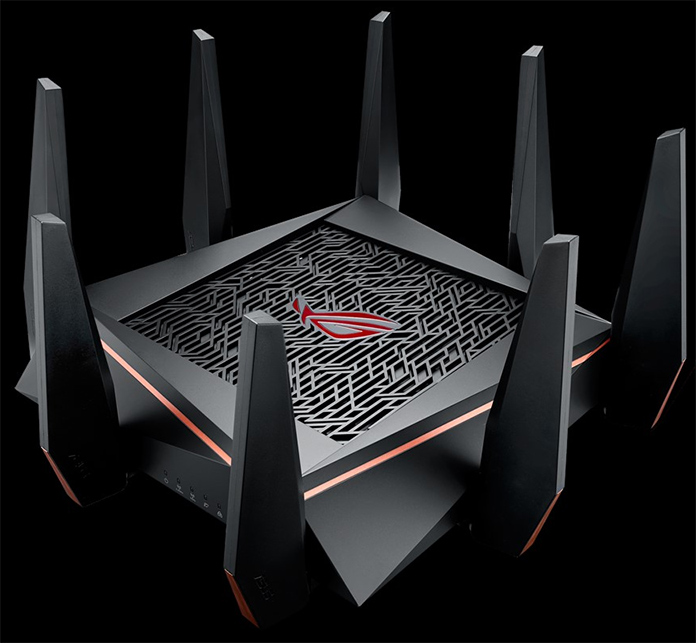 ROG Rapture GT-AC5300
$349.99 $249.99 at Amazon (11/29/2019)
$349.99 $249.99 at Newegg (11/29/2019)
C$459.99 C$299.99 at Staples Canada (11/29/2019)
Those who live and breathe gaming would do well to check out the ROG Rapture GT-AC5300 as a gaming-oriented alternative to the RT-AX88U. This router uses Wi-Fi 5 technology but it pushes it to the max with a potential 5300Mbps combined output by way of a massive eight-antenna array.
The GT-AC5300 also has an additional USB port in the back, as well as a GameBoost packet prioritization feature that makes sure online game traffic gets a first-class seat no matter how busy the network is. It can also use VPN Fusion to let you run a VPN alongside your ordinary internet connection so your traffic always has an optimized route.
ASUS RT-AC68U and RT-ACRH13
ASUS RT-AC68U
$149.99 $99.99 at Amazon (11/29/2019)
$149.99 $99.99 at Newegg (11/29/2019)
ASUS RT-AC68U (AiMesh pair)
$279.99 $189.99 at Newegg (11/29/2019)
The RT-AC68U is among our most popular routers, with good reason. It's a fantastic tried-and-true package with stable, easy-to-use software, at a price point that's just too good to ignore. This model has three antennas on a 3×3 configuration capable of pushing out Wi-Fi 5 signals at up to 1900Mbps.
The dual-core processor inside has power to spare for handling many devices in the same network (as I can personally attest with the previous-gen AC66U). Some older Wi-Fi 4 (802.11n) devices can get a free speed boost thanks to TurboQAM support. AiRadar uses beamforming to establish the best possible connection to a device, a feature that's particularly handy with phones and tables, since they're likely on the move even when inside a home.
Although the ASUSWRT software package is exceedingly simple to use, you can monitor and control the AC68U from anywhere with the ASUS Router App. If you have a large home, want to extend Wi-Fi signal outside, or have an apartment with a nasty layout that blocks wireless signals, you can easily link the RT-AC68U with other AiMesh-compatible equipment for added coverage. Some retailers are running a deal on a two-pack of RT-AC68Us for this very reason, and we've included the appropriate link above.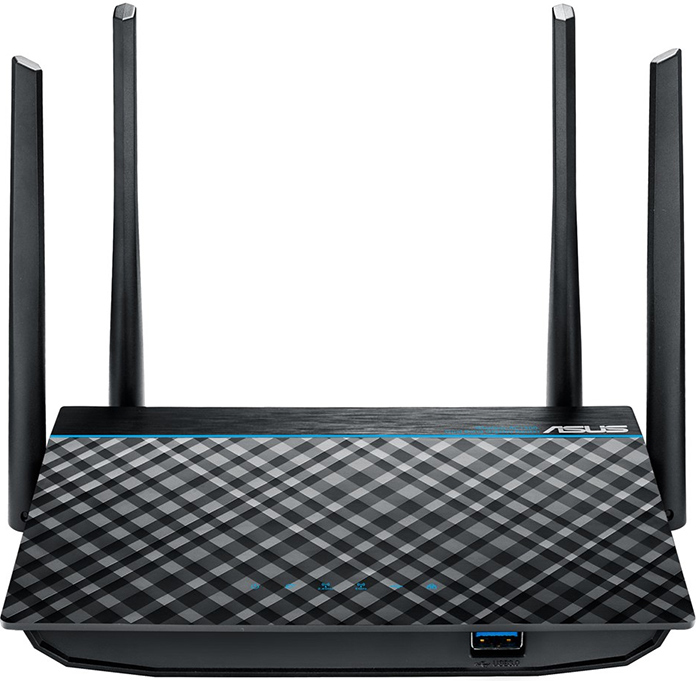 ASUS RT-ACRH13
$69.99 $44.99 at Amazon (11/29/2019)
$69.99 $44.99 at Newegg (11/29/2019)
The RT-ACRH13 is the perfect alternative if you're on a budget or just want a straightforward-but-solid router to replace the positively horrid one you got from your service provider. The ACRH13 offers most of what the AC68U above has, but an extremely low sale price.
The four-antenna employs a 2×2 configuration to offer up to 1300Mbps combined, and you'll find four Gigabit Etherent ports around the back. The ACRH13 runs the same software as the AC68U, so it's easy to set up your network and keep an eye on it.
ASUS PCE-AC58BT and USB-AC55B1
ASUS PCE-AC58BT
$59.99 $29.99 at Amazon (11/29/2019)
$59.99 $29.99 at Newegg (11/29/2019)
$59.99 $32.99 at MicroCenter (11/29/2019)
If you own a desktop PC, it's very likely that you're running a wired connection to it. However, there are many situations where it's not feasible or cost-effective to run a cable from your router to your computer. Since Wi-Fi has gotten pretty darn fast in recent days, a PCIe Wi-Fi adapter like the PCE-AC58BT is an excellent alternative to wires.
This card has exactly one job, and it performs it perfectly — enabling dual-band Wi-Fi 5 connectivity and Bluetooth 5. It can use 160MHz channels and MU-MIMO to reach the top possible speed, up to 1730Mbps in the 5GHz band. The free-standing antenna can be placed in an optimal position for best reception, as well.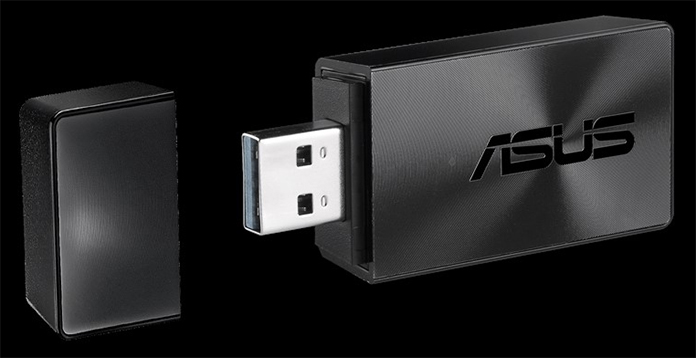 ASUS USB-AC55_B1
$34.99 $22.74 at Amazon (11/29/2019)
$34.99 $24.99 at Newegg (11/29/2019)
$34.99 $24.99 at MicroCenter (11/29/2019)
C$49.99 C$39.99 at Canada Computers (11/29/2019)
C$49.99 C$39.99 at Memory Express (11/29/2019)
C$49.99 C$39.99 at Newegg Canada (11/29/2019)
C$49.99 C$39.99 at Amazon Canada (11/29/2019)
Here's an alternative for folks are averse to opening their PC or who want to upgrade and old laptop's Wi-Fi connectivity. The ASUS USB-AC55_B1 is similar to the PCIe card above, but it goes into any USB 3.0 port.
The stick has two built-in antenna with dual-band capability, and can hit a speed of 1300Mbps combined across the 2.4GHz and 5GHz bands. It can also take advantage of MU-MIMO with compatible routers to keep the speed up when there are many wireless devices around.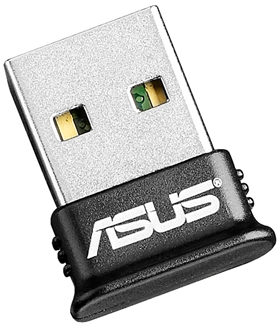 ASUS USB-BT400
$14.99 $6.99 at Amazon (11/29/2019)
$14.99 $6.99 at Newegg (11/29/2019)
$14.99 $7.99 at MicroCenter (11/29/2019)
C$19.99 C$9.99 at Canada Computers (11/29/2019)
C$19.99 C$9.99 at Memory Express (11/29/2019)
C$19.99 C$9.99 at Newegg Canada (11/29/2019)
A growing number of computing devices can eschew wires and use Bluetooth connectivity, like printers, speaker systems, televisions, and A/V receivers. Most desktop PCs don't have Bluetooth enabled, either, which can be an inconvenience when using wireless buds or synchronizing data with phones. It's easy and cheap to add Bluetooth support to any PC with the USB-BT400.
This tiny adapter is nearly invisible and supports Bluetooth protocols up to 4.0, as well as Bluetooth LE to save battery on compatible devices when pushing data back and forth. It's absurdly cheap, too.