Enthusiasts love the way mechanical keyboards feel, the way they sound, and the durability that they offer. But mechanical keyboards tend to be more expensive, especially if you want the extras like programmable RGB lighting and on-board memory for macros. The TUF Gaming K5 features our unique Mech-Brane switches, which give you the satisfying feel of mechanical switches, along with spill-resistant construction, and a long list of extra features without draining your bank account.
Insane in the Mech-Brane
Mechanical keyboards and membrane keyboards are very different in their construction. Every key on a mechanical keyboard has a switch underneath it. So, when you press down, springs and metal contacts interact to register that action. Membrane-based keyboards, on the other hand, are typically more economical. They're composed of multiple layers, which come together when you press a key and make electrical contact. When you press a key on a membrane keyboard, you're depressing that bump, or rubber dome, and then the keypress actuates. Our new Mech-Brane switches bridge those two worlds. They still rely on the underlying technology utilized by membrane keyboards, but they feel more like mechanical switches than rubber domes.

Although gamers sometimes describe membrane keyboards as feeling "mushy," the Mech-Brane switches are anything but soft. They have a tactile bump, much like Cherry MX Brown switches do, and a subtle yet satisfying snap when you bottom out the key press. With an actuation force of 47g, they're somewhat light. Still, they fall into the same weight class as many standard desktop mechanical switches. Their 3.7 mm of travel feels similar too, neatly splitting the difference between short-travel mechanical switches that bottom out around 3.2-3.5mm and typical switches that have a 4mm travel.
I immediately felt comfortable typing on the TUF Gaming K5. However, gaming is the true test of a keyboard's prowess. For me, it's all about how effectively I can run and gun in a first-person shooter, and the Mech-Brane switches didn't let me down. Their swift response to input helped me perform just as well on the K5 as I'm used to on other keyboards. The relatively light actuation force kept all of my key strikes quick and sure over the course of hours, while 24-key rollover ensured combos were read accurately.

Built to last
A keyboard doesn't find its way into the TUF family without some durability credentials to back it up. The Gaming K5's membrane-based design is good for bouncing back from spills—it's able to withstand up to 60 ml of liquid. That's enough to survive the dregs of your drink after you accidentally knock it over jumping for joy at your first "Winner Winner Chicken Dinner." And thanks to a special coating, the K5's outer shell can take more friction and abrasion before wearing out.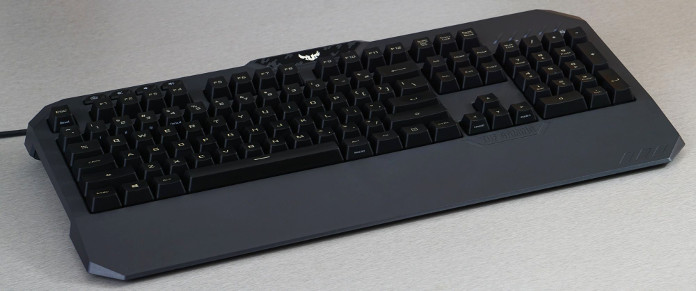 That resistance to damage is quantifiable. We subjected the TUF Gaming K5 to torturous tests by scraping it with rough materials, rubbing chemicals on it, and measuring its ability to take an impact. We routinely perform tests of this nature on our products, but it was especially impressive that this keyboard endured 150% more cycles with its special coating than without it.
The extra attention to durability really shows over time. After the days of abuse I subjected the TUF Gaming K5 to, it still looks like it did the moment I unpacked it. The integrated palm rest has a matte finish that is resistant to smudges, and the black keycaps are similarly resistant to shine. Even the cable is secured tightly, with a robust wired assembly keeping it firmly in place.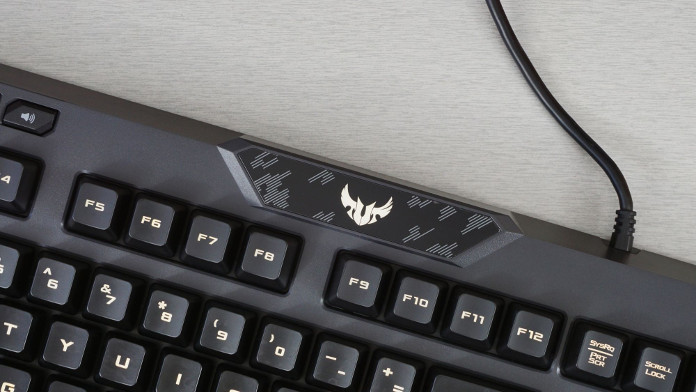 A touch of luxury
We baked in plenty of small but important details to the TUF Gaming K5, like front-side keycap legends that provide easy reference for macro and lighting controls, and four dedicated media buttons on the upper-left side. One of those buttons controls the backlighting's four-stage brightness, so you can swiftly tune it up or down with a single key press.

To help keep your space organized and tidy, there are two cable troughs underneath that let you route your headset cord underneath the keyboard and out the front, or to either side. Flipping the two feet out props the keyboard's back side up a bit, giving you a comfortable typing angle. It's a subtle, yet decidedly ergonomic extra that's complemented nicely by the built-in wrist rest. The keyboard stays put with or without its feet deployed thanks to ample rubber pads on the bottom.
Let it glow
Because no gaming keyboard is complete without some glitz, the TUF Gaming K5 has a full complement of customizable backlighting. There are five individual RGB lighting zones under the keys and a multitude of options for changing the look. A glowing TUF logo across the top of the keyboard syncs with the rest of your RGB scheme, and large keycap fonts allow lots of light to shine through.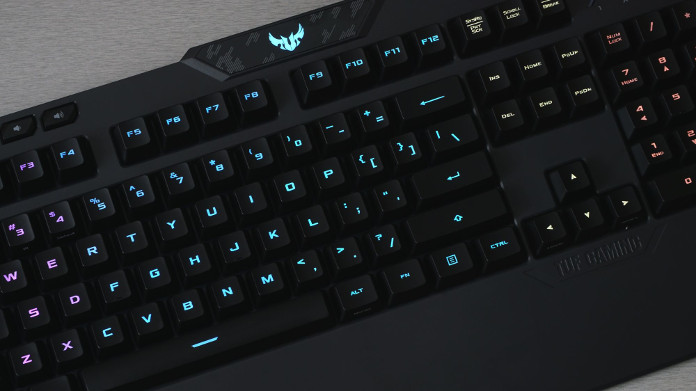 There is room for four profiles in the TUF Gaming K5's on-board memory, which means your custom configurations follow the keyboard wherever you take it. One profile is the factory default, while the other three beg for your creativity. Toggle through them by pressing Fn and a corresponding number key. Each profile has a few lighting presets that include multicolor and static color options. Cycle through those by pressing Fn + the left or right arrow keys to select your favorite. Within most of the presets, you're able to choose any color of the RGB rainbow, even adjusting saturation and brightness with simple sliders. Movement effects like Wave offer adjustable speed, too. If you're really feeling ambitious, the Custom setting lets you program each of the five lighting zones with different effects and colors. Let your creativity go wild.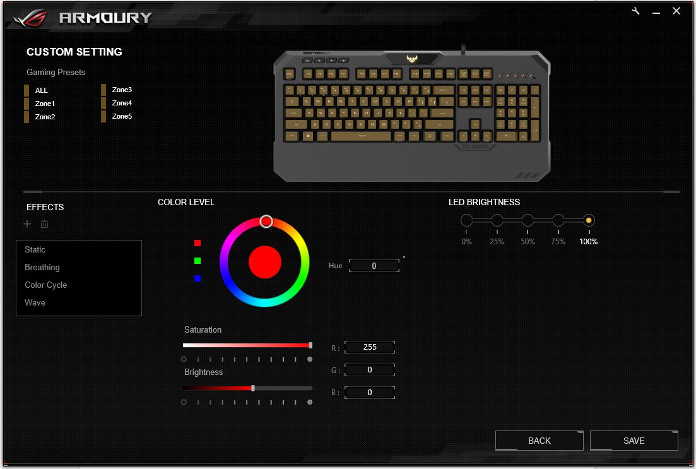 The profiles also serve as repositories for your macros. Whether you need to key in a special string of moves for gaming, or just want hotkeys for actions you perform during your day job, on-the-fly macro recording makes that simple. With profiles 1, 2, or 3 selected, press Fn + right Alt to start recording. Key in the string of characters, press Fn + right Alt again to stop recording, and press any key to assign the macro. It's that easy.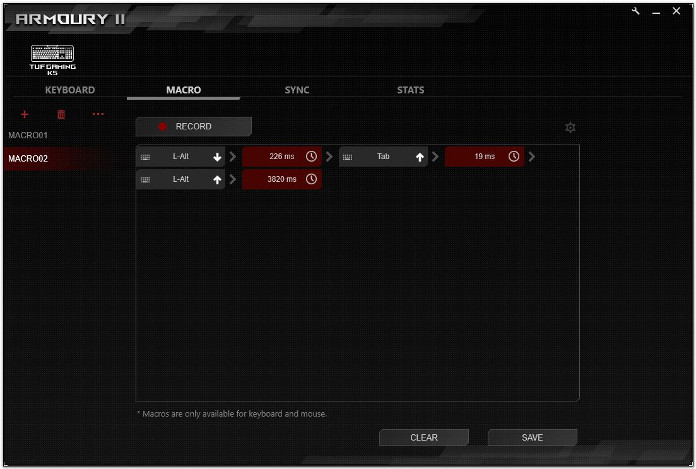 The TUF Gaming K5 supports ROG Armoury II software and Aura Sync, taking customization to a whole new level. You can assign a function or command to any key just by clicking it in the software's GUI and making a selection. Record macros within the software, and then edit them granularly (including specifying delays between inputs). Just right-click any item in the string, click edit, and make your changes.
Feels just right
The TUF Gaming K5 is perfect for enthusiasts who crave the feel of a mechanical keyboard and all of the features gamers love without spending a ton of cash. The Mech-Brane switches feel great under your fingers, and you can program macros on-the-fly to create your own personal battle station. Customizable lighting can be functional, thanks to the five addressable lighting zones, or purely aesthetic, particularly if you own other Aura-enabled devices to tie together. And with a TUF coating to protect against damage over time, you won't be able to wear this keyboard down. Get it for $79.99 USD from the retailers listed in the table below.